20 Funniest Food Moments from "Family Guy"
You know what really grinds my gears? The fact that there isn't a place on the internet that's gathered up all the funniest food moments from Family Guy. That ends today!
When the 2011 scene where Family Guy accurately depicts how "Every Pizza Place" makes a salad resurfaced the other week in multiple media publications, it reminded me how many funny food moments have been depicted on the show. The fact that the comedy is based on surprisingly accurate cutaways and absurdly random jokes allows the writers to come up with some truly memorable moments about food. Of course, because Family Guy humor consistently verges on being slightly—and sometimes very—offensive, we decided to keep our round-up PG. Here, we present to you those moments throughout the show's long run—and if we've made you feel nostalgic, you can then check out these 35 Funniest Food Moments From "Seinfeld".
Brian Tries To Cheer Peter Up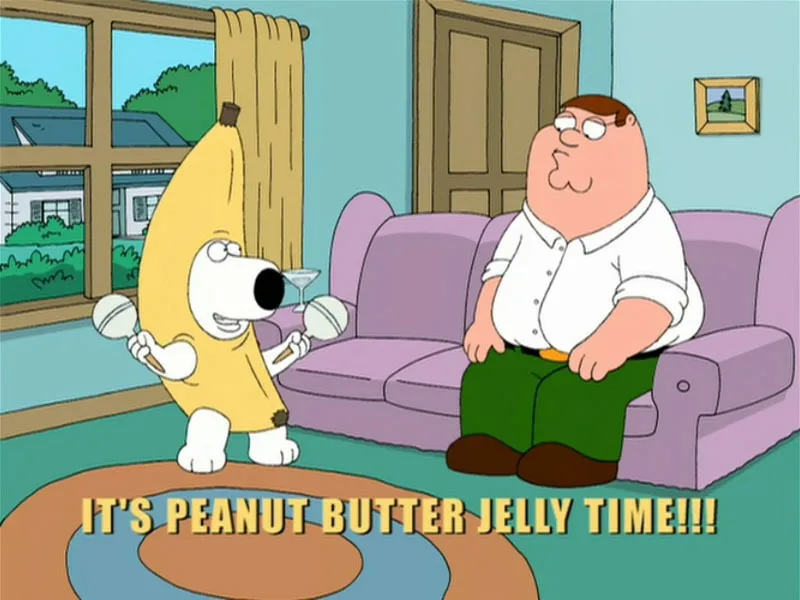 Episode: The Courtship of Stewie's Father, Season 4
We all know about Stewie's countless plots to try to kill his mother, but Lois doesn't find out until she sees a picture Stewie drew of him killing her. Instead of being worried, she wonders why Peter isn't shown in any of the drawings and suggests Peter bond with his son. The two get in some solid bonding time, but it happens to be at the expense of Lois, who is locked in the station wagon and pushed into a lake. (She lives, obviously.) Furious, Lois returns home and sends Stewie to his room. Brian attempts to cheer Peter up from being separated from his new pal by dancing to the viral video hit "Peanut Butter Jelly Time" dressed as a banana.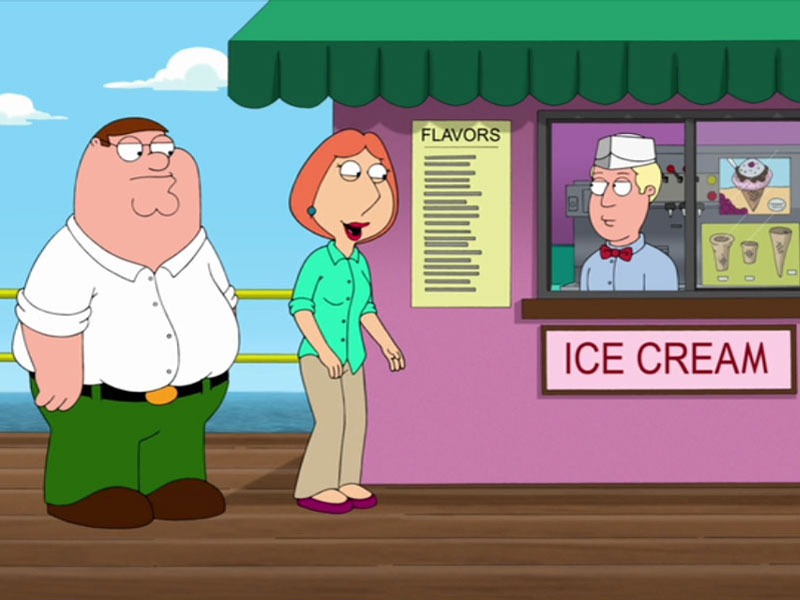 Episode: Finders Keepers, Season 12
Peter becomes convinced Stewie's restaurant placemat is a real treasure map and embarks on a quest to follow clues that lead him to the gold. He convinces Lois to join him (and eventually the whole town joins in), but by the time the two make it to the Old Block Island Cemetery, Peter realizes that everyone got there before them. The reason why they were late? Lois just had to stop for ice cream and takes a long time deciding what her order is. Don't worry, Lois, we've all been there.
Cookie Monster Approves A Bank Loan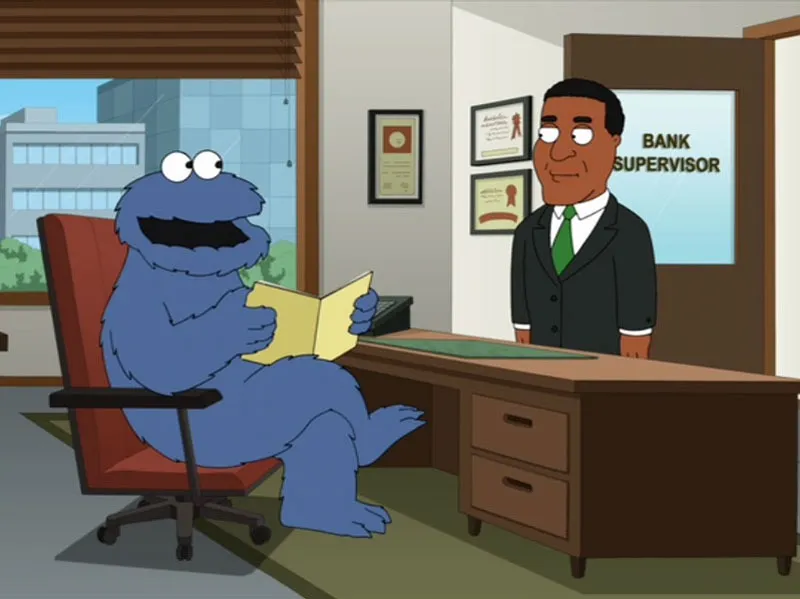 Episode: Baking Bad, Season 13
When an earthquake strikes Haiti, Lois decides to bake cookies that will be handed out to those who donate blood. After tasting how good they are, Peter encourages Lois to open a cookie store. The couple goes to the bank to get a loan, and Lois brings a sample of their product to show how good they are. After tasting a cookie, their loan officer says he just has to confirm with the bank supervisor if he can approve the loan. Turns out, the supervisor is Cookie Monster—so the answer is a resounding yes.
ICYMI: 30 Worst Supermarket Cookies in America.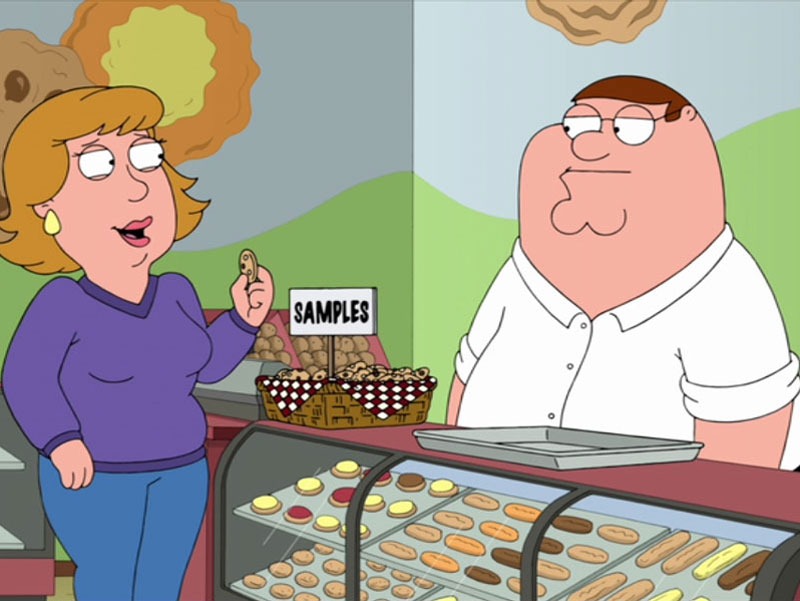 Episode: Baking Bad, Season 13
A fan favorite scene happens in the same episode as above when Peter and Lois open a cookie store. Peter catches sight of a woman approaching the store when he nervously tells Lois to lock the door.He says, "It's that lady who comes in, tries a sample, and then whispers about how bad she is." The woman never buys any cookies, always sticking to the samples, reassuring herself that "at least I know I'm bad, so that makes me a little less bad." She obviously doesn't know that cheat meals can be a part of a healthy diet! Here are 20 Cheat Meal Tips for Weight Loss Success.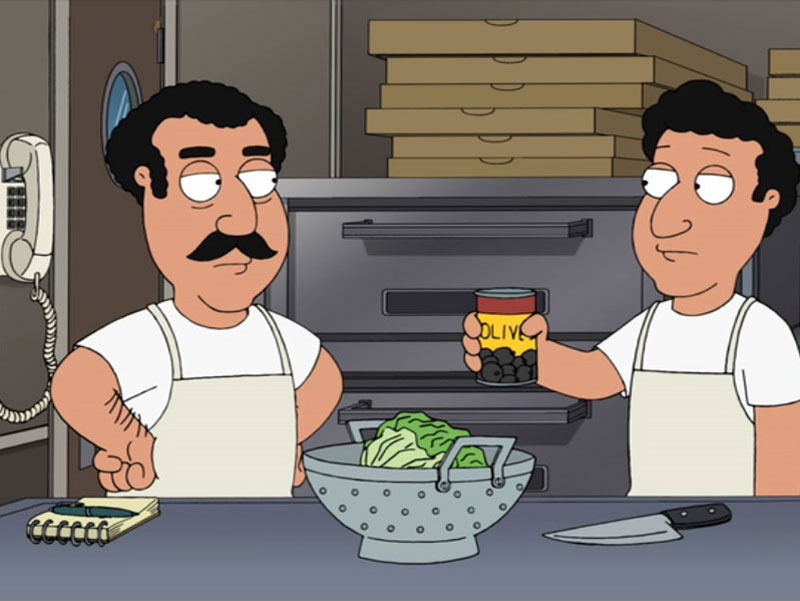 Episode: Grumpy Old Man, Season 10
Brian tricks Stewie into thinking lemon snow just falls from the sky and convinces Stewie to try it, saying it's basically like Italian ice. Once Stewie tastes it and realizes it's pee, he disappointedly exclaims, "I was having fun playing in the snow and now you've ruined it like a pizza place ruins a salad!" The hilarious cutaway scene describes how every pizza place makes the same awkward salad, full of a whole head of lettuce, a can of black olives, huge chunks of tomatoes, wide strips of carrots, and hot peppers. Oh, and it's always placed on top of your steaming-hot pizza box so it ends up wilted by the time it gets to you.
Peter Distracts Himself By Thinking About Chicken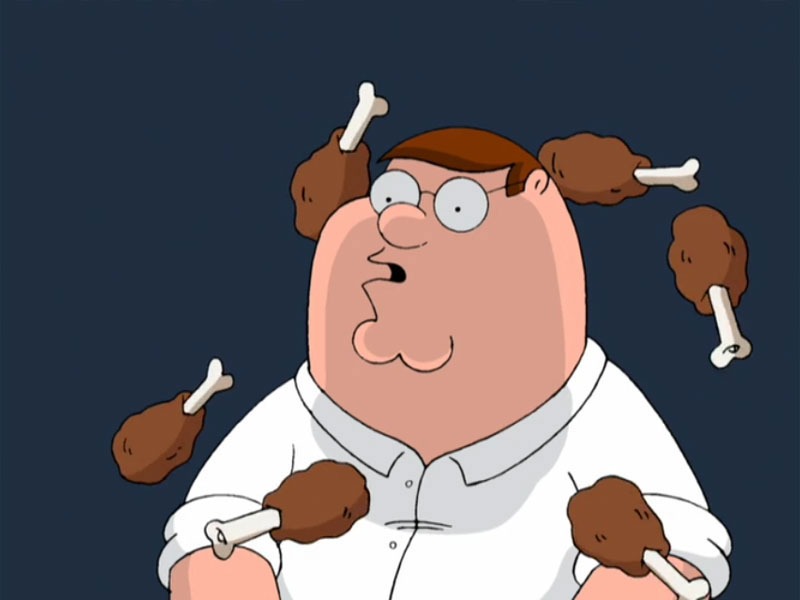 Episode: Peter Griffin: Husband, Father… Brother?, Season 3
Remember that cheerleader scene from American Beauty when Lester (Kevin Spacey) fantasizes about the hot blonde cheerleader to the point where rose petals pour out of her shirt? This is that scene—hangry-Peter-Griffin style. Peter tries to distract himself from his hunger pangs during a basketball game. He immediately focuses on the cheerleader, and we see the scene progressing just like the scene from American Beauty. That is, of course, until the Family Guy cheerleader opens her shirt and chicken drumsticks come pouring out.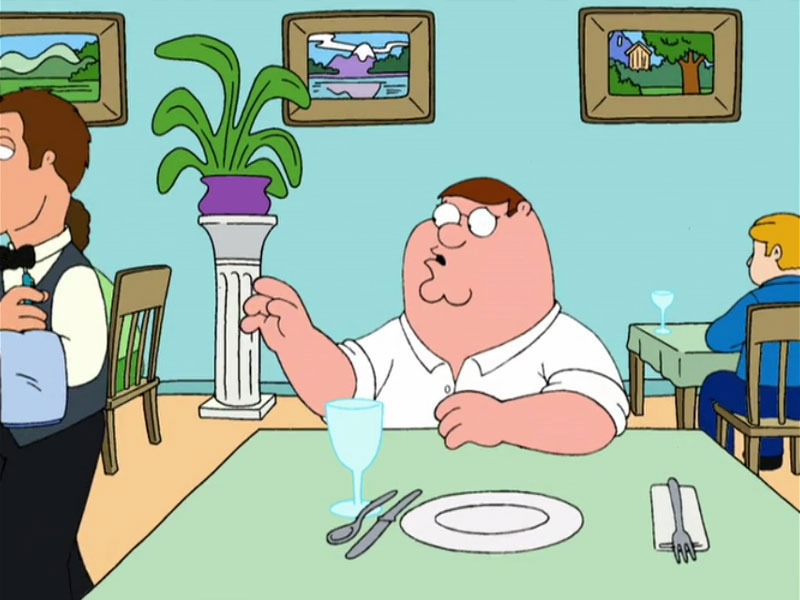 Episode: Brian in Love, Season 2
When Brian sees a therapist about his peeing problem, the shrink suggests the leaking may be because he's in love. Brian then confesses to Peter that he isn't sure if the girl loves him back, and Peter gives him a little advice about love: "You gotta find out for sure. You don't want to spend your life wondering what could have been." Instead of a cutaway to a lost lover, we see a scene where Peter is forced to choose between soup or salad and regrettably chooses salad before changing his mind. Alas—it's too late, and the waiter has already left with his order. "And to this day I still lie awake at night wondering about the soup that got away." We would too, Peter, if it was one of these high-protein soups.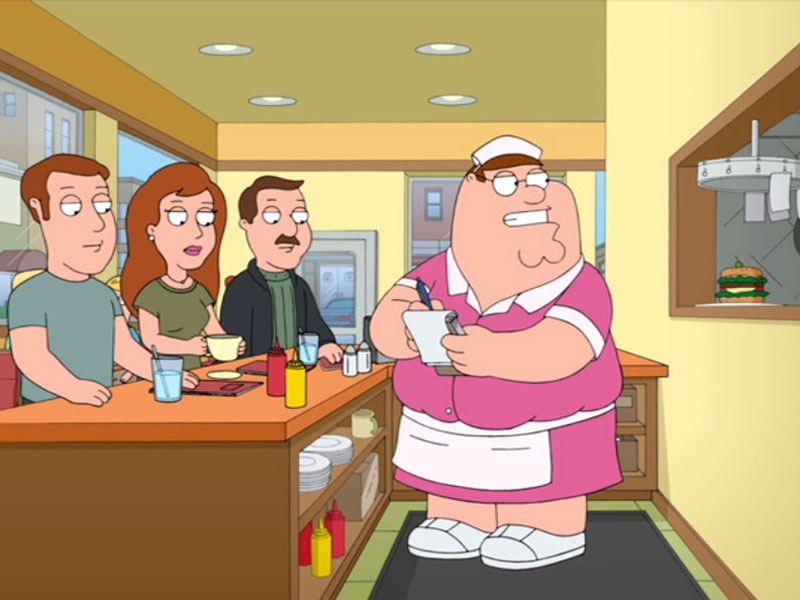 Episode: Friends Without Benefits, Season 11
Have you ever been to a diner or restaurant where the servers sound like they're talking in code? Family Guy nails their unintelligible banter in this scene, where Peter tells Lois he's going to pass on that waffle because he has to take Janice's shift at the restaurant. Two eggs, scrambled, on toast becomes "Adam and Eve on a raft, wreck them!" A hotdog with ketchup and some Jell-O is "Paint a bow-wow red and a side of nervous pudding!" And a well-done burger with lettuce and tomato is "Burn one, drag it through the garden, pin a rose on it!"
Stewie Plots to Destroy the Global Supply of Broccoli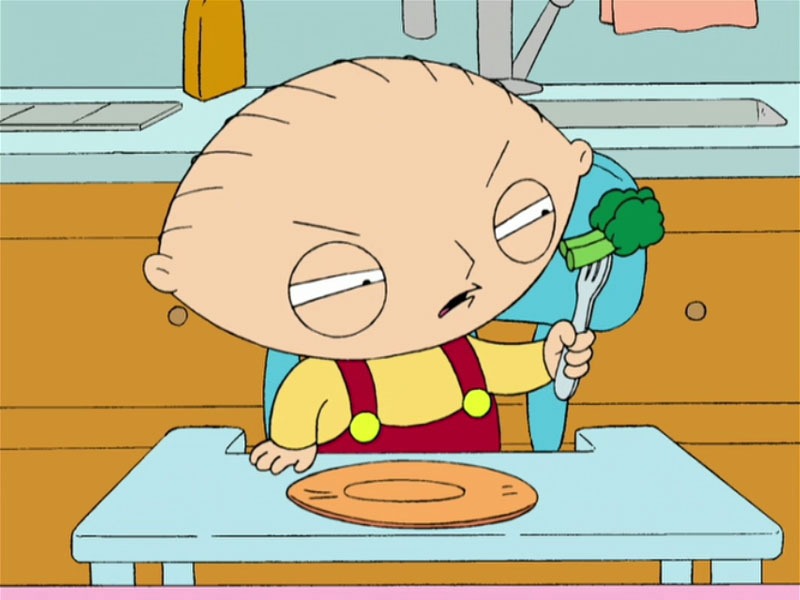 Episode: I Never Met The Dead Man, Season 1
While Peter is off teaching Meg how to drive, Lois tries to feed Stewie broccoli—a veggie he hates. Lois tells him, "Honey it's not going to go away just because you don't like it." To which Stewie replies, "Well then, my goal becomes clear—the broccoli must die." After seeing that cold kills broccoli in the Farmer's Almanac, Stewie's plan is to control the global weather by using the satellite that Meg ran into while driving.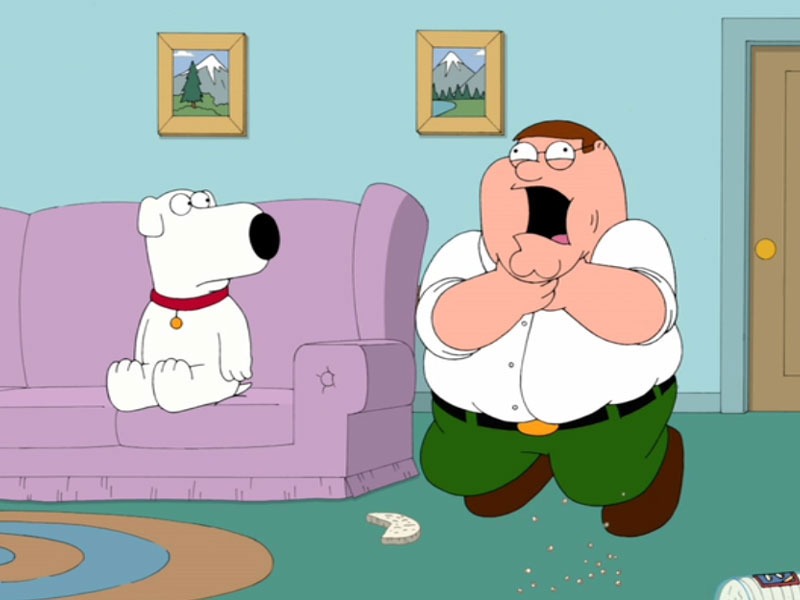 Episode: Amish Guy, Season 10
Peter is refused entry to a roller coaster because he's too overweight. After Quagmire and Joe convince him to go on a diet, Peter agrees and begins by trying a rice cake because "somebody told me this is a really good way to start your diet." If you couldn't guess, he doesn't really like it. We don't either. In fact, rice cakes are one of the 25 Worst "Healthy" Snacks for Weight Loss.
Peter Eats Dehydrated Food—Then Drinks Water
Episode: Da Boom, Season 2
Remember Y2K when everyone thought all our electronic devices would stop working and the world might end when we reached the new millennium? If you don't, maybe you remember the Family Guy episode that joked about how a nuclear holocaust occurred at midnight, January 1, 2000. Luckily, the Griffins avoid the destruction by hiding in their basement with a year's supply of dehydrated meals. Unluckily, Peter immediately eats the entire dehydrated supply—and then guzzles it all down with a glass of water. The result? A bloated Peter who really needs to poop. Maybe some of those meals contained these 23 Foods That Make You Poop.
Ipecac Drinking Contest for the Last Piece of Pie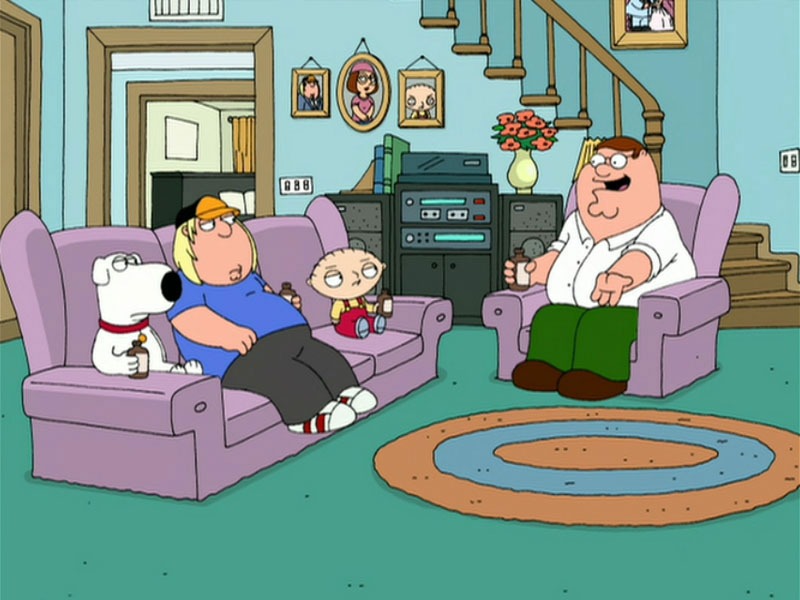 Episode: 8 Simple Rules for Buying My Teenage Daughter, Season 4
Likely the most famous scene from Family Guy; Peter buys the vomit-inducing syrup, ipecac, and challenges Brian, Stewie, and Chris to drink it. Whoever throws up last gets the last piece of pie in the fridge. That pie must have been pretty good because they all agree to participate. You probably know the rest. But if not, check it out below.
Brian Yells at a Crying Baby In Denny's
6254a4d1642c605c54bf1cab17d50f1e
Episode: Screwed the Pooch, Season 3
Brian is taken to court over custody of the puppies he believes he is the father of. Carter Pewterschmidt's lawyers try to prove that Brian is unfit to be the father of his puppies and uses an example of Brian's behavior at a Denny's restaurant years ago. The incident involves Brian becoming easily agitated by a crying baby and cries right back at him.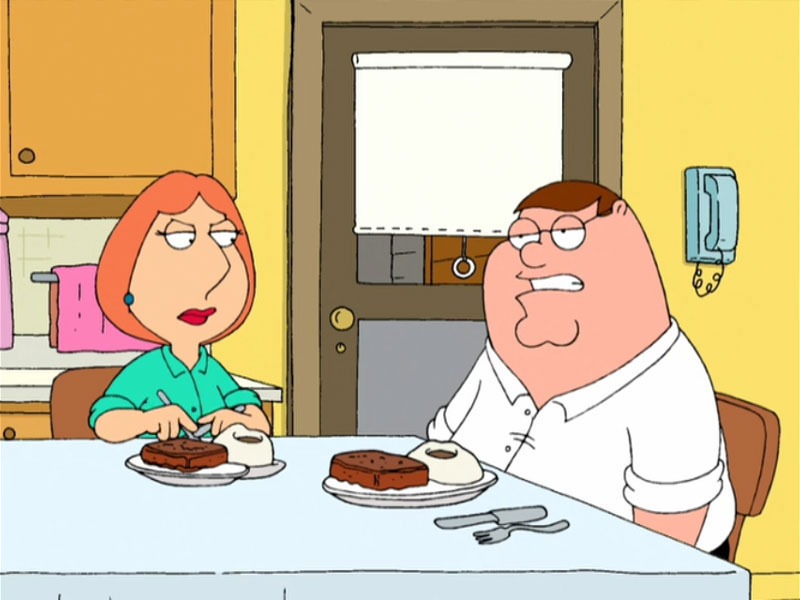 Episode: Peter Griffin: Husband, Father… Brother?, Season 3
After hanging out with the basketball team, Chris starts to pick up some street talk. Peter thinks he's possessed, but Lois rules it out saying it's just a phase. Brian backs her up, reminding Peter of that phase he went through when he narrated his own life. We cut to Peter's narration: "I walked into the kitchen and sat down at the table. I looked with a grimace at the questionable meal Lois had placed in front of me. Of course, I'd never tell her how disgusted I was with her cooking, but somehow, I think she knew." Yes, she knew, because you just told her. But if she wanted to healthify that meatloaf and mashed potatoes, she should check out these 32 Kitchen Hacks for Healthy Eating.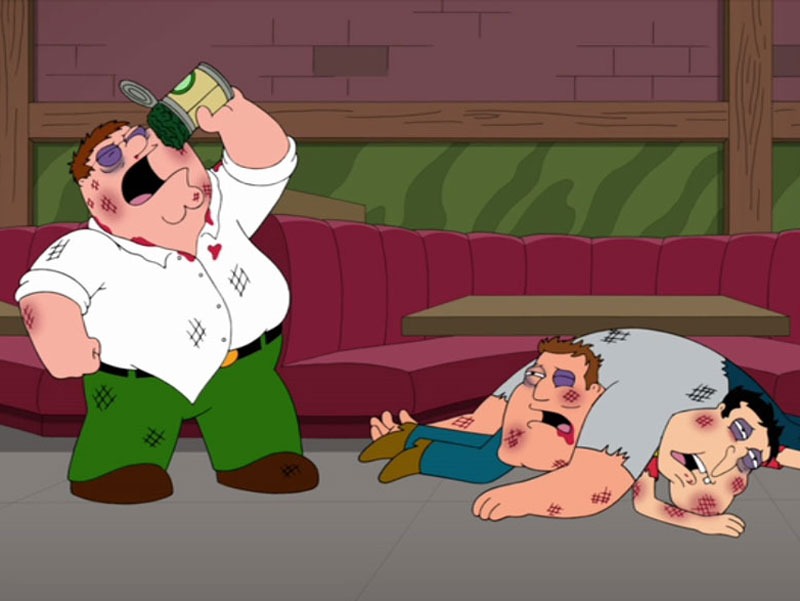 Episode: Herpe, the Love Sore, Season 12
Some jerks have taken Peter, Quagmire, and Joe's booth at their drinking hole, The Drunken Clam. When Peter finally gets the courage to confront the guys, the trio gets beaten up. Before Peter goes down for good, he tries to get an energy boost—Popeye-style. He chugs a can of spinach, but it doesn't do much good.
Peter Gets Drunk Off One Lick of Ice Cream
Episode: Death Has a Shadow, Season 1
Peter asks Lois for permission to attend an upcoming bachelor party for a guy from work. Lois is reluctant because of all the things that have happened when Peter drinks too much, like acting inappropriately in church—and this scene, where he falls flat on his face at an ice cream parlor after one lick of butter rum.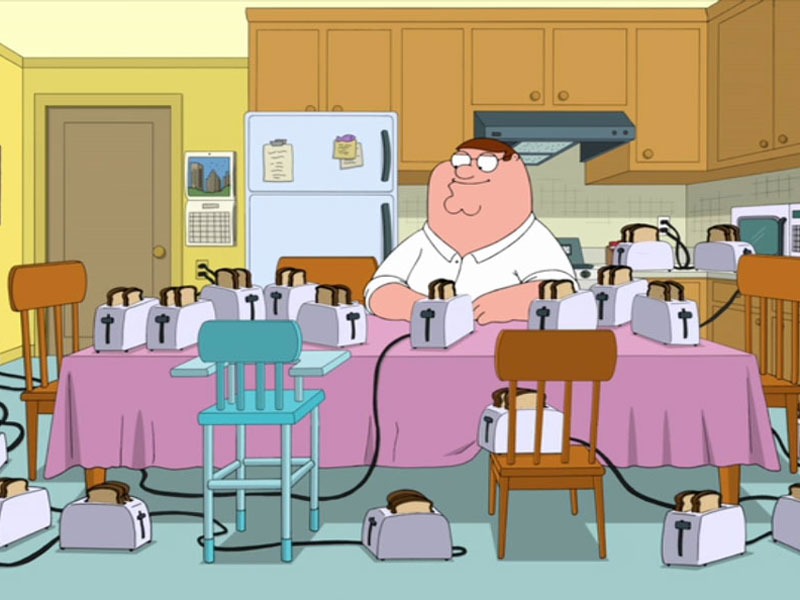 Episode: Chap Stewie, Season 12
If you're a Family Guy fan, you know the recurring joke around Peter using the film Road House as an excuse to drop kick people in the face. The writers began to get creative with the joke, like you'll see in this scene. Stewie is complaining to Brian about his awful family until Stewie realizes that Brian only walked into his room to charge his phone. Brian apologizes, pointing out that Peter is currently using all the outlets. To make toast. A "Toast House."
Vegan Restaurant Ghost Story
Episode: Killer Queen, Season 10
After Chris wins a hot dog eating competition, Lois decides his eating habits have gotten out of hand. As a result, she sends him—and Peter—to fat camp. In this scene, the kids sit around a campfire as Peter tells a ghost story about a man who was hungry but could only find a take-out menu for a vegan place. The boys shriek in fear at the idea that vegan foods exists.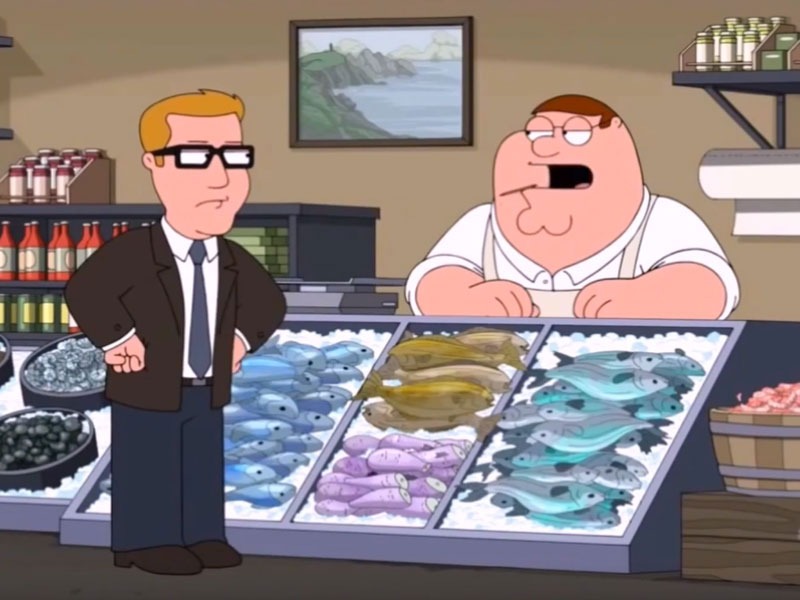 Episode: Hot Pocket-Dial, Season 14
After learning how to use a toothpick at a steakhouse, Peter believes that chewing on the little piece of wood will change him into a stereotypical tough guy—just like the intimidating people who work at seafood counters "and make people uncomfortable for not knowing about fish." The scene cuts to a timid customer asking Peter if the halibut is fishy, to which Peter replies, "It's all fish." Peter might not be helpful behind the counter, but hopefully our guide to Every Popular Fish—Ranked By Nutritional Benefits is!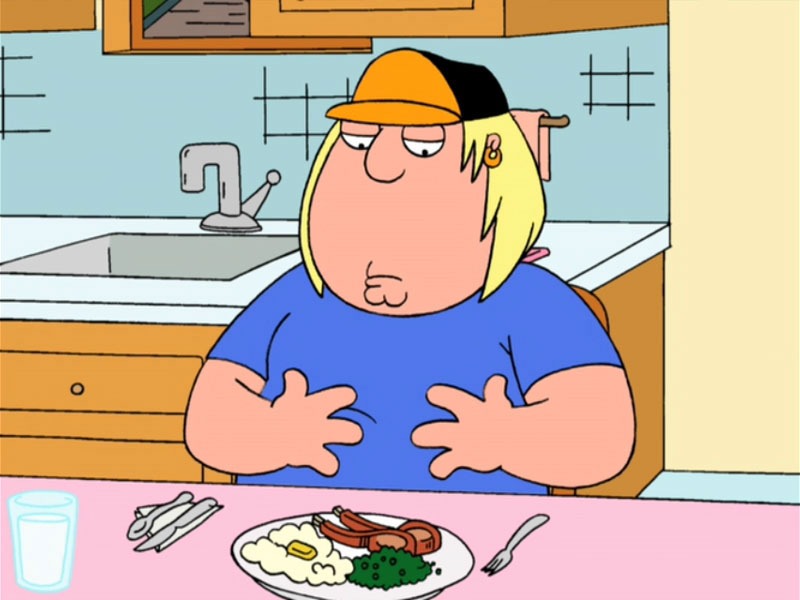 Episode: Mr. Griffin Goes to Washington, Season 3
When the Happy-Go-Lucky Toy Factory (remember Peter's job before he works at the brewery?) is taken over by a power-hungry cigarette company, Peter gets to keep his job and even gets a raise. To celebrate? Peter buys the whole family fresh lobster, but he's late to dinner because of it. Because Lois doesn't let the family eat until he gets there, Chris begins to complain about his rumbling tummy with a classic idiom. In true Chris fashion, he happens to twist the words a bit, incorrectly exclaiming, "Can't we eat yet? I'm so hungry I could ride a horse. I don't get it. Well, I guess I could ride him to the store."
Olivia Tarantino
Olivia Tarantino is the Managing Editor of Eat This, Not That!, specializing in nutrition, health, and food product coverage.
Read more about Olivia