15 Things You Should Only Buy at the Farmers' Market
It's farmers' market season! Stock up on the good stuff while supporting your local farmers.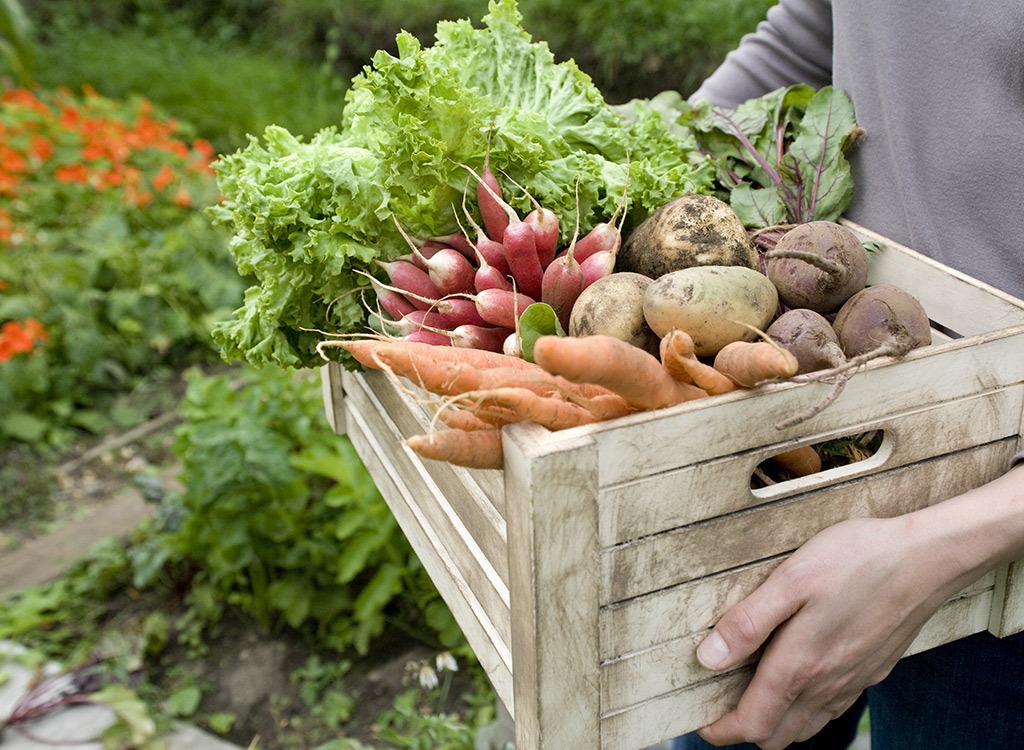 Summer is the season for long, lazy days by the pool, cookouts, and—our favorite part—farmers' markets! These pop-up markets are the best place to get the freshest—and healthiest—fruits and vegetables. But we know it can be daunting, especially when deciding where to start. Stock up on our farmer's markets favorites—the items that truly are the best from your local growers and experts—and enjoy the vitamin-packed taste all season long. And if you need some recipes to use those fresh foods in, don't miss these 30 Salad Recipes for Weight Loss!
Honey
If you've never had fresh honey, get in your car immediately and drive to the closest farmers' market. Fresh, local honey is both healthy and delicious—and many beekeepers now combine their honey with dozens of different flavors, giving your taste buds a delicious treat. Just a note, though: Make sure you ask the vendor where the honey comes from. Most will be from local bees, but some try to sneak by with store-bought honey.
Eggs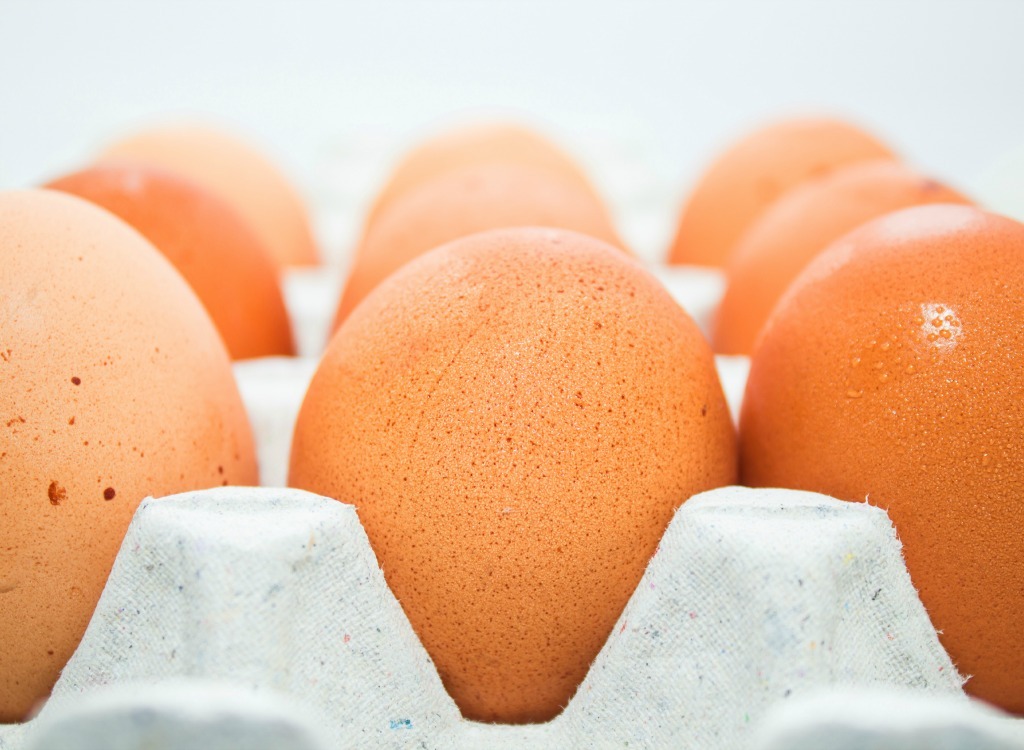 The jury is still out as to whether or not free-range eggs taste better than store-bought ones, but there is one thing that's shown to be true: they're healthier. Eggs fresh from the farm contain less cholesterol and saturated fat, but more vitamins A, E, and D, along with omega-3 fatty acids and beta carotene.
Grass-Fed Beef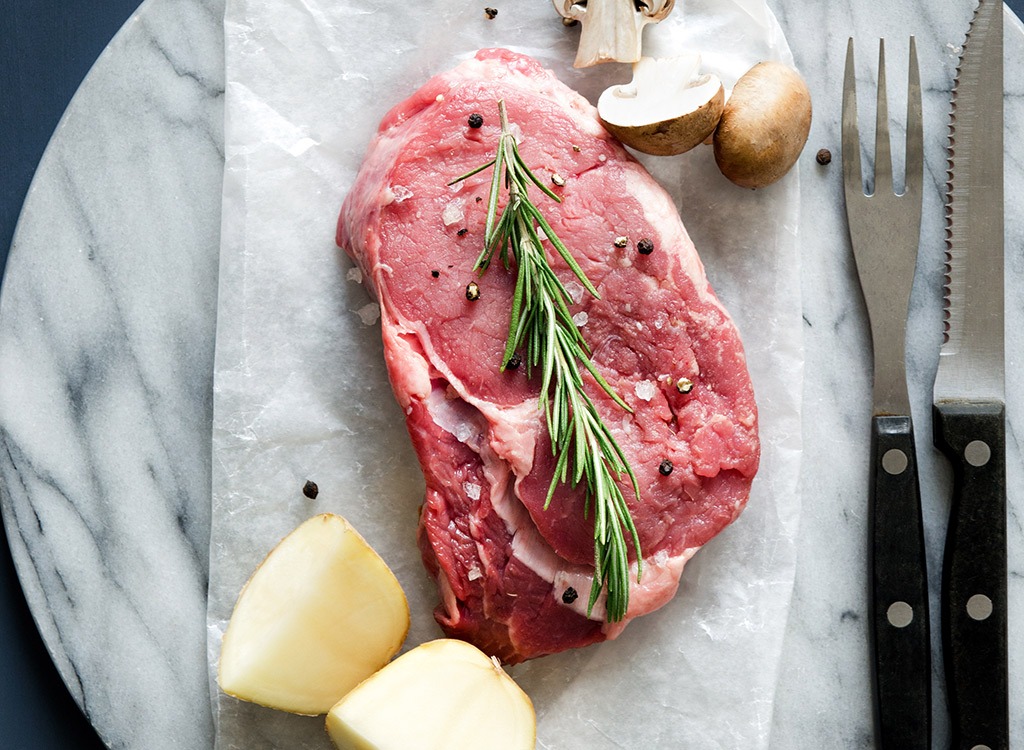 6254a4d1642c605c54bf1cab17d50f1e
Grass-fed beef doesn't just taste better, it's amazing for your body. The meat from free-roaming cattle and buffalo is naturally lower in fat and calories than its contained counterparts. Bonus: Grass-fed meat is shown to be higher in omega-3 fatty acids, which can help boost brain power and prevent heart disease.
Grapes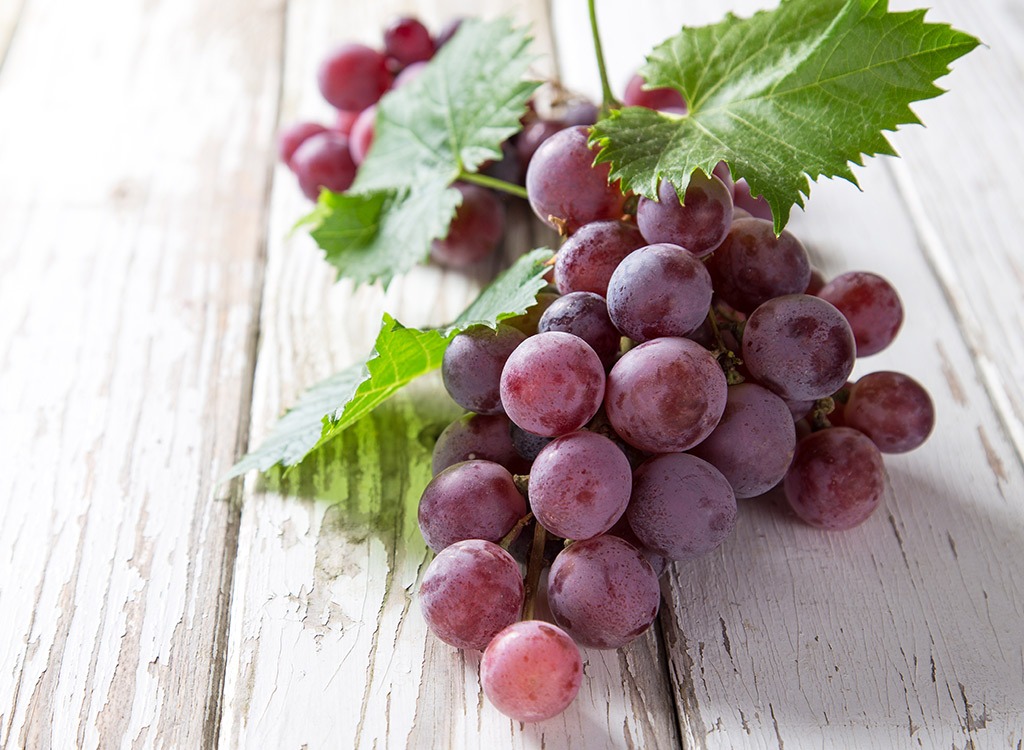 Store-bought grapes may be a lot larger than the ones found at farmers' markets, but their size doesn't mean anything when it comes to taste. The smaller—and often seeded—concord grapes are smaller but definitely a lot more flavorful and tangy to the taste. This rich flavor makes them great for canning jams or using in desserts.
Tomatoes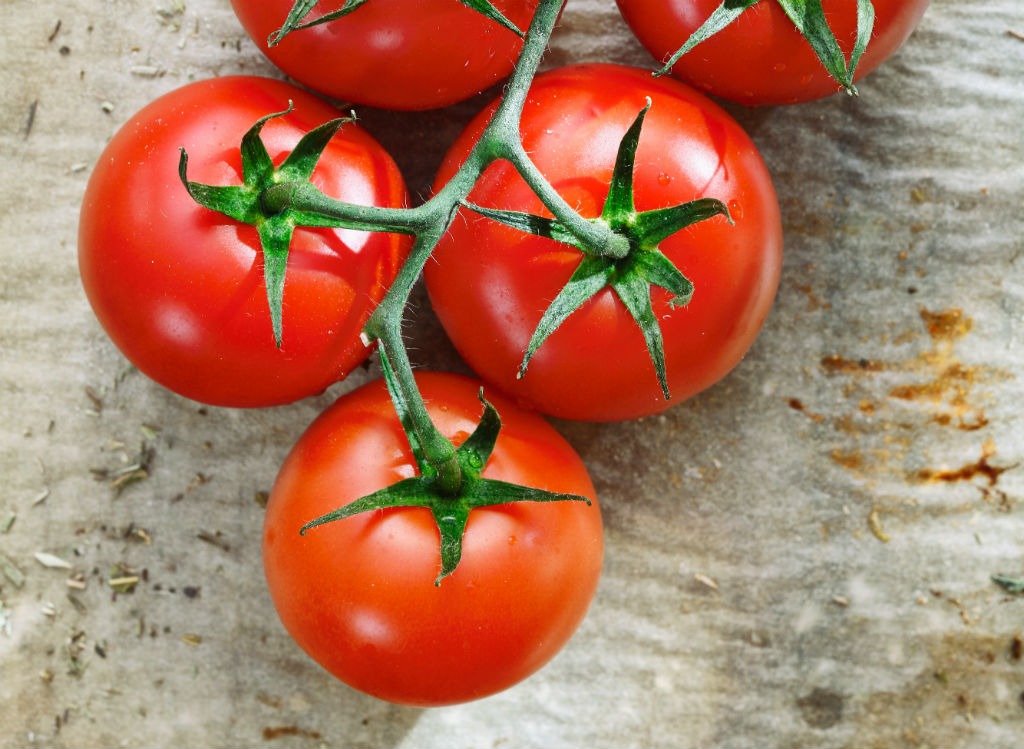 Store-bought tomatoes aren't even in the same league as farm-raised varieties found at farmers' markets. Ripe, right-off-the-vine Roma, beefsteak, or grape tomatoes are a tasty summer treat, both alone or alongside a nice steak. They're rich in vitamin C and lycopene, two nutrients your body needs to function. Plus, you'll need some excellent tomatoes for that fresh, healthy gazpacho we know you're going to make!
Carrots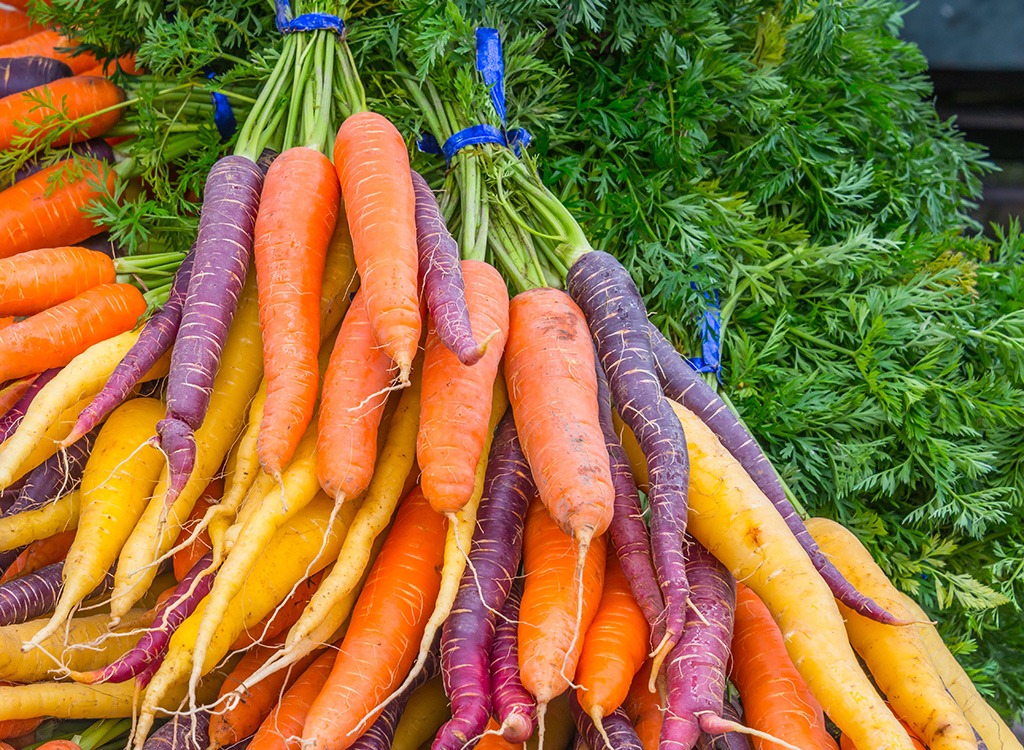 What colors are carrots? You probably said orange—and you're right—but they come in a variety of other colors, too. You won't find rainbow-colored carrots in most grocery stores, but you will at many farmer's markets. Many of these colorful carrots—especially the purple ones—are higher in beta carotene and other antioxidants.
Berries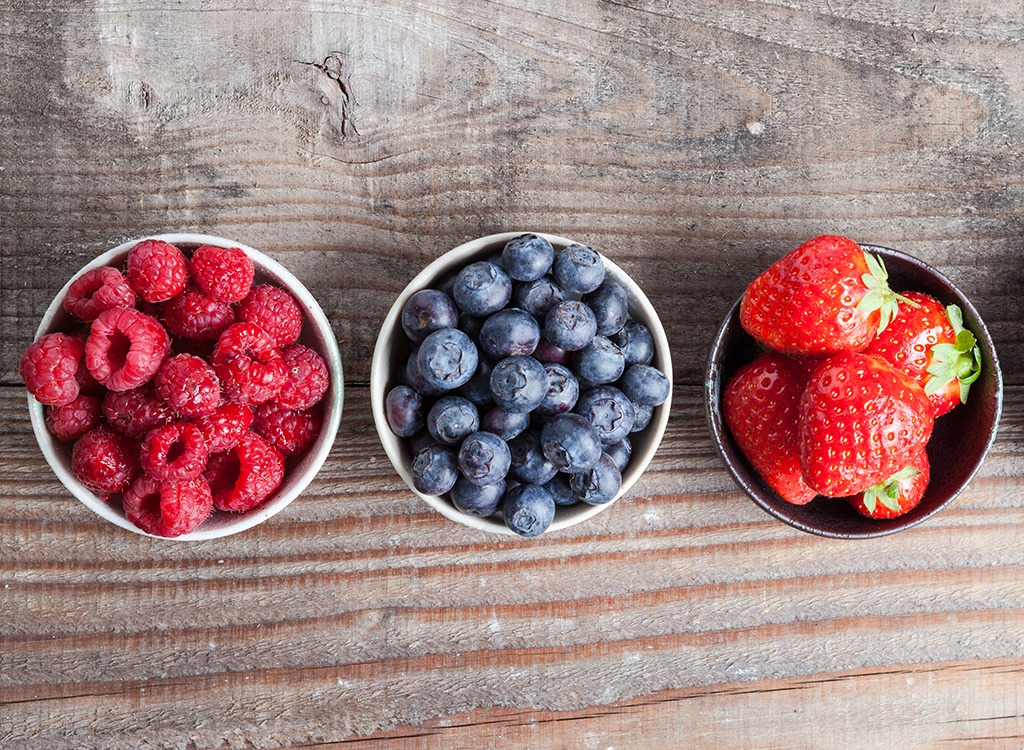 Your favorite berries—strawberries, raspberries, blueberries—all seem so fresh when they hit your grocer's produce stands; but in reality, most of them are imported from far away lands like Mexico, Canada, and even Poland. And the flavor? It doesn't compare to the freshly-picked taste you'll get from berries sold locally. Plus, berries are all over our list of 15 Most Antioxidant-Packed Fruits and Veggies—Ranked!
Onions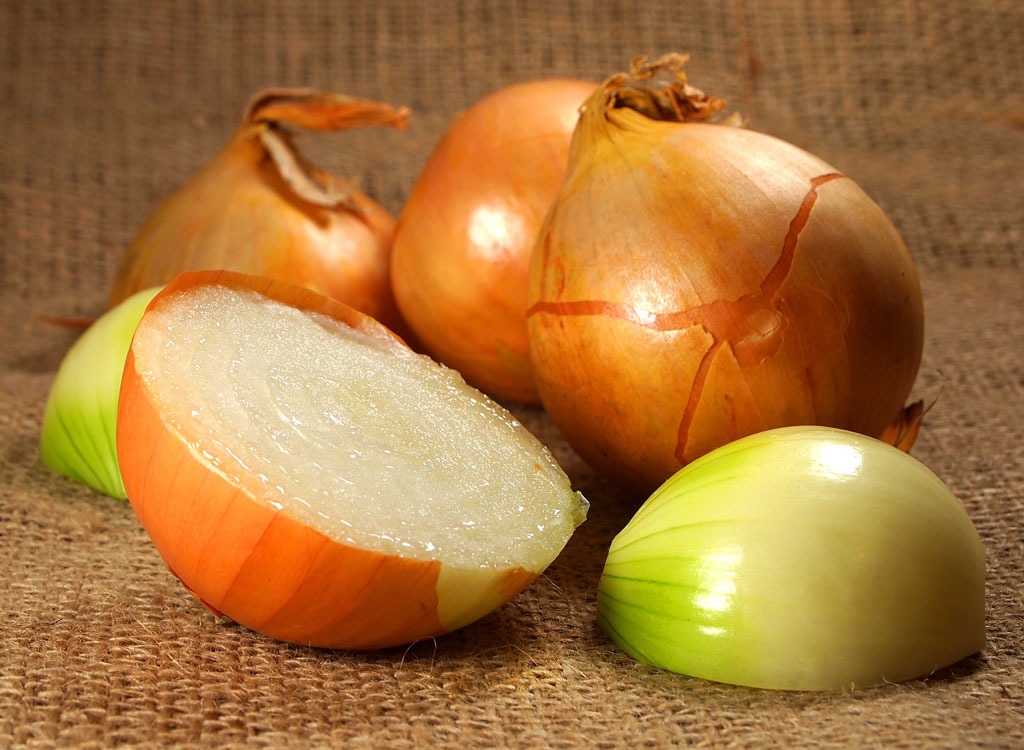 Like with berries, onions are generally shipped in from as far away as South America. This affects the flavor, yes, but it also brings ethical concerns. A 2008 study found that the main pesticide used on onions, methamidophos, is grown in Peru and is shown to damage the sperm of the farmers growing these onions.
Watermelon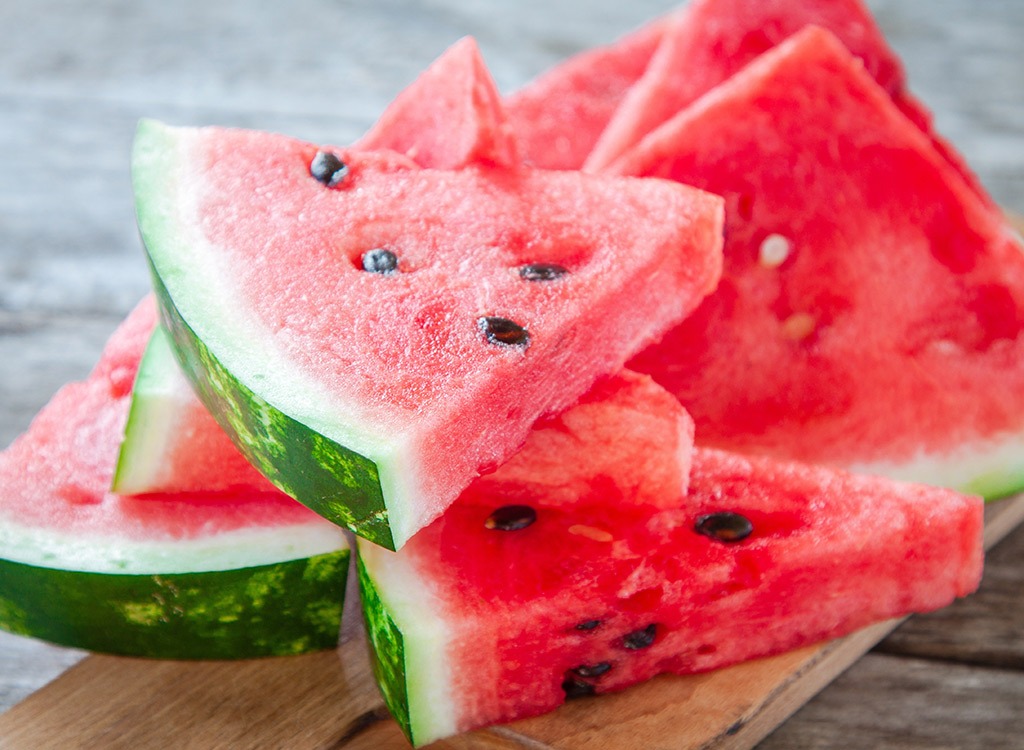 Watermelon is easily argued to be the quintessential summer fruit. Most store-bought varieties are limited to the green-rind-and-red-flesh that you're familiar with, but you'll find a huge variety at farmers' markets. Yellow and white watermelons are also delicious, plus you'll find plenty of seedless watermelons at your local stand, as well. Watermelon is also ridiculously trendy right now; don't miss these 12 Watermelon Trends You've Got to Try!
Asparagus
Asparagus is a delicious—and vitamin-packed—addition to meals, but most of the asparagus sold in stores is also shipped in from Peru. Plus, the USDA requires all imported asparagus be sprayed with a pesticide known as methyl bromide, a neurotoxin suspected to cause cancer. Yikes!
Peaches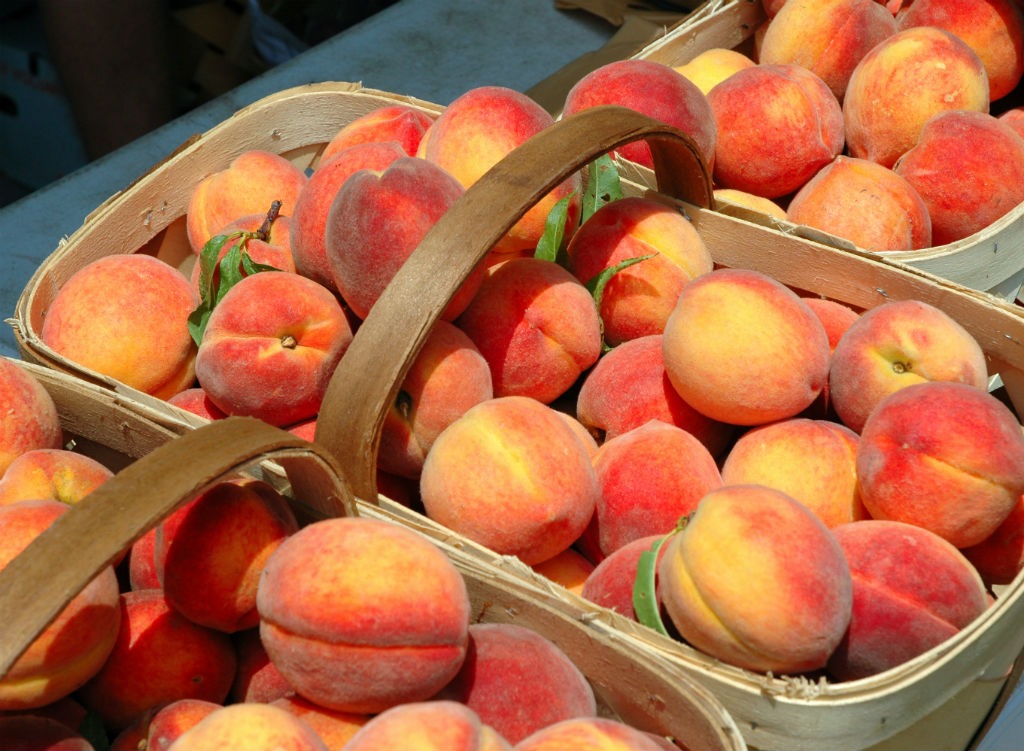 Have you spotted a pattern yet? Peaches taste delicious in the summer, but most of them are imported and treated with a variety of pesticides. According to the Environmental Working Group, peaches are treated with a ton of chemicals—more than any other fruit.
Bread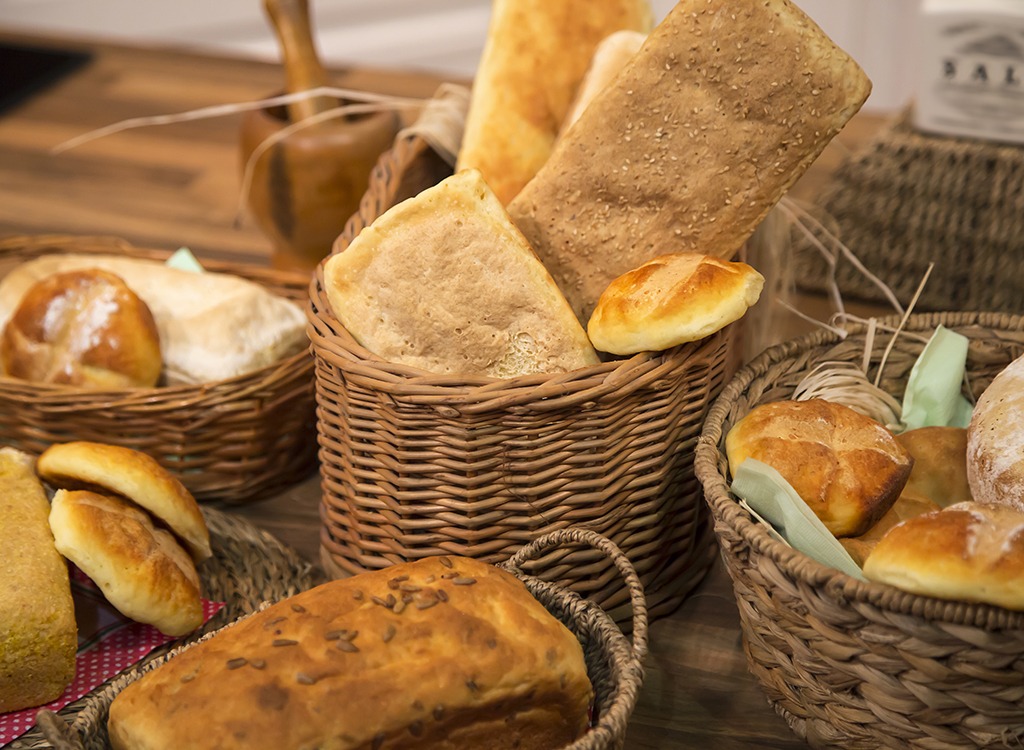 There's nothing quite like fresh baked bread and goodies. Farmers' markets often have vendors that sell everything from freshly-baked baguettes to gluten-free hamburger buns—and everything in between. Make sure you keep your eyes peeled for international favorites like croissants, kolaches, donuts—and maybe even a new take on the pop tart.
DON'T MISS: 20 Tips for How to Make the Perfect Burger
Mushrooms
Why forage in the forest when you can pay others to do it for you? So few stores sell good mushrooms, but many farmers' markets will have as many oysters, shiitakes, morels, and lion's manes as your taste buds can handle.
Spices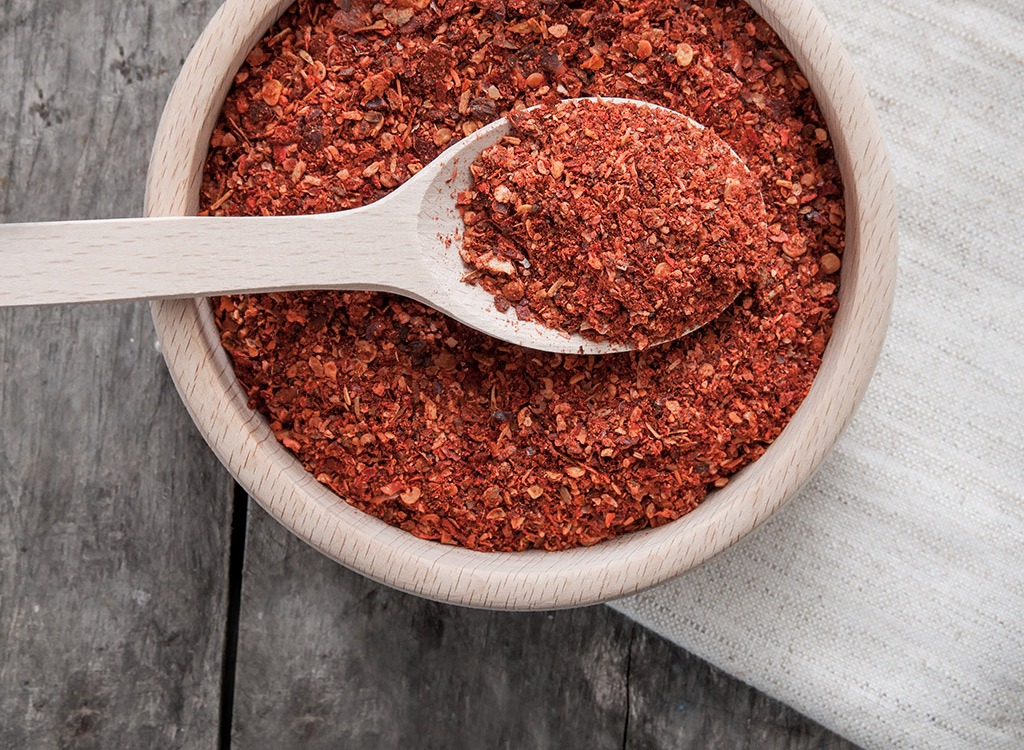 While grocery stores sell a ton of spices, you'll find a wider (and fresher) collection at farmer's markets. Dried sage? You got it. Same goes for thyme, cinnamon, and chili pepper. Depending on your location, you can get some hard-to-find ethnic spices to go with your international cuisine.
Rhubarb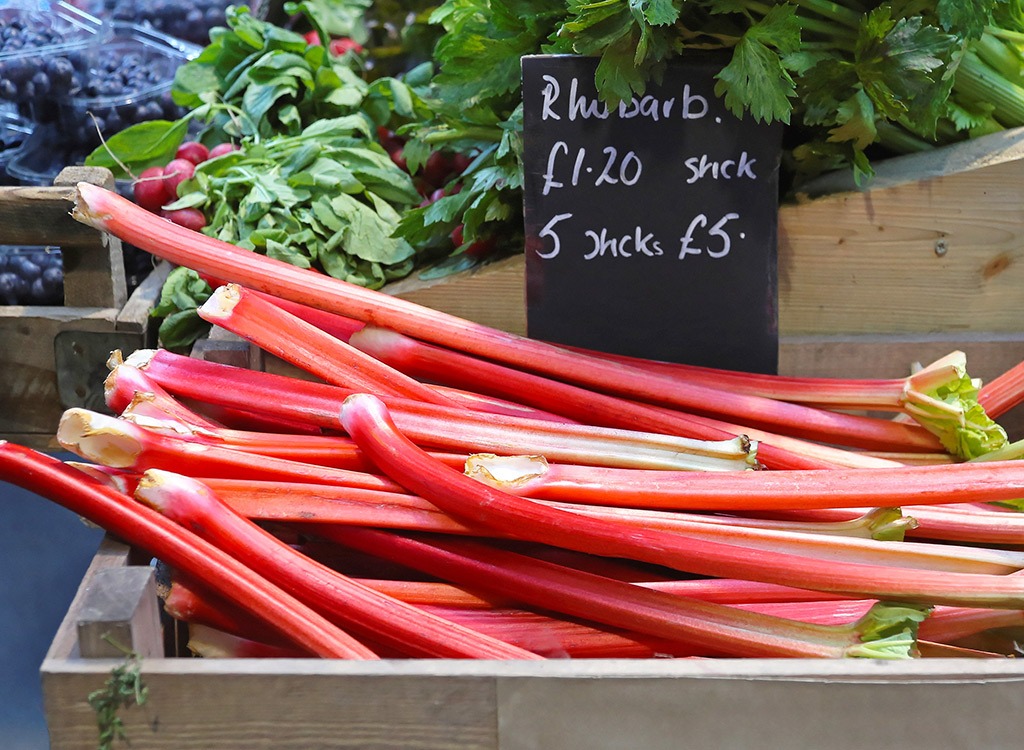 Rhubarb is one of the vegetables that isn't a common plant for the garden—and it's not sold at many grocery stores—so stock up when you have the chance. The stalks make good pies, chutneys, crisps, and cobblers, especially when combined with strawberries. After you pick some up at the farmers' market, try any one (or more!) of these 20 Delightful Rhubarb Recipes.
Bonus Section! What Not to Buy or Do At Farmers Markets
While we have your attention…
Don't Buy Everything In Sight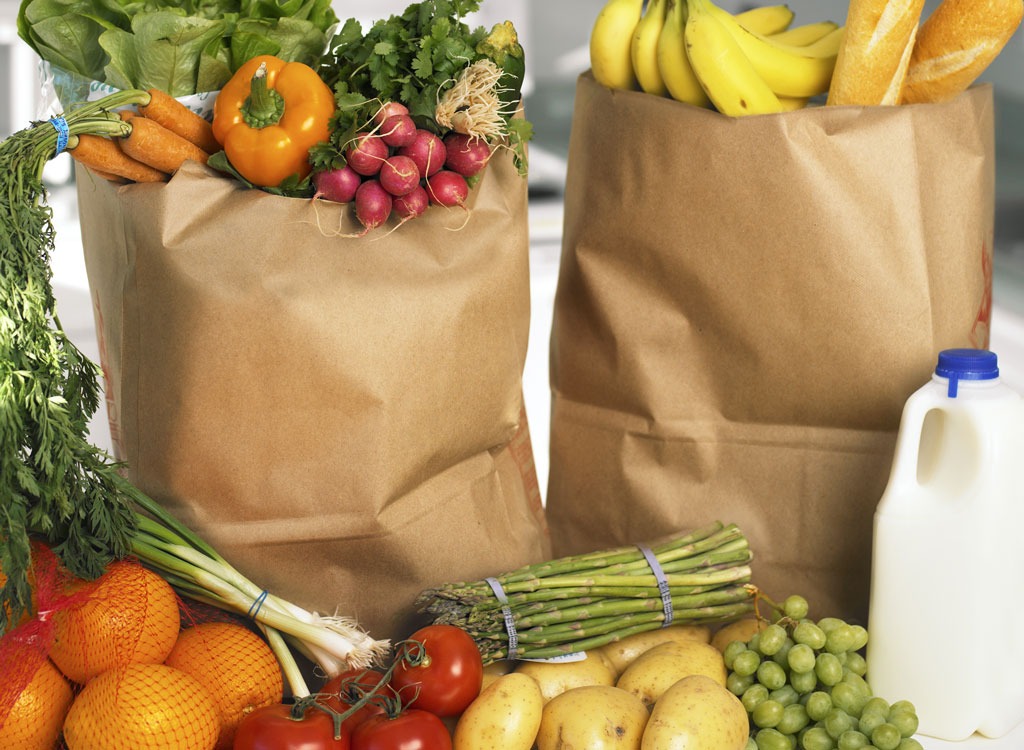 Farmers' markets are a sensory overload when you first arrive—so many colorful things to touch, drink, and taste! It's tempting to grab the first things you see and call it good, but it's better to make a loop around before committing. Look at every stall and take note of prices, then go back and buy from the vendors with the best deals.
Don't Assume Vendors Will Have Bags
Farmers' markets are generally made up of mom-n-pop farmers and vendors looking to turn a little bit of profit. Providing plastic bags cut into those profits, so many of them don't stock bags. Instead, be eco-friendly and bring your own canvas bags. You'll be able to carry more and help the environment at the same time.
Don't Shrug Off How Your Purchases Are Stored
Even though you can throw everything you buy into one bag, don't keep it there for long. Bring separate bags if you're going to buy meat and dairy alongside your fruits and veggies; you don't want juices contaminating them. Also, be sure to wash your produce as soon as you get home and store in a cool, dry place. E. Coli, Salmonella, Listeria and other viruses may contaminate the fruits and veggies during harvesting, no matter how careful the farmers pick them. P.S. Check out these 35 Easy Ways to Know Which Produce to Pick!
Don't Only Buy the Pretty Stuff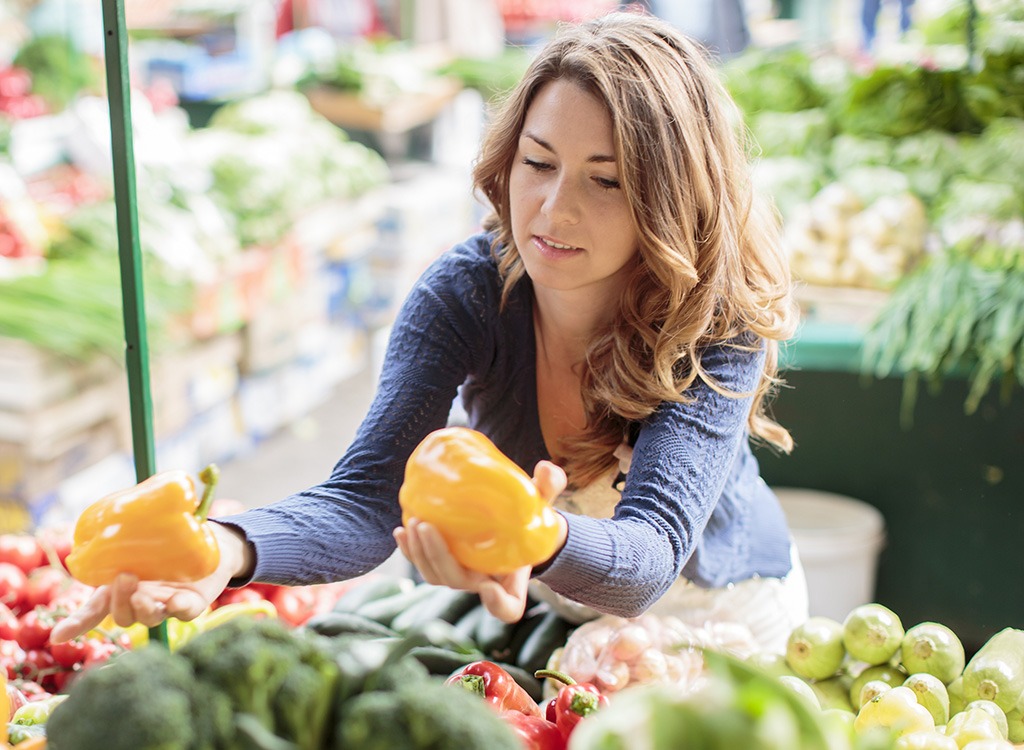 Speaking of how to choose produce, it's time to fess up: Do you only buy the perfect fruits and vegetables? It's okay, we all do it. However, opting for the less-than-perfect produce can save you some money since vendors want to get them out of their stock as soon as possible. And guess what? It tastes just as good—if not better. Just make sure you don't buy stuff that's moldy, seriously bruised, or cut—these are unfortunately ideal breeding grounds for bacteria.
Don't Buy What's Out of Season
Most of the time, fruits and vegetables that aren't in season won't be available for purchase at the farmers' markets, given that they can't grow it. That said, if you are buying oranges in November, then chances are the vendors purchased theirs from a distributor, much like grocery stores do.