While the world cannot seem to agree on whether it's a vegetable or a fruit, there is one thing we can agree on: Rhubarb is a nutrient powerhouse.
Low in calories and packed with vitamin and minerals, the stalks are a simple way to add nutrients to any meal. And studies boast its ability to improve digestion, fight Alzheimer's disease, stimulate bone growth, and fight cancer. Not to mention, rhubarb can increase metabolic activity and aid in weight loss, making it the best kept slimming secret. Just make sure to ditch the leaves, which contain high levels of oxalic acid that you don't want to ingest. Check out these 20 recipes, get inspired, and then discover more powerful foods with these 15 Functional Foods for Better Health and Weight Loss!
ROASTED STRAWBERRY RHUBARB AND YOGURT PARFAITS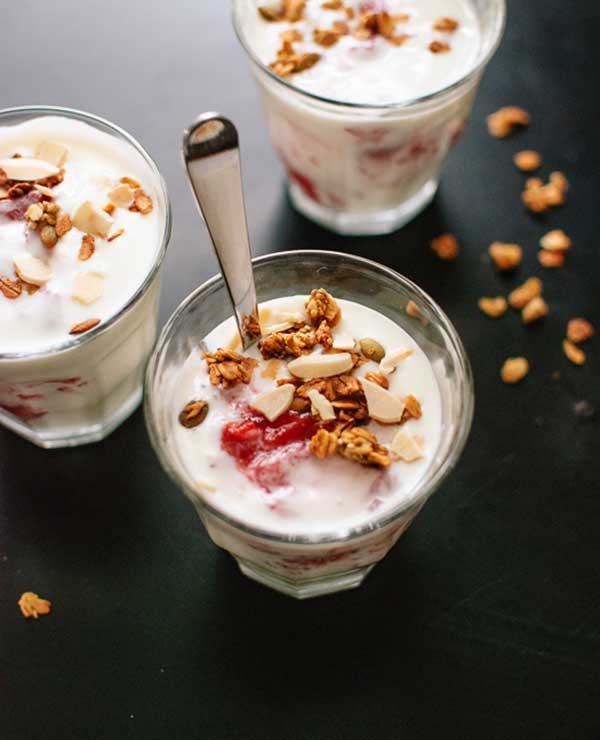 Nutrition: 155 calories, 13.1 g fat (2.9 g saturated), 78 mg sodium, 40.8 g carbs, 6.3 g fiber, 21.3 g sugar, 13.2 g protein (calculated with 1 oz of honey)
Yogurt does everything from boosting brain activity, moderating appetite, improving dental hygiene, and aiding in post-workout recovery to increasing fat loss. In fact, according to nutrition professor and lead study author Michael Zemel, Ph.D., the "fat around your waist produces the hormone cortisol, which tells your body to accumulate even more belly flab. Calcium – which yogurt is brimming with– signals your fat cells to release less cortisol, making it easier for you to ditch the pouch.
Get the recipe from Cookie and Kate.
BAKED BUTTERMILK DOUGHNUTS
Nutrition: 285 calories, 10.2 g fat (6 g saturated), 80 mg sodium, 44.1 g carbs, 1.5 g fiber, 19.3 g sugar, 5.1 g protein
This homemade doughnut is void of sketchy ingredients and contains 5 less grams of fat and 200 less milligrams of sodium that a strawberry frosted from Dunkin Doughnuts. Did we mention it's got a third of the ingredients?
Get the recipe from Adventures in Cooking.
RHUBARB CHIA JAM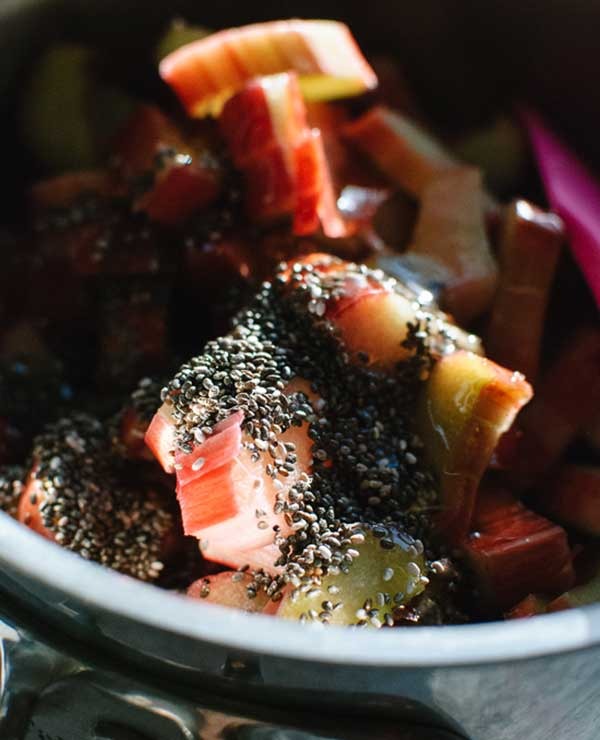 Nutrition: 42.6 calories, <1 g fat ( 0 g saturated), 6.6 mg sodium, 7.12 g carbs, 1.3 g fiber, .5 g sugar, <1 g protein
Bored with the same old PB&J? Try this jam made with chia seeds. Not only are loaded with heart-healthy omega-3s but they're hydrophilic, which is a fancy way of saying they soak up water—AKA they keep you more hydrated. Ditch the processed grape jelly and spread this with your peanut butter instead!
Get the recipe from Cookie and Kate.
RHUBARB PROSECCO SPARKLER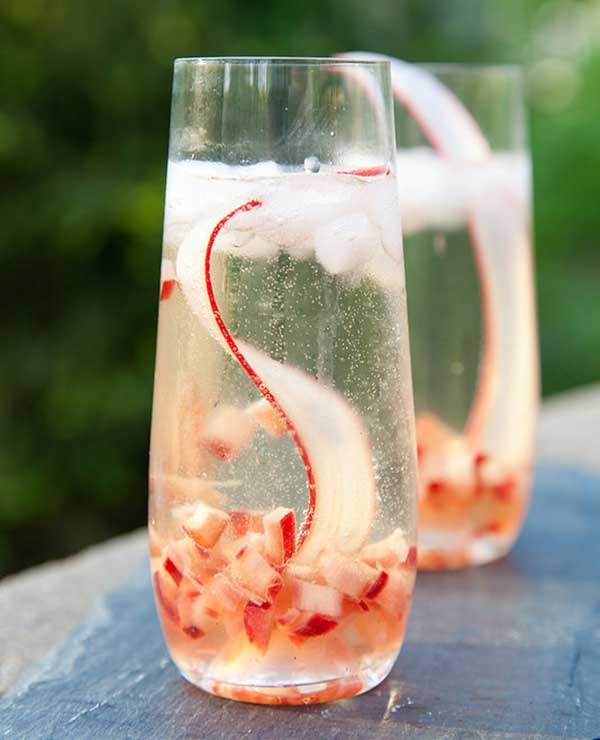 6254a4d1642c605c54bf1cab17d50f1e
Nutrition: 120 calories, 0 g fat (0 g saturated), 24 mg sodium, 27.8 g carbs, 1 g fiber, 0 g sugar, >1 g protein (calculated with agave syrup)
According to a study published in the International Journal of Kinesiology & Sports Science, booze, like prosecco, could improve post-exercise muscle recovery. In the study, male participants who went through two rounds of exercise and then consumed a small amount of an alcoholic beverage reported less soreness than those who consumed the placebo beverage. Sounds like a reason to celebrate to us–cheers! For more boozy bliss, check out these 23 Surprising Healthy Benefits of Alcohol.
Get the recipe from Annie's Eats.
STRAWBERRY RHUBARB PANCAKES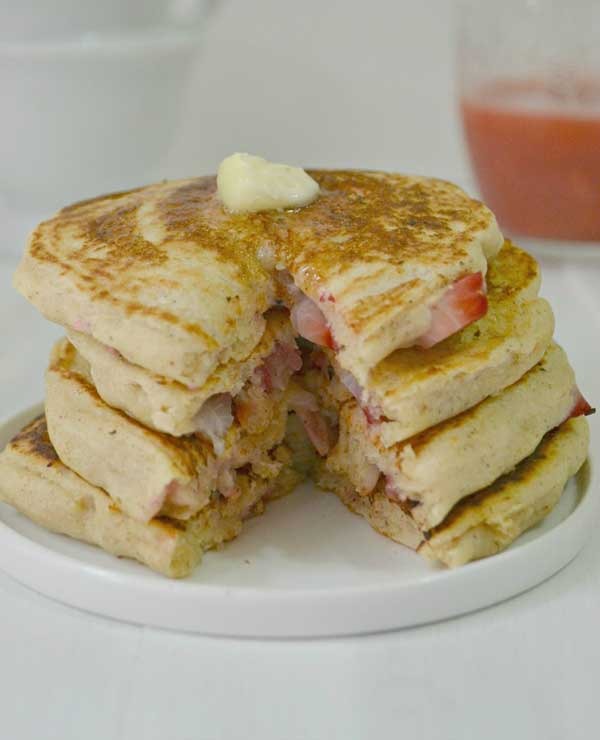 Nutrition: 242 calories, 11.1 g fat (1.6 g saturated), 164 mg sodium, 35.2 g carbs, 4.7 g fiber, 6.1 g sugar, 2.6 g protein (calculated without salt)
Gluten and dairy free pancakes? Yes, please (especially when they are under 250 calories). Pair them with a side of egg whites for a wholesome, balanced start to your day.
Get the recipe from Fork and Beans.
RHUBARB CRUMB SQUARES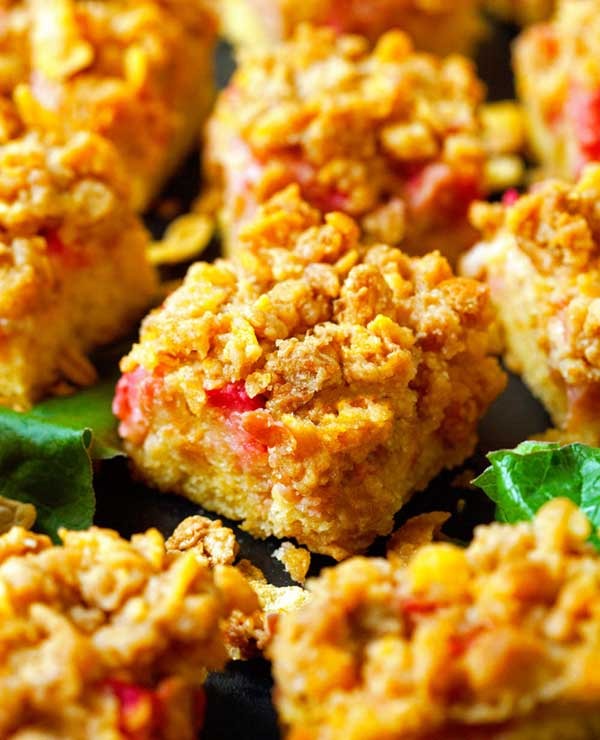 Nutrition: 279 calories, 15.6 g fat, 141 mg sodium, 32.6 g carbs, 1.6 g fiber, 17.4 g sugar, 3.6 g protein
Crumb cake is a weight loss taboo. But Eat This, Not That doesn't believe in an all or nothing approach to dieting. In fact, occasionally indulging is one of life's simple pleasures and can be enjoyed along the quest for a slimmer body. So have your cake and eat it too.
Get the recipe from Deliciously Yum.
STRAWBERRY RHUBARBY RICOTTA TART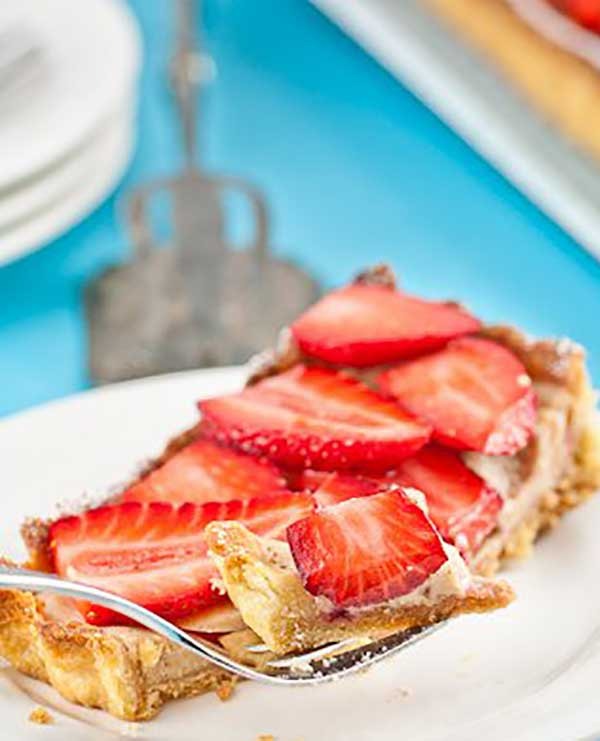 Nutrition: 276 calories, 13.2 g fat (7.4 g saturated), 154 mg sodium, 34.4 g carbs, 1.5 g fiber, 16.4 g sugar, 5.8 g protein
Before you reach for fat-free or part-skim ricotta, consider this: According to the 2013 European Journal of Nutrition research review, 11 of the 16 studies included found that participants who consumed more high-fat dairy products either weighed less or gained less weight over time than their counterparts who didn't consume fat-laden dairy.
Get the recipe from Delicious Every Day.
RHUBARB AND GREEK YOGURT POPSICLES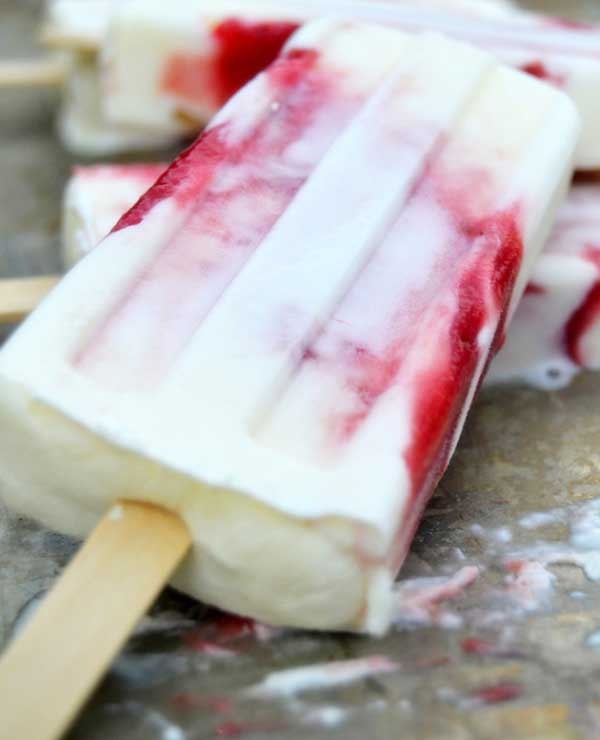 Nutrition: 92 calories, 1.2 g fat (<1 g saturated), 21 mg sodium, 14.9 g carbs 1 g fiber, 12.9 g sugar, 6.2 g protein
When it comes to yogurt, Greek yogurt] is the alpha. It's got more protein (up to 18 grams per serving), less sugar and no additives.
Get the recipe from The View From Great Island.
BALSAMIC ROASTED STRAWBERRY RHUBARB SORBET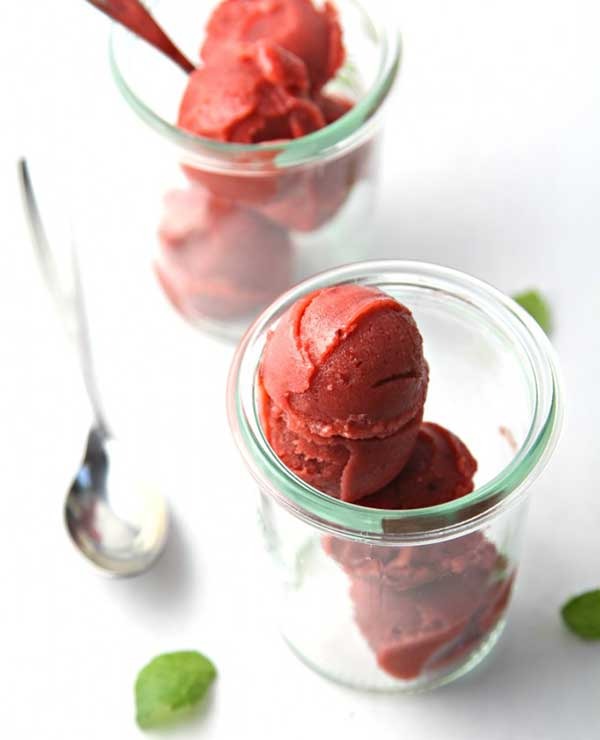 Nutrition: 88 calories, .5 g fat (0 g saturated), 3 mg sodium, 21.7 g carbs, 3.7 g fiber, 16.2 g sugar, 1.4 g protein
With temperatures rising, icy desserts are on everybody's lips (and if not already, soon to be hips). Luckily for you, this sorbet is the perfect summer treat and it fits flawlessly into your body goals.
Get the recipe from Bella Limento.
CINNAMON RHUBARB APPLESAUCE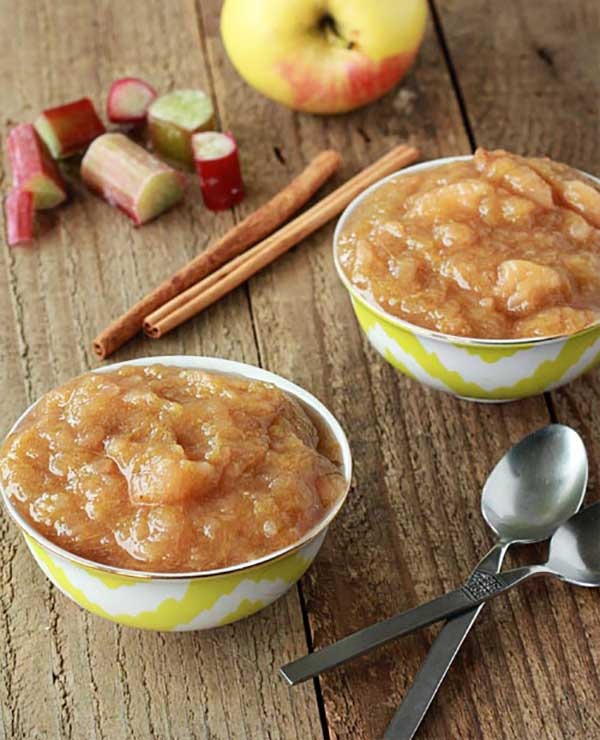 Nutrition: 106 calories, 0 g fat (0 g saturated), 4 mg sodium, 27.7 g carbs, 4 g fiber, 21.9 g sugar, 1 g protein
A series of studies printed in the American Journal of Clinical Nutrition found that adding a heaping teaspoon cinnamon to a starch, like the apples in this recipe, may help stabilize blood sugar and ward off insulin spikes that lead to cravings and overeating. And whether you're trying to shrink your waist, maintain your weight, or just eat healthier, appetite control is extremely important. Waited till now to work on your summer body goals? Check out these 25 Ways to Lose Weight in 5 Seconds!
Get the recipe from Kitchen Treaty.
RHUBARB AND VANILLA SCONES
Nutrition: 257 calories, 9.7 g fat (5.8 g saturated), 114 mg sodium, 39.6 g carbs, 1 g fiber, 18.3 g sugars, 3.8 g protein
Scones aren't exactly going to help you lose belly fat–but if you absolutely cannot avoid the Scottish treat, this batch is made with wholesome ingredients and just 257 calories.
Get the recipe from Back to the Roots.
STRAWBERRY RHUBARB CREAMSICLES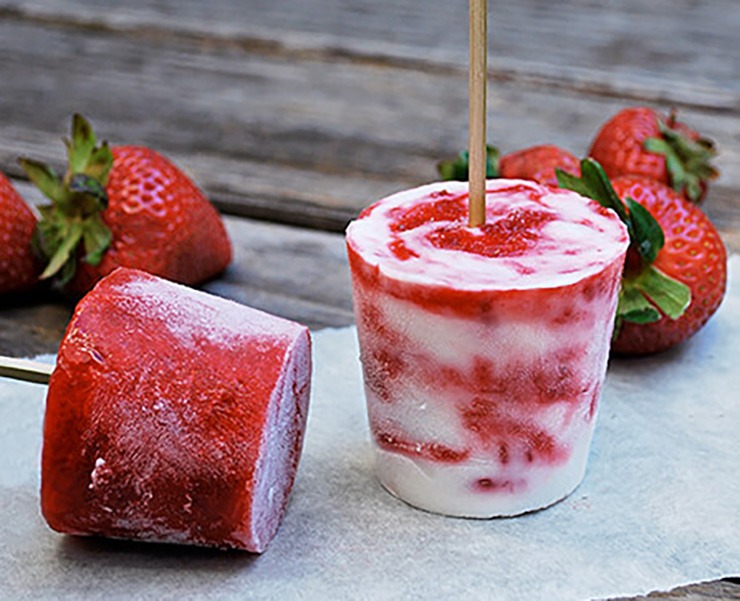 Nutrition: 131 calories, 1 g fat (<1 g saturated), 45 mg sodium, 26.7 g carbs, 1.7 g fiber, 24.1 g sugar, 4.1 g protein
Strawberries boost immunity, improve vision, fight cancer, reduce inflammation and keep wrinkles away. All things considered, these homemade creamsicles are absolutely dreamy.
Get the recipe from Family Spice.
STRAWBERRY RHUBARB JAM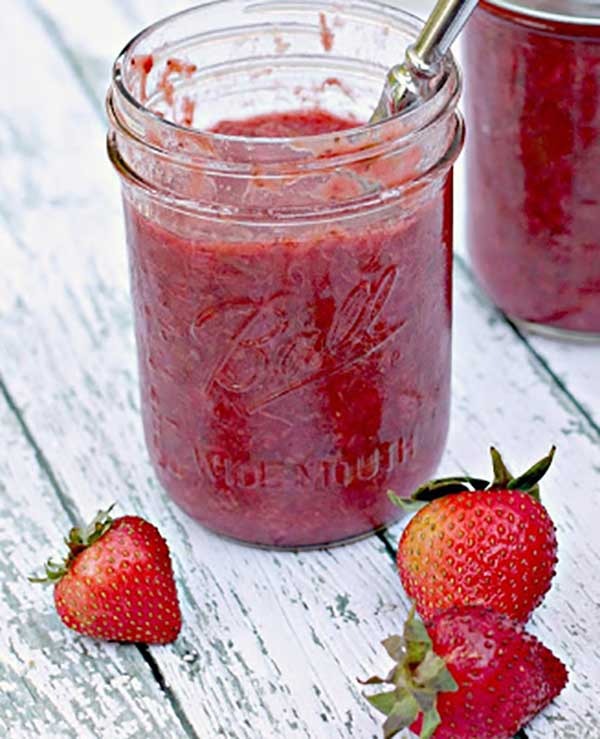 Nutrition: 69 calories, 0 g fat (0 g saturated), 3 mg sodium, 17.3 g carbs, 2.2 g fiber, 13.8 g sugar, 1 g protein
Not a fan of chia seeds? Try this jam instead. It's made with just four real ingredients and requires an effortless prep (thanks to the slow cooker). We're all for healthy crock pot recipes, that give us more time to tackle our never-ending to-do lists.
Get the recipe from The Cottage Mama.
STRAWBERRY RHUBARB YOGURT CAKE
Nutrition: 272 calories, 11.2 g fat (4 g saturated), 244 mg sodium, 37.2 g carbs, 3 g fiber, 12.5 g sugar, 7.5 g protein
This cake is made with satiating greek yogurt, detoxifying lemons, and cancer-fighting berries. Not to mention it contains gluten-free almond flour, which is high in protein, low in carbohydrates and low in sugars.
Get the recipe from Sassy Kitchen.
STRAWBERRY RHUBARB SHORTCAKES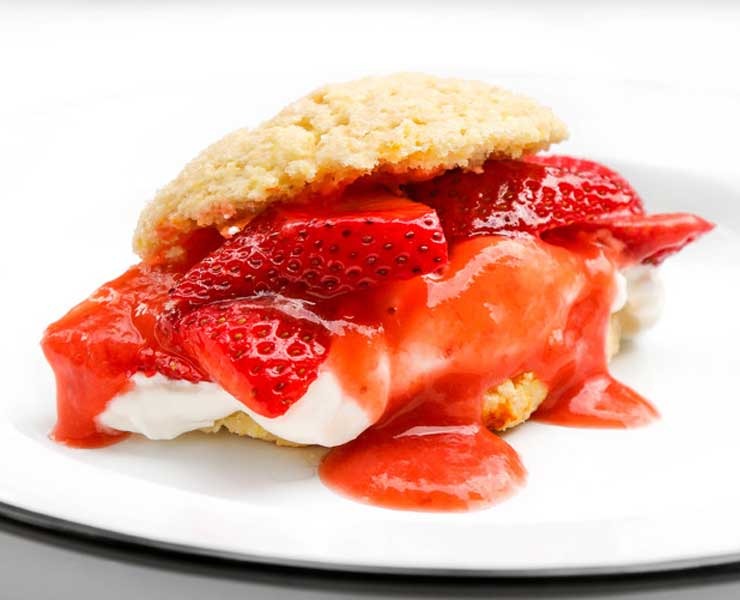 Nutrition: 262 calories, 6.3 g fat (3.5 g saturated), 205 mg sodium, 49.2 g carbs, 3.3 g fiber, 21.1 g sugar, 4.3 g protein
Summer barbecues are just around the corner and what better way to serve dessert than with these individual shortcakes?
Get the recipe from The Hungry Hounds.
RHUBARB MARGARITA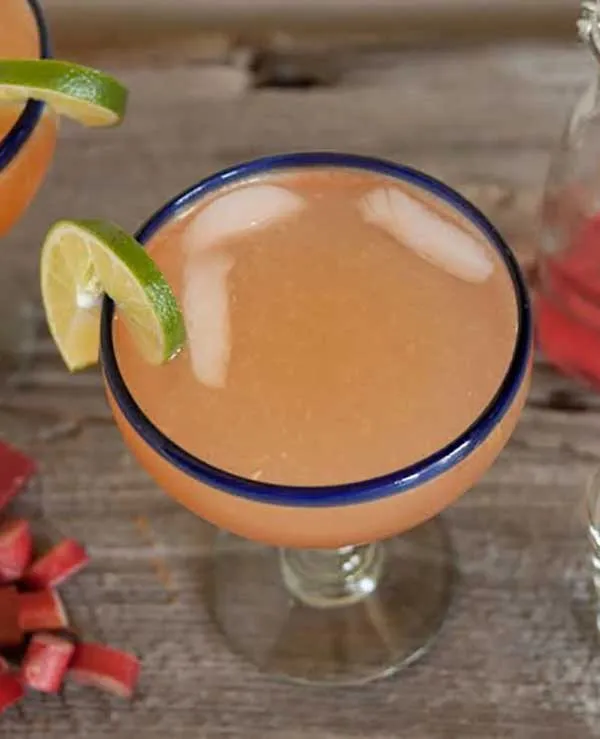 Nutrition: 168 calories, 0 g fat (0 g saturated), 15 mg sodium, 30.7 g carbs, 1.4 g fiber, 17 g sugar, <1 g protein
As if you needed a reason to sip on a margarita after a long week, research suggests that the agavins (natural sugar) found in the signature booze actually help you lose weight. After scientists had given a group of mice agavins into their water, they reported that the mice had lower glucose levels and were fuller longer.
Get the recipe from What's Gaby Cooking.
SMOKY RHUBARB BBQ RIBS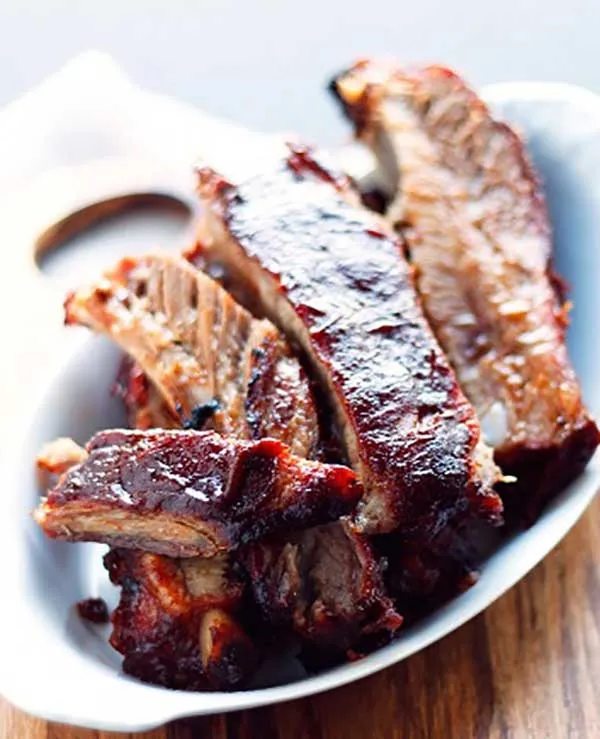 Nutrition: 219 calories, 5 g fat (1.6 g saturated), 271 mg sodium, 11.6 g carbs, 2.8 g fiber, 5 g sugar, 31.4 g protein
Aside from their Godly taste, these ribs are made with avocado oil. Like the name implies, the oil comes from the same waist-whittling fruit that makes guacamole.
Get the recipe from I Breathe, I'm Hungry.
STRAWBERRY RHUBARB LEMONADE
Nutrition: 99 calories, .5 g fat (0 g saturated), 9 mg sodium, 24.7 g carbs, 1.3 g fiber, 22.9 g sugar, <1 g protein (calculated with 1 cup sugar)
When Beyoncé named her album Lemonade, it's doubtful she intended to promote the actual beverage. But…if you're Bey obsessed, you've already decided to whip up this one. Just make sure to use one cup of sugar instead of two–you're sweet enough. And if you're envious of her banging body, check out these 20 Easy Ways to Lose Weight Like a Celebrity.
Get the recipe from Cincy Shopper.
STRAWBERRY RHUBARB GRILLED CHEESE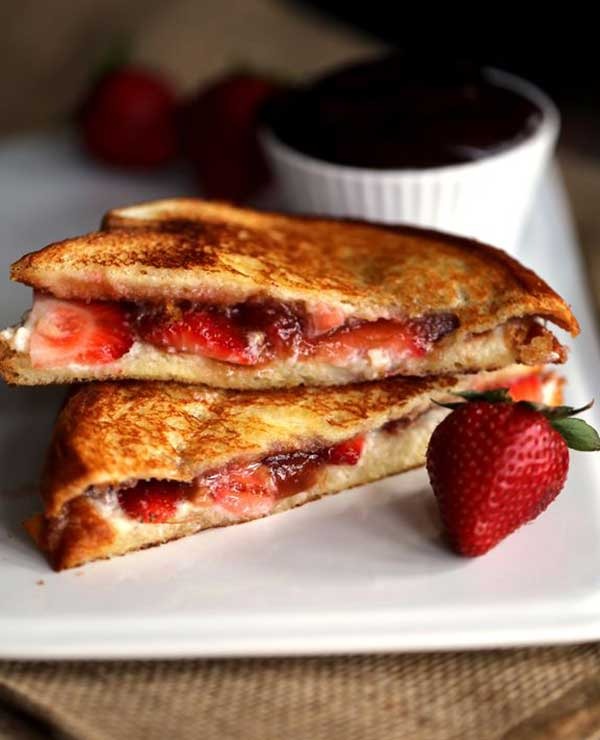 Nutrition: 332 calories, 15.4 g fat (8.8 g saturated), 357 mg sodium, 35.1 g carbs, 7 g fiber, 8.5 g sugar, 15 g protein (calculated without chocolate ganache)
National Grilled Cheese Month may have been last month, but this recipe ought to still peak your interest. It's definitely indulgent, but the richest things in life always are. That's why we only dabble. You're welcome.
Get the recipe from Melanie Makes.
STRAWBERRY RHUBARB PIE
Nutrition: 244 calories, 13.1 g fat (5.5 g saturated), 140 mg sodium, 29.1 g carbs, 1 g fiber, 10.1 g sugar, 3.5 g protein
Let's face it, apple pie is so overdone. With strawberry season just around the corner, liven up dessert with this rhubarb pie. It's brimming with the ruby berries and wholesome oats, that keep you full longer after you ingest them. For more foods to munch on as the temperatures rise, check out these 23 Best Snacks for Summer.
Get the recipe from Buns In My Oven.