6 Fast-Food Breakfast Orders To Avoid if You Have High Blood Pressure
If you have high blood pressure, sacrificing healthy eating in the name of convenience can be risky.
We all have those mornings—the ones when your alarm didn't go off, your coffeemaker is on the fritz, and your kid suddenly informs you their science project is due in 15 minutes. As you're speeding to work or school dropoff, a fast-food breakfast can be a godsend. However, if you have high blood pressure, it's important not to sacrifice healthy eating in the name of convenience.
Perhaps your doctor has advised you to be more mindful of your blood pressure, or you were officially diagnosed with hypertension. Either way, if you're prone to high blood pressure, choosing menu items high in sodium, saturated fat, and added sugars will only exacerbate the problem by creating excess pressure within your arteries.
In recent years, fast-food chains have gotten savvier about offering breakfast options that fit well on a heart-healthy diet, but there are still plenty of drive-thru offenders. To keep your blood pressure in check or manage your hypertension, be sure to avoid the following six fast-food breakfast options. Also, to learn more about which lunch or dinner fast-food choices to steer clear of, be sure to then check out these 6 Fast-food Orders To Avoid If You Have High Blood Pressure.
Carl's Jr. Monster Biscuit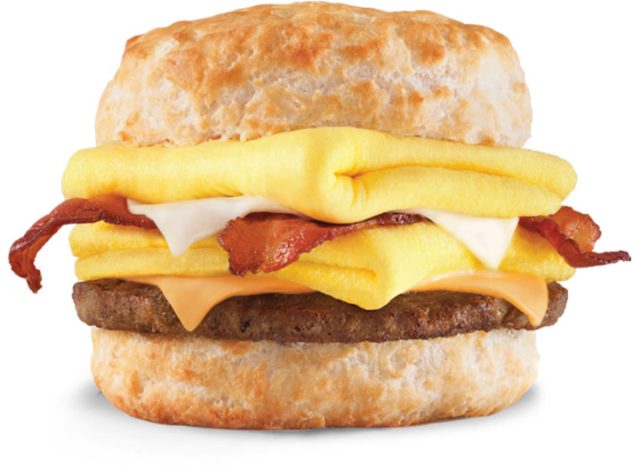 PER SERVING
: 850 calories, 61 g fat (25 g saturated fat, 0.5 trans fat), 365 mg cholesterol, 2,380 mg sodium, 46 g carbs (0 g fiber, 5 g sugar), 31 g protein
With a name like "Monster Biscuit," you're probably not expecting this one to be healthy. But you might be surprised at just how high in calories, saturated fat, and sodium it actually is.6254a4d1642c605c54bf1cab17d50f1e
The American Heart Association (AHA) recommends people on a 2,000-calorie diet get only about 13 grams of saturated fat per day—and by reaching for this single sandwich, you'll take in almost half the daily recommended calories, nearly double the daily target of saturated fat. Then there's this beast of a breakfast's troubling sodium content, which exceeds the AHA's total daily recommended limit of 2,300 mg, with an ideal target of just 1,500 mg for people with hypertension.
The Egg-Normous Burrito from Burger King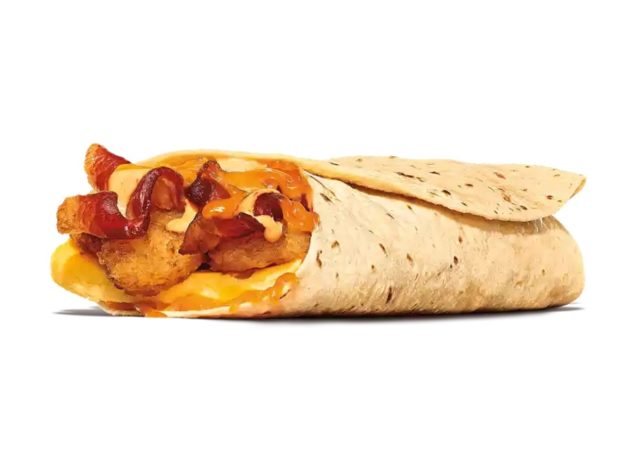 PER SERVING
: 825.6 calories, 46 g fat (16.5 g saturated fat, 1.4 g trans fat), 437.7 mg cholesterol, 2,037.7 mg sodium, 68.3 g carbs (3.5 g fiber, 3.9 g sugar), 35.4 g protein
Burger King's Egg-Normous Burrito may satisfy a ravenous appetite in the morning, but its epic size comes at the expense of your blood pressure. Not only is this one a calorie bomb, but its combo of sausage and bacon is bad news for your heart. Repeatedly, research has shown that regularly eating red and processed meats can increase the risk of high blood pressure. Experts believe the sodium, cholesterol, and saturated fat content are a perfect storm for increasing arterial pressure. There's even an interesting new theory that chemicals created in the gut after eating red meat could add to heart disease risk.
The Double Sausage Breakfast Sandwich from Dunkin'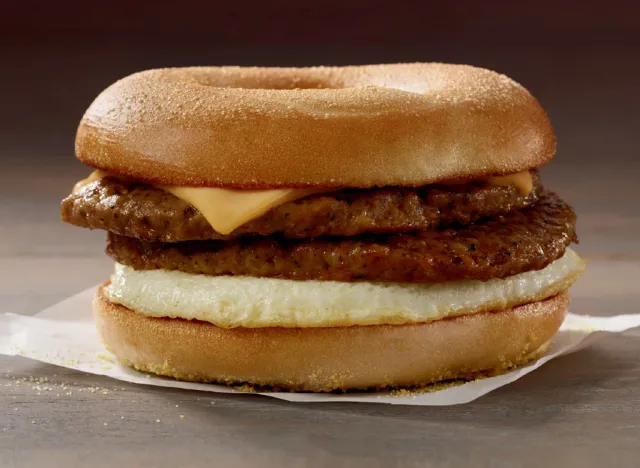 PER 1 SANDWICH
: 900 calories, 54 g fat (19 g saturated fat), 265 mg cholesterol, 1,980 mg sodium, 70 g carbs, 5 g fiber, 8 g sugar), 33 g protein
Don't let the Double Sausage Breakfast Sandwich from Dunkin' charm you with its sizable amounts of fiber and protein. Though these nutrients are worth noting, they're some of the only positive attributes to this sausage sammie. For high blood pressure, you'll want to avoid this one due to its sky-high sodium and saturated fat.
Meanwhile, its calorie count alone (900 calories) is a reason to skip it. According to the National Institutes of Health, being overweight or obese is a risk factor for hypertension. However, losing around 10 pounds can sometimes make a difference in mitigating the potential for your blood pressure to escalate and remain elevated over abnormally unhealthy periods of time.
The Gravy Breakfast Bowl from Dairy Queen
PER SERVING
: 830 calories, 59 g fat (19 g saturated fat, 4 g trans fat), 360 mg cholesterol, 1,690 mg sodium, 42 g carbs (4 g fiber, 2 g sugar), 30 g protein
You may have heard that harmful trans fats have made their way out of the U.S. food supply. It's true that the artificially created hydrogenated oils that harbored these fats got the axe as of 2020. But that doesn't mean trans fats don't still lurk in other ingredients like meats, cheeses, and butter—as in Dairy Queen's Gravy Breakfast Bowl.
In addition to its high-calorie count of 830, its 19 grams of saturated fat, and its nearly 1,700 milligrams of sodium, this morning bowl contains 4 grams of trans fat. Research shows that a higher intake of trans fats is associated with increased likelihood of hypertension—and the World Health Organization recommends consuming no more than 2.2 grams per day on a 2,000-calorie diet.
If you're craving gravy while swinging through the DQ drive-thru for fast-food breakfast while on the go, consider their chicken and gravy burrito instead: It is 320 calories, 5 grams of saturated fat, 1 gram of trans fat, and 840 milligrams of sodium are a far better choice for your heart.
The Grilled Cheese Breakfast Sandwich With Sausage from Carl's Jr.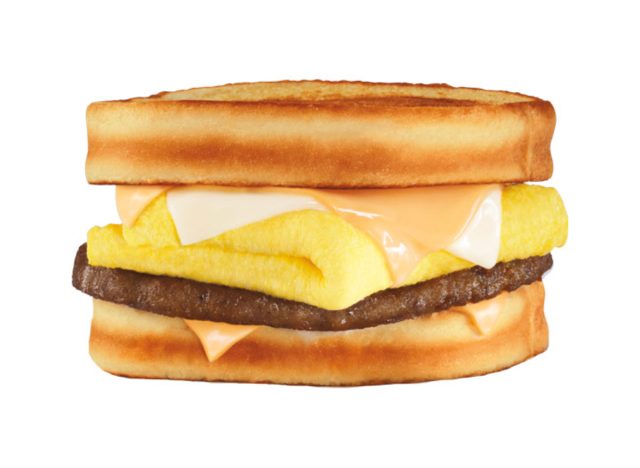 PER SERVING
: 840 calories, 45 g fat (17 g saturated fat, 0.5 g trans fat), 260 mg cholesterol, 1,920 mg sodium, 77 g carbs (3 g fiber, 5 g sugar), 41 g protein
Carl's Jr. makes the list again with their grilled-cheese version of the usual breakfast sandwich, complete with American and Swiss cheeses, grilled sausage, and eggs between sourdough slices. The combo may be tasty, but this one is neck and neck with other offending breakfast sandwiches for excessive calories, sodium, saturated fat, and one of the highest carb counts around. Some studies have found that a lower-carb lifestyle could significantly lower blood pressure. Additionally, they note that higher-quality carbs—like those in whole grains, fruits, and non-starchy vegetables—are far better choices for your systolic and diastolic numbers than refined carbs, like those in white bread.
To cut calories, you can opt for ham or bacon instead of sausage in this sandwich—but for a genuinely heart-healthy breakfast option, you're probably better off hitting another drive-thru in the mornings. Carl's Jr's relatively small breakfast menu doesn't offer much that jives with bringing down your blood pressure.
The Big Breakfast With Hotcakes from McDonald's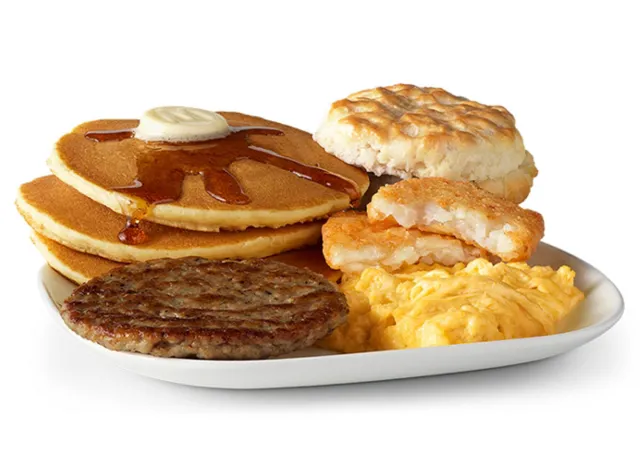 PER SERVING
: 940 calories, 48g fat (18 g saturated fat), 485 mg cholesterol, 1,540 mg sodium, 103 g carbs (3 g fiber, 36 g sugar), 26 g protein
Lastly, McDonald's takes the cake—the hotcake, that is—for the least desirable fast-food breakfast for high blood pressure. This mega meal of hot cakes, scrambled eggs, biscuit, hash browns, sausage patty, butter, and syrup is a mélange of processed meat and refined carbs that won't do your heart health any favors. And did we mention its saturated fat, cholesterol, and sodium levels—all are near or even over the recommended limits for an entire day? If the Big Breakfast is really calling your name, try spreading out its over-abundant nutrients by making it a family meal to share.
Sarah Garone, NDTR
Sarah Garone, NDTR, is a registered nutrition and dietetic technician, and a health, nutrition, and food writer.
Read more about Sarah