6 Fast-Food Chains That Serve the Best Apple Pie
Swing by one of these spots for a sweet, fall-friendly treat.
The product recommendations in this post are recommendations by the writer and/or expert(s) interviewed and do not contain affiliate links. Meaning: If you use these links to buy something, we will not earn a commission.
Fast-food chains might be most commonly associated with savory menu items like burgers, fries, and chicken nuggets, but there are plenty of dessert options that keep customers coming back. Among the milkshakes, soft-serve ice cream cones, and chocolate chip cookies is one sweet treat that embodies the fall season: apple pie.
Unlike a traditional slice of apple pie, which features an exposed fruity filling between two triangular layers of pastry crust, fast-food apple pies are usually handheld, turnover-style desserts that have most, if not all, of the filling concealed prior to taking a bite. This construction makes them portable and easy to eat on the go.
While most people will assert that nothing beats a slice of homemade apple pie, when you need your apple cinnamon craving satisfied quickly, fast-food chains have got you covered. Here are six fast-food chains that have won over customers with their apple pie options.
McDonald's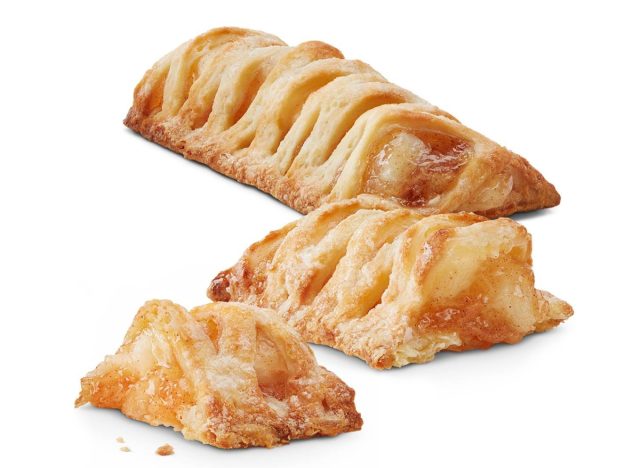 Per Serving
: 230 cal, 11 g fat (6 g saturated fat), 100 mg sodium, 33 g carbs (1 g fiber, 14 g sugar), 2 g protein
This fast-food giant rolled out its apple pie, which was also its first dessert, in 1968—the same year it launched the Big Mac. McDonald's dished out fried apple pies until 1992 before switching to a baked version. Since the dessert's original debut, the chain has sold more than 40 iterations, releasing its most recent apple pie in 2018. In an effort to make the dessert healthier, the latest recipe has less sugar, fewer ingredients, additional cinnamon, and a lattice crust.
While many still wax poetic about the fried apple pie, the baked item still garners its fair share of praise. "McDonald's apple pie is the best apple pie," one fan wrote on Reddit, noting that other apple pies crumble and "fall apart when sliced." The Redditor added, "McDonald's provides consistency which is the biggest reason I think they are the best (taste being the next big factor)."
Popeyes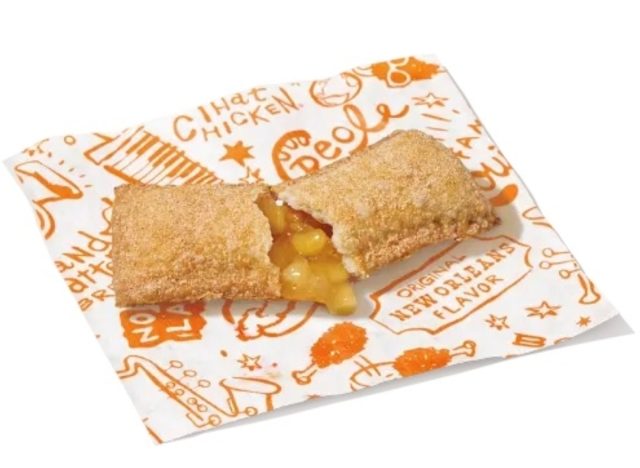 Per Serving (1 cinnamon apple pie)
: 240 cal, 16 g fat (6 g saturated fat), 260 mg sodium, 35 g carbs (1 g fiber, 12 g sugar), 3 g protein
If fried apple pie is your preference, Popeyes might be the better option for you. The chicken chain serves fried cinnamon apple pies coated in a layer of cinnamon and sugar. The chain's website describes this dessert as having "warm, crispy crust on the outside, hot cinnamon apple goodness on the inside."6254a4d1642c605c54bf1cab17d50f1e
One fan on TikTok said, "You can tell they put time into making these. […] Compared to, like, fast-food apple pies, this is the best one I've had." Similarly, a YouTuber, who tried the fried dessert for the first time, offered much the same reaction: "There's no comparison. Two bites in, McDonald's apple pie, go away. … "[Popeyes'] tastes so much better."
Arby's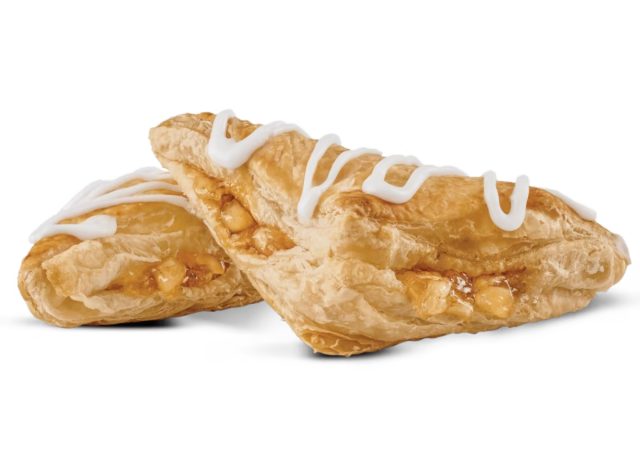 Per Serving
: 430 cal, 18 g fat (9 g saturated fat), 210 mg sodium, 65 g carbs (2 g fiber, 39 g sugar), 4 g protein
After you polish off your roast beef sandwich, Arby's has a few dessert options to consider. One is an apple turnover. This dessert consists of a flaky crust with a sweet apple filling and an icing drizzle. The fast-food sandwich chain currently offers a cherry version and used to sell a chocolate turnover before discontinuing it in 2016.
While one fan of the apple turnover gave it a score of "10000/10" on X, another one commented that it's "the best drive thru dessert by a hundred miles. Not even close."
Church's Texas Chicken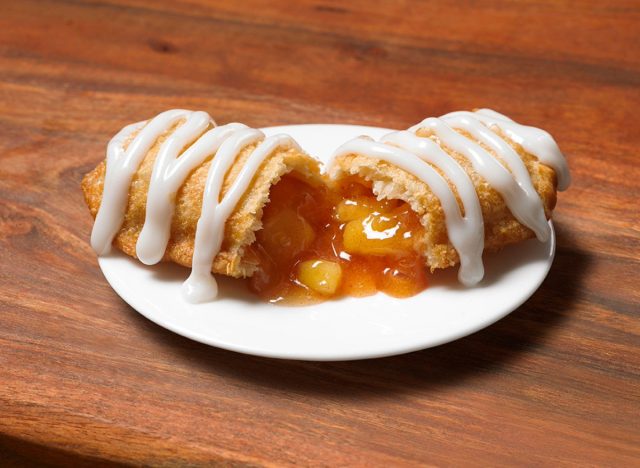 Per Serving
: 270 cal, 13 g fat (4.5 g saturated fat), 240 mg sodium, 37 g carbs (12 g fiber, 11 g sugar), 3 g protein
Church's Texas Chicken draws in customers with more than just its fried chicken. The Atlanta-based fast-food chain is also home to an apple pie, which features "juicy apple slices, sprinkled with cinnamon, baked in a crispy, flaky crust," according to the company. Like Arby's apple turnover, this dessert also has a sweet icing drizzle.
"Church's [C]hicken apple pie > any other restaurant," one fan asserted on X. Another called the dessert "top tier."
Panda Express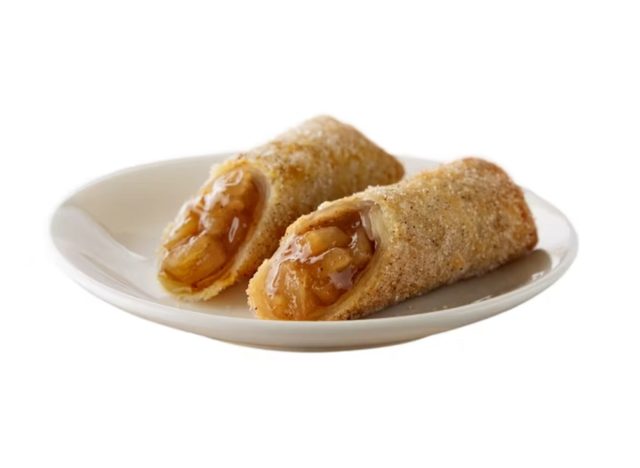 Per Serving (1.94 oz)
: 150 cal, 3 g fat (1 g saturated fat), 90 mg sodium, 30 g carbs (1 g fiber, 13 g sugar), 2 g protein
This one isn't turnover-style, but it certainly has apple pie elements. Earlier this month, Panda Express put a spin on classic apple pie by releasing its first-ever dessert: the Apple Pie Roll. Merging an apple pie with a Chinese egg roll, the new menu item consists of a crispy pastry wrapper filled with apples and covered in cinnamon sugar. In the month that it's been available, many fans have taken to social media to rave about the mashup dessert.
"Panda Express, you just did something," one TikToker said. It's crunchy, it's nice and warm. I love those apple pieces."
Honorable Mention: Taco Bell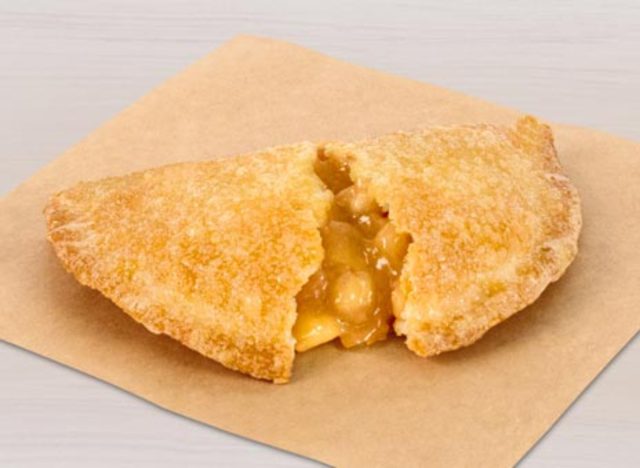 This apple pie-inspired dessert is no longer on Taco Bell's menu, but many believe it should be. After quietly pulling the treat from restaurants in 2019, the chain confirmed the item's discontinuation. A spokesperson told Brand Eating, "Even the sweetest things in life don't last forever. While we are sad to confirm that the beloved Caramel Apple Empanada is no longer on menus nationwide, we encourage fans to spread their appreciation to our other amazing desserts."
The Caramel Apple Empanada featured a deep-fried shell filled with diced apples and caramel sauce. Among the fans who have lamented the dessert's departure from menus, one Redditor described the item by writing, "Imagine if heaven came in the form of a crunchy sweet treat."
Brianna Ruback
Brianna is a staff writer at Eat This, Not That! She attended Ithaca College, where she graduated with a degree in Journalism and a minor in Communication Studies.
Read more about Brianna