I Tried 4 Store-Bought Apple Pies & the Winner Had the Flakiest Crust
Apple pie is a fall essential, so I set out to see which store has the best one.
The product recommendations in this post are recommendations by the writer and/or expert(s) interviewed and do not contain affiliate links. Meaning: If you use these links to buy something, we will not earn a commission.
Apple season has officially begun. This means it's the prime time to whip up your favorite recipe starring the autumnal fruit. From apple pancakes to apple balsamic flatbread, there are endless creative uses of the fall's bounty. However, there's no dish more emblematic of the season than classic apple pie.
Served hot or cold and sometimes à la mode (with ice cream), apple pie is a staple of American cuisine. For centuries, the fruit-based dessert has drawn in fans with its sweet, cinnamony apple goodness. Although most people, including myself, will argue that homemade apple pie reigns supreme, going for the store-bought kind can sometimes be the more appealing option.
Since apple pie is my favorite fall dessert, I decided to try a few store-bought versions to see which one was the best. To conduct this taste test, I grabbed pies from three national retailers—Costco, Walmart, and Whole Foods—and one popular regional grocery chain, Wegmans. I popped all of them into the oven at 350 degrees for around five minutes, and then enlisted the help of two additional taste-testers—my roommates.
To judge the pies, we assessed the flavor and texture of the filling and crust, as well as the ratio of these two key elements. Here's how the pies fared against each other, which I ranked in descending order from my least favorite to the standout slice.
Walmart
Per Serving (1/9 pie)
: 340 cal, 18 g fat (8 g saturated fat), 160 mg sodium, 41 g carbs (2 g fiber, 20 g sugar), 3 g protein
This 10-inch apple pie clocked in at two pounds and 11 ounces. It was the only one with optional warming instructions, which recommended heating the pie in the oven at 350 degrees for 10 to 15 minutes, though I heated it for less time. I purchased this pie for $6.82.
The look: This pie looked exactly like what you'd envision when hearing someone say "apple pie." One of my fellow taste-testers said, "This looks like your grandma's apple pie." The crust was a perfect shade of golden brown with fork-crimped edges around it. Slivers of apple peaked through the center opening, offering a sneak preview of what was to come. Out of all the pies, this filling was the lightest in color, with the apples appearing almost raw—as if they had only baked for a short period of time.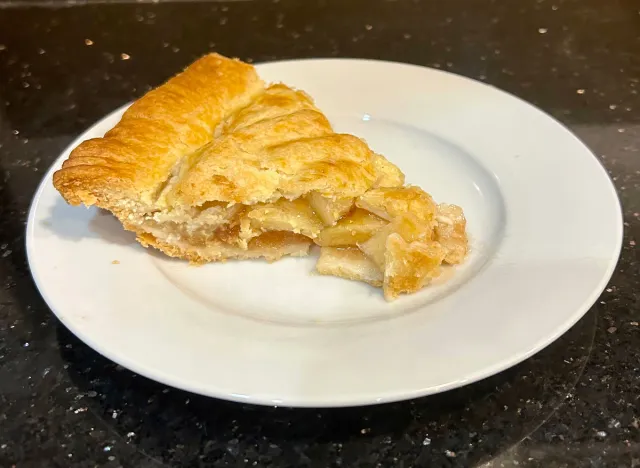 The taste: The texture of the apples aligned with their appearance. They weren't particularly soft and had a crispness to them that the other pie fillings lacked. However, this didn't take away from the flavor, which was delightfully sweet and cinnamony. That being said, this pie wasn't without its flaws. The crust was too crumbly, giving it a sand-like texture. While I did enjoy the filling, the nature of the crust was enough for me to reach for a different pie.6254a4d1642c605c54bf1cab17d50f1e
Costco
Per Serving (1/16th pie)
: 350 cal, 13 g fat (4 g saturated fat), 350 mg sodium, 54 g carbs (2 g fiber, 31 g sugar), 3 g protein
Bulk offerings are key to the Costco brand, so it's no surprise that this pie could feed a large group—or have enough leftovers to be frozen for a later date. The biggest of the bunch, Costco's apple pie weighed a whopping four pounds and 11 ounces, measuring about 12 inches across. This pie cost $12.99.
The look: When I first looked at—or rather, faced-off with—this apple pie, my initial reaction was, "Wow. This thing is huge." The photo doesn't do it justice. Taking the pie out of the oven was also somewhat nerve-wracking, becoming a two-person job to ensure everything stayed intact. As depicted, some of the pie cracked in the process. In addition to its great size, the crust was especially noteworthy, as it was covered in a layer of bubbling, shimmery sugar crystals. When I cut myself a slice, I noticed that it was flatter than the others and had a darker filling.
The taste: The filling featured the tartest apples, along with flavors of cinnamon and nutmeg. This pie also had the softest apples, which delivered a caramely, melt-in-your-mouth consistency. One taste-tester, who gave this pie the coveted number one spot, said it had the "best apple to 'goop' ratio," referring to the syrupy part of the filling. However, I wished the apples were sweeter, and the crust was a bit soft for my liking. I had hoped the sugar crystals on top would offer a slight crunch. I think keeping the pie in the oven for a few extra minutes would have made all the difference.
Wegmans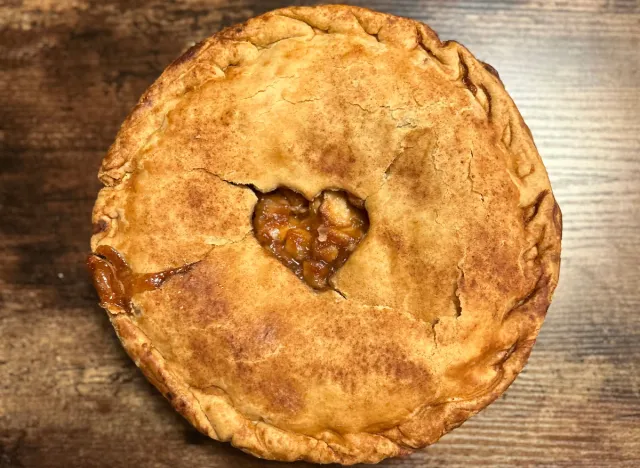 Per Serving (1/9 pie)
: 220 cal, 16 g fat (4.5 g saturated fat), 170 mg sodium, 25 g carbs (1 g fiber, 21 g sugar), 0 g protein
This regional supermarket chain is praised for its bakery department, so when I saw its large apple pie pop up on Instacart, I knew I had to include it in my taste test. According to the website, the pie's filling contains Red Ida apples and is "spiced with cinnamon, sugar, and a hint of nutmeg." The label highlights that it's vegan, as well. Weighing 2.44 pounds and measuring nine inches, Wegmans' apple pie cost me $15, the most expensive of the four.
The look: This pie's crust was slightly darker in color, thanks to a dusting of cinnamon, which none of the other pies had. According to the label, the pie was topped with sugar, too. The crust featured a pressed rope edge, while the center had a heart-shaped cutout, serving as a window to the caramel-colored apple filling. Unlike the other three pies, which had chunks of apples, these were chopped into smaller pieces.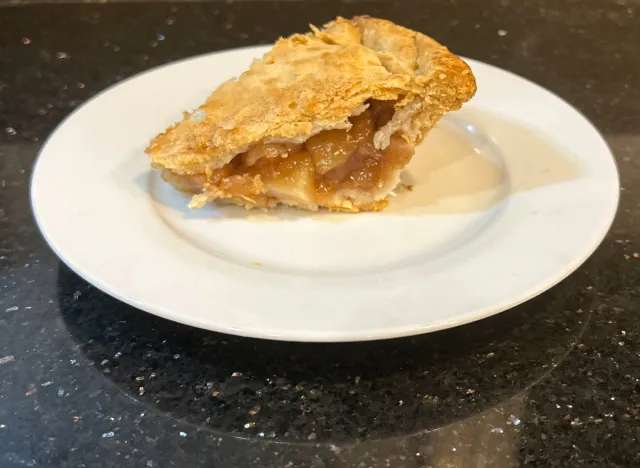 The taste: Next to Costco, this apple pie's filling was on the tarter side, but the sweetness from the cinnamon and sugar shined through. The apples were also considerably soft, though not quite as mushy as Costco's, which I appreciated. The crust was flaky, but what stood out to me the most was the sprinkling of cinnamon on top, which offered a nice touch of flavor.
RELATED: 6 Restaurant Chains That Serve The Best Pies
Whole Foods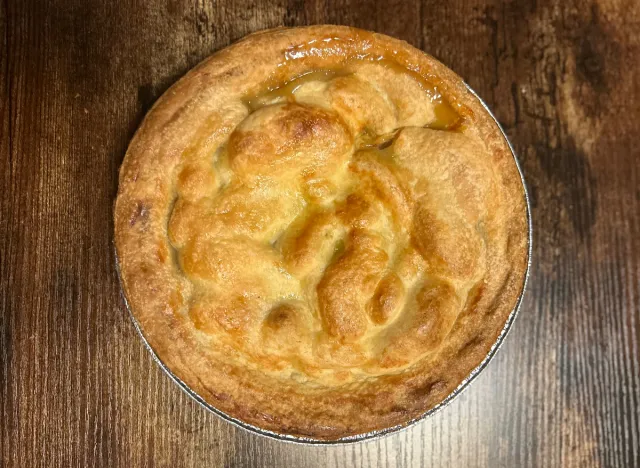 Per Serving (1 slice)
: 370 cal, 13 g fat (7 g saturated fat), 115 mg sodium, 64 g carbs (3 g fiber, 39 g sugar), 3 g protein
Whole Foods prides itself on quality, so I had relatively high expectations for this pie prior to even spotting it in the store. The nine-inch dessert weighed exactly two pounds. I picked up this pie for $13.99.
The look: In its whole form, this pie had the least striking appearance. There were no fancy cutouts or designed edges, and some of the filling oozed out of the crust. However, the crust was golden-brown, and upon cutting into it, I noted an ideal amount of flakiness.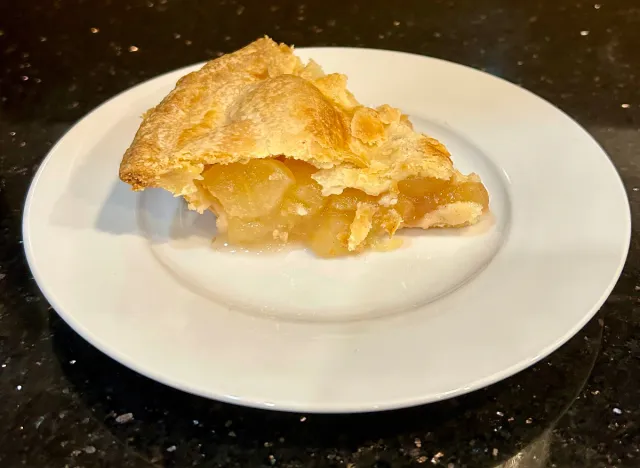 The taste: This pie was slightly more challenging to cut than the others, which I initially believed was due to being overcooked. However, after taking a bite, I was pleasantly surprised—and very impressed. The pie was well-cooked, while the filling was perfectly balanced, presenting both sweetness and tartness without overpowering on either side.
One of the most significant elements that set this pie apart was the flaky crust, which was both buttery and slightly sweet. This offered yet another delicious layer to the pie's flavor profile. "A solid crust," declared one roommate, wholeheartedly agreeing with me that this pie deserved the top honor.
If I had to purchase another store-bought apple pie, it would, without a doubt, be this delectable one from Whole Foods.
Brianna Ruback
Brianna is a staff writer at Eat This, Not That! She attended Ithaca College, where she graduated with a degree in Journalism and a minor in Communication Studies.
Read more about Brianna