I Tried McDonald's and Popeyes' Apple and Blueberry Pies & One Blew the Others Away
Which spot would win in a head-to-head pie taste test?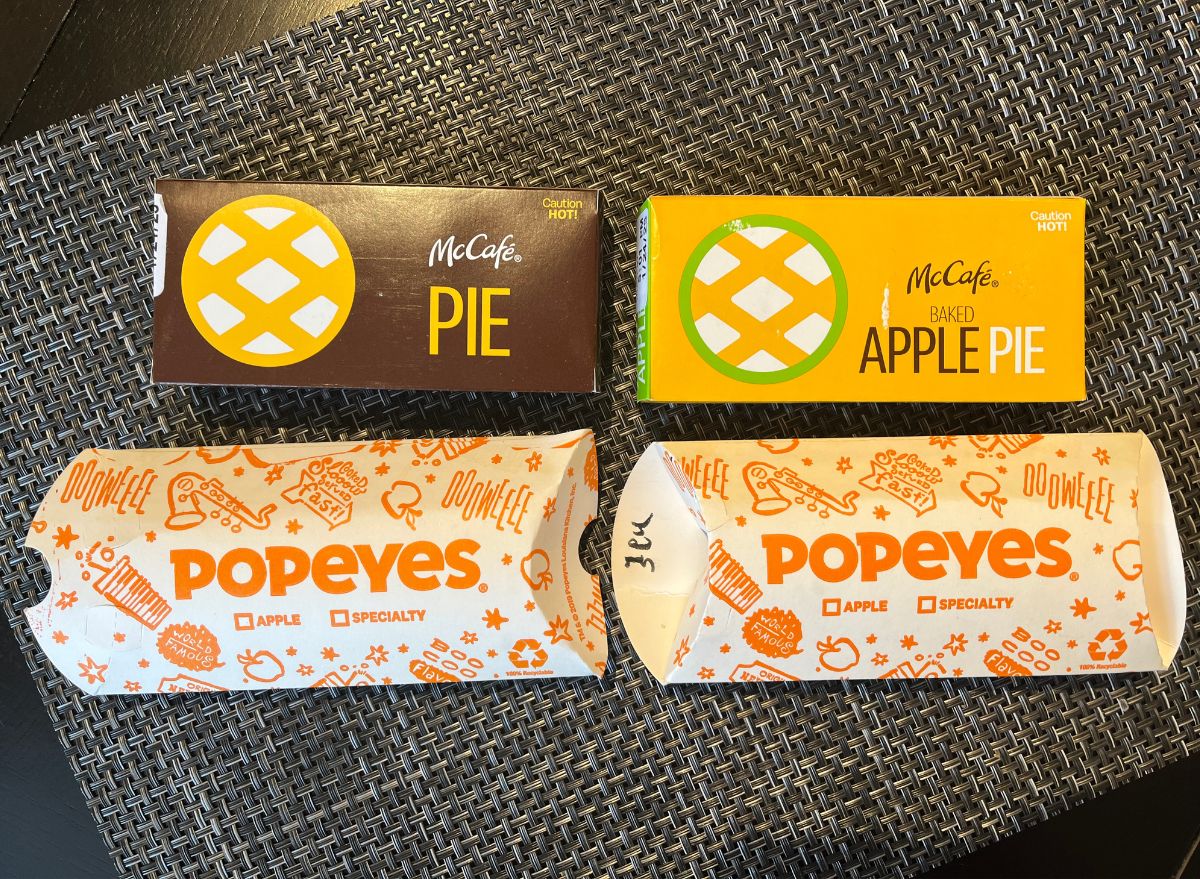 Many people have a strong reaction when you mention the apple pie from McDonald's. Those reactions range from pure nostalgia to doubt (that anyone still eats it), to anger at the fact that it's no longer fried. I can't remember the last time, or if ever, I've eaten one. I mean, who has the space for pie after McDonald's?
But when I learned that Popeyes fries its pies and it currently has a blueberry and cream-flavored pie, in addition to its apple pie—just like McDonald's—I got to thinking: Which spot would win in a head-to-head pie taste test?
Mickey D's famous dessert has been on the menu since 1968, but it changed from fried to baked in 1992. The resulting pie was healthier, but some fans missed the old flavor. Popeyes still fries its pies, and interestingly, uses beef tallow in its fryers like McDonald's used to. I had to see how they stacked up against each other.
I enlisted one other taster to help me rate these four pies. Here's how they ranked from least favorite to just like grandma used to make.
McDonald's Blueberry and Crème Pie
Per pie
: 260 calories, 15g fat (8g saturated fat), 150mg sodium, 30g carbs (1g fiber, 14g sugar), 3g protein
The Blueberry and Crème pie is a seasonal offering at McDonald's, half the pie is a vanilla-flavored cheesecake-like mixture and the other side has a warm, real blueberry filling.
The look: Both McDonald's crusts have attractive peek-a-boo structures. The blueberry one has an opening down the middle revealing a line of deeply colored blueberry filing and a line of creamy white.
The taste: The blueberry flavor had a real depth and just the right acidity. The crust had a nice flake to it and held up to the gooey filling. When we got a bit of the cheesy cream with the blueberry, everything melded together nicely. If, however, we got just a bit of cream in the bite, it tasted like melted cheesecake which was a little odd. Honestly, swirling the two would be a better experience, or maybe the blueberry-only pie should come with a cheesecake dip on the side.
Popeyes Blueberry Lemon Cream Cheese Fried Pie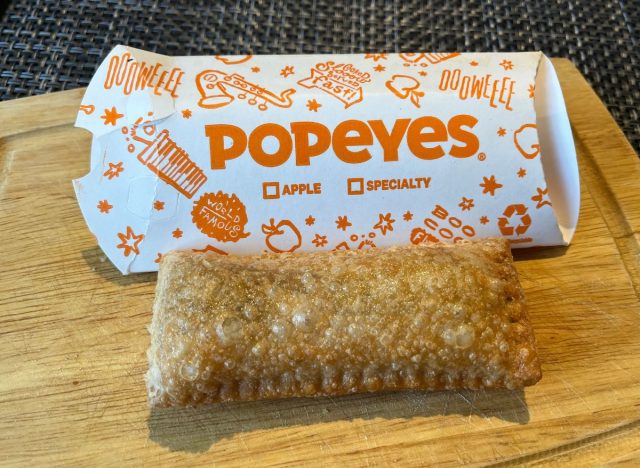 Per pie
: 320 calories, 19g fat (7g saturated fat), 290mg sodium, 35g carbs (1g fiber, 11g sugar), 4g protein
Popeye's blueberry pie is a seasonal offering that is surprisingly similar to the one from McDonald's. It, too, has a blend of lemon-scented blueberry and cheesecake-like filling.6254a4d1642c605c54bf1cab17d50f1e
The look: Popeyes' blueberry pie looked just like its apple pie, but it did not have the cinnamon sugar dusting. The bubbly fried crust looked inviting and crunchy.
The taste: Popeyes' and McDonald's blueberry pies tied on flavor but in different ways. McDonald's won with the flakey tender crust and Popeyes won with a more flavorful blueberry filling. Also, it's worth noting that one person liked Popeyes' blueberry pie more than the other. The filling inside seemed to be inconsistent with one getting more of the blueberry than the other. Again, the warm cheesecake filling just didn't work. Both pies would have been better off without it. The crust, while crispy, didn't live up to the McDonald's crust which tasted more like actual pie dough.
Popeyes Cinnamon Apple Pie
Per pie
: 236 calories, 15g fat (6g saturated fat), 260mg sodium, 35g carbs (1g fiber, 12g sugar), 3g protein
Popeyes fried apple pie is dusted in cinnamon sugar and is part of the regular menu.
The look: This pie looks crisp, with a golden brown exterior and a light dusting of sparkling cinnamon sugar.
The taste: We wanted this pie to blow us away and it was delicious, but a few things demoted it to second place. First, the crust, though crispy, wasn't flaky like a pie crust should be. It was almost like a thicker, doughier egg roll. The filling was very good, but it needed more apples and a rounded flavor, maybe the addition of more cinnamon and some tartness would have brought the flavor up.
McDonald's Baked Apple Pie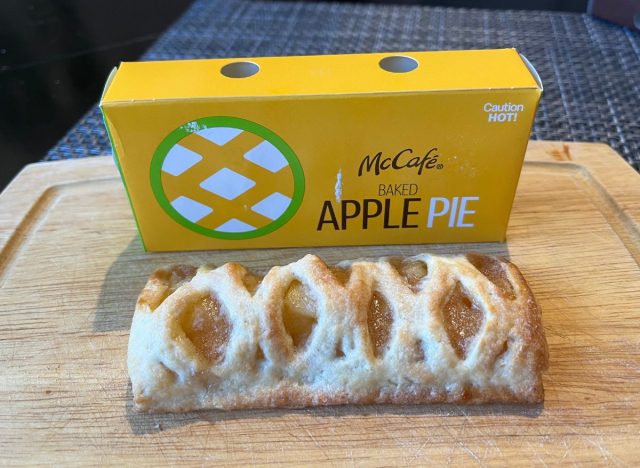 Per pie
: 230 calories, 11g fat (6g saturated fat), 100mg sodium, 33g carbs (1g fiber, 14g sugar), 2g protein
McDonald's baked apple pie is a mainstay on the menu, and despite the change from fried to baked, has been a popular dessert for over 50 years.
The look: I'm not sure when McDonald's apple pie got its lattice crust, but it was a very smart idea. The pie looks like a pie. It looks like care was put into making it. Plus, it has subtly brown edges that make it look carefully baked and it smells of warm cinnamon.
The taste: I'm not sure what this pie tasted like when it was fried, but it's hard to believe it was once better than this. Besides looking amazing, it tasted like a real piece of apple pie. The cinnamon level was perfect, the filling was packed with tart apples, and it was just the right consistency. All I could think of was how it would taste if I had it blended into McDonald's vanilla ice cream as some menu hackers suggest. Indeed, a side of vanilla ice cream was the only thing this pie was missing.