8 Fast-Food Chains That Serve the Best Hot Subs
Some quick-service sandwiches are simply better when they're served hot and fresh.
The product recommendations in this post are recommendations by the writer and/or expert(s) interviewed and do not contain affiliate links. Meaning: If you use these links to buy something, we will not earn a commission.
Some sandwiches, like the classic club or a cucumber sandwich, are best served with the ingredients chilled. Others are at their best when things are hot, and fans will tell you there's nothing quite like a a hot submarine-style sandwich.
There is no universally applicable terminology when it comes to hot subs. Per MLive, some people insist that the term "grinder" means a hot sub sandwich, but generally speaking, a hot sub is simply that: it's a sub served up warm, and benefits from being prepared as such.
Interestingly enough, the hot sub is hardly seen as the best of subs by all people. Indeed, the huge sandwich chain Jimmy John's even prides itself on never serving hot sandwiches, but instead on assembling cold sandwiches quite quickly — so quickly, in fact, they are often made in less than 30 seconds, according to comments by Jimmy John's employees on Quora.
So, it's a matter of opinion whether or not you think hot subs are better than cold subs or vice versa. But it's a matter of fact that, with many diners, the hot subs from these chains are absolute favorites.
Jersey Mike's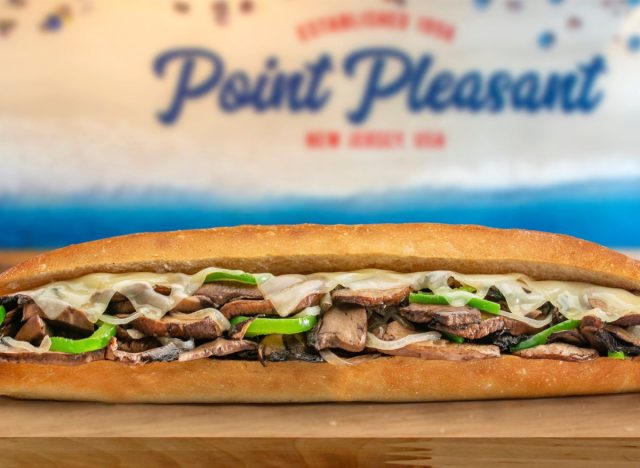 Jersey Mike's is one of the most successful sub chains out there, with more than 2,530 locations at present, according to the data company ScrapeHero. And there is a Jersey Mike's in every single state, plus Washington, D.C., which is a claim few fast-food chains can make.
What's the secret to the sandwich shop's success? Big sandwiches, for one thing. Very big, in fact, and freshly made, too. But let's focus on the big. And the hot.
At last check, Jersey Mike's has a dozen hot subs on the menu, and they include things like the Buffalo Chicken Cheese, the Mike's Famous Philly, and the Grilled Portabella Mushroom & Swiss.
And how are the hot subs? According to many online reviews, they are generally superb, and for one reason above all else—and no, it's not the size, it's what one Yelp user calls out: it's the consistency. "That is one quality I always look for. [Jersey Mike's] always makes nice, fresh sandwiches to order. I have never had a complaint about the preparation of my sandwich."
Firehouse Subs
It would be pretty ironic for a place with fire in the name not to have hot subs, right? (Never mind that Firehouse Subs is so named because it was founded by former firefighters, per the chain's site.) Well, not to worry, for hot subs are plentiful.
In fact, at one Firehouse Subs location, the "Hot Specialty Subs" menu had no fewer than 14 hot subs ready to be prepared for you, including options like the Spicy Cajun Chicken sub, the Firehouse Steak & Cheese, and the New York Steamer.
And, of course, you can always build your own sub there, too. Or, you can try one of the chain's cold subs. And we do mean one: currently on the "Cold Subs" menu is the Tuna Salad sub all by its lonesome.
McAlister's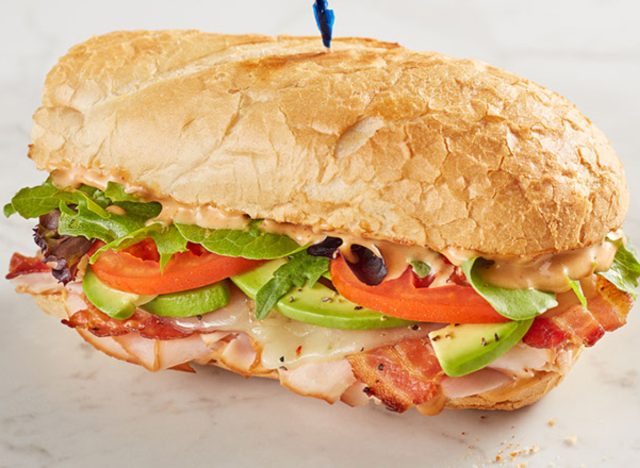 Frankly speaking, if you only ever try the hot subs at McAlister's, you're missing out. And that's not because the subs aren't tasty, it's because then you won't sink your teeth into other menu options like The New Yorker (a pastrami sandwich), the Jalapeño Turkey Crunch (chef's kiss on the potato chips added), and the Four Cheese Melt.
But when you do get a Spicy Turkey Melt, a French Dip, or a Memphian, you'll be doing it right. Just know that you may be a bit out of luck looking for a McCalister's out west.
Per data from ScrapeHero, there are 550 McAlister's locations operating right now, but they are overwhelmingly distributed across the East, South, and Midwest. In fact, with the exception of one location in Idaho and two in Arizona, you basically can't find one west of the Four Corners states.
Potbelly Sandwich Works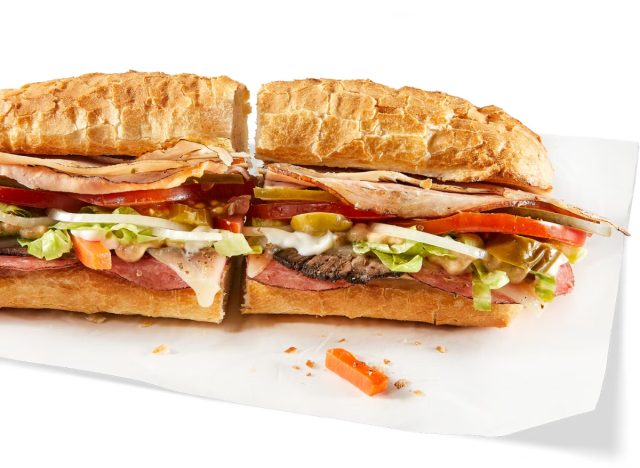 If you've never been to a Potbelly Sandwich Works, do yourself a favor and make the first sandwich you get there a wreck. Or, make that A Wreck, proper noun, for that's the name of what is arguably this chain's signature sandwich.
So, what's on A Wreck sandwich? A lot. Not a lot of toppings. You need to add those yourself. But, there's a lot of meat and cheese: turkey breast, smoked ham, roast beef, salami, and Swiss. Add the recommended bacon, avocado, and mushrooms, and you're just shy of 1,000 calories with this hot handful.
One reviewer posting on TripAdvisor said: "The Wreck is Anything but a Wreck. This is one of if not the best sub sandwiches I have ever put in my mouth. Has other sub shops beaten by 10 miles and am looking forward to going back." Effusive, no?
Quiznos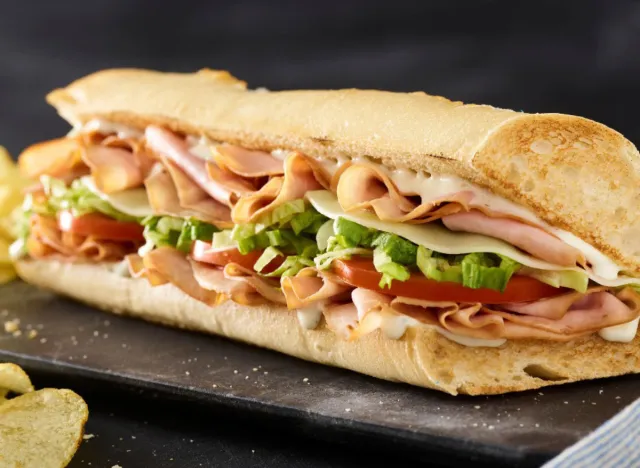 At its peak, Quiznos was poised to give sandwich giant Subway a run for its money. There were a staggering 4,700 locations at one point, per Restaurant Business Online. So, what brought this once mighty chain back down? Not bad sandwiches, to be sure. Instead, it was a bad business model and poor management, especially in the way the corporation related to franchisees.
Today, per ScrapeHero, there are a mere 154 Quiznos left—which means a reduction in size of 30 times, FYI—and they are spread out across America. If you can find one, you can still enjoy some of those famous "toasty" sandwiches that, now scarce, were once ubiquitous.
A few recommendations include the Turkey Ranch Swiss, the Southwest Chicken, the Kimchi Philly, or any other of the fine subs that slowly pass through that toaster oven and come out the other side hot and tasty.
Which Wich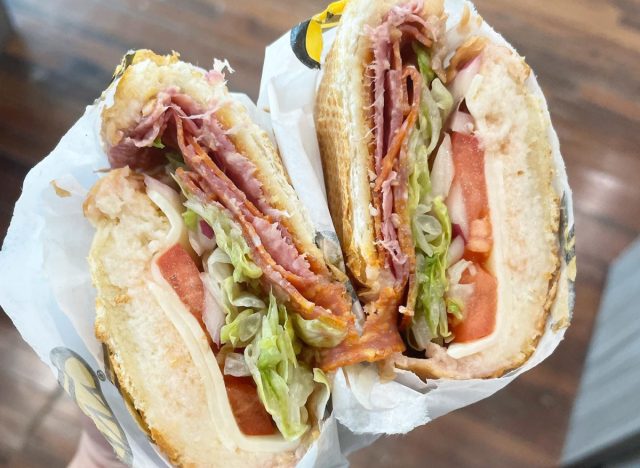 If you have never heard of the sandwich chain Which Wich, then you must live in the Northwest or Northeast. That's because, with the exception of the Portland and Boston areas, these states are devoid of Which Wich locations.
In the rest of America, the spread of some 225-plus Which Wich locations is pretty even, per data from Smartscrapers. That should come as no surprise to anyone who has tried the chain's hot subs, such as the sandwich shop's appropriately named Grinder, made with Genoa salami, pepperoni, spicy capicola, provolone, lettuce, tomatoes, red onions, oil, and vinegar.
One super fan gushed about the chain on Reddit, saying in part: "LOVE Which Wich. The Grinder is absolutely perfect. My favorite sandwich shop!"
Penn Station East Coast Subs
It's a mouthful of a name for a sandwich shop to be sure: Penn Station East Coast Subs. And no doubt the chain's website has confounded many a harried NYC traveler. But the other thing that's a mouthful are the many superb hot subs you can get at this sandwich shop.6254a4d1642c605c54bf1cab17d50f1e
In the chain's lineup of "Off The Grill" subs you'll find things like the Chicken Cordon Bleu, the Reuben, the Chicken Parmesan, and the Dagwood, which consists of five kinds of meat, three cheeses, four veggies, and eight different condiments.
Add in the bread, and you have this one hot sub made with 21 different ingredients, and that's before you add anything of your own choosing. And that's… impressive, frankly.
Fazoli's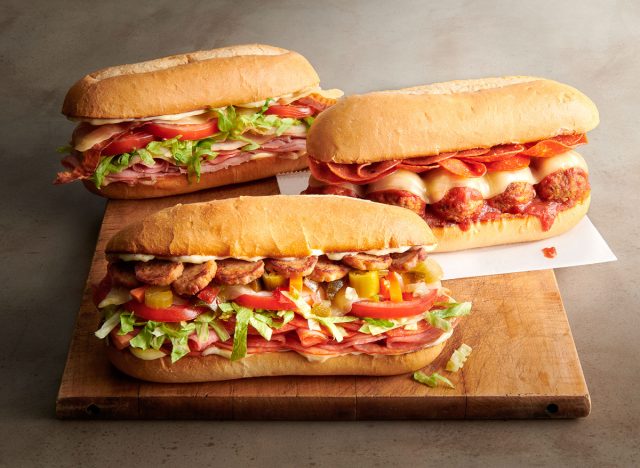 At last check, the first thing you see when you head to the website for Fazoli's is an image of three hot subs underpinned by the words: "Oven-baked subs. Bold flavors. Fazoli's new subs… comin' in HOT." So yeah, this chain has hot subs. And they include the Original Italian Sub, the Club Sub, and the Meatball Sub.  (Watch out for the first one—it has 1,110 calories.)
These hot subs join a menu already packed with hot eats, like Baked Spaghetti with Meatballs, Baked Lasagna, and Spicy Baked Ziti with Sausage. Simply put: hot food is nothing new for Fazoli's.
While these sandwiches are still new and largely unproven, one promising Reddit comment noted "the club was good" and got a few upvotes for the mention.
Steven John
Steven John is a freelancer writer for
Eat This, Not That!
based just outside New York City.
Read more about Steven