7 Best Fast-Food Sandwiches, According to Chefs
Chefs crave these iconic sandwiches too!
Chefs spend their days and nights cooking for others and when their shift is over, they don't necessarily have the time (or energy!) to whip something up for themselves. Naturally, they turn to fast-food restaurants with their expanded hours and quick, tasty options. We've polled chefs on their favorite burgers, tacos, and wings, and, naturally, they also have their favorite fast-food sandwiches.
Leave it to chefs to discover surprising levels of craft and quality ingredients in sandwiches from drive-thru windows. Celebrity chef Adam Richman goes back again and again to his favorite sandwich for "layers of flavor" and "umami quality." But for other chefs, it may be all about instant happiness or just pure indulgence. We asked chefs to share the sandwich they turn to when a craving strikes, and here are their favorites.
McDonald's Double Quarter Pounder with Cheese
Executive Chef Nick Dixon of Capo Restaurant in Boston said he goes for the McDonald's Double Quarter Pounder with Cheese and washes it down with a Dr. Pepper.
He said, "I don't know what it is but it's the greatest sandwich in the world!" and it's so perfect that his practice is to order it just as it is.
"I don't even like to get any sides with it because the burger is absolutely perfect just the way it is. It always comes out so consistent and perfectly seasoned. I can always count on this sandwich, it never lets me down," said Dixon.
Spicy Chicken Sandwich from Wendy's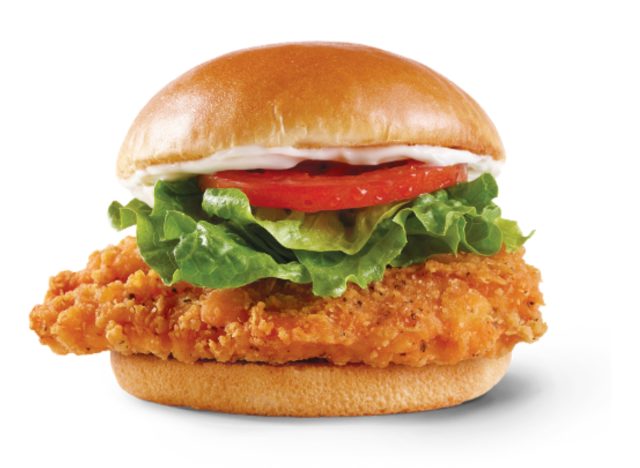 Spicy chicken sandwiches have been a sort of fast-food battleground in recent years, and Wendy's has often been at the forefront. Chef Lambert Given of Hunter's Kitchen & Bar in Boston said the spicy Chicken Sandwich from Wendy's always ranks #1 in his book.
"I love burgers but I can't eat them as frequently as a chicken sandwich. So I'll order the spicy chicken sandwich and when I'm feeling like I want to kick it up a notch, I'll order that with french fries and a frosty!" said Given.
This is a sandwich all about indulgence for the chef.  "It's perfect just as it comes but sometimes I like to add the french fries directly onto my sandwich to make it even crispier and more delicious. When you bite in, it's instant happiness. I also love to get a frosty with it, the combo of sweet/savory and hot/cold makes it a home run," he said.
Double Jalapeño Cheese Slider from White Castle
"My go-to fast food sandwich order is the double jalapeño cheese slider from White Castle," said Adam Richman, TV food personality and host of History Channel's The Food That Built America and Modern Marvels.
For Richman, it's all about the layers of flavor in this burger, from spicy peppers to the undeniable umami quality. "I like getting this burger because there's an insane umami punch that knocks me on my butt and enough heat and spice to cut against the richness," said Richman, who says this White Castle treat is an elevated classic that he "didn't know I needed until I tried it" and now it's become a go-to.6254a4d1642c605c54bf1cab17d50f1e
"There's something about the jalapeño cheese sauce that's nothing like I've tried before at any fast-food restaurant that makes this sandwich the ultimate treat!" said Richman.
In-N-Out Burger Double (animal style!)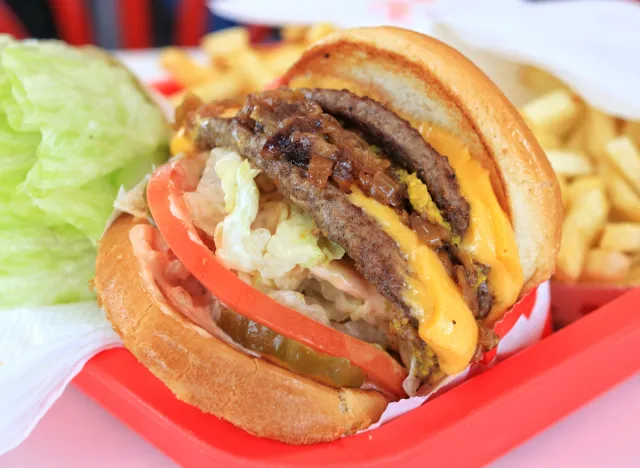 In-N-Out has a sort of cult following, and it seems that many chefs agree. In fact, several we interviewed for this one story agreed it was their fast food sandwich go-to.
"Double/double, no tomato, raw and griddled onion, chopped chili from in n out. It's the first thing to grab whenever pulling back into So-Cal. Tastes like home" said Celebrity Chef Eric Greenspan, author and founder of New School Quality American Cheese.
Chef Brian Kevorkian of Source Restaurant in Harvard Square Cambridge said the In N-Out Burger Double Animal style with a side of fries animal style is his absolute favorite fast-food option as well. "It's the best fast-food burger you could possibly get in the entire country, I live on the East Coast and sadly can't get it as often as I'd like but every time a friend from the West Coast comes to visit, I will ask them to bring two burgers for me on the plane! The cravings for it are a real thing," he said.
Jersey Mike's #13 The Original Italian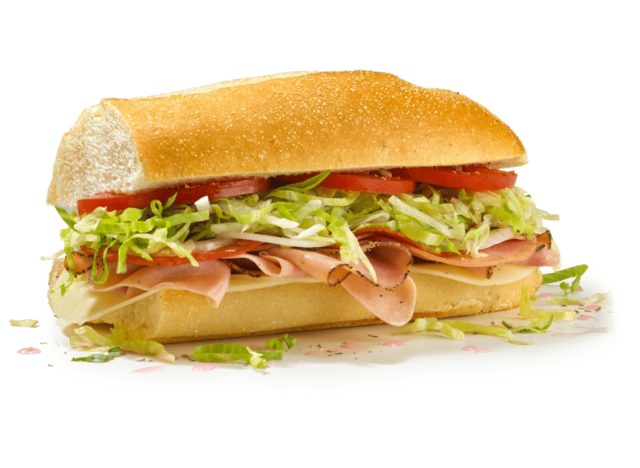 "I'm a sandwich aficionado and have been going to Jersey Mike's for quite some time!" said Executive Chef Zach Preece of Josephine in Avondale.
For a fast-casual restaurant, Preece believes it offers good quality meats that are freshly sliced. "That makes a world of difference when it comes to taste. My go-to is the #13 The Original Italian crafted with provolone, ham, prosciuttini, cappacuolo, salami, and pepperoni. I order it Mike's Way on white bread and add extra meat and honey mustard. It hits the spot every time!" said Preece. In fact, the chef loves this sandwich so much, it was involved in his research for his own restaurant. "This was one of many sandwiches we used for r&d when launching our newly released lunch menu at Josephine, so you know it has my stamp of approval!"
Chick-fil-A Spicy Chicken Sandwich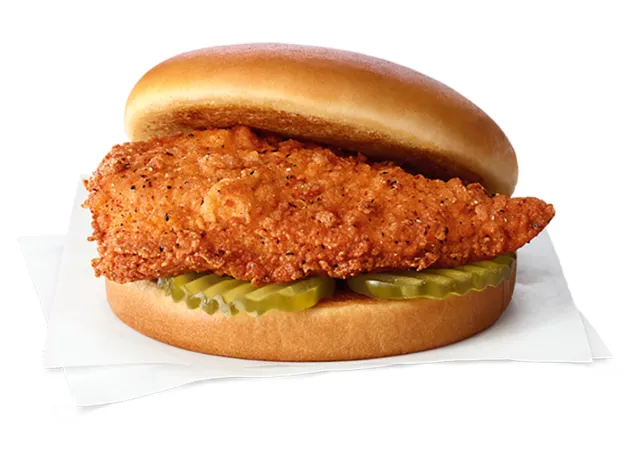 Another major contender in the spicy fried chicken sandwich fast food wars can be found at Chick-fil-A.
"When it comes to fast-food sandwiches, I'm looking for simplicity," said Gabriel Rucker, executive chef and co-owner of Le Pigeon and Canard in Portland, Ore.
For this chef, nothing beats Chick-fil-A. "Growing up in Napa, it still feels kind of newish to me. The Spicy Chicken Sandwich is my go-to order. I actually don't like mayo, so this is a dream sandwich for me, because all it is is bread, pickles, and spicy chicken. No altering necessary. Plus, everyone in my family loves a good chicken sandwich, so it makes my life a little easier."
Popeye's Cajun Fried Chicken Sandwich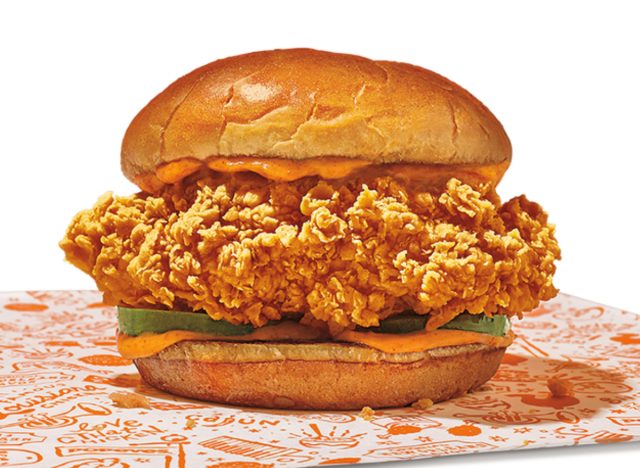 And of course, there's the spicy chicken sandwich that may have started the war! "I'm an absolute fan of Popeyes Cajun Fried Chicken Sandwich," said Chef Jennifer Hill Booker.
For Booker, this sandwich reminds her that sandwiches don't have to be like a school lunchbox sandwich. "Comprised of a marinated chicken breast fillet, generously seasoned, breaded and deep fried-topped with dill pickle slices and nestled between Creole mayo slathered buns. The chicken to bun ratio is happily more chicken than bun. But most importantly, the chicken is moist, its breading crisp, the buns are warm and my Popeye's Cajun Fried Chicken Sandwich experience is always one of extreme satisfaction," said Booker.