20 Fast Food Chains That Will Make You Slim
Not all fast food deserves that bad rep. Find out which restaurants deliver healthy food, fast.
"Mom, I'm starving," a friend's daughter complained recently. "Can't we just grab some fast food instead of doing the home-cooked thing?"
"I have a better idea," she said. "Let's do both."
At today's "fast casual" restaurants, it's possible to get a healthy meal served in minutes. With salmon, guacamole and cold-pressed juices available for grab-and-go, excusing bad food choices due to limited options is, well, no longer an option anymore. Eat This, Not That! rounded up the nation's fastest, healthiest meals—read on to find out which ones will help you eat right and lose weight. And to slim down even faster, don't miss our essential list of 20 Secrets to Strip Fat Everywhere!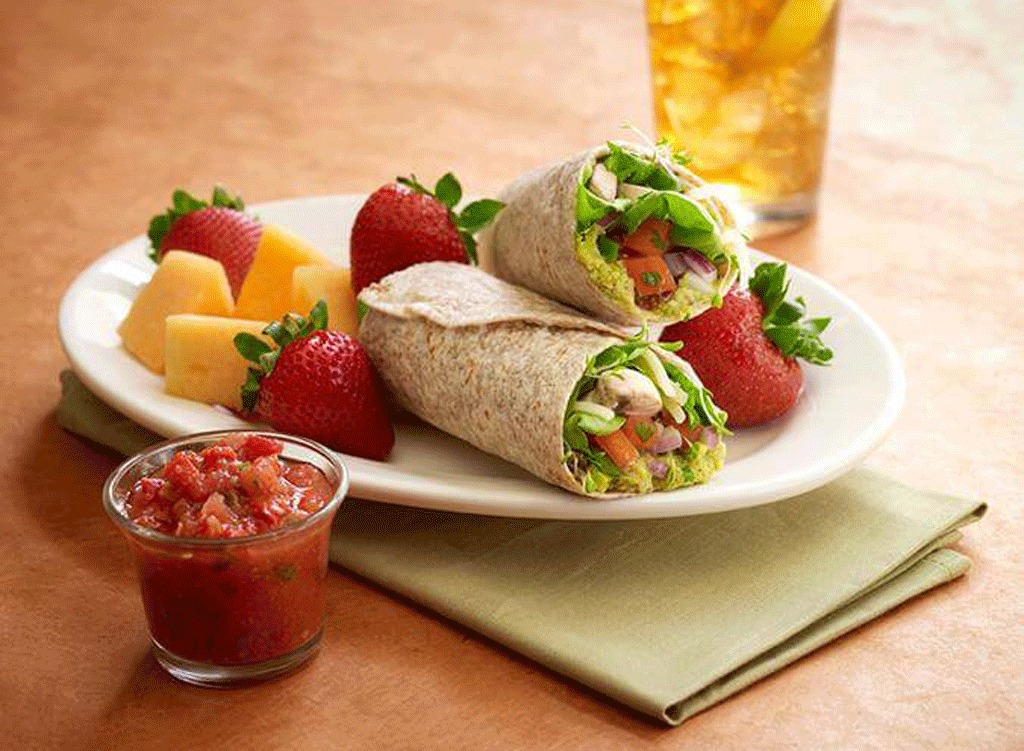 Locations: Nationwide
One-fifth of all the ingredients used on the menu at Jason's Deli are organic. Even more admirable, it was one of the first food chains to reject the use of high-fructose corn syrup and artificial trans fats upon its opening in 1976. Stop in and check out their impressive menu full of veggie-decadent dishes such as the Nutty-Mixed Up Salad or the quinoa and shrimp and mango salad. Best of all? They have a stacked salad bar full of fresh vegetables, fruit, and an assortment of nuts. Yum!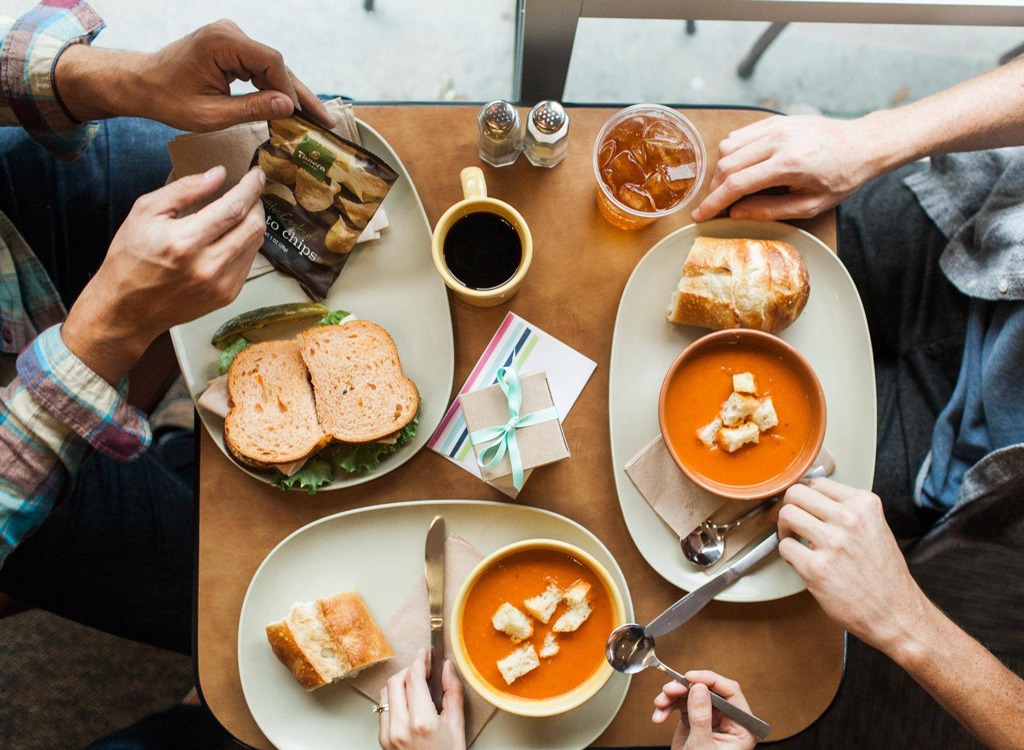 Locations: Nationwide
This bumpin' chain meets all three of the core areas of Food Policy: clean ingredients, transparent menu, and positive impact. Go Panera, go! So just how clean are their ingredients? Well for starters, they are free from any artificial trans fats, preservatives, colorings, sweeteners, flavorings, and MSG. And just how transparent is their menu? The calories are listed for everything on the menu, including both the half and full size options of salads, soups, and sandwiches! And just how positive of an impact do they have on its customers? Well, that's up to you to decide. Check out Panera's Entire Soup, Sandwich, and Salad Menu—Ranked! for some pointers on which options you should always opt for!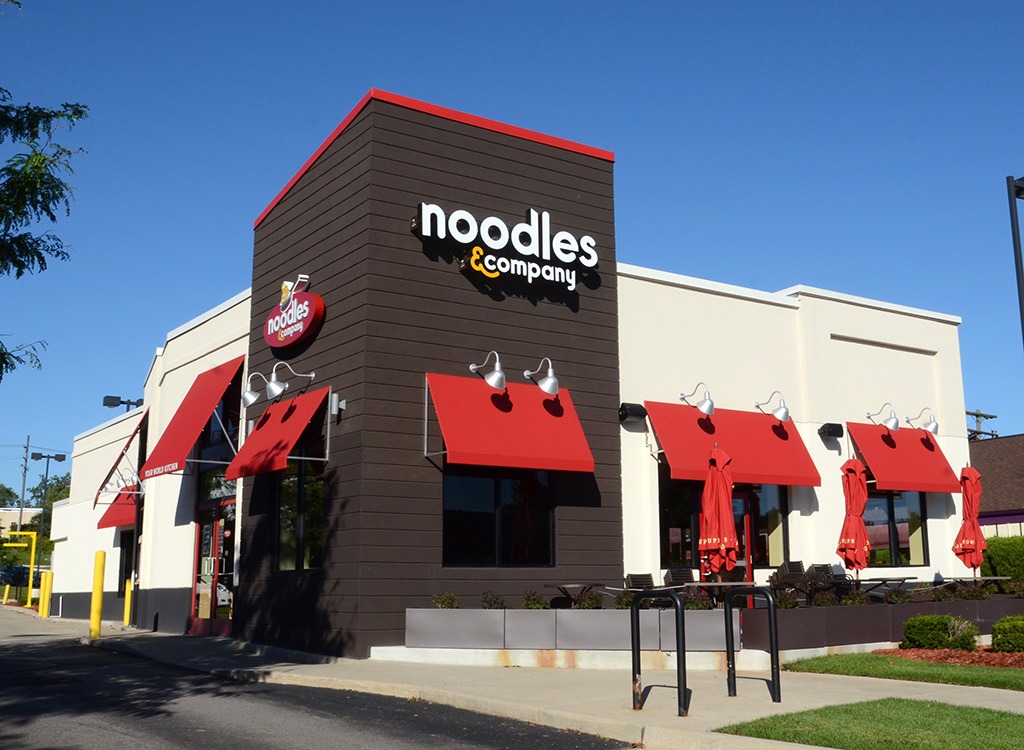 6254a4d1642c605c54bf1cab17d50f1e
Locations: Nationwide
Calling all pasta lovers this is your eatery of choice with classic dishes like mushroom stroganoff, spaghetti, and buttered noodles all clocking in under 500 calories per serving! Not to mention, you can opt for whole grain linguine for a boost in high fiber foods. Additionally, the company only uses soybean oil to sautée noodles, veggies, and antibiotic-free chicken, beef, and shrimp and even organic tofu. If you're more of a Pad Thai kind of palate, then you can order a bowl of the Thai Green Curry with Shrimp for just 540 calories. Not too shabby for a dish that's normally twice that caloric amount!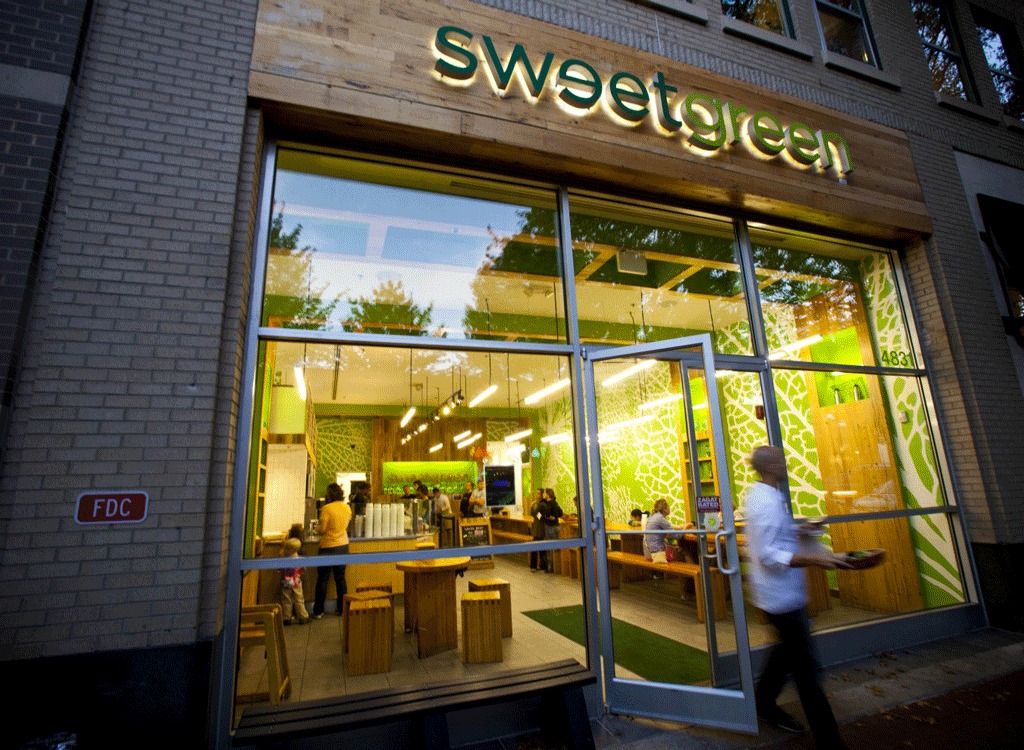 Locations: California, Washington D.C, Illinois, Massachusetts, Maryland, New York, Pennsylvania, Virginia.
What's the major appeal at Sweetgreen? Every single ingredient (anything from herbs like basil to root veggies like beets) is all organic and sourced from farmers. Talk about eating directly from the farm to your table! With salads galore and power bowls filled with ancient grains, you're bound to leave this place with a full stomach and a whole lot of energy. One of their classic dishes is the Spicy Sabzi which is a toss of organic baby spinach, shredded kale, quinoa, broccoli, carrots, beets, basil, sprouts, and roasted tofu. It's drizzled with a carrot and chile vinaigrette with that packs a powerful note of Sriracha. Cue in mega mouth-watering sensation!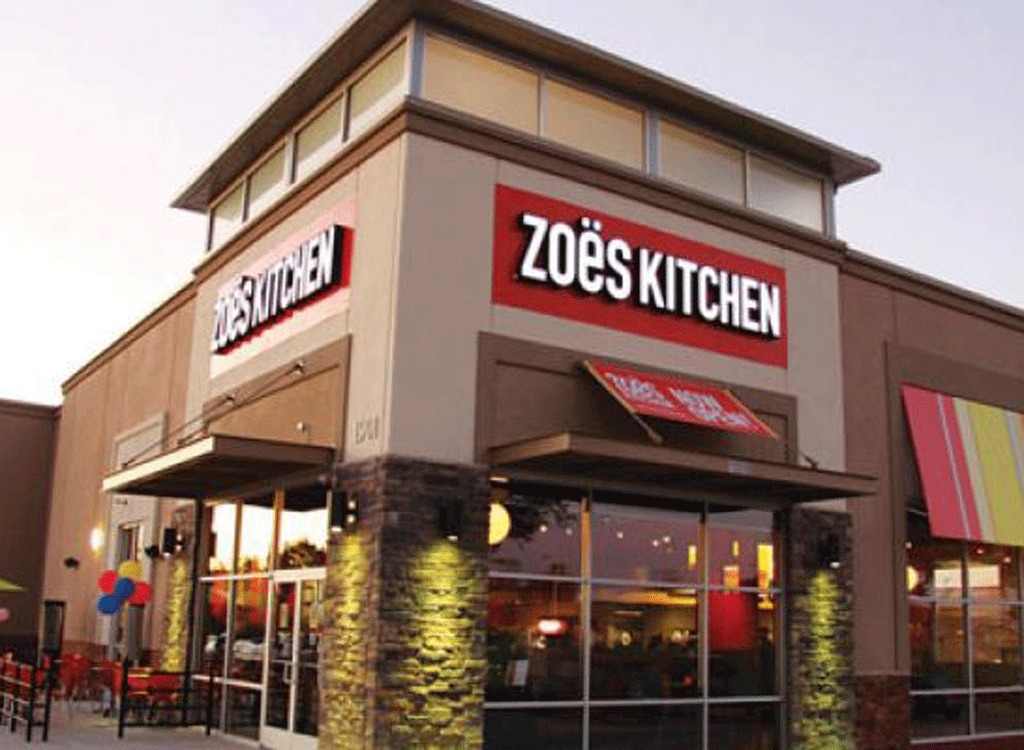 Locations: 20 States in the Southeast and Southwest
If you're a connoisseur of the Mediterranean diet, then you'll want to make a visit to this Alabama-based restaurant! Zoë Cassimus opened the first restaurant in Homewood, Alabama in 1995 with aspirations to cook with classic Greek ingredients. Even though each restaurant has their own twist to the menu, the genres remain rather consistent with each location offering veggie-filled pita sandwiches, lean meat and veggie-based Kabobs, hummus, dishes with orzo and, and salads. Sounds delish! And if you like Greek cuisine, check out Eat This, Not That for Greek Foods.
Locations: Worldwide
Worldwide are you serious? You bet. Matthew Corrin founded Freshii in 2005 after living in New York City working for fashion designer Oscar de la Renta. He took a major twist in his career and when he decided to "add magic to the fresh food business," and brand the commodity of fresh food, hence the name of the business! The mission of the restaurant says it all, "To help citizens of the world live better by making healthy food convenient & affordable." With a stacked menu full of breakfast and lunch delicacies such as parfaits, and bowls with either rice noodles, quinoa, brown rice and veggies, there's a nutrient-packed dish for everyone to enjoy!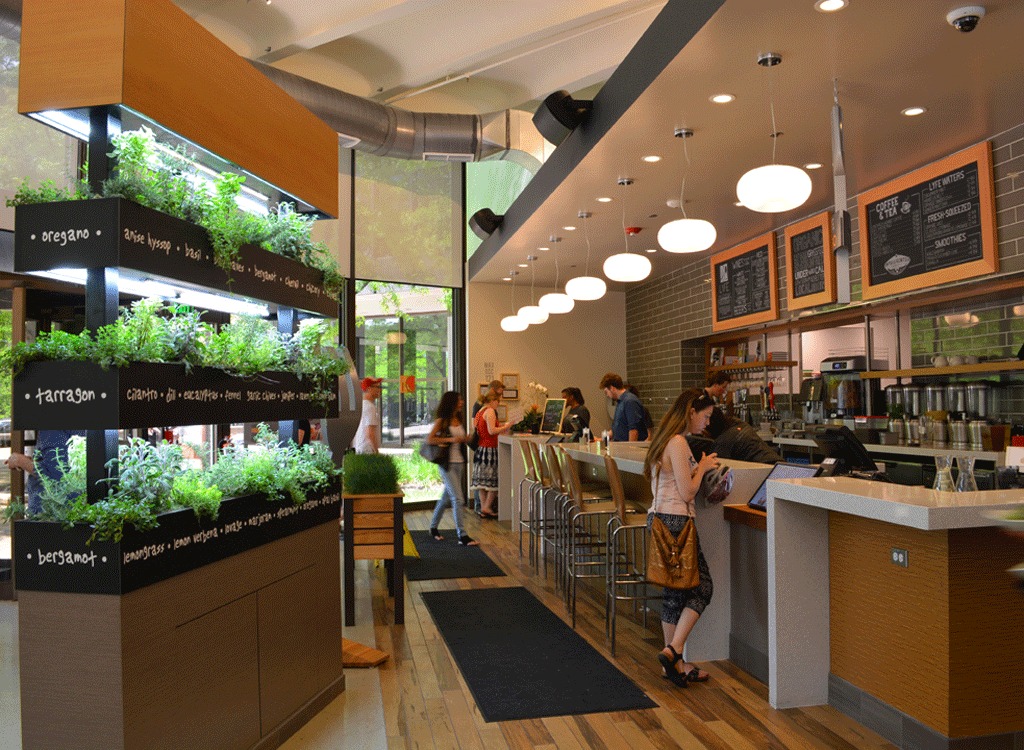 Locations: California, Colorado, Illinois, Nevada, Tennessee, and Texas
Do you have a hankering for local and sustainable foods? Well then Lyfe Kitchen is your go-to! Every single item on the menu clocks in under 600 calories, so if you're trying to shed some belly fat this is definitely a reasonable range with regard to portion control. Oddly enough, the company was kickstarted by a pair of former McDonald's executives. Beautiful combos of food include spinach and avocado frittatas, chipotle-potato hash, herb-flecked roasted mushroom and goat cheese flatbreads drizzled with balsamic, and "unfried chicken" in cashew cream sauce. Not to mention the company even had their own orange ginger chia Lyfe Water, made from freshly-squeezed orange juice, filtered water, lime, ginger, and mint chia seeds!
Locations: Worldwide
Despite its high sodium content, the typical Chipotle menu item is actually pretty healthful, especially because most of its ingredients are locally sourced! Chipotle is most accredited for its devotion to serving meats free of hormones and antibiotics. If you're a lover of all things Chipotle, it may be in your interest to read up on Every Dish at Chipotle—Ranked! to see if you're meal(s) of choice are on the healthier end of spectrum!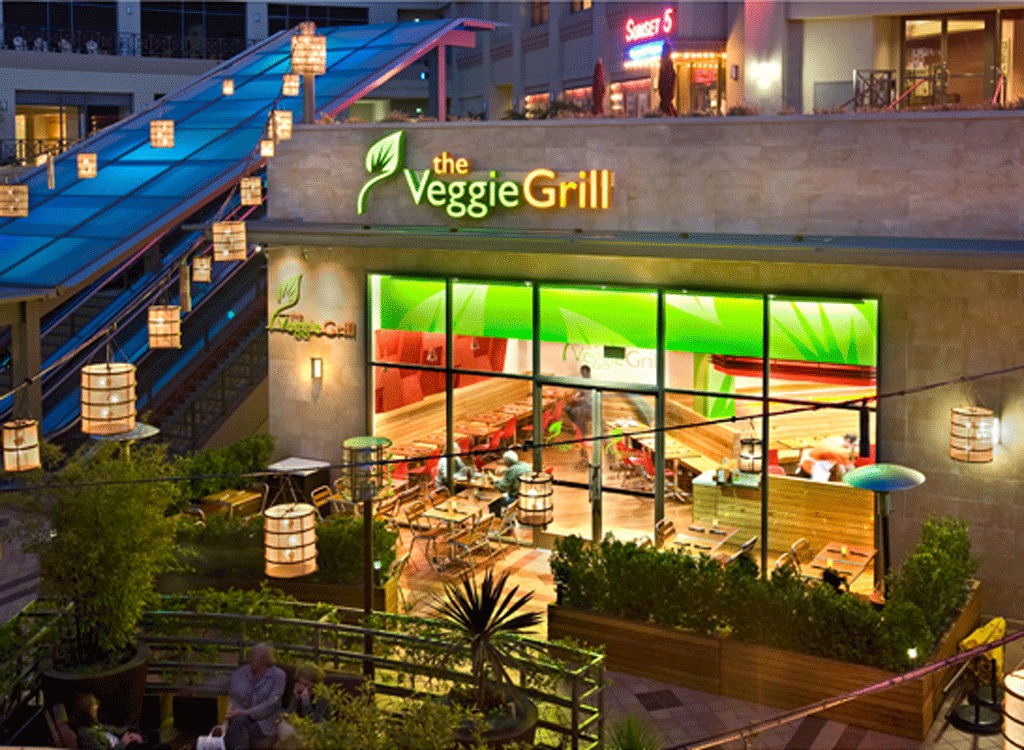 Locations: California, Oregon, and Washington
This restaurant is for all of the vegetarians out there who feel underserved, because this place is made for herbivores! Of course all types of eaters are welcome to enjoy, and with eclectic, seasonal menu items like the Super Rica Burger and Tinga Tacos, how could one resist not popping in for a bite to eat?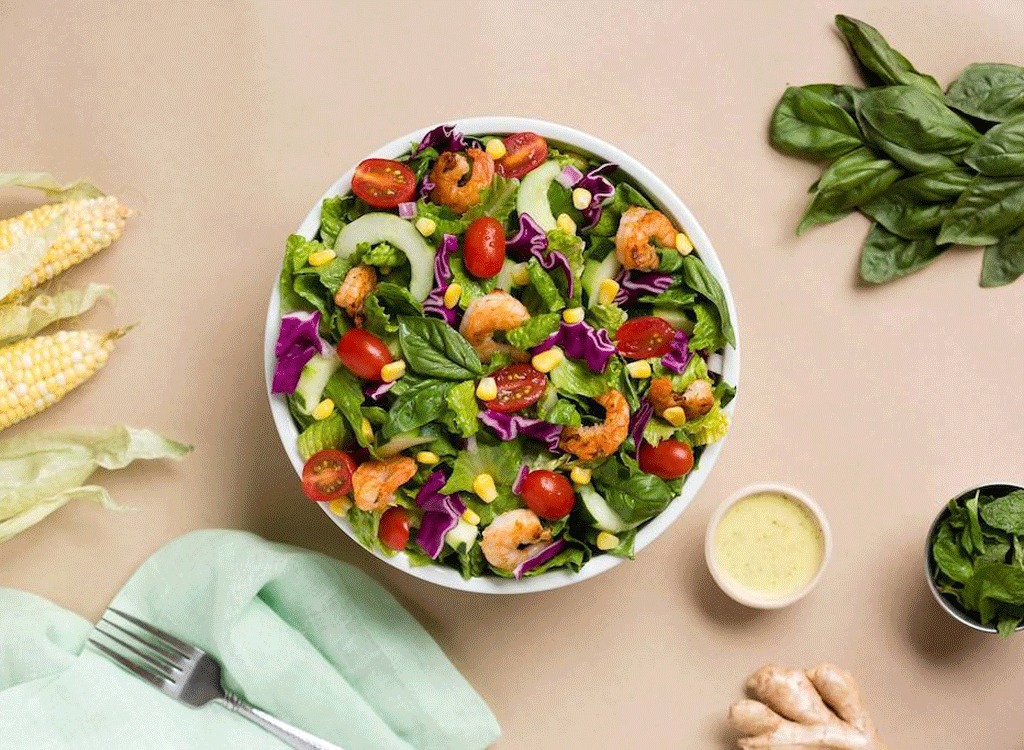 Locations: New York, New York and Chicago, Illinois
You'll never believe what they sell at this restaurant. Okay anyone with two eyes can get the picture that they only sell salad. But this place does not whip up your typical bleak side salad of iceberg lettuce, two slices of cucumber and a single cherry tomato. Oh no, this place allows you to stack your salad high with grass-fed beef, seafood, organic tofu, antibiotic-free chicken, seasonal veggies, grains, and seeds. And you know you're getting a well-balanced meal because the menu was constructed by a fellow registered dietitian!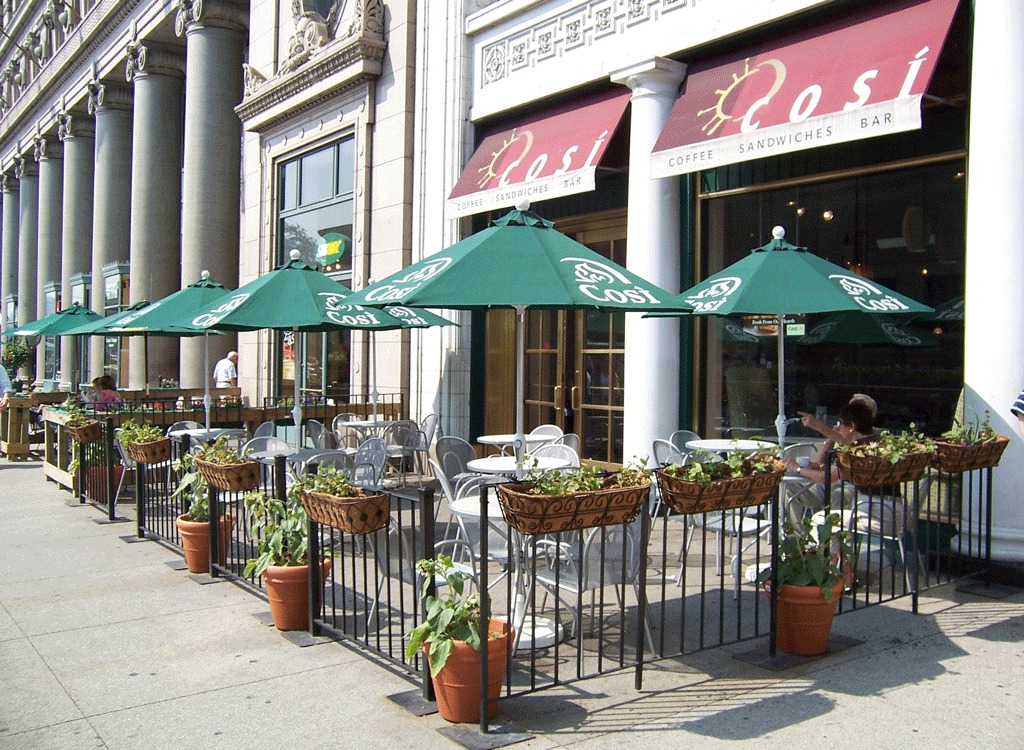 Locations: Worldwide
With healthy flatbread pizzas, sandwiches, soups, and salads, Cosi is a great place to chow down at for lunch! Cosi has even added smart fit items to its menu which include vegetables/fruits or whole grains, a source of lean protein follow specific nutritional criteria such as less than 800 mg sodium for a lunch item or less than 500 calories for a breakfast item. Nosh on a turkey & brie sandwich or maybe sip on a cup of mediterranean lentil soup!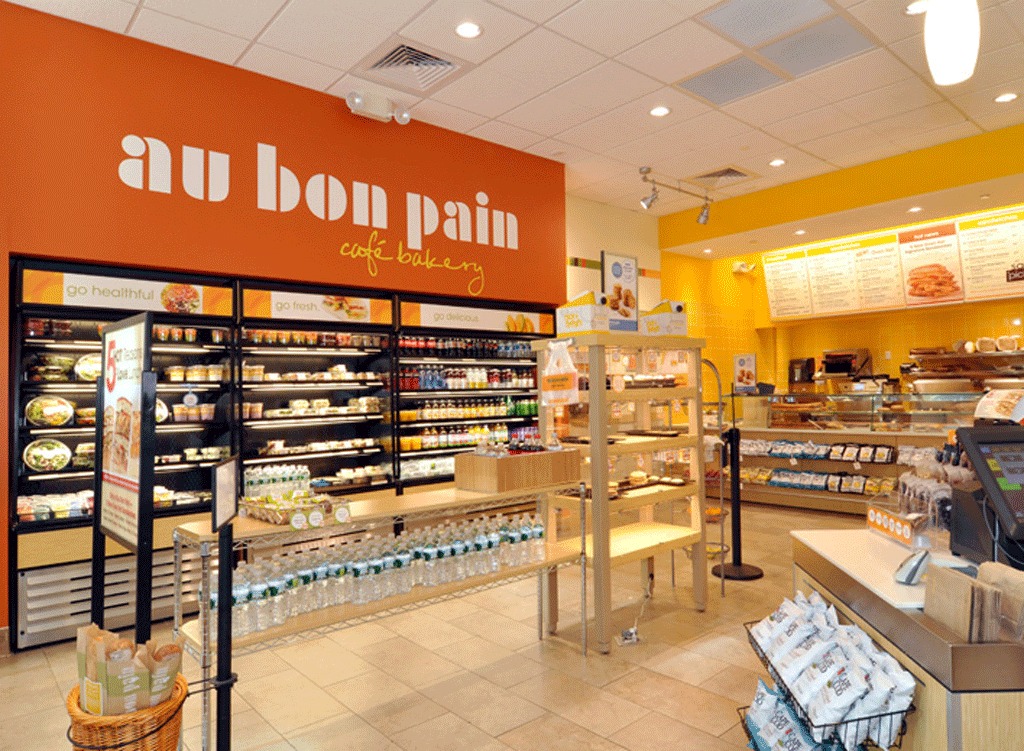 Locations: Nationwide
Founded in 1978, this American-based chain is incredibly transparent about its menu! Each menu item has a full nutrition profile, which you can locate via the nutrition computer kiosks in each cafe along with suggestions for high fiber, gluten-free, and reduced sodium selections. Wow! Enjoy something simple, like a bowl of heart oatmeal oatmeal for breakfast, and then come back for a scrumptious eggplant parmesean entree for dinner.
Locations: You can find Roti all over Illinois, Virginia, Washington D.C., Maryland and New York.
Roti Grill is really focused on creating and offering food that will nourish and give back to your body. The entire menu is inspired by Mediterranean cuisine, which has been praised for its heart healthy benefits as well as its ability to boost brain health and aid in weight loss. Their meals are crafted with pitas, couscous, fire-roasted meats and hummus. For example, their "Best Plate Ever" dish is a rice plate with chicken kabob, hummus, tomato and cucumber, fresh veggies, roasted red pepper sauce and a house-baked pita. You can always nix the pita if you want to cut back on calories, but overall their dishes offer a perfectly calibrated combination of protein, healthy fats and fiber that your body can use a fuel.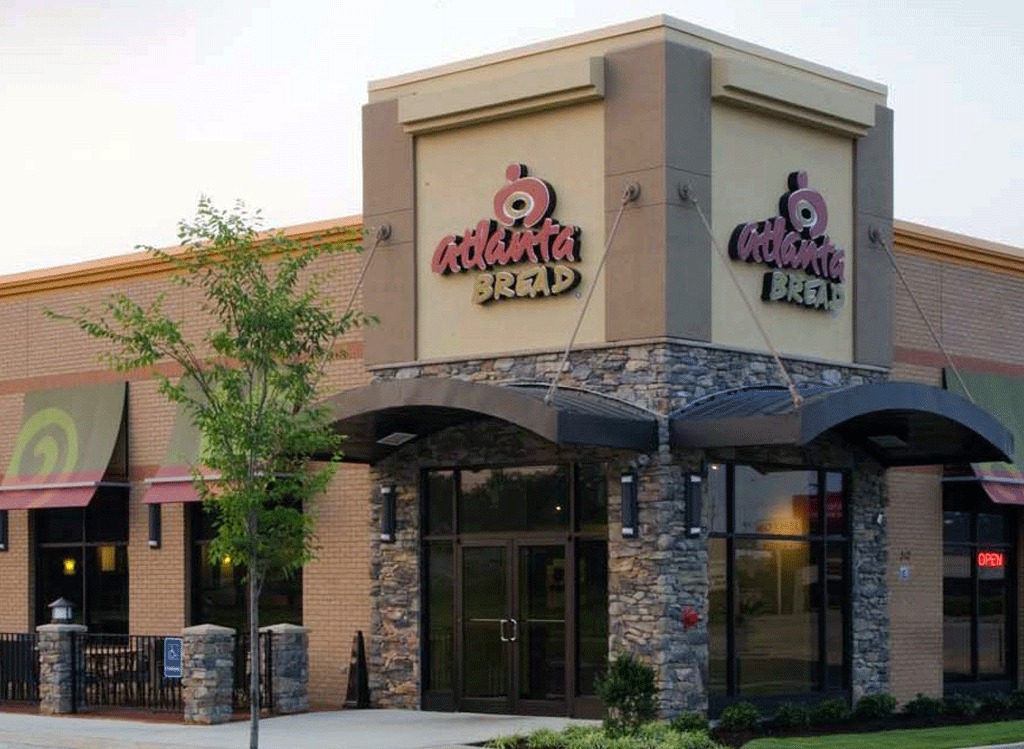 Locations: Nationwide
Obviously the menu is pretty nutritious if it made the list in this article but what makes Atlanta Bread stand out among the rest is what it does with its scraps at the end of the day. They donate their extra bread and pastries to local charities in the area. Whether you're an early bird coming in for a plate of cinnamon raisin french toast or coasting in for a chicken pesto panini at noon on your lunch break, this place has got an assortment of delicious dishes.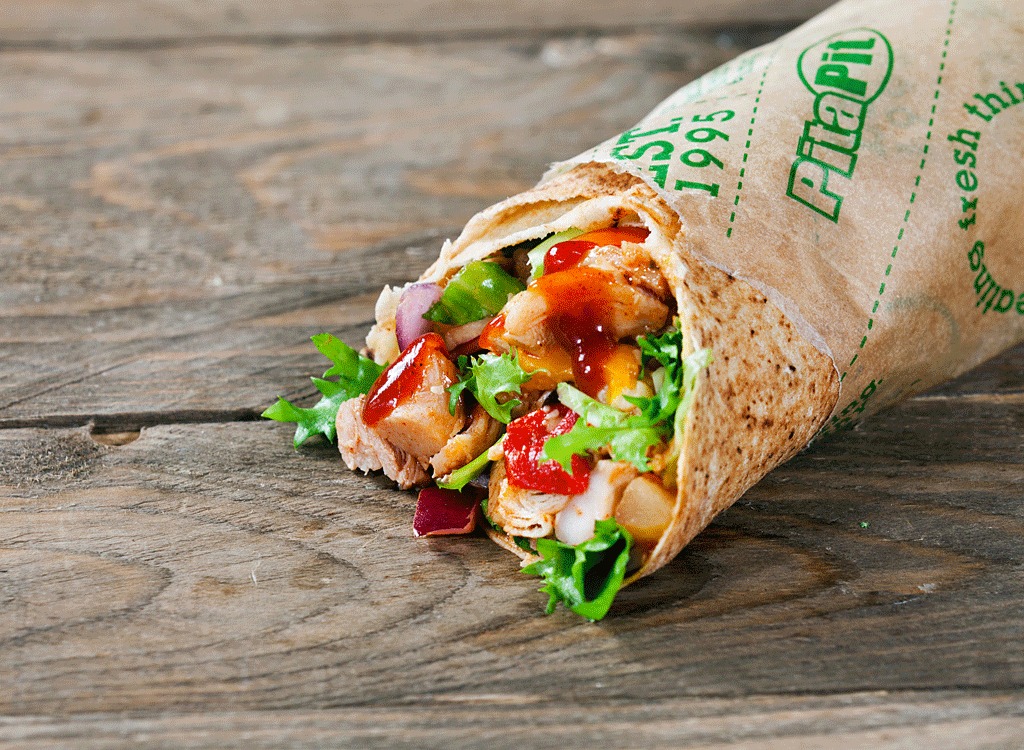 Locations: Worldwide
Looking for the perfect light, but nutrient-packed meal? Whether you're feeling a chicken-filled pita with cheese or a falafel variety with hummus you're in for a healthful breakfast, lunch, and/or dinner! It's a quick in and out kind of experience but the quality of the food certainly doesn't sacrifice. You can order a pita wrap on the menu or be bold and create your own!
Locations: California, New York City, and Boston
If you think the decor looks pretty rad just wait until you read this: Tender Greens has formed close-knit relationships with their suppliers and as a result, offers a continuous supply of local produce. What's better is their Sustainable Life Project, which helps transition teenagers out of foster care by offering them a six-month paid culinary internship! This company sure knows how to give back to the community. While this is a California-based chain, it's bound to expand eastward in the near future.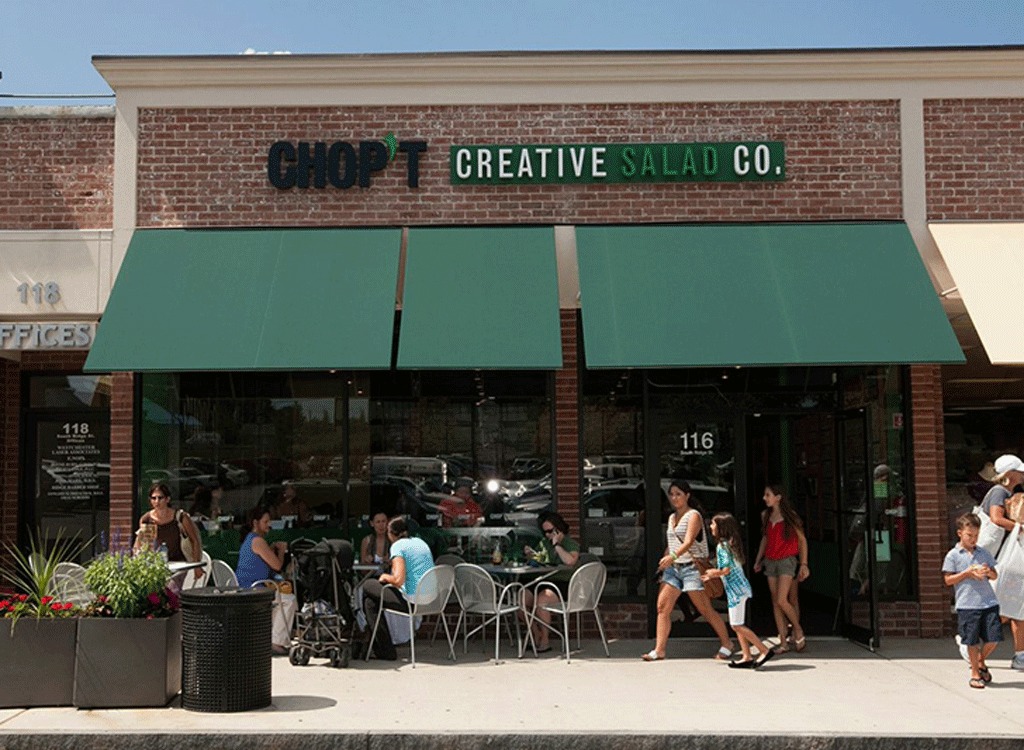 Locations: New York, Pennsylvania, Maryland, and California
If you're into quinoa bowls and specialty salads then this is the place to be! This veggie-oriented restaurant is proud of their local partners, so much so they list all of them directly on their homepage! Chop't is also conscious of the environment and waste so they use recycled fiber napkins and paper bags, compostable packaging, and plastic bowls made from water bottles.
Locations: Boston, Massachusetts and New York
Dig in…to a farmers market-inspired menu that is! Kale with dates and granola and golden beets with quinoa and orange are just two of the seasonal dishes that give this menu its vibrance.
Dig Inn fosters a very genuine relationship with their suppliers and promote a family-friendly atmosphere.
Locations: California, Colorado, Oregon, and, Chicago, Illinois
This place makes their own tempeh, seitan, sauces, dressings, and desserts in the house! Founded in 1994 in the toasty Palm Springs, California, Native Foods Café is one of the few if not only vegan fast food restaurant in the country. With dishes ranging from the Bangkok Curry Bowl to the Ensalada Azteca, you won't have to worry about not meeting your protein quota for the day because this place is an advocate of plant-based protein.
Locations: New York, New York, Boston, Massachusetts, Chicago, Illinois, Washington D.C., and the U.K.
This UK-based fast food chain puts American fast food chains to shame. Deli sandwiches, salads, and even pasta dishes are made fresh on the daily, meaning you could be in a pleasant food coma by noon if you stop in for lunch. Each item on the menu clearly lists its ingredients, which can also be found on their website, well. For example, the smoked ham and egg sandwich is made of the following: Antibiotic-free sliced Niman Ranch Applewood Smoked Ham sits with their own classic egg salad made with cage-free eggs and whole grain mustard mayo on 9-grain granary bread. Sink your teeth into of this restaurant's delicacies ASAP, and to melt fat even faster, click here for our essential list of 35 Instant Weight Loss Secrets!