Fast-Food Items You Think Are Healthy, But Are Anything But
They look and sound like they'd be a good choice, but these are filled with calories, fat, and sodium.
When we're trying to be healthy, we usually opt for cooking more at home and going out to eat less. But sometimes, life has different plans for us. Whether we woke up late, worked through our lunch break, or didn't get a chance to go grocery shopping, drive-thrus can be the only source of sustenance we have at our disposal at any given moment. Grabbing food out of a paper bag and scarfing it down in our car isn't ideal—and neither is the artery-clogging, sodium-laden, and calorie-dense meals that are usually found at fast-food restaurants.
Luckily, if you do your research, it's not too hard to find healthy fast food. The next time you get a hunger pang and need food right now, steer clear of the following fast-food menu items that are deceptively unhealthy because they're full of calories, fat, and/or sodium. And for more, make sure to avoid the 100 Unhealthiest Foods on the Planet.
McDonald's Filet-O-Fish Sandwich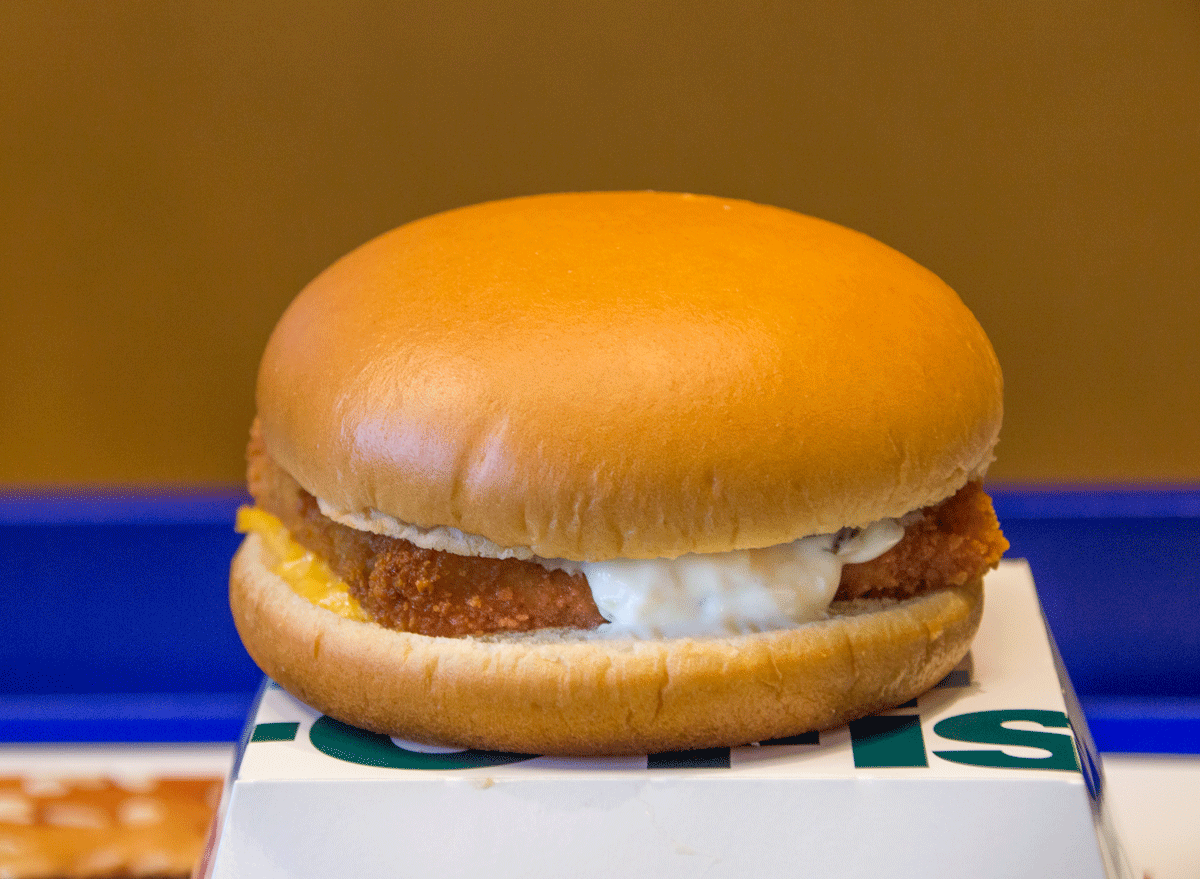 Somewhere in our life, we associated "seafood" with "healthy," but this is such a myth. Just like any animal-based product, seafood can be high in cholesterol, fat, and sodium—and the Filet-O-Fish is no exception. With 380 calories and 18 grams of fat, this petite sandwich is not a healthy option. It's breaded, fried, topped with cheese, and laden with tartar sauce. Go fish for something else on the menu if you're trying to be health-conscious.
Related: Sign up for our newsletter for the latest healthy eating news.
Speaking of sides that are deceptively dangerous to your health, this otherwise respectable vegetable is brought to its knees when it's breaded and dipped into the deep fryer. While a regular small raw zucchini has about 20 calories, this Carl's Jr. version has 330—nearly half of which come from fat. There are also 610 mg of sodium, which makes this vegetable snack tasty, but also very addictive.
Quizno's Veggie Guacamole Sub
Yes, veggies and guacamole are healthy options. But there is so much more going on with this sandwich. What the name of this sub fails to imply is that it's loaded with fat: cheese, olives, and vinaigrette. A sandwich with only vegetables and avocado would be a better option than this one that contains more than 800 calories, 1600 milligrams of sodium, and 44 grams of fat. To make it a bit healthier, hold the mozzarella and cheddar and ask for the dressing on the side.
Related: The Best & Worst Sandwiches at Quizno's
Starbucks Impossible Breakfast Sandwich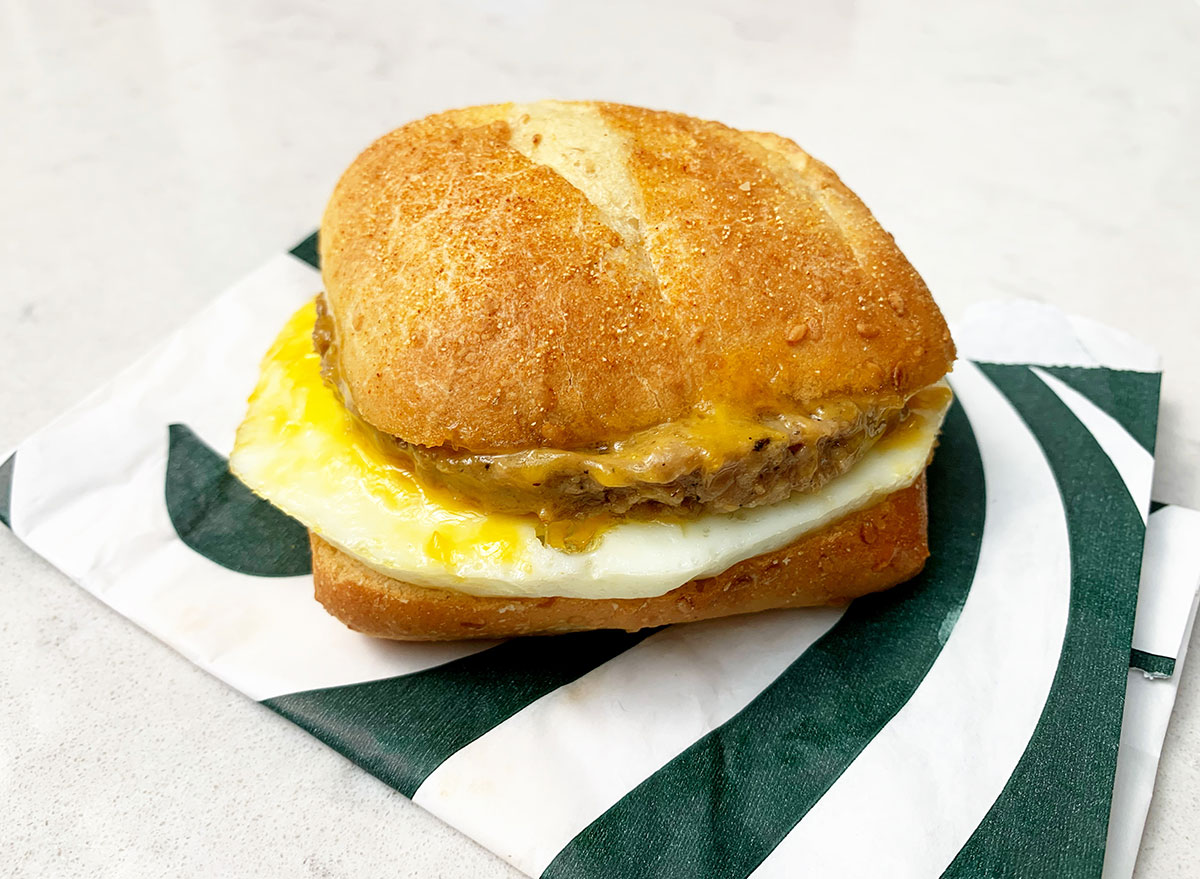 Having a plant-based patty to cho0se from on the Starbucks menu is a delight for any vegan or customer looking to cut down on animal products in their diet. However, Starbucks still uses full-fat dairy and egg to top this popular breakfast sandwich.
The Impossible patty, which would have been great with a little bit of Starbucks Avocado Spread, is instead topped with cheddar cheese and a fried egg, making this no healthier than any other meat-based breakfast sandwich. The trifecta amounts to 420 calories, 22 grams of fat (8 grams saturated), and 800 milligrams of sodium. This Impossible sandwich is impossibly unhealthy.
Related: The #1 Worst Breakfast Item at Starbucks
Starbucks Banana Nut Loaf
 

View this post on Instagram

 

Just as unhealthy as the Impossible Breakfast Sandwich above is the Starbucks Banana Nut Loaf, which has the same amount of calories and fat as the Impossible Sandwich. At 330 grams, it does, however, have way less sodium. Still, if you want a healthier option, aim for real bananas and nuts. If you still want a slice of this bread, just understand that it's more of a dessert and less of a healthy breakfast option.
For more, make sure to avoid these 112 Most Popular Sodas Ranked By How Toxic They Are.