The Best and Worst Restaurant Chain Veggie Burgers
Where's the beef? Not anywhere near these plant-based burgers. But which are worth ordering?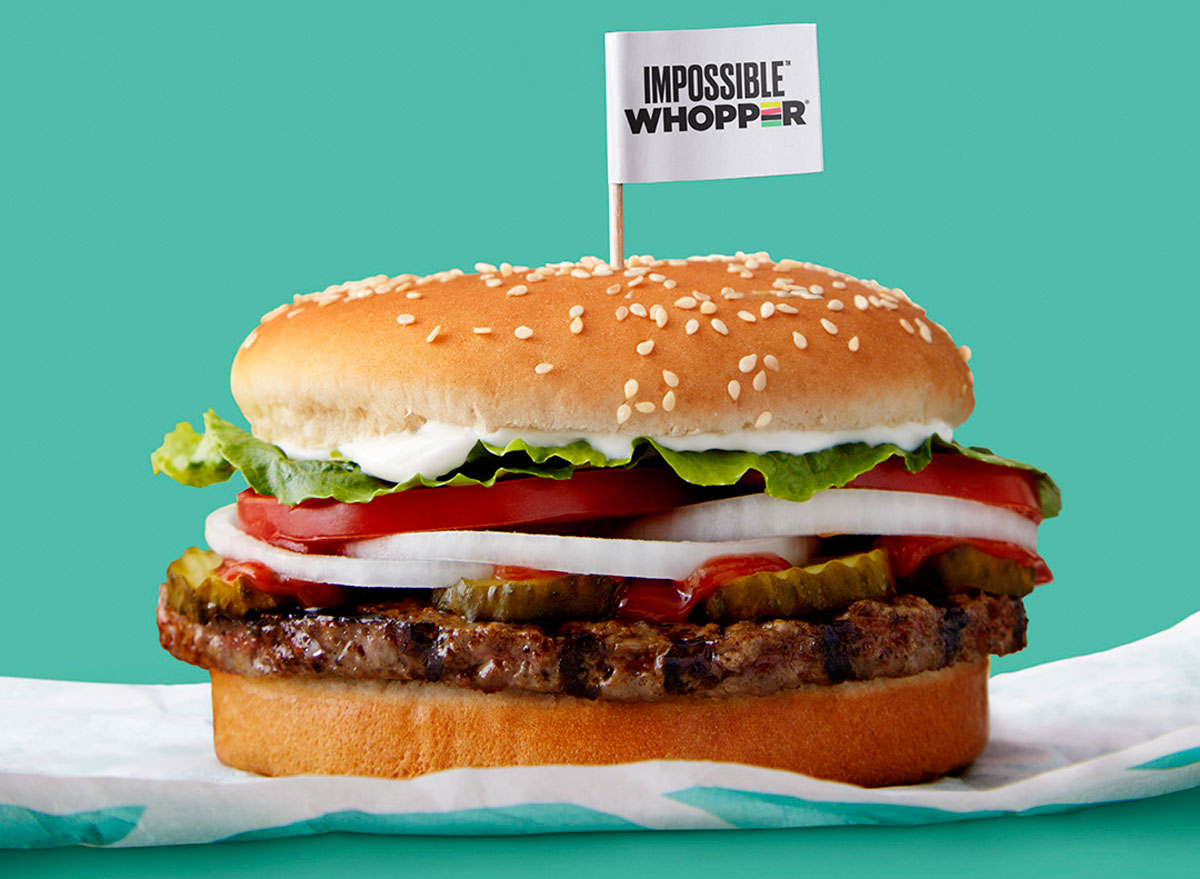 Veggie burgers used to be hockey pucks of flavorless carbs that you would avoid at all cost. That's no longer the case in 2019. Now, vegans, vegetarians, and plant-based eaters alike no longer have to sacrifice taste (and nutrition) for their dietary restrictions when eating out.
Fast food and sit-down restaurant chains have slowly started to introduce more meat-like veggie burgers from the plant-based meat alternative makers Impossible Foods and Beyond Meat.
Unlike your traditional bean, grain, and mushroom-based veggie burger, the Impossible Burger and Beyond Burger are specifically formulated to mimic a ground beef burger in taste and texture. While these meat-like, plant-based patties might not sound too appealing to vegetarians (seriously, they really taste like meat), they are at the very least an additional vegetarian option to fast food menus that are often lacking in plants. For some restaurant chains, like Carl's Jr., it's the first time a "veggie burger" has appeared on their menu.
What fast food places serve veggie burgers?
Burger King (Impossible Burger)
Carl's Jr. (Beyond Meat)
White Castle (Impossible Burger)
What restaurant chains serve veggie burgers?
Applebee's (Impossible Burger, New York City locations only)
Cheesecake Factory (Veggie Burger and Impossible Burger in select locations)
Dave & Buster's (Impossible Burger)
Denny's (Veggie Burger)
Red Robin (Veggie Burger and Impossible Burger)
TGI Fridays (Beyond Meat)
As you've probably noticed, the faux meat burgers haven't entirely taken over restaurant chains. A few brands are still offering classic burgers.
Are veggie burgers and plant-based meat alternatives healthy?
Yes, veggie burgers are made from plants, but does that mean they're healthy?
If you're ordering one over a beef burger, the answer is leaning towards "yes." Evidence supports that reducing red meat intake is a good idea, particularly for people who are at a higher risk for cardiovascular disease or certain types of cancers. A 2012 NIH study estimated that replacing one serving of red meat with one serving of other foods (fish, poultry, nuts, legumes, low-fat dairy, and whole grains) was associated with a 7%-19% lower mortality risk.
Although overall there may seem to be some health benefits to opting for a veggie burger, experts don't necessarily recommend that these plant-based meat alternatives become any more of a regular addition to your weekly menu as would a traditional fast-food burger.
"I would also recommend limiting this and recognizing this is a processed food. Do not treat it as a vegetable or a health food, but still as a 'treat,' as the ingredients are overly processed and are not proven to enhance your overall health and well-being," shares Amy Shapiro, MS, RD, CDN, an NYC-based dietitian and founder of Real Nutrition.
There's one last thing to consider when asking whether these plant-based burgers are healthy: preparation. Depending on which restaurant chain you choose, ordering an Impossible Burger can either set you back 600 calories or 1,400 calories.
That's why we've sorted the fast food and restaurant veggie burgers into the best and worst according to nutrition. Discover which veggie burgers are worthy additions to your regular order and which you'd be better off asking "where's the beef?"
The Best Fast Food & Restaurant Veggie Burgers
As far as fast food burgers go, these veggie burgers are worthy additions to our Eat This!-approved drive-thru database.
White Castle The Impossible Slider With Smoked Cheddar Cheese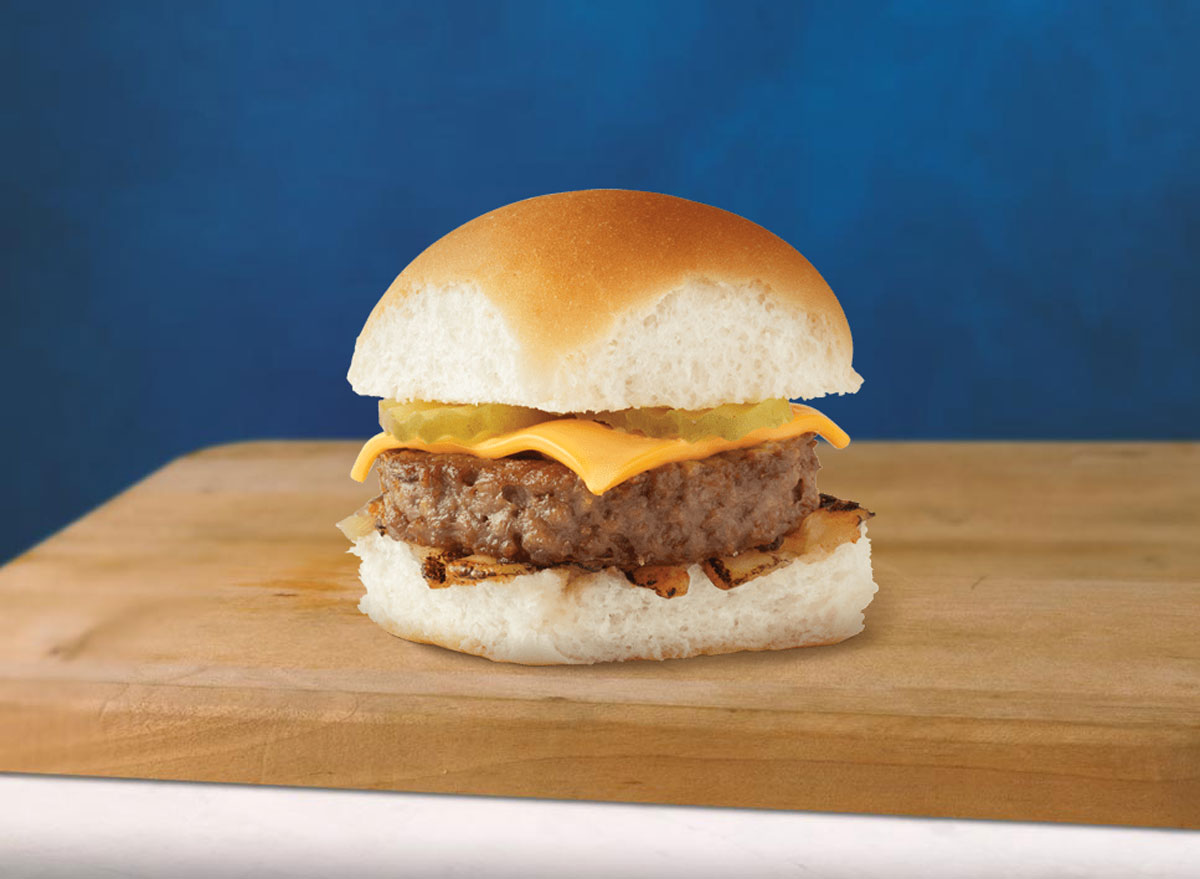 with cheese
: 240 calories, 14 g fat (6 g saturated fat), 720 mg sodium, 18 g carbs (1 g fiber, 2 g sugar), 11 g protein
We are all for portion control and have always been fans of While Castle's sliders. Even better here is the fact that the Impossible Slider with Smoked Cheddar Cheese has 30 fewer calories and 3 more grams of protein than the Original Slider With Cheese, making this plant-based version a good veggie burger and even a better beef burger.
Burger King's Impossible Whopper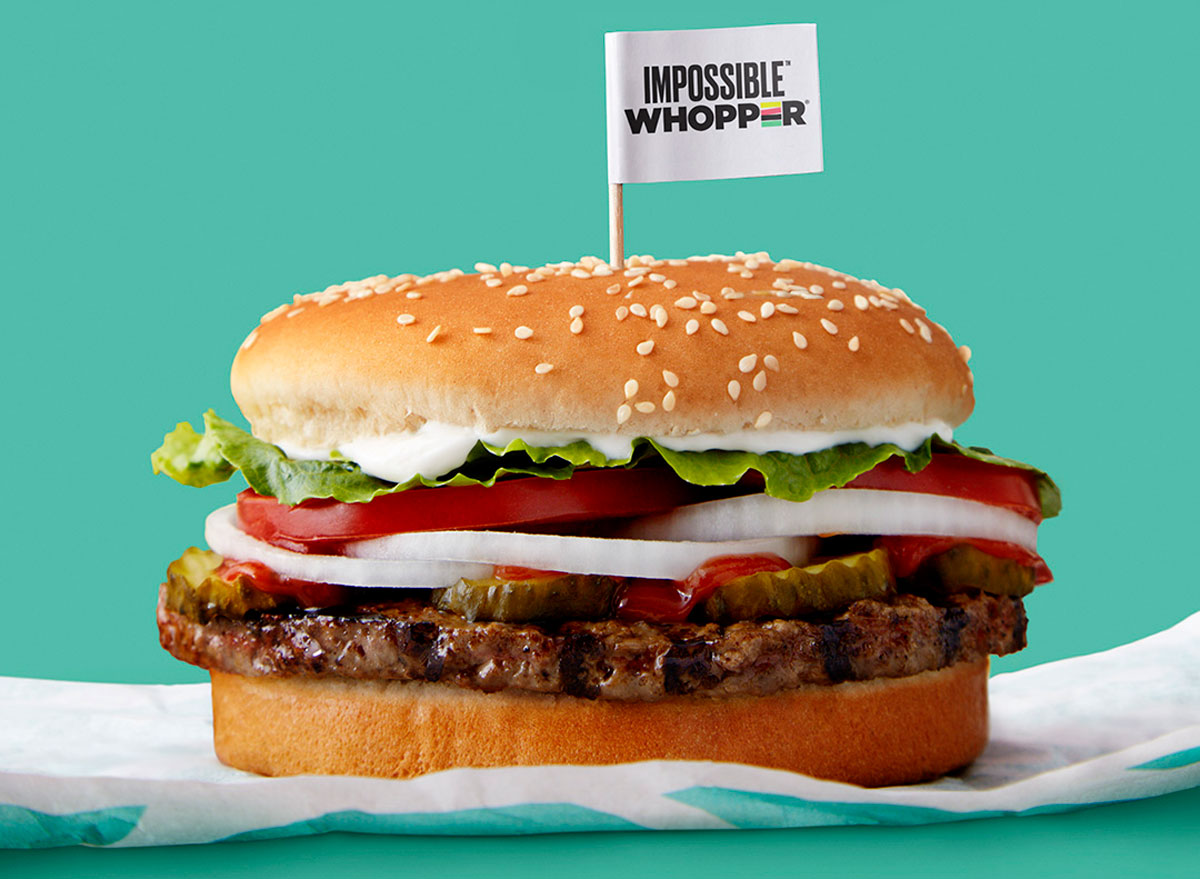 630 calories, 34 g fat (11 g saturated fat, 0 g trans fat), 1,240 mg sodium, 58 g carbs (4 g fiber, 12 g sugar), 25 g protein
The Impossible Whopper is now available at all Burger King locations! Burger King's preparation of the Impossible Burger will set you back 630 calories, which is 30 calories less than the original Whopper at 660 calories. The plant-based version may have three fewer grams of protein than the Whopper, but it also doesn't have any of the 1.5 grams of trans fats, which have been linked to heart health problems.
The Cheesecake Factory Impossible Burger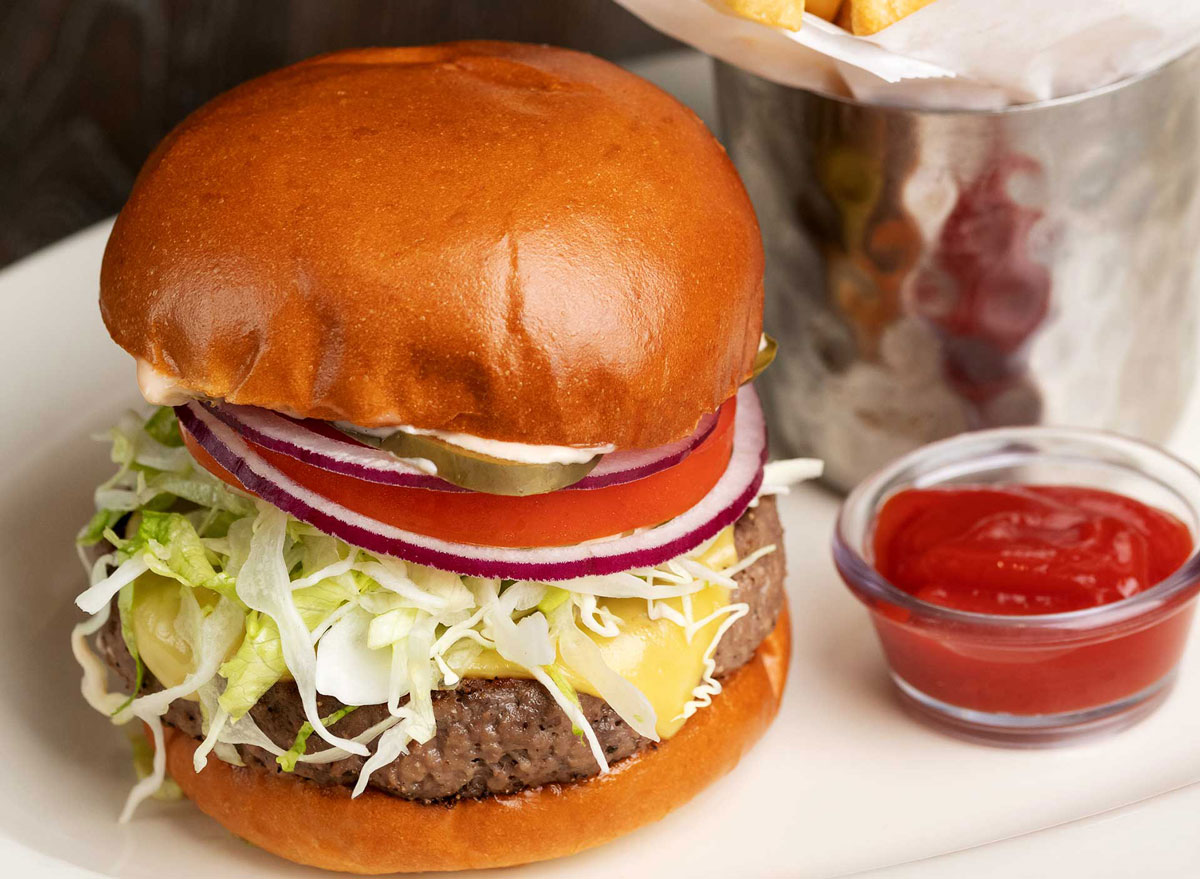 With fries
: 903 calories, 57 g fat (29 g saturated fat, 0 g trans fat), 2,270 mg sodium, 56 g carbs (3 g fiber, 10 g sugar), 47 g protein
As far as restaurant chain veggie burgers go, The Cheesecake Factory's version of the Impossible Burger is not the worst. A full meal with fries still falls below the 1,000-calorie mark, which can't be said for three of the options on our "worst" list.
Denny's Build-Your-Own Veggie Burger
6254a4d1642c605c54bf1cab17d50f1e
With cheddar cheese, lettuce, tomato, onion, pickles
: 555 calories, 19.5 g fat (6.5 g saturated fat), 1,245 mg sodium, 75 g carbs (16 g fiber, 12 g sugar), 21 g protein
Customizability is key when considering the healthfulness of a menu item. And in Denny's case, you have the power to build your veggie burger (it's actually a veggie patty) how you'd like it. We opted for no mayo, but adding it would add 100 calories and 11 grams of fat. Lettuce, tomato, red onions, and pickles are included, and you can opt for seasonal fruit (yes!) or wavy-cut fries, which would add an additional 400 calories, 22 grams of fat, and 470 milligrams of sodium.
The Cheesecake Factory Skinnylicious Veggie Burger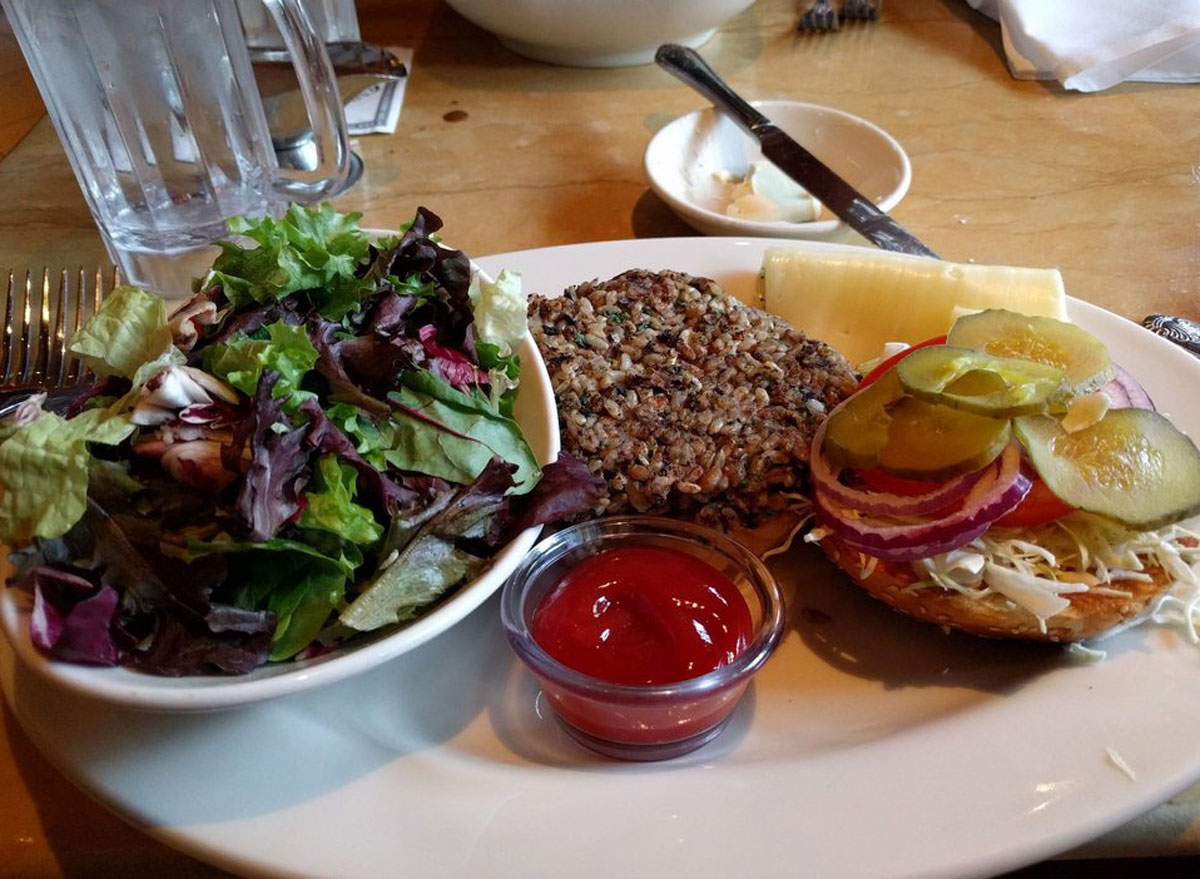 With salad
: 590 calories, 20 g fat (4.5 g saturated fat, 0 g trans fat), 1,520 mg sodium, 88 g carbs (8 g fiber, 14 g sugar), 16 g protein
Compared to the traditional "Veggie Burger" order from The Cheesecake Factory, this "Skinnylicious" version leaves off the cheese and avocado and subs out fries for a salad, saving you 570 calories in the process—nearly the equivalent of eating two of these orders.
The Worst Fast Food & Restaurant Veggie Burgers
Whether they exceed a day's worth of a nutrient's daily value or they're unhealthier than their ground-beef counterpart, these veggie burgers landed on our worst list.
Dave & Buster's Plant-Based Cheeseburger
With fries
: 1,358 calories, 86 g fat (31 g saturated fat, 0 g trans fat), 4,206 mg sodium, 111 g carbs (9 g fiber, 12 g sugar), 46 g protein
When your burger order comes equipped with American cheese and garlic aioli, you should expect nothing less than getting an entire day's worth of fat and saturated fat. To make matters even worse, scarfing down a whole meal will also set you back only 394 milligrams of sodium shy of two full days of the nutrient. To put 4,206 milligrams of sodium in context, that's the equivalent of 26 slices of Hillshire Farms Sliced Turkey Breast deli meat.
It's not much, but if you want to save 200 calories, you can order your Impossible Burger in a lettuce wrap.
TGI Fridays The Beyond Meat Cheeseburger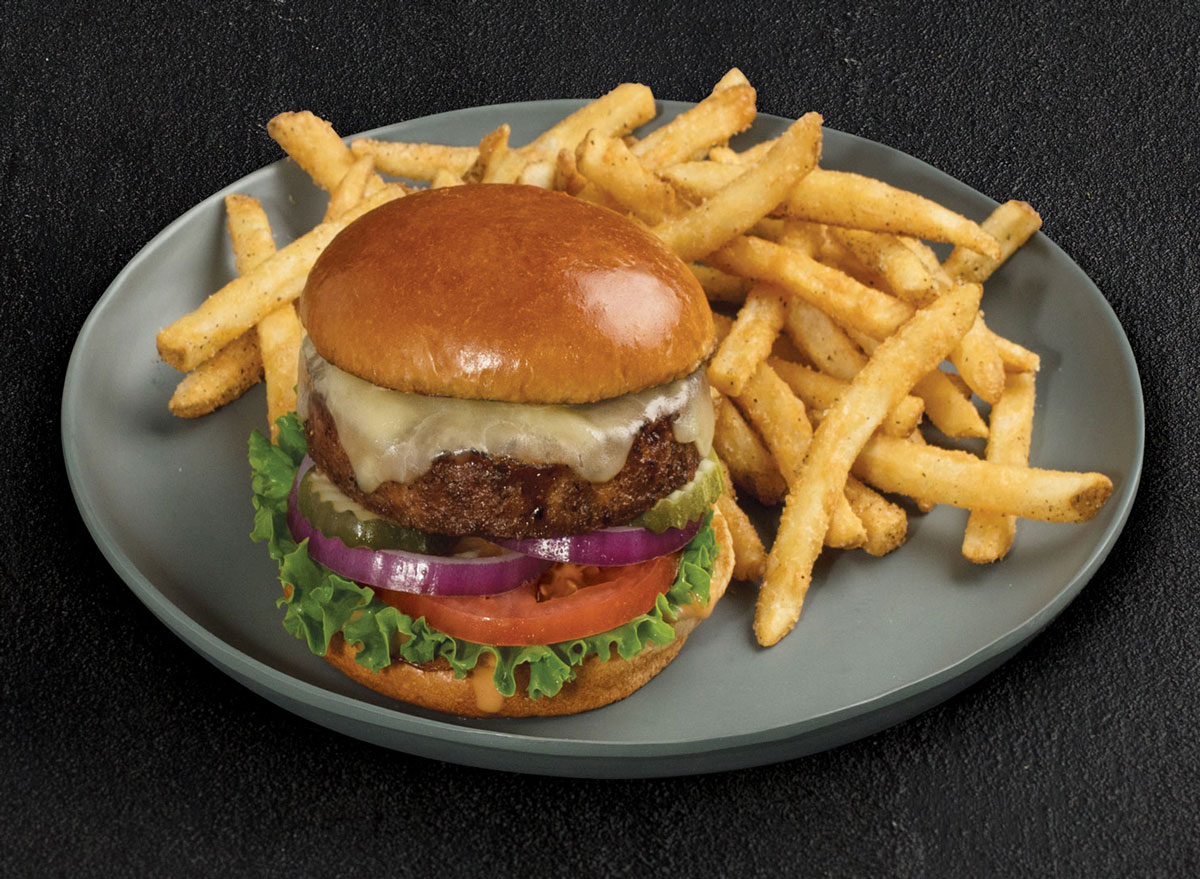 no fries
: 890 calories, 57 g fat (24 g saturated fat, 0 g trans fat), 3,350 mg sodium, 55 g carbs (7 g fiber, 14 g sugar), 45 g protein
This is why we shouldn't give plant-based meat alternatives a health halo. The TGI Fridays Beyond Burger has 110 more calories, 510 milligrams more sodium, and 11 additional grams of carbs than the ground beef version. That being said, it is still cholesterol- and trans-fat-free, whereas the ground beef patty has 1.5 grams of heart-damaging trans fats.
The Cheesecake Factory Veggie Burger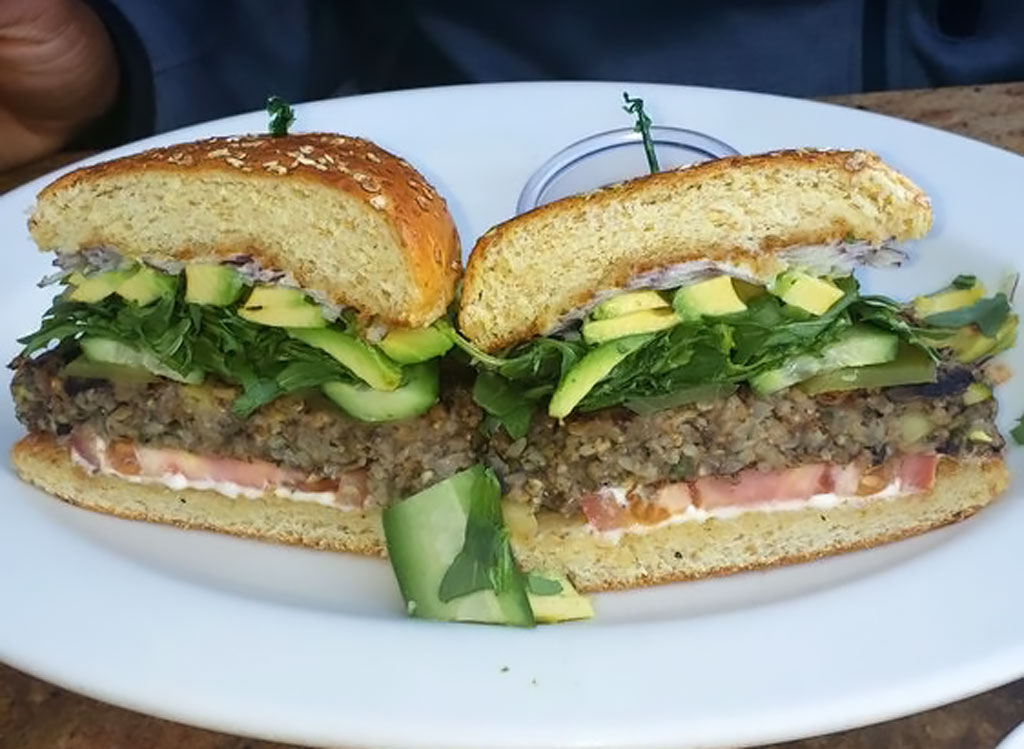 With fries
: 1,160 calories, 57 g fat (21 g saturated fat, 0 g trans fat), 2,770 mg sodium, 136 g carbs (12 g fiber, 27 g sugar), 27 g protein
The Cheesecake Factory's traditional Veggie Burger is a blend of brown rice, farro, mushrooms, black beans, and onion. It's topped with avocado, cucumber, tomato, arugula, and pickles. The vegetarian version comes with melted fontina cheese and garlic aioli, but you can order it without these toppings to make it vegan. As is traditional with most Cheesecake Factory menu items, the chain overdoes it with the accouterments. The extra layers of cheese and avocado in addition to a side of fries makes the traditional veggie burger a "Not That!" compared to the Factory's Skinnylicious version.
Carl's Jr. Beyond Famous Star With Cheese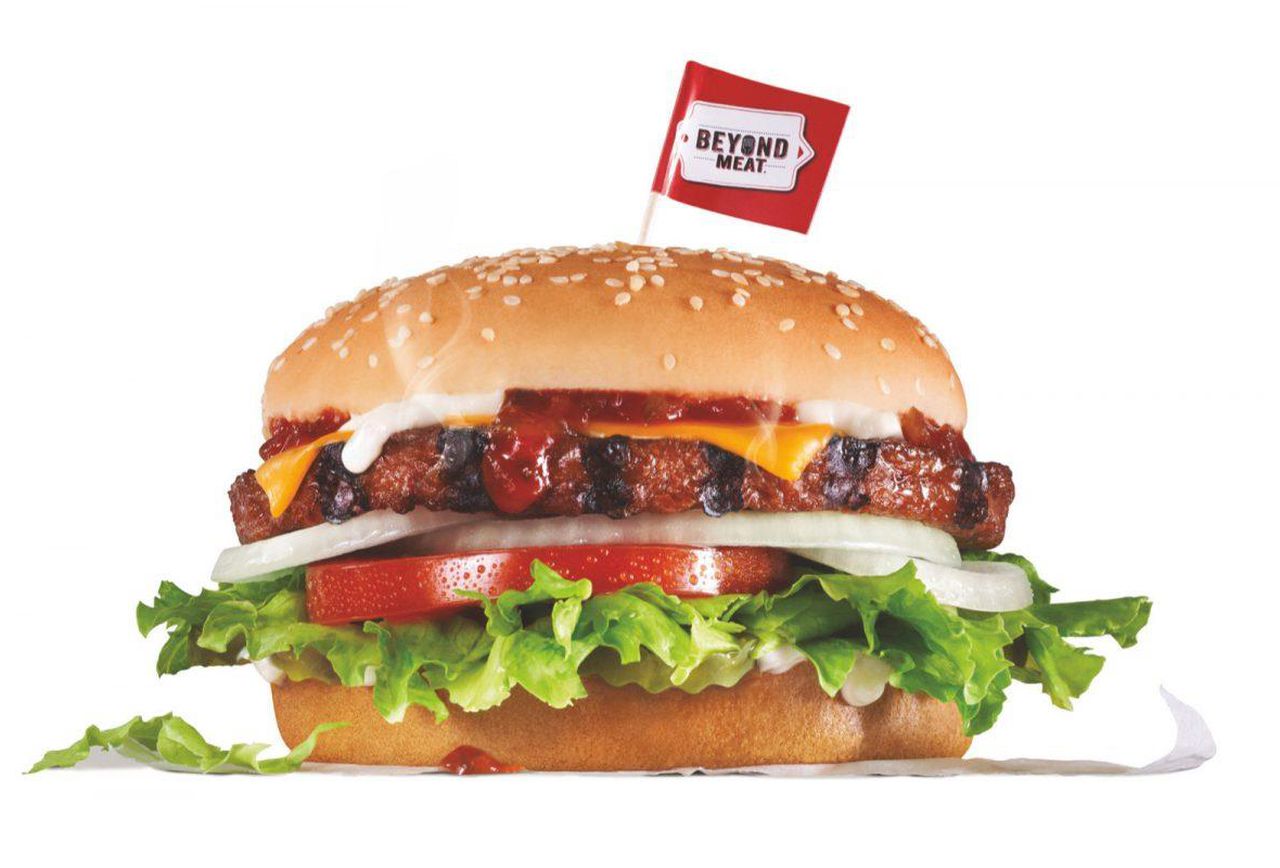 710 calories, 40 g fat (0 g saturated fat), 1,550 mg sodium, 61 g carbs (5 g fiber, 12 g sugar), 30 g protein
While the Beyond Famous Star is Carl's Jr. set veggie burger offering, you can order the Beyond Meat patty on any of Carl's Jr.'s offerings. If you could, we'd recommend the low-carb, low-calorie Lettuce-Wrapped Thickburger with the Beyond Patty instead of the Famous Star. Not only is the Beyond Famous Star With Cheese higher in calories than the Original Famous Star With Cheese (by 40 calories), but it also is higher in sodium, ringing in at 67 percent of your daily value.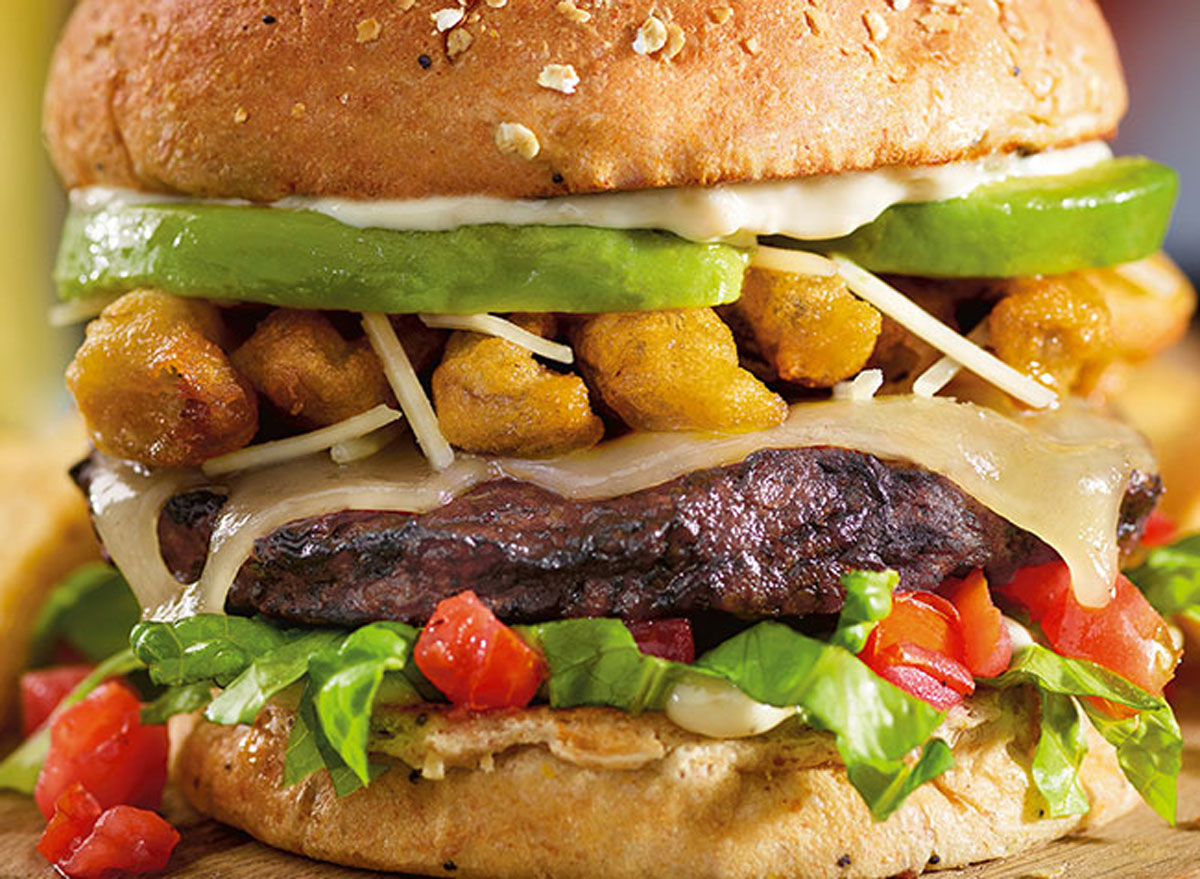 760 calories, 51 g fat (12 g saturated fat, 0.5 g trans fat), 1,060 mg sodium, 63 g carbs (13 g fiber, 12 g sugar), 26 g protein
Back in April 2019, Red Robin announced they'd be serving the Impossible Burger at all of its 570 locations nationwide. But don't expect to get one when you walk in the door. According to Bloomberg, Red Robin is reporting shortages of the patty and still hasn't added it to their menu.
Alas, we can rank their current veggie burger, which is a custom-blended, ancient-grain-and-quinoa veggie patty topped with Swiss cheese, tomato bruschetta salsa, fresh avocado slices, roasted garlic aioli, and shredded romaine on a multigrain bun. It's quite the mouthful—literally. It's served with Bottomless Broccoli, but the nutrition listed is without this green side. Despite being made with good-for-you ingredients, this is the only offering on the list of veggie burgers with heart-harming trans fat.
Olivia Tarantino
Olivia Tarantino is the Managing Editor of Eat This, Not That!, specializing in nutrition, health, and food product coverage.
Read more about Olivia