The FDA Is Recalling These 4 Popular Holiday Grocery Items
These products were sold at Publix, Trader Joe's, and more.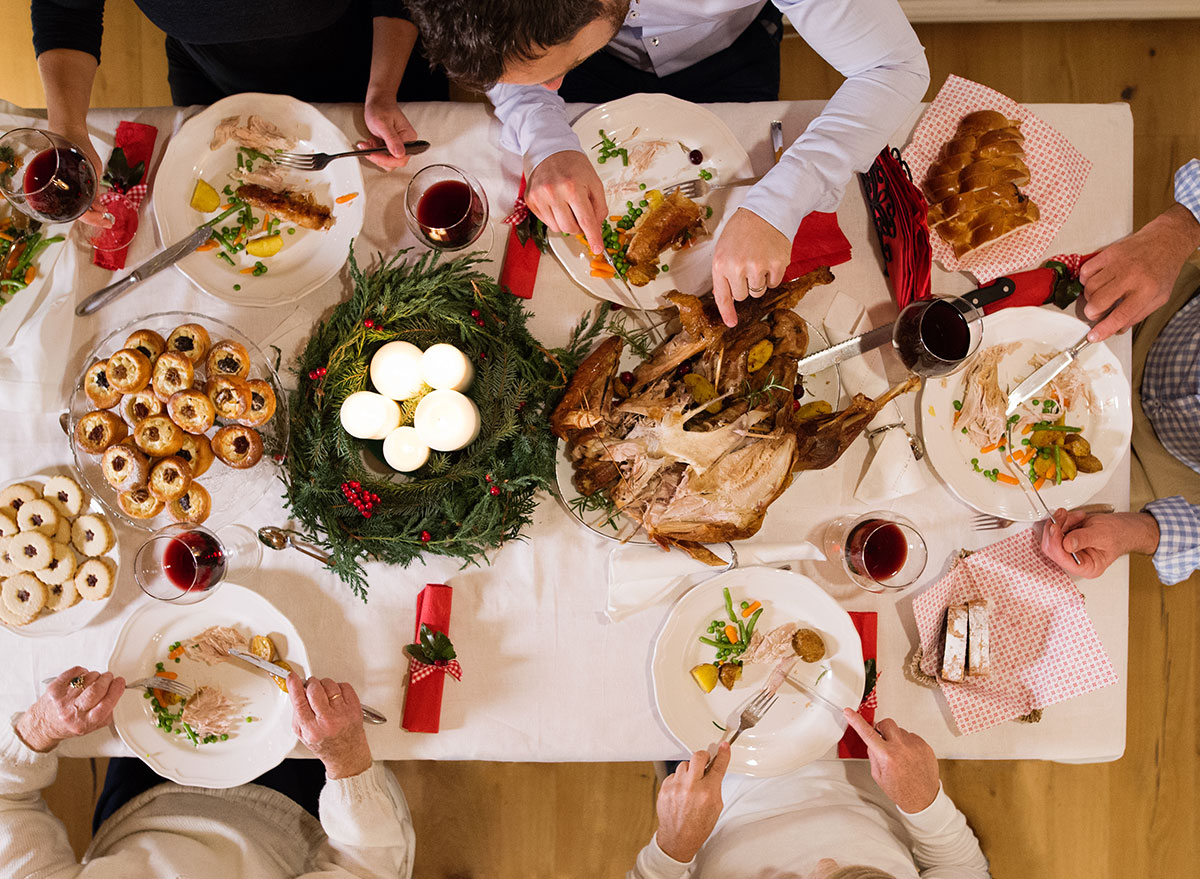 The holiday season is usually not a good time to get sick, and with the number of coronavirus cases continuing to rise, keeping you and your family healthy is by far the most important thing to focus on right now.
While disinfecting your kitchen is a must to get rid of outside germs, you should also be cleaning out the refrigerator and pantry because the FDA is alerting grocery shoppers to four different recalls affecting foods you may be serving for the holidays. So before you prepare a charcuterie board, appetizer, or brunch check out the four below!
For more on staying safe as we head into 2021, this is The One Vitamin Doctors Are Urging Everyone to Take Right Now.
Publix Bakery 20-ounce Holiday Cookie Platters
There could be undeclared pecans in this festive pre-made selection at Publix. Anyone who has an allergy to pecans could have a serious or life-threatening allergic reaction if they unknowingly consume this product thay may contain the nut.6254a4d1642c605c54bf1cab17d50f1e
The recall notice says the platters were in stores in Florida, Georgia, Alabama, Tennessee, South Carolina, north Carolina, and Virginia. However, the Florida counties of Miami-Dade, Palm Beach, Broward, and Monroe are not included in the recall.
"The recall was initiated after it was discovered that the pecan-containing product was distributed in packaging that did not reveal the presence of pecans," the announcement on the FDA's website says. "Subsequent investigation indicates the problem was caused by a temporary breakdown in the company's packaging processes."
No illnesses have been reported, but anyone who purchased a clear, plastic package with a UPC of 4141588690, a lot number of W34326, and a best by date of 10/APR/2021 should take it back to Publix for a full refund.
Related: 10 Unhealthiest Holiday Drinks, According to a Dietitian
O&H Danish Bakery's Almond Kringle sold at Trader Joe's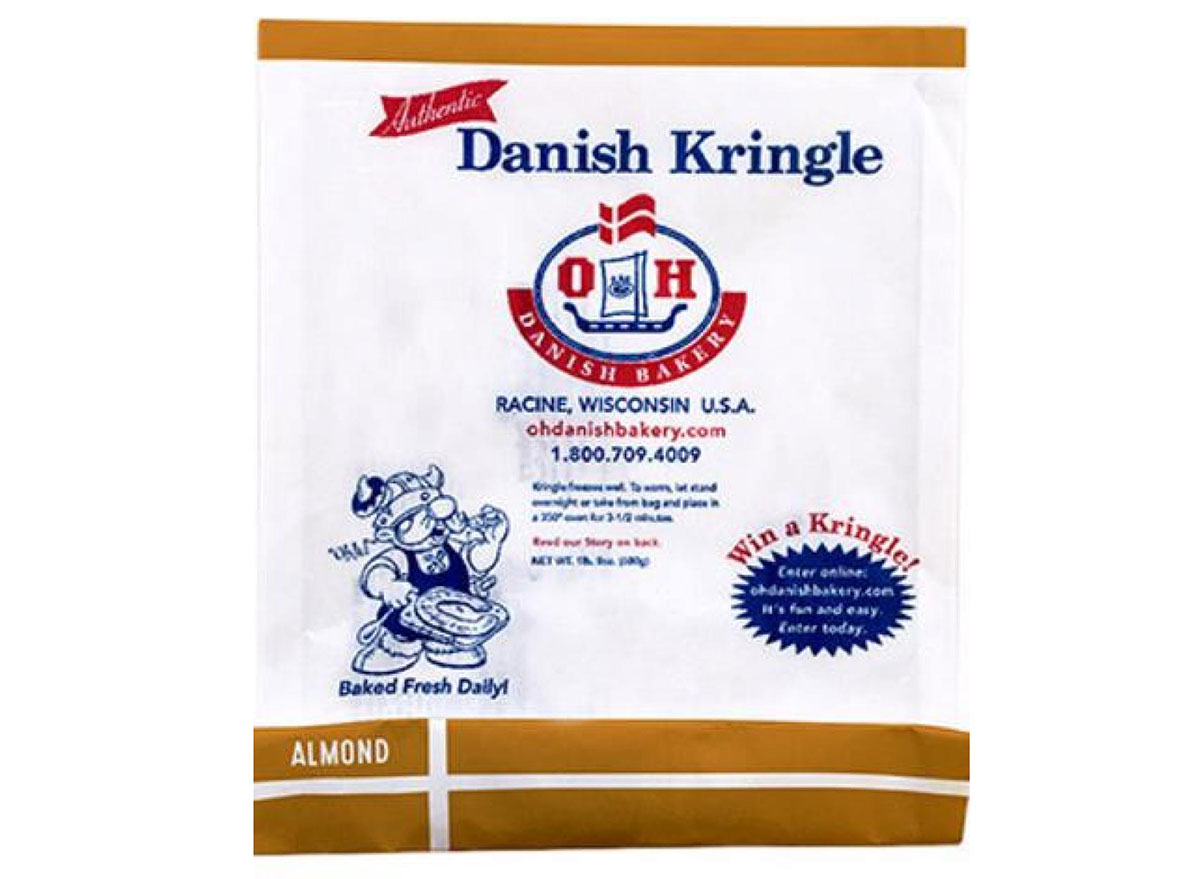 This holiday treat sold at Trader Joe's has also been recalled due to the possibility it may contain undeclared pecans. Locations in Texas, Tennessee, Oklahoma, New Mexico, Louisiana, Colorado, Kansas, Arkansas, and Alabama received deliveries of some of the 3,173 units of the  Almond Kringle.
It was discovered that four of the pastries delivered to a Trader Joe's distribution center and labeled as "almond-filled" were incorrect. They actually contained pecan filling. The wax papery package for these has a batch code of #26720. Like the Publix holiday cookie recall, no illnesses have been reported.
"If you purchased the Almond Kringle with the specified batch code from a Trader Joe's store in one of the nine states listed and have a pecan allergy, please do not eat it We urge you to discard the product or return it to any Trader Joe's for a full refund," the recall says. "Alternatively, you may send an email to [email protected] with a picture of the product label for a replacement item delivered to your door."
For more on eating healthy, here are the 7 Healthiest Foods to Eat Right Now.
Market of Choice's Sour Cherry Baked Brie
Brie is a staple appetizer, but you shouldn't serve this one this holiday season. The Sour Cherry baked Brie made in-house at Market of Choice is being recalled because of undeclared almonds, the notice on the FDA's website says. Anyone with an allergy to this nut could have an allergic reaction if they consume the cheese.
Locations of this Oregon grocery store chain in Ashland, Bend, Corvallis, Eugene, Portland, and West Linn sold the recalled cheese between Nov. 1 and Dec. 4, 2020, according to the recall notice. They have a UPC code of o 217241 414996 and sell by dates up to 12/12/20.
There have been no illnesses because of this recall, but the grocery store chain is urging customers who bought it to throw it away immediately.
Related: The Most Popular Christmas Recipe in Every State
Canyon Bakehouse White Bread and Everything Bagels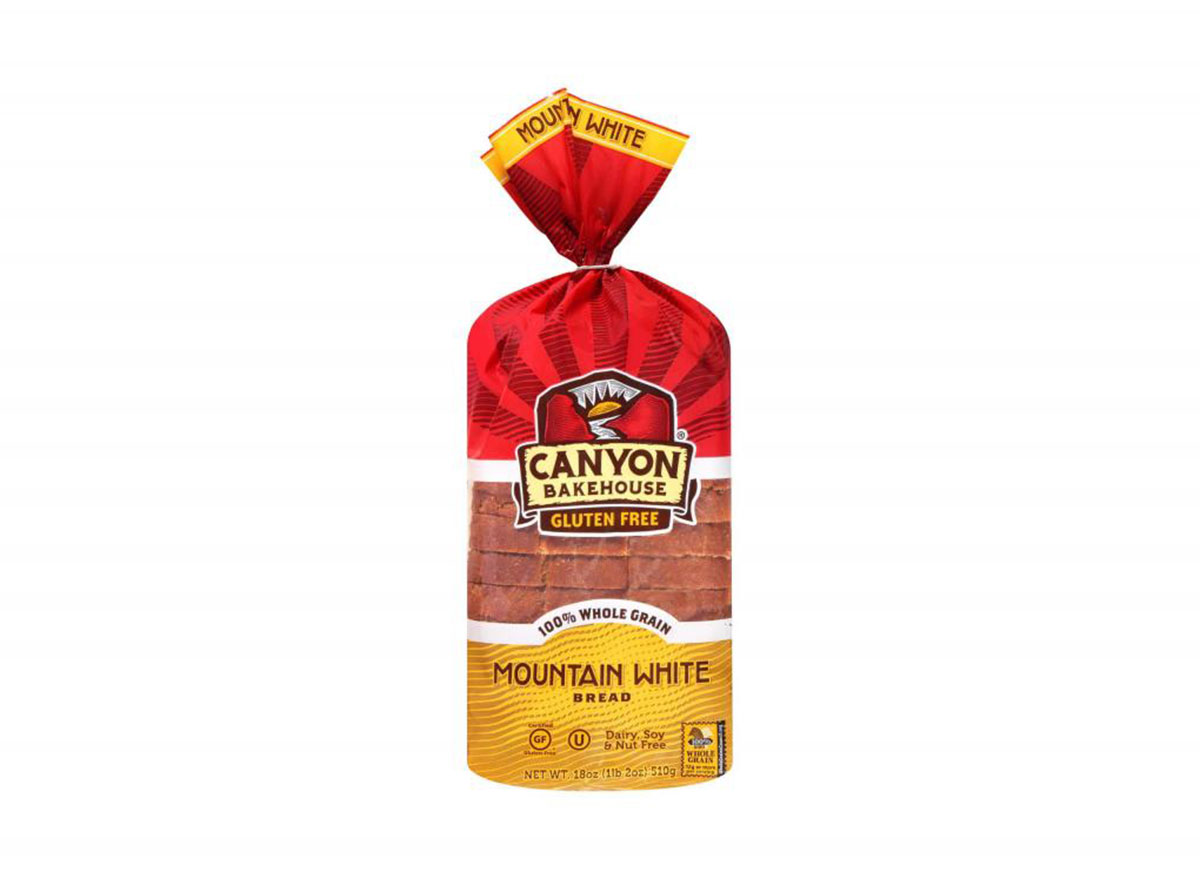 Opening presents Christmas morning works up an appetite, but if you're thinking of having toast or a warm bagel from one bakery company, think again. Two gluten-free bread products from Canyon Bakehouse are being recalled because they could contain undeclared gluten. Anyone with a wheat allergy, celiac disease, or a gluten or wheat sensitivity who unknowingly consumes any gluten in these products could have a severe allergic reaction.  The white bread has a UPC code of 8-53584-00200-3 and a Lot Number of 032220323.
The recall notice on the FDA website does not list specific stores the bread and bagels were sold at, but they were distributes to retail locations in Arkansas, Colorado, Kansas, Louisiana, Mississippi, Montana, Nebraska, New Mexico, Oklahoma, South Dakota, Texas, Utah, and Wyoming. However, on its website, Canyon Bakehouse says its products are sold at supermarkets like Walmart, Whole Foods, Target, and more.
"As a dedicated gluten-free bakery, we follow the strict guidelines of the Gluten-Free Certification Organization (GFCO)… We test all our finished baked goods to ensure they contain less than 10ppm (parts per million) of gluten, which is the GFCO standard," a statement about the recall on the company's website says. "Our internal tests of the Mountain White Bread and Everything Bagels found levels of gluten outside GFCO standards. Our team immediately flagged the affected products and put them in a separate hold area so they could be properly disposed of. We traced the issue to an isolated ingredient supplier."
So far, no illnesses have been reported.
To learn more about the seasonal foods to be aware of right now, here are 7 Holiday Foods That Could Give You Food Poisoning, Expert Warns. And to get all breaking grocery item recalls delivered straight to your email inbox every day, sign up for our newsletter!
Amanda McDonald
Amanda has a master's degree in journalism from Northwestern University and a bachelor's degree in digital journalism from Loyola University Chicago.
Read more about Amanda