The Most Popular Christmas Recipe in Every State
Sweet potato casserole has a LOT of fans.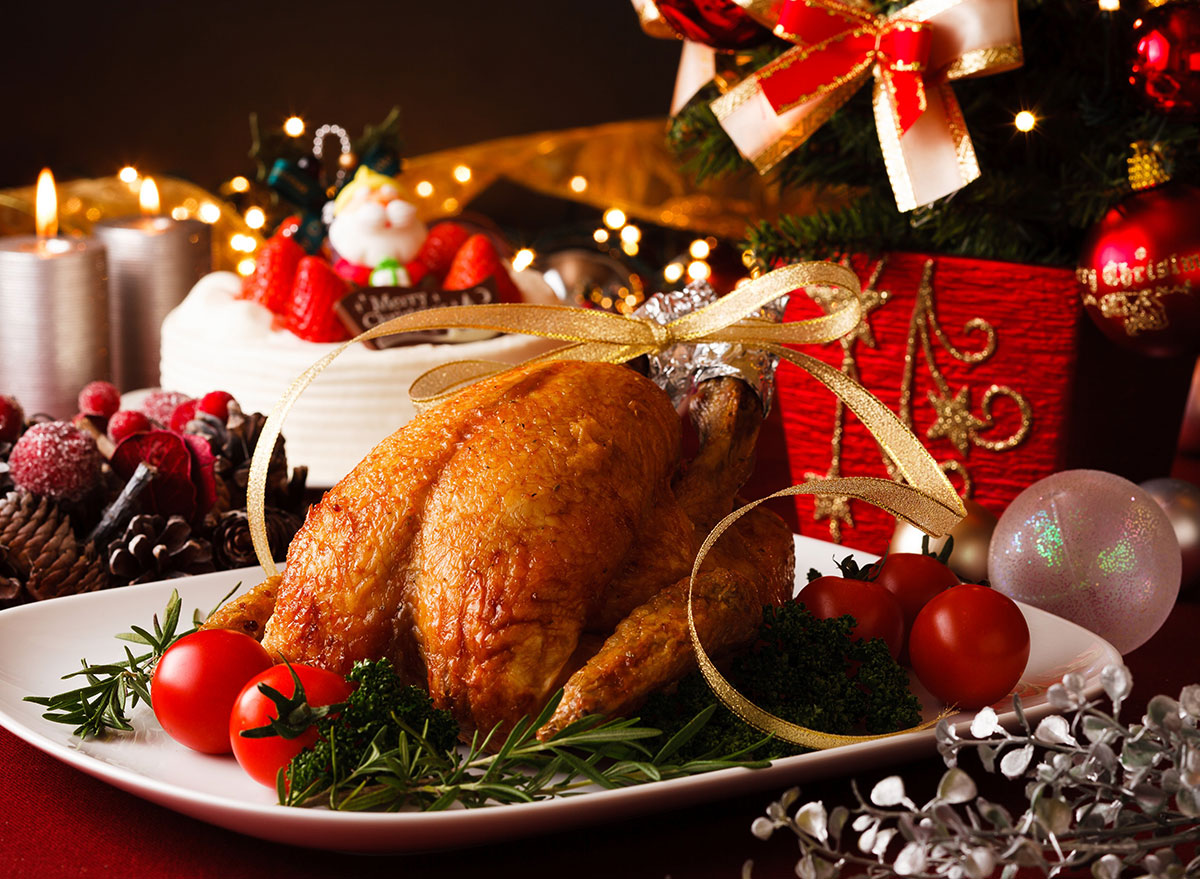 There's a lot to love about Christmas—the decorations, the music, watching the classic movies (Elf, anyone?), and, of course, enjoying a holiday feast.
Many families have a go-to Christmas dinner that's become part of their holiday tradition. But, unlike Thanksgiving, there's not one specific main course that we associate with the holiday. And as it turns out, the most popular Christmas recipes run the gamut depending on what state and region you're in.
Treetopia mapped out the most popular Christmas recipes in every state, and some of the answers are pretty surprising. From eggnog to a whole lot of sweet potato casserole, here's what's being cooked across America on Christmas.
And for more, check out The Most Popular Cake Flavor in Every State.
ALABAMA: Sweet Potato Casserole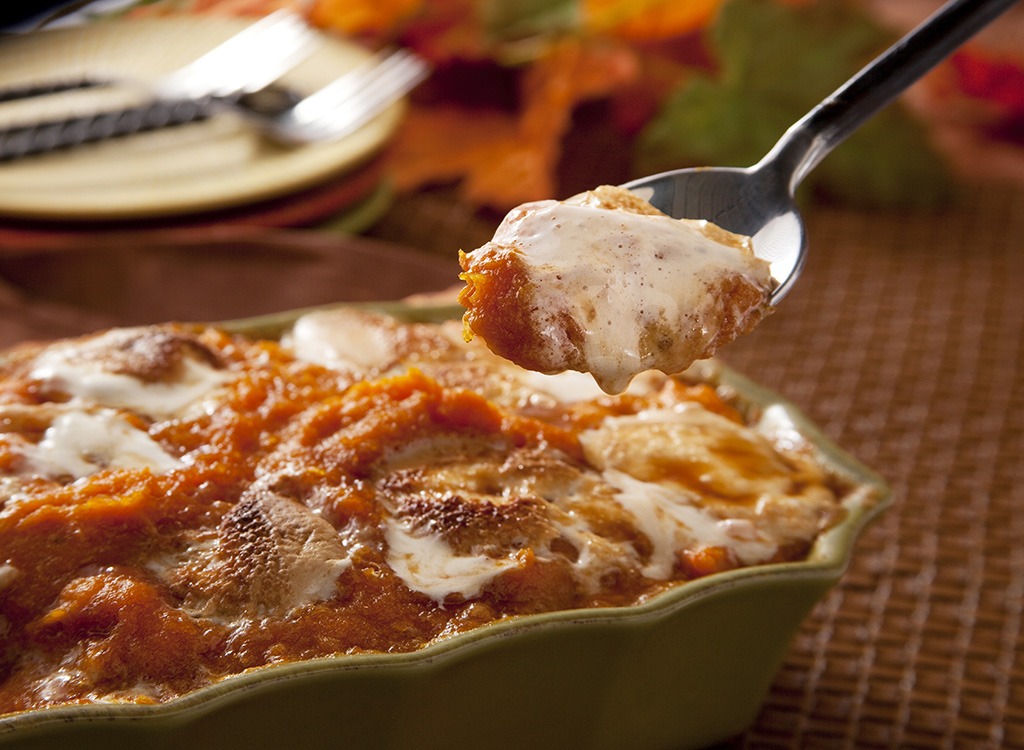 This dish is a favorite in Southern states, and Alabama is no exception. Made with butter, brown sugar, pecans, and a cinnamon topping, this recipe could be mistaken for a dessert—but hey, sweet potatoes are healthy, right?
Get the recipe from Cooking Classy. 
ALASKA: Cranberry Sauce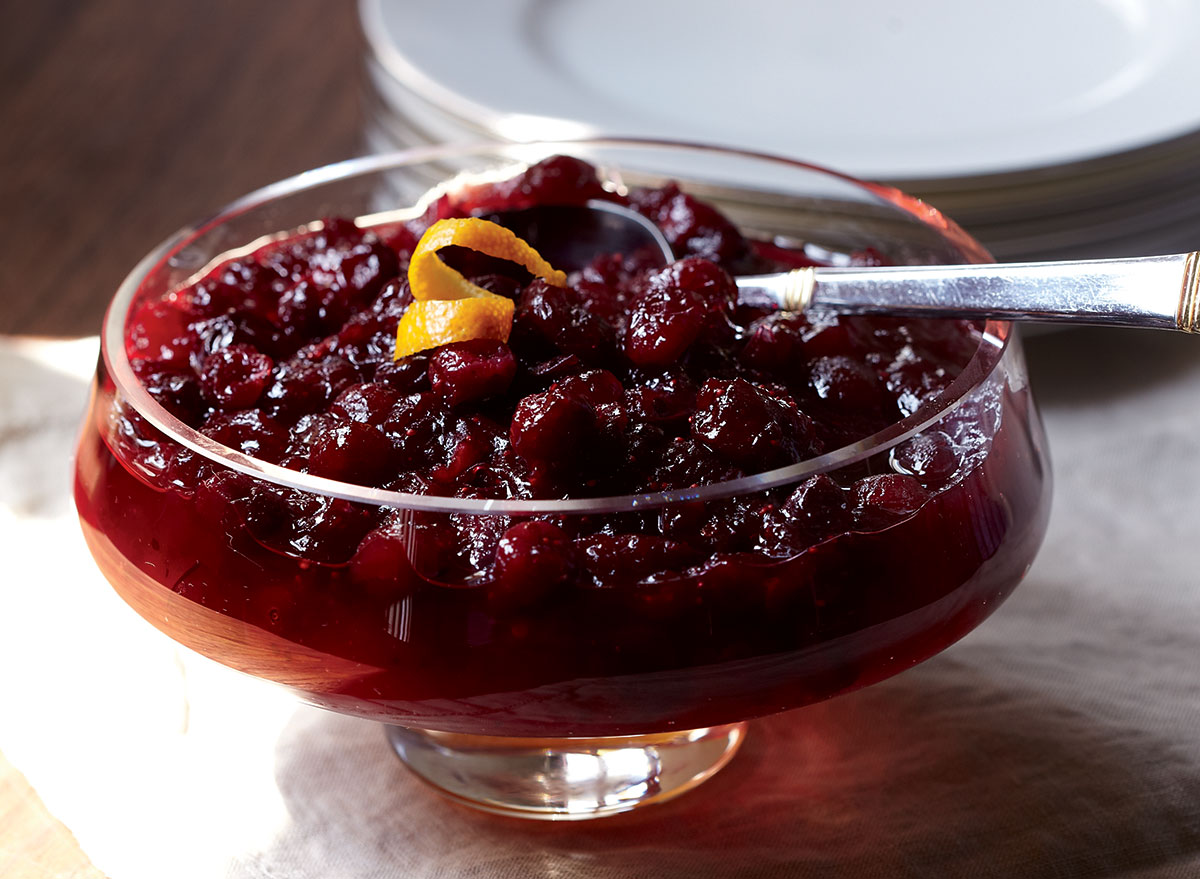 You might think of cranberry sauce as the quintessential Thanksgiving side dish, but in Alaska, it has a home on Christmas dinner tables across the state. Our recipe has a secret weapon: orange juice and zest, plus fresh ginger.
Get our recipe for Cranberry Orange Relish. 
ARIZONA: Goose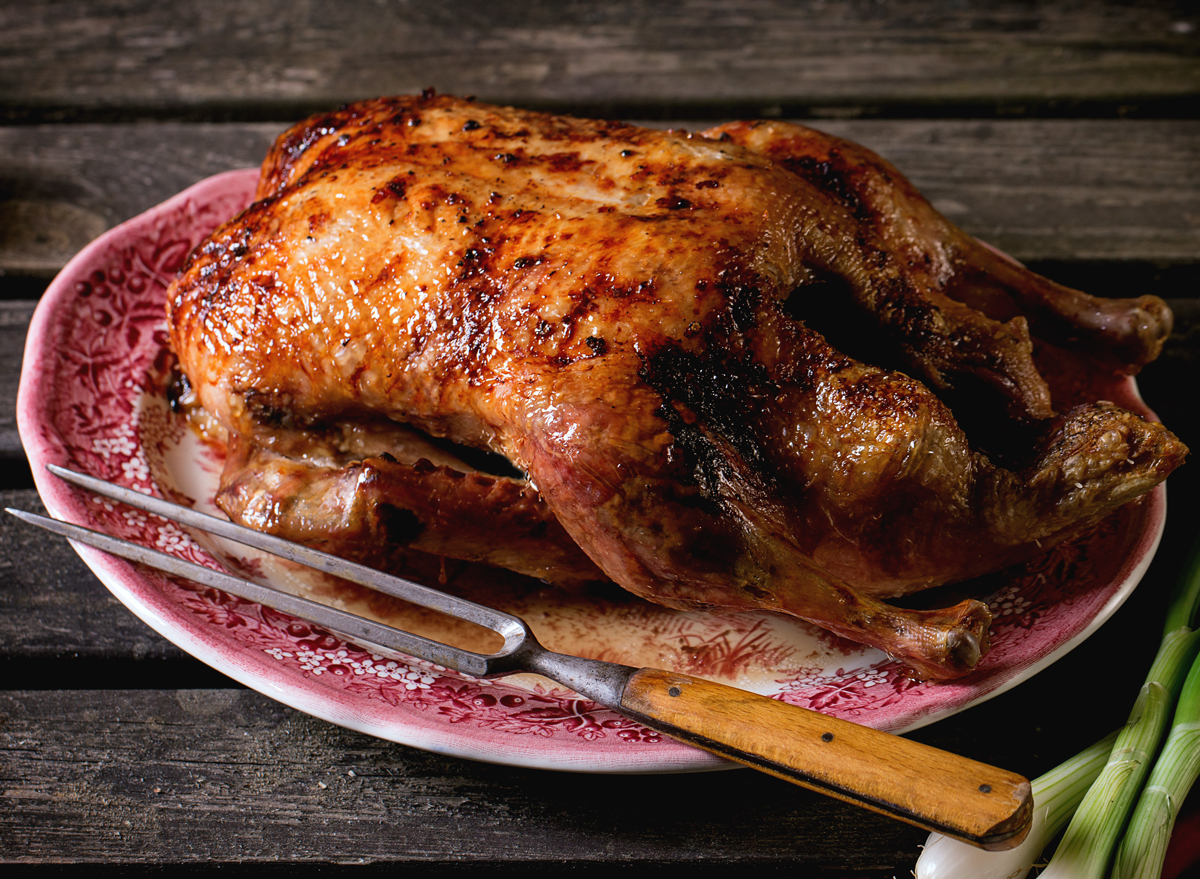 Goose is one of the more traditional Christmas dishes—in fact, it's been a staple in Europe since ancient times. It's a popular choice in Britain, and it turns out Arizonans love it, too.
It doesn't hurt that goose is a grass-fed meat full of vitamin A, vitamin E, and CLAs [conjugated linoleic acids], which means it's a bit healthier than other meat recipes.
ARKANSAS: Sweet Potato Casserole
Southerners love their sweet potato casserole, and for good reason. If there's any day to eat dessert as a main course, it's Christmas.
CALIFORNIA: Roast Carrots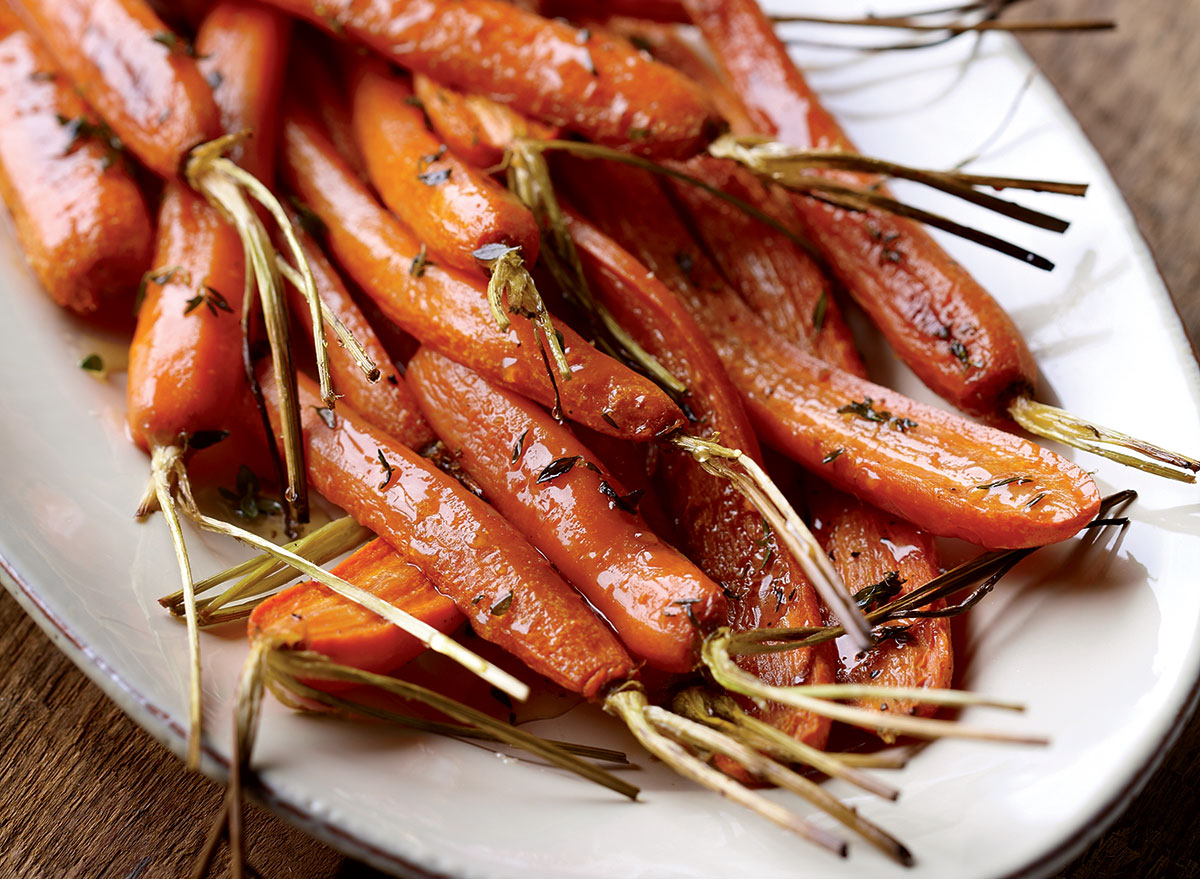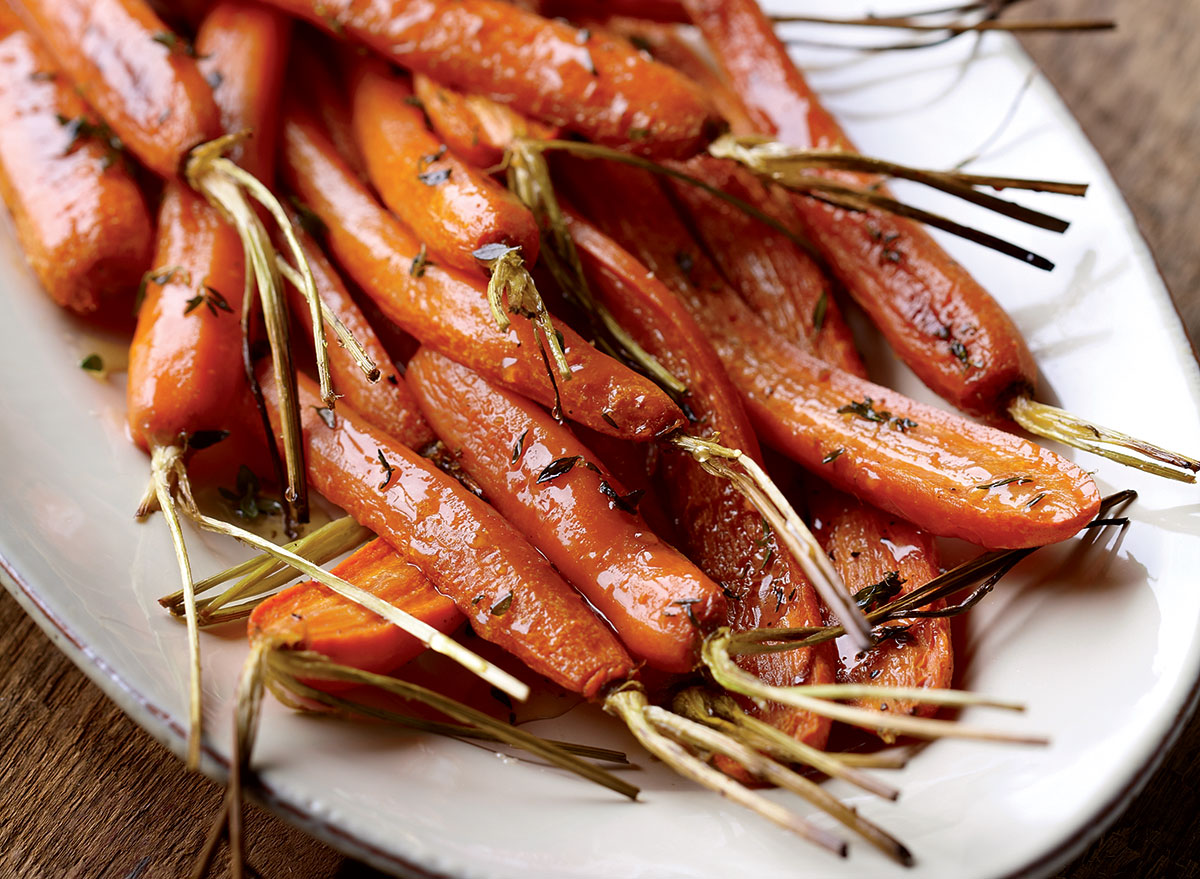 Carrots are grown year-round in California; they're planted between July to September to harvest from November through February. The veggie is at its peak in December, so Californians make good use of carrots by serving them at Christmas dinner.
Get our recipe for Roasted Carrots. 
COLORADO: Goose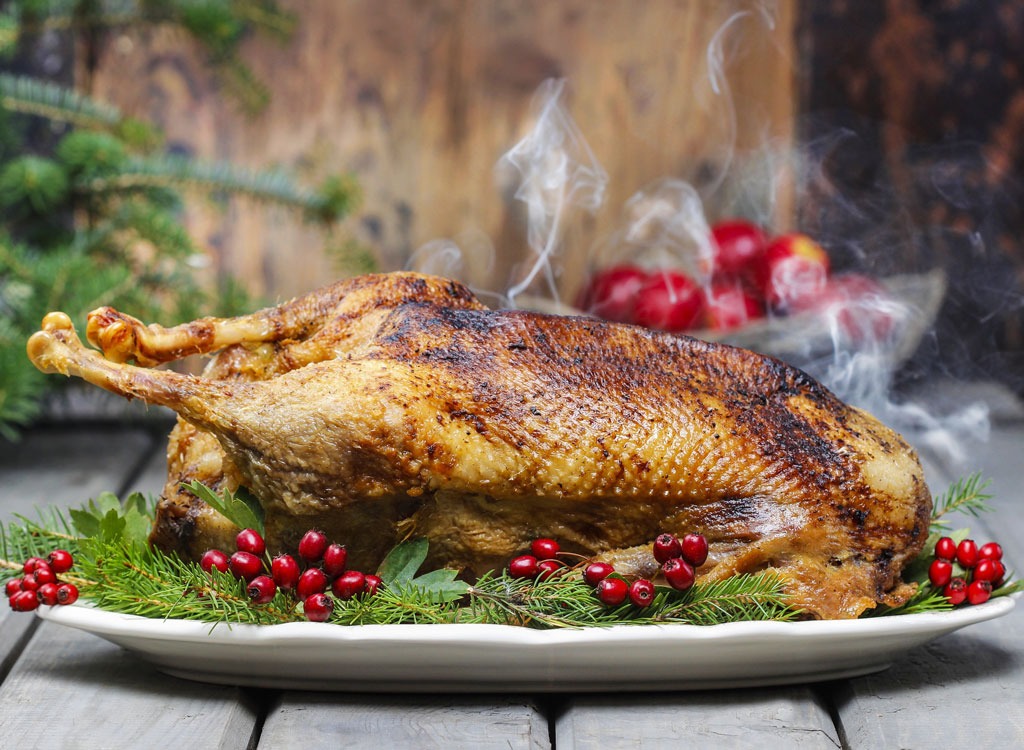 Geese are permanent residents of Colorado, but thanks to migration, there's an especially large number during the fall and winter months. Coloradoans take advantage of this and cook up a classic Christmas dinner.
CONNECTICUT: Roasted Potatoes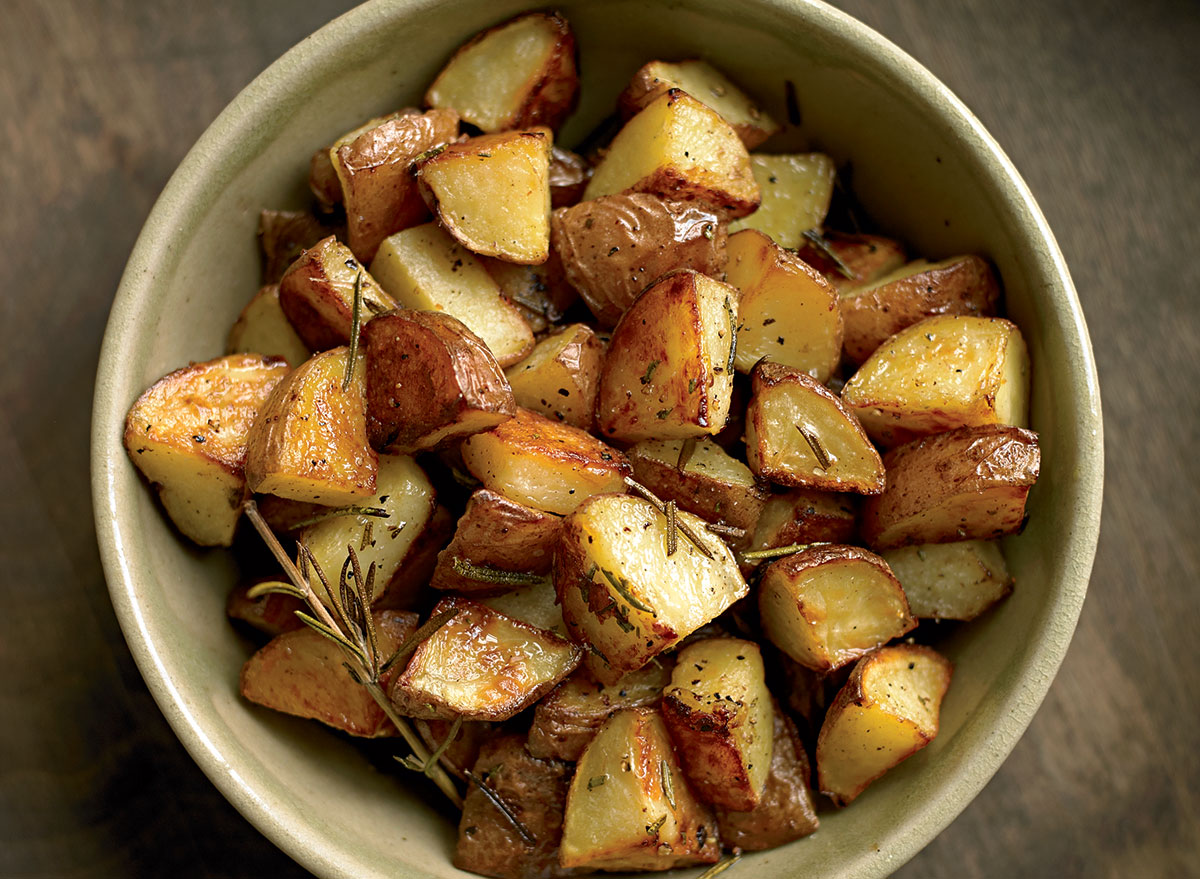 Connecticut is known as "The Nutmeg State," but on Christmas, roasted potatoes take center stage. This recipe is perfect for anyone who's allergic or sensitive to gluten (don't worry, we didn't sacrifice the taste one bit).
Get our recipe for Gluten-Free Roasted Rosemary Potatoes. 
DELAWARE: Mashed Potatoes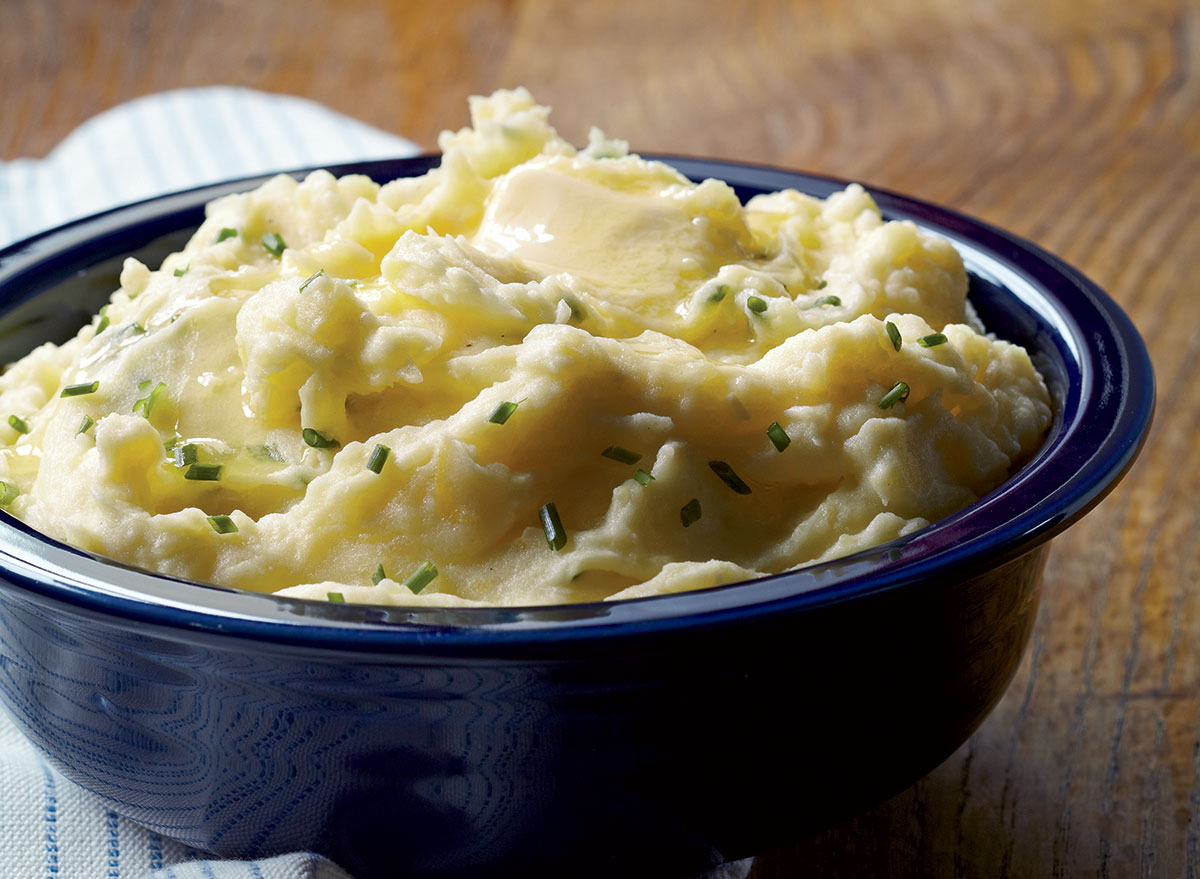 Why should we limit the deliciousness of mashed potatoes to Thanksgiving Day? In Delaware, they don't, and we fully support this decision. Our recipe is so simple that even amateur chefs will find it a breeze.
Get our recipe for Garlic Mashed Potatoes. 
FLORIDA: Christmas Turkey
Florida is sticking with the classic Christmas Turkey, so it turns out the state has at least one thing in common with Britain (although it's certainly not the sunshine!). Fun fact: Rumor has it that Henry VIII was the first person in Britain to eat turkey for his Christmas feast.
Get our recipe for 90-Minute Roasted Turkey With Orange-Cranberry Relish. 
GEORGIA: Roast Carrots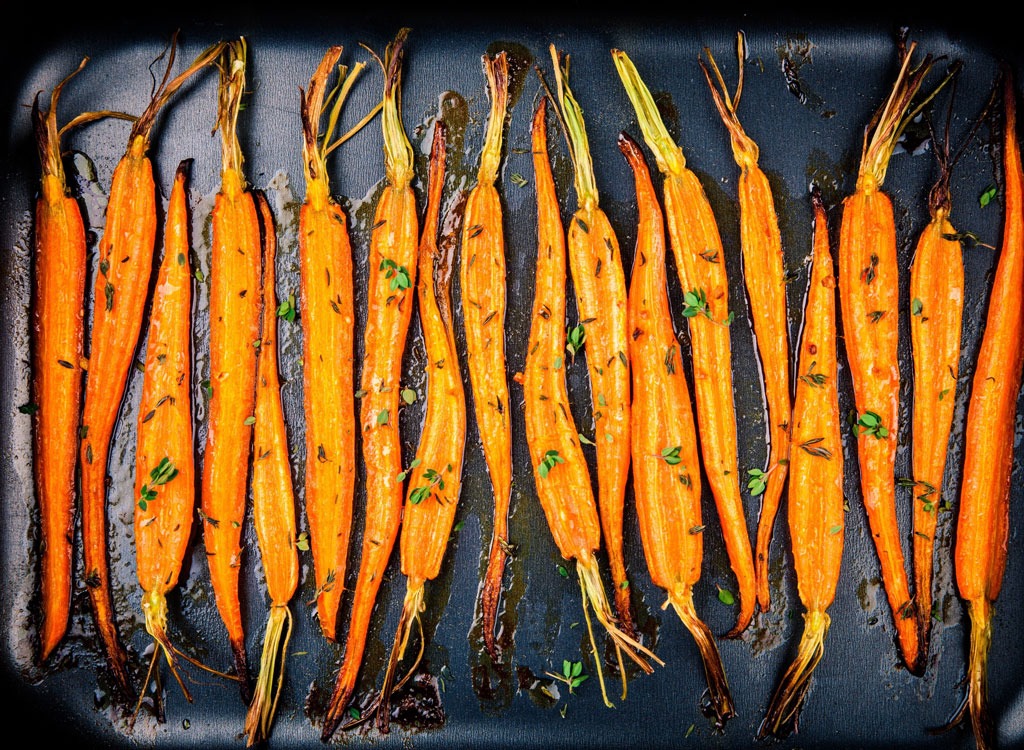 Due to Georgia's climate, the carrots harvested in the state have a sweeter flavor because they naturally develop more sugar while growing. A Christmas dish that's healthy and sweet? Sign us up!
Get the recipe from Cookie + Kate. 
HAWAII: Cranberry Sauce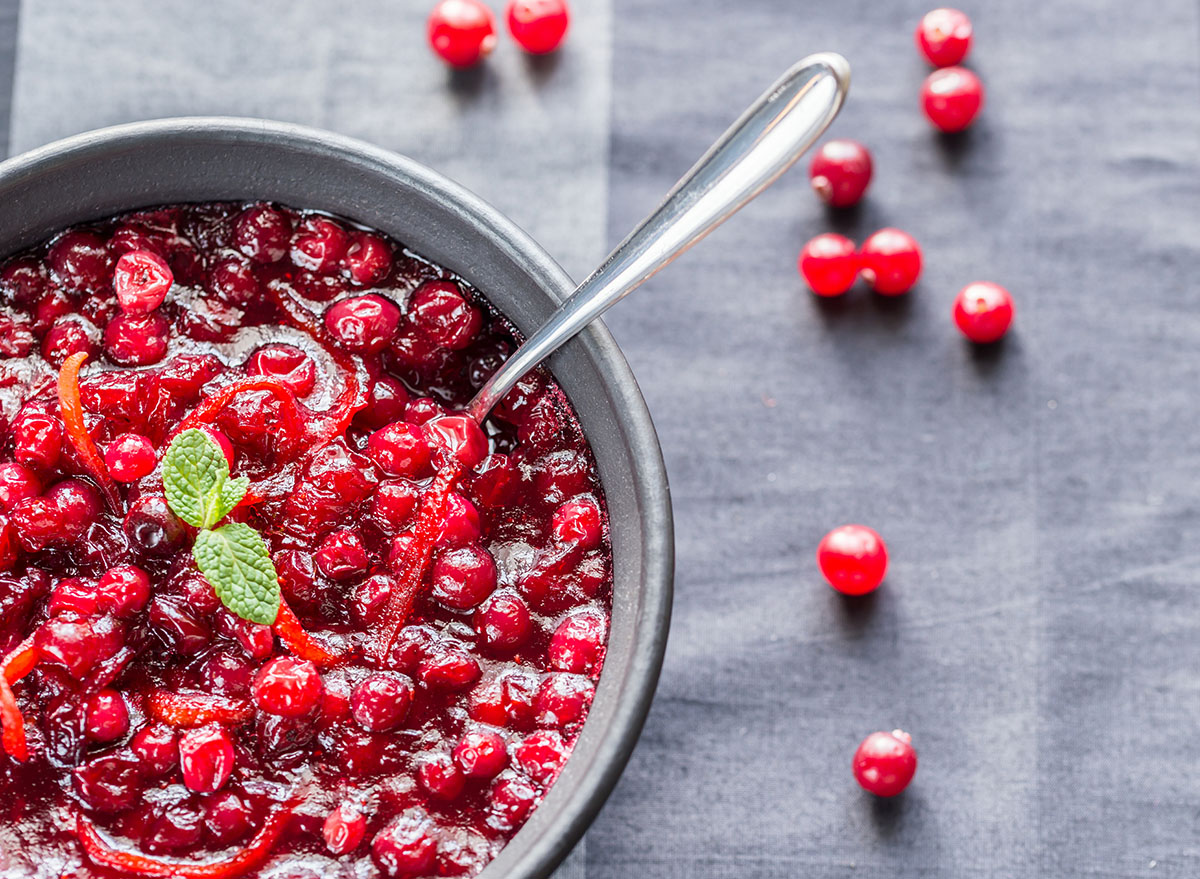 Alaska and Hawaii don't have much in common 364 days of the year. But on Christmas day, both states enjoy cranberry sauce as part of their main course.
Get the recipe from Recipe Tin Eats. 
IDAHO: Roasted Potatoes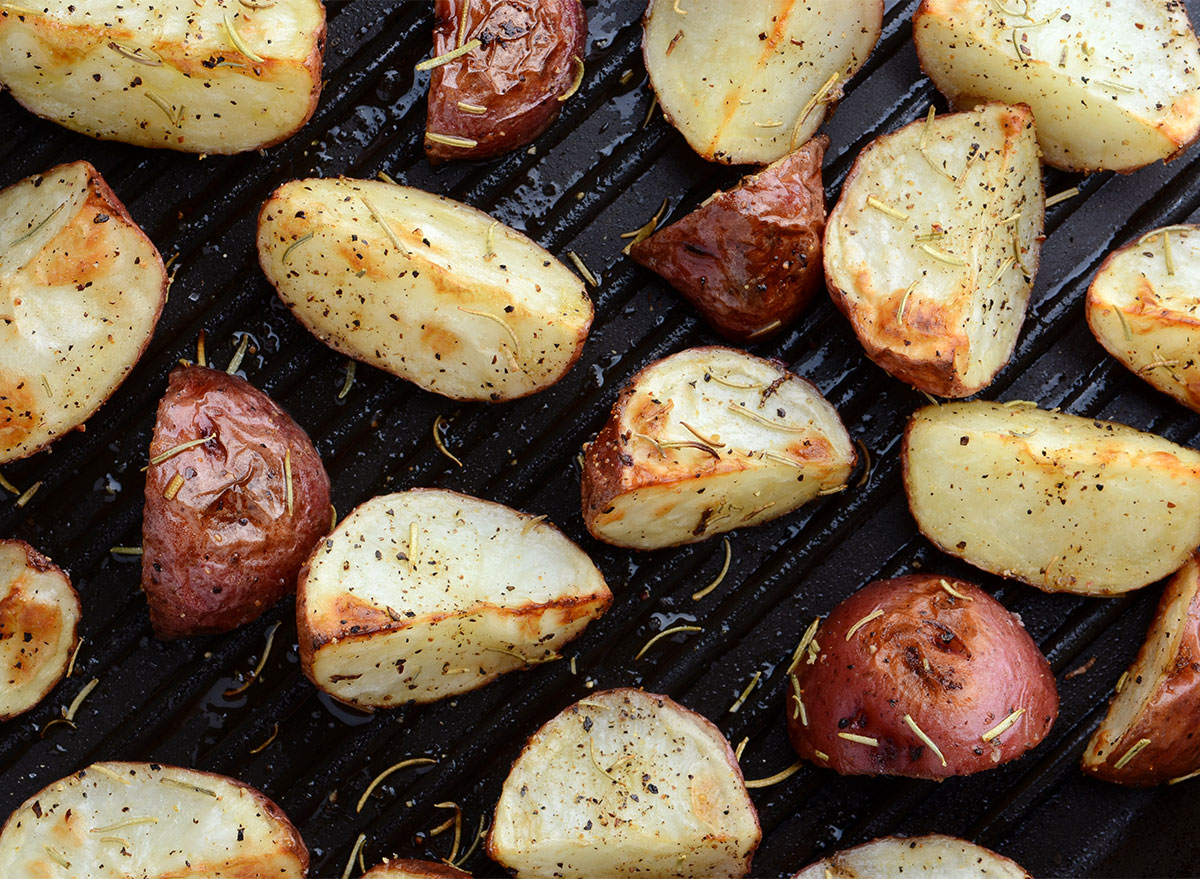 Thanks to its climate and volcanic soil, Idaho is known for growing incredible potatoes. On Christmas Day, they're served up roasted.
Get the recipe from Minimalist Baker. 
ILLINOIS: Roast Carrots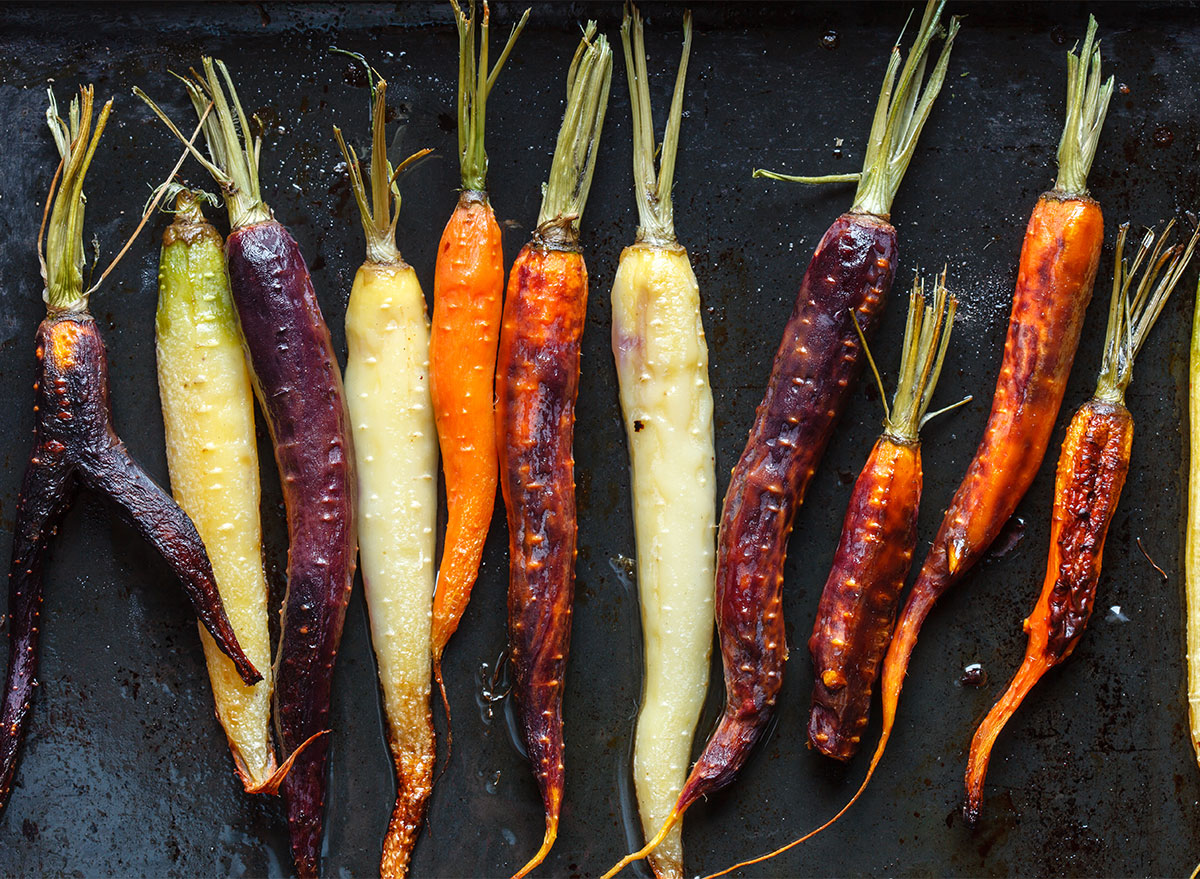 Roast carrots also take the top spot in The Prairie State. This recipe details how to make the dish either sweet or savory, depending on your preference.
Get the recipe from Chelsea's Messy Apron. 
INDIANA: Gravy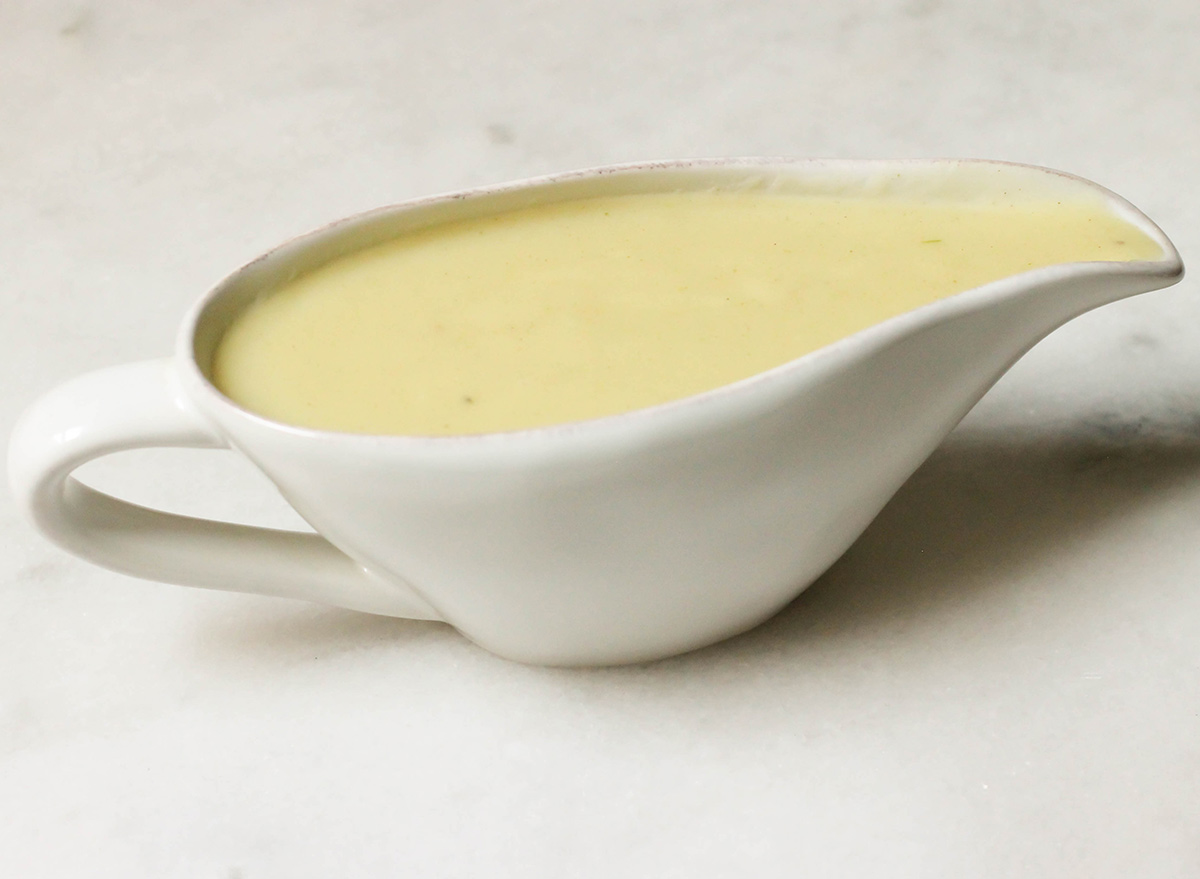 Gravy isn't just for Thanksgiving. If you're not making a turkey, homemade gravy is still an option; the drippings from roast chicken can also be used.
Get our recipe for Homemade Gravy. 
IOWA: Pheasant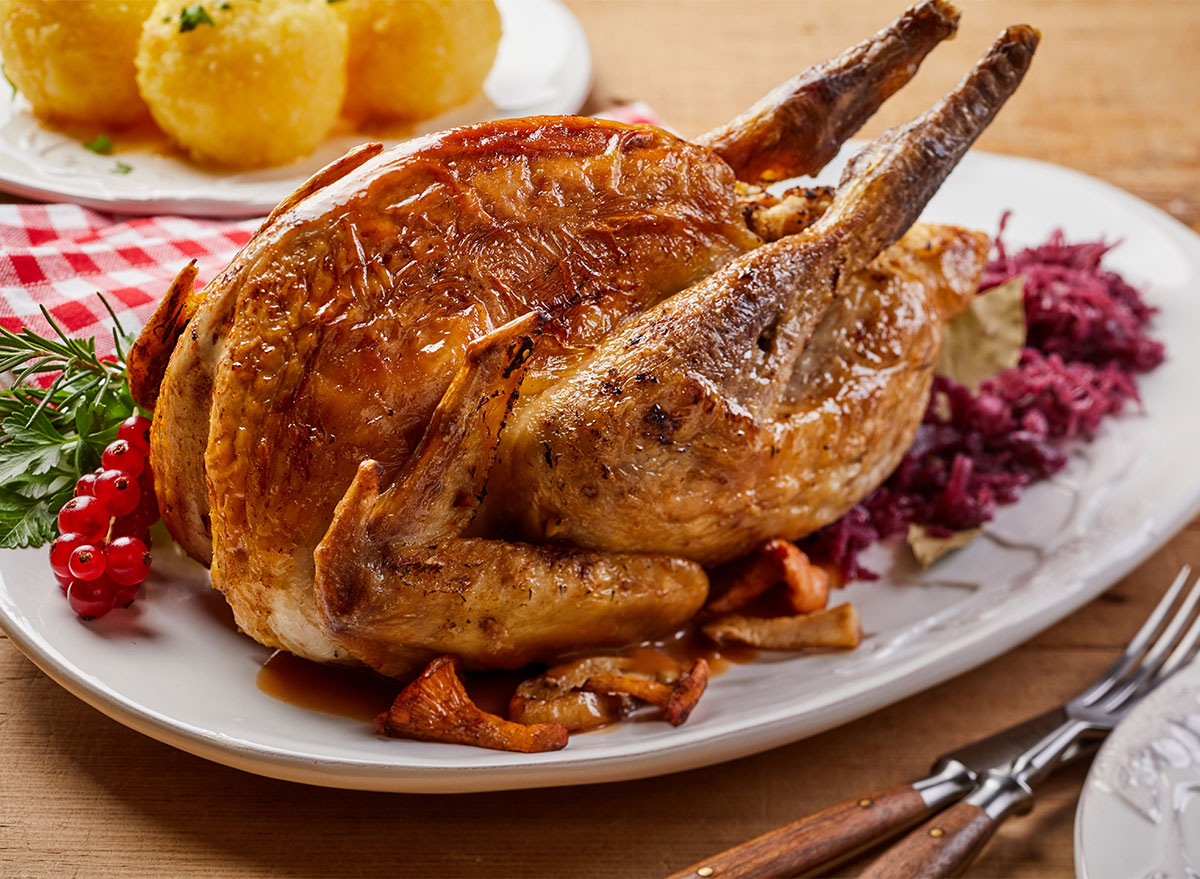 There's a large number of pheasants—and people who hunt them—in Iowa, and the number is only increasing. In 2020, there was an 18% increase in the number of birds in the state. Iowans enjoy the old-fashioned (but delicious dish) on Christmas Day.
KANSAS: Gravy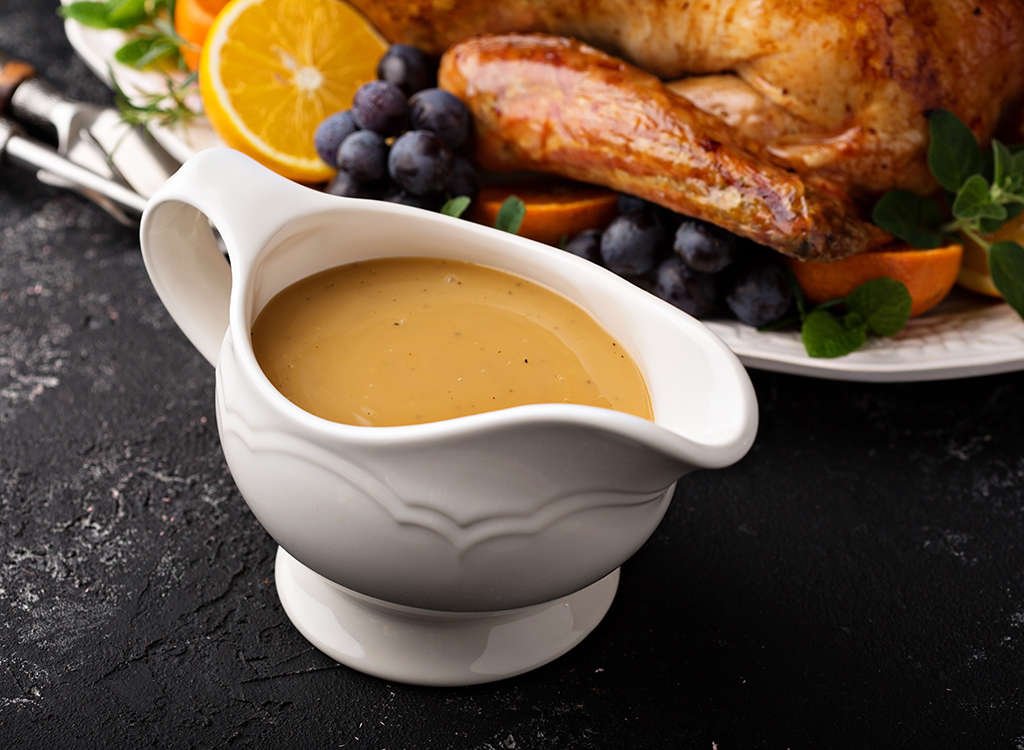 Gravy also took the top spot in Kansas. If you're a vegetarian or simply want to mix things up, try this recipe, which uses mushrooms rather than meat drippings as a base.
Get the recipe from Gimme Some Oven. 
KENTUCKY: Sweet Potato Casserole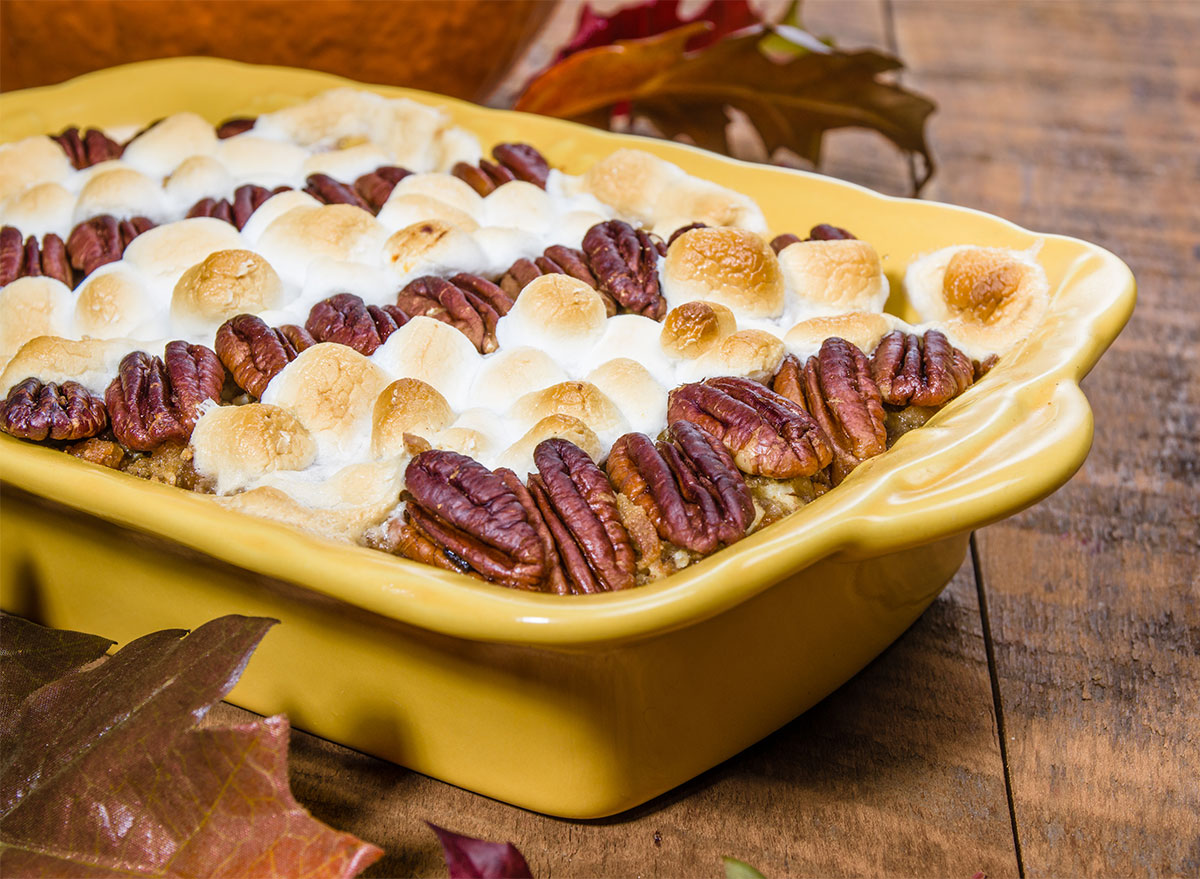 Should we officially add sweet potato casserole to the list of quintessential Christmas dishes? Based on the number of states that can't get enough of it, we're thinking the answer might be yes.
LOUISIANA: Sweet Potato Casserole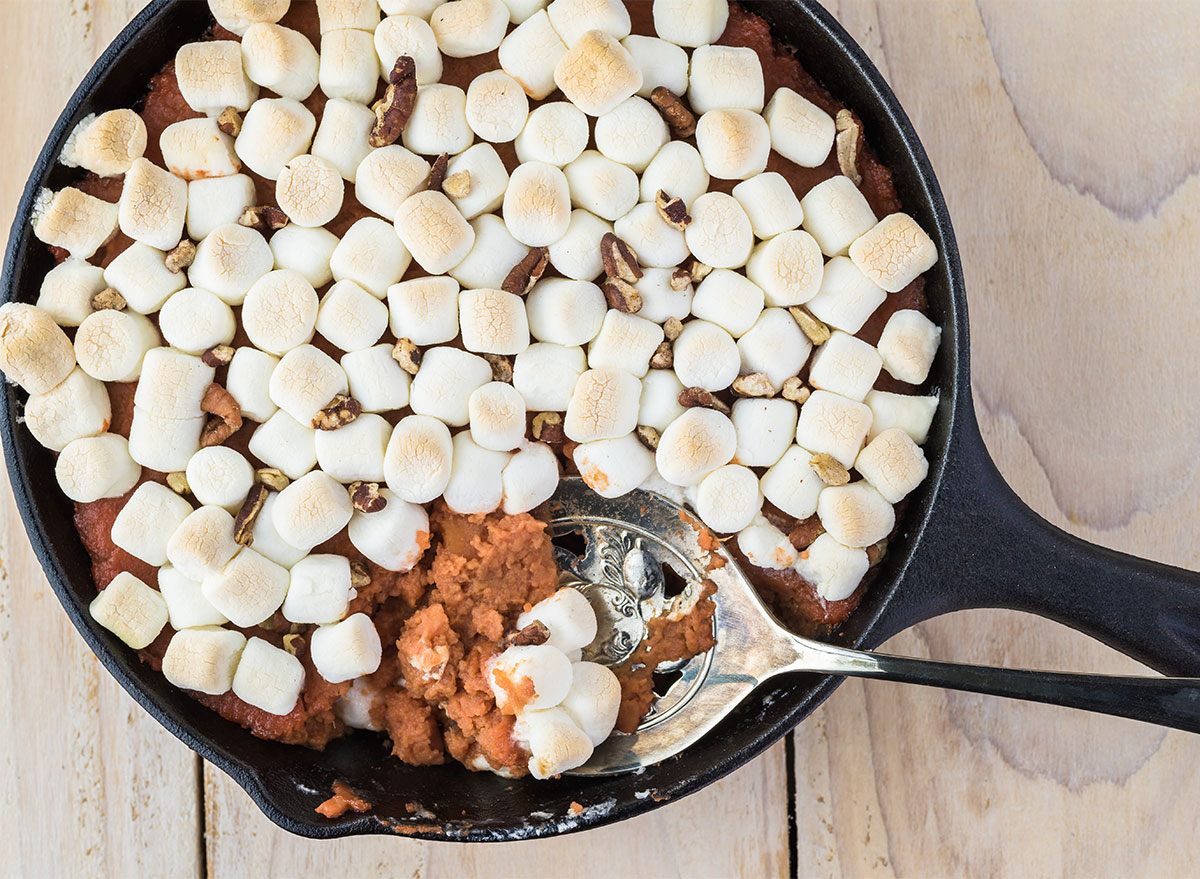 What can we say? People love sweet potato casserole, and it's particularly popular in Southern states.
MAINE: Hot Toddy
We love that Mainers are focused on the cocktails—after all, it's a day to eat, drink, and be merry. Plus, a good hot toddy is a perfect way to warm up in one of the chilliest states.
Get the recipe from Cookie + Kate. 
MARYLAND: Stuffing
Stuffing is another dish that's popular on both Thanksgiving and Christmas. This160-calorie recipe amps up the flavor by adding apple sausage.
Get our recipe for Apple Sausage Stuffing. 
MASSACHUSETTS: Roasted Potatoes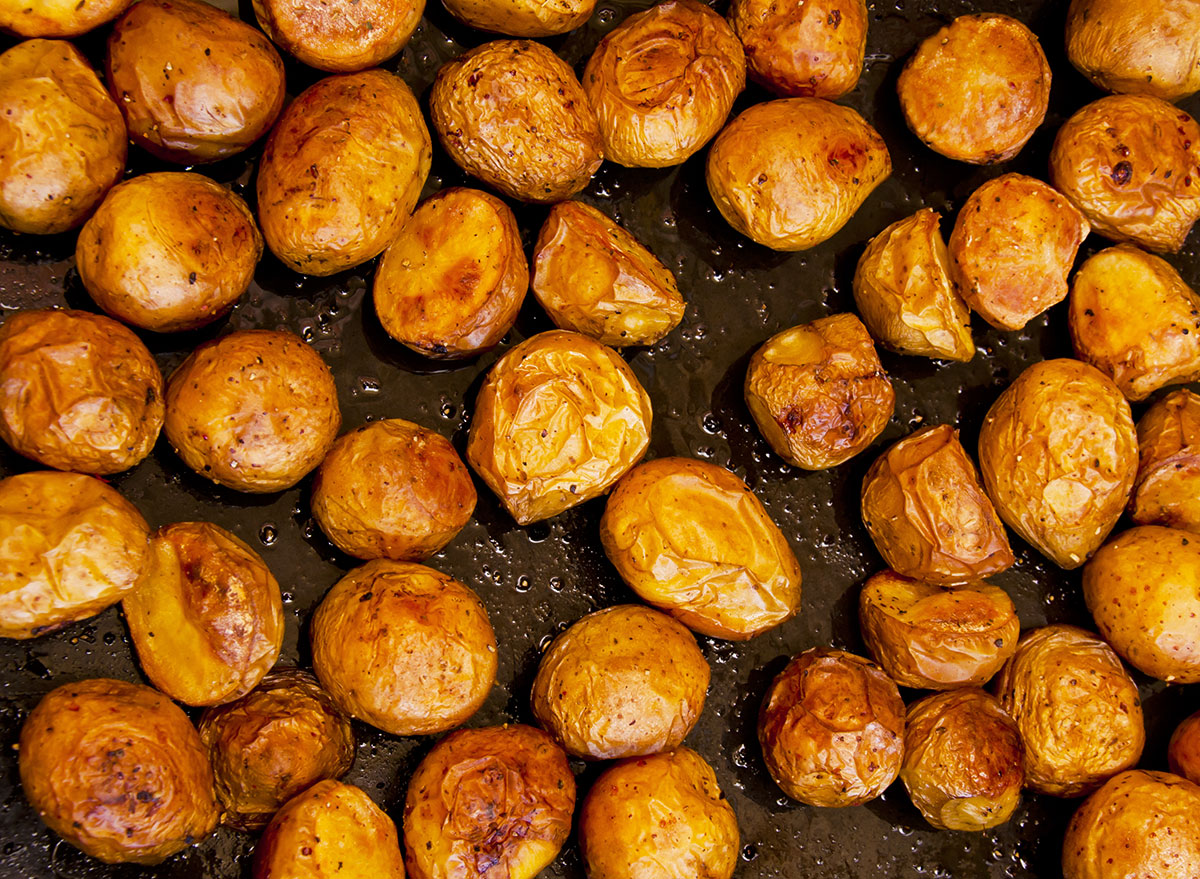 One of Massachusetts' many nicknames is "The Codfish State," but on Christmas, it's all about the roasted potatoes.
Get the recipe from Well Plated. 
MICHIGAN: Roast Carrots
There are many ways to make this popular Christmas dish. For example, this recipe steps it up by adding garlic and Parmesan cheese. Yum!
Get the recipe from Diethood. 
MINNESOTA: Pheasant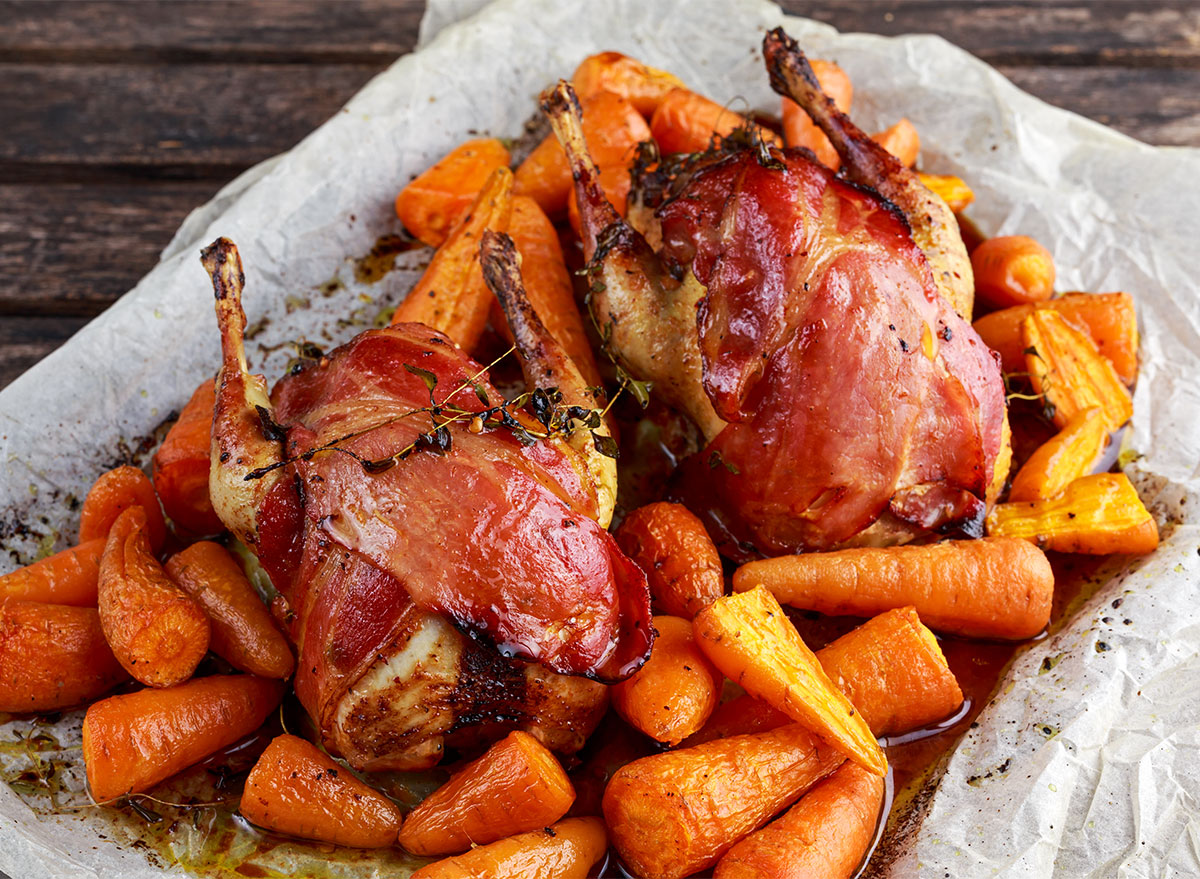 Iowa isn't the only state that saw an increase in pheasants this year. In Minnesota, there were also more birds to hunt and turn into a Christmas meal.
MISSISSIPPI: Sweet Potato Casserole
We told you that sweet potato casserole is beloved! It doesn't hurt that there are many ways to make the dish. For example, this recipe includes bourbon and bacon pecans.
Get the recipe from Half Baked Harvest. 
MISSOURI: Crescent Rolls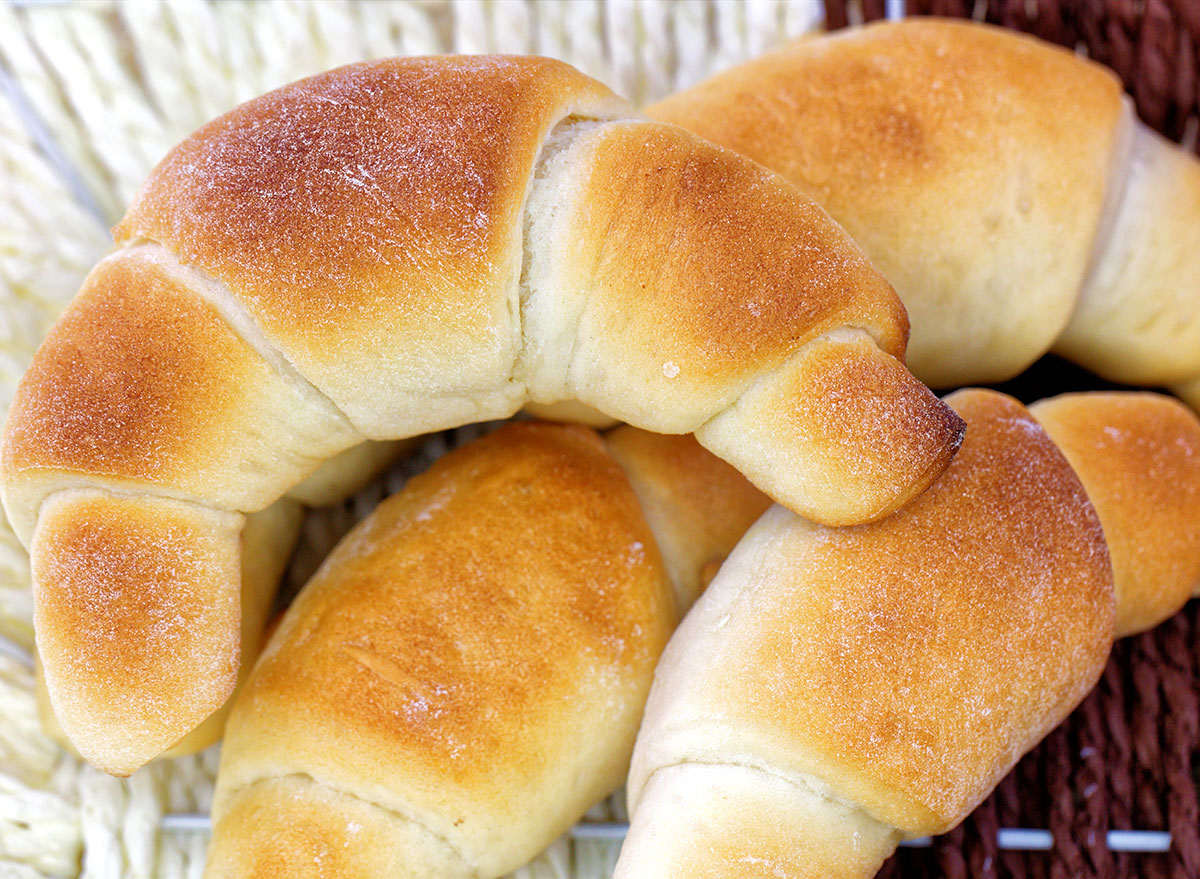 Who can turn down a buttery carb? Plus, crescent rolls are much prettier than regular old rolls, so be sure to snap that perfect Instagram photo before you dig in.
Get the recipe from Julie's Eats and Treats. 
MONTANA: Prime Rib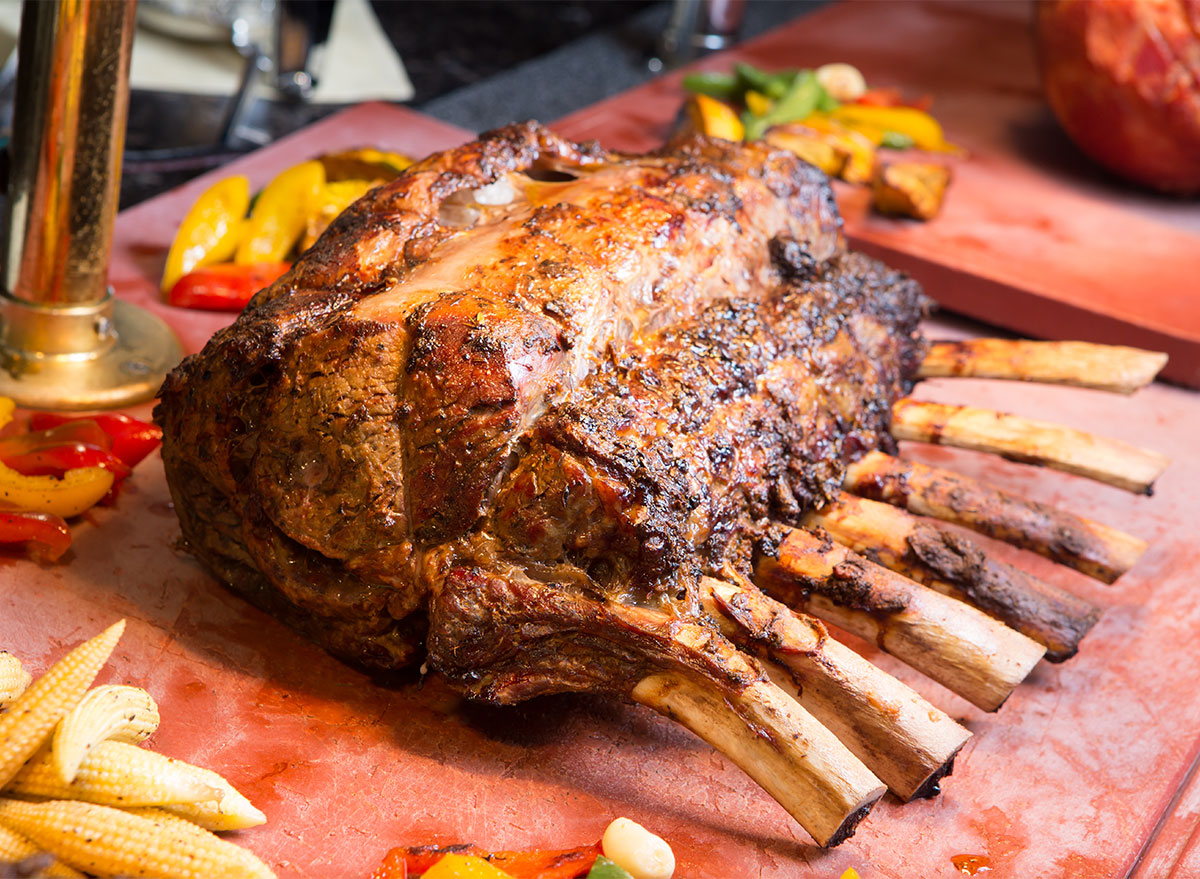 You can't go wrong with this classic dish. This recipe's garlicky crust and au jus sauce are the perfect additions to make prime rib extra special for your Christmas feast.
Get the recipe from Diethood.
NEBRASKA: Prime Rib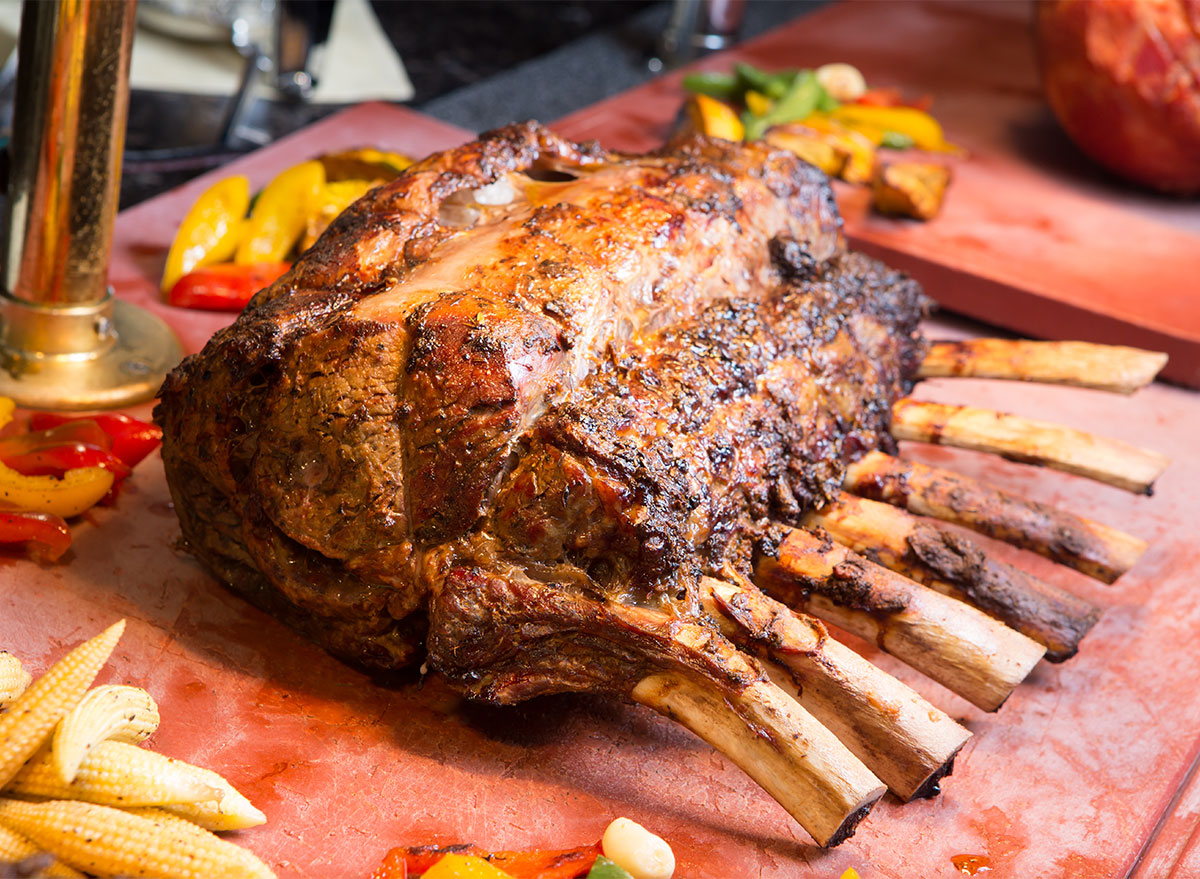 Nebraskans also love a good prime rib on Christmas.
Get the recipe from Recipe Tin Eats. 
NEVADA: Mashed Potatoes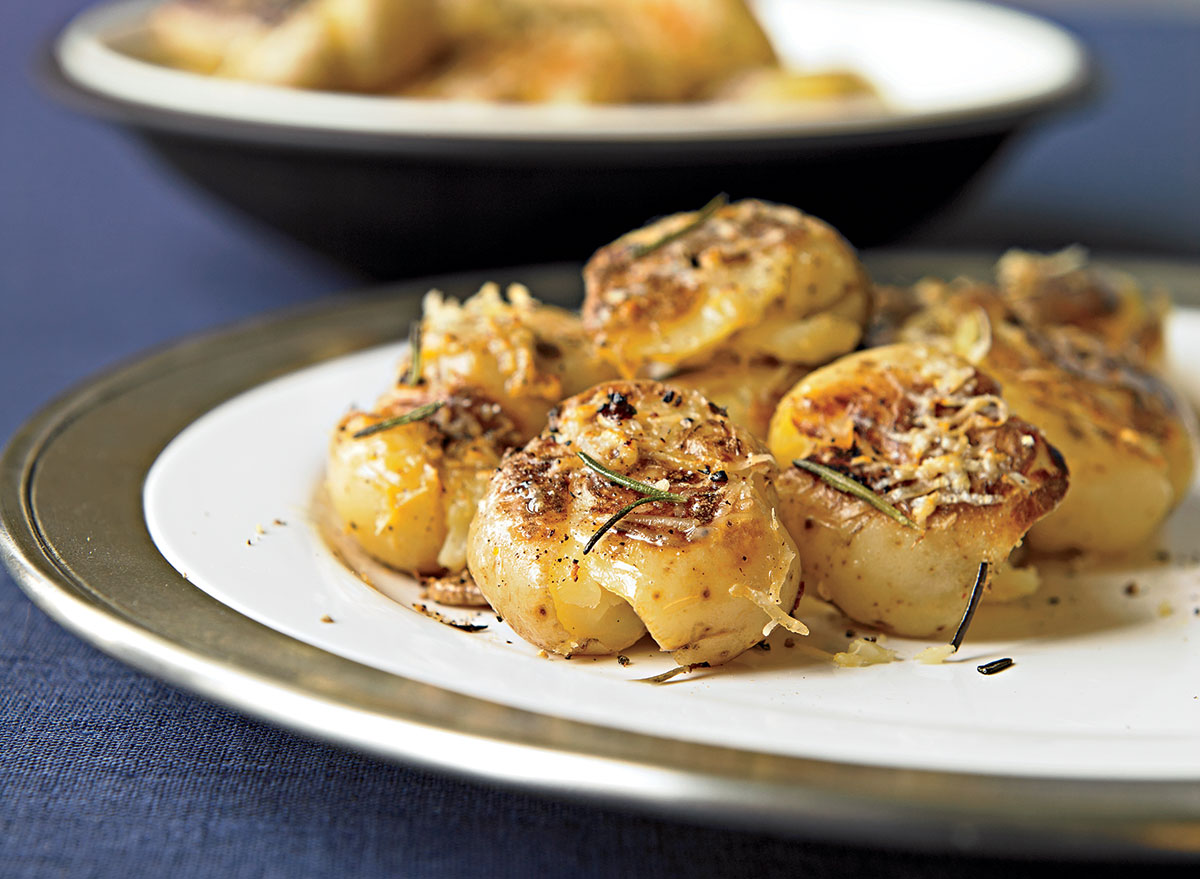 Nevada has an arid climate, so one might think that it isn't the ideal place to grow crops of potatoes. But it turns out that great potatoes are grown in areas where the land can be irrigated, and they're a favorite on Christmas. As this recipe proves, the vegan version is also delicious.
Get our recipe for Vegan Smashed Potatoes. 
NEW HAMPSHIRE: Baked Brie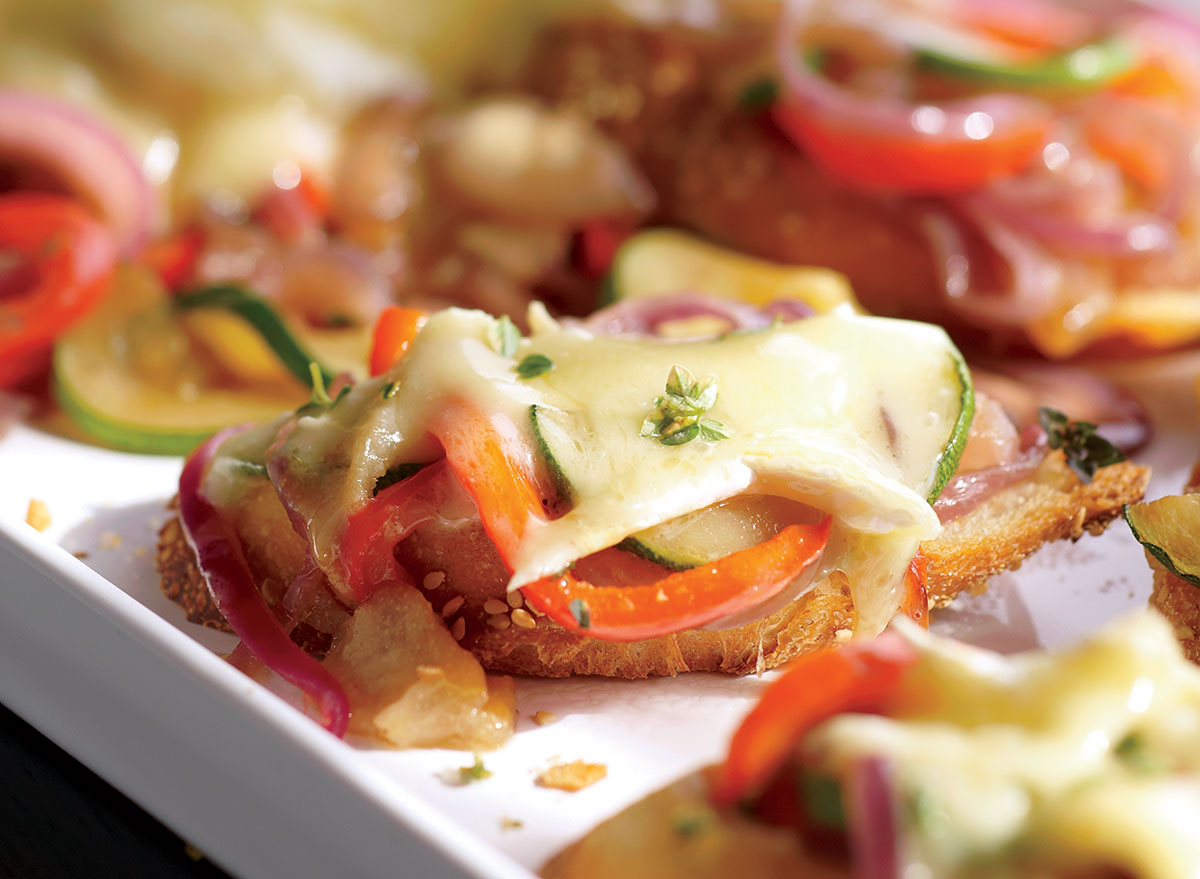 Brie is hands-down one of the best appetizers out there, and in New Hampshire, it's the Christmas favorite—to which we say, "good choice!"
Get our recipe for Melted Brie Cheese with Vegetables. 
NEW JERSEY: Roast Carrots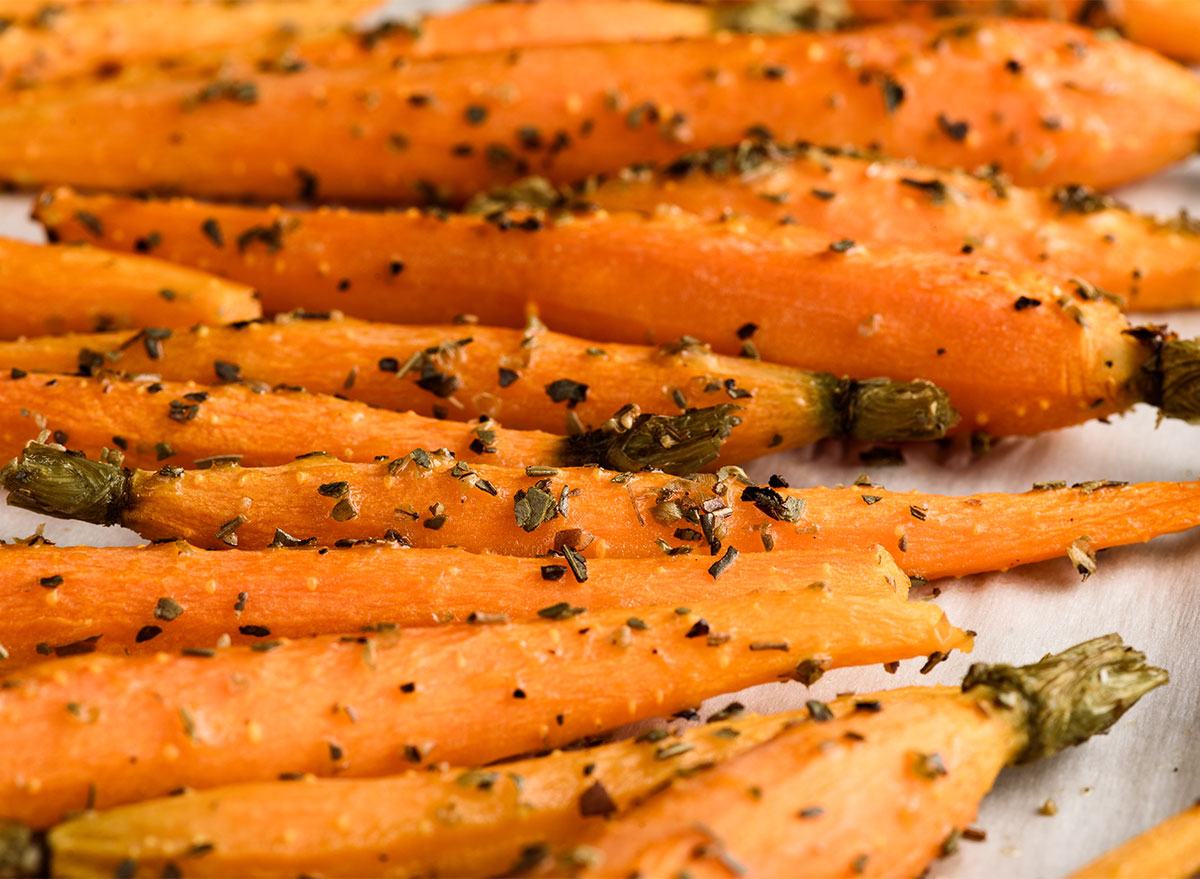 New Jersey also loves their roast carrots. One of the best things about this dish is how many variations you can make. If you're feeling adventurous, try this recipe, which includes farro, chickpeas, and an herbed crème fraîche.
Get the recipe from Cookies + Kate. 
NEW MEXICO: Mashed Potatoes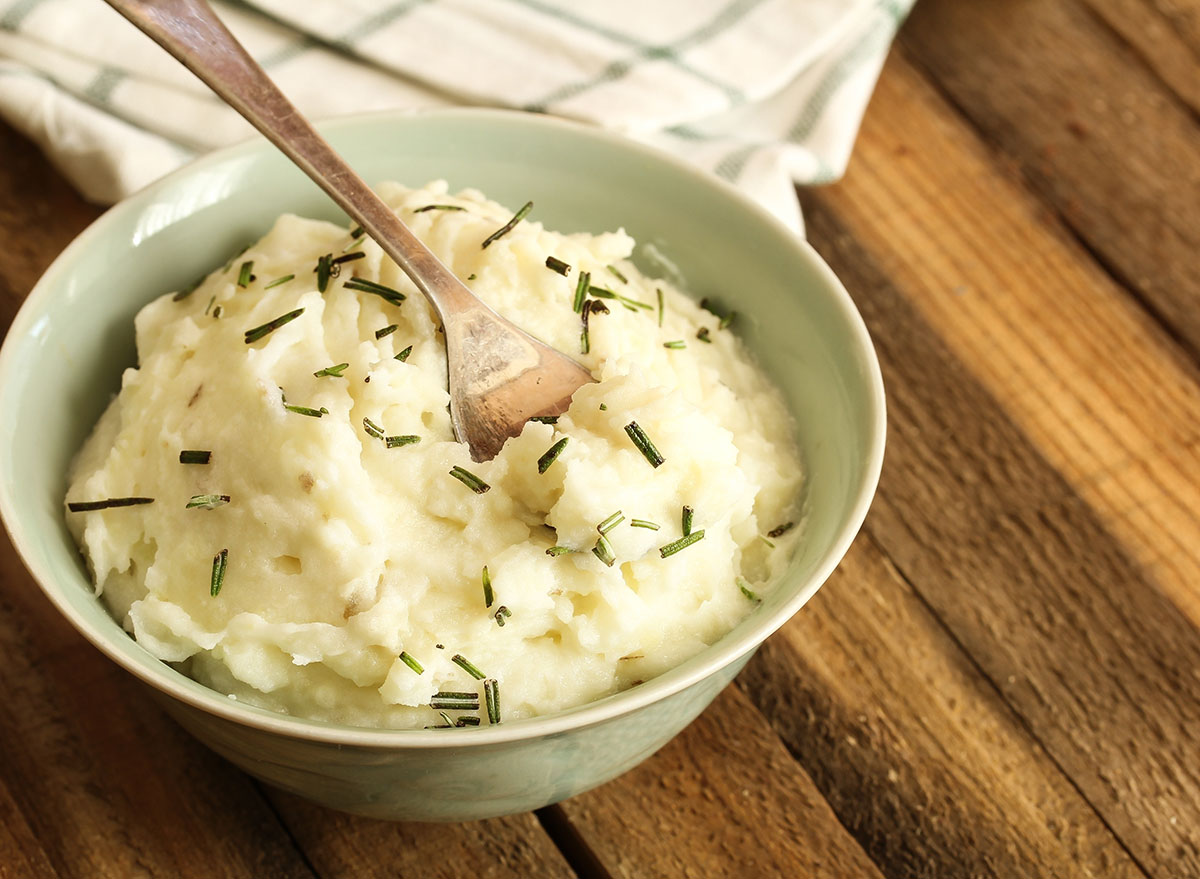 Mashed potatoes are the favorite in New Mexico. The state is, of course, known for its chile peppers, so we wouldn't be surprised if many at-home chefs make sure they're included in the classic dish. Gotta get that spicy kick, after all!
NEW YORK: Goose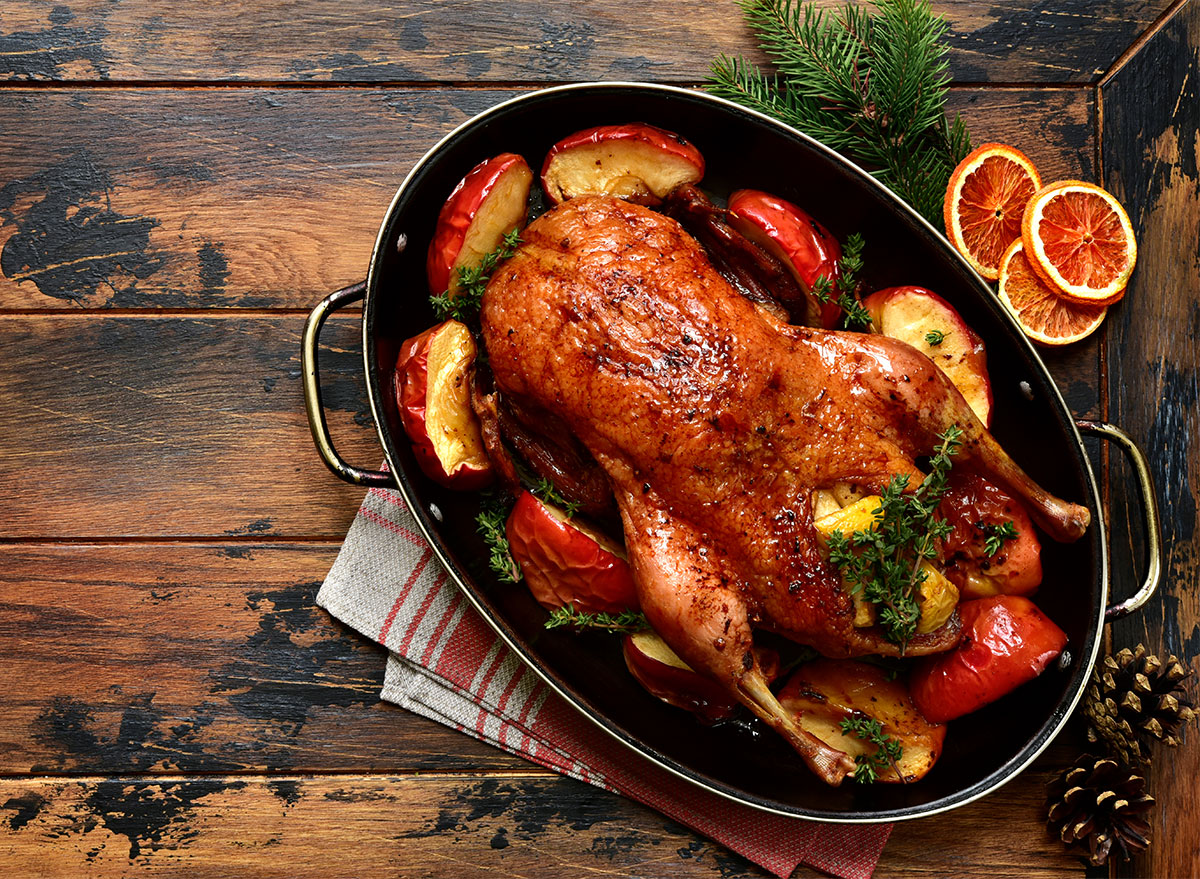 New Yorkers are known for being on top of all the latest trends, but on Christmas, they stick with the classic goose dish.
NORTH CAROLINA: Roast Carrots
In North Carolina, roast carrots reign supreme, despite sweet potatoes being the state vegetable. This recipe tosses them in a homemade honey garlic butter sauce. Yum!
Get the recipe from Little Spice Jar. 
NORTH DAKOTA: Stuffing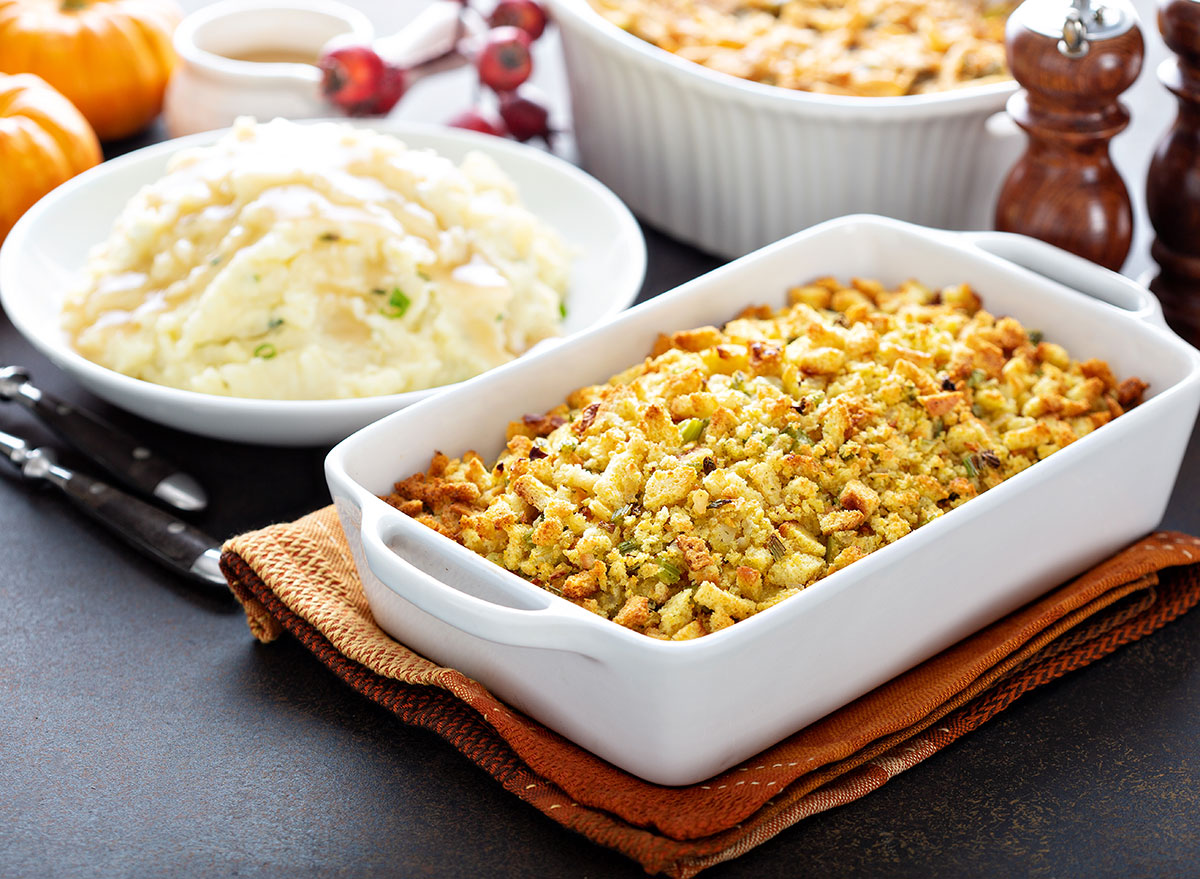 Stuffing is the favorite in North Dakota. As with roast carrots, there are many variations for people who are feeling adventurous in the kitchen. For example, this recipe amps it up with butter and herbs, and it can easily be made without a turkey.
Get the recipe from How Sweet Eats. 
OHIO: Roast Carrots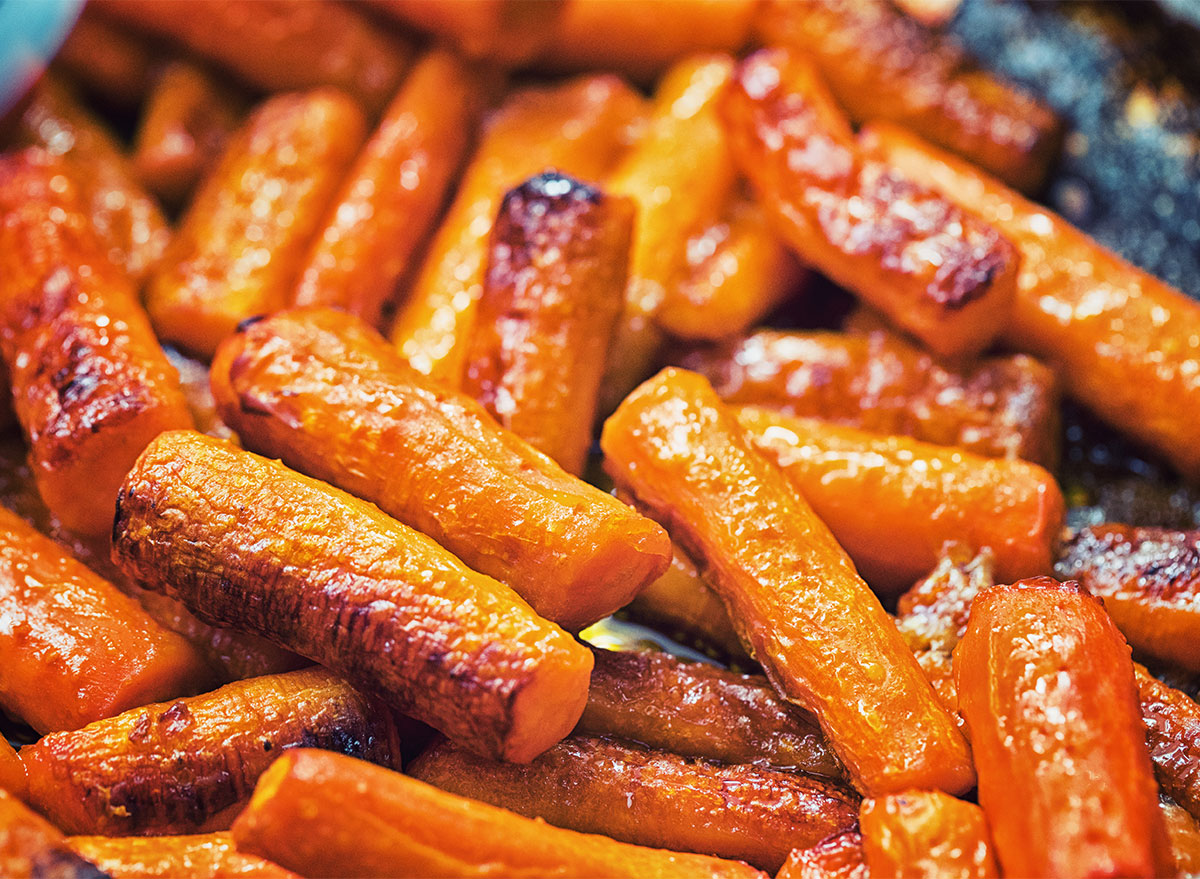 We're back to roast carrots! If you prefer sweet over savory, try this recipe—it uses honey to add flavor.
Get the recipe from Cooking Classy. 
OKLAHOMA: Gravy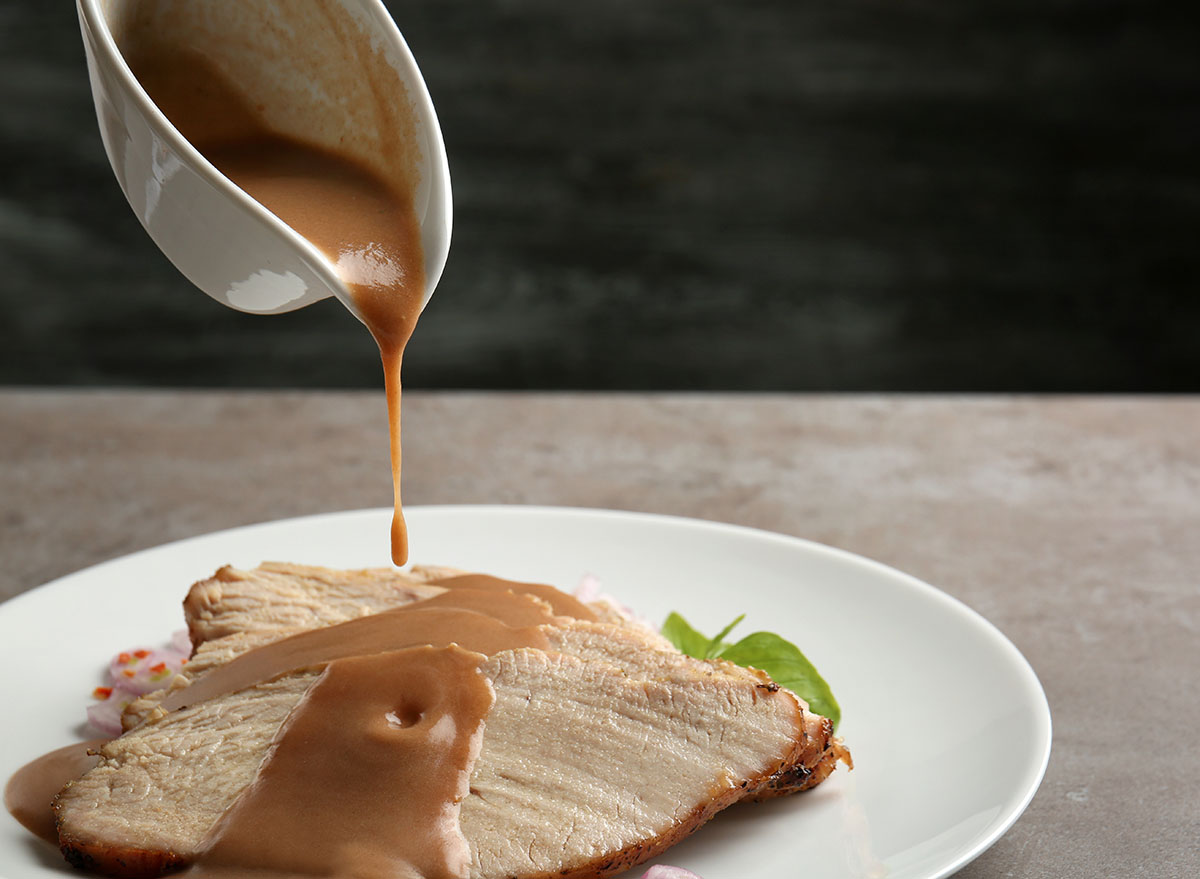 Oklahomans love gravy on Christmas just as much as on Thanksgiving. It can be made with chicken, turkey, beef, and even vegetables, so it's a great option regardless of your main course.
Get the recipe from Inspired Taste. 
OREGON: Mashed Potatoes
At 53,000 pounds of potatoes per acre, Oregon boasts the highest yield per acre of potatoes in the world. It's no surprise that potatoes take center stage on Christmas.
Get the recipe from Half Baked Harvest. 
PENNSYLVANIA: Christmas Turkey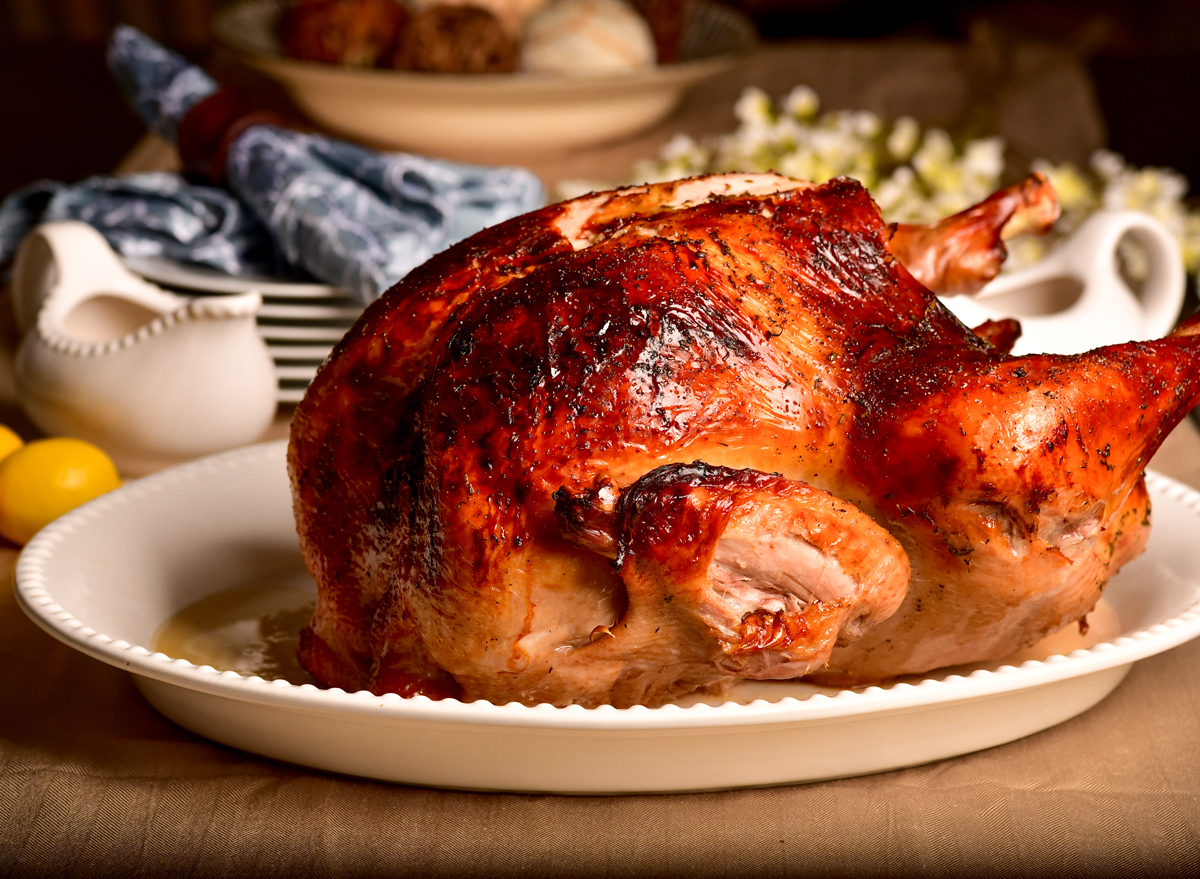 Pennsylvanians stick with the tried-and-true classic Christmas turkey. If you have a slow cooker, it can be used to make a delicious and juicy turkey.
Get the recipe from Recipe Tin Eats. 
RHODE ISLAND: Stuffing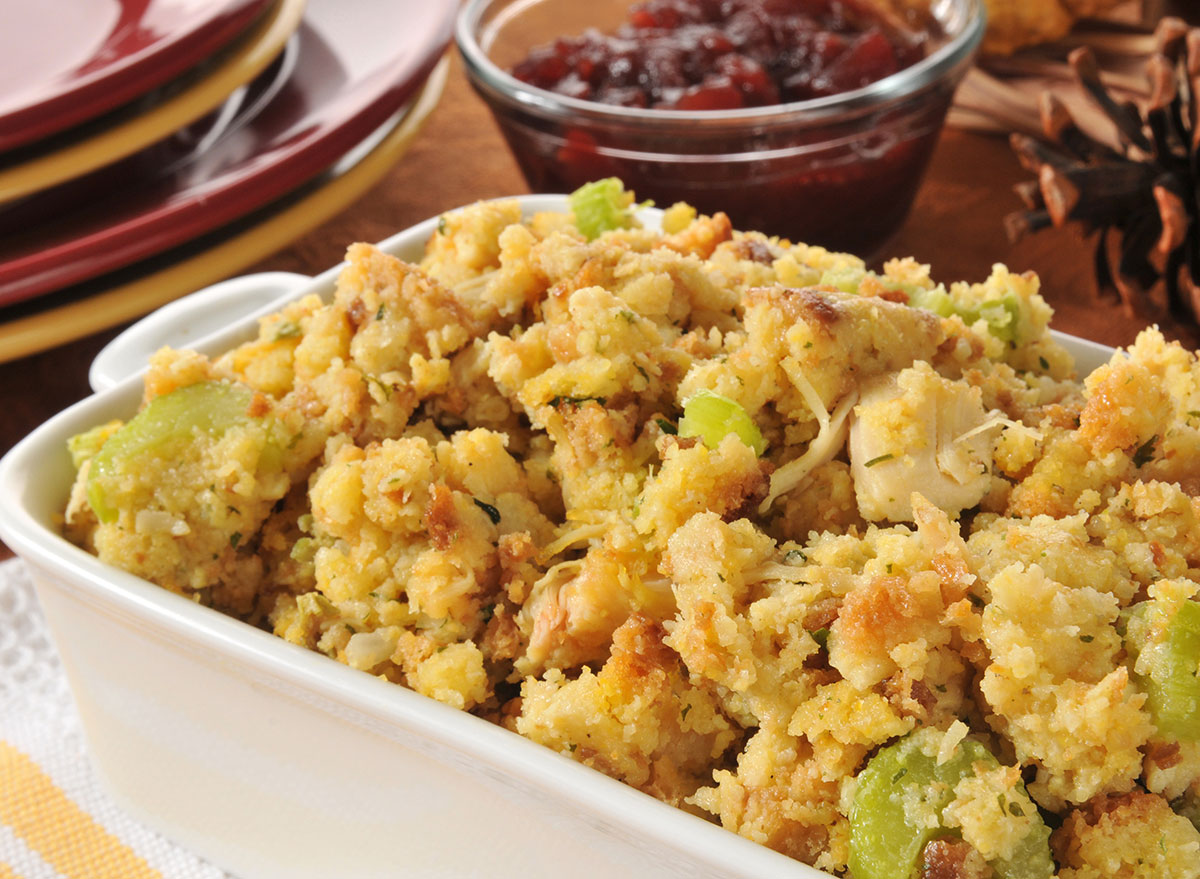 In Rhode Island, stuffing takes the top spot. Like roast carrots, there are plenty of ways to get creative with your recipe. For example, this one is made with wild mushrooms.
Get the recipe from What's Gaby Cooking. 
SOUTH CAROLINA: Sweet Potato Casserole
In South Carolina, sweet potato casserole is also the most popular Christmas dish.
SOUTH DAKOTA: Green Bean Casserole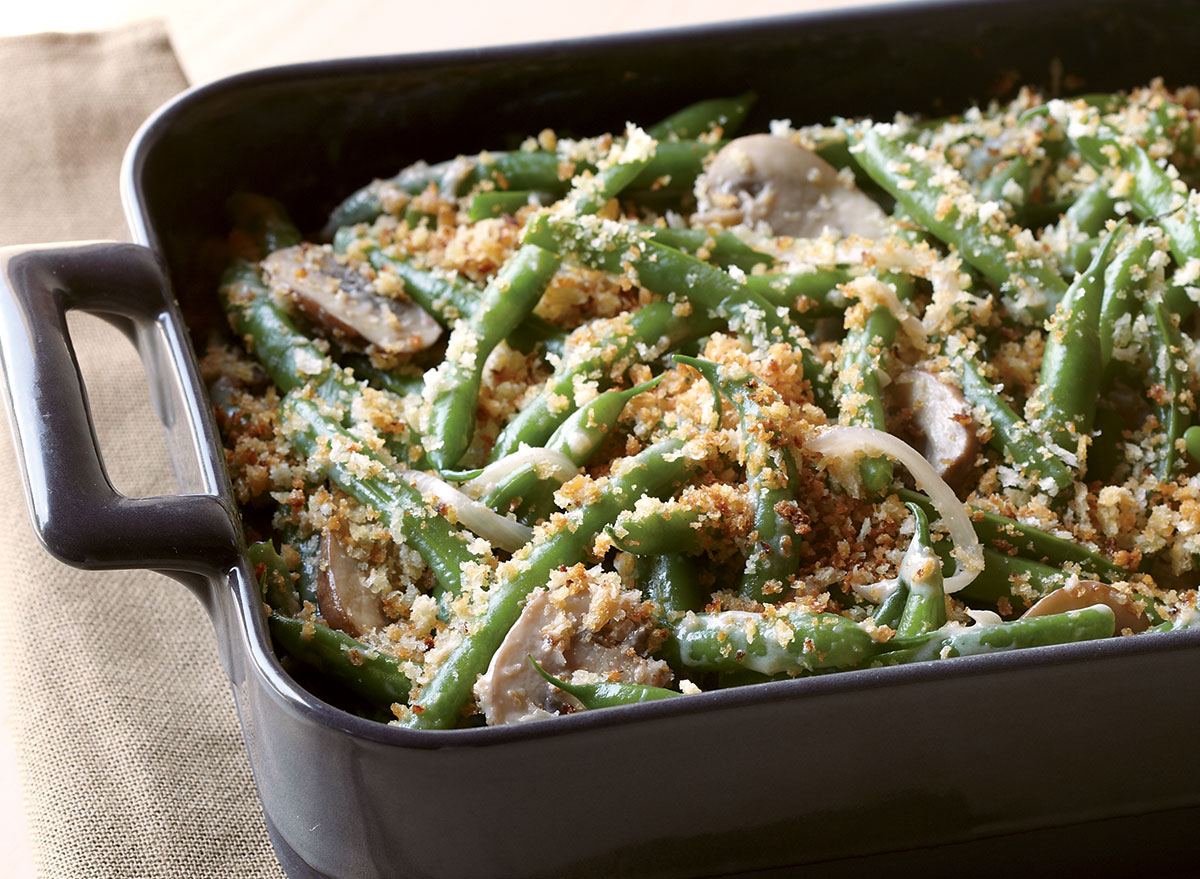 South Dakota is mixing up the casserole game. Rather than featuring sweet potatoes, residents of this state opt to use green beans as the casserole base.
Get our recipe for Healthy Green Bean Casserole. 
TENNESSEE: Sweet Potato Casserole
Another vote for sweet potato casserole!6254a4d1642c605c54bf1cab17d50f1e
TEXAS: Christmas Turkey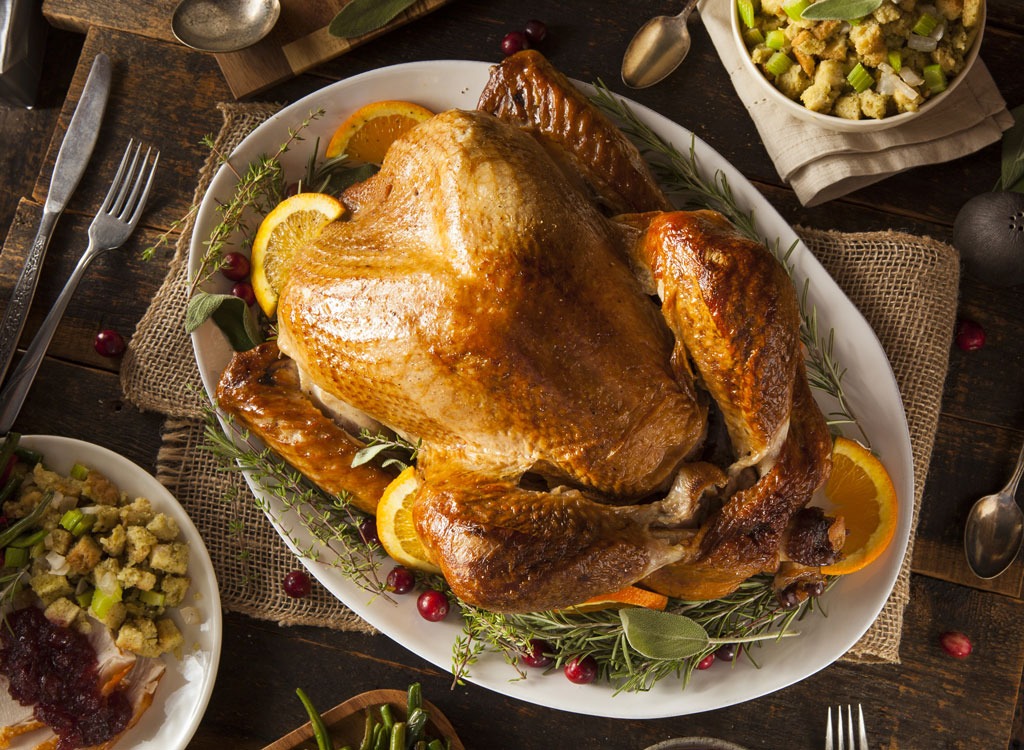 Texans are known for their killer BBQ dishes, but they keep it simple and classic on Christmas with turkey as the main course.
UTAH: Stuffing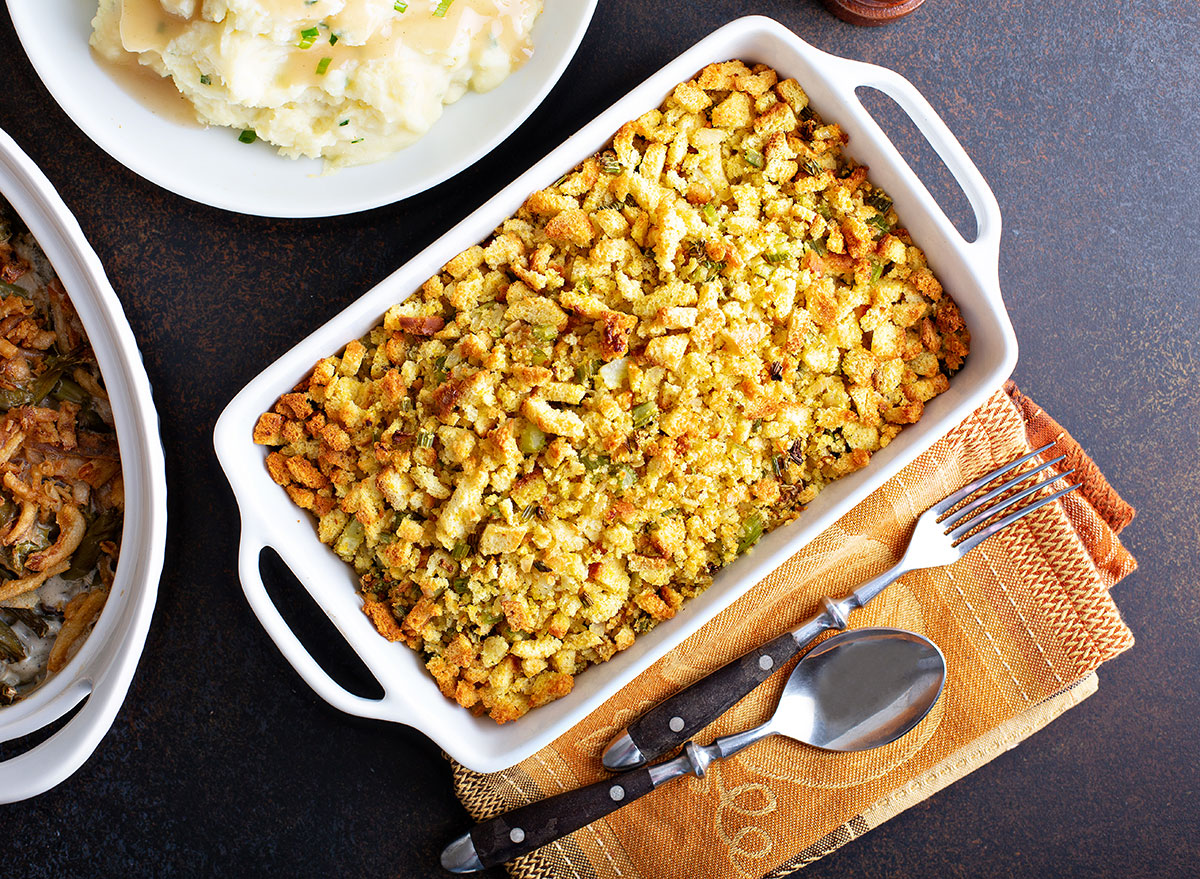 Stuffing is the most popular Christmas recipe in Utah.
VERMONT: Eggnog
Like Mainers, Vermonters aren't messing around when it comes to holiday beverages. (We're sensing a theme in New England!) Their drink of choice is classic eggnog.
Get our recipe for Eggnog. 
VIRGINIA: Christmas Turkey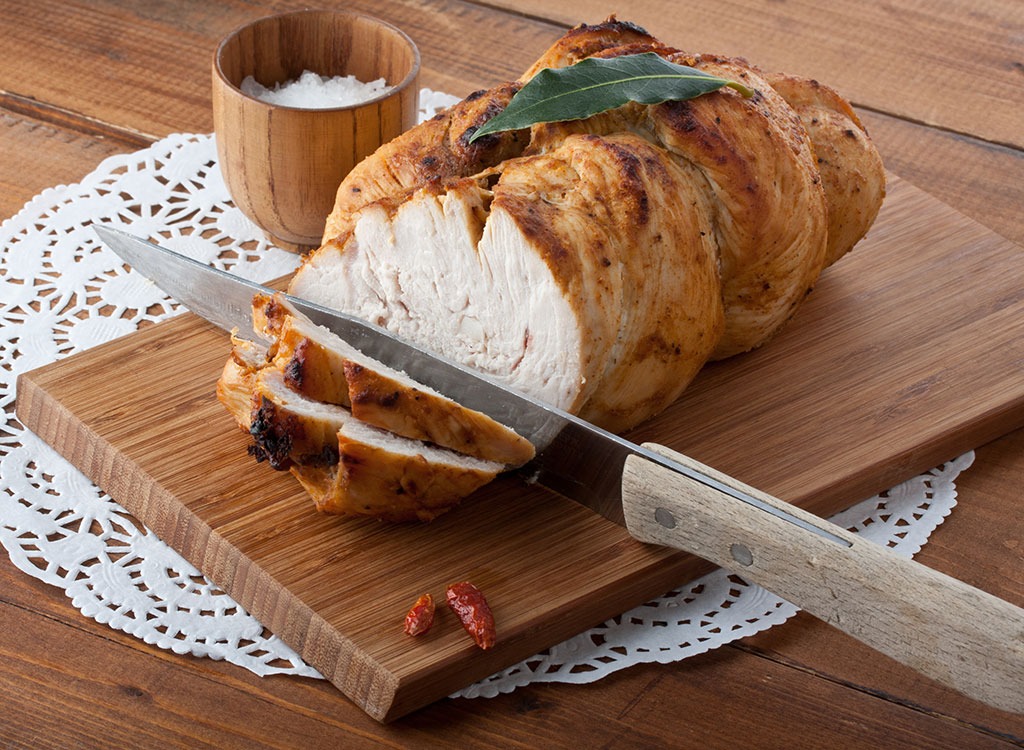 Turkey hunting is a popular sport in Virginia, so they have high-quality meat to cook their Christmas turkeys.
WASHINGTON: Stuffing
Washingtonians are throwing it back to Thanksgiving by eating a whole lot of stuffing on Christmas.
WEST VIRGINIA: Eggnog
In West Virginia, eggnog is the Christmas favorite. Although no one knows for sure if it's true, it's rumored that George Washington loved eggnog. Either way, this classic recipe will leave you feeling cheerful and satisfied.
Get the recipe from The View from Great Island. 
WISCONSIN: Goose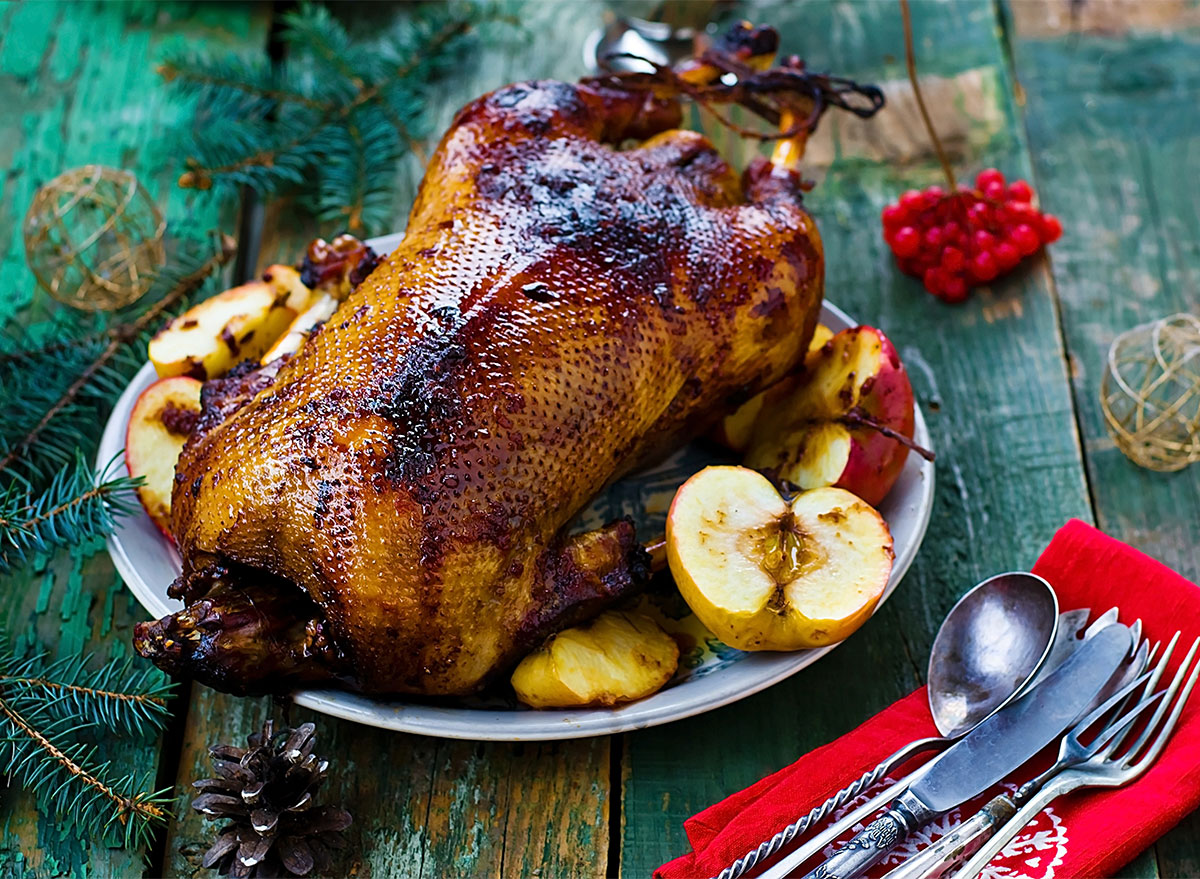 In Wisconsin, goose hunting season begins in September, so it's timed perfectly to make a fresh and delicious goose dish for Christmas dinner.
WYOMING: Mashed Potatoes
You can never go wrong with mashed potatoes, and Wyoming is sticking with the classic, universally beloved dish.
Check out more of our healthy recipes:
103+ Best Healthy Vegetarian Recipes
50 Healthy Recipes to Make in 10-Minutes (or Less)
Caitlin Flynn
Caitlin Flynn is an award-winning writer and reporter who experienced early age corporate burnout in 2015 and traded New York City for the misty air and superior coffee of Seattle.
Read more about Caitlin