13 Amazing Fig Recipes You Have to Try
The fruit is incredibly versatile.
I love figs, and I think they're too often overshadowed by other fruits. I mean, how many fig recipes can you name off the top of your head?
Other fig-lovers agree. "Figs are a fruit that does not get much attention or credit for its nutritional value," says Lisa Richards, CNC, nutritionist, and author of The Candida Diet.
"While they are high in natural sugars, figs can be a great occasional snack to curb your desire for desserts laden with added sugar," she says.
Figs are also packed with potassium, calcium, iron, magnesium, B vitamins, and other nutrients and antioxidants. The fruits, both raw and when dried, are also high in fiber.
Plus, research shows that figs can help fight arthritis and inflammation. They can also reduce the risk of diabetes and promote healthy hair and skin.
Not sure how to eat figs? We asked chefs, nutritionists, and other foodies and got their 13 favorite fig recipes.
Sliced figs with yogurt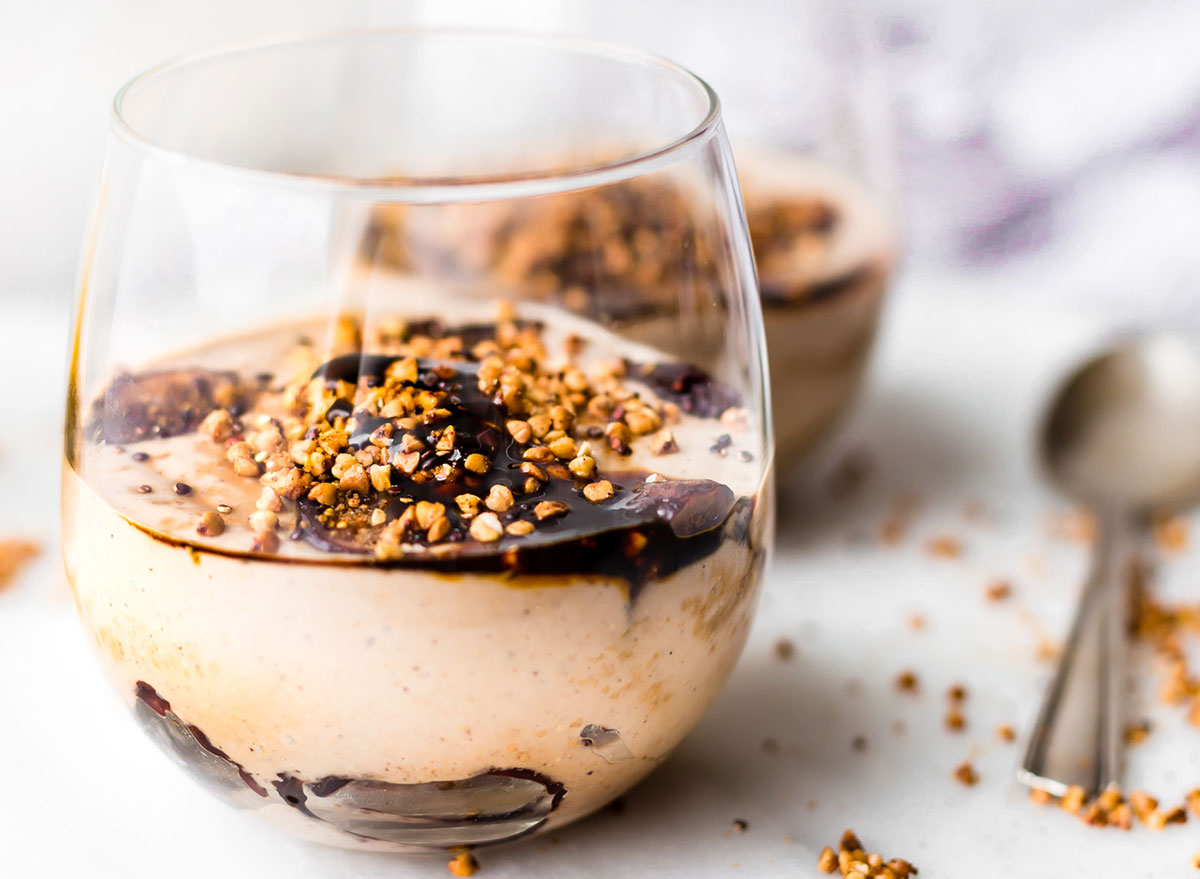 Figs can be intimidating if you've never tried them, Richards says. The simplest way to incorporate more of the fruit into your diet is to slice or dice them and add to plain Greek yogurt as a sweetener, she suggests. Add a drizzle of honey or a few chopped nuts to enhance the dish.
Get the recipe from Cotter Crunch.
Roasted figs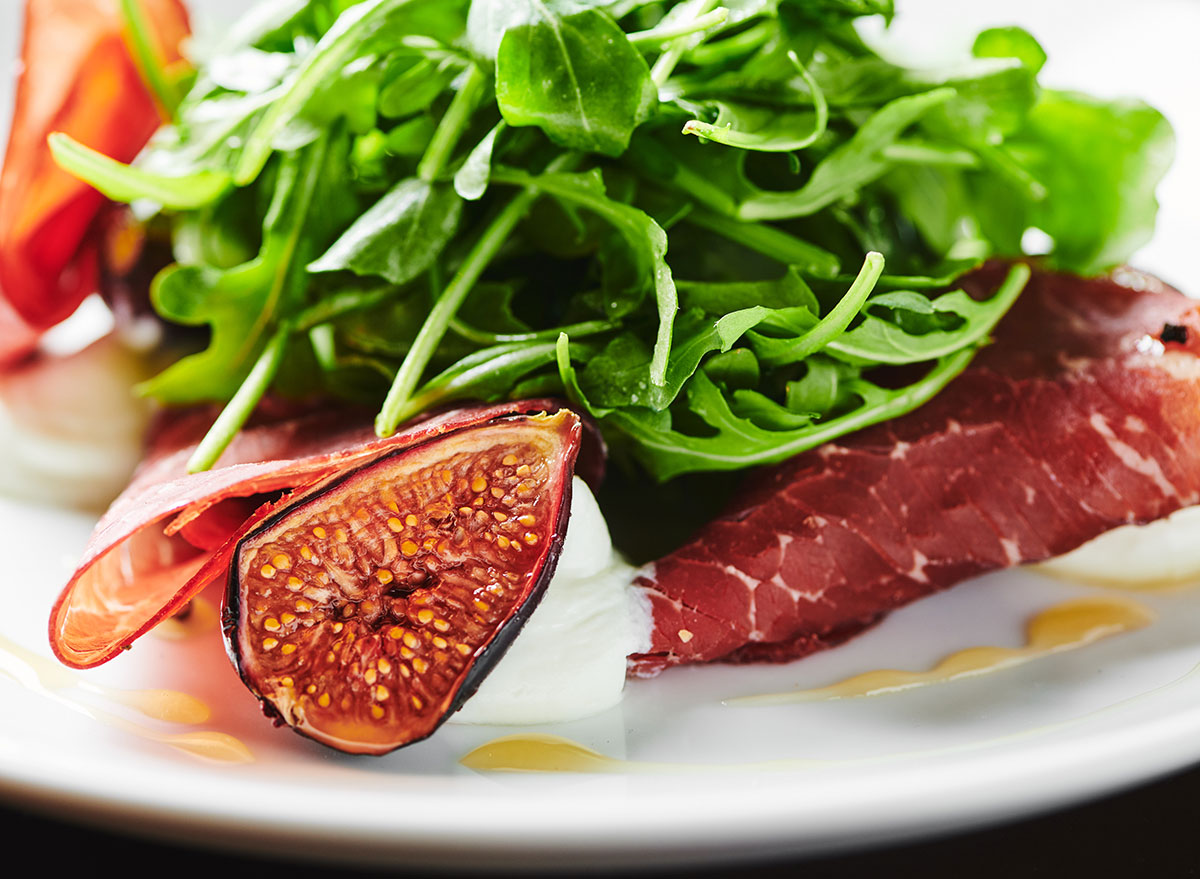 Bill Peet, executive chef of Tavern on the Green in New York City, says that roasting figs is his favorite way to prepare—and eat—figs. "This brings out so much of the natural sweetness in the fruit, but also allows for a savory preparation," he says.
Peet drizzles the figs with honey before roasting them in the oven at 350 degrees Fahrenheit for 5-7 minutes until the edges start to brown slightly, then serves them with goat cheese for a "tangy element," bresaola "to bring in some saltiness," and arugula for a "fresh finish."
Blue cheese-stuffed figs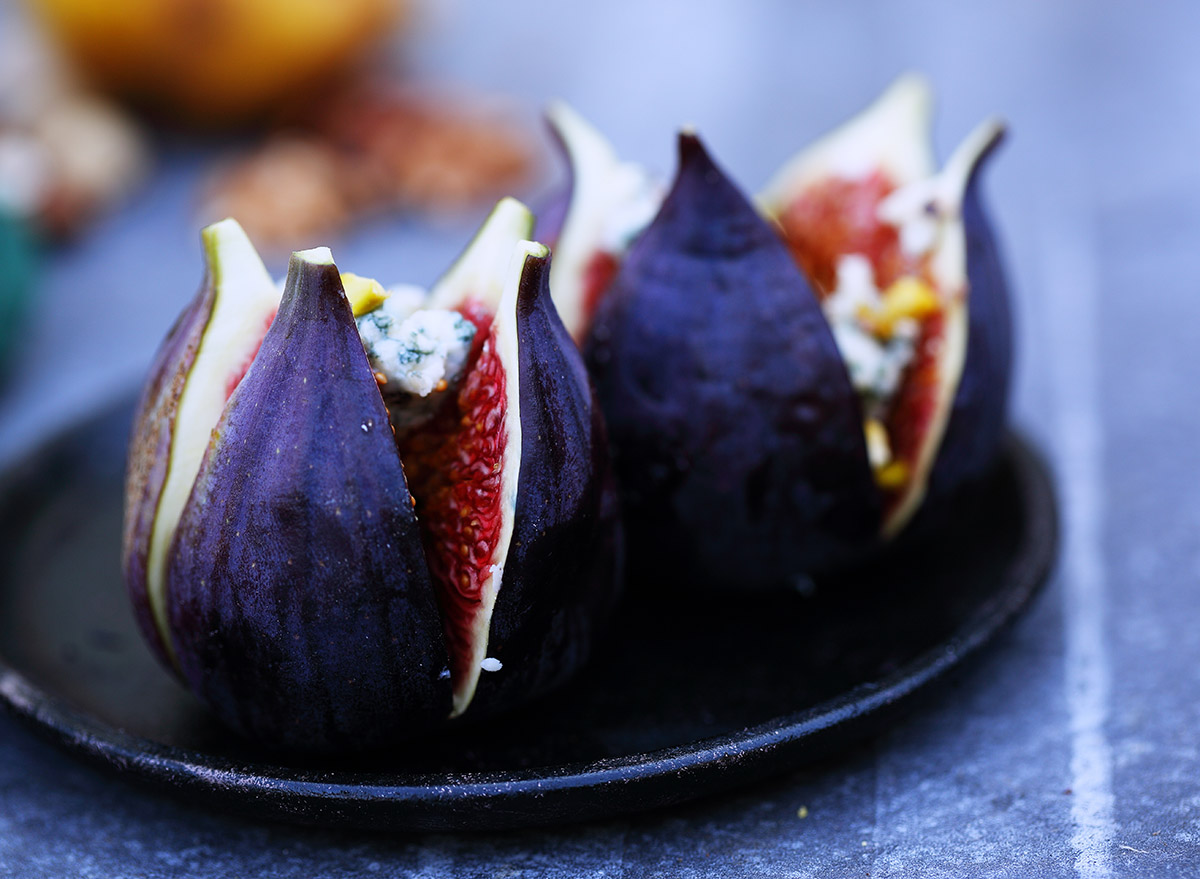 Daniel England, a corporate chef of OMG Hospitality Group in San Diego, agrees that figs are "underutilized and delicious." His favorite fig recipe involves wrapping blue cheese-stuffed figs with prosciutto.
Start by slicing the figs about three-quarters of the way through, stuff them with Maytag blue cheese, and then wrap them in prosciutto. Finish by drizzling with aged balsamic vinegar and extra virgin olive oil.
Fig grilled cheese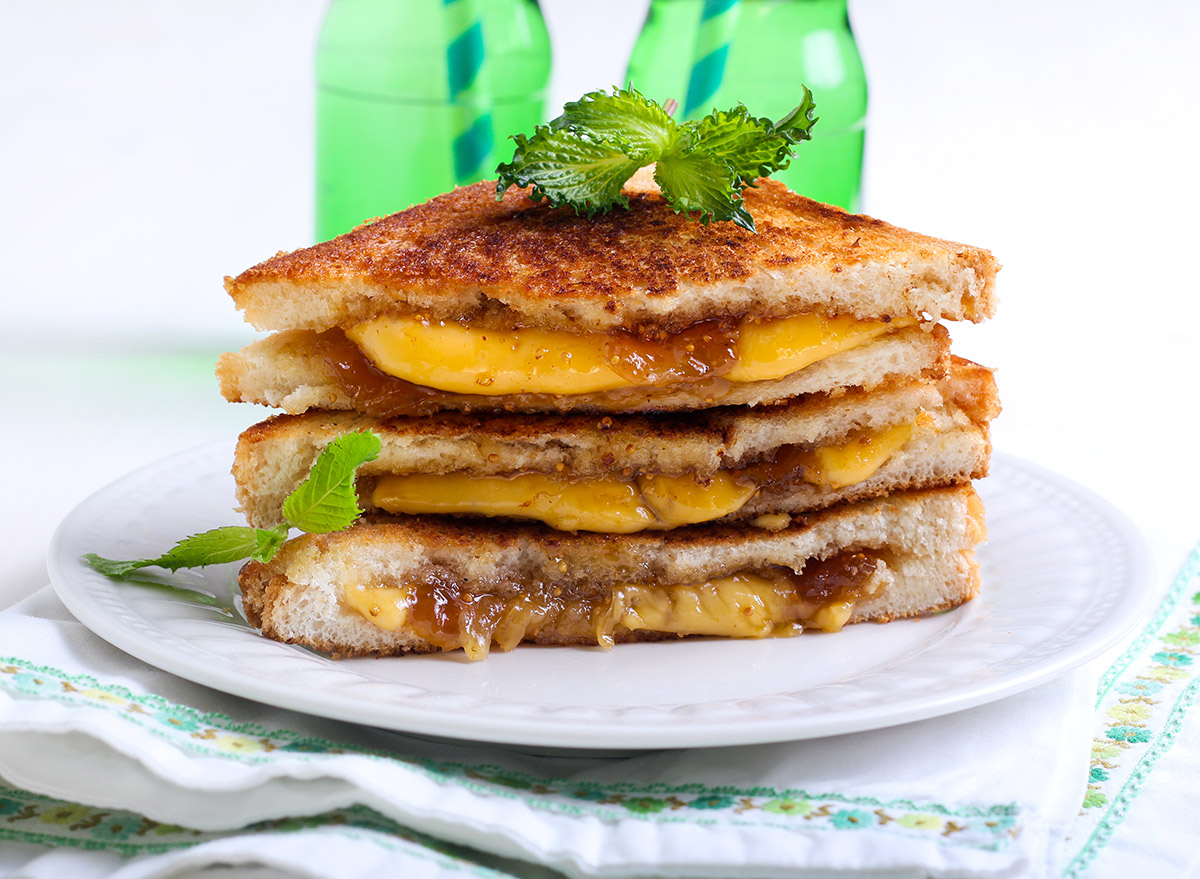 "Figs and cheese are a match made in heaven," says Melanie Musson, a foodie and writer for Exercise.com. She enjoys adding figs to grilled cheese sandwiches for a new spin on the comfort food.
Musson starts with two slices of crusty Italian bread and brushing the inside with rosemary-infused olive oil. Top with two slices of extra sharp cheddar cheese, a slice of prosciutto, and three thin slices of fig. Close the sandwich, spread the outside with butter, and grill using your favorite grilled cheese-making method.
When it's ready, open it up, and add a handful of arugula, blue cheese crumbles, and a drizzle of honey. Then, put it back together again.
Fig muffins
6254a4d1642c605c54bf1cab17d50f1e
Baking figs makes them soft and luscious, and Tara Rylie, founder of RylieCakes and author of Lick the Bowl, says that she loves figs "all warm and juicy snuggled in the midst of a muffin." Her favorite fig recipe is her Fantastic Figgy Thyme Muffins, which she likes to spread with goat cheese and herbs.
Get a similar fig muffin recipe from How Sweet Eats.
Fig, ricotta, and almond pizza
Lauren Harris-Pincus, MS, RDN, founder of Nutrition Starring You, says this quick pizza is "a delicious protein and fiber-packed breakfast, lunch, snack, or dessert." It's also an easy recipe that uses a whole wheat tortilla for the crust.
Get the recipe from Nutrition Starring You.
Goat cheese pastries with fig jam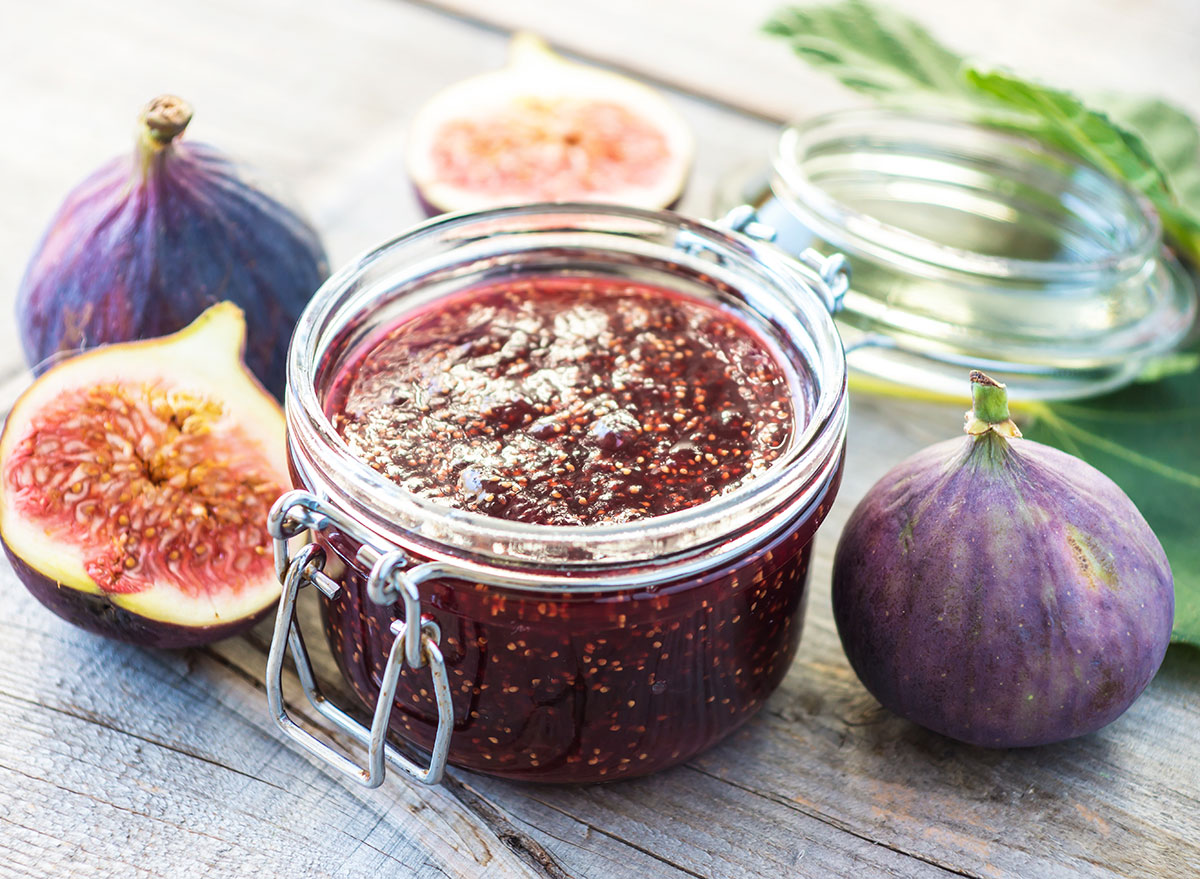 Mariana Leung of Wicked Finch Farm simmers figs with bourbon and chai tea spices to make Whiskey + Fig jam, which she says pairs well with baked goods, on top of yogurt or with a cheeseboard. She makes a simple cocktail party bite by rolling goat cheese and a dab of the jam in phyllo sheets and baking.
Figs with mole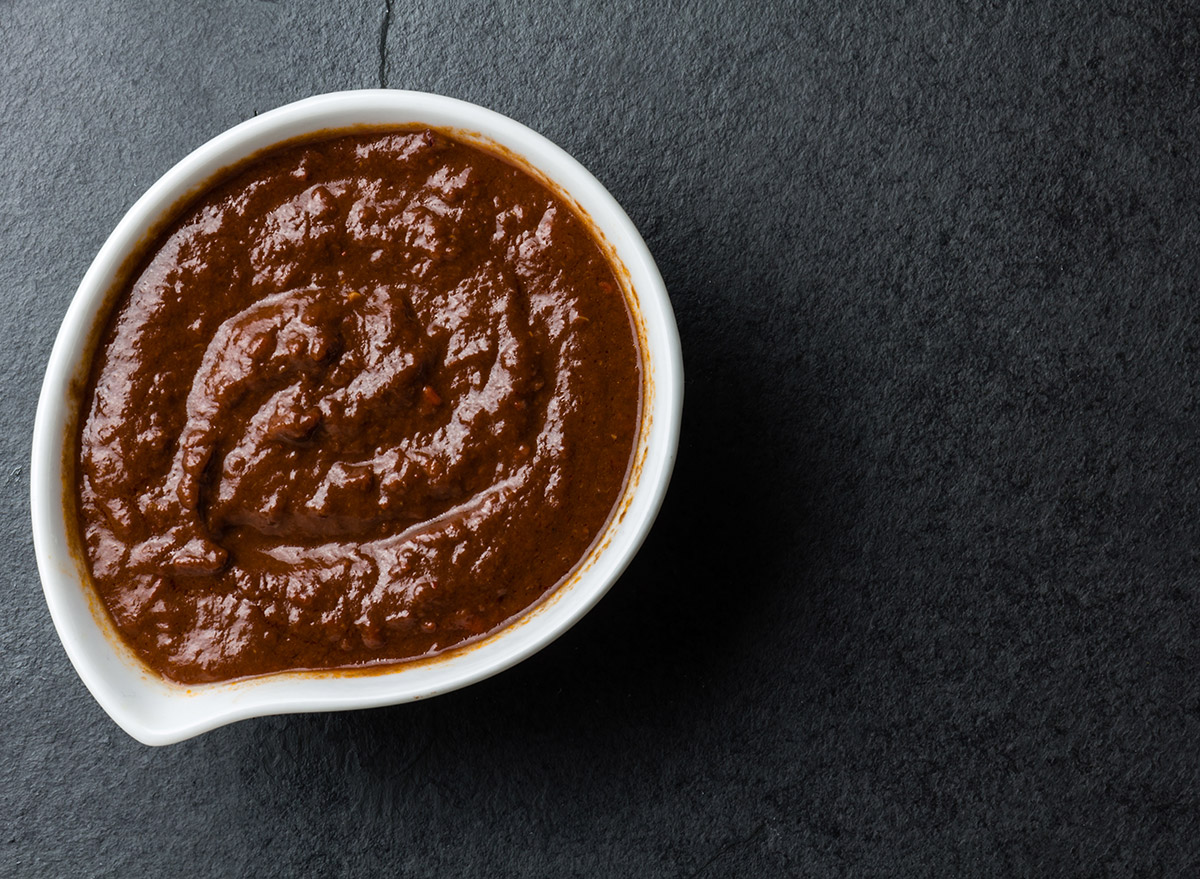 Figs' natural sweetness can bring out the sweet spices of mole, a traditional Mexican sauce, says Beata Prazmowska, a partner in Mexican plant food startup Nabora.
Prazmowska suggests adding mole to a pita and topping with figs, cilantro, and cheese.
Lamb couscous with dried figs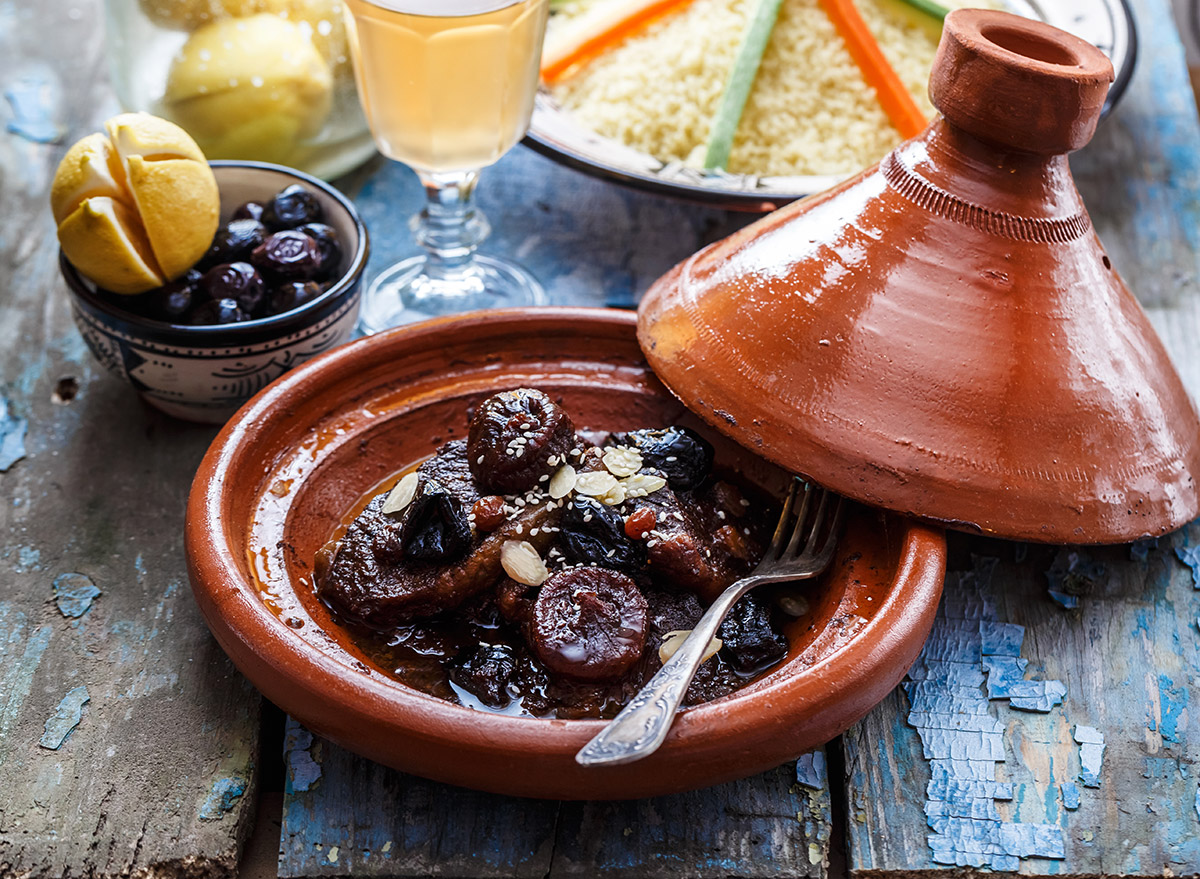 Anne Conness, chef at Israeli restaurant Jaffa in Los Angeles, incorporates figs into several of the restaurant's dishes. One favorite is lamb couscous with Moroccan spices, dried figs, and cilantro.
Check out a similar recipe for Moroccan Lamb Stew with Figs and Chickpeas from TasteFood.
Roasted meat and fish with fig glaze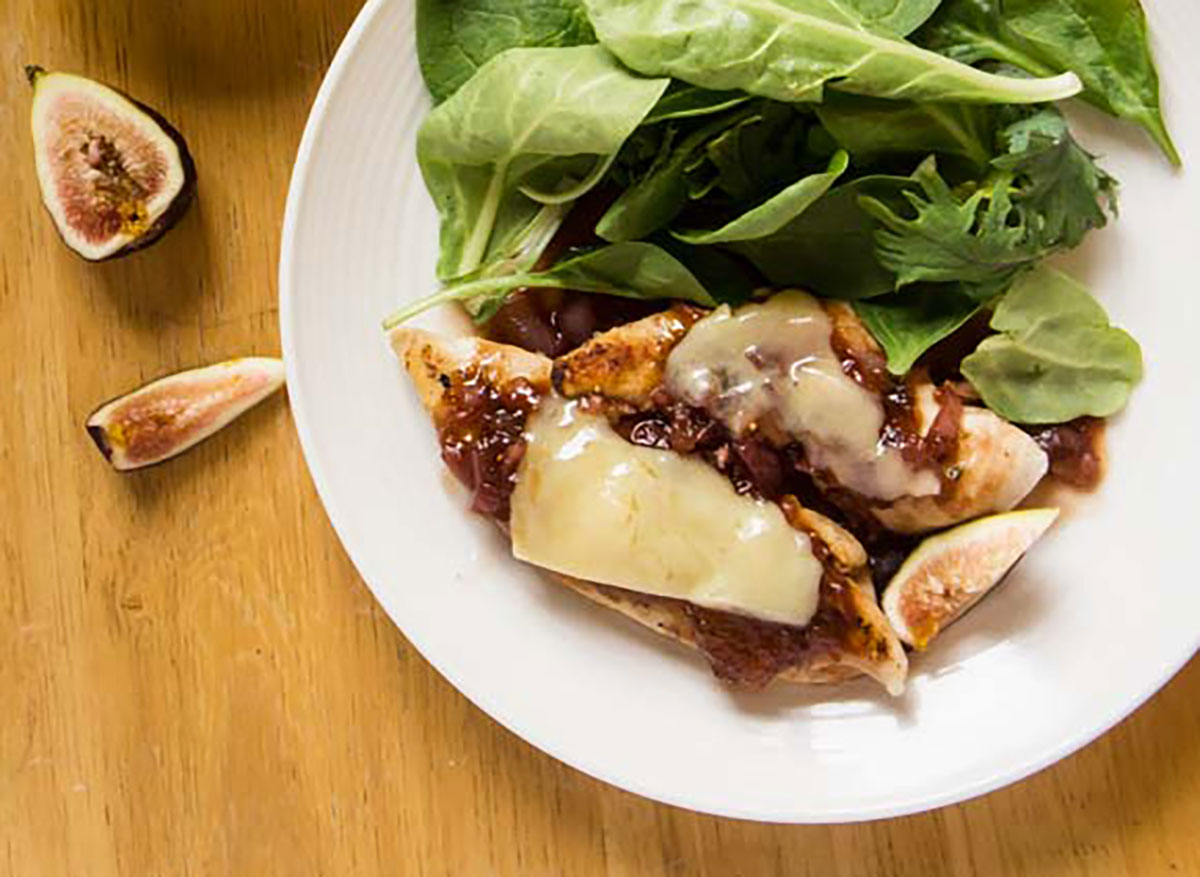 Another of Conness' favorite fig recipes is turning the fruits into a silky glaze paired with roasted salmon. Fig glaze also accentuates chicken, so there are tons of possibilities.
Get the recipe for Balsamic Fig Glazed Chicken from Foraged Dish.
Fig cocktails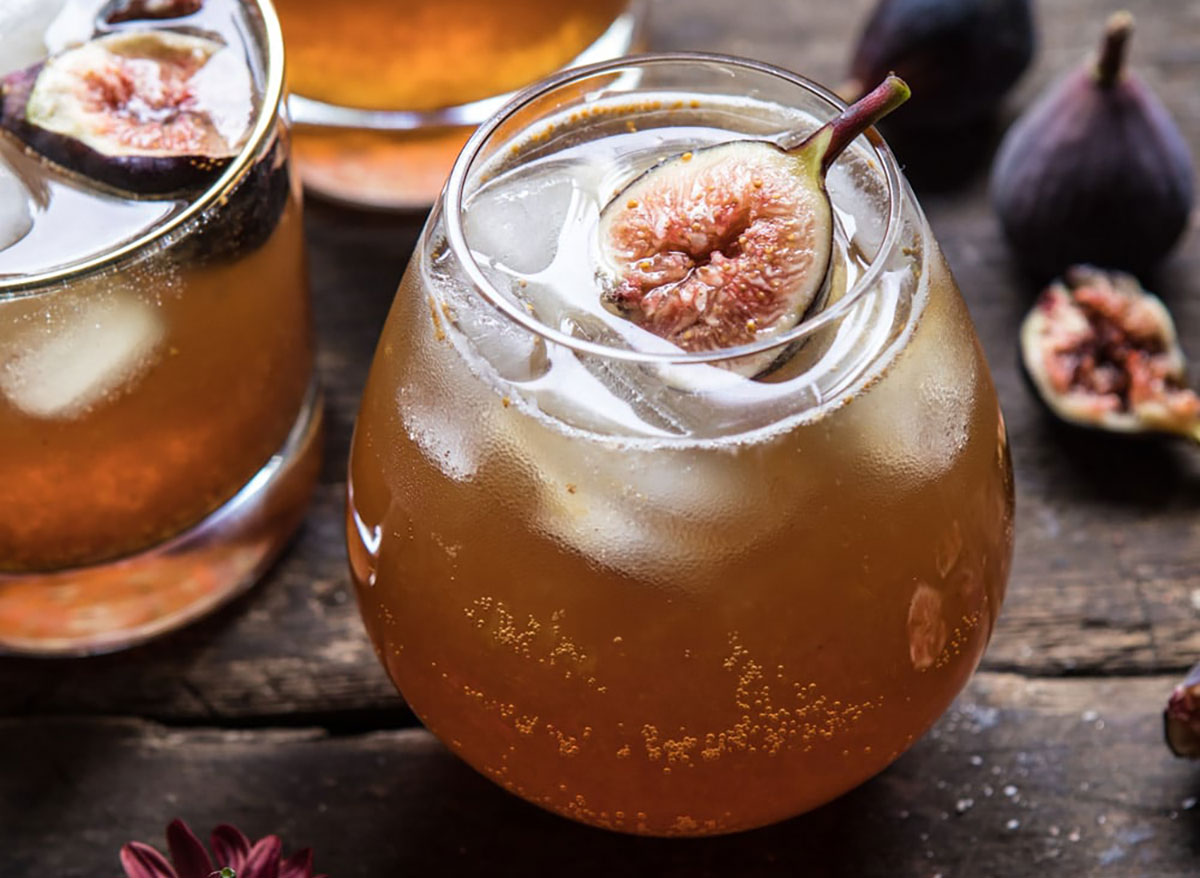 Figs' natural sweetness also works well in cocktails, especially those featuring dark rum and bourbon.
Michael Nemcik, beverage director at Jaffa, places figs at the center of the restaurant's Figging Out cocktail to highlight the ripeness and texture of black mission figs. The drink features the figs' flesh, along with pineapple rum and a blend of unaged rums from Guyana, he said. The drink also includes an ounce of fresh lime juice to balance the flavors and a lime wheel.
Get the recipe for Fig Bourbon Cider Smash at Half Baked Harvest.
Fig and goat cheese crostini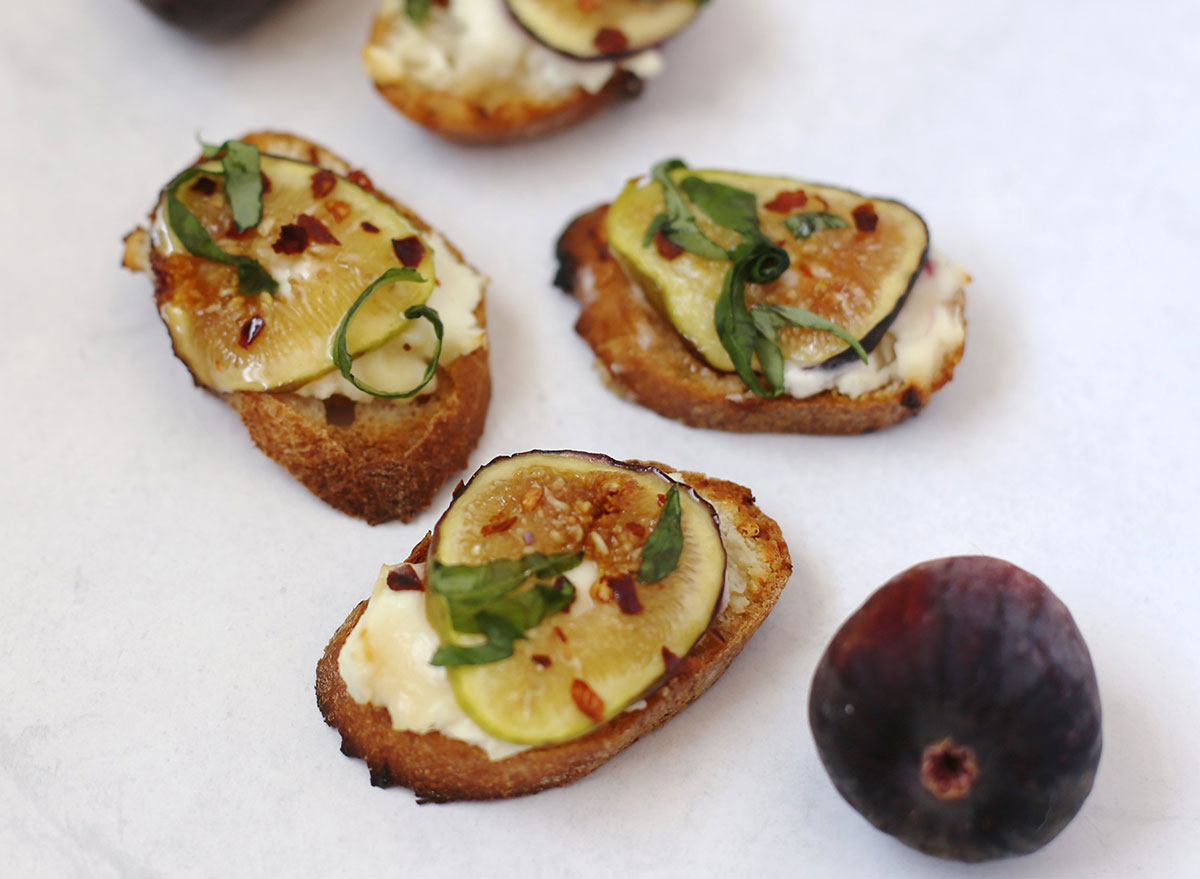 Tara Redfield, a food blogger and vlogger in Los Angeles, loves making a fig crostini with goat cheese as an appetizer or snack. "The sweetness of the figs and the creamy tartness of the cheese are a delicious combo," she says.
Get the recipe from The Food Pervert.
Fig salad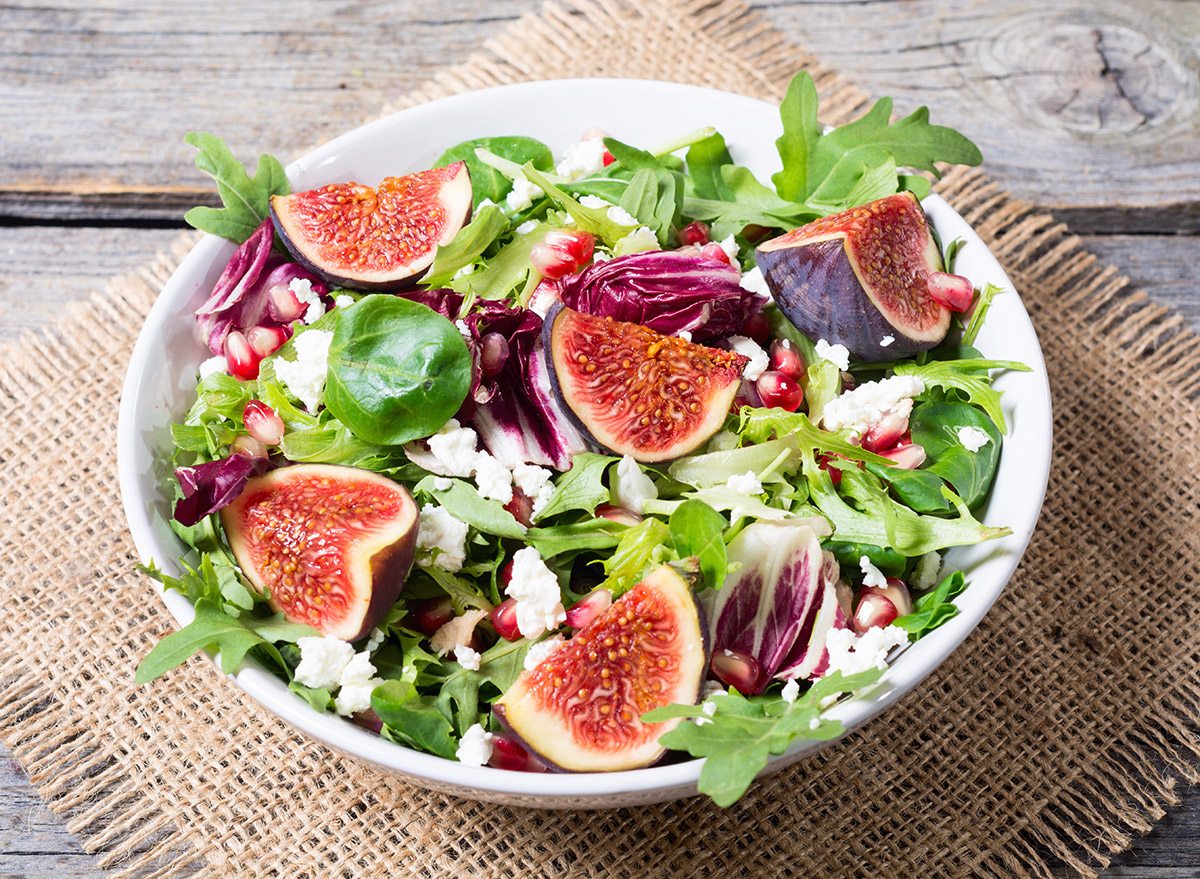 Luca Zamboni, co-owner of Gelati & Peccati in San Diego, suggests creating a "refreshing salad" with spinach, figs, ricotta, smoked paprika, and nuts.
Check out a similar recipe for Spinach Fig Salad with Balsamic Vinaigrette from My Darling Vegan.
There are so many delicious things you can make with figs, from drinks to baked goods. However you cook them, figs add natural sweetness to any dish. And if you're not cooking with figs yet, it's a great time to start.