20 Fierce Flatbread Recipes
Because thin tastes better.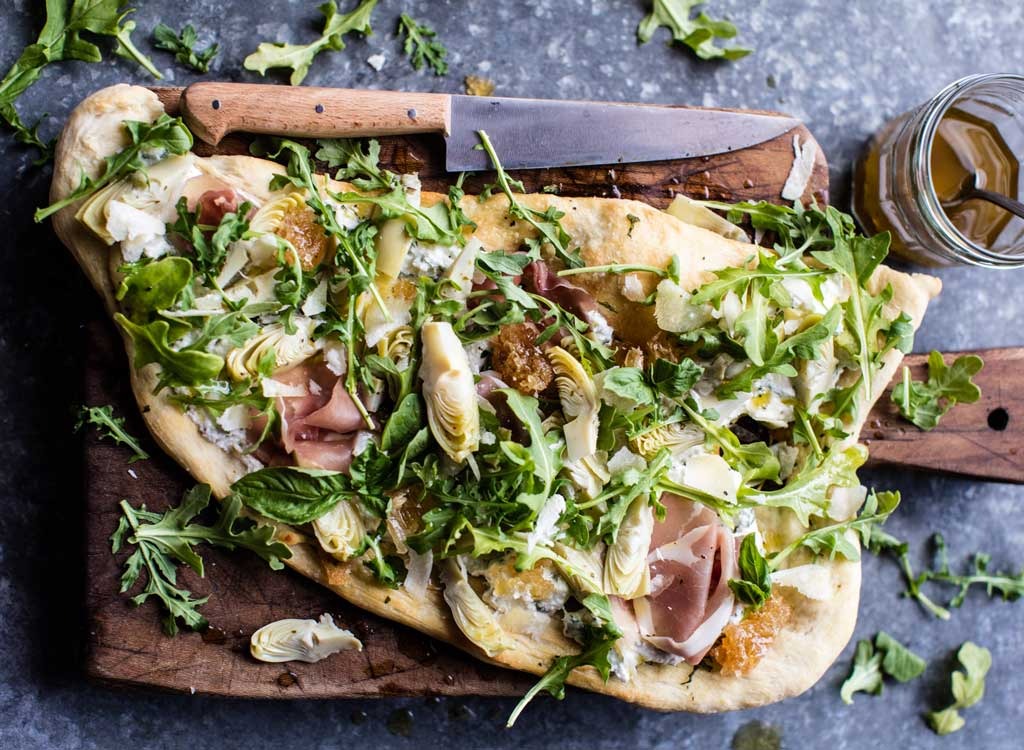 Flatbread is exactly what it sounds like: flat, "pancaked" bread that is often made without yeast. It can be used to make sandwiches, pinwheels or roll ups, pizzas, and even crackers! However, just because it's thinner than your typical pizza slice or piece of bread doesn't mean it's any less calorically dense…
But not to worry, these recipes were selected based on both their ingredient lists and nutritional profiles so that you can indulge without undoing your latest sweat sesh. From naan and pita to cauliflower flatbread, this inventive list allows you to have one of your favorite foods while keeping a flat belly! And if you're looking to shake things up a bit, find out the 15 Best New Foods for a Flat Belly!
EGG AND CALIFORNIA AVOCADO BREAKFAST FLATBREAD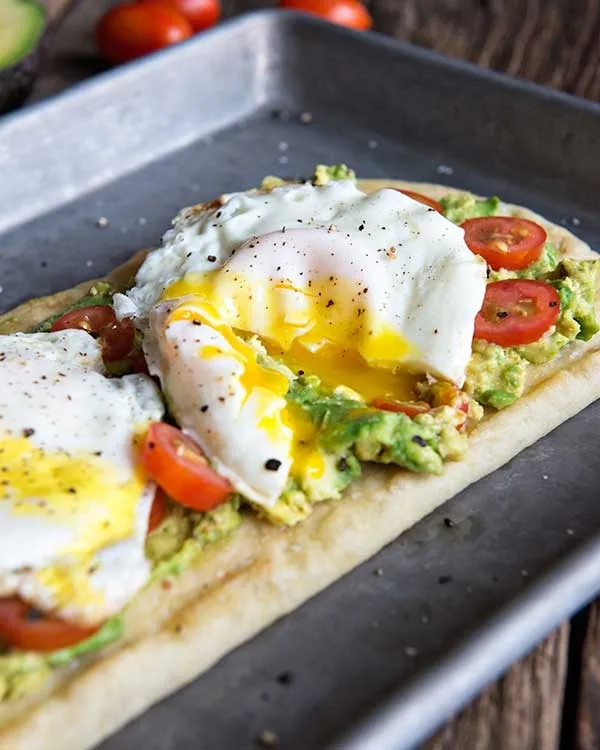 Nutrition (per slice, yields 4): 229 calories, 16.1 g fat (3.3 g saturated), 83 mg sodium, 18.2 g carbs, 6.6 g fiber, 7 g sugar, 6.6 g protein (calculated with whole wheat naan and no added salt)
We don't like to play favorites, but we just might make an exception here—and can you blame us? Flab-blasting avocado, nutrient- and protein-packed eggs, and cancer-fighting tomato layered on top of a whole wheat flatbread? Yes all day. And speaking of eggs, you'll be fascinated by these 26 Things You Need to Know Before Buying Your Next Carton of Eggs!
Get the recipe from Dine and Dash.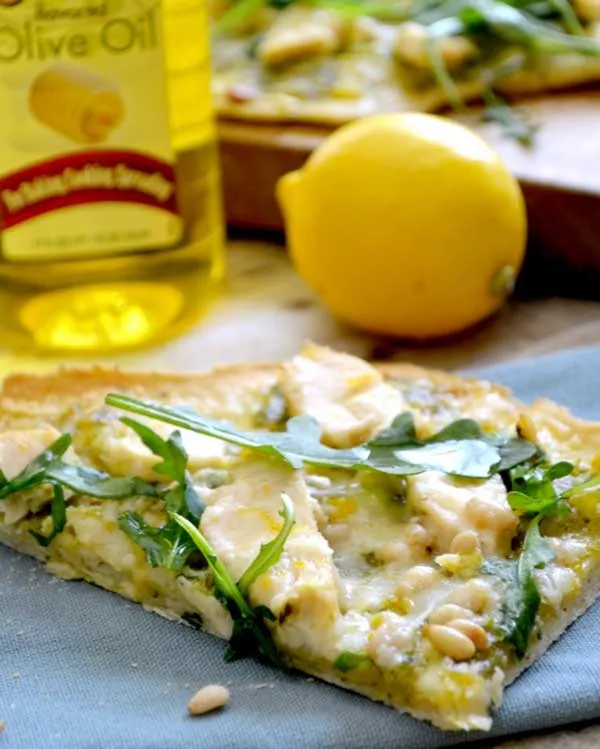 Nutrition (per slice, yields 8): 328 calories, 17.7 g fat (3.8 g saturated), 229 mg sodium, 27.9 g carbs 1.4 g fiber, 1 g sugar, 14.5 g protein (calculated with wheat flour)
Anything pesto is usually good with us—after all, it's a great appetite suppressant. Plus, it's made with just four wholesome ingredients: olive oil, garlic, fresh basil, and the real MVP, pine nuts. According to a study that was presented to the American Chemical Society in 2006, pinolenic acid (an unsaturated fatty acid solely found in pine nuts and its oil) suppressed the appetite in overweight women, enabling them to reduce overall food intake by a whopping 37 percent! See ya
belly fat.
Get the recipe from Lemon Tree Dwelling.
CALIFORNIA CHICKEN FLATBREAD WITH CHIPOTLE RANCH SAUCE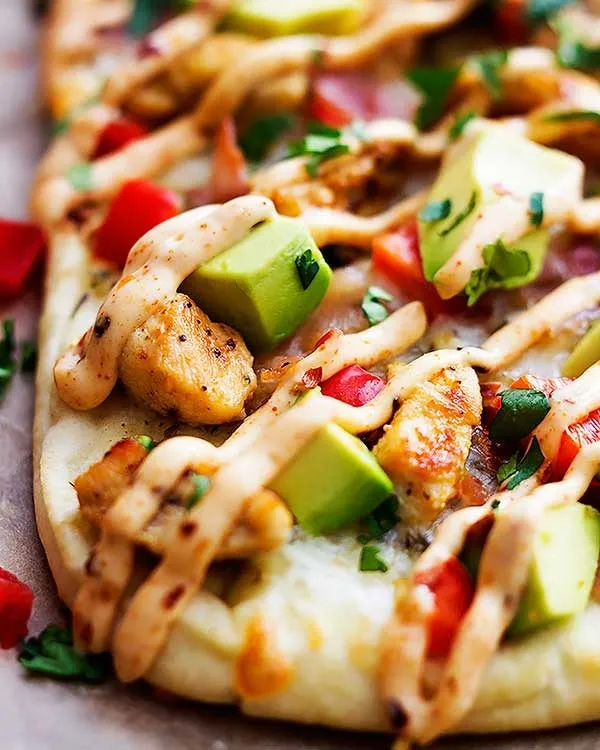 Nutrition (per ½ flatbread serving): 228 calories, 18.7 g fat (4.4 g saturated), 375 mg sodium, 8.2 g carbs, 2.2 g fiber, 1.3 g sugar, 7.8 g protein
While there is no shortage of healthy chicken recipes, this California chicken flatbread is to die for. While you may be tempted, don't opt for bacon's gobbly imitator. "Center cut pork bacon, considered the highest quality bacon in the meat industry, is actually similar in nutrition to turkey bacon—but tastes way better," says Sarah-Jane Bedwell, RD, LDN and author of Schedule Me Skinny: Plan to Lose Weight and Keep it Off in Just 30 Minutes a Week. "The fatty portions from the top and bottom have been removed, resulting in leaner, more uniformed slices that include more meat and less fat. A serving of center cut pork bacon has only about 25 more calories than a serving of turkey bacon. And although turkey bacon is a bit leaner—only by about half a gram of fat per serving—it's actually quite a bit lower in protein; turkey bacon has about two grams of protein per serving, whereas center cut bacon has six grams of protein per serving."
Get the recipe from Le Creme de la Crumb.
ZUCCHINI HERBED RICOTTA FLATBREAD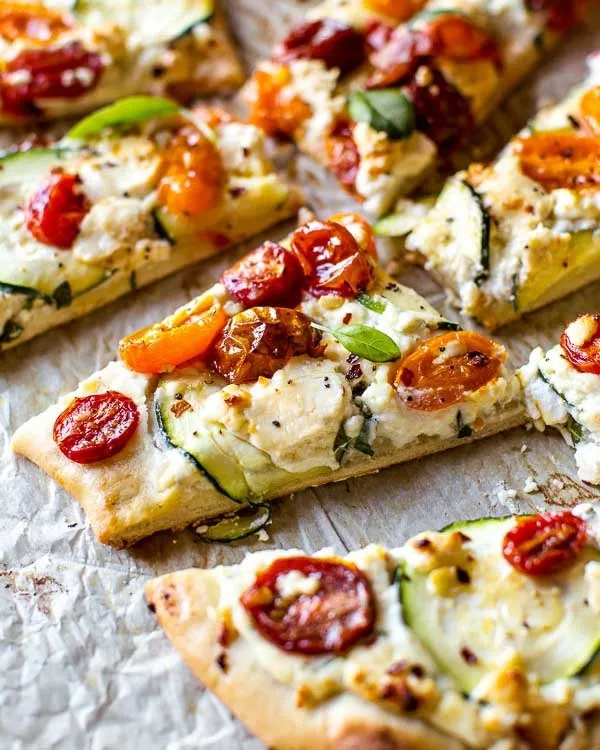 Nutrition (per slice, yields 6): 346 calories, 16.6 g fat (8.9 g saturated), 160 mg sodium, 31.5 g carbs, 2 g fiber, 3 g sugar, 18 g protein (calculated without salt)
Zucchini is one of the most underrated pizza—or in this case, flatbread—toppings to pile atop your creation. However, removing as much water as possible first is the key. Although hydrating and one of these 44 Ways to Lose 4 Inches of Body Fat, no one wants to bite into a soggy mess. Combined with rich ricotta, refreshing herbs, and thin flatbread, it's a guaranteed crowd pleaser.
Get the recipe from Sally's Baking Addiction.
ROASTED CRANBERRY AND GOAT CHEESE FLATBREADS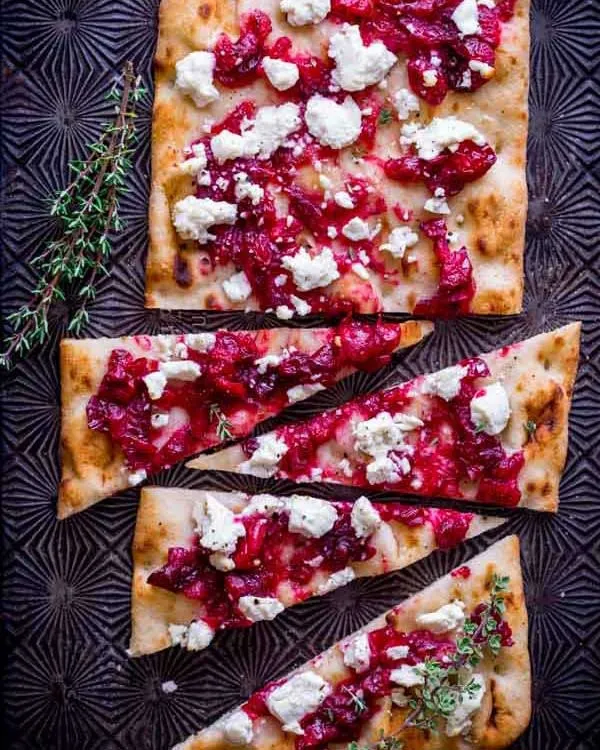 Nutrition (per ½ pita serving, yields 4): 375 calories, 9.1 g fat (5.7 g saturated), 511 mg sodium, 56.8 g carbs, 3 g fiber, 9.9 g sugar, 14.3 g protein (calculated without salt)6254a4d1642c605c54bf1cab17d50f1e
This flatbread is topped with cancer-fighting cranberries, satiating goat cheese, skin-enhancing maple syrup and mood-boosting thyme top. You probably haven't thought to treat minor bouts of depression with the herb, but according to a 2013 study, carvacrol, an active ingredient in the herb, can increase feelings of happiness and optimism.
Get the recipe from Healthy Seasonal Recipes.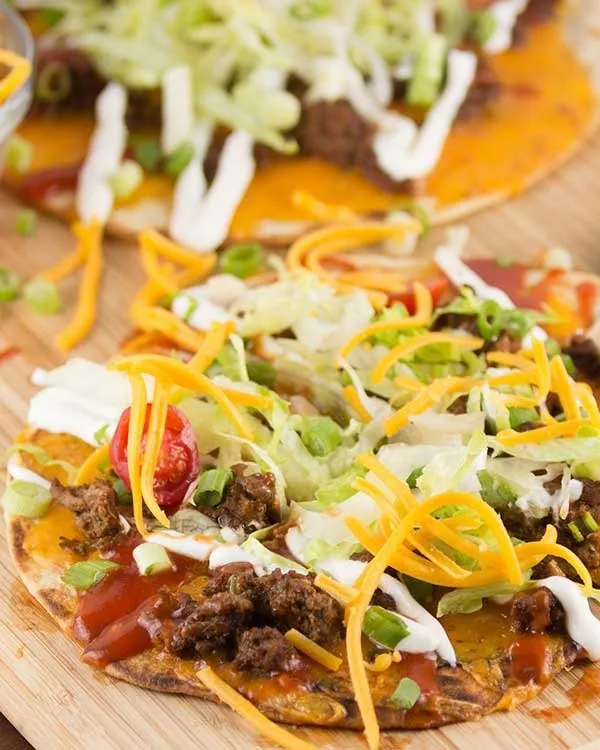 Nutrition (per flatbread, yields 6): 300 calories, 10.6 g fat (5 g saturated), 486 mg sodium, 18.6 g carbs, 1 g fiber, 1.8 g sugar, 31.9 g protein
Taco Tuesday is about to get a wicked upgrade. Ditch hardshells that crack and fall apart after the first bite and opt for this flatbread pizza version instead. Each flatbread is 300 calories and yields a whopping 31.9 grams of calorie-scorching protein. According to a 2015 study in the American Journal of Physiology—Endocrinology and Metabolism, subjects who consumed twice as much protein as the recommended daily allowance (56 grams for men and 46 grams for women) had greater net protein balance and muscle protein synthesis—in other words, it was easier to maintain and build muscle, and speed up metabolism.
Get the recipe from Center Cut Cook.
FLATBREAD FRENCH TOAST ROLL UPS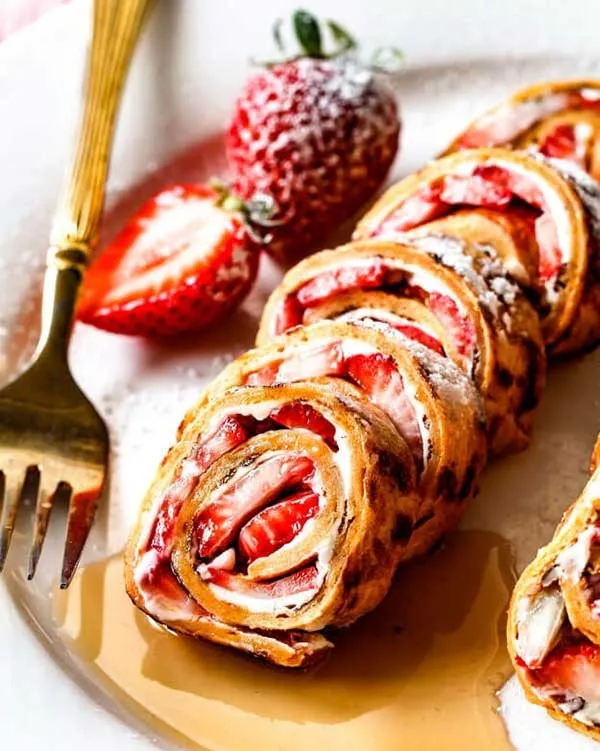 Nutrition (per roll up, yields 7): 314 calories, 7.2 g fat (1.5 g saturated), 312 mg sodium, 45.8 g carbs, 2.6 g fiber, 11 g sugar, 15.3 g protein (calculated with Greek yogurt cream cheese)
This will look almost as tasty on your Instagram feed as it will be IRL in your mouth! Strawberries and cream cheese (we opted for a Greek yogurt variety) rolled up inside a French toast battered flatbread is then drizzled with pure maple syrup.
Get the recipe from Carl's Bad Cravings.
PEAR BRIE AND BACON FLATBREAD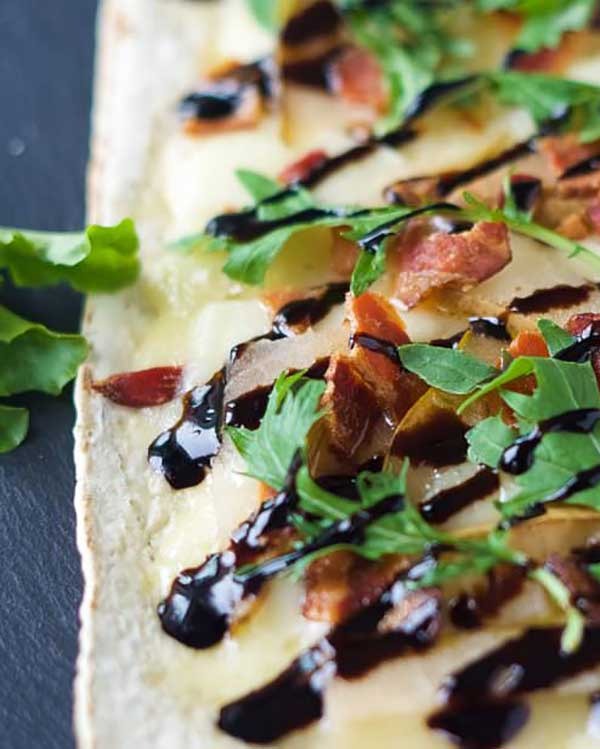 Nutrition (per slice, yields 4): 245 calories, 13.8 g fat (5.8 g saturated), 493 mg sodium, 14.8 g carbs, 2.5 g fiber, 3.4 g sugar, 15.2 g protein
We love this fall masterpiece. Belly-slimming pear, collagen-strengthening brie, and satiating bacon—need we say more? Grab a slice and cozy up by the fire!
Get the recipe from With Salt and Wit.
LEMON ROSEMARY FLATBREAD CRACKERS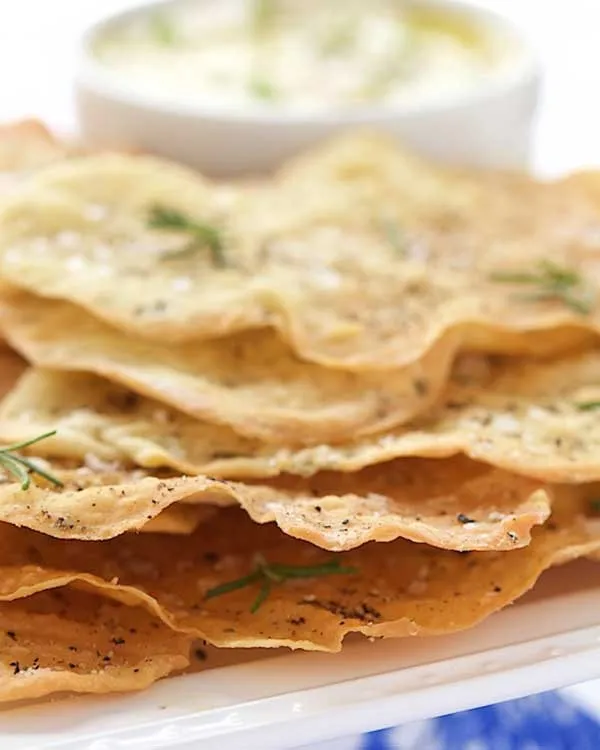 Nutrition (per ½ cup serving, yields 6): 153 calories, 7.2 g fat (3.9 g saturated), 54 mg sodium, 26.1 g carbs, 1.4 g fiber, 1.3 g sugar, 3.5 g protein
Flatbread doesn't just have to mean breads, gyros, or pizza; it can also mean crackers! And with rosemary in this recipe, you can fight inflammation, infection, and cancer, all while boosting your memory and pleasing your taste buds. We told you these flatbread recipes were gonna be fierce!
Get the recipe from The Cafe Sucre Farine.
GRILLED CHICKEN MARGHERITA FLATBREAD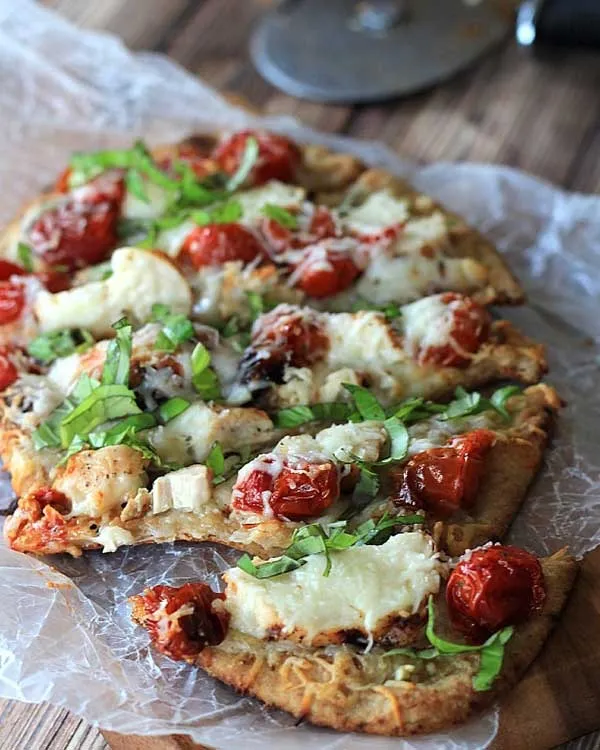 Nutrition (per ½ flatbread serving, yields 4): 274 calories, 13.6 g fat (3 g saturated), 254 mg sodium, 21.7 g carbs, 3.5 g fiber, 2.6 g sugar, 18.4 g protein
Rumor has it that the Margherita pizza was named after the wife of King Umberto just 28 years after the unification of Italy—and it's been on everyone's lips since then (literally). Aside from being an OG and royal, this recipe is a nutritional champion with less than 300 calories, just 21.7 grams of carbs, minimal sugar, and plenty of protein. Bow down.
Get the recipe from Joyful Healthy Eats.
FIG AND CARAMELIZED ONION FLATBREAD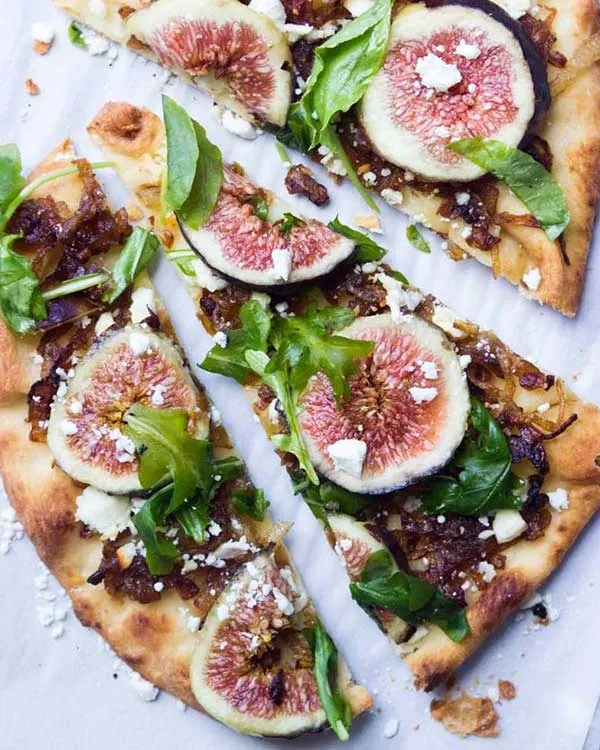 Nutrition (per ½ flatbread serving, yields 4): 323 calories, 13.7 g fat (8.3 g saturated), 376 mg sodium, 45.5 g carbs, 5.3 g fiber, 14.8 g sugar, 7 g protein
Munch on a slice post-workout and you just might soothe your achy muscles, thanks to fig's potassium content. The natural sugar will replenish depleted glycogen stores and protein will help you build lean muscle mass. Not to mention, the fruit is also packed with gut-friendly fiber, which will slow digestion, keeping you out of the fridge longer. Body goals are just around the corner with this one!
Get the recipe from Little Broken.
SWEET POTATO HUMMUS WITH CINNAMON FLATBREAD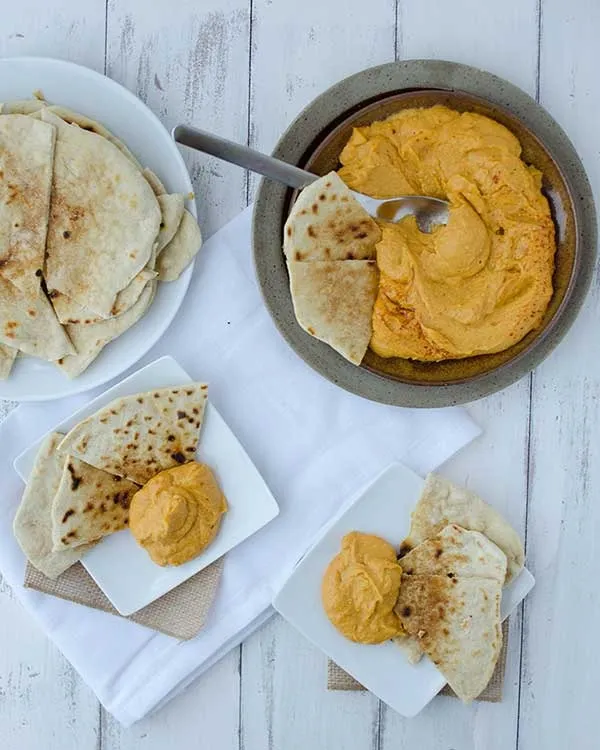 Nutrition (yields 10 servings): 330 calories, 13.9 g fat (3.1 g saturated), 161 mg sodium, 44.6 g carbs, 7 g fiber, 6.3 g sugar, 9 g protein
Hummus and sweet potato are dietary godsends. The two high fiber foods can do everything from keep you regular to reveal your six pack. Combined with blood-stabilizing cinnamon, this is one waist-whittling snack.
Get the recipe from Delish Knowledge.
ARTICHOKE RICOTTA FLATBREAD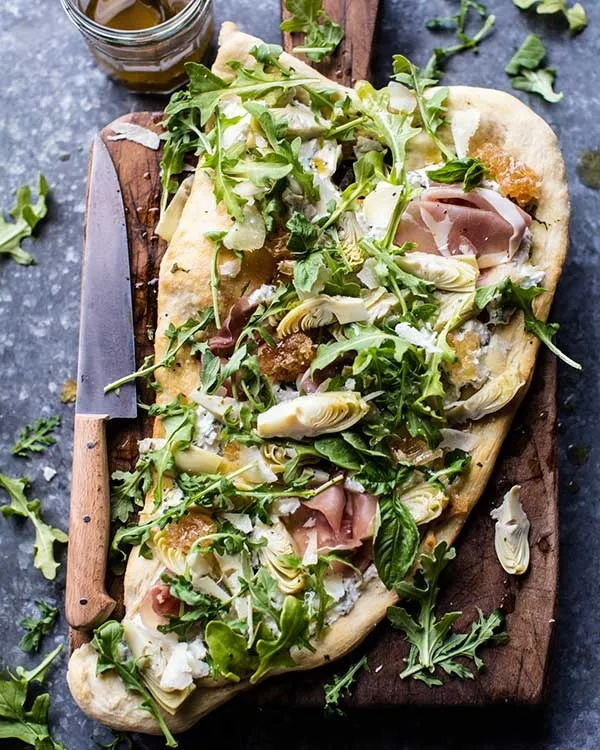 Nutrition (per slice, yields 6): 327 calories, 23.2 g fat (7.2 g saturated), 322 mg sodium, 20.2 g carbs, 2.6 g fiber, 2.8 g sugar, 11.5 g protein (calculated with part-skim ricotta)
When it comes to potent cancer-fighting weapons, artichokes are the Beyonce of the produce aisle. They destroy any free radicals in their wake and they do it flawlessly. And there's more: Artichokes improve brain functioning, liver and bone health, and caloric burn. In fact, the veggie is a great source of manganese, a mineral essential for the metabolism of fats and proteins. Paired with satiating ricotta, honey, and arugula, this is one tasty-but-filling meal.
Get the recipe from Half Baked Harvest.
MEDITERRANEAN MEATBALL GYRO SANDWICH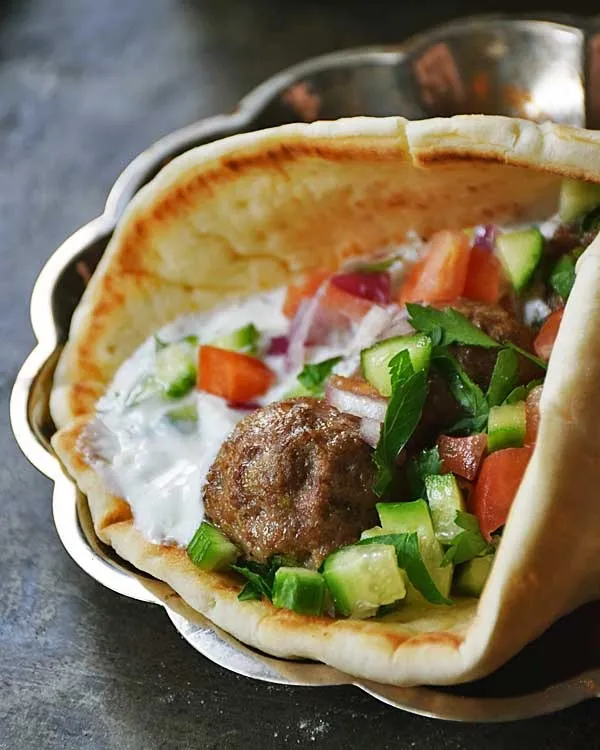 Nutrition (per sandwich, yields 4): 268 calories, 8.2 g fat (2.8 g saturated), 292 mg sodium, 31 g carbs, 2.3 g fiber, 7.7 g sugar, 16.3 g protein (calculated without salt)
When you opt for grass-fed beef instead of conventionally-raised for your meatballs, you get less fat overall and higher amounts of stearic acid; that's a good thing because stearic acid is a long chain saturated fat, which slows digestion and keeps you fuller longer. Stearic acid also plays a key role in regulating the performance of the energy production center of our cells (AKA the mitochondria). If nothing else, choose grass-fed beef to avoid ingesting harmful ingredients and to lower your risk for heart disease. Did we mention it's one of the 29 Best-Ever Proteins for Weight Loss?!
Get the recipe from Our Life Tastes Good.
SPICY BUFFALO CHICKPEA WRAPS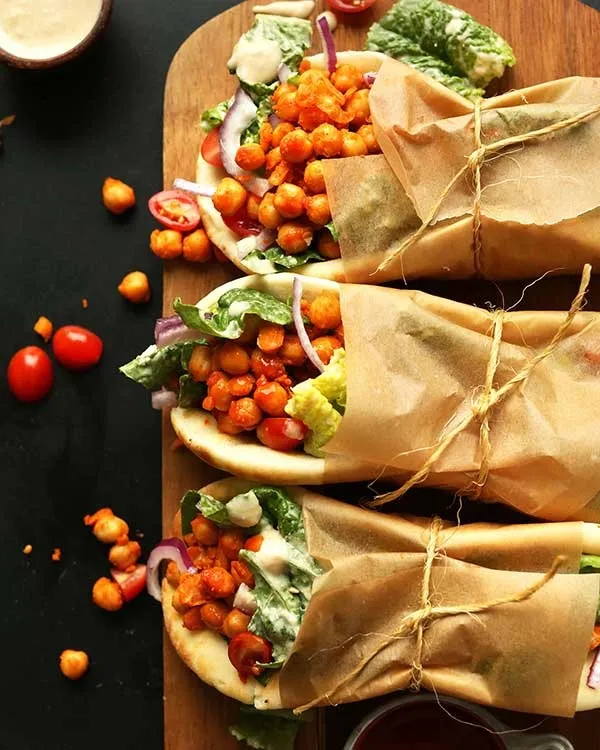 Nutrition (per wrap, yields 4): 254 calories, 6.7 g fat (3.3 g saturated), 346 mg sodium, 39.4 g carbs, 5.7 g fiber, 5.6 g sugar, 9.1 g protein (calculated without salt)
Metabolism-boosting hot sauce is drizzled over belly-flattening chickpeas and then combined with romaine, red onion, lemon, tomato, and avocado. After it's rolled up inside a wholesome flatbread, your lunch heaven has officially arrived!
Get the recipe from Minimalist Baker.
Nutrition (per flatbread, yields 8 ): 223 calories, 6.4 g fat (1 g saturated), 127 mg sodium, 35.6 g carbs 1.5 g fiber, 2.3 g sugar, 5.8 g protein
If you want to make your own flatbread base that can be used with any of these mouthwatering recipes, this Paleo version is made with seven primal, wholesome ingredients (one of which is water). Not sure what Paleo actually is? Check out these 30 Paleo Questions Answered—in Five Words or Less!.
Get the recipe from A Calculated Whisk.
GRILLED LEMON CHICKEN FLATBREAD WRAPS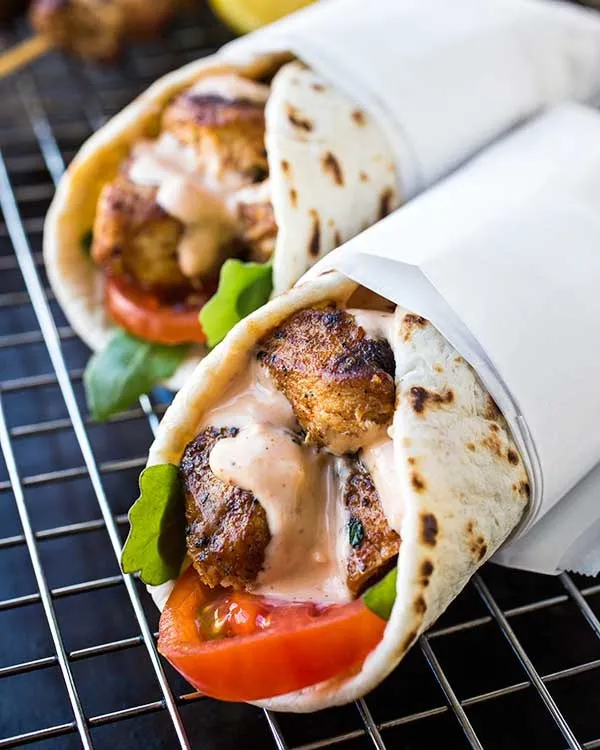 Nutrition (per wrap, yields 4): 390 calories, 16.8 g fat (3.6 g saturated), 454 mg sodium, 28 g carbs, 1.2 g fiber, 4.6 g sugar, 31 g protein
The juice of just half a lemon checks off 100 percent of the daily recommended intake of vitamin C—and when you match that quota, research suggests you can increase fat burn by 25 percent! Here's one delicious way to get you started…
Get the recipe from The Cozy Apron.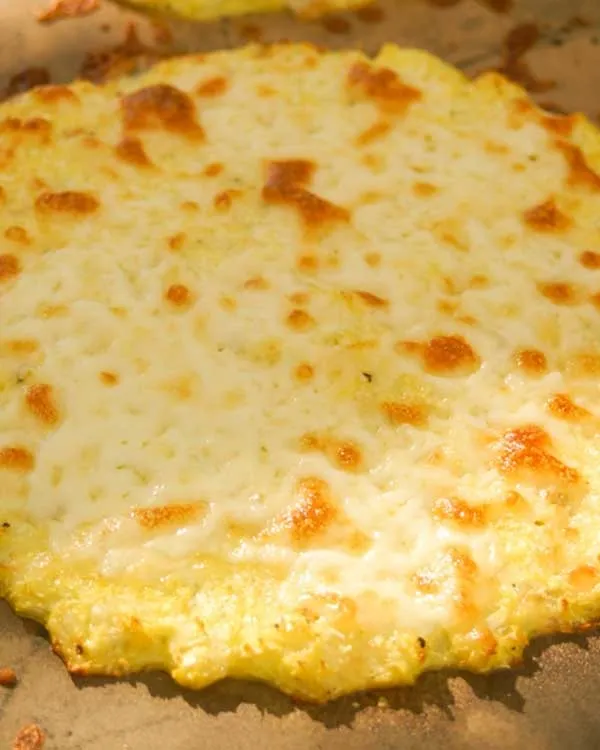 Nutrition (per flatbread, yields 2): 143 calories, 7.1 g fat (3.8 g saturated), 192 mg sodium, 9.3 g carbs, 4.1 g fiber, 4 g sugar, 12.6 g protein
If you're looking for a low-carb flatbread option, you can make one using cauliflower—and all it takes is a little extra effort (that's well worth it). The versatile veggies not only adapts to its surrounding flavors, but it can be manipulated to create just about any recipe. It's also packed with filling fiber, protein, potassium, and magnesium, all while knocking out 77 percent of the recommended daily value of vitamin C with just one serving!
Get the recipe from Going Cavewoman.
ROASTED VEGETABLE FLATBREAD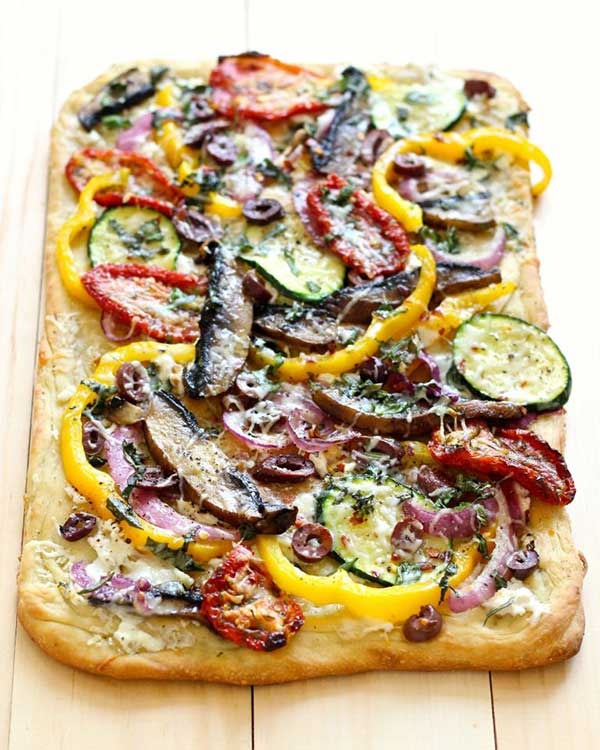 Nutrition (per slice, yields 8): 305 calories, 21 g fat (4.9 g saturated), 275 mg sodium, 25.9 g carbs, 2.4 g fiber, 0 g sugar, 4 g protein (calculated with part skim mozzarella and no salt)
Bell peppers, red onions, zucchini, sun dried tomato, portobello mushrooms, basil, and olives……we're talking veggies on veggies (and cheese). Even if you don't typically enjoy getting your omnivore on, you'll be raving about this recipe. Shave some fat off by opting for part-skim ricotta and ditch the extra salt, which causes your body to retain water.
Get the recipe from The Girl On Bloor.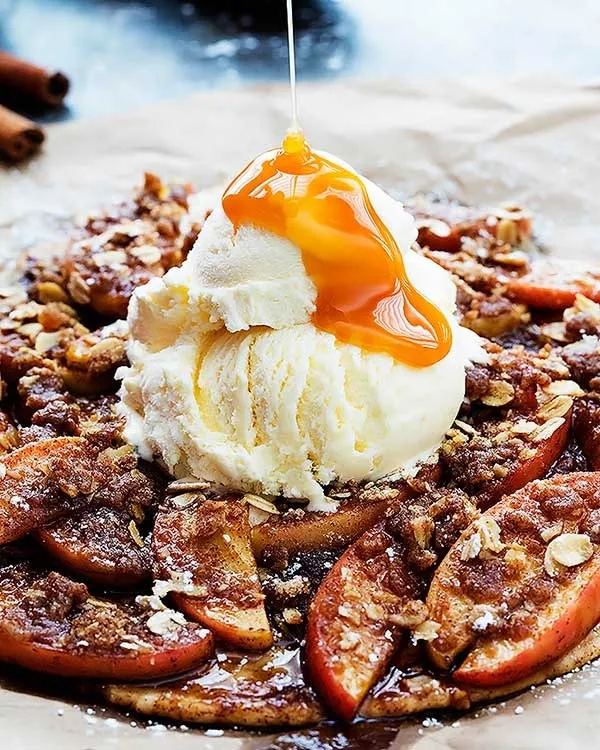 Nutrition (per ½ flatbread serving, yields 4): 264 calories, 6.7 g fat (4g saturated), 206 mg sodium, 48.1 g carbs, 4 g fiber, 18.7 g sugar, 4.5 g protein (calculated with 1/4 cup stevia baking mix and no ice cream)
If this recipe doesn't scream fall, you're probably just not from New England. Fortunately, your geographical location doesn't limit your ability to make this scrumptious apple crumb dessert! All you need is access to the fibrous forbidden fruit. And as it turns out, an apple a day truly does keep the doctor away. It also gets rid of tummy rolls, improves overall nutritional choices, freshens breath, fights obesity, and lowers the risk of developing diabetes. In fact, a study in BMJ linked eating whole fruits, particularly apples, to a lower risk of type 2 diabetes. Practically live at the doctor? Check out these 40 Habits That Make You Sick and Fat and break them ASAP.
Get the recipe from Creme de la Crumb.