22 Best Foods for Skiers and Shredders
Hitting the slopes? From powering up in the morning to your lunchtime break and evening toasts at the ski lodge, here's what to nosh on to make the most of your wintertime experience.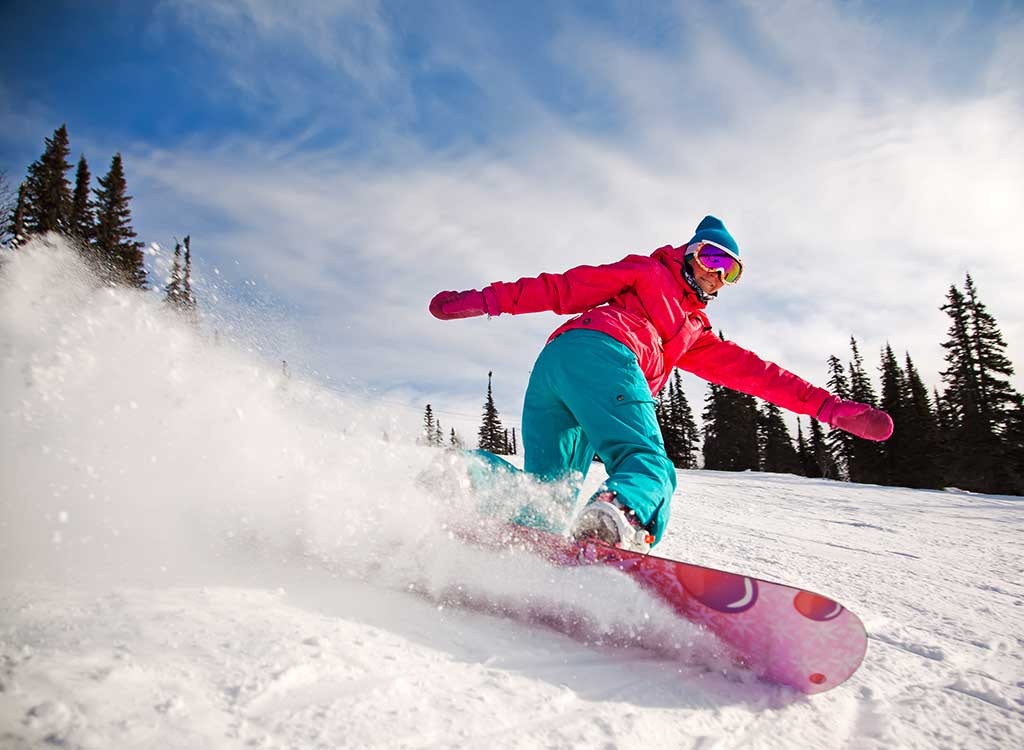 The days are shorter, the nights are longer, the temperatures are dropping and it's almost 2017. This can only mean one thing: It's time to plan a ski trip! Before you map out all the fun and games, however, it's important to remember that while hitting up a ski town can be one of the healthiest ways to spend your winter break, it can also be the complete opposite if you don't properly fuel your body. In fact, not only is improper nutrition detrimental to your waistline, but it can put you in serious danger when you're actually on the slopes—no one wants digestive issues or to suffer from a dizzy spell when they're speeding down a black diamond or trying to teach their little ones how to "pizza" their skis. So instead of winging it when you get there, prep yourself with this nutritional info for how to stay healthy before, during, and after you zip down the mountains. And at the end of each snow bunny day, go ahead and you sip on our #1 choice of hot chocolate listed in our exclusive guide to [19 of Your Favorite Hot Cocoas—Ranked]!
What to Eat and Drink Before You Hit the Slopes
Liquids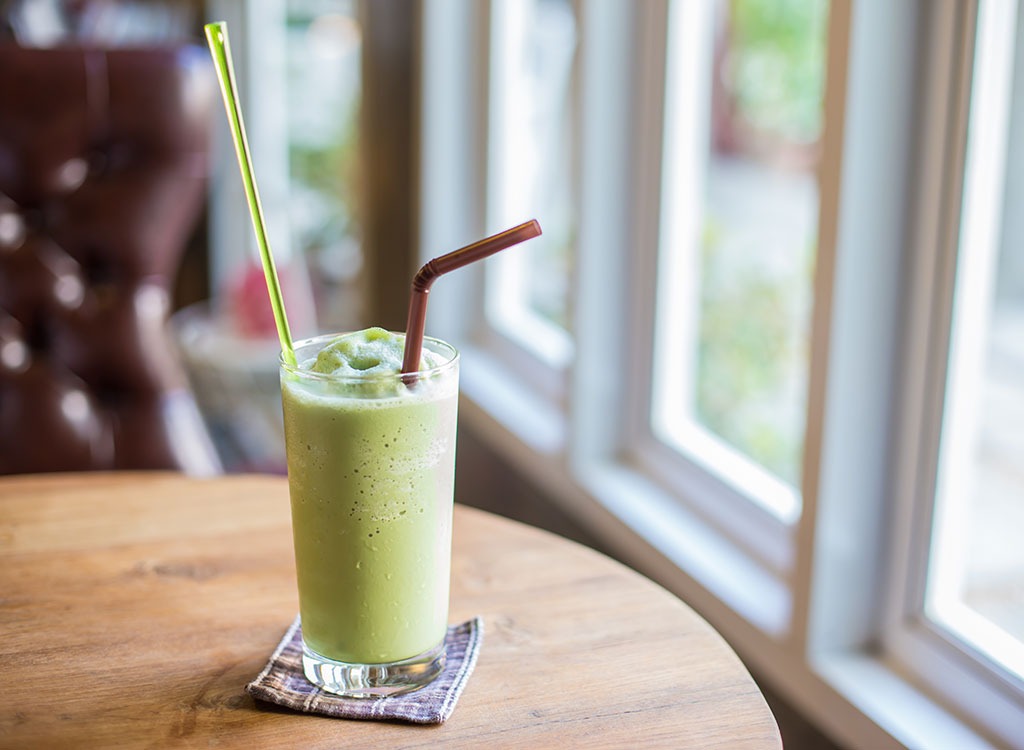 When you're on the slopes, one thing you don't want to be is tired—which is why you should opt for a pre-slope complex carb-heavy snack with some protein and a little bit of fat. "This combination will help quickly power you for the slopes," says Tori (Holthaus) Schmitt, MS, RDN, LD. "When possible, I would opt for the combination in liquid form since it means that the nutrients can be more easily and quickly absorbed." Some of Schmitt's favorites include a smoothie (made with one piece of whole fruit like a banana, nut butter, spinach, and almond milk) or a soup (made with a starchy carbohydrate like butternut squash, sweet potato, or carrots, a healthy oil, unflavored organic protein powder, bone broth, or stock and spices like pepper, curry powder, cumin, etc.). Speaking of protein powder, don't miss our report on The Best and Worst Protein Powders!
Whole Grain Cereal, Milk, and Fruit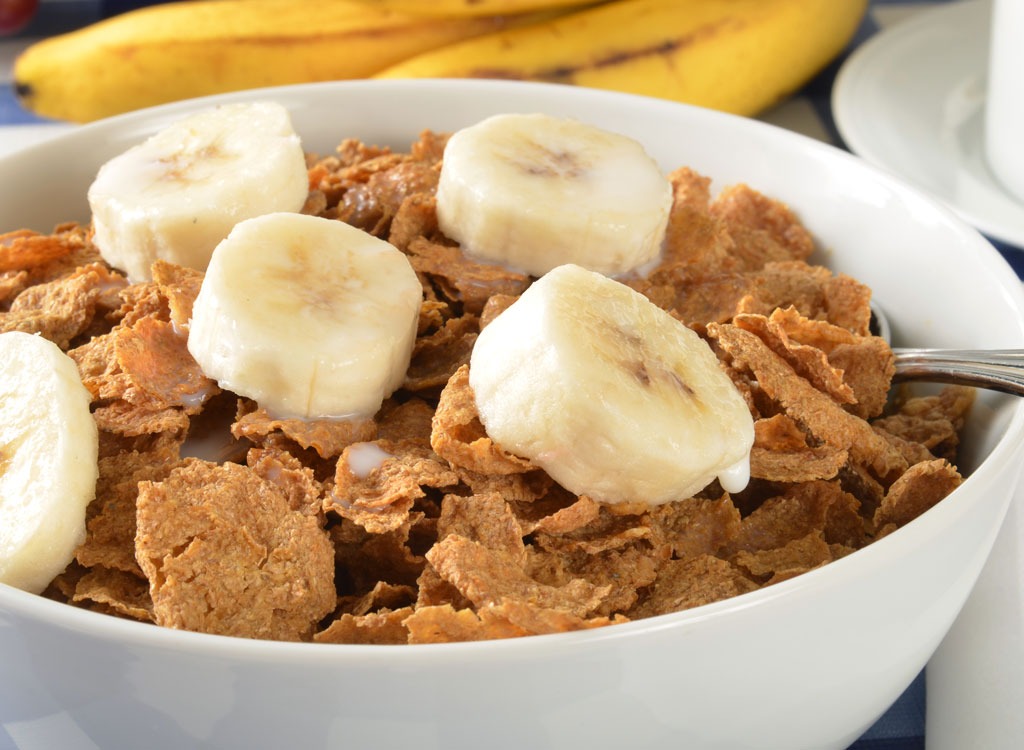 This classic combo is a go-to for Rebecca Scritchfield, RD and author of Body Kindness. "The cereal and milk duo is a great source of 10 nutrients—including fiber, calcium, vitamin D and potassium—and the carbs that will provide a steady release of energy throughout the morning. Meanwhile, the milk adds protein to help rebuild muscle." If possible, she recommends adding fresh fruit to the mix, since it will boost hydration and antioxidants. It's key to stay hydrated, something that can be especially easy to forget when the temperatures drop.
Sprouted Toast with Nut Butter
We all know and love fiber for helping us beat the bloat by keeping us full longer. But before hitting the slopes, you want to make sure you're opting for a lower fiber breakfast to help prevent an upset digestive track; basically, you don't want to feel an unrelenting urge to hit the bathroom when you're in the middle of a mountain! Stacy Goldberg, MPH, RN, BSN and founder of Savorfull recommends one slice of 100% whole wheat or sprouted grain toast with one tablespoons nut butter and half a banana. It's an easy, quick option that also happens to be wallet-friendly. Find out more by seeing the 15 Reasons People Are Obsessed with Ezekiel Bread.
Eggs and Oatmeal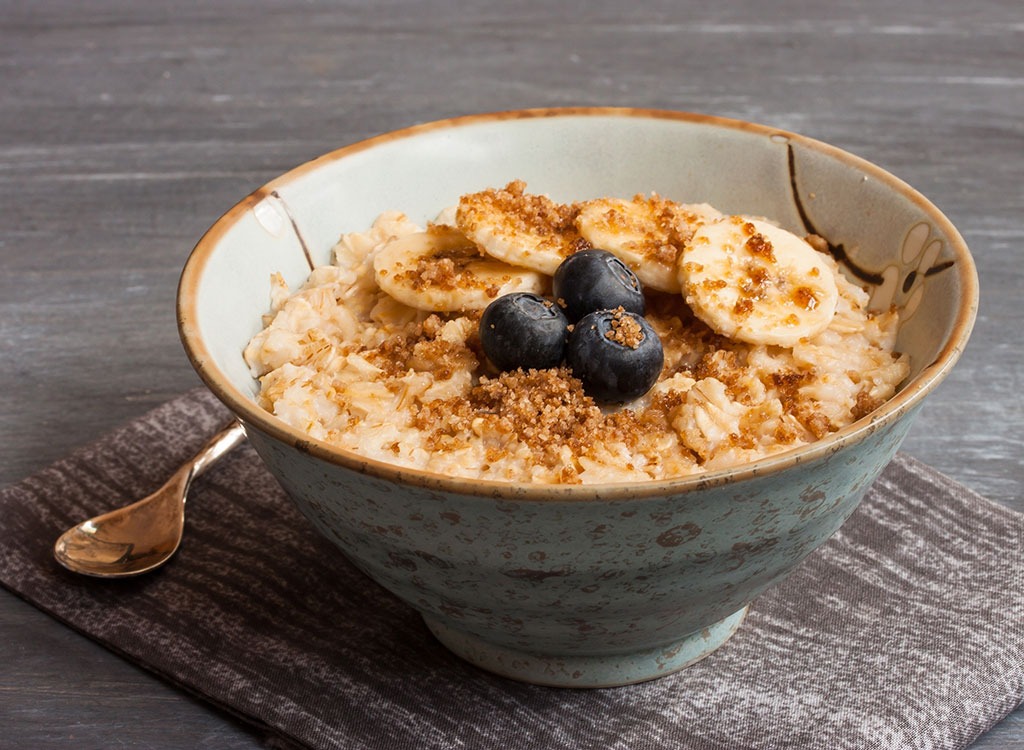 Another go-to for Goldberg: two eggs with oatmeal or hot cereal and blueberries. "I recommend Earnest Eats Hot Cereal or Brother's All Natural Oatmeal Cups for my clients and I suggest topping it with half cup cottage cheese, half cup fresh berries and enjoying it with a whole wheat English muffin."
Ricotta and Smoked Salmon Sourdough Toast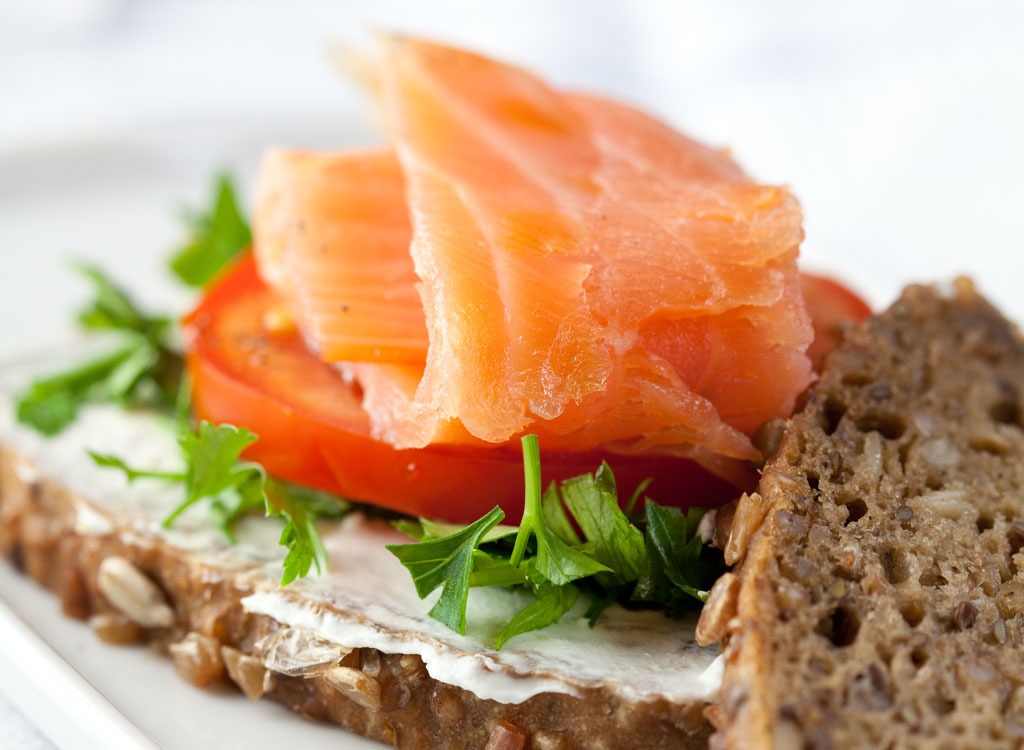 If you're looking for something that feels decadent but is actually good for you, opt for this combo served as an open-faced sandwich. (Or if you plan on having a late lunch, try a full on sandwich.) "The fermented sourdough provides gut-loving probiotics and the smoked salmon and egg help start your day with a healthy dose of protein and omega-3 fatty acids to help fight inflammation and prevent the risk of muscle injuries," says Scritchfield.
Overnight Oats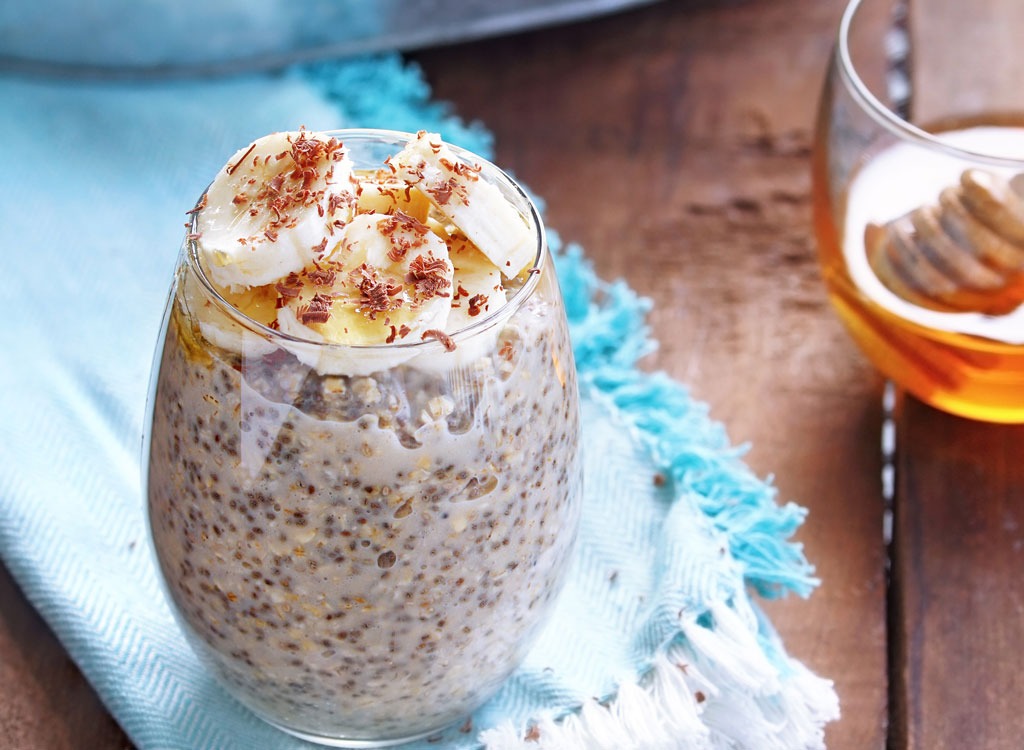 This breakfast literally "cooks" itself while you sleep. Before you go to bed, soak one-fourth cup raw rolled oats in half cup unsweetened almond milk and refrigerate. While the basic combo is just fine, you can get creative and add in some warming spices like cinnamon, ginger and nutmeg, which provide antioxidants. Scritchfield then suggests topping your oats with a scoop of nuts or seeds for some healthy fats and some fruit for natural sweetness. Get plenty of ideas with our list of 50 Best Overnight Oats Recipes for Weight Loss!
What To Eat When Breaking For Lunch
Toast And Guac
When you need something you can easily eat on-the-go, try a slice of toast whole grain bread that's topped with one-fourth cup guacamole, three ounces of organic turkey or chicken, sliced tomatoes, and onions. Fold it in half. "This combination is ideal because it offers carbohydrates to help replace what was lost during the morning on the slopes and protein to help rebuild and repair muscles," says Schmitt.
Tuna Wrap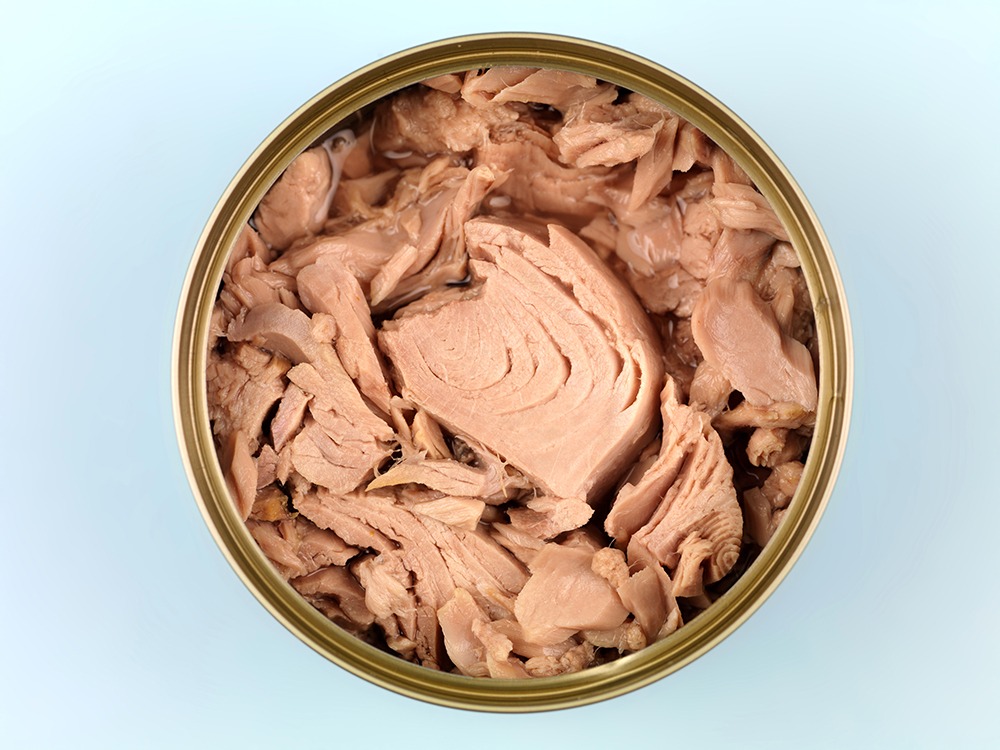 Consider opting for a tuna wrap (with a wheat tortilla) with kiwifruit, lettuce and feta cheese. If that's not enough you can "boost" it with an apple and peanut butter. "This wrap is tangy, sweet and crunchy. The kiwifruit adds a unique enzyme, actinidin, which aids in the digestion of the protein-rich tuna. If you're too full for the apple and peanut butter save it for your later afternoon snack."
Grilled Salmon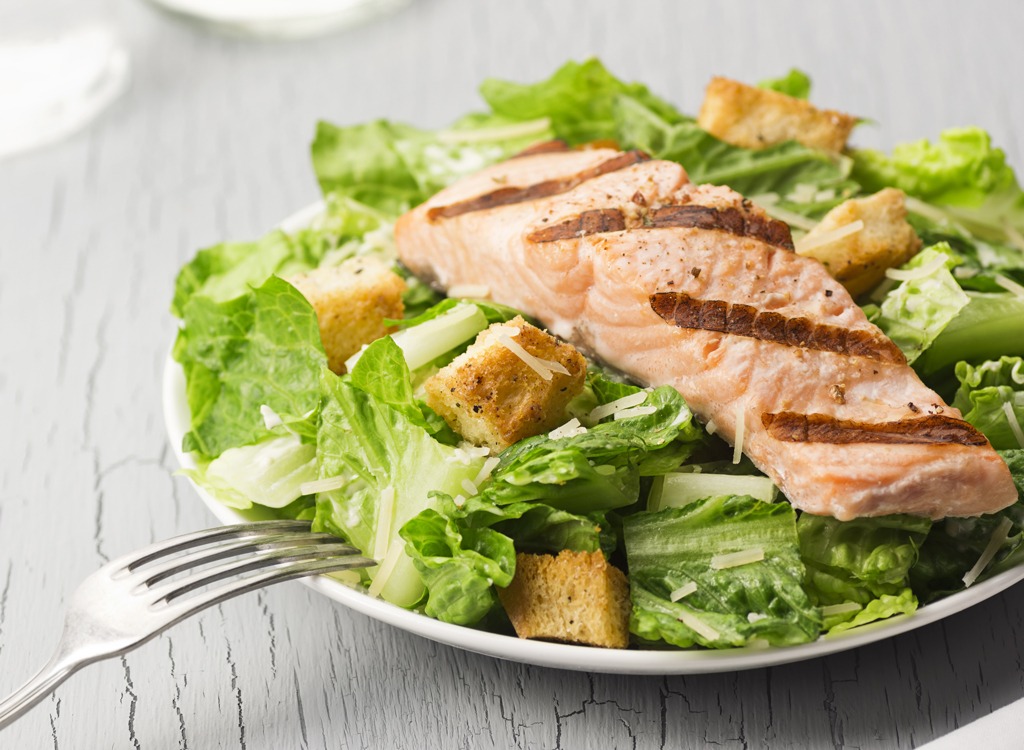 "For lunch, it's very important that you're going for something higher protein, higher in carbohydrates, and again low in fiber," says Goldberg. Grilled salmon with half cup rice or medium sweet potato and half cup vegetables is a great combination to help sustain the energy you'll need to tackle an active afternoon.
Veggie Chilli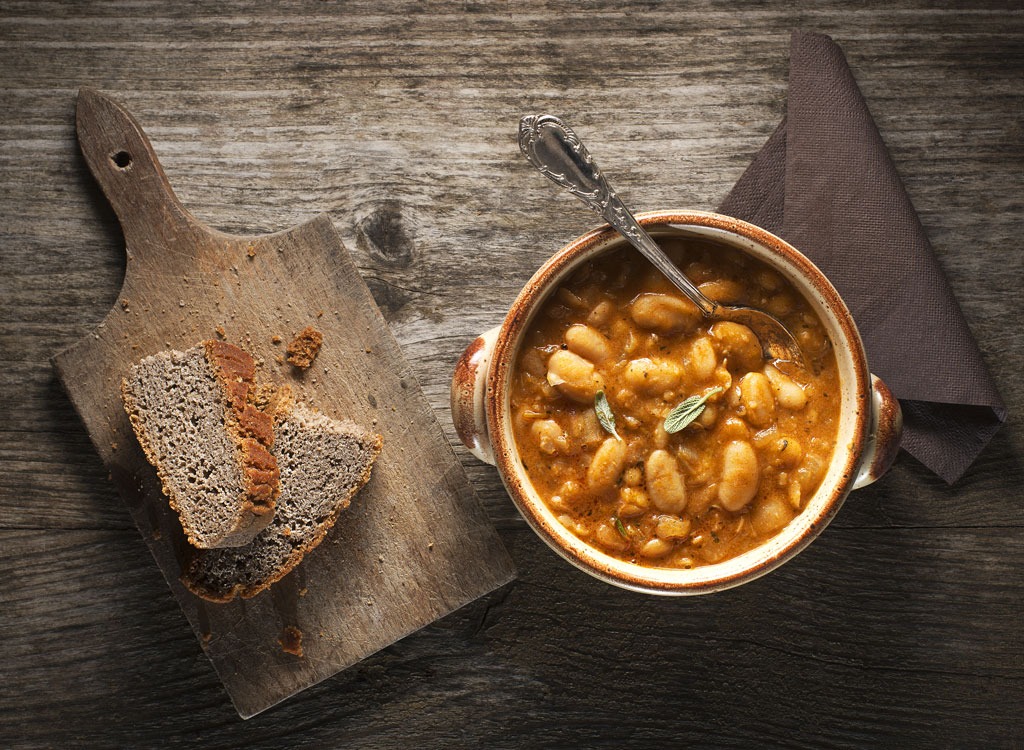 On a cold day, we all love something warm and hearty. Make a batch of hearty vegetarian chili ahead of time and pack with vegetables and beans. Enjoy it with some avocado, a great alternative to cheese which you'll want to avoid along with any high-fat food choices (which will make you feel sluggish). "What I love about veggie chili is that the incredible flavor comes from basic pantry items and this dish packs protein," says Scritchfield. Jazz it up even more with these 14 Best Chili Toppings for Weight Loss.
Sides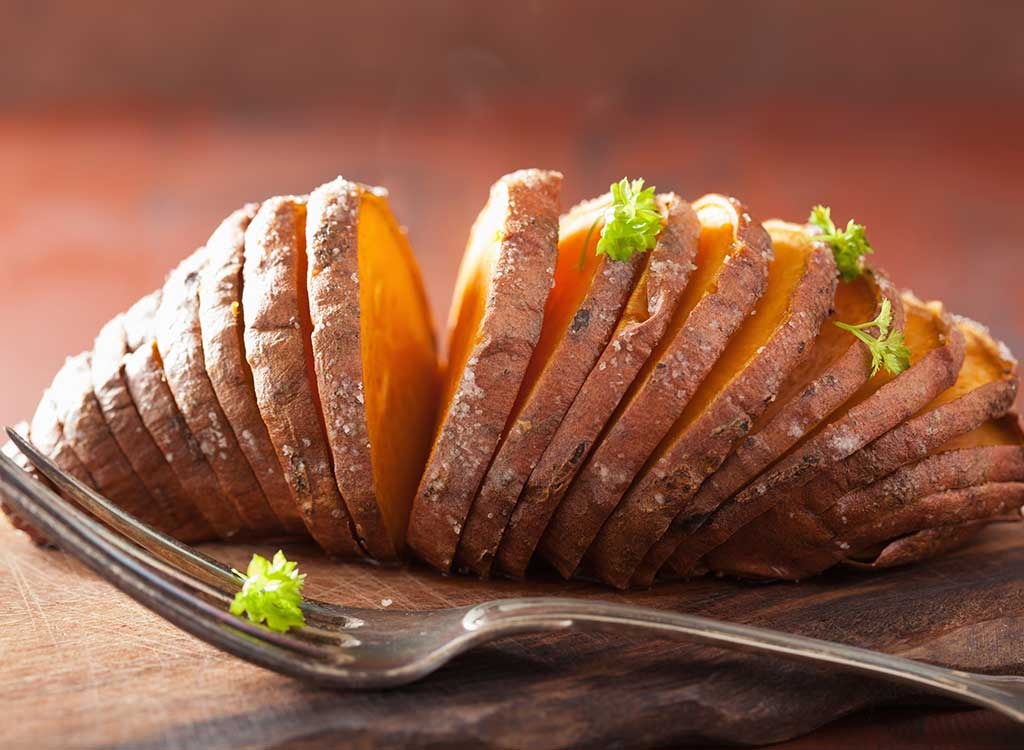 If you want to boost your meal, opt for a side. Fried foods tend to be the most popular at ski resorts, but you should swap out fries or coleslaw for a baked sweet potato, side salad, or steamed vegetables. "This swap provides extra vitamins and minerals to help keep energy levels up and your snowboarding form in peak condition," says Goldberg.
What To Eat When Having A Snack
Food Bars
"Snacks during skiing or shredding should be portable, durable—so they won't crumble during a rough fall—and high in protein to keep your body full and energized," says Goldberg. She recommends Apple Cinnamon, Mint Chocolate, or Pumpkin Spice RXBARS because they're made with a short list of pure, recognizable ingredients—no filler, chemicals, preservatives or additives. The Eat This, Not That! team recently sampled all the RXBARS flavors and were big fans, too!
Almond Butter Packet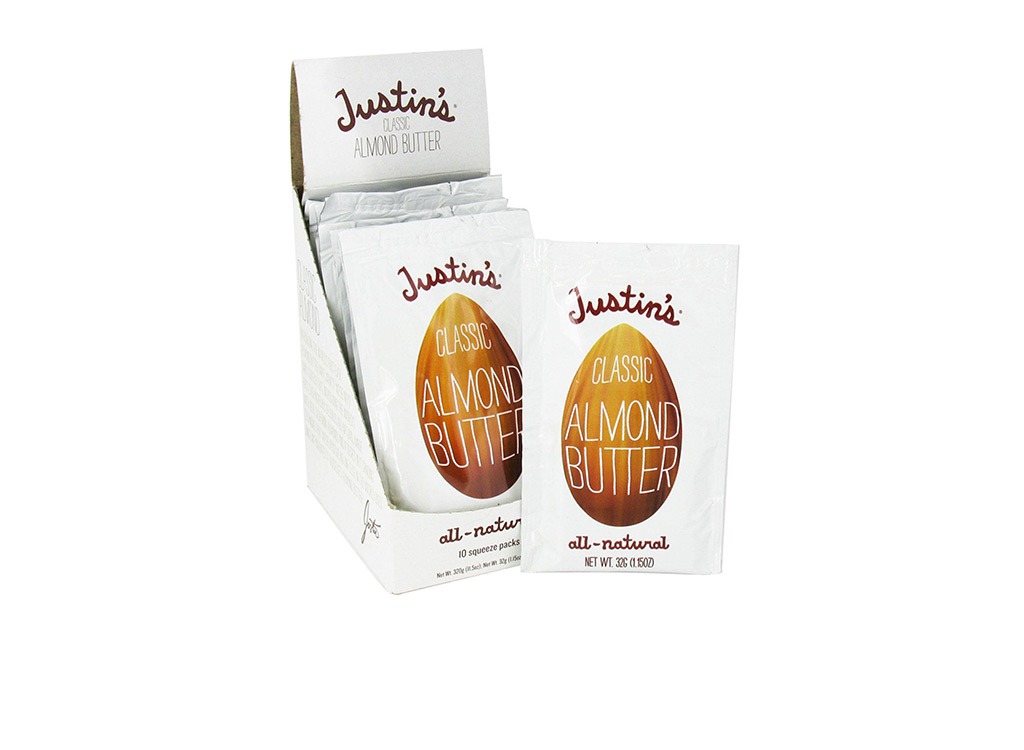 Pack one almond butter packet (like Justin's) in your pocket. "These packets are energy and nutrient-dense, which means that they pack in a lot of nutrition for not a lot of space in your ski jacket or backpack," says Schmitt. "Plus, they contain carbohydrates for quick fuel and protein to help rebuild and repair muscle, and to help keep you full until dinnertime."
Trail Mix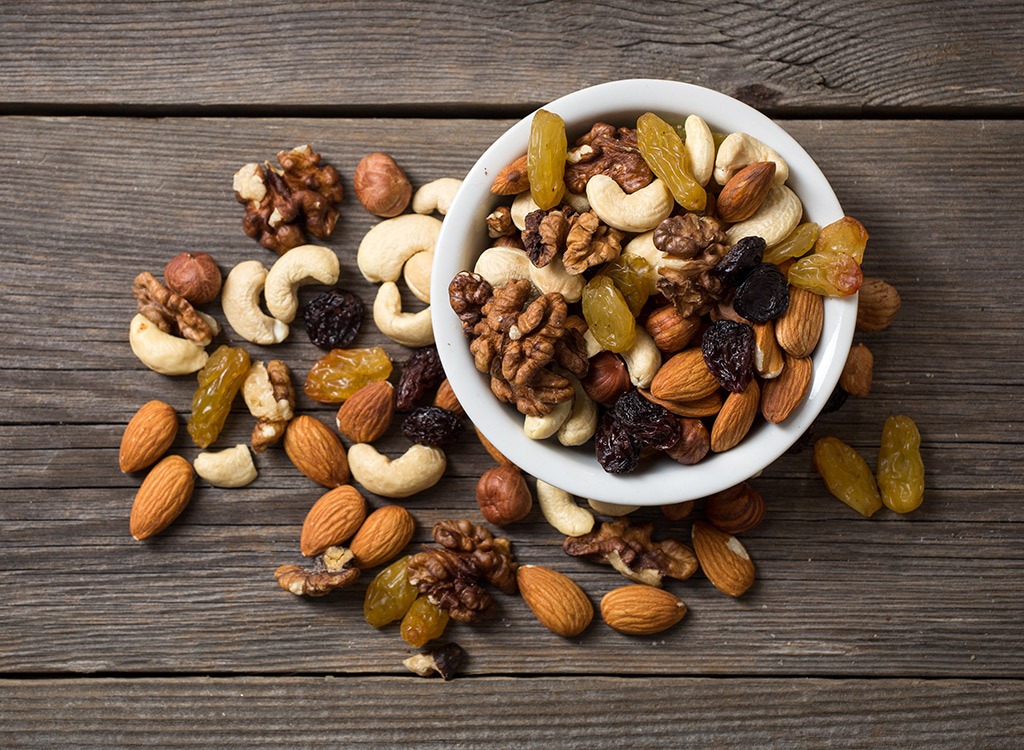 Fruit and nut trail mixes are a pocket-friendly snack that you can keep handy in your snow gear and nibble on while you're on the lift. "It's light-weight and nutrient-dense, well balanced with carbs, protein, fat and fiber, and will replenish your muscles," says Scritchfield. Just make sure that you make or pick the real stuff—not the kind that has a bunch of candy in it.
Jerky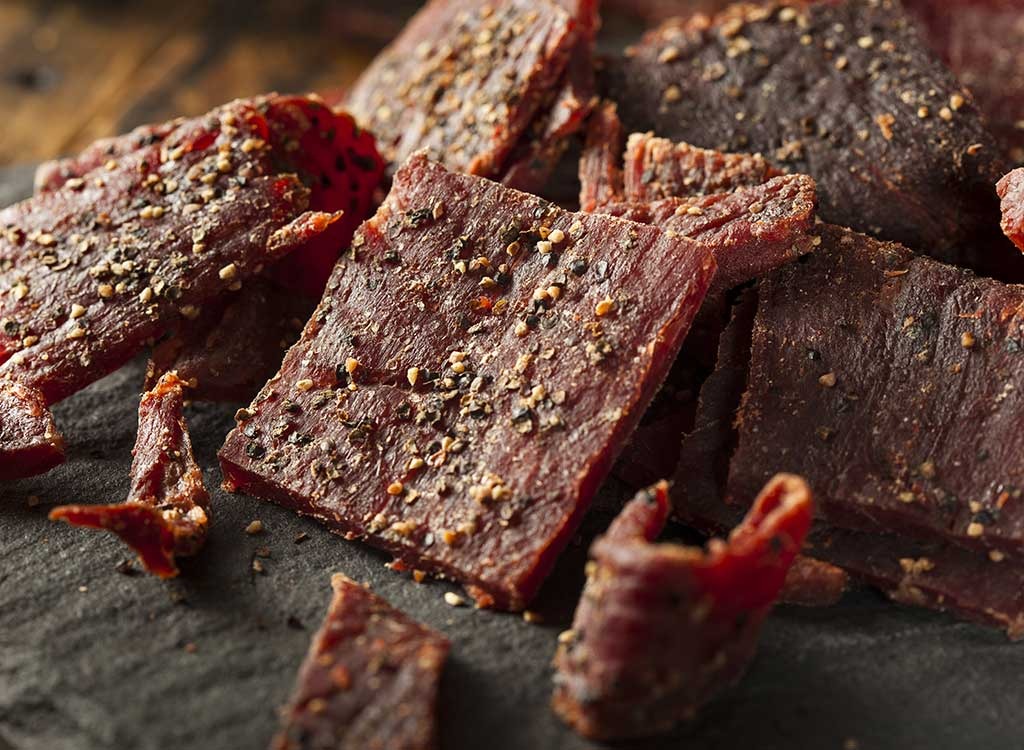 Another snack that comes highly recommended by Scritchfield is jerky. "An average serving of jerky provides 9 grams of protein and is an excellent source of tryptophan, a precursor for serotonin, which helps regulate appetite, sleep and mood." Jerky is also a rising food trend, which is why we took a ton of 'em into our Eat This, Not That! lab and figured out The Best and Worst Beef Jerky—Ranked!
What To Eat At Night At The Cozy Ski Lodge
Grilled Steak, Brussels Sprouts and Sweet Potatoes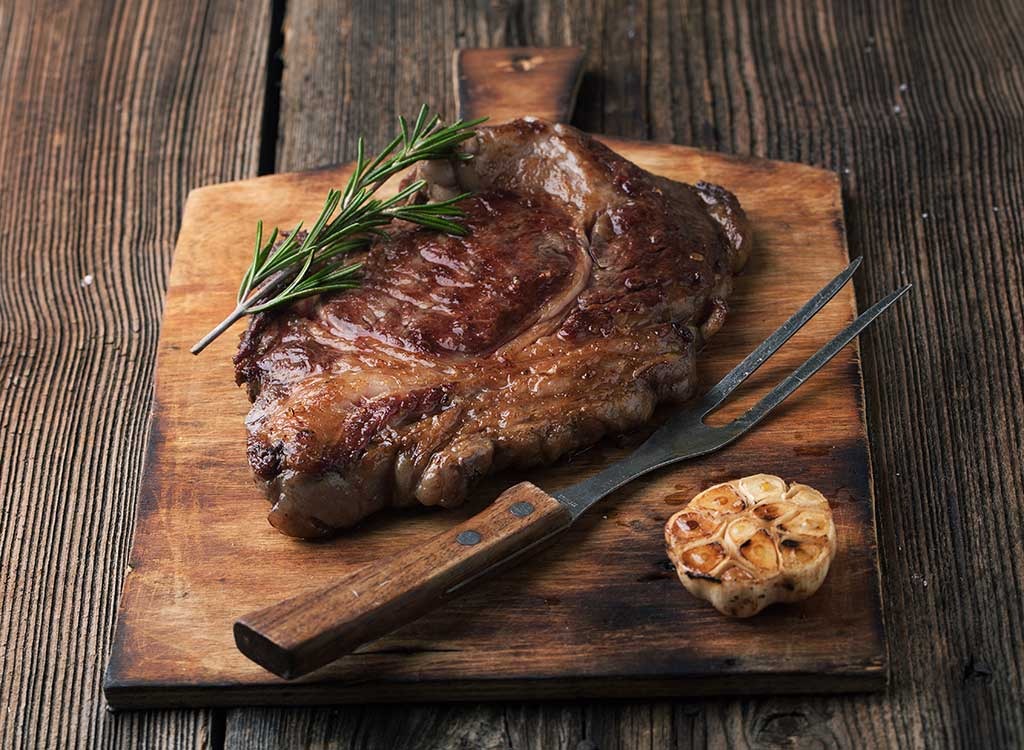 Roast away the winter with this hearty combination of lean protein and seasonal veggies. "Steak is a great source of zinc, a key mineral in keeping the immune system healthy to ward off winter colds," says Scritchfield. Brussels sprouts are good sources of choline, a building block of memory and master of metabolism, and Scritchfield likes sweet potatoes because they boast a wealth of antioxidant-rich vitamin A, which aids in a glowing complexion.
Homemade Pizza and Salad
6254a4d1642c605c54bf1cab17d50f1e
This is a great dinner idea if you are vacationing with multiple families and children. Scritchfield suggests buying pre-made whole wheat dough. Instead of opting for fatty cheese, choose fresh, flavorful whole tomatoes, mushrooms, arugula and some lean protein like salmon or chicken. Let people get creative and assemble their own combinations! Do remember, however, that it's important to avoid high fat items (like the aforementioned cheese) since they take time to digest and may upset your stomach when you wake the next morning before skiing. Avocado, while not commonly found on pizza, is actually a great creamy cheese substitute.
Black Bean Soup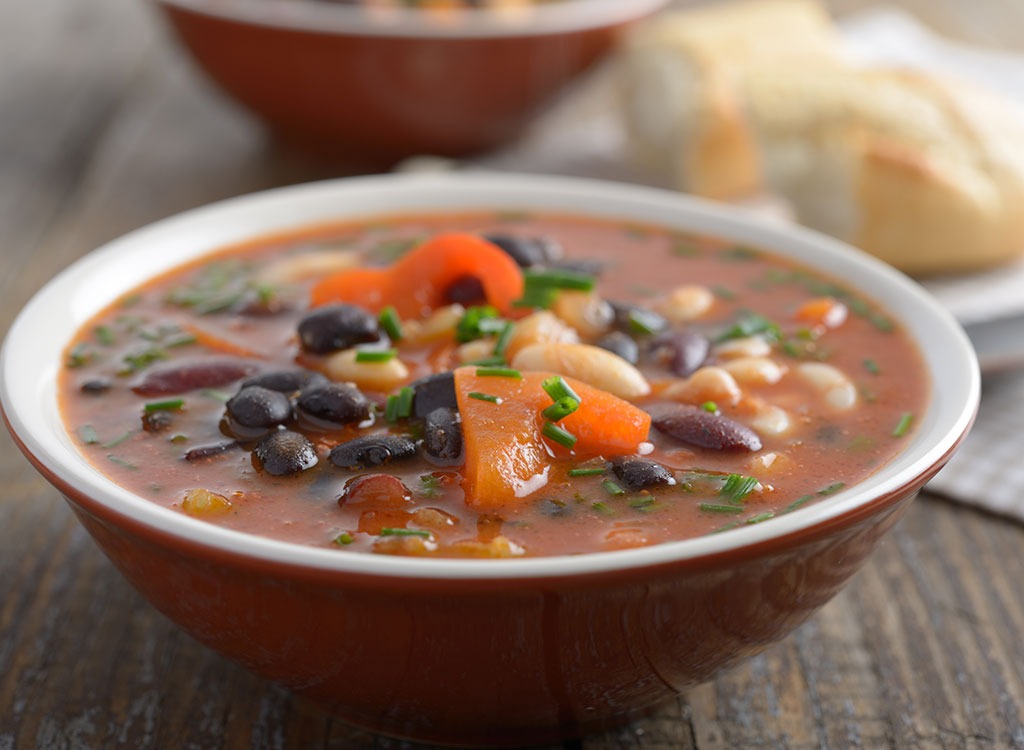 Enjoy one cup of black bean soup topped with fresh salsa and half of an avocado. "This choice offers a healthy amount of carbohydrates, proteins, and healthy fats to replace the fuel that was used during your day on the slopes. Plus, they'll to help repair damaged muscle tissue and to provide essential fatty acids," says Schmitt.
Salmon and Veggies
Another well balanced carb-protein-fat option, according to Schmitt, is a salmon filet served with half a sweet potato or half cup quinoa, plus unlimited vegetables. Avoid sauces, which are almost always full of unnecessary calories and salt (and make you bloat!), and instead top your protein with lemon or lime. (Psst! Check out these 25 Best Foods to Beat Bloat if you're feeling a bit puffed up.)
Alcohol Swaps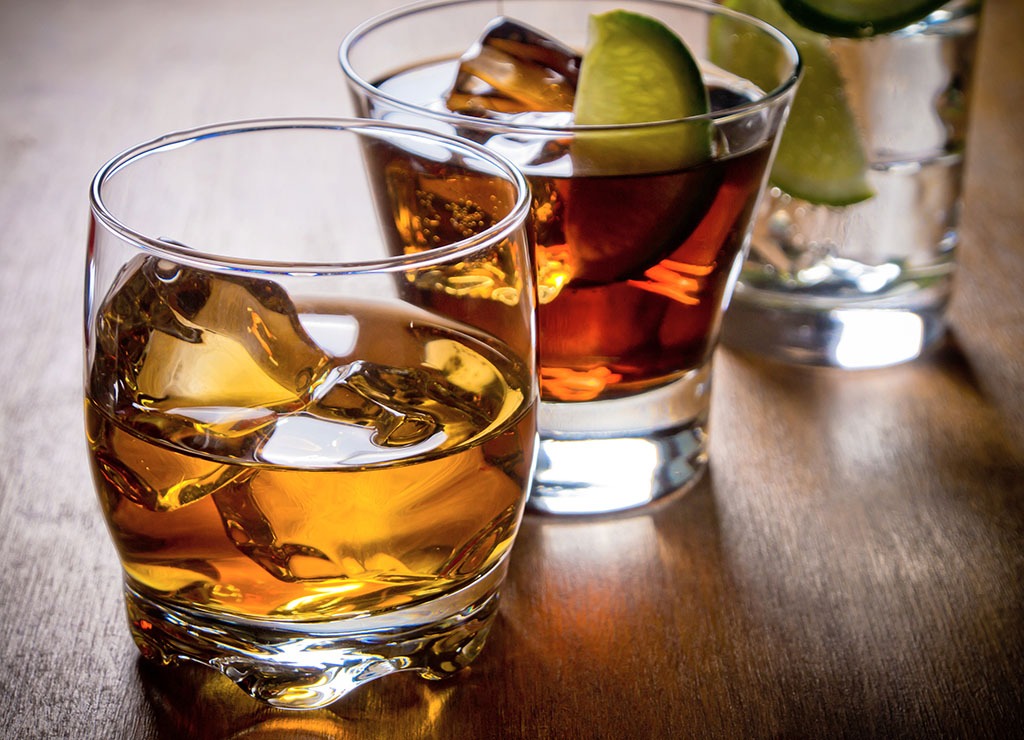 We probably don't need to tell you this, but consuming alcohol in moderation is key for your health, safety and waistline since alcoholic drinks are devoid of nutritional value and usually high in calories. The Academy of Nutrition and Dietetics recommends a limit of one drink per day for women, two drinks per day for men (standard drink size: 12 oz beer, 5 oz wine, 1.5 oz liquor). Remember to also limit soda or juice mixers and choose soda water instead. "If you must consume a drink, opt for light beer in place of dark beer (typically lower in carbs and calories), vodka soda in place of vodka cranberry (lower in sugar and calories) and red wine in place of sangria (lower in sugar)," says Goldberg. If available, she also suggests kombucha, which is very low in alcohol content and provides probiotics to support healthy digestion and gut health.
Creamy Drink Swaps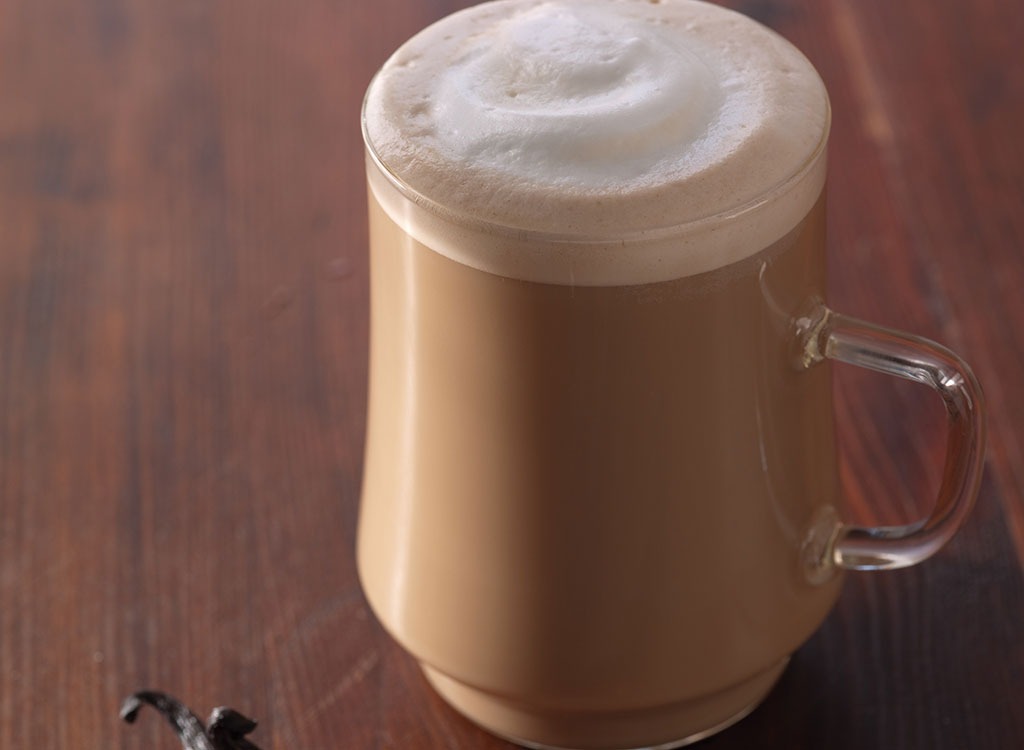 We love hot chocolate, but the calories and fat content can add up fast. For creamy drinks like hot chocolate, Goldberg recommends substituting full-fat milk or heavy cream for a non-dairy, no sugar added alternative like almond milk. This will decrease calories, fat and sugar. If you must sweeten your cup, she suggests opting for raw honey, which provides a boost (albeit a small one—it's still sugar!) of vitamins and minerals.
BONUS TIP: Hydrate—Constantly!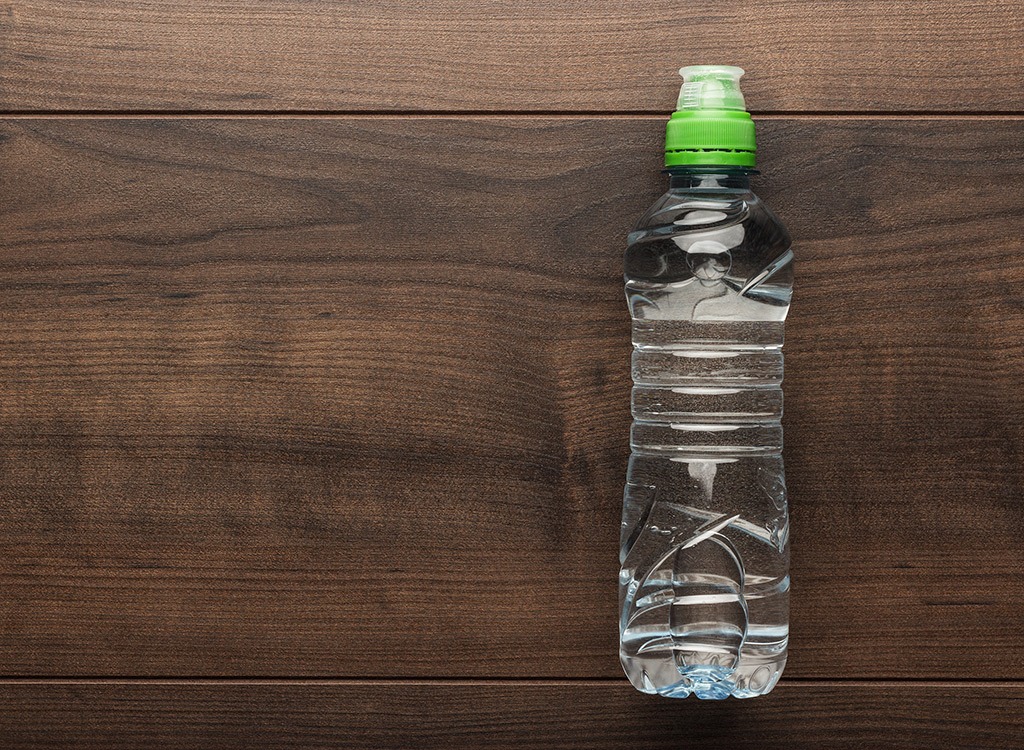 Water, water, water! It's imperative to rehydrate your body throughout the day, especially when you're partaking in a long day of exercise. Even if you don't feel like you're sweating (because it's cold!), you're still losing water. In fact, being at a higher altitude causes your body to dehydrate more quickly. You don't want to risk headaches or dizzy spells. When possible, stick with water or tea and avoid any and all fruit juices or sweetened teas and sodas. Speaking of soda, skip these 70 Popular Sodas—Ranked by How Toxic They Are!