The 20 Best Chili Toppings for Weight Loss
Sprinkle on these nutrient powerhouses next time you cook up a batch of savory, satisfying chili.
Ah, chili season is upon us. Cooler temps mean two things: more football games and more chili. (Okay, it also means we finally need to retire our denim jacket for the season.) But many chili toppings can be a serious landmine for your slim-down efforts. Read on to find the best chili toppings for a waistline-friendly bowl (we love #5!) and stir up a giant vat of any of these 20 Healthy Chili Recipes for a nourishing and satisfying cold-weather dinner tonight!
Avocado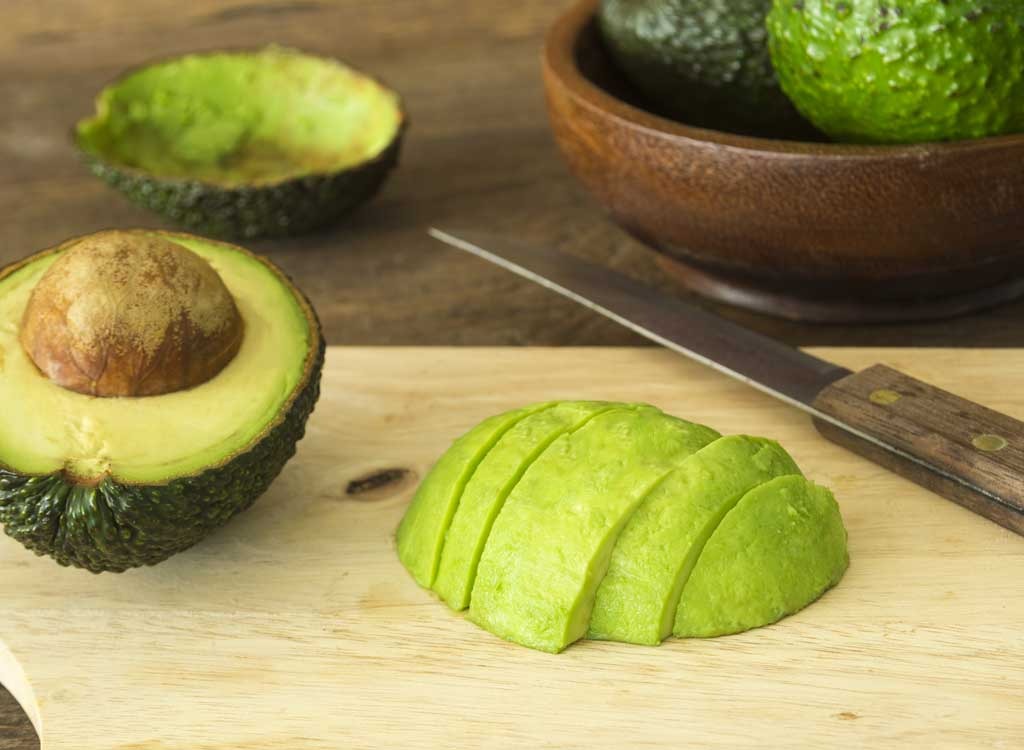 Delicious on just about anything, avocado is a great chili topper. "It's like having guacamole on top of your chili! Avocados' creamy texture makes it appealing and adds a nice dose of a heart-healthy fat," says Lisa Hayim, registered dietician and founder of The WellNecessities. Avocados are also a good source of dietary fiber, vitamin E, potassium, and more.
Pro Tip: "Squeeze lemon on lime on top of fresh avocado to delay the browning," offers Hayim. And Rebecca Scritchfield, author of Body Kindness offers a smart idea to speed up ripening: "Place it in a paper bag with an apple; the green skin will turn black and the fruit will begin to soften." Speaking of hacks, don't miss these 1-Minute Dinner Hacks That Save Tons of Time.
Cilantro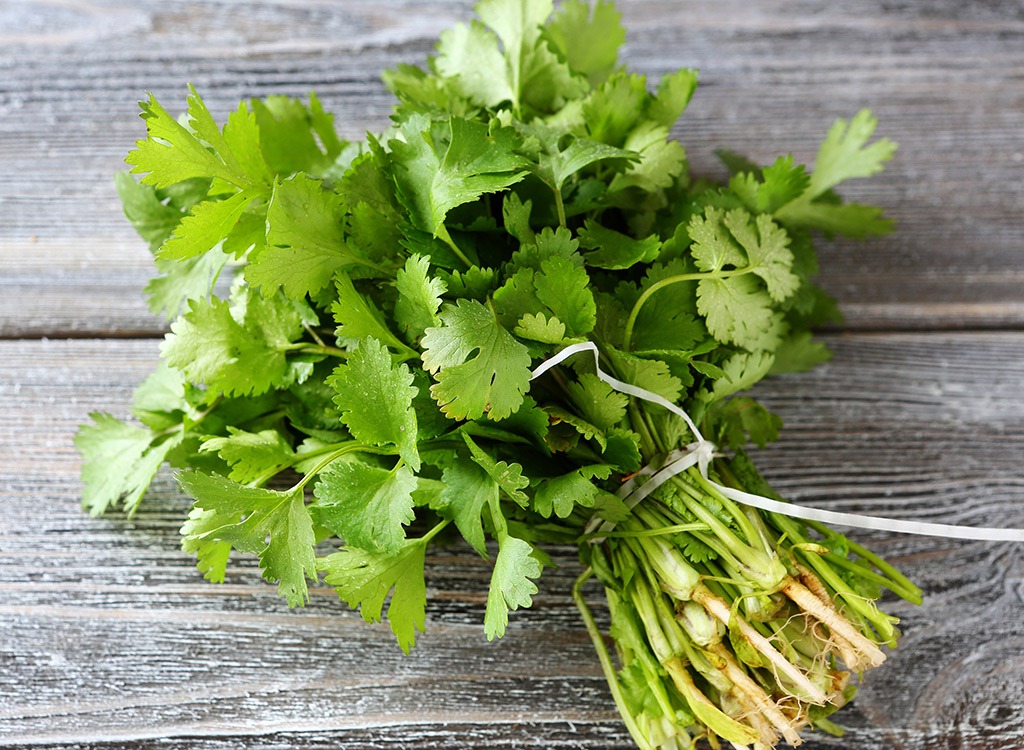 More than just a garnish, cilantro adds zest to your chili while being practically calorie-free. "Aside from being packed with antioxidants, cilantro also contains potassium, which can help restore normal hydration status and flush bloat to create water weight loss," say The Nutrition Twins, Lyssie Lakatos, RDN, CDN, CFT and Tammy Lakatos Shames, RDN, CDN, CFT, and authors of The Nutrition Twins' Veggie Cure.
Pro Tip: "If you feel a cold coming on, use a heavy hand when adding the cilantro. It's rich in vitamin C and can help to boost immunity," The Nutrition Twins tell us. Nice!
Scallions or Shallots
"Add in extra crunch and texture," says Rebecca Lewis, RD for HelloFresh, a leading healthy meal kit delivery service. "These sulphur-containing vegetables also help provide protection for your heart and blood vessels."
Pro Tip: Before you reach for the tortilla tips for that crunch you crave, heed this: "Be aware that the extra crunch comes with a cost," Lewis warns. "It is often a high amount of sodium and calories!" Swapping these carby add-ins for scallions or shallots is your best bet.
Olives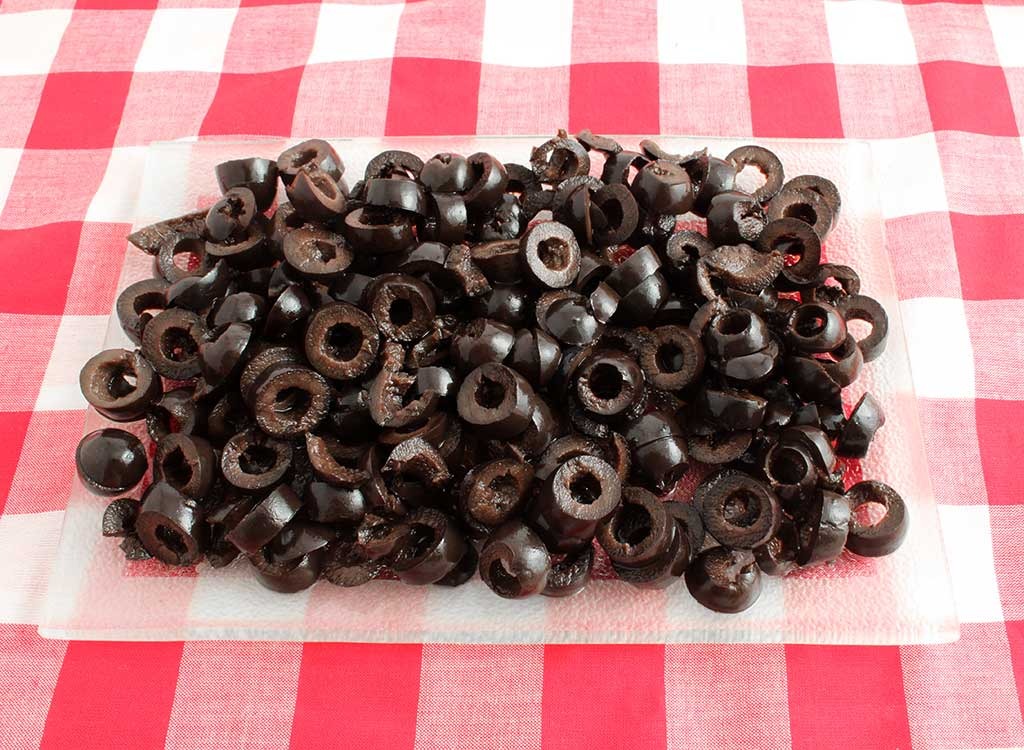 Bring on the brine! "The salty flavor of olives pairs deliciously with chili. They're also a healthy source of fat and powerful antioxidants," says Hayim. Did we mention they taste good in just about any entrée? Um, and that they are apparently one of the 15 Pantry Staples That Don't Go Bad for Years?!
Pro Tip: "Choose black olives, which contain about half the amount of sodium of green olives," says Hayim. You can also try rinsing your olives briefly under water before adding them to a dish to remove even more excess salt.
Radishes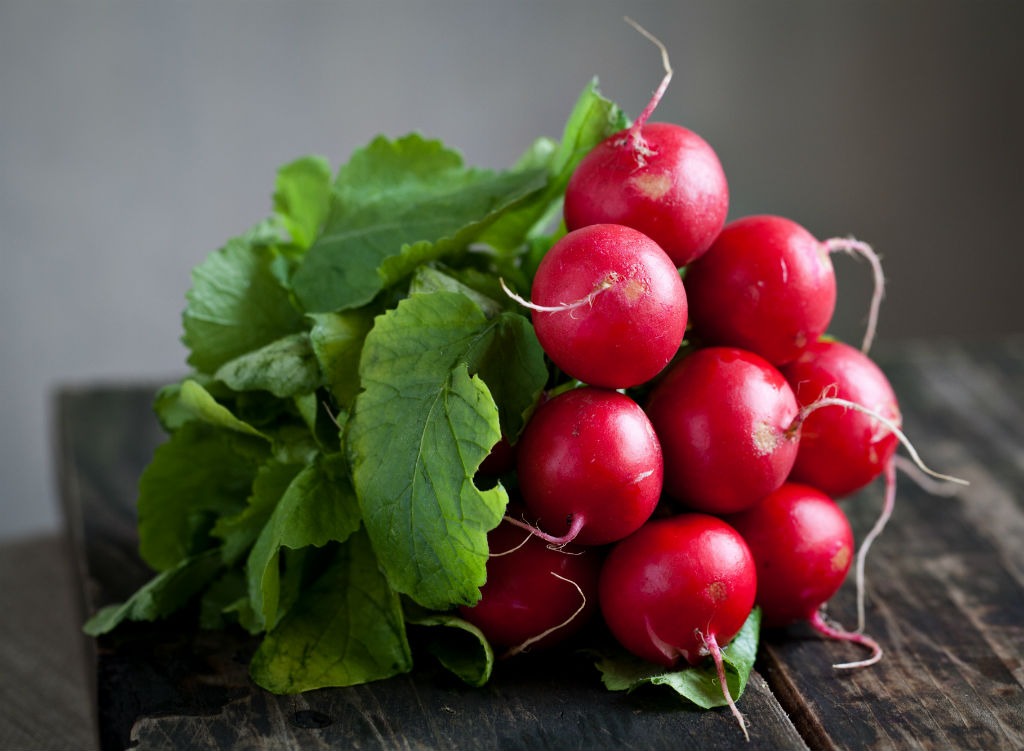 "Like your heat a little on the milder side? Try sliced radishes," offers Lewis. "They give peppery flavor and a boost of vitamin C."
Pro Tip: For an eye-popping visual effect, slice your radishes on a mandolin for gorgeous, thin rounds to place on top of your chili bowl.
Greek Yogurt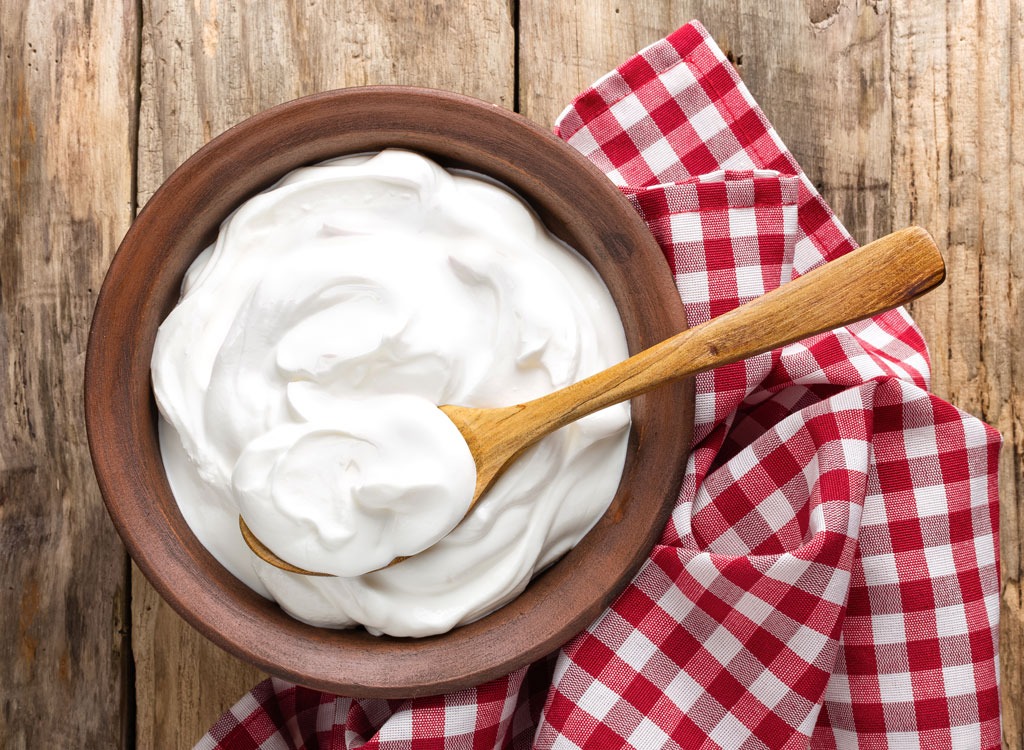 Is there anything Greek yogurt doesn't go with? "It's tangy, creamy, and thick, which won't have you missing the sour cream or cheese. Plus, it packs a bigger protein punch than either of those other options," offers Scritchfield. Look for unsweetened, plain varieties or try the low-cal Chobani Savor.
Pro Tip: "Add fresh oregano or chives to a dollop of yogurt for added savory flavor and antioxidants," adds Scritchfield. Bonus: Your chili-gram just got even prettier.
Lime Wedge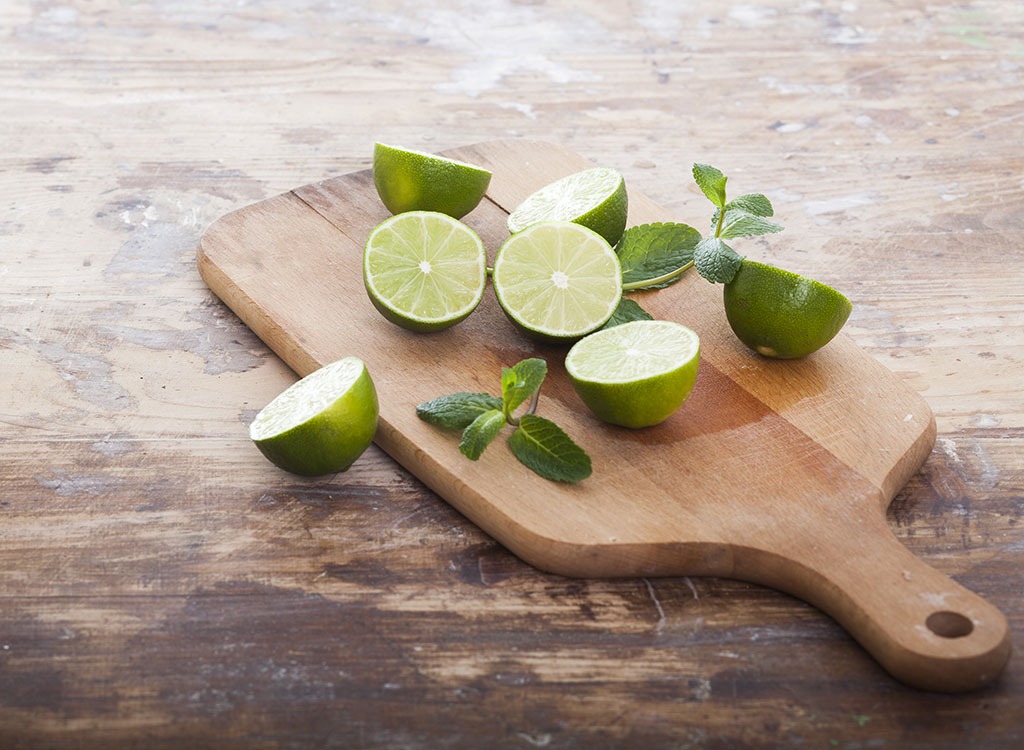 Perfect for weight loss, lime adds flavor while putting out the fire. "It's virtually calorie-free, and this flavorful addition balances out some of the heat in the chili with its acid," explain The Nutrition Twins. "Limes contain a compound called d-limonene that promotes the activity of a liver enzyme that converts harmful, toxic substances to less harsh chemicals. This helps your body ditch some of the damaging particles that often come with the Super Bowl or other chili-fests." Even better: "Limes are packed with potent antioxidants, including vitamin C, which mops up free radicals from environmental toxins, stress, alcohol, and fatty foods to help prevent them from damaging your body," add The Nutrition Twins.
Pro Tip: "Don't be shy! Allow the entire lime—including the (washed) peel—to sit on top of the chili," instruct The Nutrition Twins. "In fact, the highest content of limonene is found in the white spongy inner parts and then in the rind, so allowing it to steep on top of the chili will help you reap the greatest benefits." Use any leftover lime wedges for vinaigrettes or to squeeze over proteins like fish or tofu for a hit of bright, citrusy flavor.
Nutritional Yeast
'Tis the season to be all about that "nooch," as plant-based eaters call the potent powder. "If you love your chili with cheese, sprinkle nutritional yeast flakes or powder on your chili. Cheese is calorie-dense and can contribute to weight gain whereas two tablespoons of nutritional yeast have 45-60 calories and eight grams of protein. Plus, the flavor goes really far. It has a nutty, cheesy flavor and many vegans and those who avoid dairy use it as a cheese substitute," say The Nutrition Twins.
Pro Tip: "Don't confuse nutritional yeast with brewer's yeast; they are very different and taste very different too!" exclaim The Nutrition Twins.
Hearts of Palm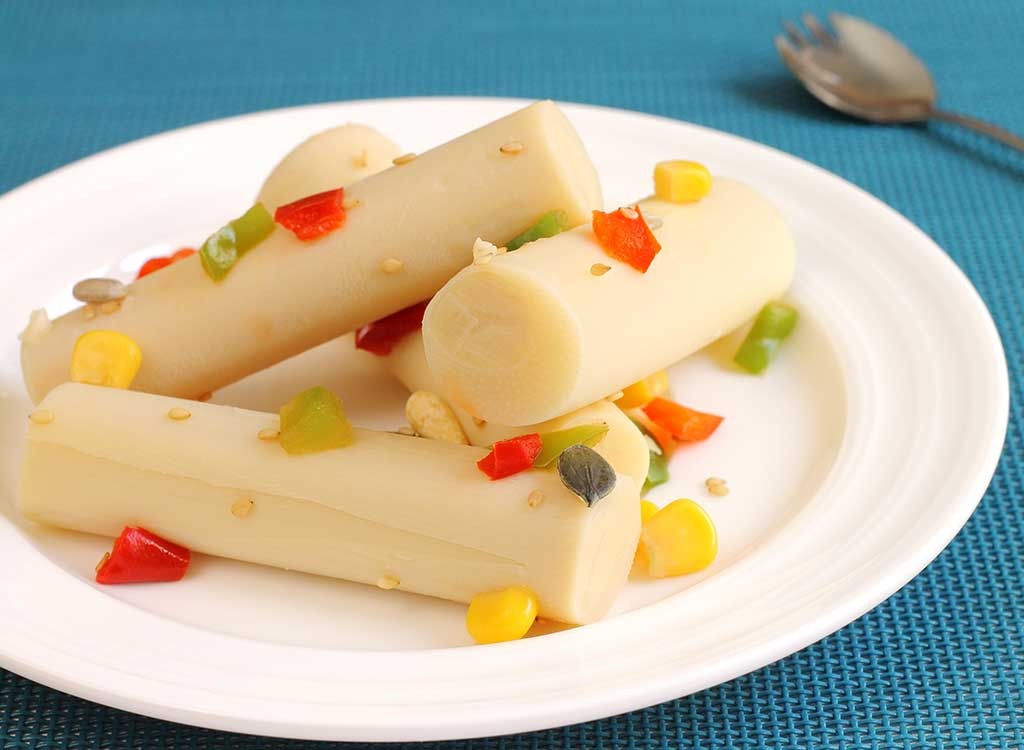 "Change it up by topping [your chili] with hearts of palm. Hearts of palm are easy to keep on-hand in the can and can be a great source of vitamins, iron, zinc, and phosphorus while having a low-calorie value," shares Hayim.
Pro Tip: This both-tender-and-crunchy ingredient also makes a great salad topping or chopped up into guacamole for a slightly acidic hit.
Kiwi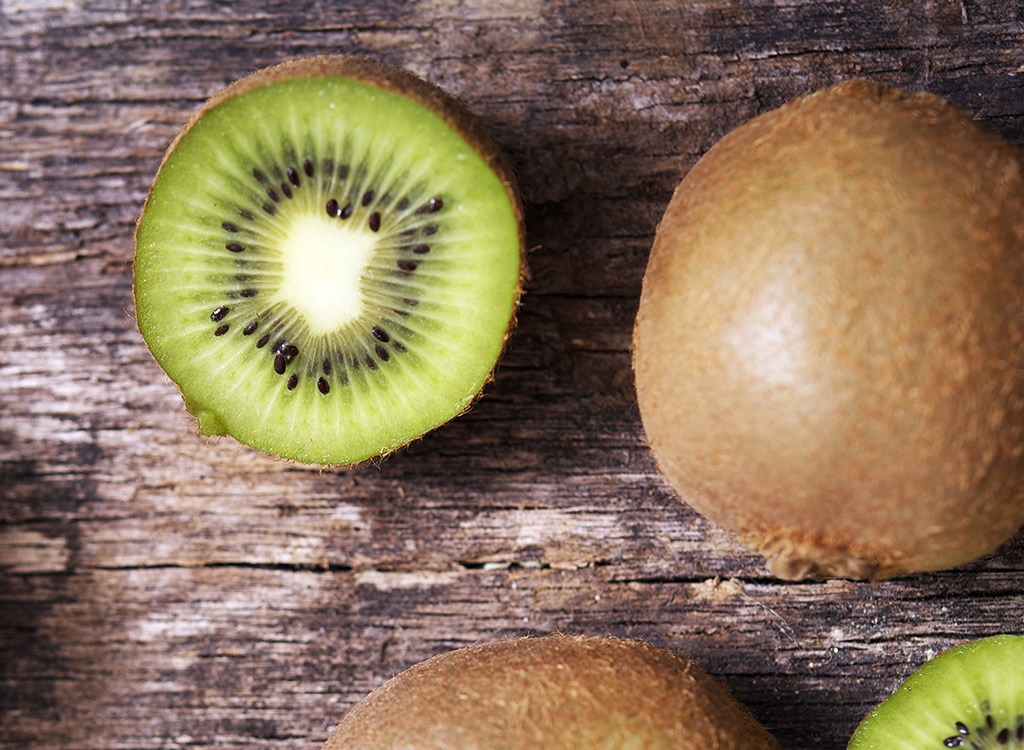 Chop some kiwi into your favorite salsa (think: onions, tomatoes, cilantro) for a sweet twist on a chili-topping classic. "The kiwifruit adds a unique enzyme, actinidin, which aids in the digestion of the protein-rich chili. Onions contain allicin, a powerful antioxidant and cilantro boast a heap of vitamin C," says Scritchfield. Got extra kiwi? Toss a few slices into one of these delectable detox water recipes!
Pro Tip: "Add a dash of cumin to this combo to help aid in the digestion of high-fiber chili," suggest Scritchfield. So smart!
Cumin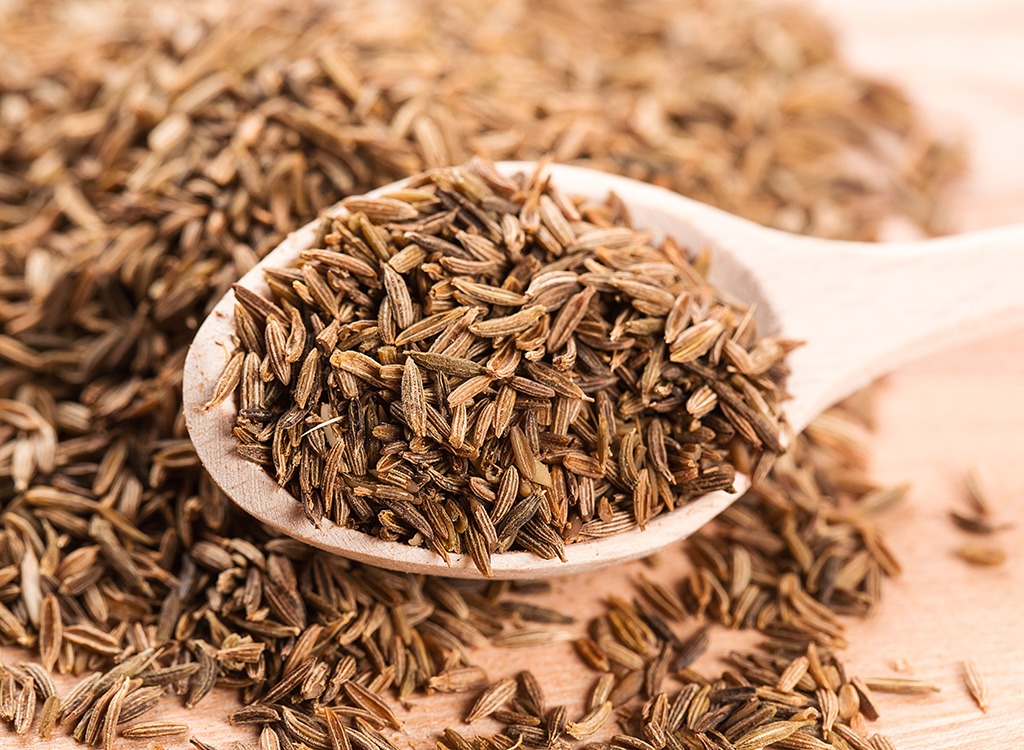 6254a4d1642c605c54bf1cab17d50f1e
Cumin is the cornerstone of many global cuisines such as Indian, African, and Mexican. Spice up your chili with this oft-forgotten spice that will endow your dinner with an aromatic kick that's both earthy and nutty. It works wonders in meaty chilis but also adds a deep flavor to root veggies in vegetarian stews.
Pro Tip: Go for ground cumin instead of whole seeds to ensure the flavor is dispersed throughout your pot.
Jicama, Lime, and Cayenne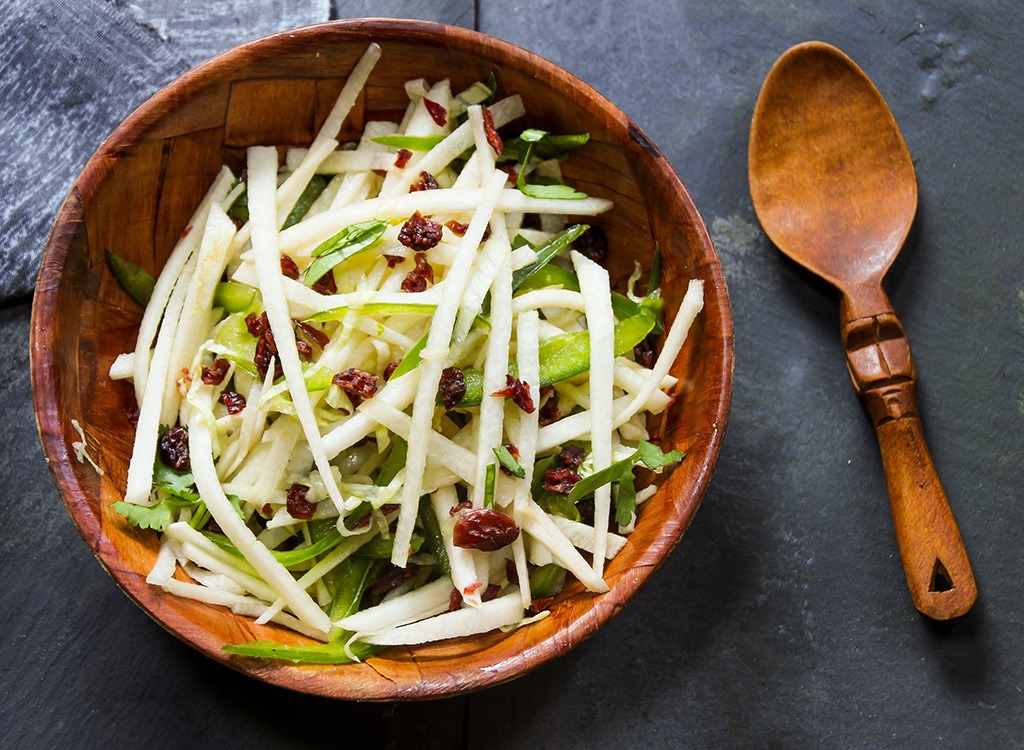 We know what you're thinking. But just trust Scritchfield on this one: "This trio adds crunch, heat, and tang. Jicama is very low in calories and known for its vitamin C content, boosting the immune system and helping to reduce inflammation. Lime is another great source of vitamin C, which also helps restore collagen for a youthful complexion." Cayenne also happens to be one of the healthiest spices on the planet!
Pro Tip: We know you're all about snow bunny daydreams and cozy holiday escapes this time of year, but keep this in your back pocket for warmer times ahead: "This combo also make a delicious snack for a hot summer day," says Scritchfield.
Basil
From green juices to pestos, this versatile herb is a favorite for good reason. "Top your chili with basil for some extra fresh flavor and color. It also just so happens to contain anti-inflammatory and antimicrobial properties," comments Hayim. Got some extra basil? Use it for a slimmed-down pasta dinner. (Um, yes, please!)
Pro Tip: Roll big leaves into a thin tube (like you would roll a burrito) and slice perpendicular to the way you rolled it to create gorgeous, thin ribbons chefs call "chiffonade."
Hot Peppers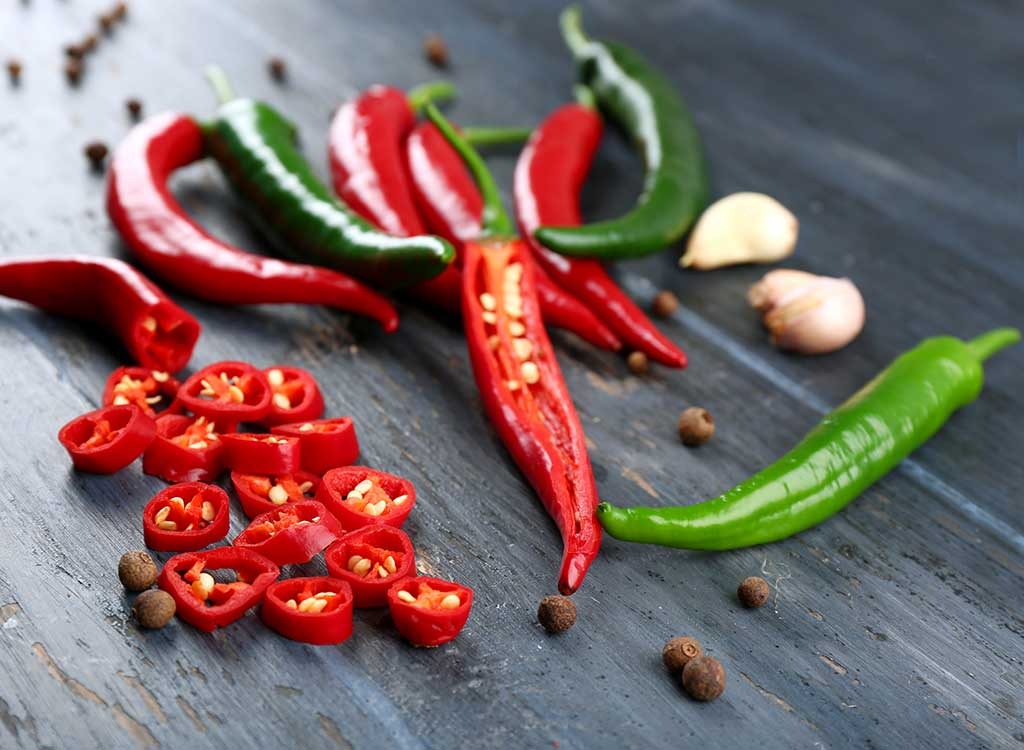 "Ultra-low in calories, hot peppers really add a major punch and kick up the flavor and the heat in chili. For many people, chili isn't chili without some heat," say The Nutrition Twins. "Hot peppers are packed with antioxidants and vitamin C, and they even slightly increase your metabolic rate, which is what anyone who is trying to lose weight dreams of."
Pro Tip: Experiment with dried ancho peppers or chipotle peppers (often sold in adobo), advise The Nutrition Twins. If you like a milder spice, try Anaheim peppers.
Turmeric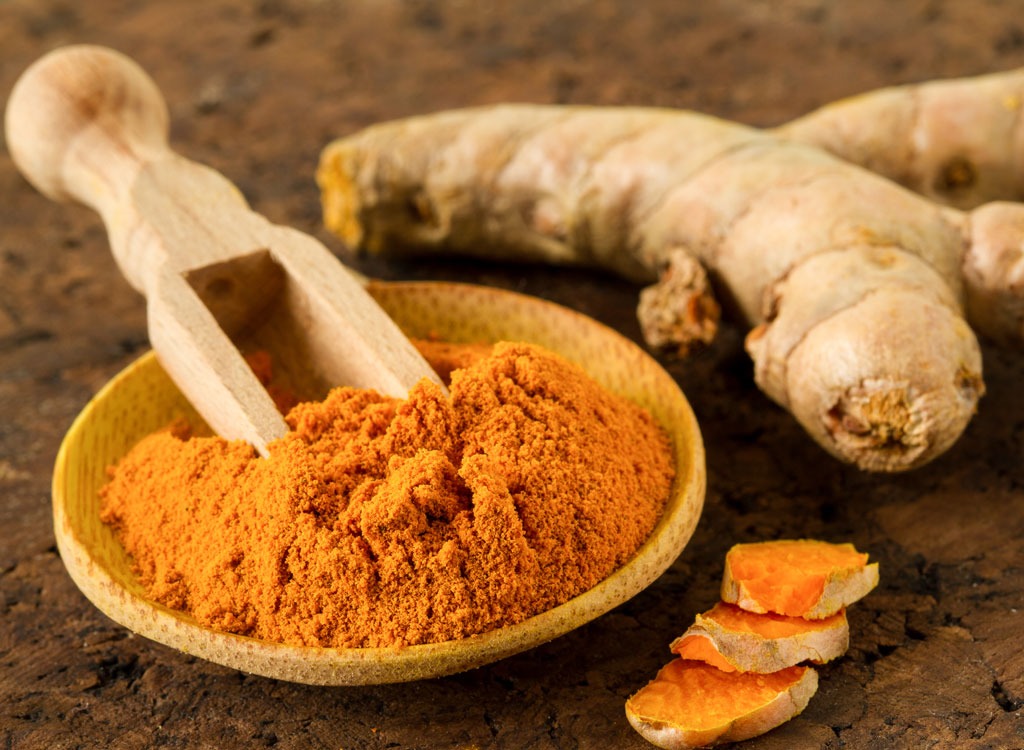 Not only will turmeric add a warm hue to your chili, but it will also lend the pot some seriously potent anti-inflammatory powers. Curcumin, the main antioxidant in turmeric, has been proven to help manage metabolic syndrome, arthritis, anxiety, and hyperlipidemia, according to a study in the journal Foods. The bright spice may also help minimize exercise-induced inflammation and muscle soreness, which means better post-workout recovery.
Pro Tip: Add a sprinkle or two of black pepper after shaking in the turmeric. The same Foods study found that adding pepper to curcumin increased the turmeric's bioavailability by 2,000 percent!
Garlic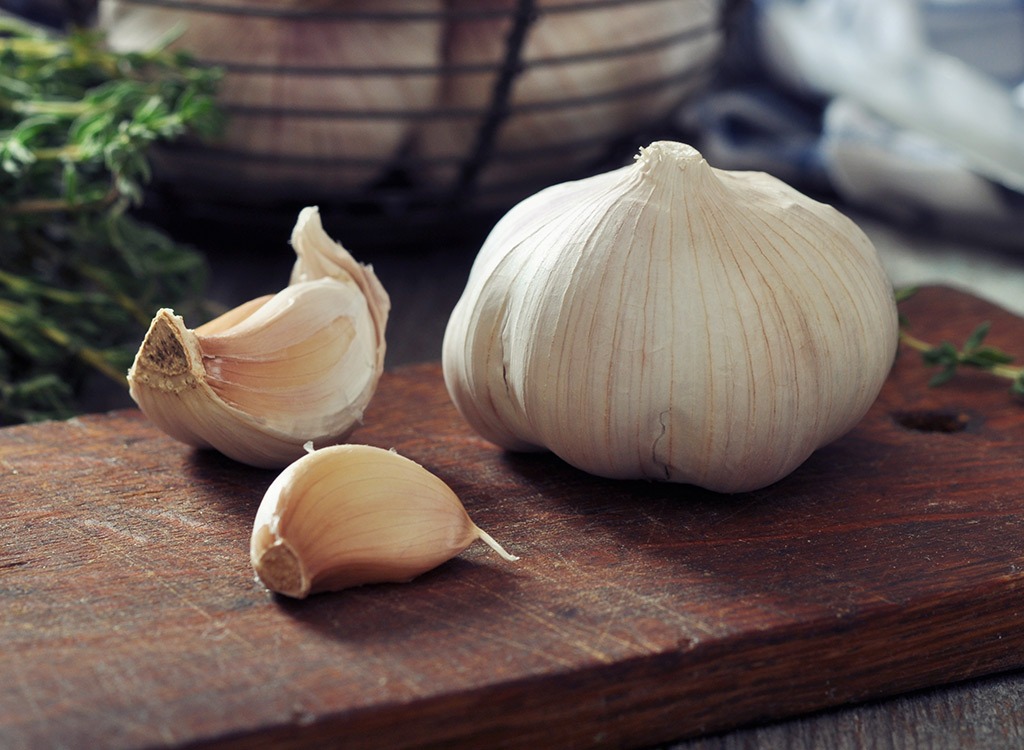 Garlic is one of the most versatile veggies you can cook with, and it works wonders in your chili. Add a clove of diced garlic to your Instant Pot for added flavor and zing. What's more, garlic is considered one of the several veggies that possess anti-cancer properties by The National Cancer Institute.
Pro Tip: Cooking garlic helps prevent the heartburn, breath odor, and upset stomach that's often associated with eating raw garlic.
Cocoa
Your favorite after-dinner treat can actually work some serious magic in your chili pot, too. If you're adding meat to your chili — think ground beef and chicken — sprinkling some real, unsweetened cocoa can make a world of a difference. Mexican dishes (like mole sauce) combine meat with chili to add a deeper flavor and more complexity to the protein-packed dish.
Pro Tip: Start out with one tablespoon of cocoa if it's your first time using the robust powder in cooking. You can always work your way up and adjust accordingly. Always opt for real, unsweetened cocoa.
Sweet Potato
Load your pot with major nutrients and succulent flavor! Sweet potatoes are jam-packed with skin-rejuvenating vitamin A, digestion-aiding fiber, and debloating potassium. If you usually add some honey or sugar, swapping these nonnutritive picks for a whole sweet potato will lend you that desired sweetness, plus plant-based vitamins and minerals. It'll also help thicken the stew so its heartier, creamier, and more satiating. Who doesn't want that?
Pro Tip: If you're looking to lower the carb count of your chili, try swapping your usual beans for some sweet potato. You can also pair the sweet tater with a smoky spice to boost its natural flavors.
Espresso
Much like cocoa, tossing ground espresso beans can lend your blend impeccable flavor. Coffee's earthy tones help balance the smokiness of the chili and even cut some of the grease if you're using ground red meats. Pair it with sweet potato and cacao for a truly memorable dish.
Pro Tip: If you're on the fence about using ground espresso, or if you think it's too strong for your palate, try adding a half cup of brewed coffee to the chili instead.
Diced Tomato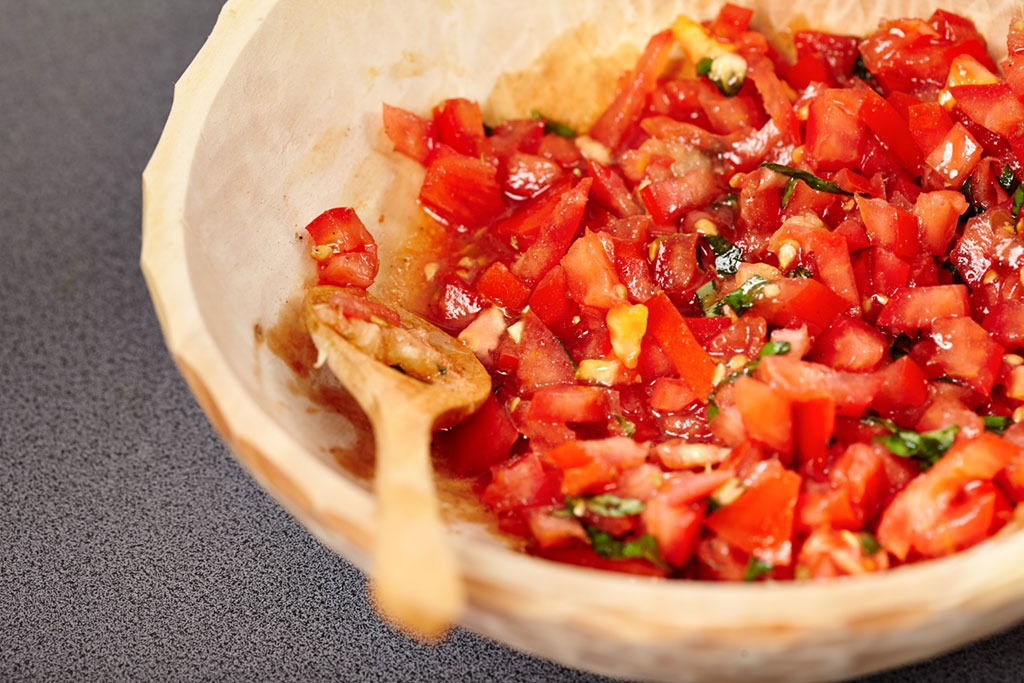 Tossing in some diced tomatoes is a refreshing and light way to balance out the spicy chili while still remaining low-calorie. "Packed with immune-boosting vitamin C and bloat-fighting potassium, this is the perfect anti-bloat substitution for salsa, which is packed with sodium," The Nutrition Twins say. If salsa is a must for you, though, make it from scratch so you can control how much salt is in the mix.
Pro Tip: Keep diced tomatoes chilled until just before adding to the top of your chili; they'll retain their vitamin C content and offer the ideal balance of cool to the hot dish. Plus, red is just the fiery color to heat up any photo for your Instagram feed.
PLUS: 7 of the worst chili toppings…
Hot Sauce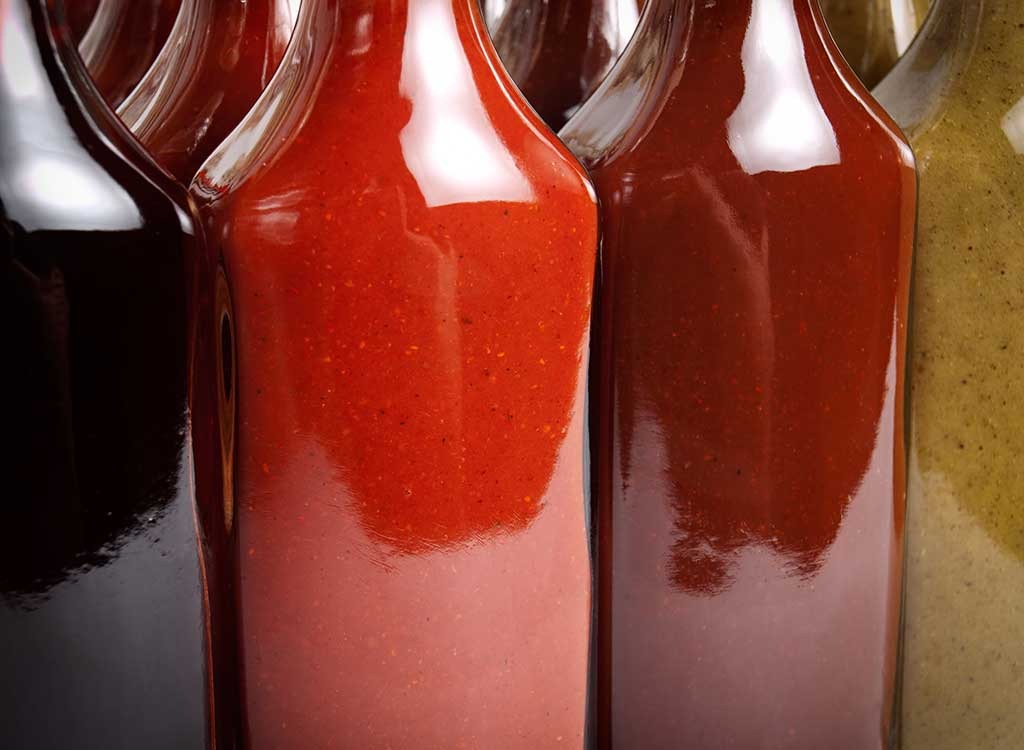 Okay, it depends on the bottle. "But hot sauce is often mostly salt with a little spice. Opt for the real thing instead: chili peppers," Lewis says. Are you a die-hard hot sauce enthusiast? We do understand, which is why you won't want to miss our exclusive list of 18 Best and Worst Hot Sauces—Ranked!
Spray-On Canned Cheese
Put down the can, folks! "This completely-processed product is high in fat, calories, and sodium," warn The Nutrition Twins. "It's a far cry from its original cheese form, and the excess calories can do a number on the waistline."
Fritos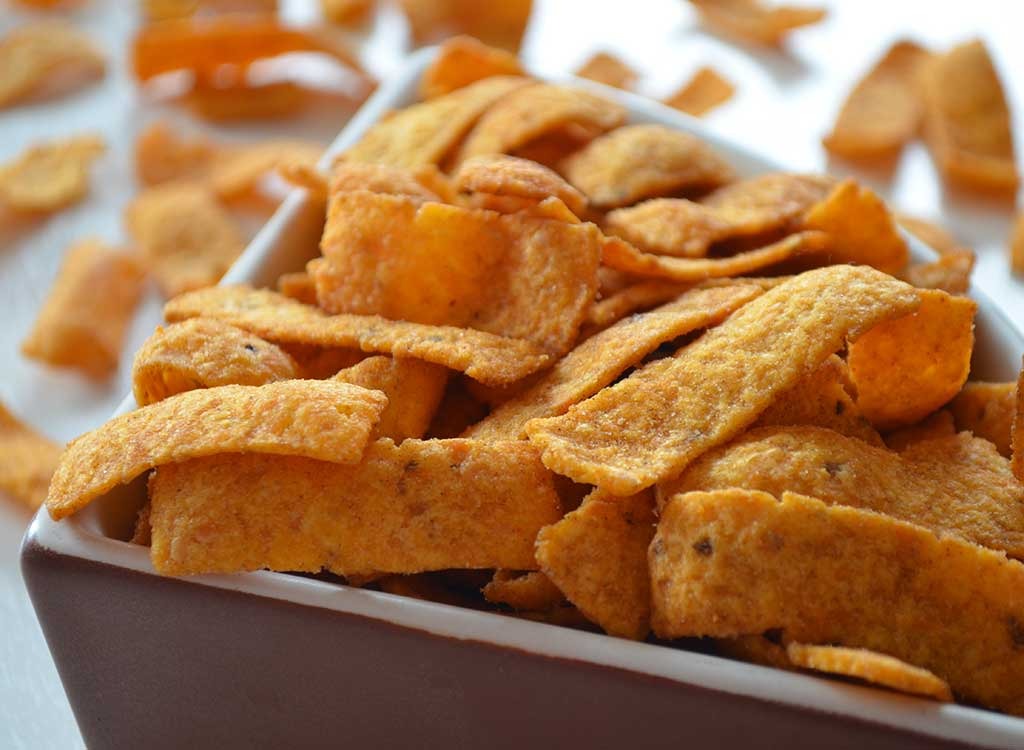 "It's no shocker that Fritos are bad for you," says Hayim. "They are fried, don't contain any nutritional benefits, and are made up of all sorts of ingredients I can't pronounce. Plus, 90 percent of their calories come from fat." Yep, we'll pass too.
Bacon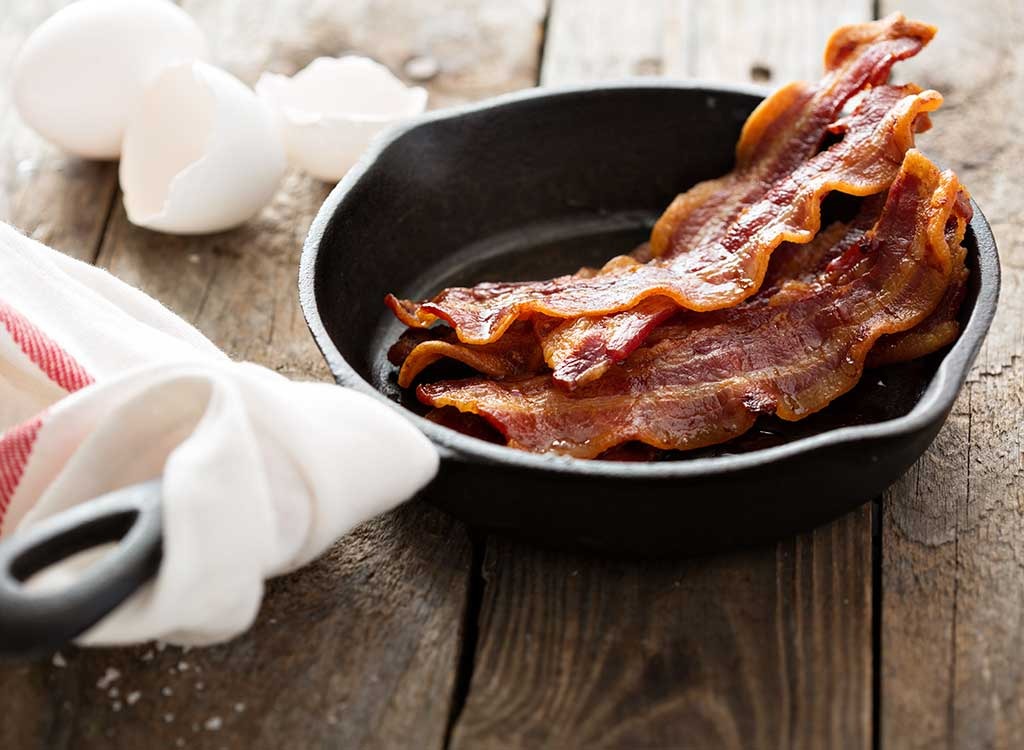 It's best to forgo the stuff for your next bowl of chili. "Loaded with artery-clogging saturated fat and calories, it can be a dieter's worst nightmare and can contribute to weight gain," advise The Nutrition Twins. If you want to maintain a healthy weight, then be sure to avoid these 50 Little Things Making You Fatter and Fatter!
Sour Cream
Thought we'd let you get away with this one? Nope! "It's also high in saturated fat and often contains additives and preservatives," says Lewis. Craving that rich, creamy texture? Opt for Greek yogurt.
American Cheese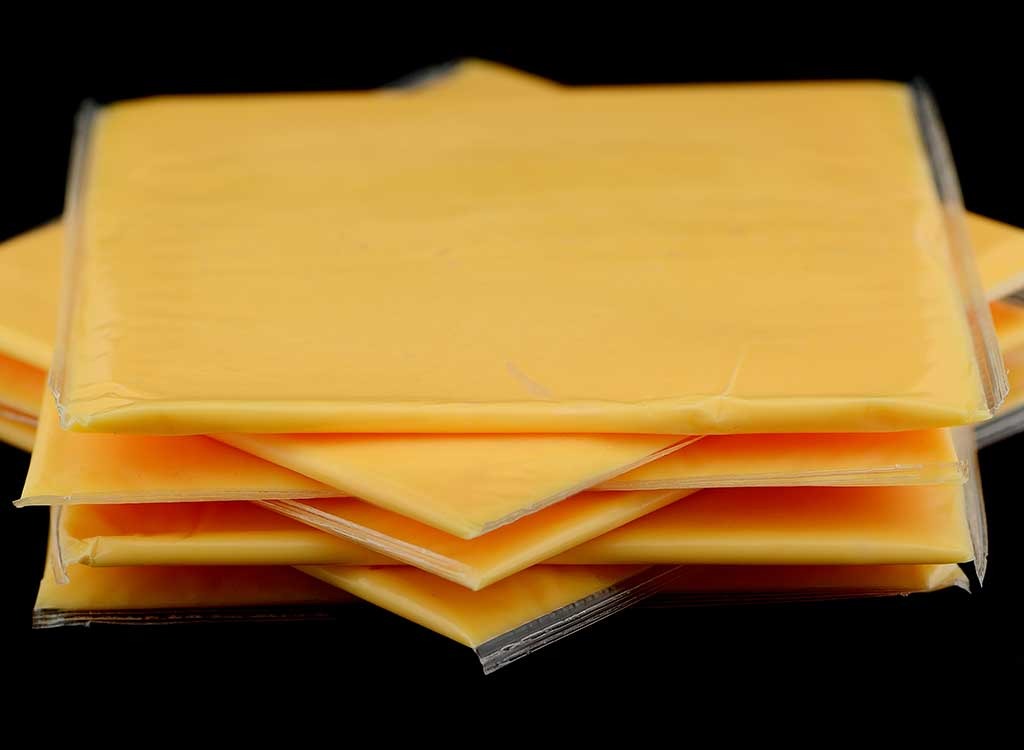 Leave it to the grand ol' U.S. of A. to make a cheese that's more in line with a chemical equation than a natural product. "It's processed, high in fat (not the good kind), and high in sodium," shares Hayim. This is a dangerous triple threat that your ticker and waistline aren't interested in either—trust us.
Tortilla Chips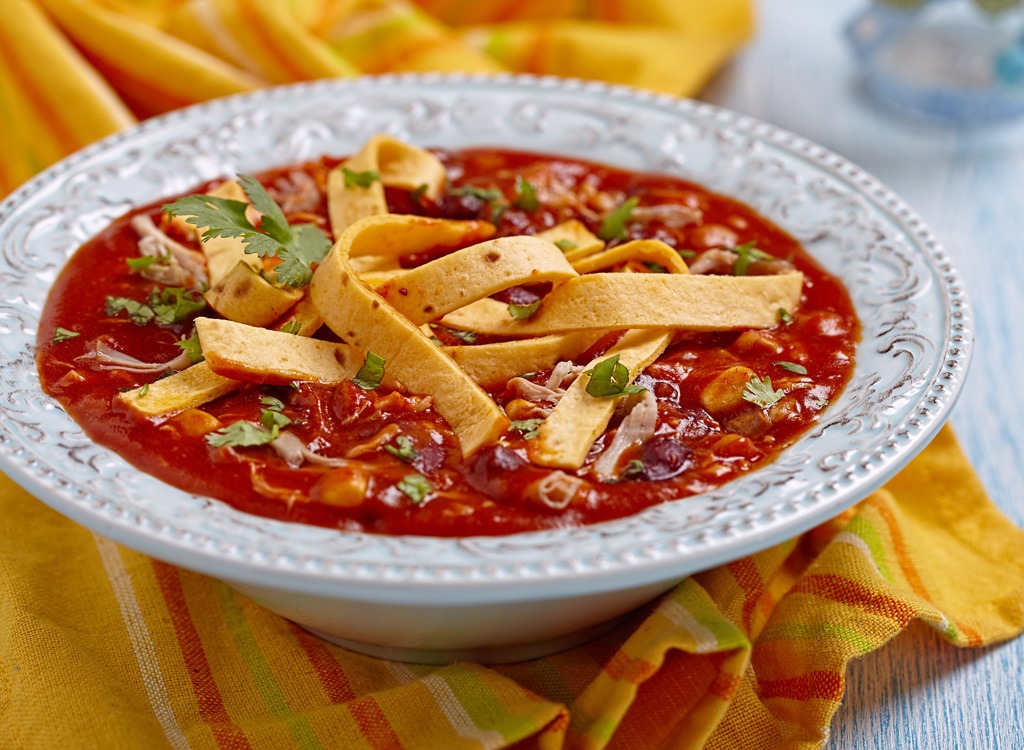 We know that crunch can be alluring, but these salt-drenched chips can be so addictive you wind up sprinkling on more than a tiny tablespoon of the popular "strips" variety.
"Instead, stick with onions or celery," suggests Lewis. And speaking of portion controls that can go haywire, find out the 14 Sneaky Types of Food With Bogus Serving Sizes!