5 Shocking Sources of Trans Fat
The dangerous fat that's been banned by the FDA is still lurking in some these supermarket staples. And you probably don't even realize it.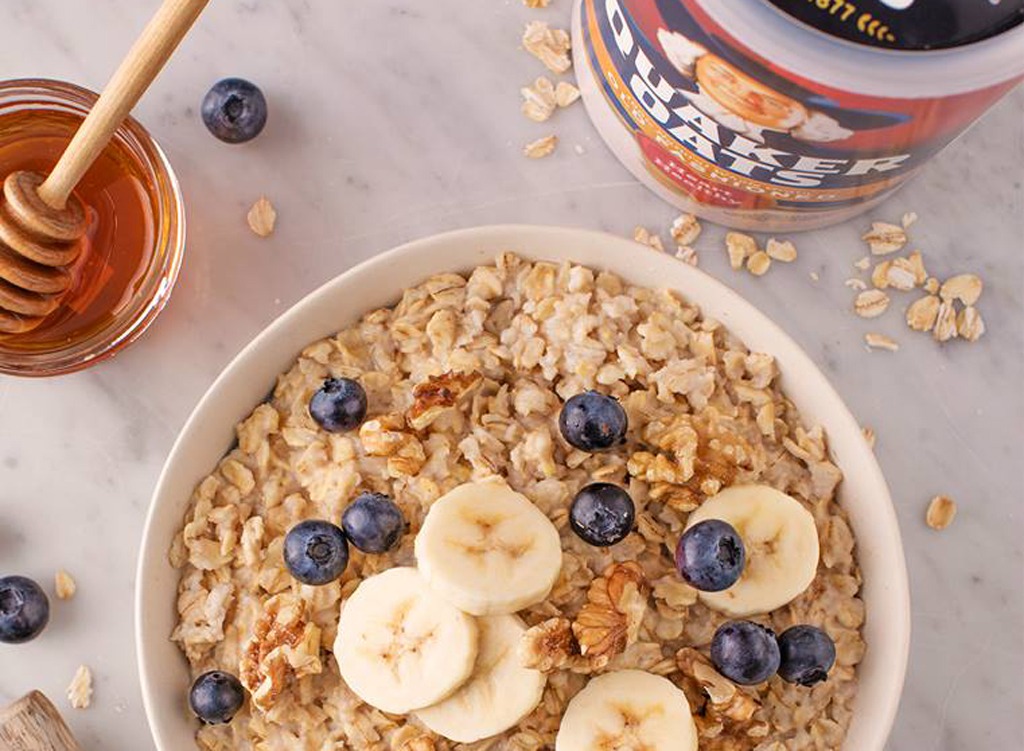 Although saturated fat has gotten most of the hate over the last few decades, it turns out there's another type of bad fat we should be worried about — trans fats. While recent research had proved saturated fat doesn't negatively affect blood cholesterol the way we once thought, highly processed trans fats from partially hydrogenated vegetable oils are shown to raise artery-clogging LDL or "bad" cholesterol, and lower HDL or "good" cholesterol.
This spells disaster for your heart health. In fact, the FDA is so concerned about trans fats, it banned the food industry from using them in their products effective 2018. The good news? Leaving trans fats out of your diet appears to significantly improve heart health: A Journal of Health Economics study found a 4.5 percent decrease in cardiovascular disease deaths over the course of 10 years in New York counties that enforced a trans fat ban compared to those counties without a ban.
The USDA Dietary Guidelines for Americans recommends people keep their intake of trans fats as low as possible with 0 grams being the ideal goal. And while many food companies have heeded the FDA's warning and removed trans fats from their products, some brands are still using partially hydrogenated oils—the top source of man-made trans fat—in their products. Even worse: you'll have to scour the ingredients to see if you're actually consuming the artery-clogging fat, as manufacturers are not required to declare its nutritional prevalance when there is less than 0.5 grams per serving.
That's why we've scanned labels and dug up these products that are still living in the trans fat dark ages. Find out if you have these trans-fat-laden foods in your pantry by examining our list below, and then double down on your cardio-protective efforts by avoiding these 30 Foods That Can Cause Heart Disease.6254a4d1642c605c54bf1cab17d50f1e
Duncan Hines Classic Yellow Cake Mix
Per 1/10 package (43 g): 180 calories, 4 g fat (2 g saturated fat), 350 mg sodium, 34 g carbs (0 g fiber, 19 g sugar), 1 g protein
Baked goods are a common culprit of trans fats, and this yellow cake mix from Duncan Hines is no exception. The mix is made with vegetable oil shortening, which is always a red flag. In fact, the shortening is made with either palm oil or partially hydrogenated soybean oil; any time you see partially hydrogenated soybean oil in an ingredients list, you should steer clear. Even though the nutrition information has 0 grams of trans fat, the FDA can allow companies to list 0 grams if the serving actually has less 0.5 grams, which can add up.
Apple Jacks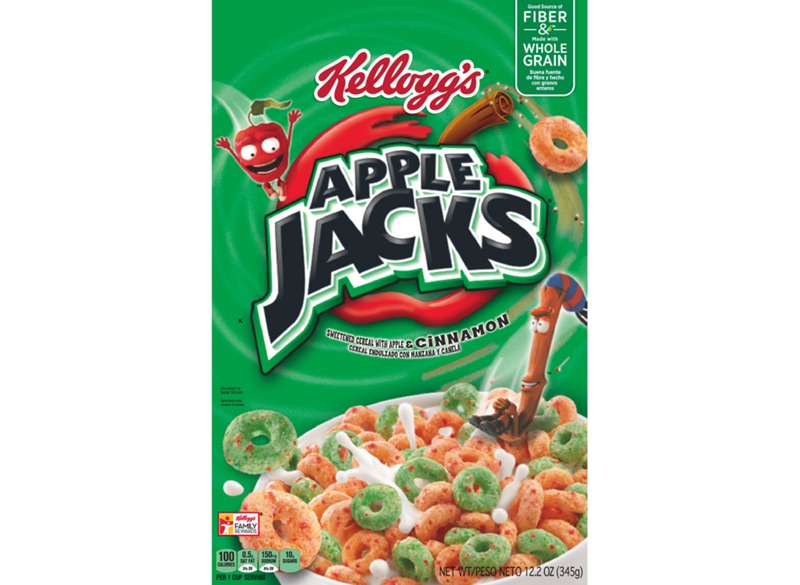 Per 1 cup: 110 calories, 1 g fat (0.5 g saturated fat), 150 mg sodium, 25 g carbs (3 g fiber, 10 g sugar), 2 g protein
People usually think cereal is a healthy way to start the day. But aside from all the added sugars, you also have to worry about trans fats. Kellogg's makes their beloved apple-flavored cereal with partially hydrogenated soybean and/or cottonseed oil, a major component of trans fats. Although trans fats are missing from the nutrition panel, they are lurking in the hydrogenated vegetable oils and will add up serving after serving.
Nabisco Chips Ahoy! Original Chocolate Chip Cookies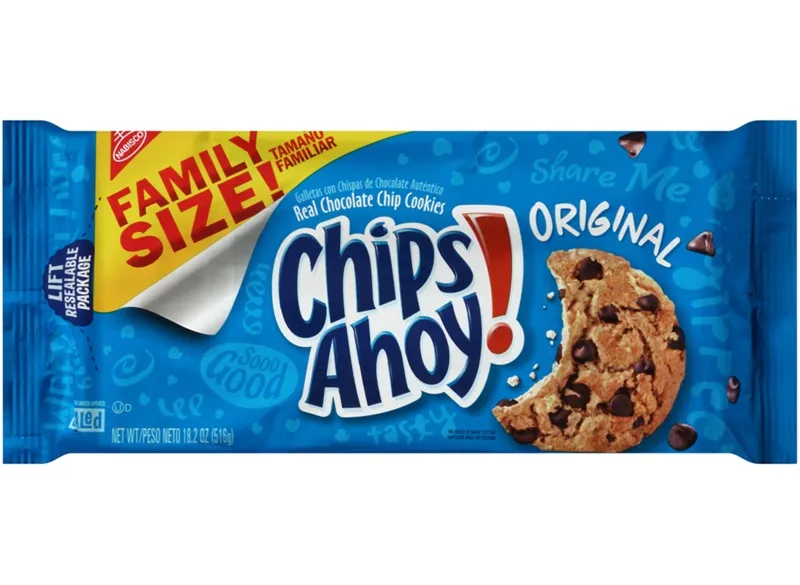 Per 3 cookies (33 g): 160 calories, 8 g fat (2.5 g saturated), 110 mg sodium, 22 g carbs (1 g fiber, 11 g sugar), 1 g protein
This classic store-bought chocolate chip cookie is like a minefield of harmful ingredients. (Hence, why it earned a spot on our The 30 Worst Supermarket Cookies in America.) Along with the processed and inflammatory high fructose corn syrup, which can lead to weight gain, these cookies also contain trans fats in the form of partially hydrogenated cottonseed oil. Since baked goods are a common source of trans fats, it's best to double and triple check your ingredients list on any packaged baked goods.
Quaker Instant Oatmeal Peaches and Cream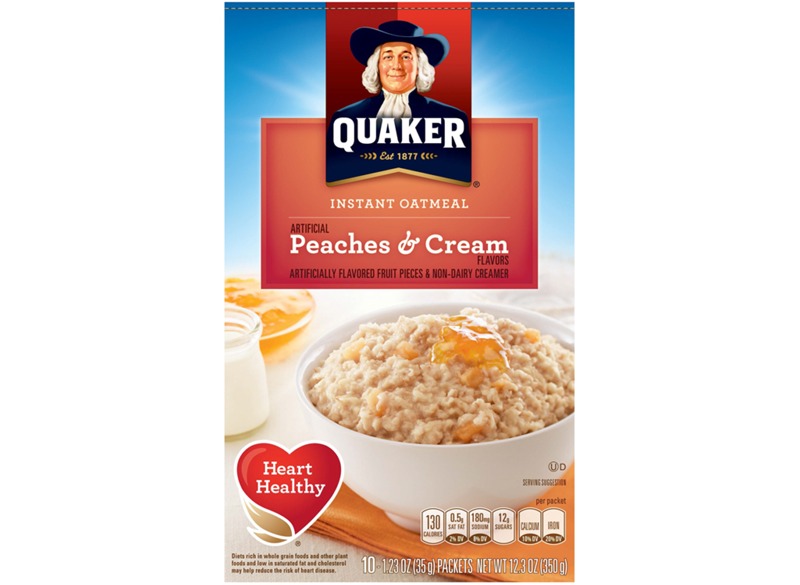 Per packet (35 g): 130 calories, 2 g fat (0.5 g saturated fat), 180 mg sodium, 27 g carbs (2 g fiber, 12 g sugar), 3 g protein
Oatmeal by itself is good for you; the whole grain can help lower cholesterol, and overnight oats are a great make-ahead breakfast to help you lose weight. The problem is with flavored oatmeal packets, which read like a treasure trove of bad-for-you ingredients. In addition to how long the ingredients list is, which is shocking enough, the peaches and cream flavor from Quaker uses a "creaming agent," which is made with (you guessed it), partially hydrogenated soybean oil. With other gross additives like corn syrup solids and artificial peach flavor, you're better off making your own plain oatmeal and adding milk and peaches.
Lean Cuisine Comfort, Glazed Turkey Tenderloins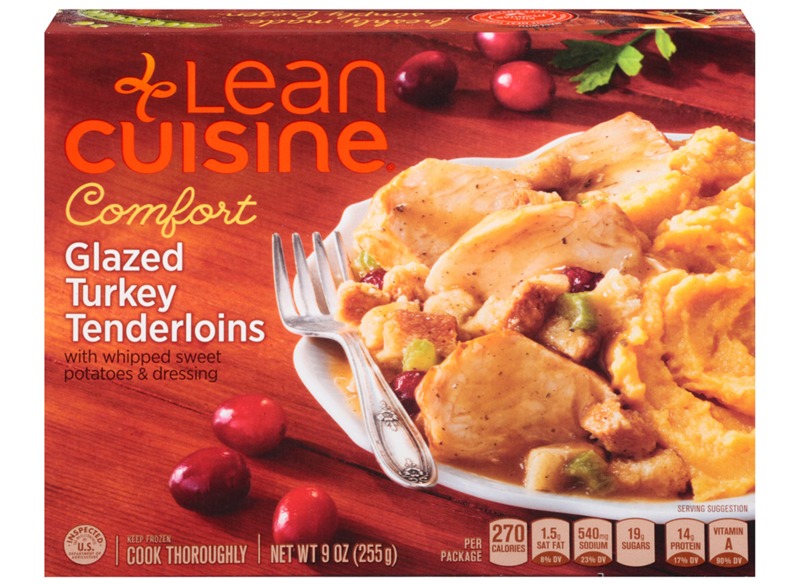 Per container: 270 calories, 5 g fat (1 g saturated fat), 530 mg sodium, 41 g carbs (3 g fiber, 19 g sugar), 14 g protein
The name "lean" is deceiving when it comes to this frozen dinner. Although there are only 270 calories and 5 grams of fat, the ingredients include partially hydrogenated soybean oil, a form of trans fat. Although the package claims it contains less than 2 percent of the hydrogenated oil, trans fats add up and it's best to steer clear of them entirely. It's worth repeating: When it comes to packaged food, double and triple check your ingredients.
Olivia Tarantino
Olivia Tarantino is the Managing Editor of Eat This, Not That!, specializing in nutrition, health, and food product coverage.
Read more about Olivia