I Tried 5 Frozen Chicken Strip Brands & There's Only One I'd Buy Again
The freezer aisle is full of breaded chicken options, but which one is good enough to serve your family?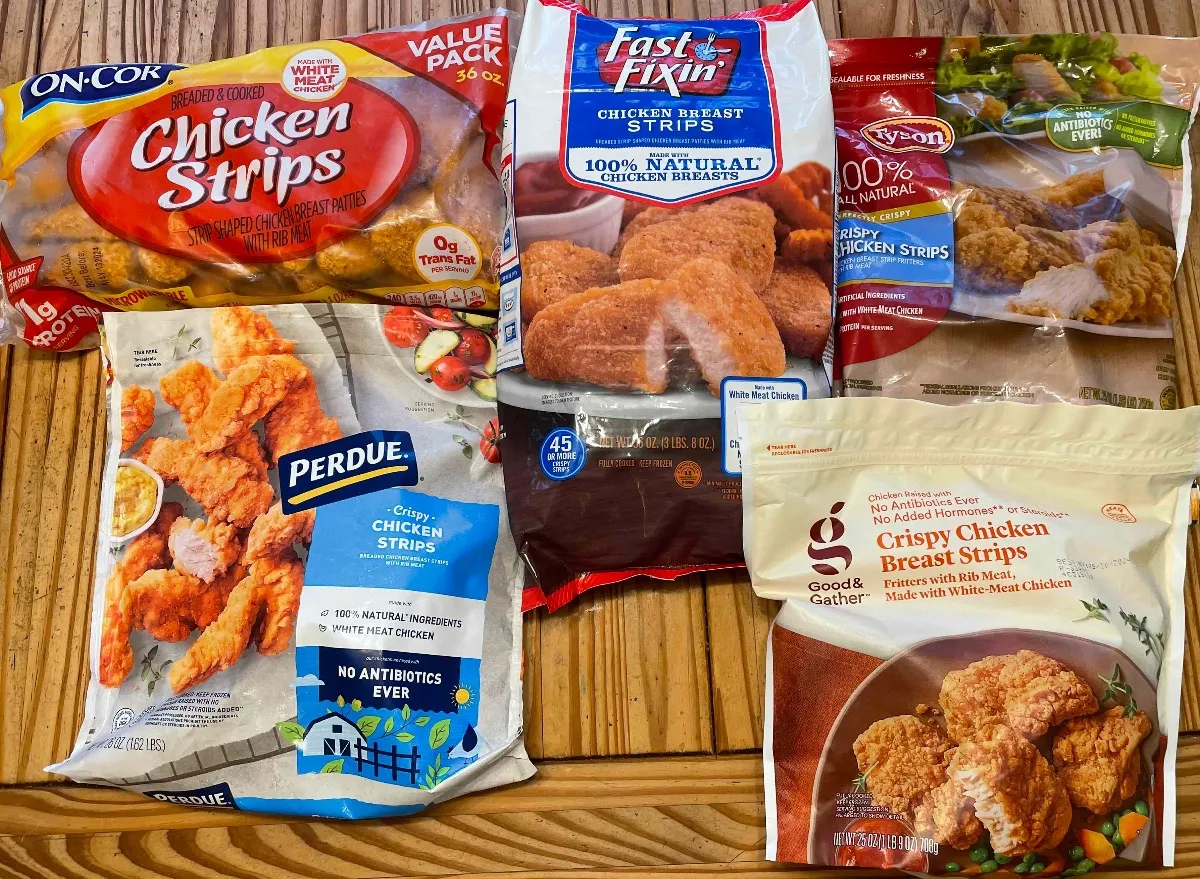 The product recommendations in this post are recommendations by the writer and/or expert(s) interviewed and do not contain affiliate links. Meaning: If you use these links to buy something, we will not earn a commission.
Chicken is one of the most versatile types of protein out there. Chicken strips, which usually consist of meat derived from the chicken breast, are hugely popular because they are tasty, easy to prepare, and widely available.
I personally associate chicken strips with kid food and thus I rarely eat them, but I wanted to find out which ones were the best-tasting and healthiest for my kids. Who knows? Maybe I'd change my mind and become a chicken strip lover, too!
For my comparison, I purchased five brands of frozen chicken strips from the grocery store and cooked all of them according to the directions on the packages. It was interesting to see how different the colors, shapes, and tastes of all of these products were. In the end, there was only one brand of chicken strips that I'd feel comfortable serving to my own kids—and that I'd deign to eat on my own!
Whether you're a chicken strips aficionado or just curious about what's inside these packages, read on to get the lowdown on which ones were delicious and which ones should stay in the freezer case. Here's how each brand fared, ranked from my least favorite to the absolute best strip.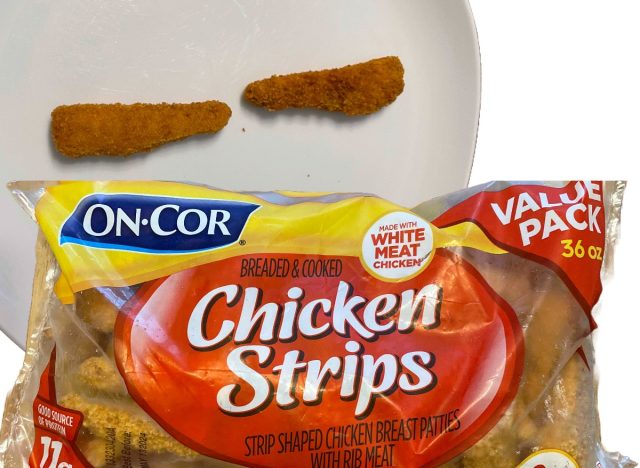 Per Serving
: 240 cal, 16 g fat (3.5 g saturated fat), 420 g sodium, 14 g carbs (1 g fiber, 1 g sugar), 11 g protein
On-Cor strips are made with white meat and the company says that they are "coated with our crunchy, seasoned breading." When I took these out of the package, I immediately noticed that they looked like small, mass-produced strips. They baked to a dark brown color and when I bit in, I found they were completely flavorless. These strips could have been chicken or even fish sticks—they tasted like nothing at all.6254a4d1642c605c54bf1cab17d50f1e
Rating 2/10
Fast Fixin' Chicken Breast Strips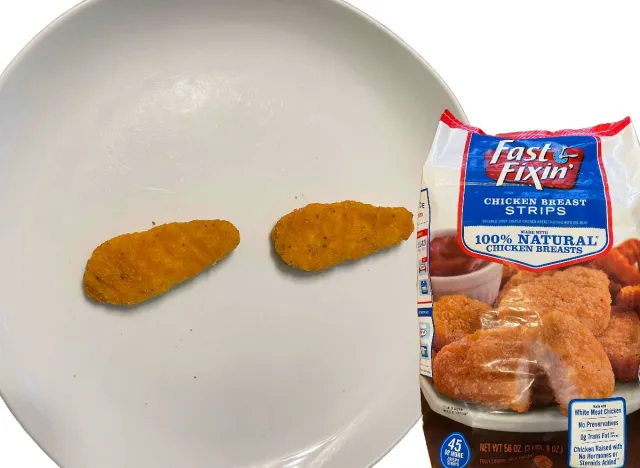 Per Serving
: 240 cal, 15 g fat (3.5 g saturated fat), 640 mg sodium, 16 g carbs (1 g fiber, 1 g sugar), 11 g protein
This value brand describes its chicken strips as "sensational" online, but I beg to differ. While the strip-shaped product did bake up to a strangely appealing orangey-brown hue, it looked more like a chicken patty than a strip. The taste was disappointingly bland and the only thing good I can say is that you get a lot of them in a bag, so you could feed a big crowd of non-discerning preschoolers with this.
Rating 3/10
Good & Gather Crispy Chicken Breast Strips
Per Serving
: 190 cal, 8 g fat (1.5 g saturated fat), 600 mg sodium, 17 g carbs, (0 g fiber, <1 g sugar), 13 g protein
The Target brand of chicken strips had appealing packaging and tied for highest amount of protein per serving of all five brands. These long "fingers" of chicken looked similar to my preferred brand but turned a darker (less golden) brown when baked. Biting in, I tasted mostly breading. The meat was not tender and tasted more like chicken parts than juicy breast. These strips are described as "fritters with rib meat, made with white meat chicken." One online reviewer wrote, "Would honestly rather buy Purdue for the price," and I wholeheartedly agree.
Rating 4/10
Tyson Crispy Chicken Strips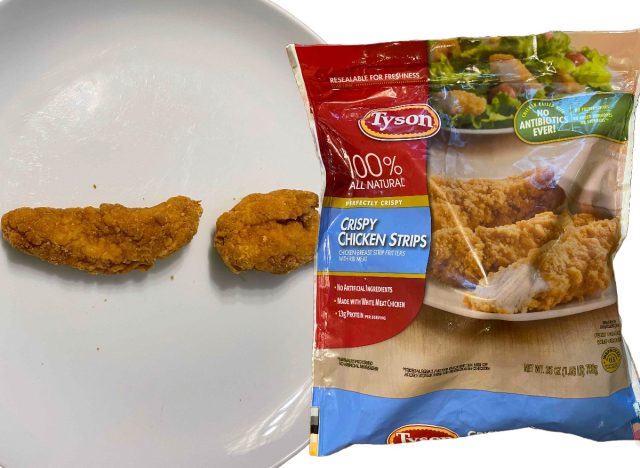 Per Serving
: 210 cal, 10 g fat (2 g saturated fat), 500 mg sodium, 17 g carbs (0 g fiber, 0 g sugar), 13 g protein
The chicken strips from Tyson are made with white meat chicken and no artificial ingredients. They tied Good & Gather for most protein and are touted as being "crispy…er" on the company's website. "Perfect for those quick meals for the family," wrote one online reviewer. "Just stick them in the air fryer and u have nice and crispy juicy tenders that can be paired with anything,"
When I baked these, they were indeed very crispy, but all I could taste was a lot of breading. The meat was indeed white, but it was not as juicy as the eventual winner of this taste test.
Rating 5/10
Perdue Crispy Chicken Strips
Per S

erving
: 180 cal, 7 g fat (1.5 g saturated fat), 470 mg sodium, 16 g carbs (0 g fiber, 0 g sugar), 12 g protein
These chicken strips from Perdue looked very promising as they are advertised as made with only white meat and contain no fillers, preservatives, or animal byproducts. Right out of the package, these strips were the most visually appealing of all of the ones I tried. They were nice and big, and after going in the oven, their coating baked to a nice golden brown. The coating had a bit of a floury taste but the meat was tender, white, and juicy. I surprised myself by going back for a second (and third) bite! These strips were the only ones in my test that I'd buy again and serve to my kids.
Rating: 9/10
Ronnie Koenig
Ronnie Koenig has written about food, drink, travel and culture for The New York Times, TODAY, The Atlantic and many others.
Read more about Ronnie