15 Frozen Cocktail Recipes to Try ASAP
From frosé to dirty mojitos, this must-try recipe roundup covers all of your boozy favorites.
Balmy summer days are practically synonymous with beach town getaways, poolside lunches, and skyline-studded shindigs. And the best part just might be that all your favorite bars and brunch spots are stocked with an endless array of refreshing frozen cocktails to choose from (frosé, anyone?).
While you can probably find frosé and other icy aperitifs at many drinking joints nowadays, these boozy refreshers are usually not made fresh. You'll most likely spot them in a giant cocktail dispenser and are left wondering what kind of mysterious and sugary ingredients lurk inside.
To make sure you're getting the most out of your night out (or in!), we've rounded up 15 frozen cocktail recipes that are super simple to make and will keep you cool all summer long. Try your hand at these, and if you want healthy recipes, supermarket shopping guides, and essential nutrition tips at your fingertips subscribe to the new Eat This, Not That! magazine now! For a limited time, you can save 50 percent off the cover price—click here!
Blissful Triple Berry Wine Slushies
Just when you thought rosé couldn't get any better, Cotter Crunch pops the blush wine in the freezer and then splashes in raspberries, blueberries, and mint for the most refreshing frosé you'll imbibe all summer. One Instagrammable glass will cost you a fair price of 140 calories and less than 20 grams of carbs, so you can keep your summer body goals chugging on the right track.
Get the recipe from Cotter Crunch
Fresh Mango Margarita Frosty
Mango with Tajin, a chili pepper, and lime spice blend, is one of our favorite summer street foods—and this fruity frosty brings us straight to the calles of Mexico. This quick drink calls for simple ingredients you likely already have in your kitchen: mango, lime, chili powder, tequila, and, of course, salt.
Get the recipe from How Sweet Eats
After spending every Sunday brunching and soaking up the sun poolside, you may find yourself craving a drink that's a little bit more involved than your ordinary mimosa. Who are we kidding?! This frozen mimosa recipe upgrades your go-to brunch staple by freezing the orange juice before pouring it into the blender and then topping off with prosecco.
Get the recipe from Laughing Spatula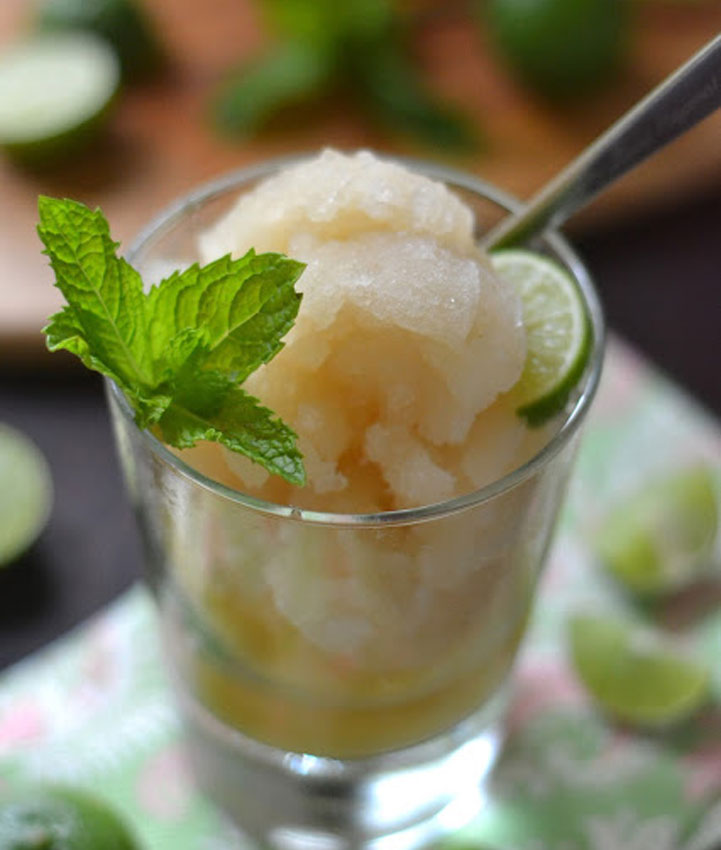 Think of key limes as the ubiquitous citrus' aromatic and more flavorful sister. That's exactly why they're blended into this minty mojito and coupled with earthy dark rum to create a slushie that's sure to please—and get you tipsy.
Get the recipe from The View From Great Island
Frozen Watermelon Rosé Sangria Slushies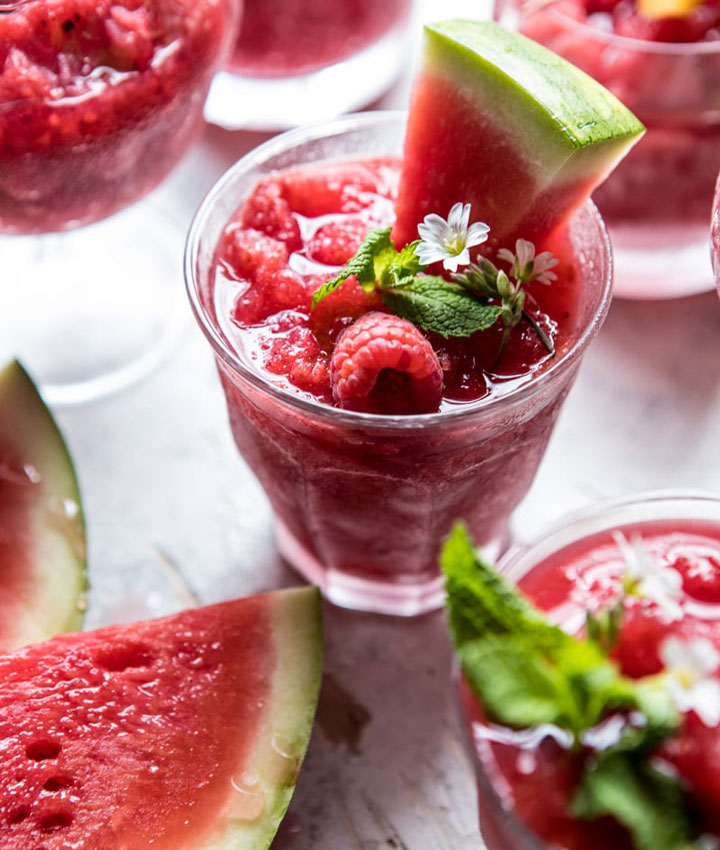 There's not much more satisfying than ice-cold watermelon on a blistering summer day, except when you throw that watermelon into the blender with some frozen raspberries, rosé, and tequila. And the process is as simple as this recipe's ingredients: Just throw 'em all in a blender, pour into a festive glass, and garnish with your favorite fruits.
Get the recipe from Half Baked Harvest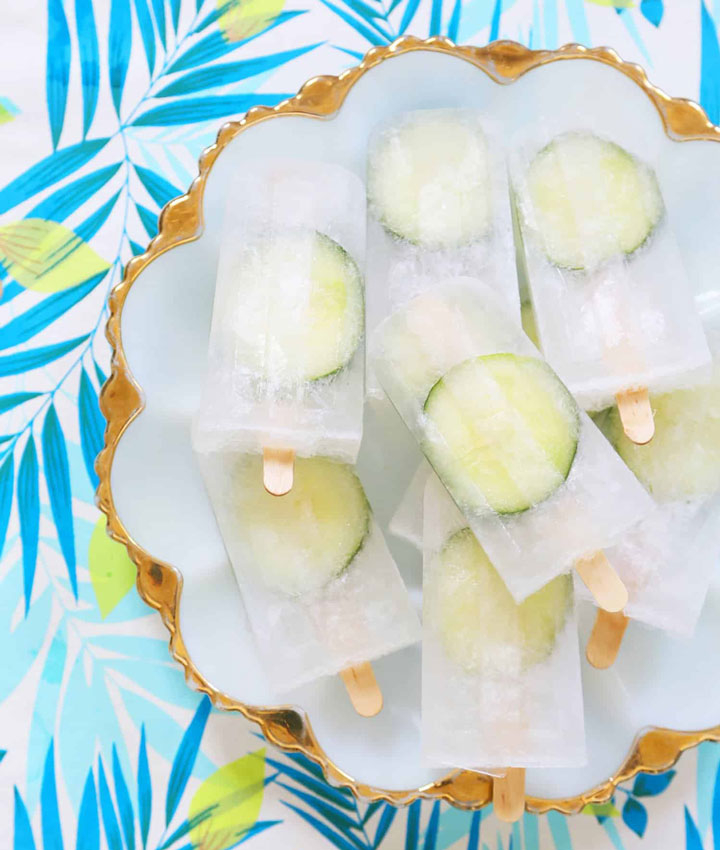 Give grandma's go-to drink an easy upgrade by pouring this aromatic gin and tonic into a popsicle maker, like Pampered Chef's. A Beautiful Mess uses tonic water, which gets its bold flavor from quinine, a bitter compound found in the bark of the cinchona tree. Looking to lighten up the boozy popsicle? Fever-Tree's light tonic water boasts just about 60 calories and less than 4 grams of carbs per the entire bottle, deeming this drink a warm-weather must-try.
Get the recipe from A Beautiful Mess
Healthy Muddled Blackberry Pina Coladas
If you like piña coladas, but don't like getting caught with a muffin top, put your blender to good use and give this coconut-spiked nightcap a whirl. Not only will you get a good buzz, you'll also get fat-burning medium-chain triglycerides from the coconut cream as well as antioxidants from the raw honey. Healthy cocktails? Count us in!
Get the recipe from Nutrition in the Kitch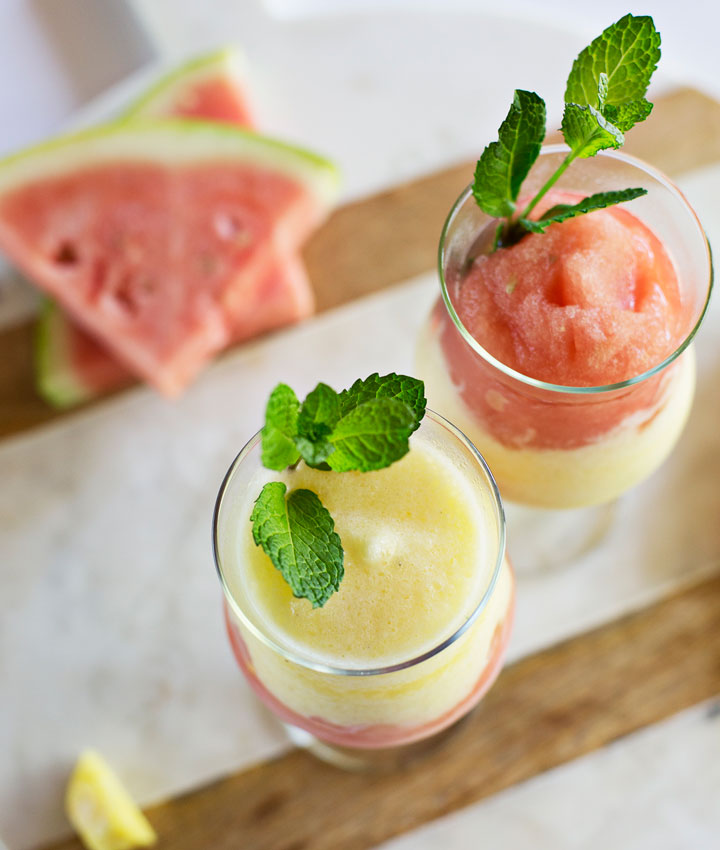 Sangria is the gateway into the wine world. It's fruity and friendly on the palate, getting you hooked after just one sip. But sometimes every classic could benefit from a little facelift. This tropical sangria has a special twist with a blend of both rosé and Moscato in addition to a shot of rum. Yum!
Get the recipe from A Beautiful Mess
Frozen Cantaloupe Margaritas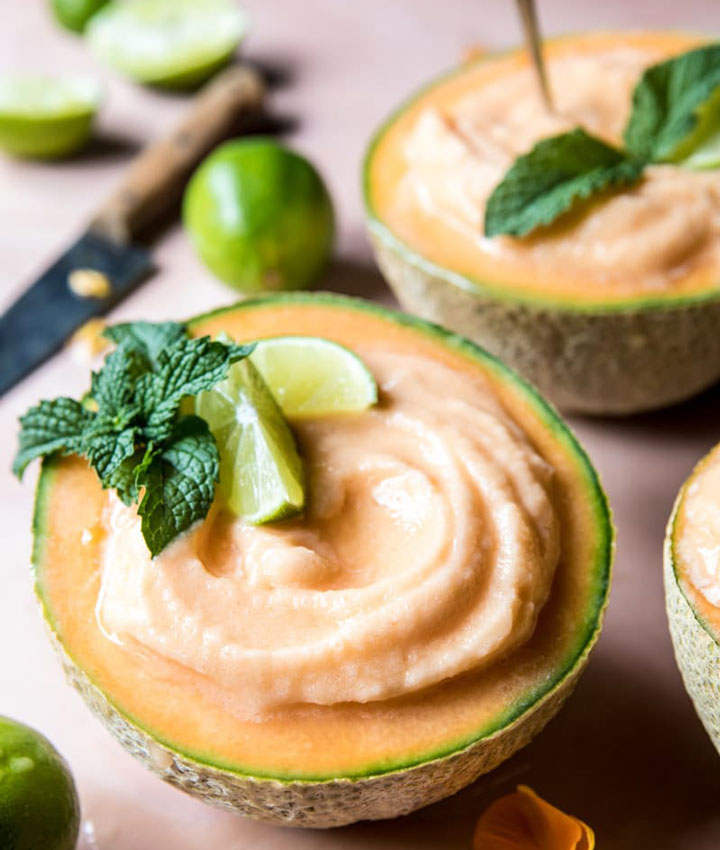 You really can't go wrong with a margarita, especially when it's frosty and served in a cantaloupe rind. Unsweetened coconut milk lends this melon-infused marg some creaminess while the Cointreau ties the flavors together seamlessly.
Get the recipe from Half Baked Harvest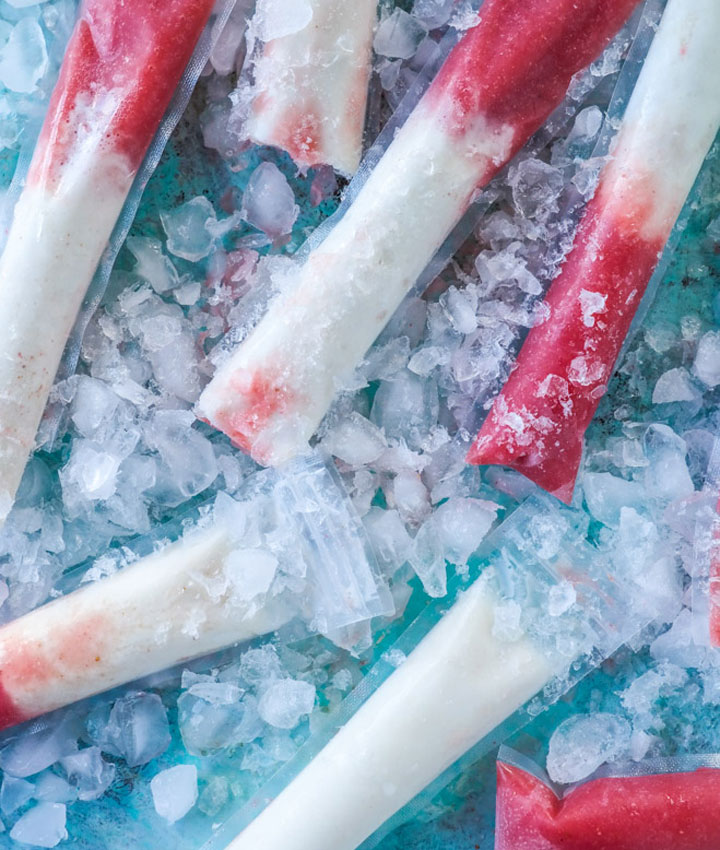 Nothing gets us more nostalgic for ice pops than a backyard BBQ or a spontaneous trip to the beach. This summer, pack your cooler with these portable cocktails. The exotic flavors and coconut rum will send you straight into zen. How Sweet Eats uses little zip packets to freeze her lush creamsicles, molding them into a perfectly-portioned, spirituous snack.
Get the recipe from How Sweet Eats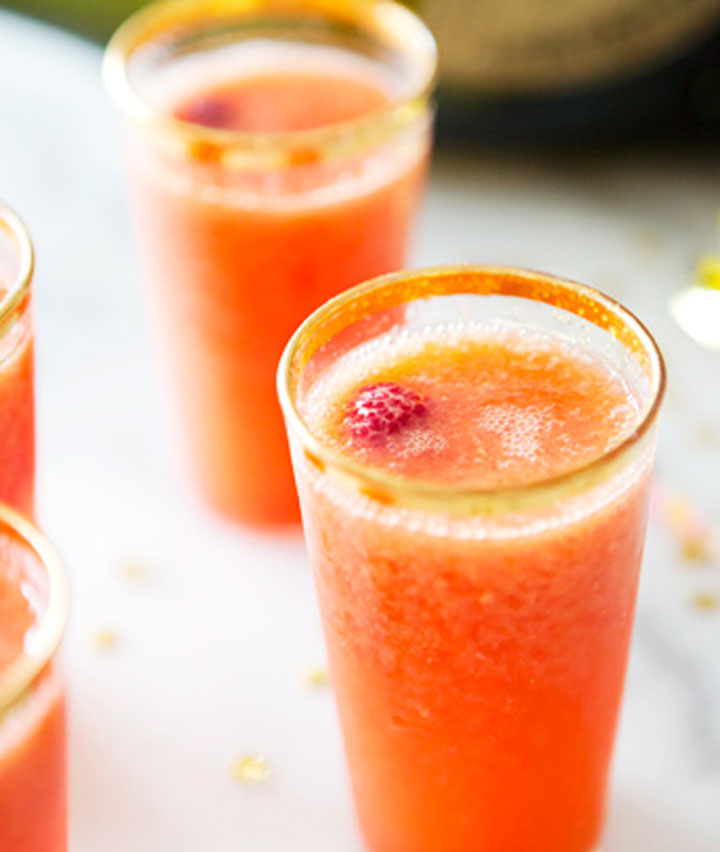 While traditional bellinis call for Prosecco and peach puree or nectar, A House in the Hills gives the classic a makeover by swapping the stone fruit for frozen raspberries and mango. While this cocktail isn't too caloric, you can further slim it down by omitting the coconut sugar as the fruits are pretty sweet!
Get the recipe from A House in the Hills
Frozen Lemon Watermelon Nojito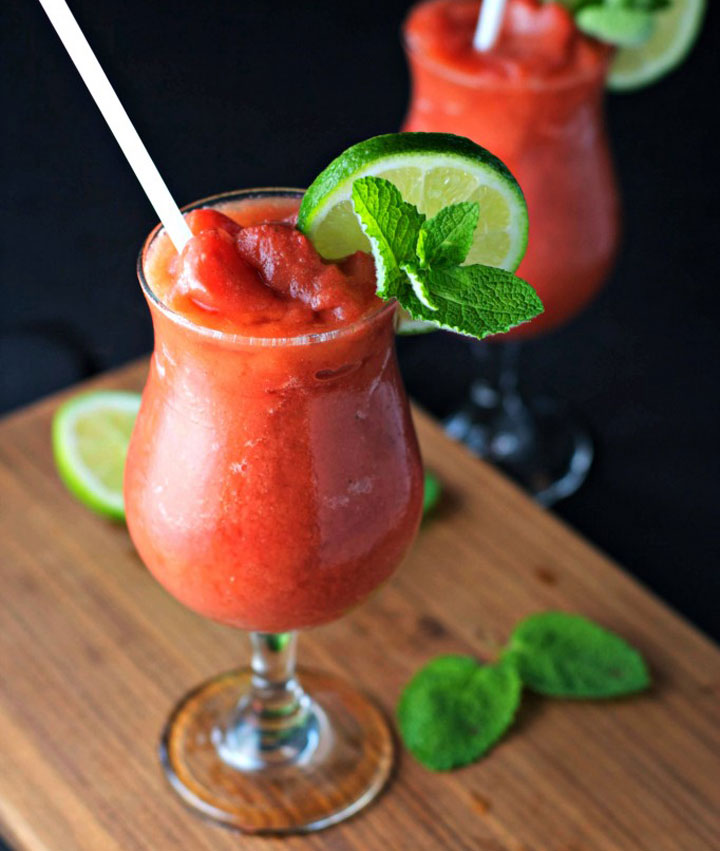 For those that don't booze but still crave the panache of a cocktail in hand, this frozen fruity "nojito" won't disappoint. Just blend frozen watermelon, agave, coconut water, and mint for a thirst-quenching drink that's both kid-friendly and breakfast-approved.
Get the recipe from Begin Within Nutrition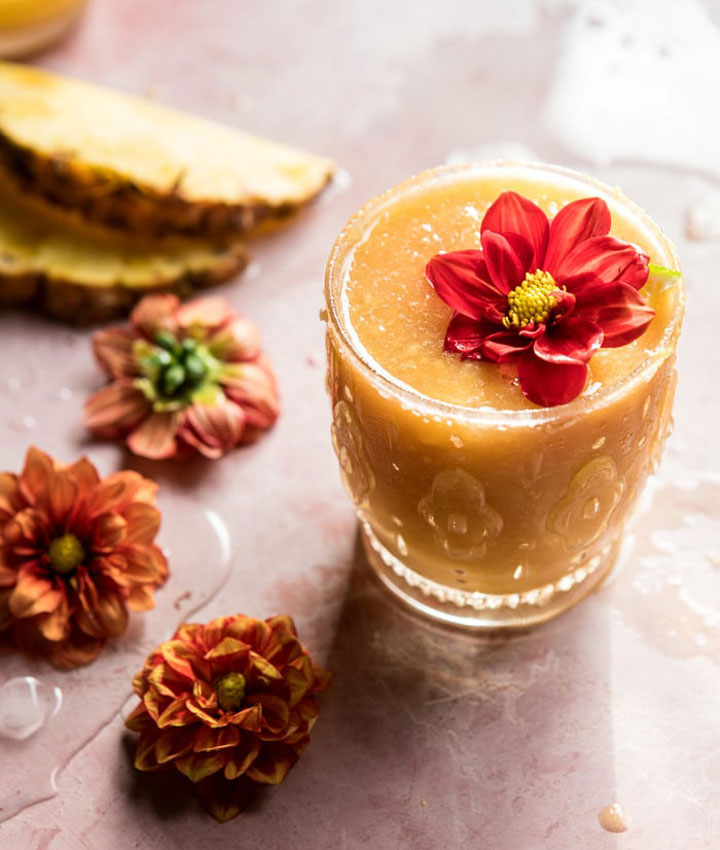 Why not pair that eggs benedict dish with this gingery punch? Subtly bitter Campari balances out the sweetness of the white rum, OJ, and pineapple while the lime garnish adds a hint of invigorating citrus.
Get the recipe from Half Baked Harvest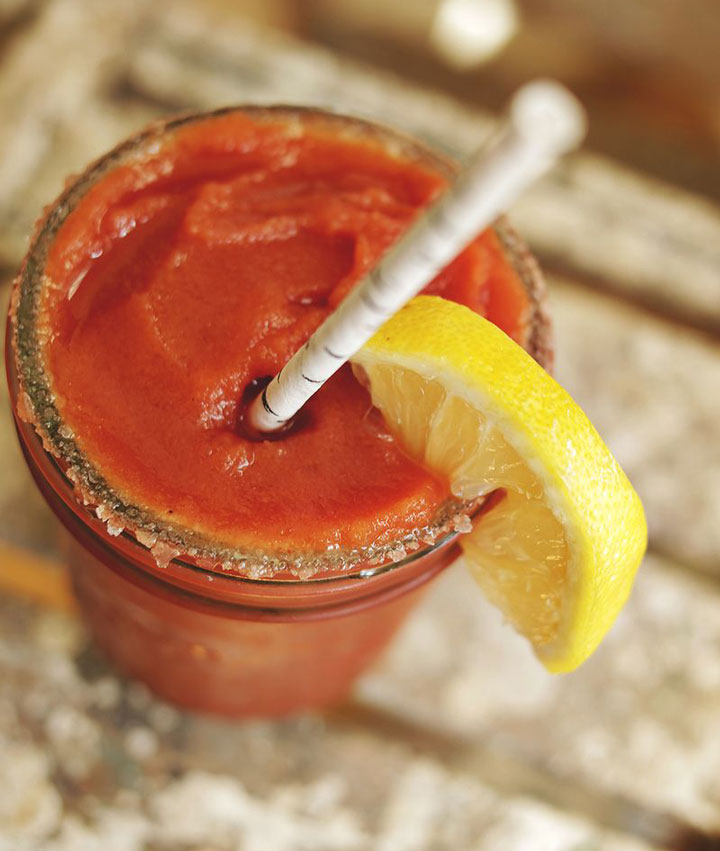 If you're that friend who always orders the bloody mary at brunch, this one's for you. A Beautiful Mess combines vodka, bloody mary mix, Worcestershire sauce, Tabasco, fresh lemon juice, and liquid smoke and freezes them in an ice tray before popping them into the blender. Just salt a glass' rim, pour in the ruby-red potion, and enjoy.
Get the recipe from A Beautiful Mess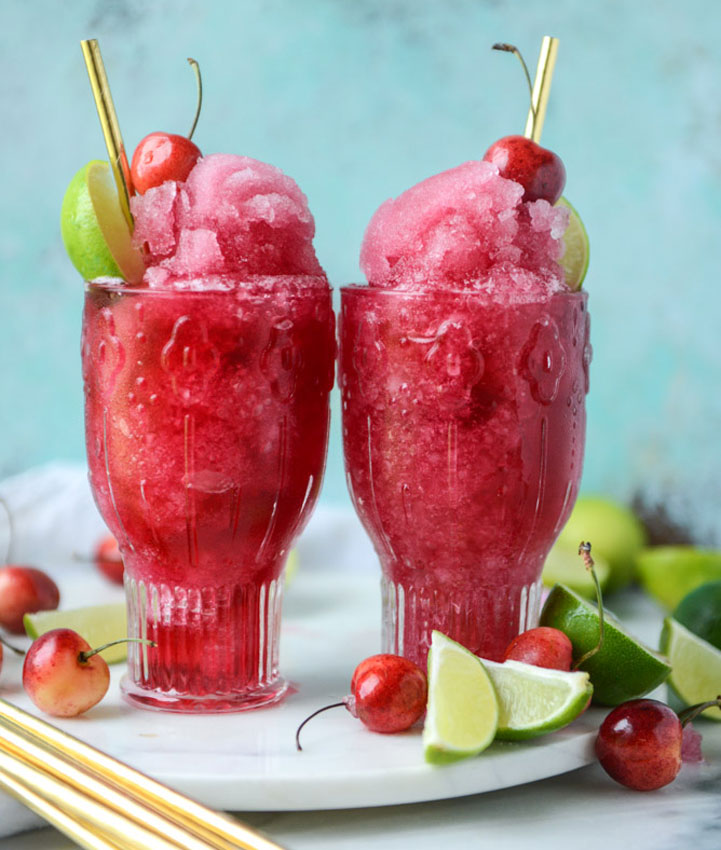 Whether you're hosting a backyard cookout or calling it a night in to binge-watch reruns of Sex and the City, you're going to want a cosmo in hand. Cranberry juice and fresh cherries lend this blend an irresistible flavor and hue that'll be hard to keep the paws off while you photograph.
Get the recipe from How Sweet Eats