I Tried 6 Frozen Meatballs & Would Only Buy One Again
When you're too busy to make your own meatballs, the freezer aisle has you covered, but which brand tastes the best?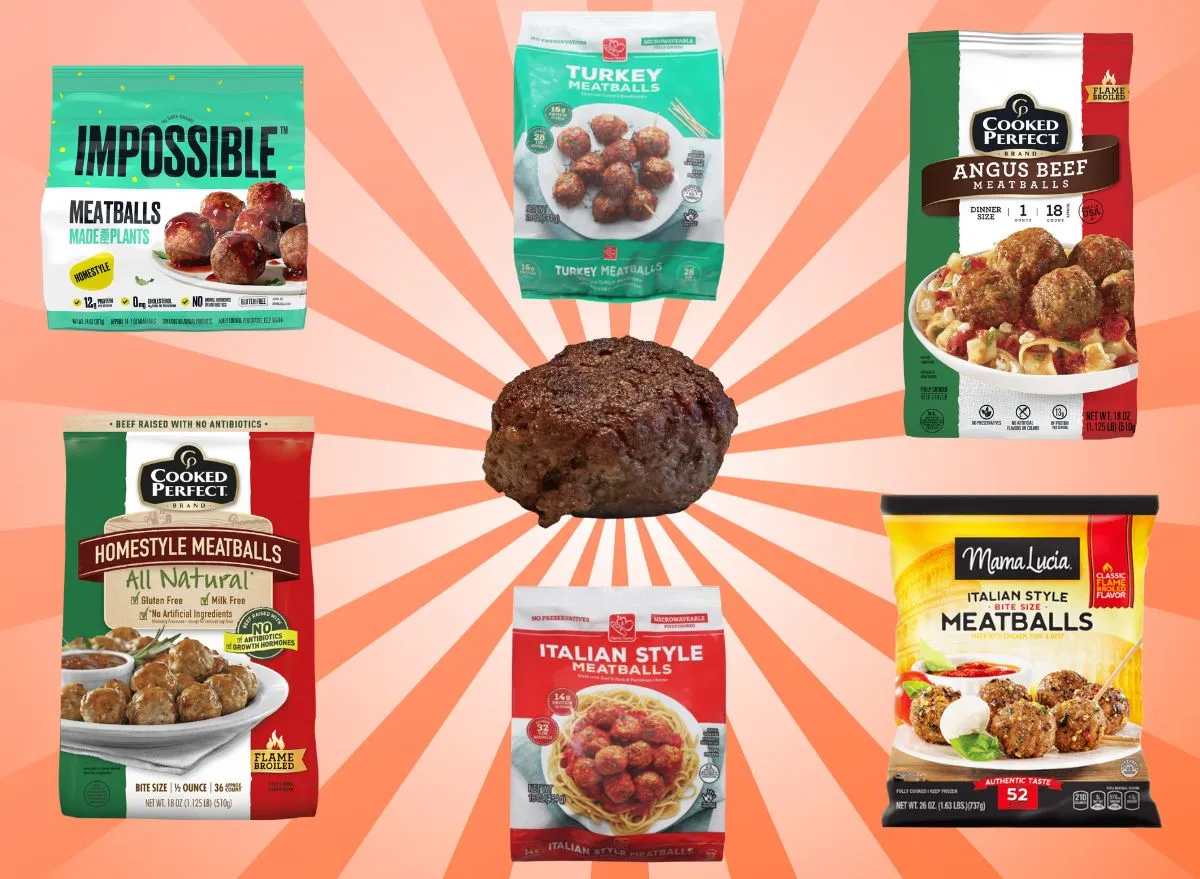 The product recommendations in this post are recommendations by the writer and/or expert(s) interviewed and do not contain affiliate links. Meaning: If you use these links to buy something, we will not earn a commission.
Frozen foods are popular for a lot of reasons. For starters, they're convenient and they can last a really long time in your freezer. But, when a particular food item is special to you, you may feel a lot differently about finding it stiff and static, tucked away in cold storage.
For me, meatballs are one of those sacred things. Growing up, my mom would constantly cook Italian food: pizza, pasta, cutlets, and above all, the weekly Sunday sauce, which we call sugu, a Sicilian form of the Italian word sugo, which means sauce.
The only meatballs I've ever really known (or, frankly, cared to know) are homemade. I didn't even know you could purchase frozen meatballs until I received this assignment, and upon learning of their existence, I was upset. Meatballs are close to my heart, and therefore, I don't enjoy the concept of pre-prepared frozen ones.
Even so, I realize that not everyone has the know-how or the time available to be making meatballs for hours on end. So, I'll admit that it can be useful to at least have the frozen option.
To find out if any frozen meatball is worth your time and money, I recently rounded up six different varieties from local supermarkets. I prepared every meaty orb the same, searing them all in a frying pan with a little oil over medium heat until they're good and brown. Then, I dug in to try each one.
Now, there's about 23 years of culture and 200 pounds of ego between myself and admitting that I actually enjoyed a frozen meatball. So, if I end up liking one of these brands, then you should probably sprint to the grocery store right now and buy it.
Here's how each meatball stacked up, ranked in descending order from the most abominable to the most serviceable of all.
Harris Teeter Turkey Meatballs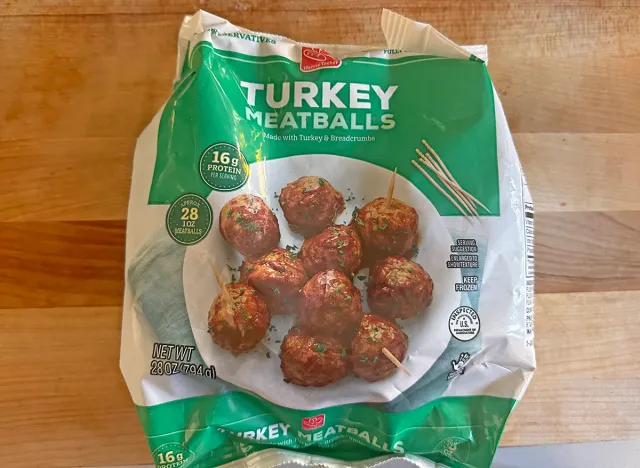 Per serving
: 210 calories, 14 g fat (3.5 g saturated fat, 0 g trans fat), 440 mg sodium, 9 g carbs (2 g fiber, 0 g sugar), 12 g protein
My local Harris Teeter offered several options in the freezer section, including two under its own house brand. These private-label meatballs are made with ground turkey and come fully cooked, so you can simply pop them in your microwave, if you so choose. A 28-ounce bag cost $9.99.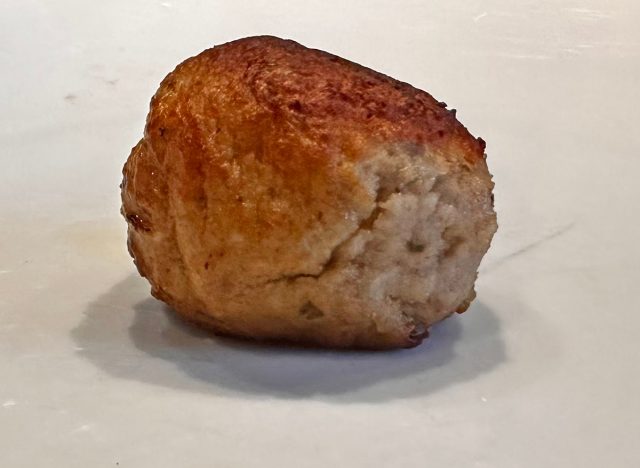 The Look: These actually look very nice, and the size is good, too. They browned up perfectly, and they have that shade of brown that a traditional ball of red meat would have. I do wish it was more spherical, but there's only so much negativity I can give to a crispy ball of meat. It looks delicious.6254a4d1642c605c54bf1cab17d50f1e
The Taste: Dry. Wow, this is dry! The issue with a meatball that only contains turkey is that turkey is a notoriously dry meat. I understand that a pure turkey meatball exists for the sake of heart health, and that's a great thing. However, in terms of taste and texture, making these with just turkey is going to give you something closer texturally to a sandcastle than a meatball. You need a supplemental meat, like pork or beef, to give this meatball the fattiness required to be moist and tasty. Next!
Cooked Perfect Angus Beef Meatball
Per serving
: 250 calories, 19 g fat (9 g saturated fat), 480 mg sodium, 8 g carbs (2 g fiber, 2 g sugar), 13 g protein
The Cooked Perfect brand offers 10 different kinds of frozen meatballs. These are made with Angus beef and two kinds of cheese: parmesan and romano. An 18-ounce bag cost $10.99.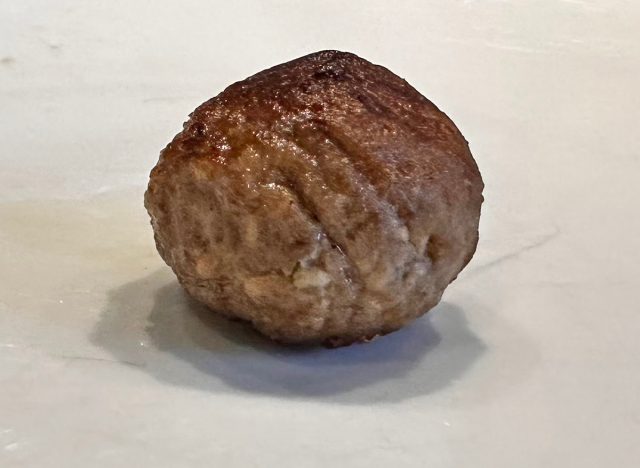 The Look: There is a very deep brown color to this, which makes sense, because it's an entirely beef meatball. It crisped up nicely, but you can see exactly where those 19 grams of fat went, which is insane for one serving of meatballs. This meatball is glistening with fat.
The Taste: Just the way it looks—fatty. The beef flavor comes through just fine, but this is under seasoned and the only thing you can taste is fat. I don't know what cuts Cooked Perfect is using, but I'd suggest mixing it with a leaner mix for more of a 80-20 meat-to-fat ratio. This seems more like 20-80.
Harris Teeter Italian Style Meatballs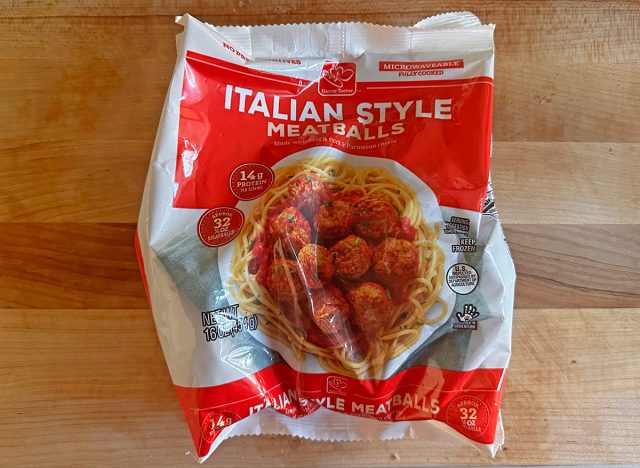 Per serving (6 meatballs)
: 230 calories, 17 g fat (7 g saturated fat, 0.5 g trans fat), 520 mg sodium, 26 g carbs (2 g fiber, 16 g sugar), 3 g protein
Harris Teeter also sells these Italian-style meatballs, made with a mixture of beef and pork. What makes them Italian? I'm guessing it's the parmesan cheese listed among the ingredients. A 16-ounce package cost $5.49.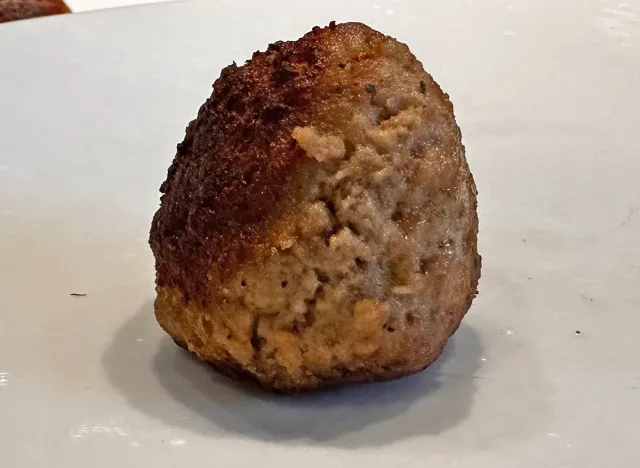 The Look: The store brand gets points for size here, because both this and the turkey variety were among the biggest meatballs we got. However, this is still not big enough for my liking. I want to make it very clear that a meatball should be about the size of a golf ball, maybe a little bigger.
The Taste: If this is "Italian," then Italia is a lot blander than I thought. The seasoning is subpar, and I'm getting a gamey flavor from the meat itself. It's not the worst, but it's certainly not the best of the meatballs I tried. It's just bland and a bit off-tasting. But the size and texture are all there. Also, look, am I a nutritionist? No, I'm a human garbage can. However, even I know that trans fats are bad. You can get a way tastier meatball without trans fats and just take that health risk away.
Mama Lucia Italian Style Bite Size Meatballs
Per serving (6 meatballs)
: 210 calories, 15 g fat (5 g saturated fat, 0 g trans fat), 690 mg sodium, 5 g carbs (1 g fiber, less than 1 g sugar), 13 g protein
Family-owned Italian food company Rosina has been making meatballs since the 1960s. Its Mama Lucia brand offers four different varieties, including these bite-sized Italian-style meatballs, made with chicken, pork, and beef. A 16-ounce bag cost $7.49.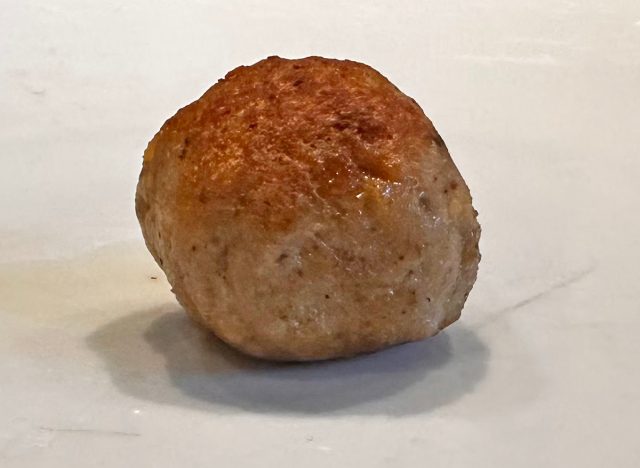 The Look: Hilariously small. It looks like an astronaut lost in the vastness of space, except it's a tiny meatball lost in the endless void of my plates. I get that they're supposed bite-sized meatballs, but outside of a toothpick snack at a dinner party, I see no need for tiny meatballs like these.
The Taste: Serviceable. You can do much better, but you can also do much worse. All the right things are here. It's well seasoned. I can taste herbs. But, the meat could be higher quality and the meatball could be a lot less dense.
Cooked Perfect All Natural Homestyle Meatballs
Per item/serving
: 250 calories, 15 g fat (9 g saturated fat, 0 g trans fat), 180 mg sodium, 8 g carbs (2 g fiber, 2 g sugar), 13 g protein
Another option from the Cooked Perfect's wide assortment of frozen meatballs is this all-natural homestyle variety, which claims to contain no gluten, no dairy, and no artificial ingredients, either. A 28-ounce bag cost $10.99.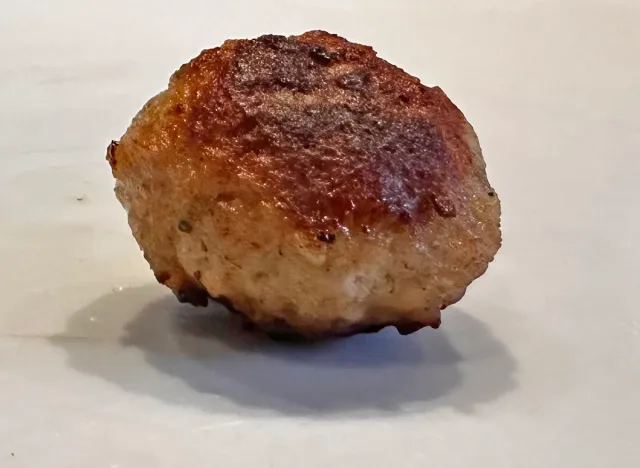 The Look: Tiny. Why is this meatball so small? If you're one of the people regularly consuming these insanely tiny meatballs, please reach out to me and explain yourself. I cannot comprehend wanting a meatball this hilariously small. It won't add much flavor to your sauce. It won't give you much meat, either, and it's absurdly easy to overcook.
The Taste: Pretty great, actually. These oddly small, but tasty orbs are made with a mixture of beef and pork, according to the company's website. Blending flavors is a huge part of what makes a meatball serviceable (with some exceptions), and this delivers. The seasoning is not bad, either. Overall, a very solid effort by Cooked Perfect, aside from the comically small size
Impossible Homestyle Meatballs
Per Serving (3 meatballs)
: 210 cal, 14 g fat (3.5 g saturated fat), 440 mg sodium, 9 g carbs (2 g fiber, O g sugar), 12 g protein
I'm a big fan of Impossible products, which are made from plants—not animal protein. These "homestyle" meatless meatballs, for instance, are made with soy protein and various spices, according to the listed ingredients. A 14-ounce package cost $9.99.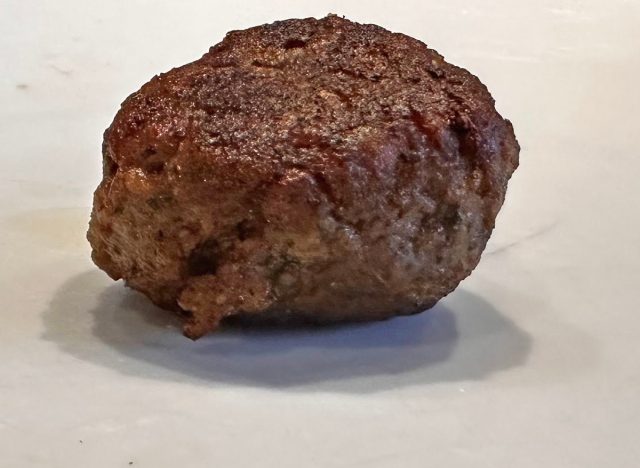 The Look: Like a real meatball, which, in the plant-based world, can only be considered an accomplishment.
The Taste: Quite good, actually. Biting into this, the first thing you notice is that it's seasoned well all the way through, which is hard to do in any meatball, let alone a vegan one. This meatball has a great flavor, especially for a meat alternative. My only gripe is textural. It has too much bite compared to a real meatball. But, since this is, in fact, plant-based I can't complain too much about the plant texture.
While it can't really compete with homemade meatballs, the Impossible variety makes the most sense to purchase in frozen form. It's the tastiest of all the brands I tried, and because it's actually meatless, it should appeal to the widest audience. Whether you're vegan or not, you'll enjoy these. And, if you want a truly great meatball, you can always make your own.
Robby Haynos
Robby loves eating as much as he loves writing. After graduating from Bates College, Robby is turning his passion for food writing, found during his time with the college newspaper, into a career. He has written for Celebrity Page TV and runs a blog reviewing restaurants in his home towns of Takoma Park, Md., and Rehoboth Beach, Del.
Read more about Robby