5 Packaged Meatballs With the Highest Quality Ingredients
Mama mia, that's a healthy meatball! These tasty orbs get our nutritionist's mark of approval.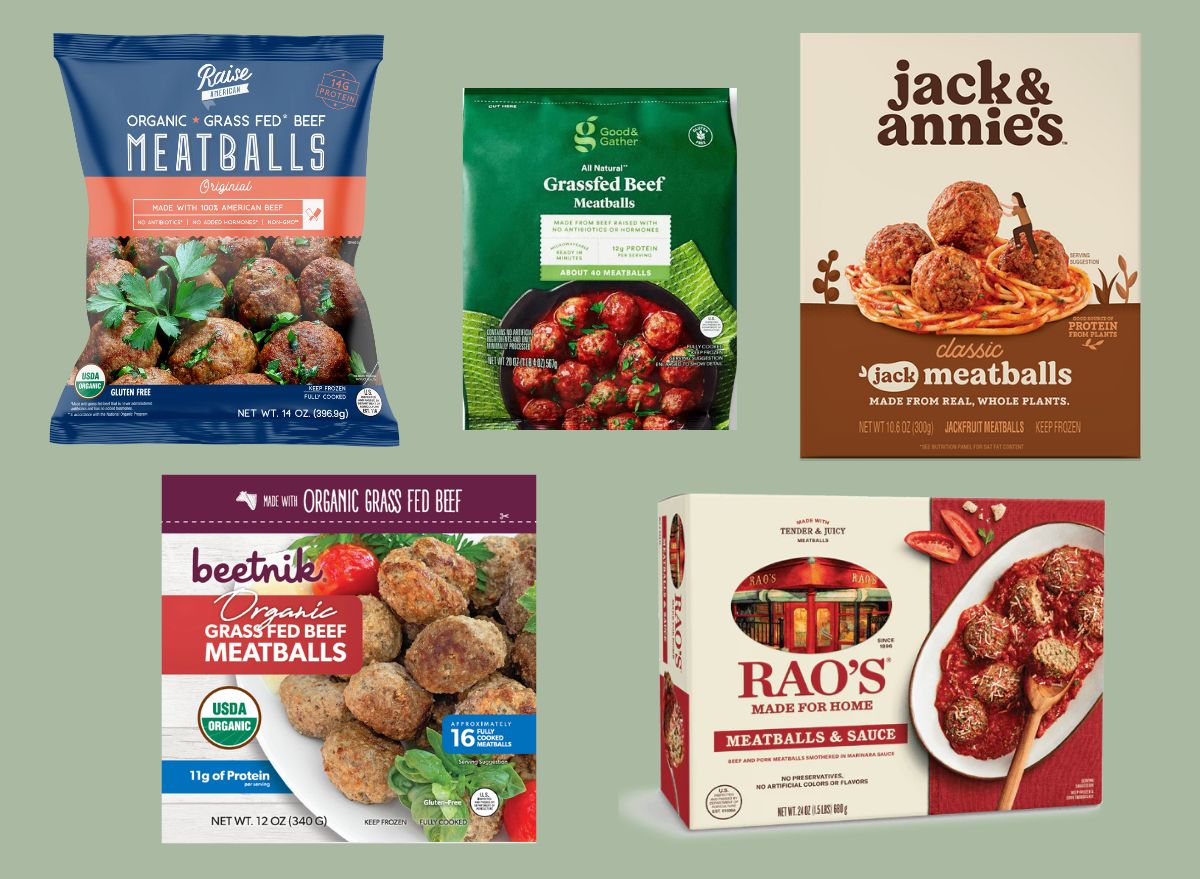 The product recommendations in this post are recommendations by the writer and/or expert(s) interviewed and do not contain affiliate links. Meaning: If you use these links to buy something, we will not earn a commission.
It's not your imagination: dining out, whether at a sit-down restaurant or a fast food chain, costs more than ever. Inflation has been pushing restaurants to hike up menu prices by 8.8% over the past year, according to the Consumer Price Index report in May 2023, and it might be taking a bigger toll on your wallet than you can stomach. If the price of going out to eat these days is just too high, there are ways to bring restaurant-style meals home for a fraction of the cost.
Cooking doesn't just save you money, either. It also gives you better control over the nutrients you're getting from your food. Prepared foods are a helping hand in the kitchen, and while they can still cost a bit more than raw ingredients, having that ready-to-go protein could save you from throwing up your hands and ordering take-out.
"Although frozen meals don't always have the best reputation, they can make balanced eating much more convenient and affordable. Frozen foods have a longer shelf-life than fresh foods," says Lisa Moskovitz, RD, CDN, CEO of The Virtual Nutrition Experts and author of The Core 3 Healthy Eating Plan.
If you're craving some elevated Italian, well, then meatballs are key. Choosing a healthy meatball option isn't all that difficult in theory—but finding one can prove difficult. To make sure you're getting the best ones for you, according to Moskovitz, shoppers should look for packaged meatballs that have minimal filler and lower-than-average fat.
"It's ideal to find brands that use more simple ingredients, have less than 500 mg of sodium, and have less than 7 grams of cholesterol-raising saturated fat," she says. "Of course, it's also important that you choose a product that tastes good to you and is accessible."
These packaged meatballs come in rare, highly-nutritious form, because they have our Medical Board expert's seal of approval while satisfying the craving for Italian cuisine. Use them to create a hearty spaghetti dish, a juicy sub sandwich, or a tasty toothpick appetizer.
Rao's Frozen Meatballs and Sauce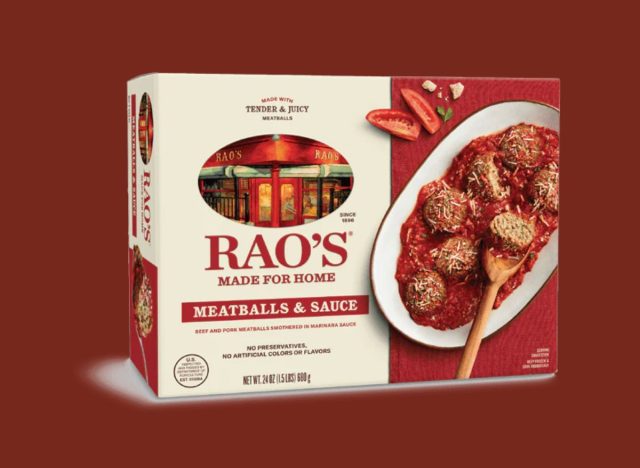 Per serving (⅔ cup)
: 220 calories, 16 g fat (5 g saturated fat), 490 mg sodium, 8 g carbs (1 g fiber, 3 g sugar), 11 g protein
For a simple and delicious two-step meal, these tender Italian meatballs are the perfect addition to a bowl of spaghetti. The package comes with six hefty beef and pork meatballs with all real ingredients, like bread crumbs, Romano cheese, and olive oil. "Made with no artificial flavors or colors, Rao's Frozen Meatballs are an easy and delicious protein option for dinner," says Moskovitz. "They only contain 5 grams of saturated fat which is relatively low for most meatball recipes."6254a4d1642c605c54bf1cab17d50f1e
The price will vary based on where you find this pre-made package, but we found it at Target for $10.99 ($1.83 per meatball). Bonus: it also comes with the well-loved marinara sauce that made its way into Costco shoppers' hearts over the years.
Good & Gather All Natural USDA Grassfed Beef Meatballs
Per serving (6 meatballs)
: 200 calories, 15 g fat (7 g saturated fat), 450 mg sodium, 6 g carbs (0 g fiber, 1 g sugar), 12 g protein
In addition to Rao's, Target also sells its own high-quality brand of meatballs? The retailer's private label Good & Gather carries this all-natural, gluten-free option. For just under $7 ($0.17 per meatball), you get 40 microwaveable meatballs with a generous amount of protein from antibiotic-free, hormone-free beef. "The best part about Good & Gather Meatballs is they are made with grass-fed beef which tends to be higher in phytonutrients compared to conventionally raised cattle," says Moskovitz.
Raise Organic Grass-Fed Gluten-Free Meatballs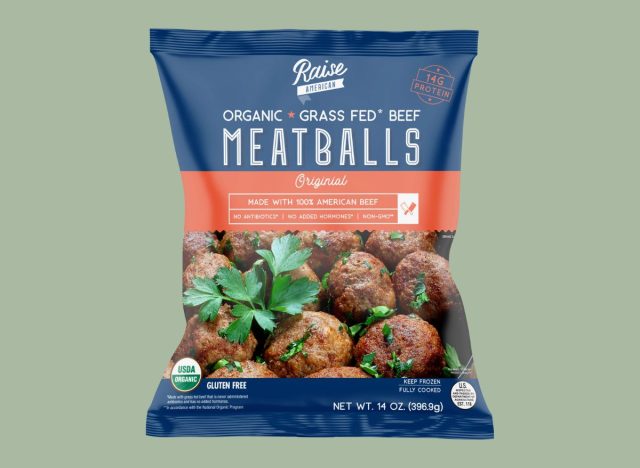 Per serving (3 meatballs)
: 210 calories, 14 g fat (6 g saturated fat), 540 mg sodium, 6 g carbs (0 g fiber, 0 g sugar), 14 g protein
Raise American is a meat company that works with certified organic cattle ranchers to produce organic, non-GMO, 100% grass-fed, homegrown beef with the highest standards. As a result, these gluten-free meatballs shaped from its beef are in the elite tier.
Moskovitz recommends them for those who are in search of the cleanest ingredients they can get: "With a whopping 14 grams of protein per service, these organic meatballs are made with grass-fed beef which can be slightly superior in the nutrition and fat department compared to regular beef meatballs."
The quality certainly comes with a higher price tag: $39.99 for two 14-ounce bags ($1.67 per meatball), according to the company's website, though you may be able to find the all-American beef retailer's products in some locations of The Fresh Market for around $9.99 per 14-ounce package.
Beetnik Organic Grass-Fed Beef Meatballs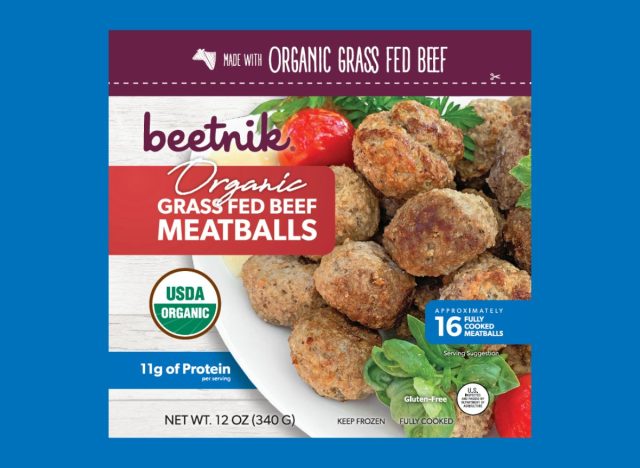 Per serving (4 meatballs)
: 220 calories, 17 g fat (7 g saturated fat), 220 mg sodium, 5 g carbs (0 g fiber, 0 g sugar), 11 g protein
If you're nostalgic for family dinner, these organic grass-fed meatballs should do the trick. Only the basics are baked into this all-beef, gluten-free choice, according to Moskovitz. "Beetnik Organic Grass Fed Beef Meatballs have very simple ingredients – as if you're making it right at home – and minimal sodium for those who have to watch salt intake."
It's available at a wide variety of large and small grocery stores, including Kroger, Walmart, Central Market, New Seasons Market, and Mom's Organic Market. Prices will vary, but Walmart has the 20-count bag for $10.27 ($0.51 per meatball).
Jack & Annie's Classic Jack Meatballs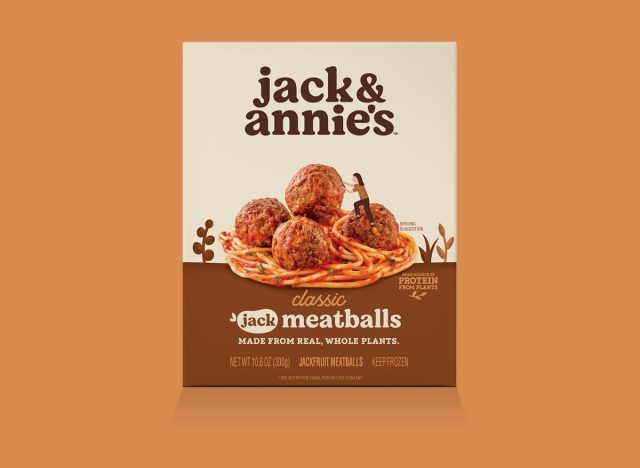 Per serving (3 meatballs)
: 220 calories, 13 g fat (5 g saturated fat), 340 mg sodium, 16 g carbs (6 g fiber, 2 g sugar), 8 g protein
We didn't forget about the vegans! This jackfruit-centric food company makes an array of meatless products, and unlike many plant-based meats, the fruit component offers real benefits, for both your body and the planet. "Jack & Annies not only provides a good source of 100% plant protein, but this vegan-friendly recipe also includes 6 grams of gut-friendly fiber," says Moskovitz.
These revolutionary "meatballs" sit on shelves at grocers like Whole Foods, Wegmans, Fresh Thyme Market, Sprouts, ShopRite, and Harris Teeter. While the price may change based on location, a box of 10 is around $6.99, ($0.70 per meatball).
Sarah Wong
Sarah studied at Northwestern University, where she received a bachelor's degree in computer science and experimented with mixing tech and journalism.
Read more about Sarah