I Tried 8 Frozen Pot Pies & 2 Brands Were Tough to Beat
The classic comfort food is a freezer aisle staple, but which brand is the tastiest of all?
The product recommendations in this post are recommendations by the writer and/or expert(s) interviewed and do not contain affiliate links. Meaning: If you use these links to buy something, we will not earn a commission.
As American as it might seem, the pot pie is not a New World invention. In fact, its origins are said to date back to ancient Greece, with the creation of meat pies called ​​artocreas. The pot pie, as its known today, wouldn't begin to take shape until the British got their hands on the recipe around the 16th century.
Nowadays, the pot pie has turned into one of the ultimate comfort foods. It's essentially the best parts of a soup or stew just stuffed inside a pastry-like crust. It smells like dessert while it's baking, but eats like a full and filling meal. What's not to like?
While the chicken pot pie is a classic, there are also many other forms this meal can take on: beef, turkey, or even steak can be found enveloped in crust. Food companies, as well as at-home chefs, have experimented with different vegetables aside from the norm of carrots, peas, and onions. And, the boundaries have also been tested with more outlandish concoctions like breakfast pot pies filled with sausage and gravy or pot pies stuffed with mac and cheese.
These options and more can be readily found chilling in supermarket freezers. And, if you're dying to know which brands soothe the soul versus which ones crumble under pressure, you're in luck. I tested out eight of the most popular frozen pot pies–sticking mostly to standard chicken–and found the best of the best. I baked all of them in a conventional oven, except for one Healthy Choice variety which didn't present the oven as a cooking method. But, don't worry. The microwave is also a viable option when you don't have 30 minutes to an hour–the average cook time represented here–to get dinner on the table.
So, without further adieu, let's dig in!
Raised Gluten Free Vegetable Pot Pie
PER 1 POT PIE
: 530 cal, 30 g fat (8 g saturated fat), 610 mg sodium, 58 g carbs (3 g fiber, 5 g sugar), 5 g protein
The minds behind Raised Gluten Free obviously place a strong emphasis on foods–primarily pies–which lack gluten. But, its foods are devoid of other allergens as well, such as dairy, eggs, soy, and nuts. The company is additionally strictly vegan, which means its signature pot pie does not include chicken as the rest of the pies here do and instead gives the spotlight to the vegetables. What the pie does come with, however, is an inflated price tag, ringing up at $9.99 for a single serving size. That is more than double the cost of most of the other pies on this list.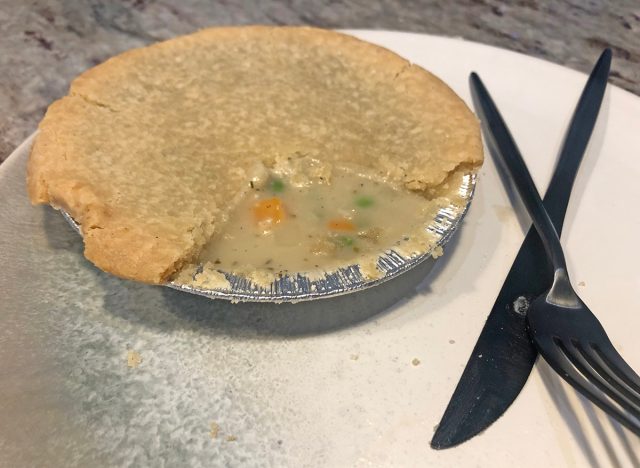 The Look: Flat as a pancake–the whole pie, container and all, is only three quarters of an inch thick. The crust almost looks like a sugar cookie, but more brittle and blotchy. The soupy mixture at the center is heavily seasoned and suspiciously dark. And, frankly, the vegetable supply seems a little low.
The Taste: Grainy with too many herbs and spices. Since this pie is gluten-free, its crust is made with white rice flour instead of wheat flour, and it shows. It feels gritty in your mouth and leaves a strange powdery aftertaste. And, it didn't get much better from there. The vegetable nucleus is made up of potatoes, carrots, peas, onions, and green beans–an unusual addition–which were all pretty dull. The vegan gravy, however, wasn't dull enough. It was filled with too many contrasting seasonings, including black pepper, garlic powder, and chili powder. It also included a poultry seasoning, which was a mix of marjoram, rosemary, sage, and thyme. I ended up throwing most of the vegan pie away, which broke my heart, given the steep cost.
Healthy Choice Crustless Pot Pie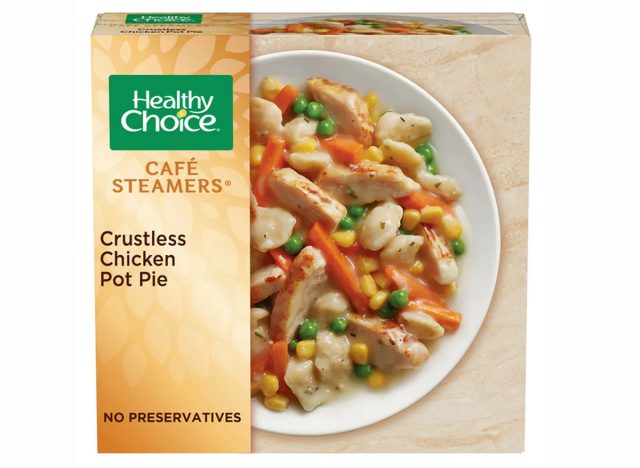 Per Serving (1 tbsp)
: PER 1 MEAL: 300 cal, 6 g fat (2 g saturated fat), 600 mg sodium, 40 g carbs (3 g fiber, 6 g sugar), 21 g protein
Healthy Choice did away with what in my opinion–and likely many people's opinions–is the best part of a pot pie: the crust. But, I went in with an open mind and decided to give this more health-conscious option a fair shot, anyway. The meal cost $3.79 and did actually beat out other brands with its lower calorie count and higher dose of protein from the chicken breast. Peas, carrots, and corn are also included, submerged in a bath of chicken broth, butter, oils, nonfat dry milk, and chardonnay wine. There's also one last surprise ingredient: dumplings. These are likely meant to add some sustenance in place of a doughy crust.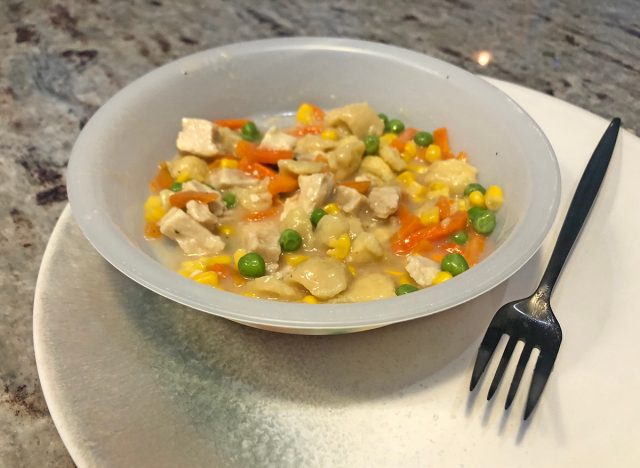 The Look: A stew of vibrant vegetables and bare chicken. The sauce itself is pretty thin. And, there is not much else present to suggest any hints of added flavor. Pinkish-white bits of chicken are on the smaller side. I also sometimes mistook them for a dumpling, which are close to a penny in size with an off-white color.
The Taste: Predominantly tasteless, with a few positive qualities. The flavor is muted throughout with the exception of the corn, which is fresh and snappy–it really carried a lot of my bites. A refreshing grilled taste could also be detected in the chicken, but some chunks were so chewy that it hurt my jaw. The dumplings did offer a nice change in pace in terms of texture. But, at the same time, they were fairly dry and mild in taste, even after being soaked for some time in the sauce. Even with taste aside, I just don't think there's enough essence of a pot pie here to justify the name, which is the main reason why it didn't earn my stamp of approval.
Banquet Chicken Pot Pie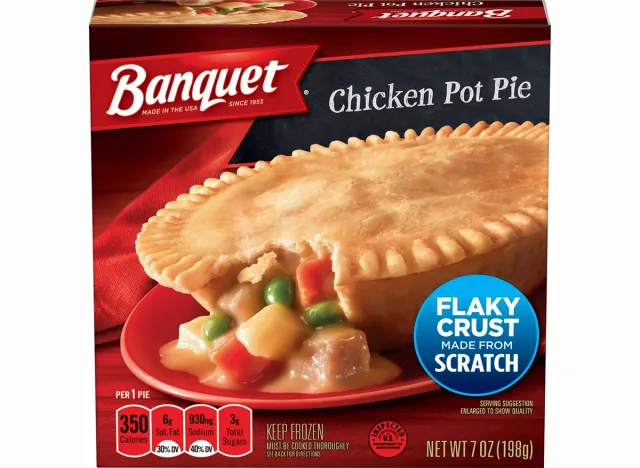 PER 1 POT PIE
: 350 cal, 18 g fat (6 g saturated fat), 930 mg sodium, 35 g carbs (2 g fiber, 3 g sugar), 11 g protein
Banquet specializes in low-cost frozen meals and snacks that take you from breakfast all the way through dinner and dessert. Pies receive extra special attention at the company, and you can find them filled with fruit, breakfast foods, and with various meats including beef, turkey, Salisbury steak, and chicken. The classic poultry option is small, measuring less than five inches across and about one inch thick, but still packs a high level of salt. The whole dish rings up at just $1 at Walmart—the best bargain you're likely to find on a pot pie.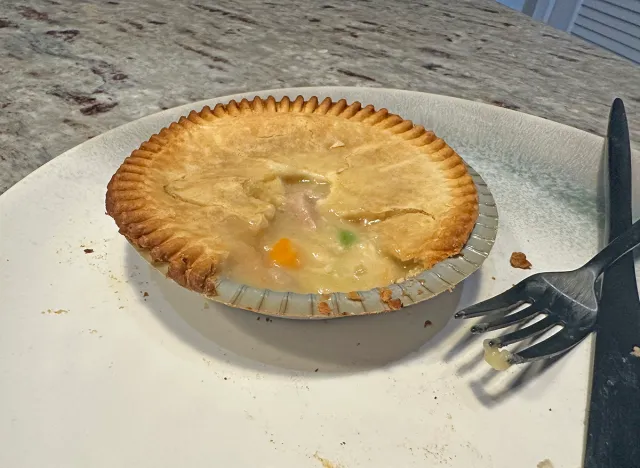 The Look: Toasty edges, but sloshy in the middle. The outer rim of the supposed made-from-scratch crust became rather brown in the oven—despite being cooked at 400 degrees for 32 minutes, just as the box specifies. The dough in the center remained soft, however, and at its core, this pie is very soupy, with sparse vegetables and chicken chunks. 
The Taste: Fairly bland and watery. The crust, which is more dense and doughy rather than flaky, gave off a stale taste. And, the filling is nothing more than glorified chicken stock. The carrots and peas were decent, but a few of the potato bits weren't cooked all the way through, resulting in an unpleasant crunchy texture. As for the chicken, it is juicy and flavorful, if you can get past its look which is reminiscent of diced ham. It is a pinkish-purple color, likely because it is "mechanically separated chicken" and not specified as white meat only. Overall, you get what you pay for. But, if you're not picky and just looking for a cheap, filling meal, then this $1 pie is for you.
Boomerang's Chicken Classic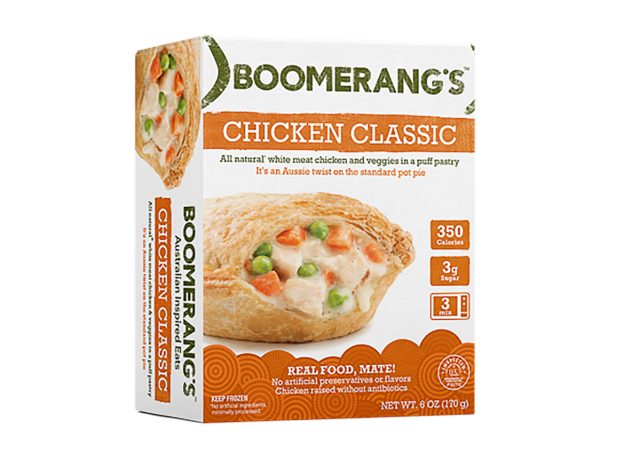 PER 1 POT PIE
: 350 cal, 14 g fat (7 g saturated fat), 460 mg sodium, 44 g carbs (2 g fiber, 3 g sugar), 12 g protein
Ever wonder how people eat pot pies down under? If so, Boomerang's has you covered. The brand serves up frozen savory pies of all kinds, each one cocooned in a flaky puff pastry shell inspired by Australia's handheld meat pies. Meat lovers can dig into the Steak & Potato, Chicken & Mushroom, or Beef Shepherd's Pie. Spinach & Mushroom and Mac & Cheese pockets are available for vegetarians. And, more Americanized options like Pepperoni and Southwest Chicken have also been added to the docket.6254a4d1642c605c54bf1cab17d50f1e
The Chicken Classic Pot Pie is one of Boomerang's most mainstream creations, described as "a fast, high-protein, wholesome lunch or dinner" and "like a warm, comforting hug, in a pie." It's one of the healthier pies in the taste test, sitting at just 350 calories and about half the sodium of other brands. I picked one up at Kroger for $4.79.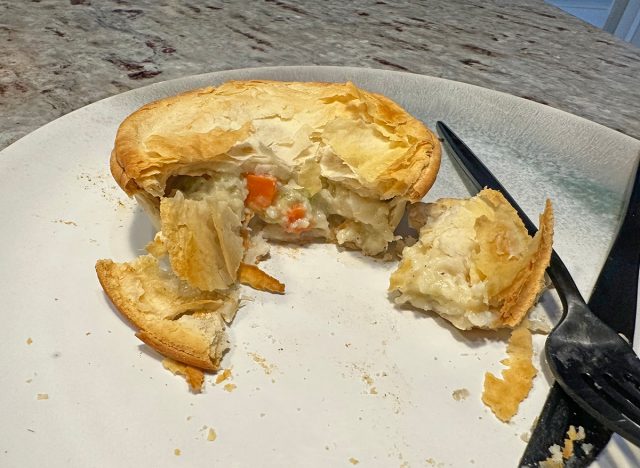 The Look: Thickly breaded, but recklessly flaky. I felt like the Grimm's fairy tale characters Hansel and Gretel transporting this from the store back home, as slivers of crust continuously escaped from the box. This continued even after it was cooked, with the top crust reminding me of filo dough. The pie is also petite, matching Boomerang's in terms of size. It is, however, the only brand I could safely take out of the tray without the whole structure collapsing upon itself—a great feature for any mate looking to take their pot pie on the go.
The Taste: Not enough chicken or standout flavor. The pastry crust is more like a saltine cracker and doesn't add anything of value to the dish. Inside, the gravy is more dry and mushy than creamy, and the taste of flour is prominent. The rest of the interior makeup is very veggie-heavy. And, while the peas, carrots, onions, and even celery were pretty appetizing and well-cooked, I expected a larger portion of poultry in a chicken pot pie.
Blake's Chicken Pot Pie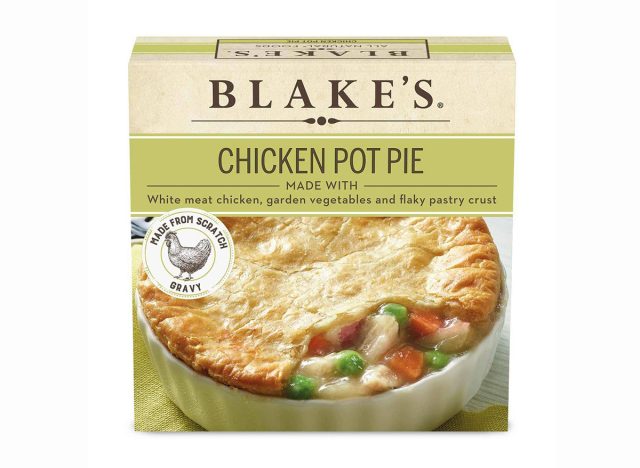 PER 1 POT PIE
: 400 cal, 24 g fat (9 g saturated fat), 720 mg sodium, 33 g carbs (4 g fiber, 5 g sugar), 13 g protein
The use of natural and organic ingredients is at the core of the Blake's company, and has been a pillar of its business since the Blake family made its first pot pie. Homestyle cooking is another key component and it shows through in its entire collection of made-from-scratch frozen meals including its Mac & Cheese, Chicken & Dumplings, and Macaroni & Beef.
Blake's Chicken Pot Pie is another staple, and a true comfort food which can be purchased for $4.49 at Kroger. It does in fact come with a shorter and more recognizable ingredient list compared to other top choices, with add-ins like real white meat chicken, carrots, peas, and potatoes.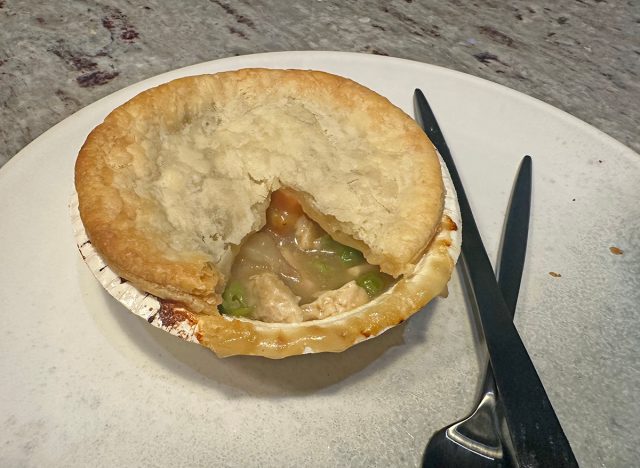 The Look: Pale and overflowing. Blake's is the only pot pie which spilled over during the cooking process. But, it seems like the company is aware of the issue since the box suggests placing it on a cooking sheet to bake rather than right on the rack (it even adds that consumers should "cover baking sheet with foil for easy clean up"). The flaky crust is more like a sad tortilla flopped on top. And, the made-from-scratch gravy reminds me of a clear chicken noodle soup base.
The Taste: Surprisingly tolerable. Going in, Blake's appearance didn't inspire a lot of confidence. And, I still don't think Blake's would win any awards for exceptional flavor, but many components here are actually very well done–with the exception of the mediocre and mushy top crust. The chicken is juicy, having been cooked with olive oil, brown sugar, and sea salt. There is also a heavy dose of veggies, essentially turning the filling into the pea and potato show–which I viewed as a positive since the potatoes exhibited a nice garlicky flavor.
By Chef Ramsay Chicken Pot Pie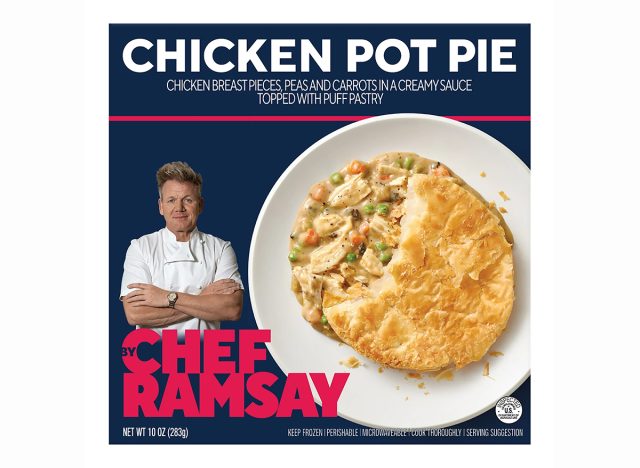 PER 1 BOWL
: 460 cal, 20 g fat (12 g saturated fat), 1470 mg sodium, 52 g carbs (1 g fiber, 5 g sugar), 19 g protein
When you think of the work of Gordon Ramsay, one of the world's most renowned (and most polarizing) chefs, your mind likely drifts to gourmet recipes such as beef Wellington or lobster risotto. But, the celebrity chef's By Chef Ramsay line, sold at Walmart, dips into more everyday dishes and soul food, like a traditional chicken pot pie. Of course, the chef does doctor up his version just a smidge with the addition of mushrooms, potatoes, celery, onion, and both thyme and pepper to taste. The single-serve frozen bowl set me back $5.49.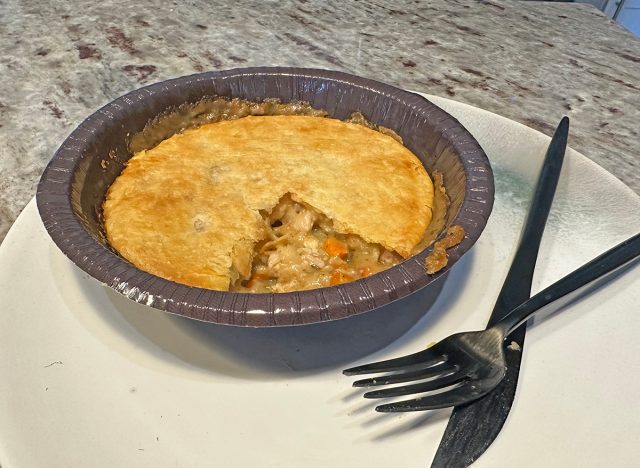 The Look: Bloody hell! It's very deflated and dry. Ramsay would have received a snarky and rude comment on his own TV show Hell's Kitchen for the presentation of this pot pie. The dish is flat in stature and the pastry on top has no puff to it whatsoever. Underneath, the contents are more ingredients than sauce, and it all comes in a darker than usual hue—likely a byproduct of the added mushrooms.
The Taste: Fresh and flavorful chicken and veggies that are sabotaged by a disappointing crust. The puff pastry is really the downfall of the whole dish and what robs it of that je ne sais quoi you would expect from an experienced chef. It's more chewy instead of crisp, coming off as artificial and even like cardboard in spots. On the flip side, the oven-roasted white meat chicken is quite succulent. And, it's surrounded by a balanced helping of colorful vegetables—including the tender mushrooms, which I thought to be a nice touch—all swimming in a thick gravy that is savory and peppery but not overbearing.
Marie Callender's Chicken Pot Pie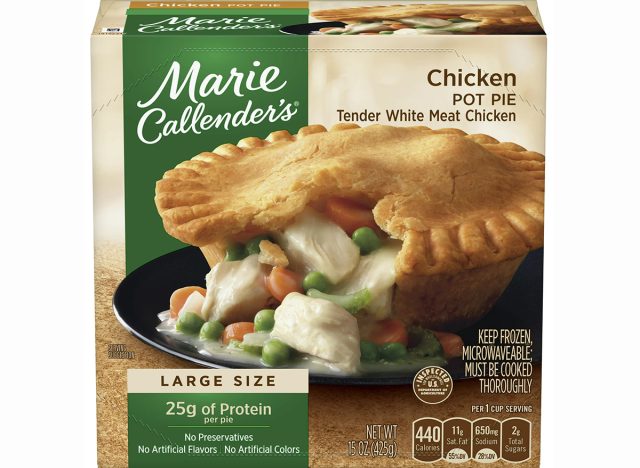 PER 1 CUP/SERVING (2 SERVINGS PER CONTAINER)
: 440 cal, 26 g fat (11 g saturated fat), 650 mg sodium, 40 g carbs (2 g fiber, 2 g sugar), 11 g protein
Marie Callender is a real life person and inspiration who turned an at-home bakery business into a pie empire. At most grocery stores you visit, you're likely to find her licensed green boxes scattered throughout the freezer aisle, and the brand has become a household name when it comes to both sweet dessert pies and pot pies.
The company also has the largest assortment when it comes to pot pies. Available options include beef, turkey, chicken corn chowder, and broccoli cheddar and potato. Some are even served in a new cauliflower crust. I opted for the standard large-size chicken pot pie for $3.48, which measured about six inches wide and two inches deep. As a weightier dish, it also came with an elongated cook time of 60 to 65 minutes in the oven.
The Look: Nicely browned on the outside, creamy and inviting on the inside. It really does look like the quintessential pot pie and matches the picture on the box pretty closely. The crust looks flaky but also moist. The advertised made-from-scratch gravy is that desired milky shade of tan which makes the carrots and peas stand out. And, the white meat chicken is plentiful.
The Taste: A perfect harmony of flaky crust and plump chicken and vegetables. Each individual ingredient impressed me. A tad of sweetness comes from the peas and carrots, while the onion and celery are more understated but still important features. The outer shell is both crisp and doughy at the same time—in the best possible way. This is also one of the best displays of chicken thus far. It's juicy, has some depth, and there's plenty to go around. When it all came together, this pie's only shortcoming is that it could use just a tad more seasoning and flavor in its made-from-scratch gravy. Even just a pinch of pepper would elevate it to new heights. Otherwise, my compliments to the chef, Marie.
Boston Market Chicken Pot Pie
PER 1 CUP/SERVING (2 SERVINGS PER CONTAINER)
: 470 cal, 34 g fat (14 g saturated fat), 660 mg sodium, 35 g carbs (2 g fiber, 3 g sugar), 9 g protein
Did you know Boston Market used to be called Boston Chicken? And, that it's been a restaurant since 1985—long before the brand ever started selling its frozen food packages at the supermarket? The chain still has over 300 locations across the U.S. and rotisserie chicken continues to be at the forefront of all of its world-famous dishes, including its fan-favorite chicken pot pie. The pie is luckily one of the items that made its way to grocery store shelves as well, through the Boston Market at Home brand. I found it for $3.49 at my local Giant Eagle store.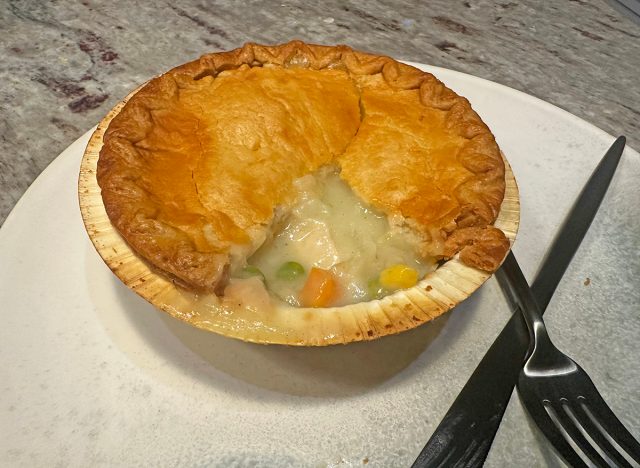 The Look: A crispy yet moist crust with a gravy filling very much like Marie's. This pie acquired a great deal of color in the oven, but still didn't appear burnt. Upon cutting into the middle, I uncovered a stockpile of ample mixed vegetables and chicken. And, the sauce, albeit a tiny bit thinner than Marie's, looked delectable with what appeared to be butter streaking through it. The pie was also chunky in size and therefore took almost 70 minutes to cook all the way through.
The Taste: Buttery and rich from start to finish. Likely due to the shortening added in, this pie crust all but melts in your mouth with a flawless crumbly consistency. Half and half additionally elevates the velvety gravy. The all-white meat chicken does contain rib meat but the taste is still excellent, and I was happy with the size of the chunks. The carrots, corn, peas, onions, and celery all worked together well, and I was glad to see the diversity in vegetables here that not all brands provide. Other brands stick to mostly carrots and peas. Overall, I found that I had little to no complaints about this pot pie, whatsoever. And, I know that with the shortening and half and half, this certainly isn't the healthiest option, but man, is it heavenly.