17 Surprisingly Delicious Things to Do with Frozen Produce
Chilled fruits and veggies can inspire culinary genius!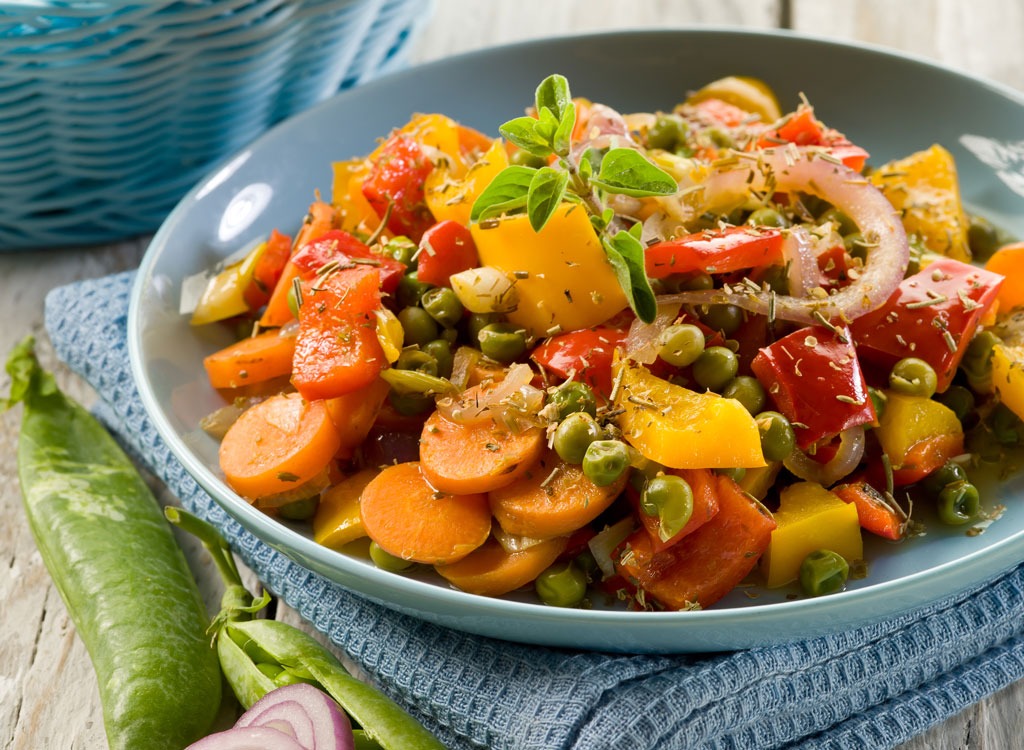 If you look into any healthy eater's freezer, you're bound to find it stocked with frozen produce ranging from exotic mixed berries to the humble broccoli spear. While this may come as a surprise to some, it actually makes a ton of sense. Frozen fruits and veggies are cheap, make healthy eating a cinch (everything is already peeled, cut, and ready to go), and are actually seriously potent sources of nutrition.
Studies from the Institute of Food Research have shown that produce can lose up to 45 percent of its nutrients during the two-week journey from farm to table. While the loss of nutrition naturally happens a bit over time, produce is often exposed to extreme heat and light during transport, which further compromises their nutritional value and quality. Frozen fruits and vegetables, on the other hand, don't have this arduous journey. After they're picked, they're frozen within hours of being picked, which locks in their nutritional value.
Convinced that frozen produce is healthier, but still skeptical about the taste? Don't be. Read on to discover 17 tasty ways to use frozen fruits and veggies—and after you've picked out a few ideas you want to try, be sure to give these The 46 Best Supermarket Shopping Tips Ever a peek, too!
Add It to Broth
Even if you haven't gone to the market recently, if you have a few staples laying around, chances are good you'll be able to pull together a simple, nutritious soup in less than 30 minutes. Simply combine low-sodium chicken or vegetable stock with a bag of frozen vegetables, a can of rinsed and drained beans, and some fresh herbs and spices. Delicious—and not to mention, easily adjusted to suit your freezer's inventory, too!
Make Salsa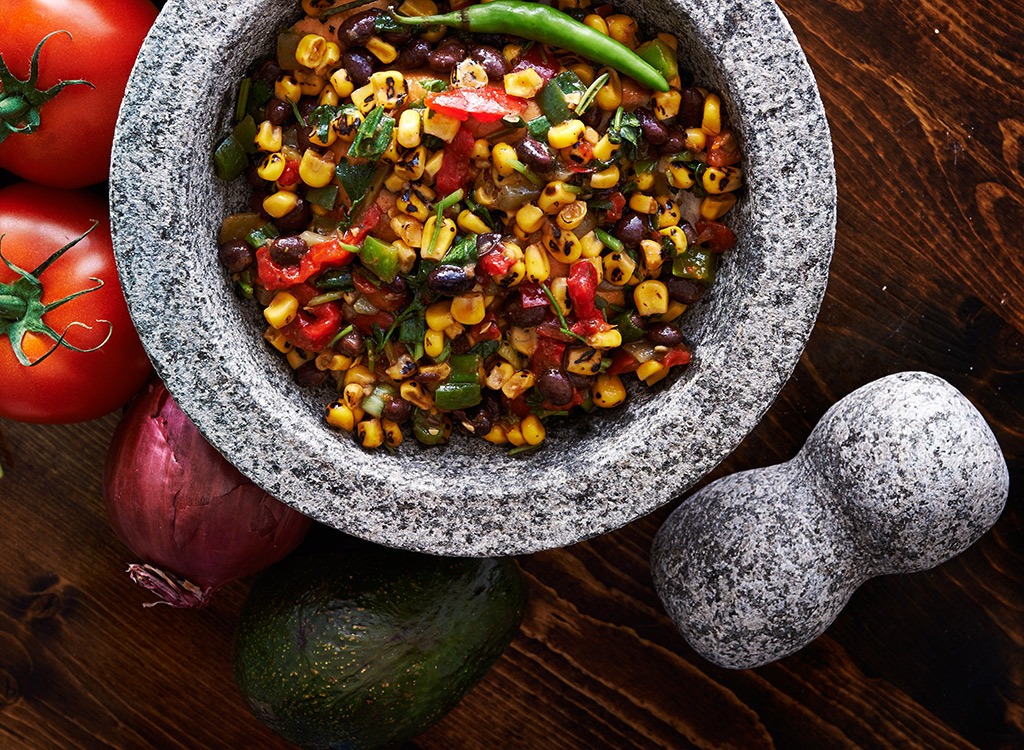 Not sure what to do with that lone bag of corn, that's been lingering in your freezer? We have the perfect solution: Make some salsa and have a fiesta! Our go-to recipe below tastes great with a bag of healthy chips and also fairs well as a chicken or pork topper along with some melty Tex-Mex cheese.
WHAT YOU'LL NEED
2 tablespoons olive oil
1 small red onion, chopped
1 bag of frozen corn
1 clove garlic, chopped
1 cup chopped tomato
1 cup black beans, rinsed and drained
1/4 teaspoon ground cumin
1 tablespoon lime juice
2 tablespoons chopped fresh cilantro
HOW TO MAKE IT
STEP 1
Heat the oil over medium heat. Add the onion, corn and garlic. Stir occasionally and cook until vegetables are tender.
STEP 2
Add the remaining ingredients and cook for an additional 2 to 5 minutes.
Infuse Pasta With More Nutrients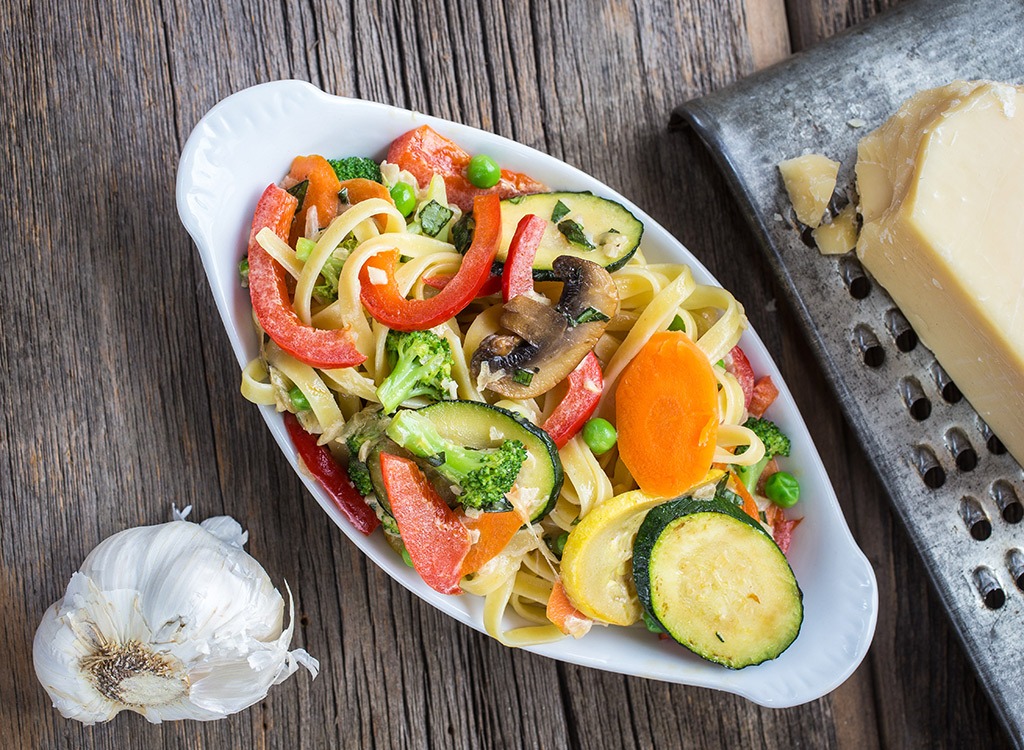 If you have a bag or two of Italian-style frozen veggies (think: zucchini, broccoli, peppers, cauliflower, mushrooms) and a box of pasta, you can get a healthy dinner on the table in less than 30 seconds. Simply heat the veggies on the stove with some minced garlic and olive oil while you boil up some pasta (we're big fans of fiber- and protein-rich pulse pasta) and then combine the two in a bowl. Top with your favorite marinara sauce, or simply add some fresh or dried herbs, a drizzle of olive oil, and a dusting of Parmesan or mozzarella cheese. Super simple, yet extremely satisfying and delicious.
Craft Fancy Ice Cubes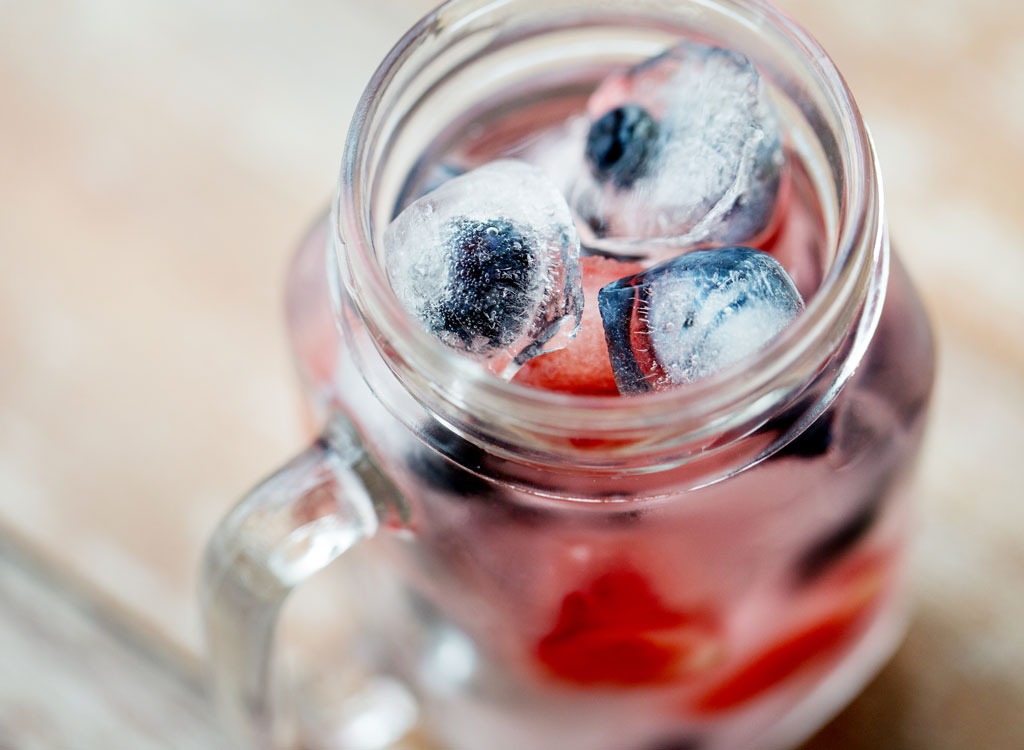 Hate the taste of plain H20 but don't love the idea of making an entire batch of detox water? Frozen fruit-filled ice cubes are the answer. To make a batch, add mixed frozen berries and water to an ice cube tray and freeze. As they melt in your cup of water, they'll provide some much-welcomed flavor and color.
Make a Healthy Pizza
Love pizza but hate the empty carbs? If you have a bag of riced cauliflower or cauliflower florets and some basic odds and ends, you can throw together a better-for-you pizza in no time at all! Here's how to bring it together:
WHAT YOU'LL NEED
12-ounce bag of frozen riced cauliflower or cauliflower florets
1 egg
½ cup mozzarella, shredded
1 tablespoon Parmesan cheese
Additional pizza toppings like sauce and cheese, to taste
HOW TO MAKE IT
STEP 1
While the oven is preheating to 400°F, cook the frozen vegetables according to their package instructions.
STEP 2
If you're using florets, toss the cooked veggies into the food processor and pulse until finely chopped. If your veggies are already in rice form, skip to the next step.
STEP 3
Drain the cauliflower in a colander and absorb any additional moisture with paper towels. Toss into a bowl and mix in the egg and cheeses.
STEP 4
Spray a circular baking sheet with cooking spray, and then press the mixture into a circle. Bake for 25 minutes or until the edges begin to get brown and crispy. Top with desired toppings (our guide 40 Best and Worst Pasta Sauces may come in handy) and then bake for an additional 8 to 10 minutes.
Make One-Minute "Nice" Cream
Sometimes you just need to have a legit bowl of ice cream with all the sugary toppings. There's no doubt about that. But if you want to indulge in something sweet and cold fairly regularly, we suggest that you hop on the "nice cream" bandwagon. Made with frozen fruit, tasty—yet healthy—mix-ins like nut butter, and a few other choice ingredients, "nice cream" is a slimmed down version of ice cream that healthy foodies around the globe can't get enough of. Not only is it low-cal and nutritious, it's super fast and simple to make, too! Just pop your fruit of choice into a food processor and whiz it up for about 30 seconds, or until it has formed ice-cream consistency. Dress it up with some healthy toppings and that's it! You've got healthy ice cream in less than a minute. For some more "nice cream" inspiration, don't miss these Frozen Banana Ice Cream Recipes.
Whip Up a Stir-Fry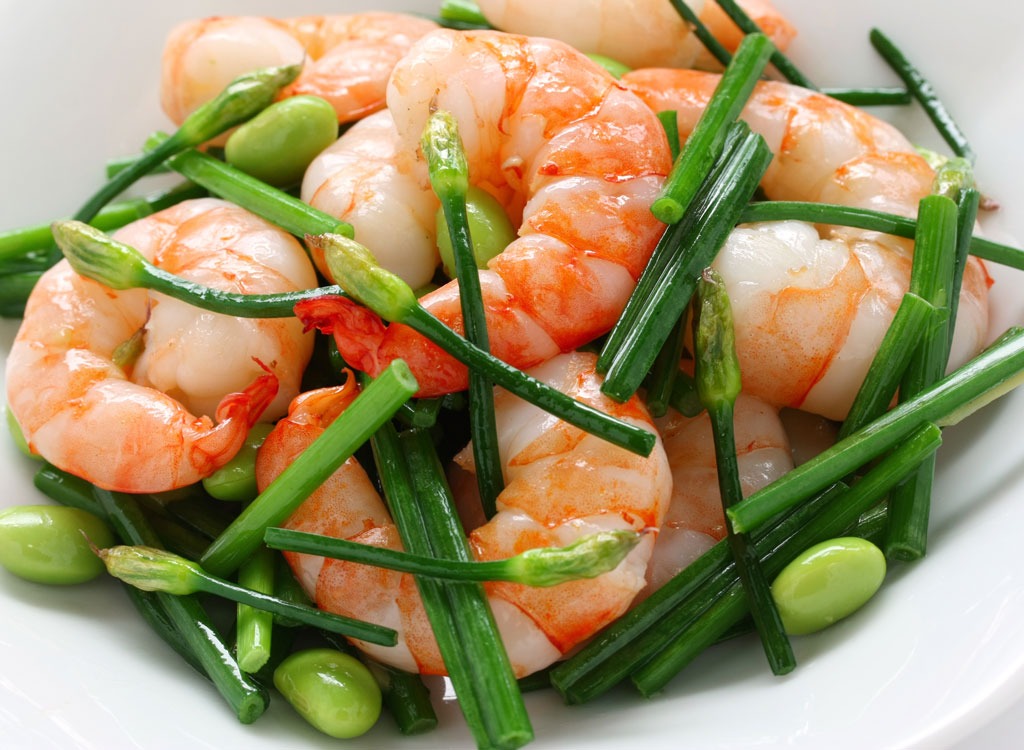 A bag of frozen edamame or mixed Asian veggies is the perfect base for a simple stir-fry. Just heat the veggies over a flame with a tablespoon or two of teriyaki sauce (we like Organicville Organic Island Teriyaki Sauce), add some deveined shrimp or cubed chicken, and some Asian-inspired spices (garlic, sesame seeds, orange and lemon peel, ginger, red pepper flakes etc), and voila—dinner is served! For even more skinny Asian meal ideas, don't miss these 20 Healthy Chinese Food Recipes!
Make Veggie Fried Rice
Fried rice is another Chinese staple that can easily come to life with the help of frozen veggies. Here's how to get the classic dish on the table:
WHAT YOU'LL NEED
1/4 cup vegetable oil
3 eggs, lightly beaten
3 cloves garlic, minced
Ground ginger and salt, to taste
3 tablespoons low-sodium soy sauce
1 teaspoon sugar
Cooked brown rice
Mixed frozen vegetables
Drizzle sesame oil
HOW TO MAKE IT
STEP 1
Heat 2 tablespoons of vegetable oil in a large skillet over medium-high heat. Add the eggs and cook until they're set. Transfer them to a bowl, set aside, and carefully wipe out skillet with a paper towel. (It will be hot!)
STEP 2
Heat remaining 2 tablespoons of oil in the same skillet. Saute garlic until fragrant, then add rice, ginger, and salt.
STEP 3
Add soy sauce, sugar, vegetables, and stir-fry until the veggies are soft and warm. Return the egg to skillet and mix until well combined.
STEP 4
Finish off the mixture with a drizzle of sesame oil and serve.
Mix in a Flavored Bag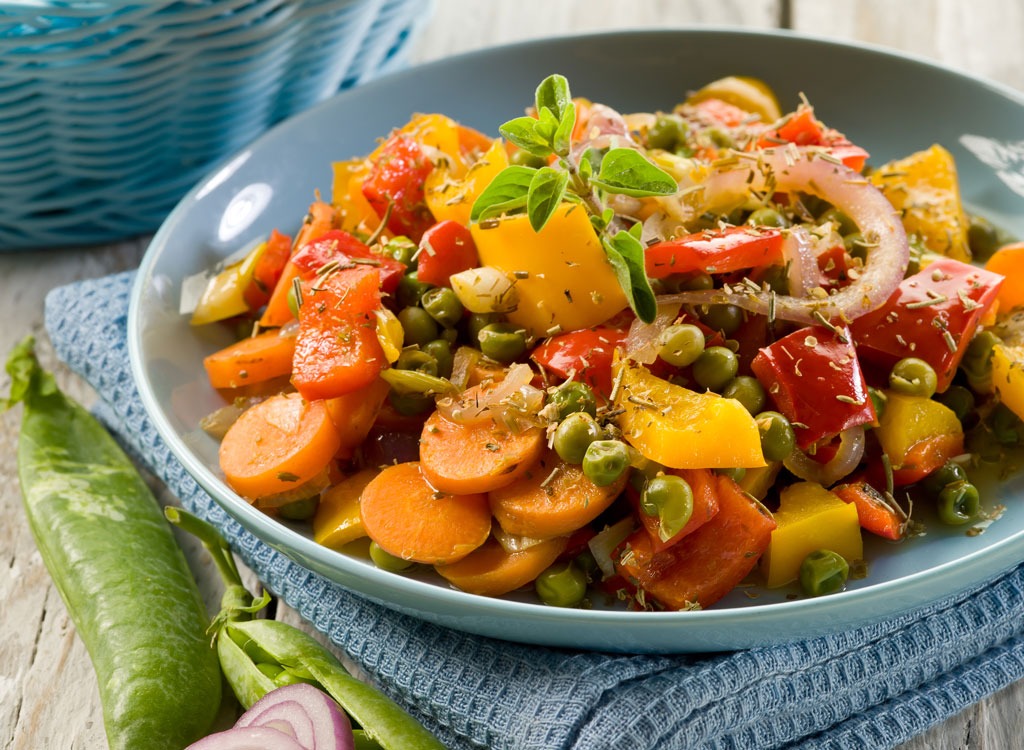 Whenever I buy frozen vegetables I always load up on some varieties that come in a light sauce as well as plain veggies that complement the produce in the dressed-up mixes. By mixing a bag of each together, I can get a side dish on the table in seconds—without overdoing it with caloric sauces. (Which can be a dead giveaway you didn't make the dish from scratch!) This is the perfect solution when you only have time to make a meat dish but want to serve a meal with multiple components. For more delicious side dish ideas, don't miss these 30 Healthy Side Dishes That Satisfy!
Make a Sweet N' Savory Sauce
Looking for a creative way to use up some leftover frozen fruit? Simmer it into a sauce. To make a batch, combine frozen fruit with chopped and sautéed onions, fresh minced garlic, chili powder, smoked paprika, oregano, and thyme and sauté over a medium flame. Add a splash of red wine and simmer until the liquid reduces. Add basil or chives before serving.
Try DIY Fruit Leather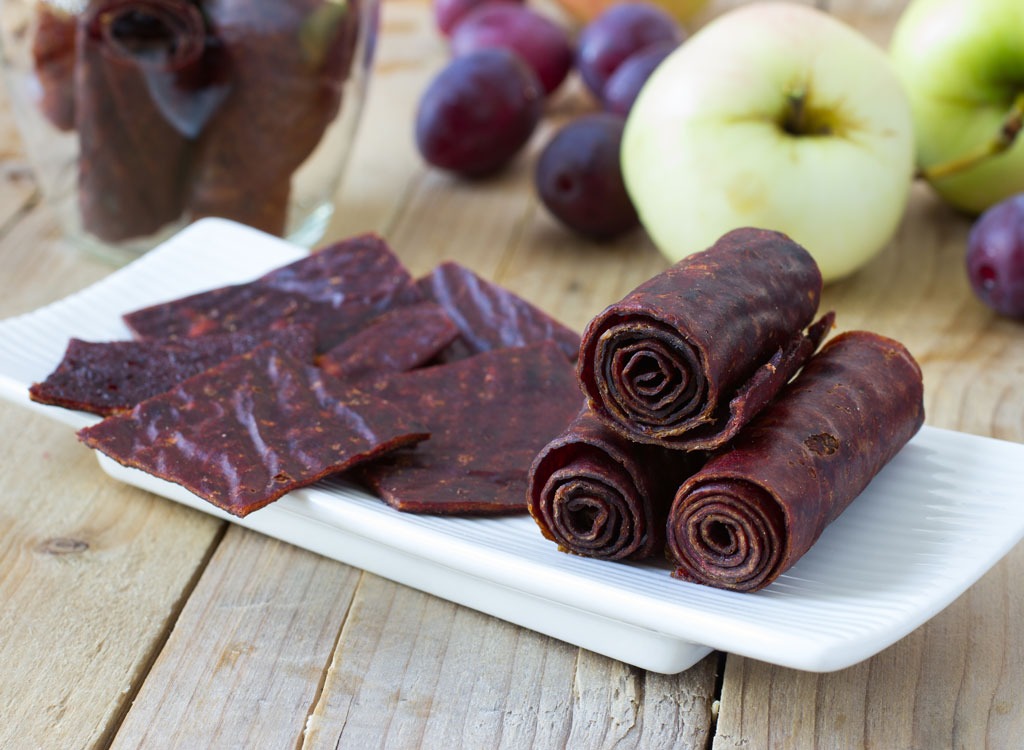 Fruit leathers are loved by tiny tots and adults alike. But most of the commercial varieties are pure junk! Betty Crocker Fruit Roll-Ups, for example, are make with unnecessary additives like red 40, Yellow 5 (one of these 23 Worst Food Additives in America), partially hydrogenated oil (a form of trans fat), and zero actual fruit. Thankfully it's super easy to make a healthy version at home—and the process is made even simpler when you use frozen fruit in lieu of the fresh kind. To learn how to make it, check out this great tutorial from blogger, Sara Wells of Our Best Bites.
Have Fajitas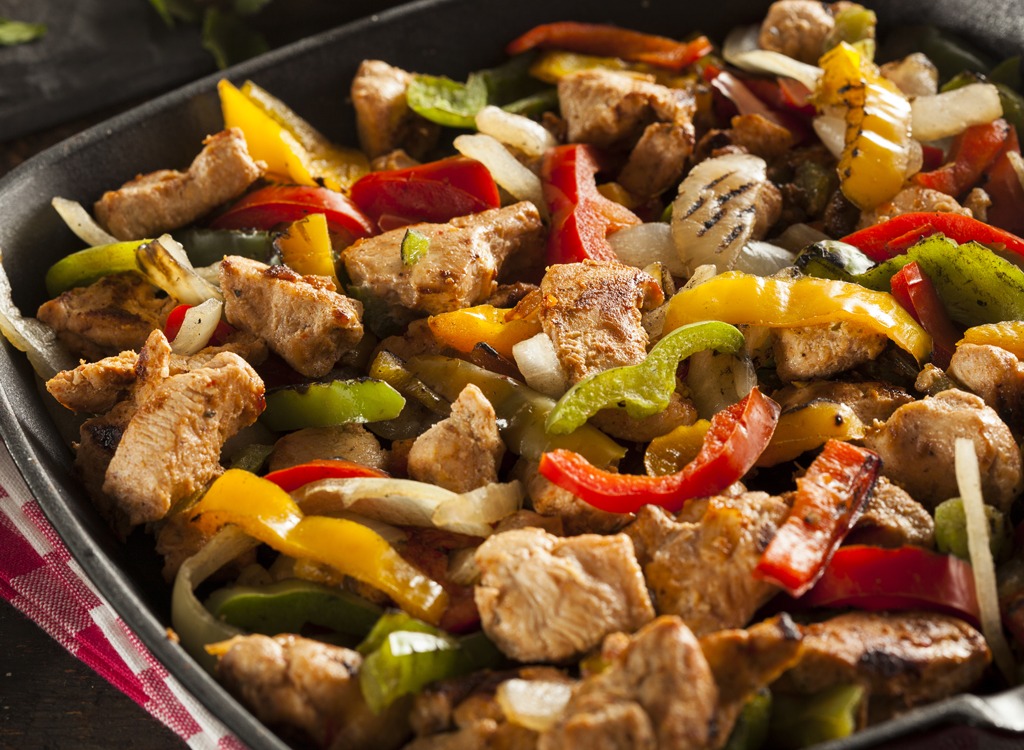 Fajitas may be a multi-component meal, but they're far from difficult to make—especially when most of the washing, slicing, and dicing was taken care of before the veggies were frozen. Here's how to pull the Chipotle-inspired meal together:
WHAT YOU'LL NEED
4 boneless skinless chicken breasts, cut into thin strips
3 tablespoons olive oil
Chili powder, ground cumin, and garlic powder to taste
1 – 2 packages frozen peppers and onions
Whole grain tortillas
Shredded romaine, lime wedges, and salsa, to taste
HOW TO MAKE IT
STEP 1
Heat two tablespoons of oil in a skillet over medium-high heat. Add chicken, cover the meat in the spices, and cook until it's no longer pink. Remove chicken from skillet and keep warm on a plate.
STEP 2
In the same skillet, heat the remaining oil over medium-high heat; stir in frozen veggies and cook until vegetables are crisp-tender.
STEP 3
Spoon chicken and veggies onto the center of each tortilla and serve with lettuce, lime, and salsa.
Season Them Strategically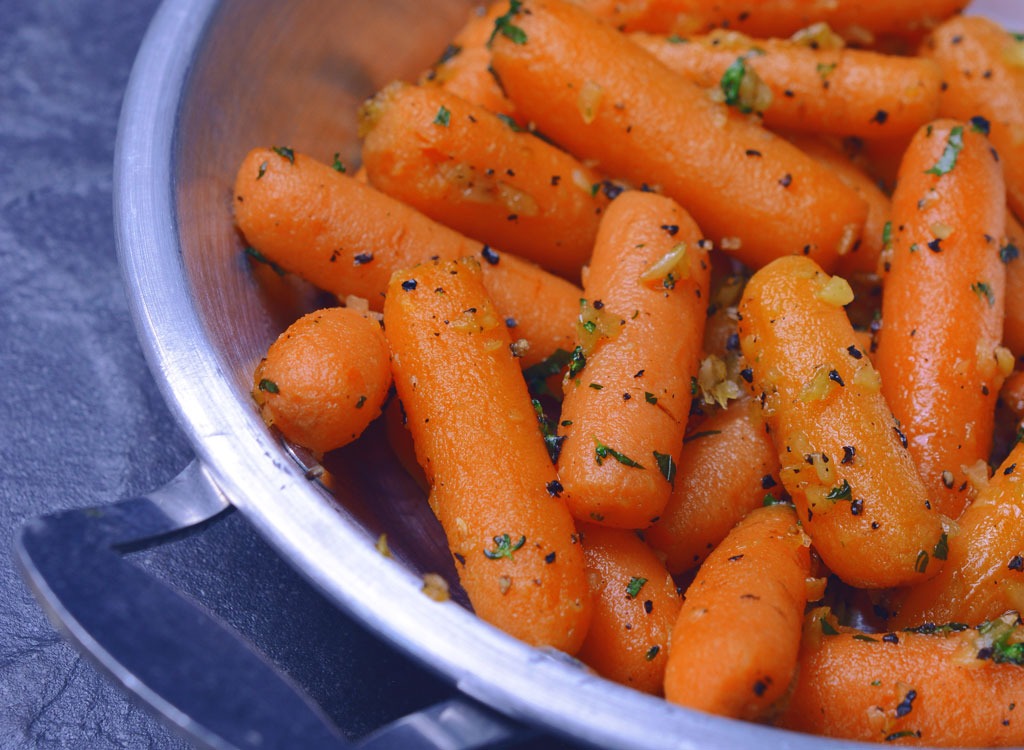 6254a4d1642c605c54bf1cab17d50f1e
If you're so short on time that you're reaching for frozen veggies, you likely don't have time to make some super fancy sauce to soup 'em up. But that doesn't mean you should serve them plain, though. Simple combinations of flavor like salt, pepper, and grass-fed butter (one of these 20 Best Full-Fat Foods for Weight Loss) and chile flake, honey, and lemon juice, can improve the flavor tenfold and take just seconds to mix into your serving bowl.
Make Popsicles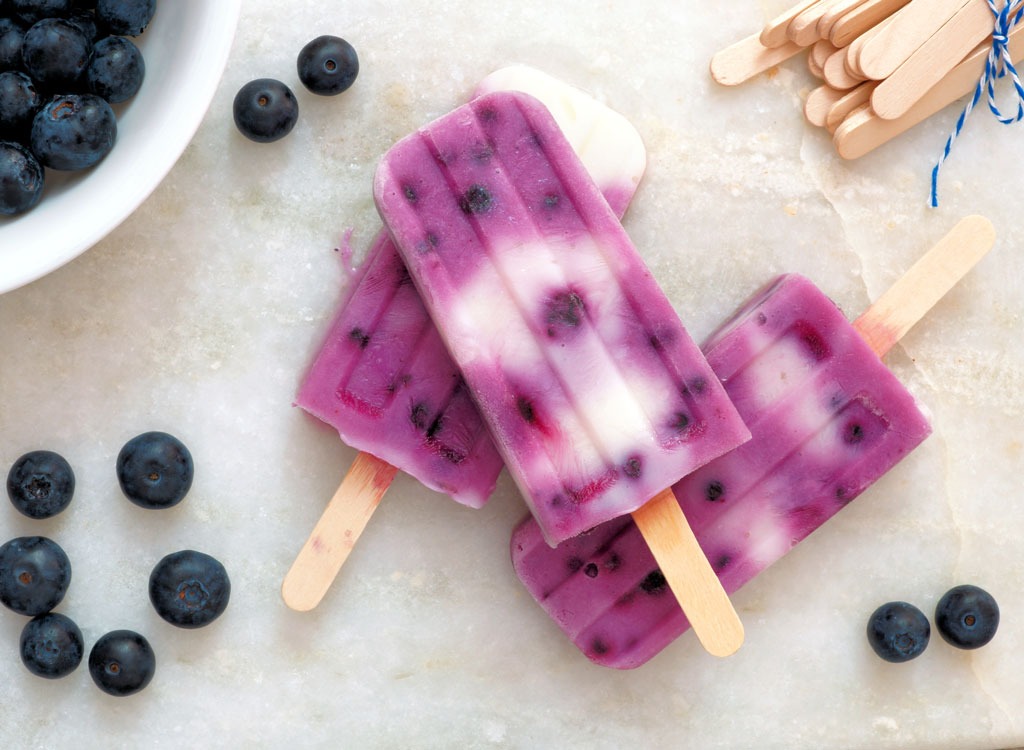 You may not look at the bag of frozen fruit in your freezer and think "dessert," but when blended with Greek yogurt and honey and poured into popsicle molds, that's precisely what you'll get. To keep sugar and excess calories to a minimum use plain Greek yogurt and try not to go too overboard with the honey.
Combine Them With Eggs
Love starting your day off with omelets but don't have time for a.m. veggie chopping? You should cut up your produce the night before or ditch the fresh stuff altogether and use frozen veggies instead. Let the veggies cook a bit before cracking your eggs to make sure they're nice and soft before they wind up on your plate. Not sure which eggs are the healthiest kind? Our guide, 26 Things You Need To Know Before Buying A Carton of Eggs can help.
Mix it With Quinoa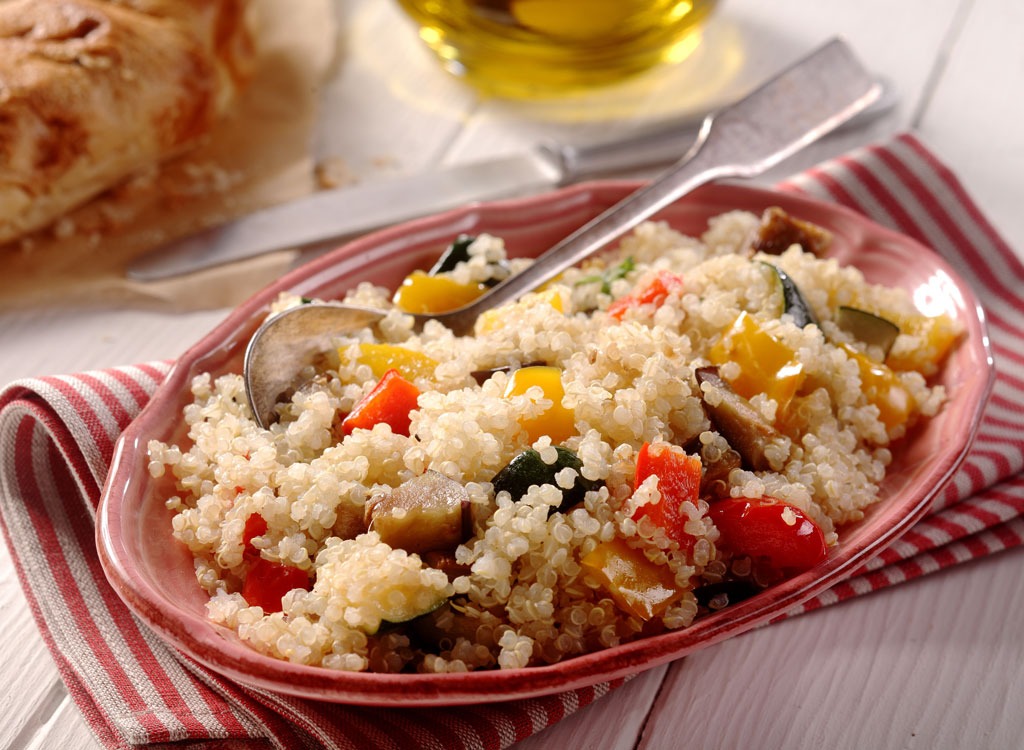 One of the easiest meals you can make with a bag of frozen veggies is a produce-speckled quinoa. While the grains are cooking, heat some olive oil in a large skillet over medium-high heat and add the veggies along with minced garlic, salt, pepper, and if you have it, a fresh chopped onion for added flavor. Combine the veggie mixture with the grain for a protein, fiber and healthy fat-filled entrée you're entire family is sure to love. Worried the dish won't be enough to keep them satiated? Add some leftover chicken to the mix or pair the quinoa dish with a robust side salad teeming with veggies and chickpeas for extra fiber and protein.
Try Overnight Oats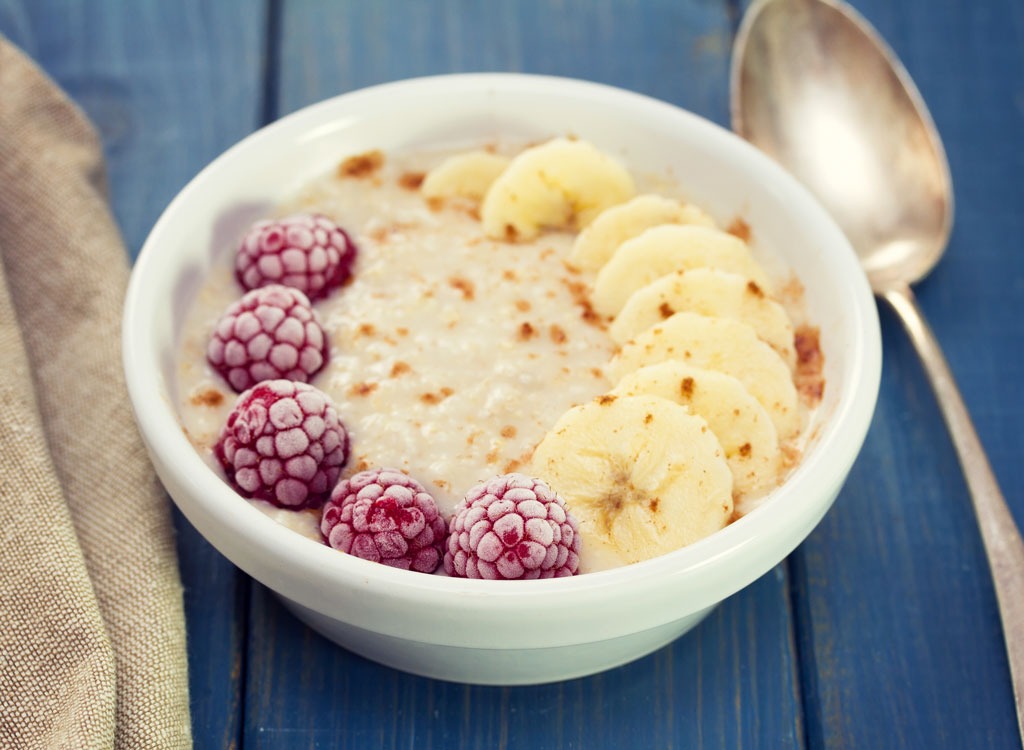 Just because you ran out of fresh fruit doesn't mean you can't make a batch of overnight oats before you head to bed. Frozen fruit works just as well! Use these 50 Best Overnight Oats Recipes for some culinary inspiration.