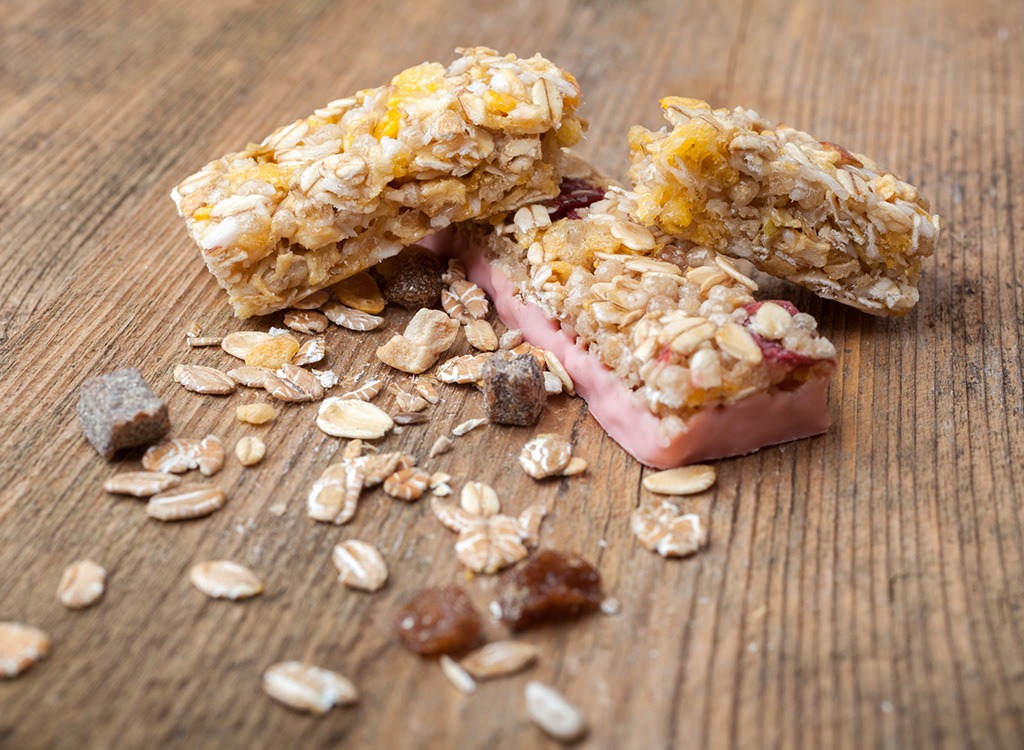 There comes a moment in every day — usually around 3, when your energy's running low and your hunger's heating up — when you've got to make a tough choice. You're hankering for something sweet. There's a candy jar on your neighbor's desk. It's practically calling your name….
If you want to squelch that craving and still eat healthy, there's an obvious option: reach for a fruity energy bar. Individually wrapped like big, thick Twizzlers, they promise belly-flattening protein and all the sweet, gooey flavor of your favorite candy.
But which of these healthy alternatives actually deliver when it comes to taste? And what exactly is IN those supposedly good-for-you treats? We put our dental work on the line, unwrapped some of the most popular fruity nutrition bars in America, and bit deep. Here are the results of their blind taste test.
Simply Protein Banana Butterscotch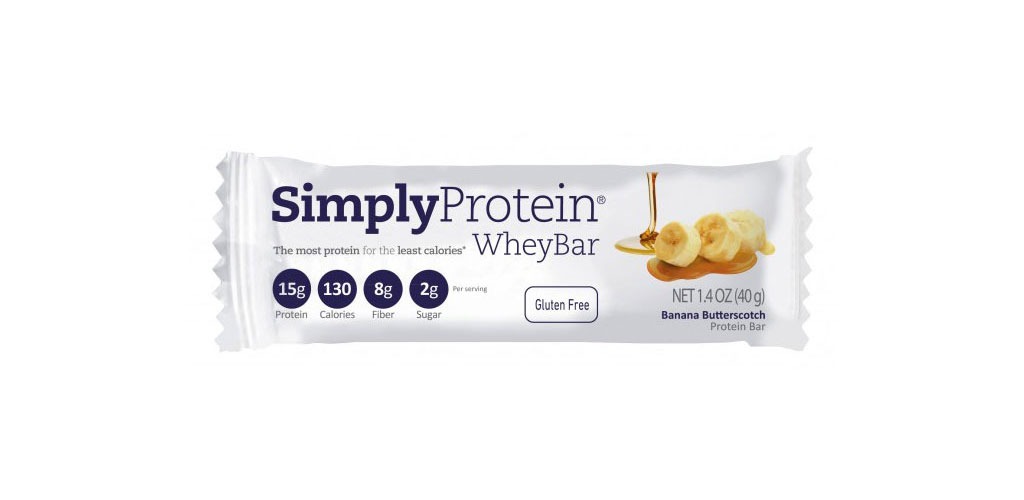 Nutrition: 130 calories, 2.5 g fat, 2 g sugar, 15 g protein
Natural Ingredients: Cashew butter, banana
Unnatural Ingredients: Vegetable glycerin
Despite being made from delicious and healthy ingredients like banana and cashew butter (one of the Best Nut Butters for Weight Loss), this snack proved hard to swallow for the majority of the panelists. Comments on the taste ranged from "bland and not memorable" to "reminiscent of gross coffee." Though one person assured us that the bar has an appetizing flavor similar to that of "pancakes with maple syrup," it wasn't enough to raise the overall average.
Simply Protein Lemon Coconut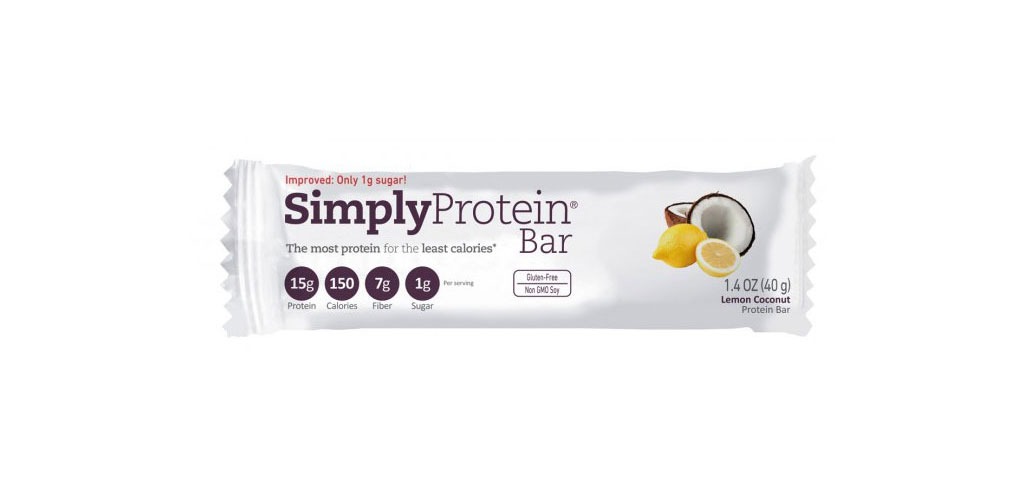 Nutrition: 150 calories, 5 g fat, 1 g sugar, 15 g protein
Natural Ingredients: Cashew butter
Unnatural Ingredients: Vegetable glycerin, soy protein isolate
Another low-scoring Simply Protein bar. The Rice Crispy-esque concoction is bound by cashew butter and vegetable glycerin (a type of plant oil) which made testers wrinkle their noses in disgust. "Tastes like dishwashing soap," said one panelist, while another said it "tastes like a bad lemon cookie."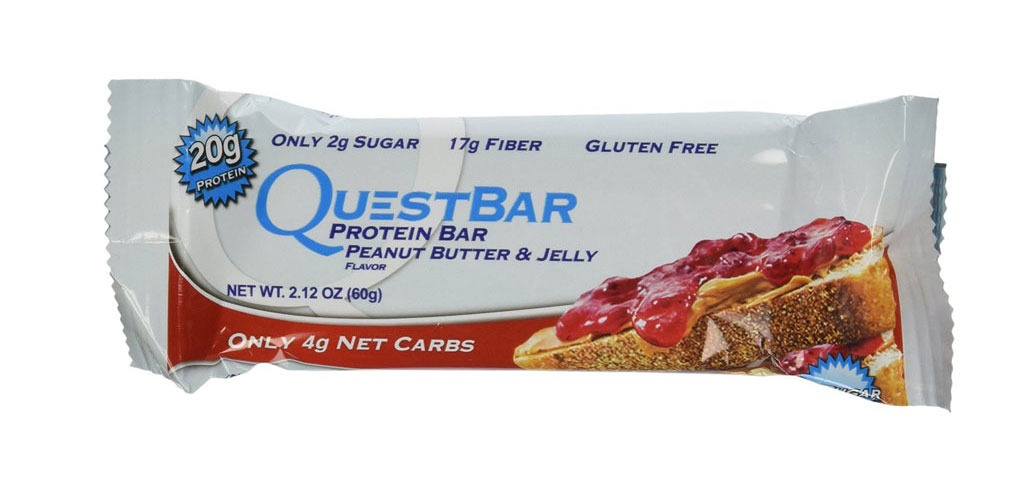 Nutrition: 200 calories, 10 g fat, 2 g sugar, 20 g protein
Natural Ingredients: Peanuts, almonds
Unnatural Ingredients: Erythritol, palm oil, sucralose, steviol glycosides (Stevia)
The five-term senator of nutrition bars: Testers described its taste as "old," "artificial" and "bland." As for the texture, panelists complained that it was far "too chewy." What's worse, it's filled with stomach-irritating sugar alcohols and palm oil, a saturated fat that's been linked to abdominal fat. Our advice: Leave this one on the nutrition store shelf and make yourself an actual PB&J if that's what you're craving — just be sure to build it on one of the Best Brand Name Breads for Weight Loss.
Quest Bar Mixed Berry Bliss
Nutrition: 190 calories, 9 g fat, 2 g sugar, 20 g protein
Natural Ingredients: Almonds, dried blueberries, dried strawberries
Unnatural Ingredients: Erythritol, palm oil, sucralose, steviol glycosides (Stevia)
Like The Donald's hair, our testers found this one "strange" and "artificial" and said the flavor was reminiscent of "cough medicine." If that wasn't unappetizing enough, panelists described the texture similar to that of "dry Play-Doh." A better bet: stick to The 50 Most Amazing Snacks for Weight Loss!
Health Warrior Apple Cinnamon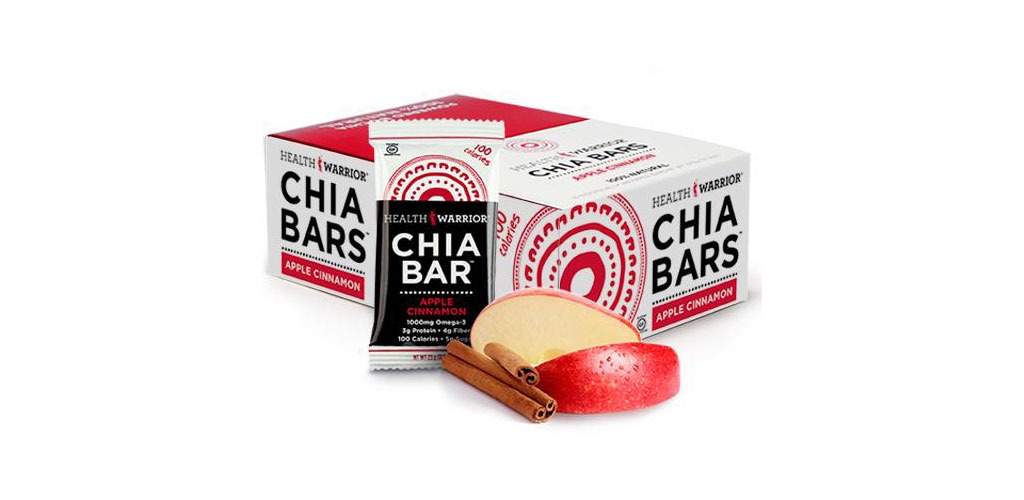 6254a4d1642c605c54bf1cab17d50f1e
Nutrition: 100 calories, 5 g fat, 5 g sugar, 3 g protein
Natural Ingredients: White chia seeds, organic cashew butter, gluten-free oats, dried apples, organic brown rice, almonds, apple powder, ground cinnamon
Unnatural Ingredients: Brown rice syrup, agave syrup (too much is not a good thing)
No we're getting to the good stuff! Even though Health Warrior uses a host of whole food ingredients like ground cinnamon (one of the Healthiest Spices on the Planet), apples and omega-3-rich chia seeds in their recipe, the panelists were split on the texture and flavor. "Tastes like a wannabe Christmas fruit cake. I'm not digging the gritty texture," said one. "The chia seeds create a unique texture and the just-sweet-enough apple flavor creates something worth biting into," expressed another. The split reviews explain why it just missed the Top Three.
Met-Rx Big 100 Colossal: Crispy Apple Pie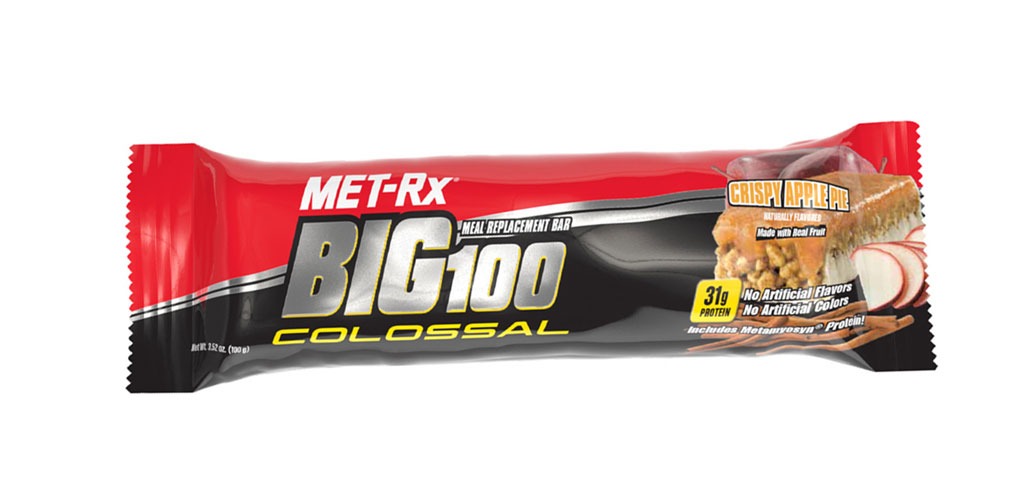 Nutrition: 400 calories, 10 g fat, 29 g sugar, 31 g protein
Natural Ingredients: Almond butter, peanut flour, wheat germ, dried egg white, natural apple flavor, dried apples, ground cinnamon, sugar
Unnatural Ingredients: Palm kernel oil, crystalline fructose, zinc oxide, glucose syrup, glycerol, palm fat, maltitol syrup, palm oil, glycerol
All but one tester agreed that this bar is undeniably delicious. One reviewer said that the crunchy cereal like bar tasted like a "cinnamon-topped apple pie" that "doesn't leave an aftertaste, like most other bars." But while it may taste like Grandma's famous pie, MetRx uses sugar alcohols and fructose (a type of sugar associated with the development of belly fat) to make it so palatable. They also douse the bar with glycerol, a sweet-tasting liquid commonly used in explosives and antifreeze. Plus, at 400 calories a pop, this can't be considered a health food — it's a candy bar on steroids. Check out our go-to list of the Best Nutrition Bars for Weight Loss for some healthier options.
Special K Protein Strawberry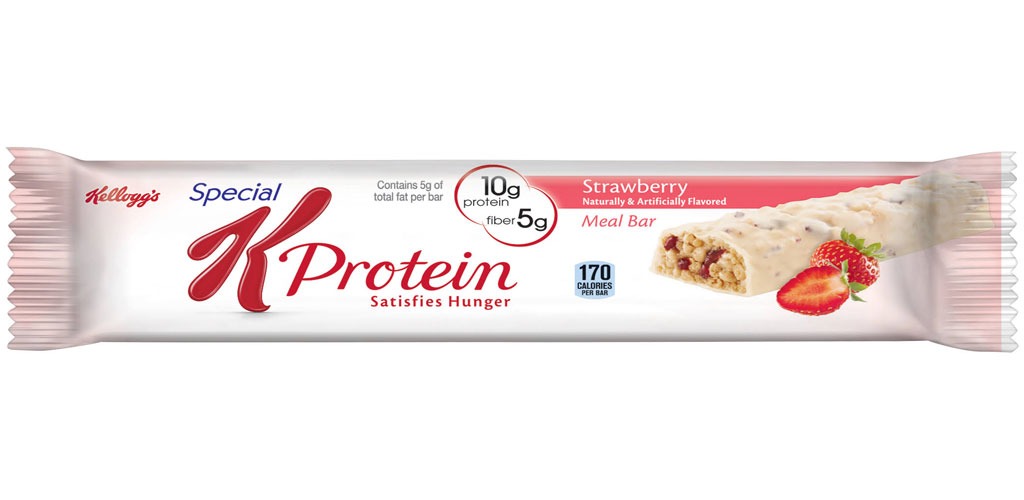 Nutrition: 170 calories, 5 g fat, 15 g sugar, 10 g protein
Natural Ingredients: Peanut and almond flours, cultured skim milk, cranberries, natural strawberry flavors, whole grain wheat, wheat bran
Unnatural Ingredients: Sugar, palm oil, corn syrup, fructose, dextrose, glycerin, sorbitol, zinc oxide, unspecified added color
With 15 grams of sugar, Special K's bar has more of the sweet stuff than we'd like to see, but that didn't stop our panelists from gobbling it down and asking for more. "This tastes like a strawberry shortcake," said one person, " I'd absolutely buy this based on flavor alone. It can't be good for you, it's too delicious," noted another. Unfortunately, the latter tester is spot on — especially if maintaining a flat belly is your goal. Corn syrup, fructose and dextrose are all types of sugar, and the sorbitol content can lead to bloating. More creepily, there are no actual strawberries in this product. Think of this as a once-in-awhile dessert alternative and pair it with one of these Teas that Quell Hunger.
KIND Plus Blueberry Pecan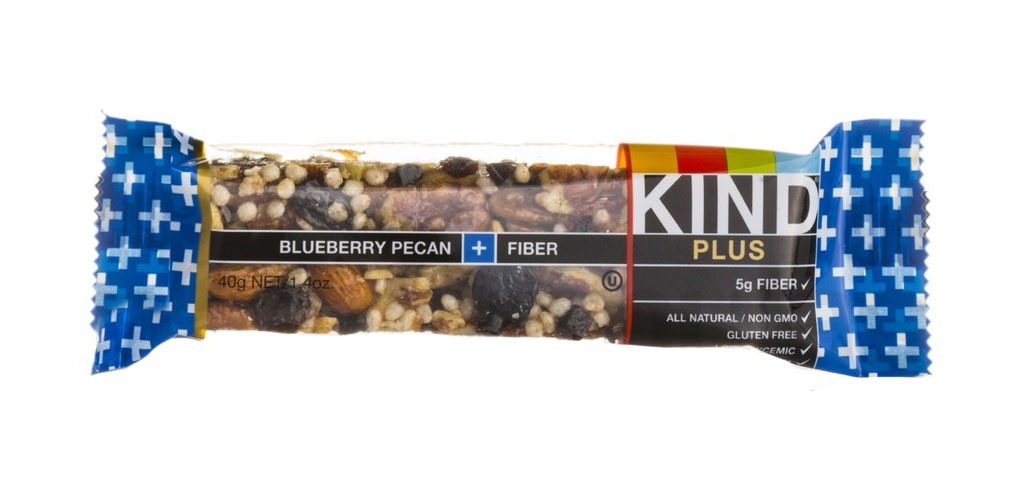 Nutrition: 190 calories, 12 g fat, 9 g sugar, 4 g protein
Natural Ingredients: Almonds, pecans, honey, blueberries, sugar, apples, plums, cashews, raisins
Unnatural Ingredients: Sugar, apple juice, citrus pectin, glucose
Coming in at #1….KIND's fiber-packed Blueberry Pecan bar! It has a respectable 9 grams of sugar, much of which comes from natural sources such as actual fruit. We also love that it's free of artificial sweeteners — something most of the other varieties we sampled can't claim. This bar earned top marks from our panelists thanks to its "sweet and savory combination of fruit, nuts, and honey." Testers noted that it lacked the unappetizing aftertaste of its competition and actually tasted like "real food" which left them wanting more. Just note, with just 4 grams of protein, this bar is more a healthy snack than a muscle builder. To get back on lean muscle mass and lose weight, be sure to reach for our go to Foods for Muscle and Strength.
For 150+ recipes that will make your belly flat, buy the brand-new book from Abs Diet creator David Zinczenko: Zero Belly Cookbook!
Eat This, Not That!
Inspired by The New York Times best-selling book series, Eat This, Not That! is a brand that's comprised of an award-winning team of journalists and board-certified experts, doctors, nutritionists, chefs, personal trainers, and dietitians who work together to bring you accurate, timely, informative, and actionable content on food, nutrition, dieting, weight loss, health, wellness, and more.
Read more about Eat This