Fun Fall Activities That Burn Calories and Keep You Fit
Fill your days with healthy fitness fun this fall and beyond.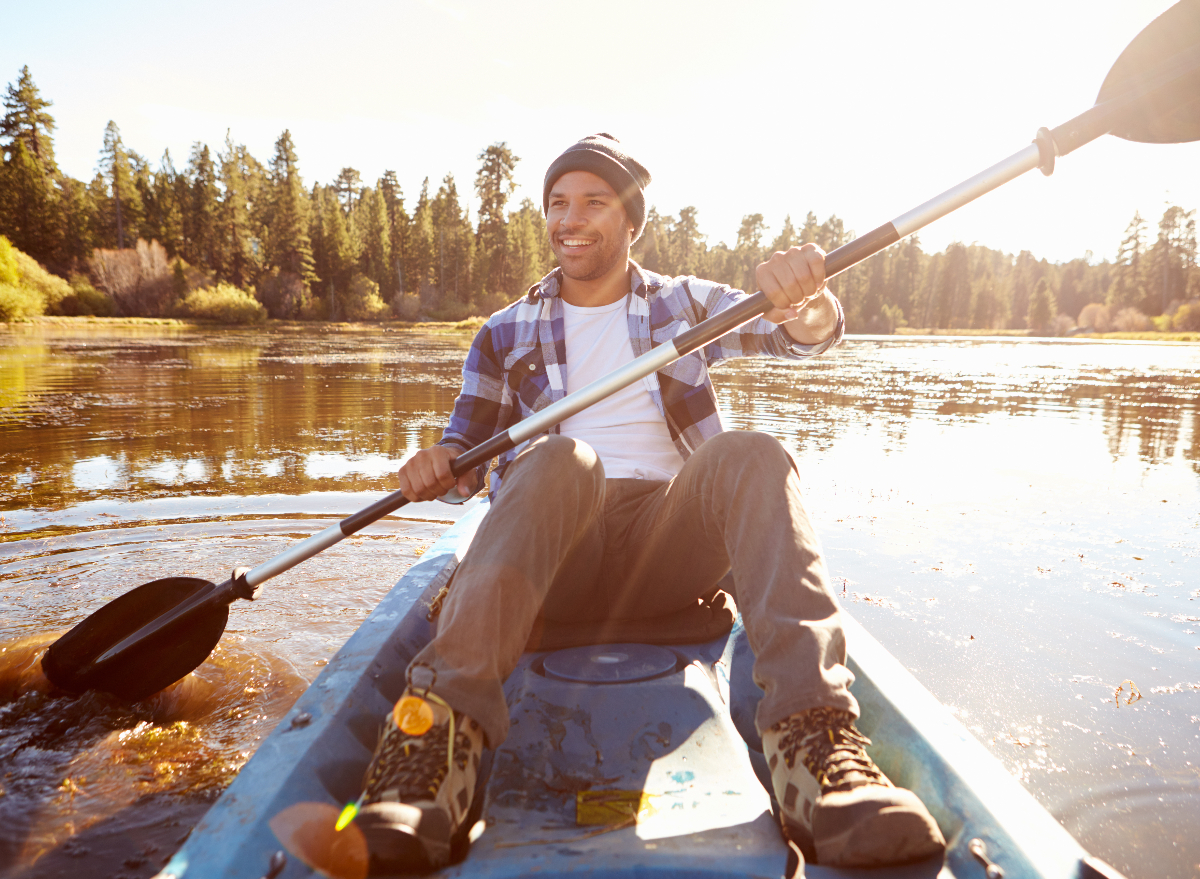 A happy life is a healthy one. And the more you take care of your body by living a fit lifestyle, the better—and younger—you will look and feel. Summer is slowly slipping away, which means one very important thing: It's time to make active plans for autumn. We're here to help you out and rounded up some seriously fun fall activities that burn calories and keep you fit.
Grab your best buds or your significant other and kill three birds with one stone. You'll be spending time with a special group or person, you'll undoubtedly have a blast, and you will get in some pretty serious workouts without even feeling like it. Choose one or do them all, because you can't go wrong with any of the workouts we listed. You can thank us later for the ideas!
There is so much healthy goodness for your body when kayaking. Whether you choose to kayak down a river or on a lake, the foliage, memories, and fitness benefits will not disappoint. First off, if you weigh 150 pounds, you can torch as much as 340 calories per hour, the American Council of Exercise reports (via Visit NH). This is more than you'd burn if you were biking!6254a4d1642c605c54bf1cab17d50f1e
The low-impact aerobic paddle motion through the water will build your upper body strength and flexibility, and it's an easy workout on your joints. Some other benefits worth mentioning? You'll tone your chest and back, strengthen your lungs, regulate your cholesterol, decrease your blood pressure, and relieve any stress, all while getting in some amazing cardio. Sounds like a keeper to us!
Related: The Best Cardio Exercises To Lose Visceral Fat and Slow Aging, Trainer Says
The next of these fun fall activities that burn calories and keep you fit is fly fishing. If you've never tried fly fishing before, autumn is a great time to grab a pole and lightweight lure. There are very good reasons why millions of people head fly fishing every year. Not only does it promise to be a totally serene and beautiful backdrop, but the physical and mental health benefits are tremendous.
If you're like many people, when you think of fly fishing, you probably picture an elderly individual dozing off in a rowboat, and wonder, "How much of a workout could that possibly provide?" A total-body workout—that's how much! When fly fishing, you'll be standing, casting your rod, and with any luck, reeling in a catch or two. Wading against the water's current provides more fitness goodness, as you'll strengthen your legs, back muscles, and entire core in the process. Believe it or not, according to Organic Life, close to 65% of enthusiasts who go fly fishing do it for the fitness benefits it provides (via HSS).
Related: Follow These Healthy Habits To Live to 100 and Beyond, Science Says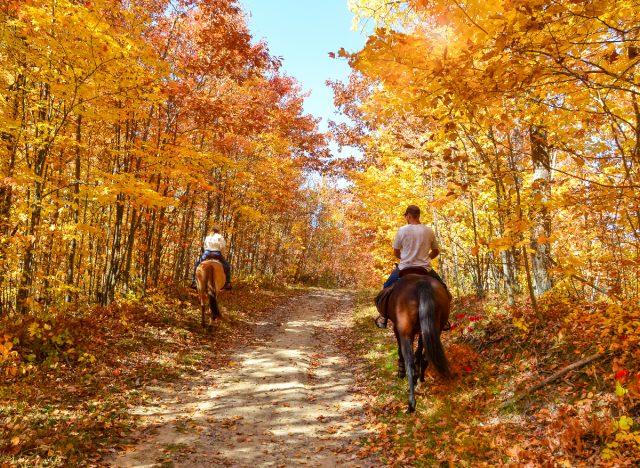 If you're looking to expend energy and have an amazing time while doing it, consider horseback riding. In addition to being an excellent calorie burner, this activity builds balance and coordination and enhances your core strength.
According to Dr. Dennis Sigler, a Texas A&M AgriLife Extension Service horse specialist and professor in the department of animal science at Texas A&M University in College Station, "We all know riding horses is good exercise. Riding a horse for 45 minutes at a walk, trot and canter can burn up to 200 calories."
Dr. Sigler also points out that horseback riding can be a great option for individuals who can't do other workouts like jogging or running, and adds, "Some [people] have joints that just can't stand a jog, but if they can ride a horse and burn 400 calories a day, that's significant."
Mountain biking is considered a low-impact cardio workout that's chock-full of healthy fitness benefits, thanks to the changing terrain. Not only will this kind of exercise work your entire body, but it will also build your leg muscles while you're climbing uphill. When you head downhill, your shoulder, chest, arm, abdomen, and back muscles will all be activated. Basically, when mountain biking, you'll get super toned while enhancing your coordination and torching calories.
Before hitting the road, make sure you read up on some of the best tips and tricks and take the necessary safety precautions. Just to name a few examples, you should remain focused during the entirety of your ride, consider bringing along a riding buddy, know the conditions of the trails you're exploring, and of course, wear a helmet.
Alexa Mellardo
Alexa is the Mind + Body Deputy Editor of Eat This, Not That!, overseeing the M+B channel and delivering compelling fitness, wellness, and self-care topics to readers.
Read more about Alexa