Garam Masala: The Powerhouse Spice Blend With Amazing Health Benefits
The Indian culinary staple is lauded for its aroma as much as its health benefits.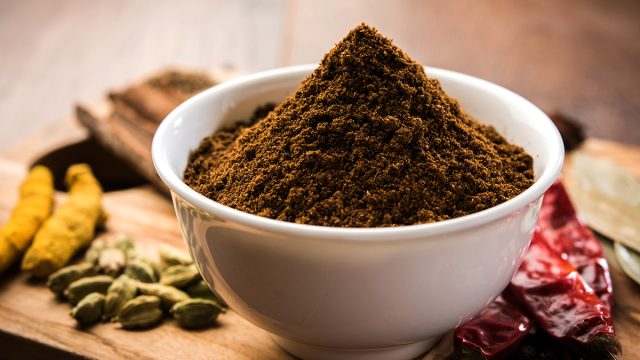 Garam masala is a popular spice blend from the Indian subcontinent. It's made by toasting whole spices over heat and then grinding them into a powder. The name loosely translates to 'hot spice blend' (although it's more aromatic than hot and spicy).
Read on to find out more about the benefits of using garam masala, and how to incorporate it into cooking.
What's in a typical blend?
Garam masala usually includes coriander, cumin, cloves, cardamom, cinnamon, black pepper, and nutmeg. But there are many different variations of the spice, depending on the region. Different versions of the blend may include turmeric, saffron, mace, dried ginger, and in some cases, rose petals.
Some are of the opinion that garam masala should absolutely be made at home, because it's the optimal freshness of ground spices that truly make it potent and fragrant. You can toast the whole spices in a skillet, while stirring frequently to prevent burning. Then grind them in a food processor or a coffee grinder and cool before storing in an airtight container.
If you'd like to test the waters with making your own blend, Archana Mundhe, founder of the blog Ministry of Curry and author of the Essential Indian Instant Pot Cookbook, offers a simple garam masala recipe with only five ingredients: black peppercorns, cardamom pods, cinnamon, cloves, black cumin seeds.
And for those that want to go deeper with the flavor profile, Archana suggests her mother's traditional garam masala recipe, which uses up to 21 spices.
Are there any health benefits?
The blend is believed to heat the body and boost the metabolism. And each of the spices in it have their own health benefits.
Black pepper contains piperine, a compound that prevents new fat cells from developing, alongside anti-inflammatory and gastro-protective properties. It also amplifies the absorption of curcumin from the turmeric, which reduces inflammation even further. Chronic inflammation has been associated with diseases like cancer, Alzheimer's disease, diabetes and coronary artery disease.
Green cardamom has a high level of antioxidants. It's a proven diuretic, reducing the amount of excess fluid in the body which, in turn, lowers blood pressure.
Cinnamon could help regulate blood sugar by lowering insulin resistance.
Cloves have some unexpected benefits. In addition to having a large amount of eugenol, a compound that helps the body fight inflammation and infection, they also kill bacteria in the mouth and freshen breath.
Black cumin inhibits tumor growth across the spectrum, and boosts the immune system, lowering cholesterol, fights MRSA and protects brain function.
In Ayurveda, the ancient Indian healing tradition, garam masala is lauded as a spice that aids digestion, boosts immunity and metabolism, and promotes weight loss.
How to use garam masala in cooking
Traditionally, garam masala is used in curries, soups, daal, and grilled meats. Archana recommends that garam masala be an addition for stews and soups, "I mostly use it in curry and in biryani, or as a finishing touch in soups. It brings warmth to every dish. And I even bake with it. If you just add a pinch to chocolate chip cookie batter, it's delicious."
The spice blend can either be added to the oil when sautéing onions and other ingredients as the base of your dishes, or it can be sprinkled in at the end.
How to buy garam masala
To find all the spices to make garam masala, The Spice House has you covered with a full section dedicated to Indian spices. They also have their own house blend, which doesn't include turmeric.
Ready made blends are common and can be found in the spice aisles of most major retailers from companies like McCormick and Frontier. Rani's World Foods has turmeric in their eleven spice blend version and Banyan Botanicals offers an organic version.
RELATED: Your ultimate restaurant and supermarket survival guide is here!
Jessica Farthing is a freelance writer lucky enough to live on the coast of Georgia.
Read more