20 Life-Changing Weight Loss Tools Under $20
Healthy-cooking kitchen staples are key to keeping the pounds off. These items get bonus points for being super affordable!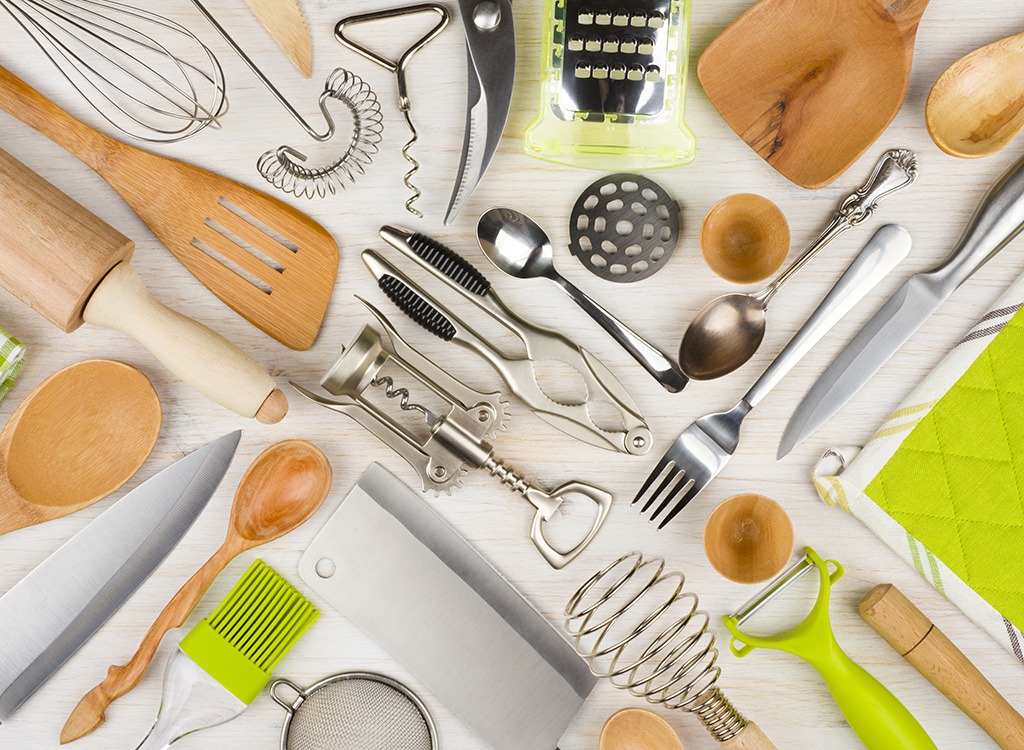 Here's the thing about weight loss: Going it alone is neither fun nor as effective as when you've got a little outside help. Trainers and fit-minded buddies can help push you to reach your fitness goals, but the right tools can help support your efforts, too. From food scales to activity monitors, these tools rank high on the customer satisfaction scale and keep your checkout total on the low. Once you've got your arsenal stocked, it's only a matter of time before the weight starts peeling off.
If you're investing in yourself, it would serve you well to invest in these life-changing weight loss tools that are just a few clicks away. And while you're putting these health-happy items in your cart, consider adding any one of these 25 Eat This! Snacks Delivered to Your Door, too!
Food Scale
It's tough for anyone to know exactly how much 4 ounces of chicken really is. Eyeballing about the size of your palm is an alright guess, but when it comes to weight loss, every calorie counts. Using a food scale is one of the most accurate ways to measure out proper portions of foods. With over 6,000 reviews, this scale has a near perfect 5-star rating. You can place food directly the scale (or use a container if need be) to hold food in place; this scale automatically subtracts the weight from any bowl used so you get the most accurate reading possible. Speaking of bowls, don't miss these 30 Bowls For Breakfast, Lunch, and Dinner—That Aren't Soup!
Zester
When you set off on a diet, less is usually more in the beginning. Keeping meals simple by using only a few ingredients can make it easy to stay on track. However, sometimes simple can also translate to bland. Using a zester is a super easy and low-calorie way to pep up the flavor of your dishes, though. This classic zester can be used to extract flavor from hard cheeses, citrus fruits, onions, and ginger.
Oil Mister
From sauteing and baking to salad dressings and dips, oils are essential in our food prep and presentation. The issue is that although oils like olive and avocado can be healthy, they're incredibly calorie dense. Just one small tablespoon clocks in at 120 calories! Oil misters can help you cut back on those calories and then some. This particular mister dispenses oil or vinegar in a fan pattern, coating your food evenly and without any harmful propellants or chemicals. Avoid even more cals with these 25 Ways to Cut 250 Calories.
Yoga Mat
Simply having the right gear can make a world of a difference in your health goals. Latoya Julce, NYC-based trainer and 305 Fitness instructor, highly recommends having a yoga mat handy so that you can stretch out your muscles every single day. Doing so can enhance your body's recovery from tough workouts —and, more importantly, prevent injuries so you can stay in the game. This mat is extra thick to help comfortably cushion your body on hard floors. It also comes with a sleek carrying strap, making it easy to store and tote around.
Weight Scale
While it's arguable that body weight is not the best indicator of overall health, it definitely helps to know where you stand if you are trying to drop a jean size—or lose weight forever. Weighing yourself helps keep you aware and mindful of your progress, and can also tip you off to any weight gain that may have flown under the radar. This scale gives immediate readings as soon as you step on and flaunts on-point accuracy, thanks to its high precision sensors.
Sleep Tracker
Getting enough sleep can help you lose more weight, according to a study published in the journal Sleep. But do you really know just how much sleep you're actually getting? Most activity trackers now include a sleep monitoring feature like this one, which can help you track the hours you spend in restful sleep mode versus tossing and turning. By becoming more aware of your sleep cycles you can then adjust your bedtime accordingly and watch the healthy benefits abound. Find out more sleep health tips with The Sleep Diet: 7 Habits of Highly-Rested People.
Pasta Measuring Tool
Pasta lovers, rejoice! This simple little tool is a total game changer. For a measly three dollars, this handy item can help you measure out appropriate portions of your favorite spaghetti. Fitting in noodles to your diet isn't easy, but neither is giving them up altogether. This way you can limit your calorie intake and still enjoy the occasional spaghetti bolognese while staying on track with your weight loss goals.
Pedometer
When you're walking for weight loss, activity trackers can be great tools—but many on the market can be quite pricey. At the end of the day, the goal of these fitness trackers is to make you more aware of your daily movement and to get you to move more throughout the day. A simple pedometer like this one will do just that. It's lightweight and can easily be disguised by clipping onto your pants or belt loop.
Portion Control Tupperware
When it comes to weight loss, the most effective step you can take is to properly and accurately portion out your food. This Tupperware makes your job super easy by color coding each container to the type of food that should be placed in it. The easy-to-follow guide that's included can help you portion out calorie-dense items like nuts or starches without you having to do the research on appropriate amounts. Once you get your portions under control, the weight will start melting away.
Tea Accessory
One of the 17 Unique Tea Accessories You Didn't Know You Needed, this little item is the perfect companion for when you try out food journalist Kelly Choi's The 7-Day Flat-Belly Tea Cleanse! (Test panelists lost up to 10 pounds in one week!)
Spiralizer
If you have trouble sticking to a normal portion of pasta, then it's time to try the guilt-free alternative. This hand-held spiralizer makes it easy to turn veggies into fun-to-eat spaghetti shapes that resemble pasta. Top with your favorite sauces and you can enjoy a healthy, lower calorie, more nutrient dense meal that will bring you closer to your weight loss goals. Once you get a spiralizer, try it out on any of these 21 Mouthwatering Spiralizer Recipes.
Measuring Cups
Although they've stood the test of time for all your baking and cooking needs, measuring cups are nothing short of miracle workers when it comes to matters of weight. An extra scoop of granola or too much shredded cheese can be the difference between losing one pound or gaining two. Keep measuring cups and spoons close by when you're whipping up your meals and you'll see the weight loss results follow suit. These collapsible cups also make it easy to take on the go and measure out your portions when you're not at home.
Veggie Steamer
When you cook your food in oil, you run the risk of overloading on hidden calories. Steaming your veggies is possibly the healthiest way to prepare them and if you're careful to watch the cooking time they won't end up as soggy as boiled ones. This collapsible steamer has a unique design that can fit different sized pots and will also fold back up for easy storage.
Citrus Juicer
Many of us fall back on juices, sodas and sports drinks throughout the day, but even if they are calorie-free, they won't hydrate you as well as trusty H20. A study published in the journal Obesity also shows that drinking more water can lead to greater weight loss. The silicone grips on this handy juicer make it easy to squeeze a healthy dose of lemon or lime into your glass and pump up the flavor or to get on the detox water bandwagon.
Water Bottle With Consumption Monitor
We know now that drinking more water can help you reach your weight loss goals faster and can also boost your overall health, but it's not always easy to keep track of our total ounces throughout the day. This bottle is insulated to help keep your H20 cold, but its greatest feature is that it tracks the amount of water you consume throughout the day to help keep you accountable and to encourage you to drink more when necessary. 6254a4d1642c605c54bf1cab17d50f1e
Veggie Chopper
It takes time to prepare and set aside healthy meals during the week, and most people don't have that spare time to do so. (Psst! Check out Meal Prep Sunday: 25 Tips to Cook Once, Eat for a Week if you have time tonight!) Investing in a veggie chopper will cut your food prep time way down and scale your weight loss results way up as a result. This tool can chop anything from fruit and veggies to boneless meats, herbs, and nuts. It's hand powered and dishwasher safe, which makes the clean up that much simpler.
Popcorn Air Popper
Snack time can often be a huge pitfall for most of us when it comes to weight loss. Crunchy, salty, calorie-laden, sugar-ridden temptations are around every corner. However, if you arm yourself with the right snacks —or rather the right tools to prepare the right snacks —you'll be one step ahead of your cravings. This air popper is simple to use and can help prepare a healthy bowl of low-calorie, high fiber popcorn for you to much on when your belly starts rumbling. And then take it up a notch with these 20 Delicious Ways to Dress Up Popcorn.
Personal Blender
Whether it be a protein shake after the gym or your morning smoothies that's packed with antioxidant foods, whipping up a healthy shake is a great way to get more nutrients into your body. Using regular sized blenders can sometimes run the risk of blowing portions out of control, so it's best to stick with a personal blender like this one. The great part about this blender is that it uses a portable bottle as the blending vessel which can double as your on-the-go cup.
Portion Controlled Portable Storage Jars
These cute stackable jars can help portion out healthy, yet calorie dense snacks like nuts and dried fruits and can also keep your protein powder or vitamins handy. They lock tight so there's little chance of leaks, and their small size fits easily into any purse or gym bag.
Fitness Bands
Though these may flash you back to the 80s, fitness bands are one of the simplest ways to stay fit when you have no time to get to the gym. Break them out when you're watching TV and do some strengthening exercises for your shoulders hips, arms, legs, and glutes. These professional grade bands come in four different resistance levels and can help increase your flexibility, strength, and tone muscle without adding bulk.