Grilled Chicken Sandwich With Chimichurri Sauce
Honestly, this herb-based sauce could make shoe leather taste like fine dining.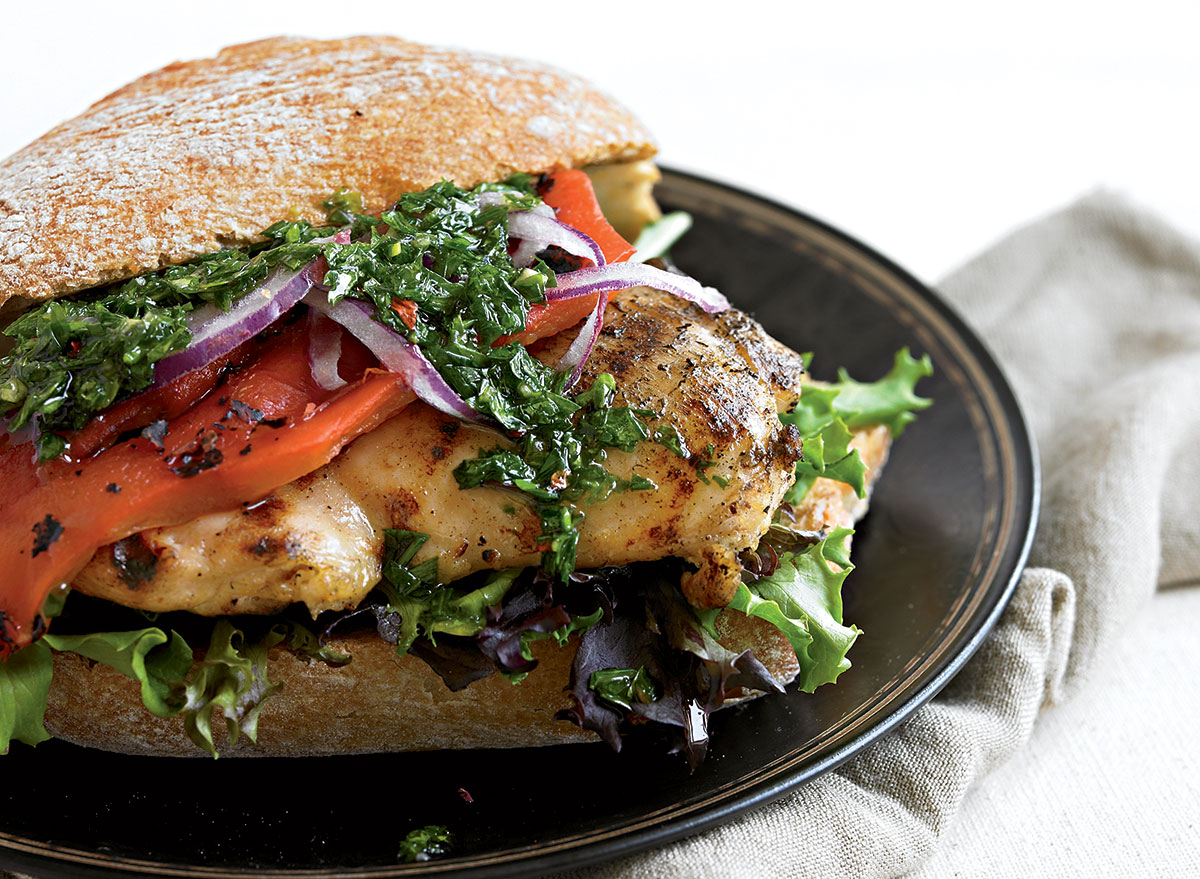 No chain menu in America is without a chicken sandwich or two, and people often select it thinking of it as a healthier alternative to red meat. Eighty percent of the time, it is breaded and fried, and when it isn't (as in the case with Panera's Chipotle Chicken), it's so overloaded with condiments and bulky bread that you'll be lucky to escape consuming fewer than 1,000 calories. So much for being a healthy alternative to a hamburger.
This grilled chicken sandwich delivers heroic flavor by employing chimichurri, an Argentine herb-based sauce that would make shoe leather taste like fine dining, along with a solid supporting cast of sweet peppers, sharp raw onions, and peppery greens. Good luck finding a side salad, let alone a real sandwich, at a restaurant for 310 calories.
Nutrition: 310 calories, 8 g fat (3 g saturated), 475 mg sodium
Serves 4
You'll Need
4 boneless skinless chicken thighs (6 oz each)
Salt and black pepper to taste
2 cups mixed baby greens
4 whole-wheat sesame buns, split and lightly toasted
1⁄2 red onion, thinly sliced
1⁄2 cup jarred roasted red peppers
1⁄2 cup chimichurri
How to Make It
Preheat a grill, grill pan, or cast-iron skillet.
Season the chicken all over with salt and pepper and grill or sear for 3 to 4 minutes per side, until firm and cooked through.
Divide the mixed greens among the bun bottoms.
Top each bun with a chicken thigh, then pile on the onion and peppers.
Spoon on the chimichurri, then top with the other bun halves.
Eat This Tip
You can buy bottled roasted red peppers in any supermarket, but how about you save a few bucks and roast them yourself instead? Cook the bell peppers (red and yellow are best) at 400°F until the skin blackens and the flesh softens, about 25 minutes (you can also do this on a grill or even over a low flame on a gas stovetop). Place the peppers in a bowl, cover with plastic wrap, and let them sit for 10 minutes. Remove the plastic wrap and peel off the dark skin (the steam created by covering the peppers makes this easy). Discard the stems and seeds, and they're ready to eat.
This recipe (and hundreds more!) came from one of our Cook This, Not That! books. For more easy cooking ideas, you can also buy the book!