Healthy Grilled Mexican Steak Salad Recipe
We made some majorly tasty upgrades and totally transformed the basic salad.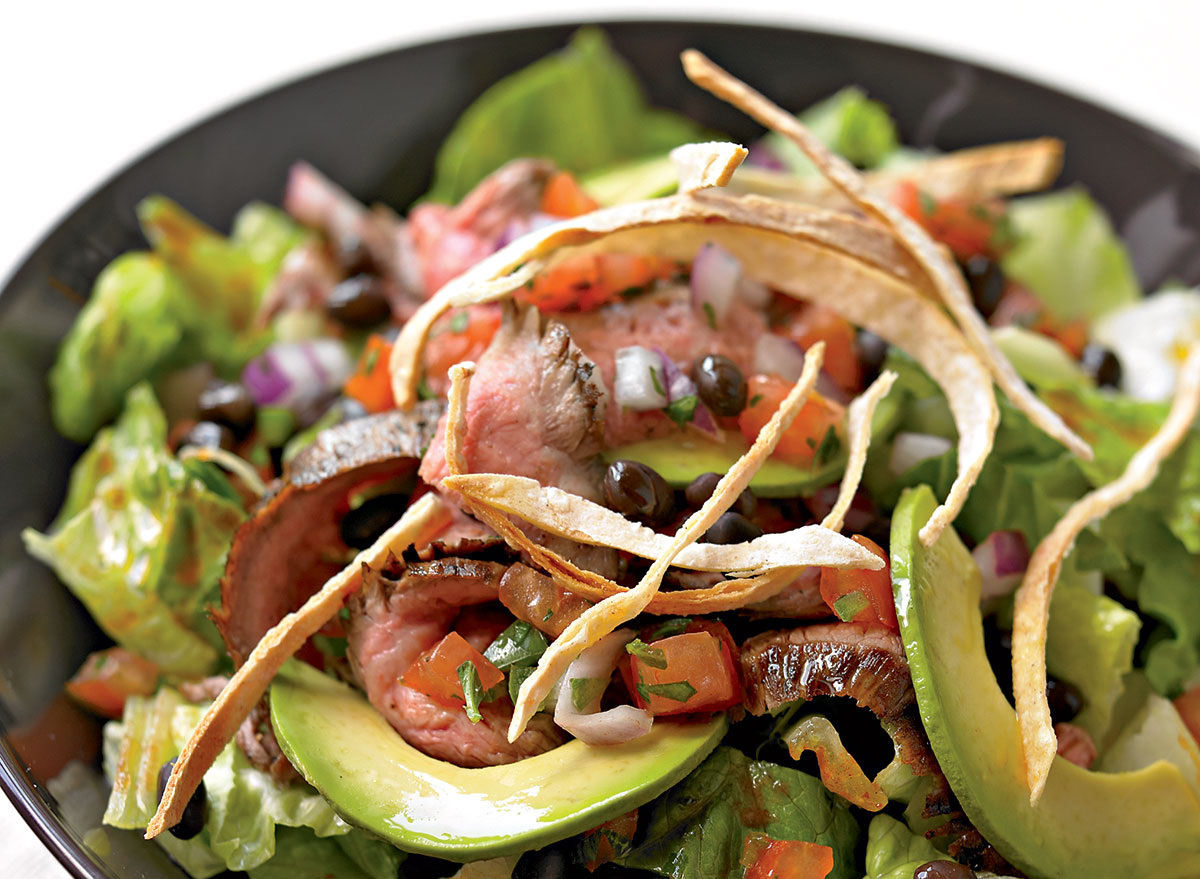 We've long lamented the Mexican-style restaurant salad, in all of its greasy, overwrought, hypercaloric, fast-food absurdity. Yet, whether from the drive-thru or at a sit-down establishment, no salad is likely to be worse for you than the one with "fiesta" or "olé" or "Southwest" in the title. Which is too bad, because the flavors that define the cuisine of our neighbors to the south should form the perfect base for an intensely satisfying, relatively healthy lunch or dinner. We've re-engineered the standard, underachieving Mexican salad to be just that. In this recipe, we choose a leaner cut of meat and paired it with a wide variety of tasty and complex flavors. You won't lose out on taste, only on calories. Now you don't have to treat your favorite Mexican steak salad as a splurge, just so long as you stick to this healthy recipe.
Nutrition: 340 calories, 18 g fat (4 g saturated), 460 mg sodium
Serves 4
You'll Need
3 corn tortillas, cut into thin strips
4 small Roma tomatoes, chopped
1 red onion, diced
1 jalapeño pepper, minced
1⁄2 cup chopped fresh cilantro
Juice of 1 lime
8 oz flank steak
Salt and black pepper to taste
1⁄2 Tbsp red wine vinegar
1 tsp canned chipotle pepper
1⁄2 Tbsp honey
2 Tbsp olive oil
1 head romaine lettuce, chopped
1⁄2 can (14–16oz) black beans, drained
1 avocado, pitted, peeled, and thinly sliced6254a4d1642c605c54bf1cab17d50f1e
How to Make It
Preheat the oven to 400°F. Place the tortilla strips on a baking sheet and bake for 8 to 10 minutes, until lightly brown and crispy. Set aside.
In a mixing bowl, combine the tomatoes, onion, jalapeño, cilantro, and half the lime juice. Set the salsa aside.
Preheat a grill or grill pan.
Season the steak with salt and pepper.
Once the grill or pan is fully heated, toss on the steak. Cook for 4 to 5 minutes per side, depending on thickness, until firm but yielding.
Let the steak rest for 5 minutes before slicing it thinly against the grain of the meat.
Combine the remaining lime juice with the vinegar, chipotle, and honey.
Slowly drizzle in the olive oil, whisking to combine.
Toss the lettuce with enough vinaigrette to lightly coat, then divide among 4 plates.
Top each serving with slices of steak, black beans, avocado, a heaping spoonful of salsa, and a few tortilla strips.
Love this recipe? Subscribe to our Eat This, Not That! magazine for even more at-home cooking and healthy eating ideas.