A Grilled Strawberry Shortcake With Balsamic Recipe
It's the perfect combination of flavors, trust us on this one.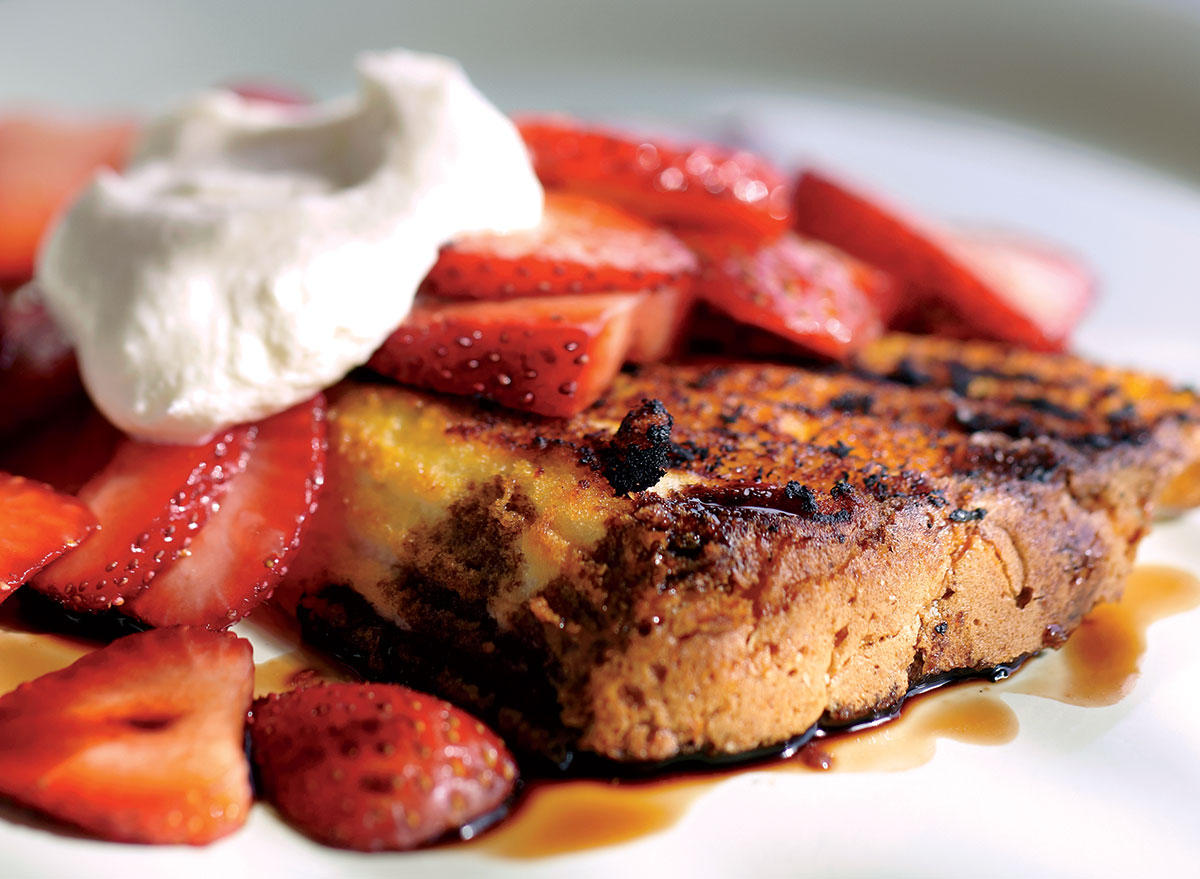 To deliver flavor, the corporate cook relies on hulking scoops of ice cream, oversized brownies, and floods of molten chocolate. The home cook doesn't need such waist-expanding, palate-blunting effects to make dessert memorable. Here, low-calorie angel food cake picks up the smoke and char of the grill and is topped with strawberries soaked in balsamic vinegar and black pepper, an irresistible combination adored throughout northern Italy. Trust us, you'll be hooked, and on top of that, you'll save more than 1,000 calories than you would ordering the Fresh Strawberry Shortcake at The Cheesecake Factory (and you'll save a few bucks, too).6254a4d1642c605c54bf1cab17d50f1e
Nutrition: 160 calories, 6 g fat (3.5 g saturated), 12 g sugar
Serves 4
You'll Need
2 cups sliced strawberries
1⁄4 cup balsamic vinegar
Pinch of freshly cracked black pepper (It may seem like a curious addition to this mix, but black pepper brings a subtle heat that pairs well with the fruit and vinegar.)
1 Tbsp butter (optional)
4 wedges angel food cake, each 1" thick
Whipped cream
How to Make It
Mix the strawberries, vinegar, and pepper and marinate for 10 to 15 minutes.
Heat a grill, stove-top grill pan, or non-stick sauté pan until hot. (If using the pan, add the butter; if grilling, omit the butter entirely.)
Add the cake slices and cook until caramelized and toasted. Transfer to 4 dessert plates.
Top with the strawberries, their liquid, and a spoonful of whipped cream.
Eat This Tip
Why waste time (and calories) baking cakes from boxes at home when every grocery store in America sells angel food cake? It's inexpensive, well made, and—at just 72 calories and 0 grams of fat per slice—only marginally worse for you than a rice cake. Plus, it's super versatile, ready in an instant to provide a spongy base for a small ice cream sundae, for dipping into fondue, or for a light rendition of bread pudding. Or top it with grilled fruit (apricots and peaches work best) and crown with a small scoop of your favorite vanilla bean ice cream.
This recipe (and hundreds more!) came from one of our Cook This, Not That! books. For more easy cooking ideas, you can also buy the book!