Supply of These 4 Grocery Items Could Fall Drastically, Experts Predict
These products are likely at the top of your holiday shopping list.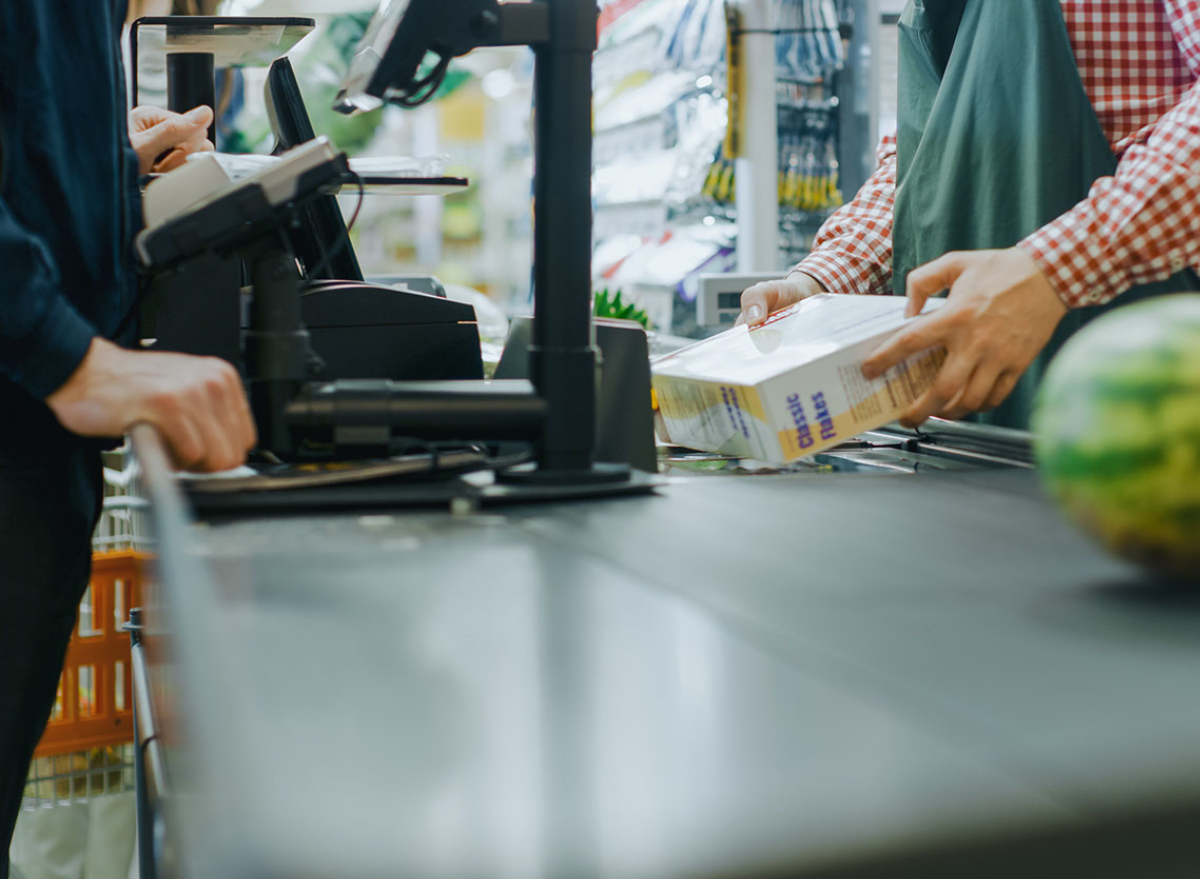 This year has been defined by a strained supply chain, which has left grocery shoppers facing obstacles such as delays, purchase limits, and shortages. From the lingering effects of the pandemic to changes in the weather, various factors are impacting the availability of products on store shelves, according to experts in the industry.
If things don't change, the supply of four key grocery items could fall drastically. Of course, that means more shortages may be on the horizon, too. (Related: Speaking of shortages, don't forget to check out The Worst Costco Shortages of 2021.)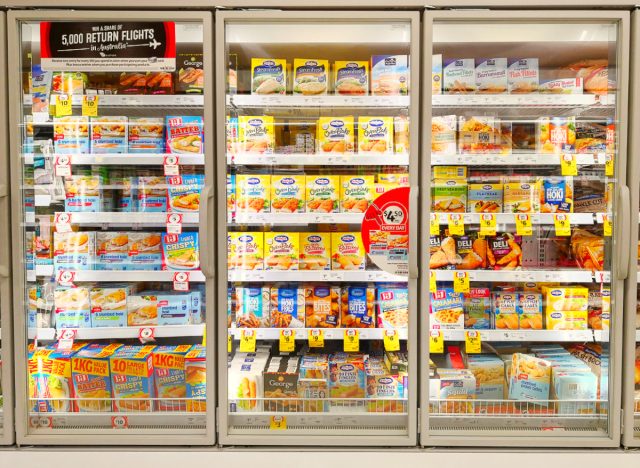 There's plenty of fish in the sea, though possibly not for long. As the world's population increases and climate change worsens, there won't be enough wild-caught seafood to feed the demand, according to a new study from the University of British Columbia. Even with fish farming, the global supply of seafood is supposed to decrease over the next 70 years.
"If we continue to burn fossil fuels at our current rate, the amount of seafood such as fish or mussels able to be farmed sustainably will increase by only 8% by 2050 and decline by 16% by 2090," the study says.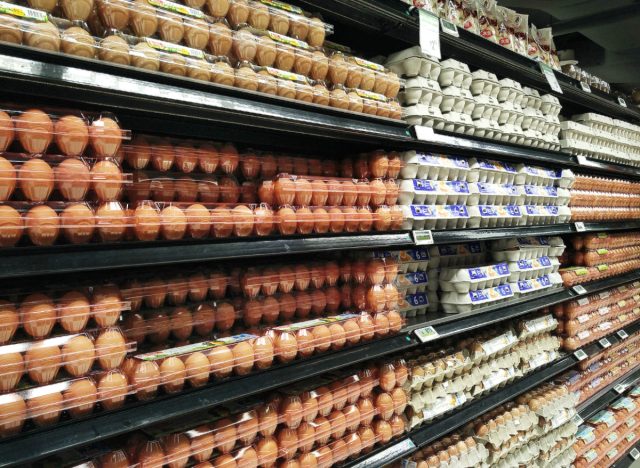 Egg prices have been on a roller coaster ride since the pandemic started, as their price is based on demand. But the supply of this breakfast staple could start to dwindle in some parts of the country should a new animal welfare law go into effect. New rules scheduled to take place in Massachusetts on Jan. 1 would ban eggs laid by hens in enclosures with less than a certain amount of floor space per bird, according to WVCB5.
The head of the Massachusetts Farm Bureau told the news station that there would likely be egg shortages after Jan. 1 because of the new part of the law. "We've got about 300,000 to 400,000 egg-laying chickens in Massachusetts," he said. "We've got about 7 million people, so do the math."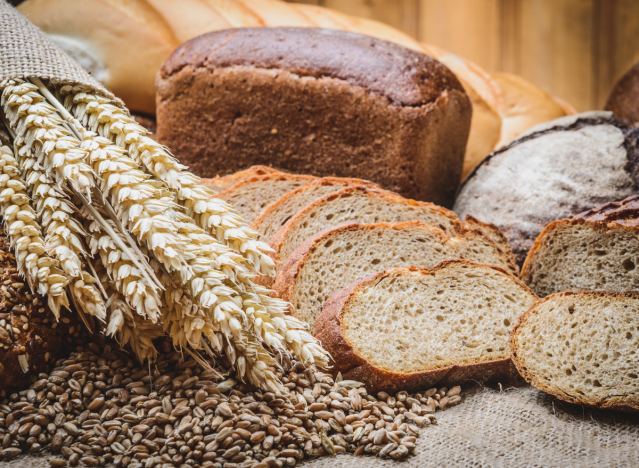 Wheat is the main ingredient in countless grocery items, and wheat futures fell on Wednesday in U.S. and Europe. One cause? The Australian harvest wasn't strong in 2021 due to drier conditions, according to Reuters.
"Wheat futures have retreated since multi-year highs last month as worries over the Omicron coronavirus variant and easing concerns about global wheat supply have encouraged selling," the news outlet reported on Dec. 15. "Traders said that a drier spell in Australia has also created fundamental pressure for wheat by tempering fears over rain damage to what is forecast to be a record harvest."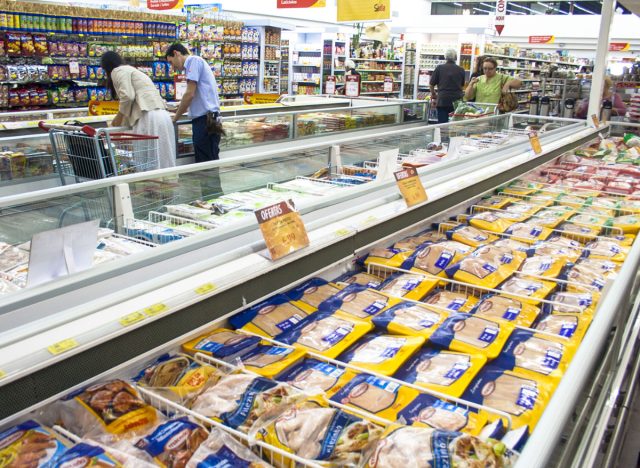 Despite the U.S. Department of Agriculture launching a $1 billion loan program earlier in December in order to get the meat and poultry industries back on track, meat prices are still sky-high—and the supply may be in a crisis soon. Chicken tenders already may be harder to find, in part because they require more processing to get on store shelves.6254a4d1642c605c54bf1cab17d50f1e
With lots of Americans buying up ham, turkey, and other meats of choice for the holiday season, supplies at the grocery store in your neck of the woods may take a hit. In fact, Publix is already placing a purchase limit on bacon.
For more on what's happening at your neighborhood grocery store, check out:
This Popular Grocery Aisle Brand Just Launched a New Premium Burger Chain
Amanda McDonald
Amanda has a master's degree in journalism from Northwestern University and a bachelor's degree in digital journalism from Loyola University Chicago.
Read more about Amanda