Healthy Spicy Hawaiian Pizza Recipe
Prepare to give your local pizza shop a run for their money when it comes to making the perfect pie.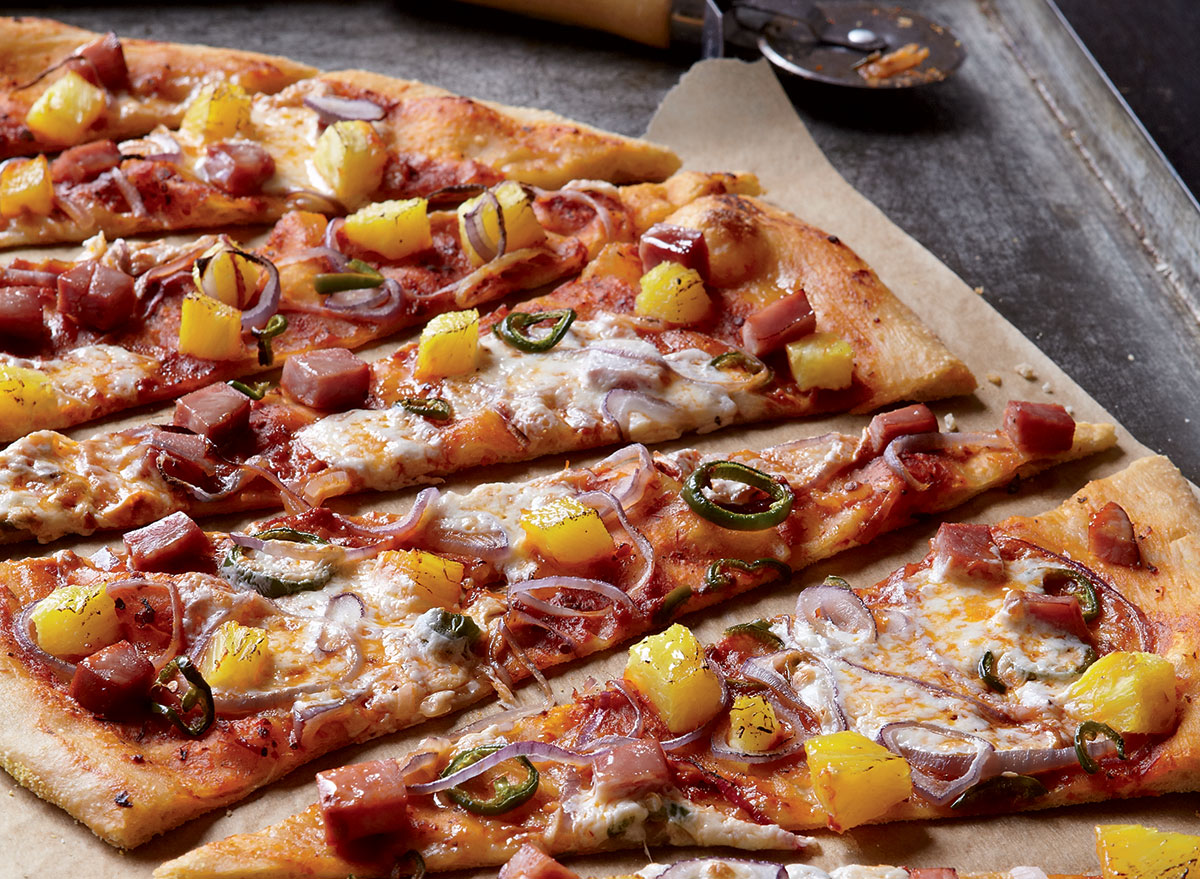 Specialty pies are the bane of the pizza world. Look at any nutritional guide from the major pizza purveyors, and you'll see calories, fat, and sodium jump dramatically as you move from simple pizzas to the elaborate concoctions the pizza execs dream up. (Do you really need pepperoni, sausage, bacon, and ground beef on your pie?)
When it comes to funky pies, though, we've long had a love affair with the Hawaiian, not just for its yin-yang balance of sweetness and smoke, but also because it's one of the healthiest pizzas you can eat. It might not be authentic Italian, but it's authentically American.
Nutrition: 490 calories, 24 g fat (9 g saturated), 980 mg sodium
Serves 4
You'll Need
1 package instant yeast
1 cup hot water
1⁄2 tsp salt
1 Tbsp honey
1⁄2 Tbsp olive oil
2 1⁄2 cups flour, plus more for kneading and rolling (or 2 thin-crust store-bought pizza shells)
1 cup tomato sauce
1 cup diced fresh mozzarella (or 1 cup shredded low-moisture mozzarella)
1 cup chopped pineapple
4 slices smoked ham (like Black Forest), cut into chunks
1 small red onion, thinly sliced
1 jalapeño pepper, thinly sliced
How to Make It
Combine the yeast with the water, salt, and honey.
Allow to sit for 10 minutes while the hot water activates the yeast.
Stir in the olive oil and flour, using a wooden spoon to incorporate.
When the dough is no longer sticky, place on a cutting board, cover with more flour, and knead for 5 minutes.
Return to the bowl, cover with plastic wrap, and let the dough rise at room temperature for at least 90 minutes.
Preheat the oven to 500°F. If you have a pizza stone, place it on the bottom rack of the oven.
On a lightly floured surface, stretch the dough into two 12" circles.
Working with one pizza at a time, place the pizza shell on a baking sheet, cover with a thin layer of tomato sauce, then top with half of the cheese, pineapple, ham, onion, and jalapeño. (If using a pizza stone, do this on a floured pizza peel, then slide the pizza onto the stone for baking.)
Bake for about 8 minutes, until the cheese is melted and bubbling and the crust is golden brown. Repeat to make the second pizza.
Cut each pie into 6 slices.