6 Healthiest Breads to Eat for Weight Loss, Dietitians Say
Just because you're wanting to lose weight doesn't mean you can't enjoy a delicious slice of bread.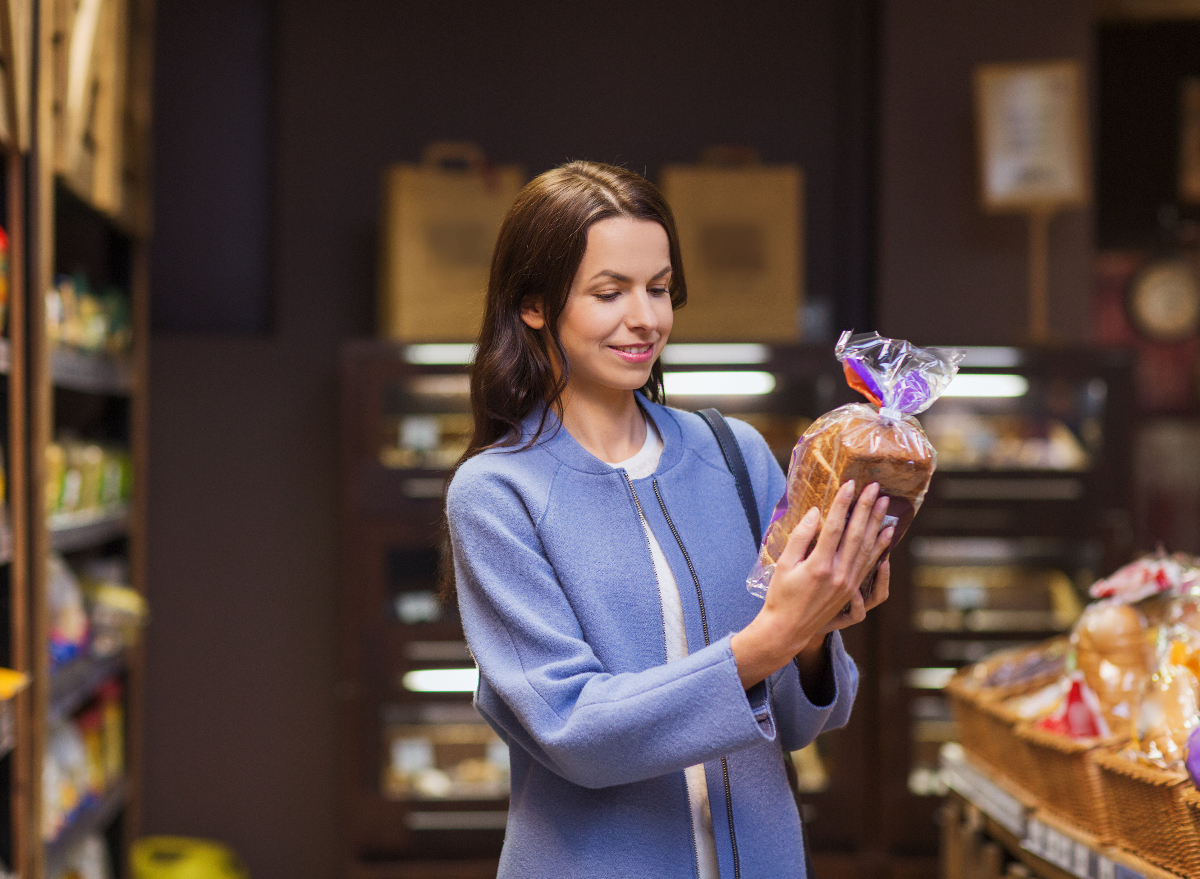 The product recommendations in this post are recommendations by the writer and/or expert(s) interviewed and do not contain affiliate links. Meaning: If you use these links to buy something, we will not earn a commission.
With the rise in low-carb diets, bread has become a hot topic. Once a staple in every household, you might find more controversy now than ever about what makes bread a healthy choice. In fact, even though bread is avoided in many diets, it can actually help you pursue your weight loss goals in a healthy way. We spoke to dietitians and nutrition experts to set the record straight about bread and its health effects, and to find out exactly which healthy breads they suggest for weight loss.
However, don't make the mistake of choosing the lowest-calorie bread you can find.  Sharon Puello, MA, RD, CDN, CDCES, explains why this is a mistake: "Light breads are typically not the great find that consumers think they are. Low-calorie breads often have very little fiber, no protein, and contain added artificial sweeteners. The fiber content of more traditional breads, owing to their seeds and other added grains, can be just as beneficial for weight management, if not more."
A healthy bread for weight loss is one that incorporates whole grains, contains a good source of fiber, and has a reasonable serving size. Here are the key factors to consider when determining which bread is healthiest for you:
Whole Grains: Choose bread made with 100% whole grains. Whole grains retain the parts of wheat that provide fiber, vitamins, and minerals.
Fiber:  Fiber promotes feelings of fullness, aids in digestion, and helps regulate blood sugar levels. Higher-fiber breads, such as those made from whole grains, seeds, or legumes, can help keep you feeling full for longer, promote digestive health, and support weight management.
Sodium: Consider the sodium content when scanning the label of a bread. Opt for breads that are lower in sodium to help manage blood pressure and overall heart health.
Protein: Some bread varieties, like those made with seeds, nuts, or legumes, can be higher in protein. Protein contributes to satiety, supports muscle health, and aids in repairing and building tissues.
Portion Size: Pay attention to portion sizes and be mindful of your overall calorie intake. You might find that while the calories look moderate, the serving size is small.
The good news is that even though not all bread is created equal, with the right choices, you can enjoy this dietary delight while still working towards your weight loss goals. In this enlightening article, we bring you insights from experienced dietitians who share their recommendations on the healthiest breads for weight loss.
Carbonaut Seeded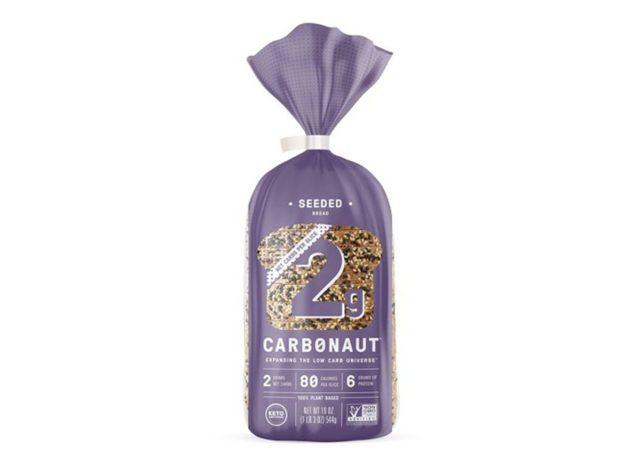 Per slice
: 80 calories, 3.5 g fat (0 g saturated fat), 135 mg sodium, 8 g carbs (6 g fiber, 0 g sugar), 6 g protein
Vandana Sheth, RDN, CDCES, FAND, a diabetes and blood sugar expert, explains why she recommends Carbonaut often: "Carbonaut has a wide array of products, including gluten-free options that are high in fiber and protein, and low in carbs. I recommend Carbonaut seeded bread as per slice it provides 80 calories, 8 grams of carbs, 6 grams of fiber and 6 grams of protein. The nutrition profile, satisfaction, and taste make it a wonderful option for those with weight loss and blood sugar management goals."
RELATED: 6 Breads With the Highest Quality Ingredients

Dave's Killer Bread Powerseed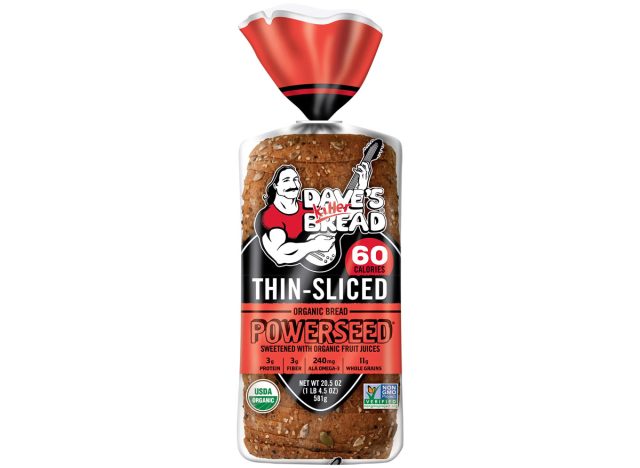 Per slice
: 100 calories, 2.5 g fat (0 g saturated fat), 135 mg sodium, 18 g carbs (4 g fiber, 1 g sugar), 5 g protein
"Dave's Killer Bread Powerseed Bread is packed with protein and fiber, which together can aid weight loss. One slice is 100 calories and packs 5 grams of protein, 4 grams of fiber, and only one gram of added sugar. Dave's Killer Bread is made with high-quality ingredients like whole wheat, oats, and flax seeds. It tastes delicious and helps keep you full for hours," shares Lainey Younkin, MS, RD, LDN, weight Loss dietitian at Lainey Younkin Nutrition.
Food for Life Ezekiel Bread
Per slice
: 80 calories, 0.5 g fat (0 g saturated fat), 75 mg sodium, 15 g carbs (3 g fiber, 0 g sugar), 5 g protein
Wan Na Chun, MPH, RD recommends Food for Life Ezekiel Bread for weight loss because it is made from sprouted grains and legumes, which increases the fiber and protein content. "Each slice has 80 calories and 5 grams of protein, which is almost twice the amount of other breads. This can help you stay full for longer, and sprouted grains also help with the absorption of the vitamins and minerals in the bread. My favorite way to enjoy a slice of Ezekiel bread is with some soft scrambled eggs and Everything But the Bagel seasoning, for an easy protein-packed breakfast," she shares.
Silver Hills Bakery Flax Omegamazing Bread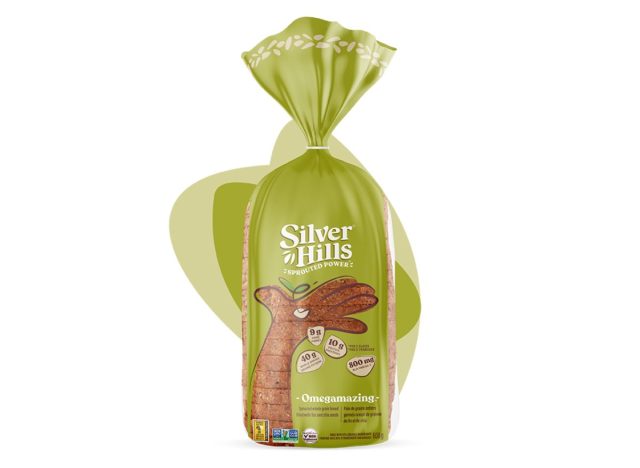 Per 2 slices
: 170 calories, 1.5 g fat (0 g saturated fat), 300 mg sodium, 31 g carbs (9 g fiber, 3 g sugar), 10 g protein
With 9 grams of fiber and 10 grams of protein per 2-slice serving, this bread is chock-full of staying power. The bread is also relatively low in calories with 90 calories per slice, and packed with nutrition to keep you feeling full and satisfied for hours after.
When you're focused on weight loss, it's easy to turn to low-calorie options that aren't very filling. Silver Hills Bakery offers an option that is both low in calories and high in satiating nutrients like protein, fiber, and healthy fats from flaxseeds. You'll even get a heart-healthy dose of Omega-3s from the flax that is milled into the bread.
RELATED: How To Choose the Best Bread at the Grocery Store, According to Bakers

Dave's Killer Thin-Sliced Good Seed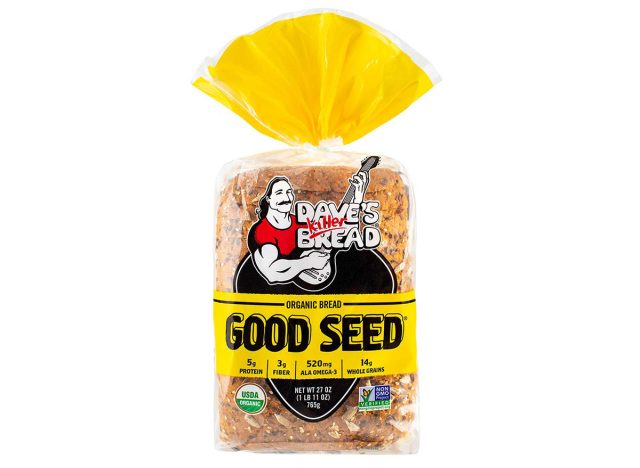 Per slice
: 70 calories, 1.5 g fat (0 g saturated fat), 115 mg sodium, 13 g carbs (3 g fiber, 2 g sugar), 3 g protein
"I love Dave's Killer Bread because it has a great texture and it tastes delicious! For weight loss, I recommend the Thin-Sliced Good Seed, since it is whole grain and each slice contains only 70 calories and is packed with 3 satisfying grams of protein and fiber for fullness," recommends Sheri Berger, RDN, CDCES.
ALDI's Simply Nature Thin-sliced Graintastic Bread
Per slice
: 110 calories, 1.5 g fat (0 g saturated fat), 115 mg sodium, 21 g carbs (4 g fiber, 4 g sugar), 5 g protein
"Even if you're not trying to lose weight, you'll love ALDI's Simply Nature Thin-sliced Graintastic Bread. It's made with 21 whole grains and seeds, providing 3 grams of protein and 3 grams of fiber in each slice that will keep you satisfied for hours while feeding you friendly gut bacteria. This deliciously nutty bread is perfect toasted and topped with an over-easy egg or paired with nut butter for a quick, nutrient-dense breakfast on busy mornings. Plus, each slice offers 220 milligrams of brain and mood-boosting Omega 3s to start your day," shares Dani Lebovitz, MS, RDN, nutrition education expert in Franklin, TN, and author of Where Does Broccoli Come From? A Book of Vegetables.6254a4d1642c605c54bf1cab17d50f1e
Caroline Thomason, RDN
Caroline is a women's health Registered Dietitian and diabetes educator based in Northern Virginia.
Read more about Caroline