13 Best High-Protein, Low-Carb Snacks for Weight Loss, According to Dietitians
Reach for one of these satiating, protein-dense snacks that's also low in carbs—and still lose weight!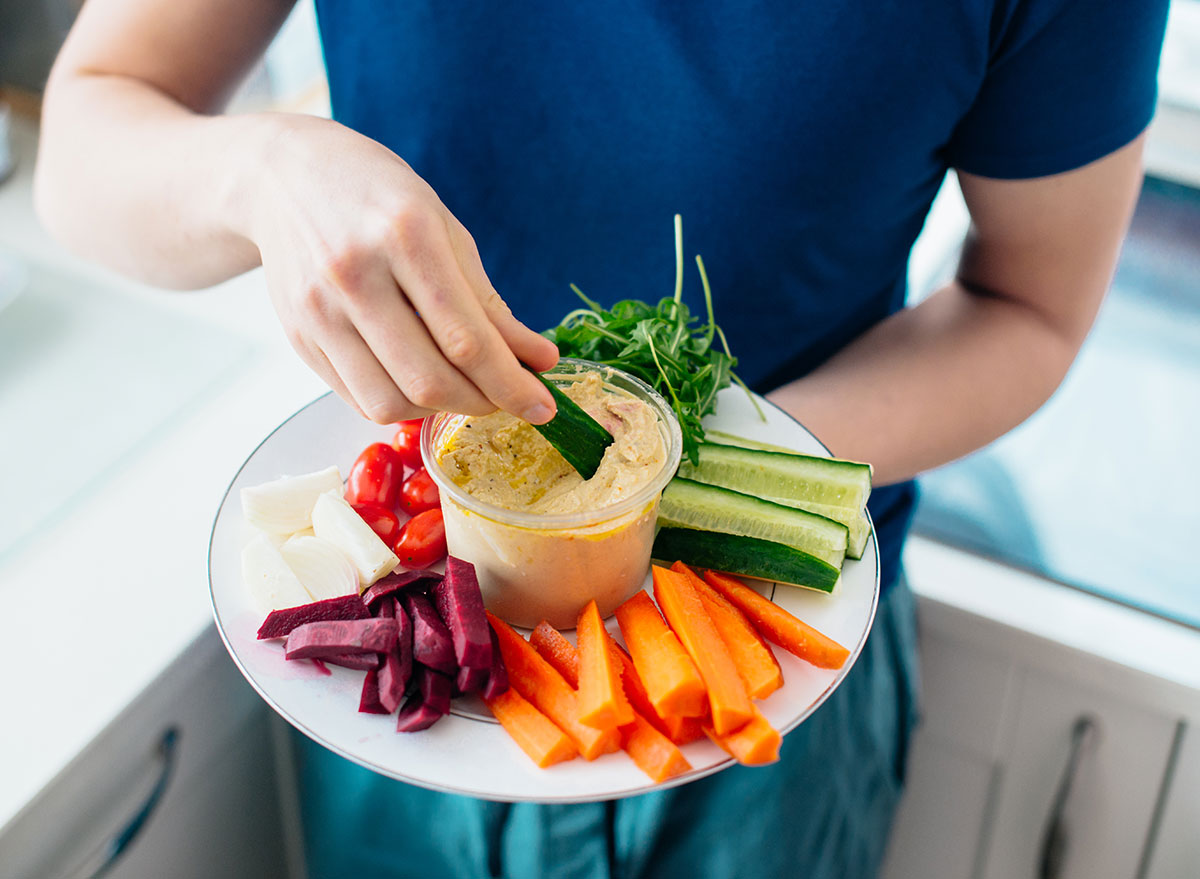 We've all been there: You tell yourself, "OK, today is the day—I'm committing to a healthy weight loss plan to not only shed these pounds but keep them off. It's only nutritious food choices from here on out." But within a few days (or even a few hours), you find yourself sedentary and snacking away on handfuls of sugary or sodium-packed ultra-processed munchies. Instead of potato chips or jellybeans, why not opt for an equally tasty yet more satisfying high-protein, low-carb snack?
Why you should choose high-protein, low-carb snacks for weight loss
Let's get real: It doesn't matter how much willpower you may exercise when trying to lose weight, food FOMO is the absolute worst! Couple that with hunger pangs and cravings, and you have an obnoxious, uncomfortable collection of distractions on your hands that will likely compel you to make unhealthy choices that undermine your weight loss goals. For those who tend to get peckish between meals, choosing more high-protein, low-carb snacks can help increase your chances of staying on track without causing you to feel deprived.
High-protein snacks that are also low in carbohydrates can be a great tool for weight loss for many reasons. For one thing, protein is an essential nutrient that helps satiate your appetite, and research shows that high-protein diets can be conducive to weight loss. Feeling full and satisfied helps mitigate the possibility of overeating, which is something that can work against you if you're trying to lose weight. Additionally, when combined with exercise, protein can also be beneficial in cultivating lean muscle. Likewise, eating more low-carb foods can also encourage your body to convert more stored fats into energy, burning off your excess weight.
What constitutes a high-protein, low-carb snack?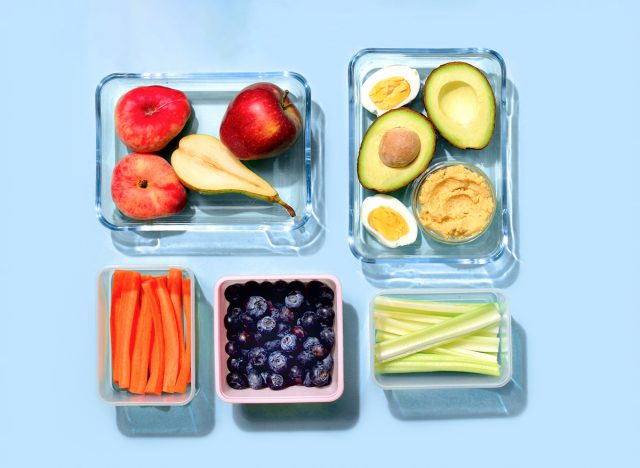 According to a handful of nutrition experts from our Medical Expert Board, when it comes to striking an ideal balance between the amount of carbohydrates and protein in a high-protein, low-carb snack, there isn't a precise ratio to strive for.
"I think a snack can have at least 3 grams of protein and less than around 8 grams of carbs," says Lauren Manaker, MS, RDN, registered dietitian and author of The First Time Mom's Pregnancy Cookbook and Fueling Male Fertility.
That said, a food is often considered to be high in a particular nutrient based on the recommended daily value (DV).
"The FDA defines the term 'high in' as meeting 20% of the recommended daily value or more," says Toby Amidor, MS, RD, CDN, FAND, award-winning nutrition expert and Wall Street Journal bestselling cookbook author of Up Your Veggies: Flexitarian Recipes for the Whole Family.
A clearer measure of what's best for you can be determined by a healthcare provider based on your unique body chemistry, and oftentimes these determinations are based on a handful of other factors, including your current height and weight.
"The recommendation for protein is 0.36 grams per pound," explains Amidor. "So, if someone is 150 pounds, that would be 54 grams of protein per day, and about 10 grams of protein for the snack (which can be quite high for a snack)."
"I would recommend combining foods within your snack that provide both protein (plant or animal) and fiber. Healthy fats also help keep you feeling full, so adding a little to snacks can help keep you satisfied, too," says Amidor. "For weight loss, I recommend snacks stay around 125–150 calories and are composed of at least two of these nutrients (fiber, healthy fat, protein) to help you stay satiated for longer as they take longer to digest or get through the gut."
To help you get started with stocking up on a delicious variety of high-protein, low-carb snacks, we've rounded up a few nutritious dietitian-approved suggestions below—and for more healthy eating tips that can help support your weight loss journey, be sure to check out The Best Healthy Snacks for Weight Loss.
Pistachios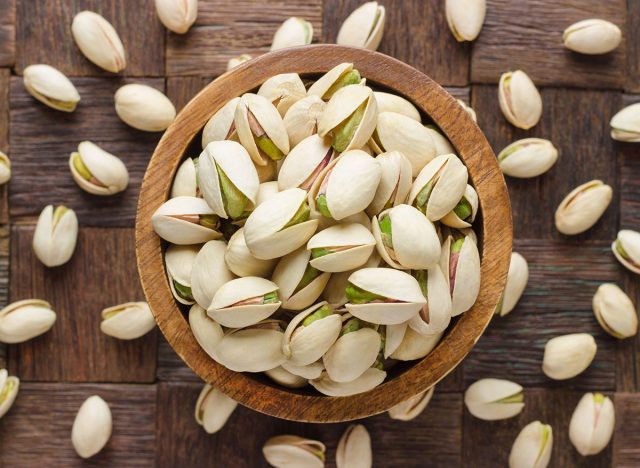 Total carbs per ounce: 7.71 grams
Total protein per ounce: 5.73 grams
"Pistachios are a nutrition powerhouse and one of the lowest-calorie nut options!" says Caroline Thomason, RD, CDCES. "One ounce of pistachios (or about 50 nuts) contains 160 calories, 3 grams of fiber, and 6 grams of protein. They are low in carbohydrates and offer a great energy source for folks who are blood sugar-conscious."
"If you're looking for a nut to satisfy your snack cravings and help with your weight loss efforts, pistachios are it!" adds Amy Goodson, MS, RD, CSSD, LD, author of The Sports Nutrition Playbook. "They are one of the highest protein snack nuts providing 6 grams of complete plant-based protein per serving. Pistachios also contain 3 grams of fiber per serving, and 90% of the fat found in pistachios is unsaturated. This nutrient trio of protein, fiber, and fat can help keep you fuller longer after snack time—and did I mention that 49 pistachios are a serving?! You truly feel like you get a full snack that satisfies with all the savory crunch!"
Deli Turkey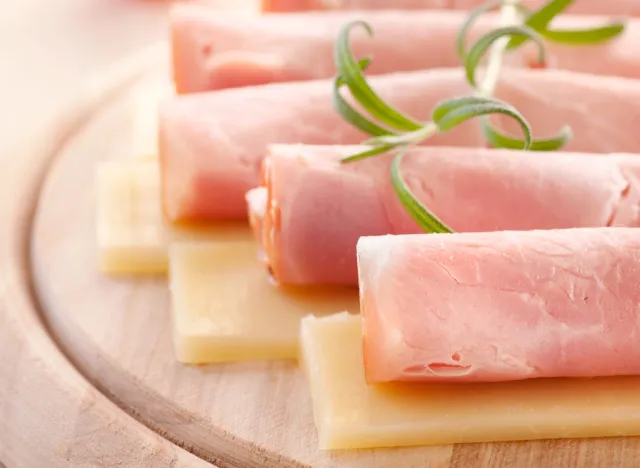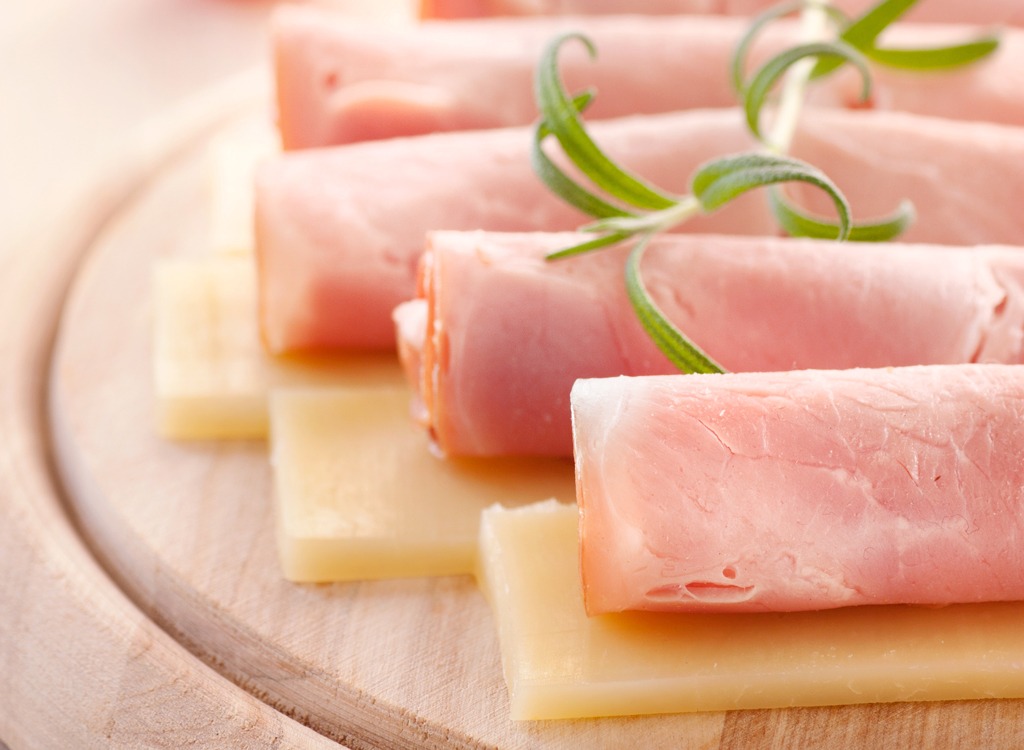 Total carbs per slice: 1 gram
Total protein per slice: 5 grams 
"One of my favorite snacks that reminds me of the nostalgia of being a kid is a turkey rollup with a fun dipping sauce," says Thomason. "I personally love Applegate turkey because it is made with better-for-you ingredients and is 100% natural."
Plain Greek Yogurt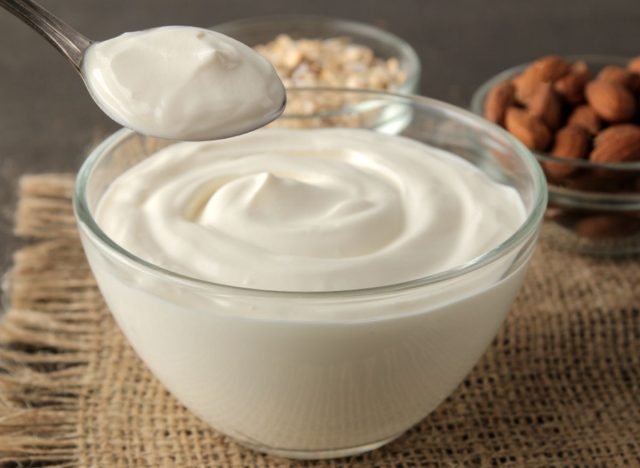 Total carbs per 7-ounce container: 7.88 grams
Total protein per 7-ounce container: 19.9 grams
"Plain Greek yogurt provides 15–17 grams of high-quality protein per 6-ounce serving, depending on the brand," says Goodson. "While the protein will help you stay fuller longer, the probiotics in yogurt (good bacteria) can also help with gut health. Greek yogurt also provides you with calcium. If you are looking to lose weight, consider using Greek yogurt as a base for dips, smoothies, and even in baked goods to amp up the protein for less calories."
Edamame
Total carbs per serving: 10 grams
Total protein per serving: 7 grams
"One-half a cup of dried edamame provides [approximately] 9 grams of protein and 4 grams of fiber," says Ashley Harpst, RD, owner of Go for the Gold Nutrition. "The combination of protein and fiber will help [those] who are interested in staying full and satisfied."
Poached Eggs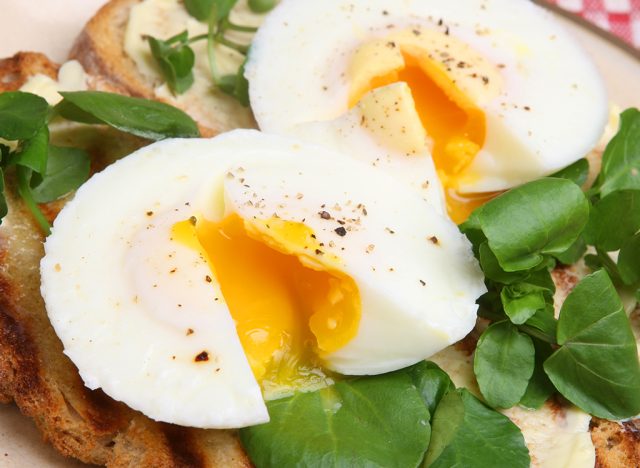 Total carbs per egg: 0.36 grams
Total protein per egg: 6.28 grams
"As the highest-quality protein available, eggs are a great nutrition value!" says Goodson. "One large egg provides 6 grams of high-quality protein and other nutrients many Americans miss out on like choline, vitamin D, and iodine. Eggs also contain omega-3 fatty acids. The combination of protein and fat help you get full faster and stay full longer, which helps reduce the likelihood of eating more than you should. Eggs can be eaten at any meal or snack and can help you feel more satiated."
Eggs can be prepared in a variety of ways—fried, scrambled, deviled, you name it. However, the simplicity of the poaching process doesn't require the introduction of additional ingredients, like butter or oil, which will inevitably up the fat and calorie content of your meal.
Greek Yogurt Smoothies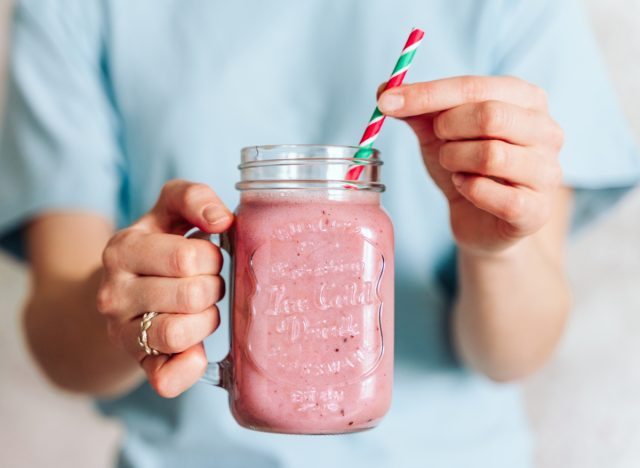 Total carbs per serving: 5 grams
Total protein per serving: 10 grams
If you're sick of eating yogurt the old-fashioned way, zhuzh up your high-protein, low-carb snacking routine by having a Greek yogurt-infused smoothie instead.
"Lately, I have been loving Two Good's Greek Yogurt Smoothie," says Thomason. "With only 70 calories and 10 grams of protein, it's a delicious and filling snack with tons of staying power to keep me full. Two Good contains only 5 grams of total carbohydrates and 3 grams of sugars—you'll be hard-pressed to find a more balanced drinkable yogurt option at the grocery store."
Hard-Boiled Eggs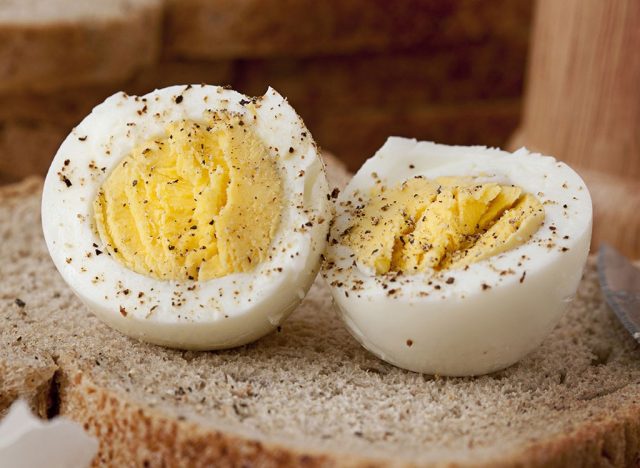 Total carbs per egg: 0.56 grams
Total protein per egg: 6.3 grams
"Hard-boiled eggs are the perfect high protein grab-and-go snack to help keep consumers satiated throughout the day," says Harpst. "Eggs are also beneficial for weight because eggs are high in choline which helps support metabolism."
"A hard-boiled egg is a portable and easy-to-eat snack that contains high-quality protein and a slew of nutrients," adds Manaker. "Plus, the U.S. Dietary Guidelines hasn't restricted the cholesterol in the food you eat for many years and recommends eggs as part of a healthy diet, so you can feel confident choosing eggs for your family—and eating the yolks! Try sprinkling them with some Everything But The Bagel seasoning from Trader Joe's for some zing!"
Beef Jerky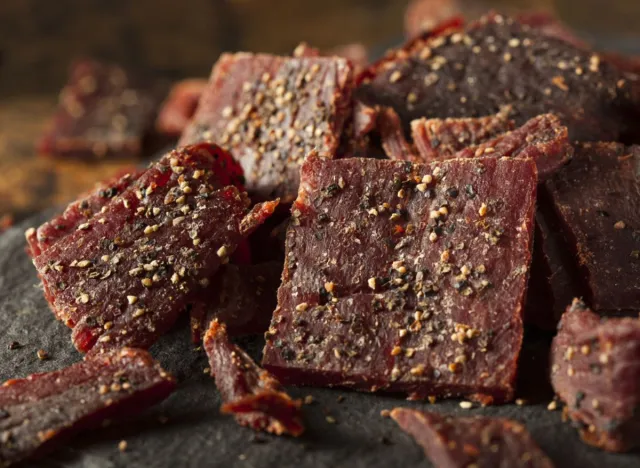 Total carbs per serving: 3.12 grams
Total protein per serving: 9.41 grams
"Beef provides you with 10 essential nutrients, including high-quality protein," explains Goodson. "One ounce provides you with 10 grams of protein plus zinc, vitamin B-12, selenium, and other nutrients. Beef jerky is a fantastic on-the-go protein that will help keep you satisfied longer after eating. Not to mention, it does not have to be kept hot or cold, making it the perfect snack solution for road trips, gym bags, and desk drawers!"
Roasted Walnuts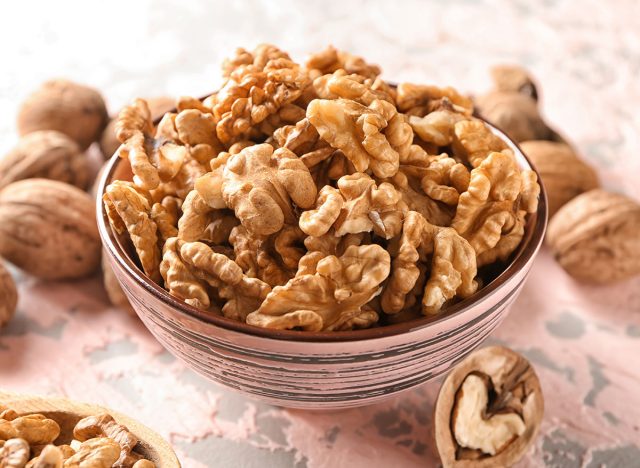 Total carbs: 4 grams
Total protein: 5 grams
"Roasted walnuts are packed with ALA omega-3 fatty acids—aka the 'good' fats that support our overall health," says Manaker. "They are also a source of fiber and plant-based protein, providing a healthy balance of satiating macros. Walnuts can be added to many healthy snacks, like trail mix, fruit salad, or yogurt."
Pumpkin Seeds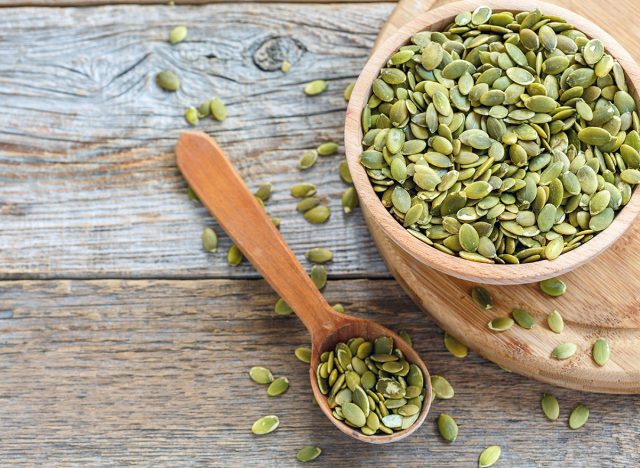 Total carbs per unsalted ounce (no shell): 4.17
Total protein per unsalted ounce (no shell): 8.46 grams
Don't underestimate the powerful, weight-loss-supporting benefits you can get from a spoonful or two of pumpkin seeds. In addition to providing a satisfying crunch that can compensate for any pesky potato chip cravings, this high-protein, low-carb snack also contains nearly 2 grams of fiber per ounce, promoting feelings of fullness that can reduce your desire to overindulge.
String Cheese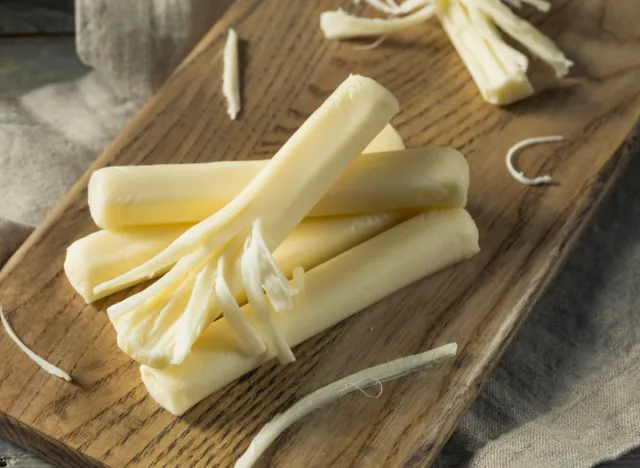 Total carbs: 1 gram
Total protein: 8 grams
Yes, it is possible to lose weight and still consider yourself to be a devoted cheesehead! While most cheeses tend to be lower in carbohydrates, according to the Dairy Reporter, the trick to finding a cheese that's also high in protein is to seek out ones with low moisture content, as these types tend to have more protein per serving. If you love mozzarella, Amidor suggests snacking on a grab-and-go stick of string cheese and consider pairing it with fresh pear slices for a well-balanced, filling, high-protein snack that's also easy on the carbs.
Celery & Almond Butter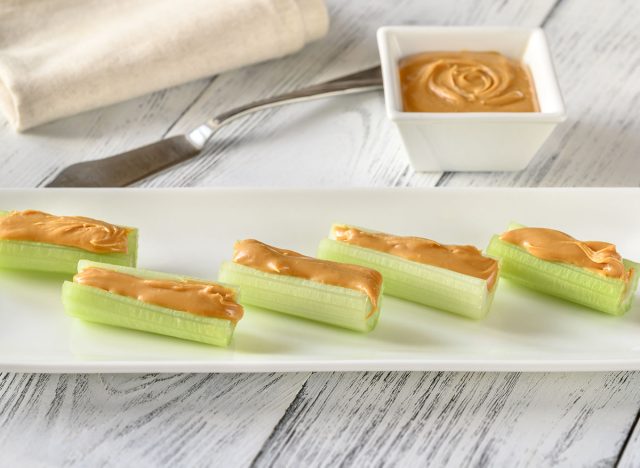 Total carbs: 4.91 grams 
Total protein: 3.08 grams6254a4d1642c605c54bf1cab17d50f1e
For anyone who has ever aspired to lose weight, the expectation to limit your snacks to plain large celery stalks seems like a nightmare. Sure, celery is incredibly nutritious (and even hydrating), but it always seems to need something else to really hit the spot. One way to not only up the ante on the taste of your celery but also the ever-filling protein component of this snack is to top it with a little almond butter. On its own, a tablespoon of almond butter contains 3.36 grams of protein, which is a little over 6% of your DV, and only has about 3 grams of carbohydrates. 
Veggies with Hummus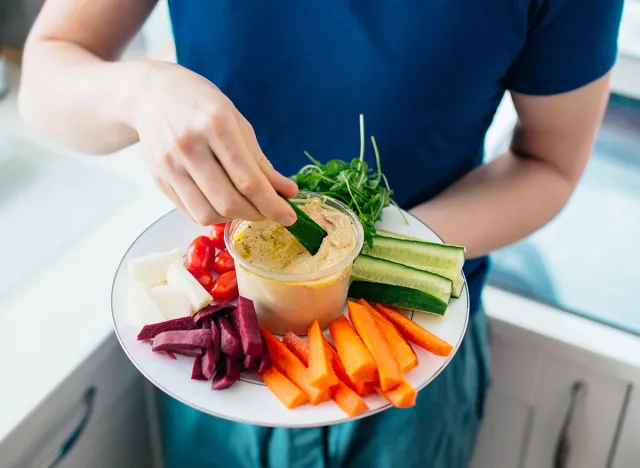 Total carbs: 8 grams
Total protein: 2 grams
Per Amidor's earlier recommendation to aim for snack combinations that "provide both protein (plant or animal) and fiber," a fresh veggie platter (think: cucumbers, cherry tomatoes, carrots) dipped in hummus is a slam dunk high-protein, low-carb snack combo. Too busy to make your own? Meijer supermarket's Vegetable Tray with Hummus is all good to go. Best of all, it's only 60 calories per serving, yet it provides 4% DV for protein and 3% DV for carbs.
Sources referenced in this article