10 Healthiest Fast-Food Meals for Weight Loss, According to RDs
Can you still eat fast-food if you're trying to lose weight? Dietitians say you definitely can.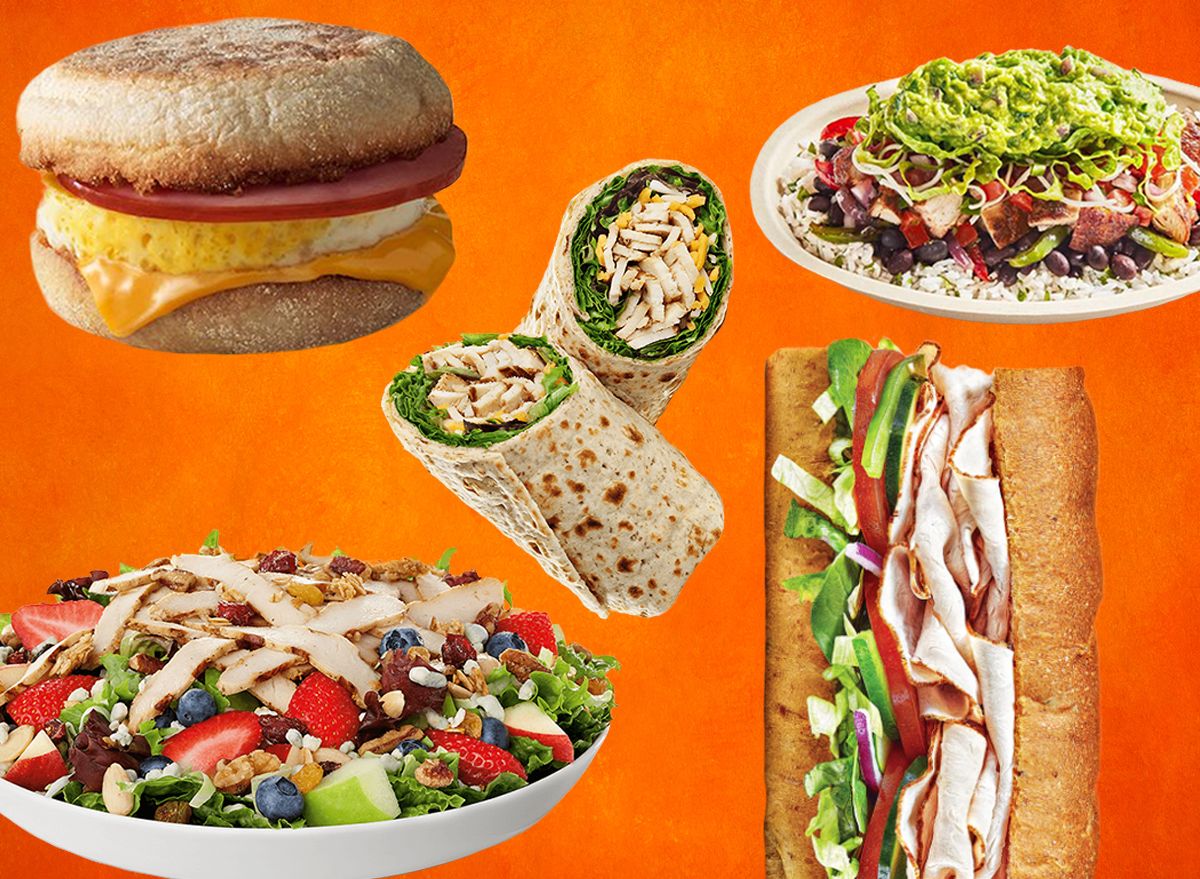 If you were a fan of Super Size Me in the early 2000s, you may have mixed emotions on whether or not you can eat fast-food and still be healthy. Fast-food typically has a reputation for being high in calories, fat, sodium, and added sugars—but that doesn't mean it can't have its place in the context of a healthy diet. We spoke to dietitians to find out exactly which fast food meals they recommend for your health and which ones may contribute to weight loss.
Keep in mind that one meal cannot make or break your diet. In fact, it's important that you view your health as an accumulation of choices over time, rather than one specific meal. Weight loss comes as a byproduct of eating fewer calories than you burn, so in theory, as long as you are in a calorie deficit, you can still lose weight eating fast-food. However, this is a simplified explanation of the complex human metabolism. For more information on healthy fast-food meals for weight loss, read on.
Can you lose weight while eating fast-food?
Dietitian Nicole Rodriguez, RD NASM-CPT conducted a fun experiment eating McDonald's every day, once a day, for 30 days, and shared her results on Instagram. Her only qualification when ordering each day was to give herself a monetary budget, which she says perhaps helped her stick to a lower-calorie budget. "Whether working toward fat loss, weight maintenance, or just more balance, inclusion of something fun every day can lead to better adherence to a balanced diet in the long run," says Rodriguez.
Weight loss is not necessarily an immediate byproduct of eating fast-food regularly, especially if you've been previously restricting these foods. Rodriguez explains, "Restricting your food in an effort to lose weight as quickly as possible leads to a boomerang effect. Instead, start by normalizing foods that were previously off-limits!"
Even more impressively, Nichole shared her objective data that she collected before and after completing her experiment. She reports that her lipid panel, including her total cholesterol and her LDL cholesterol improved significantly. Her weight remains stable, with a 1 pound decrease than the previous month.
This kind of data shows us that perhaps we overemphasize the harms of fast-food and understate the benefits. Let's find out exactly what the experts have to say about the best and healthiest fast-food meals for weight loss.
How to order healthier fast-food
When visiting the drive-through, consider these quick tips to make more balanced choices that can help you with your weight loss goals.
As Rodriguez suggests, it could be helpful to give yourself a monetary budget every day so as not to increase the size of your order, thus increasing calories.
Focus on a lean source of protein like chicken, turkey, or fish.
Ask for condiments and sauces on the side. For example, you can get your sandwiches at McDonald's without mayo or with a packet of mayo on the side.
Forgo options that are deep-fried, and instead consider options that are grilled, steamed, or boiled.
10 healthy fast-food meals for weight loss
Taco Bell Chicken Power Bowl
Per meal
: 460 calories, 21 g fat (6 g saturated fat), 1,250 mg sodium, 41 g carbs (8 g fiber, 3 g sugar), 26 g protein
"The Taco Bell Power Menu Bowl is a great option for healthy fast-food. With 460 calories, 8 grams of fiber, and 26 grams of protein, it will keep you full for hours! Or for a vegetarian option, you can choose the Power Menu Bowl Veggie, which has 420 calories, 11 grams of fiber, and 12 grams of protein, making it another solid drive-through option," shares Ashley Krautkramer, RD, CSOWM, CD, CDCES.
Sweetgreen Super Green Goddess
Per meal
: 490 calories, 25 g fat (4 g saturated fat), 1,141 mg sodium, 47 g carbs (15 g fiber, 16 g sugar), 20 g protein
Sheri Berger, RDN, CDCES loves to pop into Sweetgreen for a balanced meal on the fly. "You can choose pretty much anything from Sweetgreen and get a satisfying meal that is overflowing with veggies, packed with lean protein, balanced with a whole grain, and topped with a tasty sauce. For plant-based eaters, I recommend the Super Green Goddess, a hearty salad that is packed with 20 grams of plant protein from chickpeas and lentils and is under 500 calories. For meat-eaters or flexitarians, I recommend the Asparagus and Roasted Salsa Bowl with blackened chicken, warm wild rice, and lots of delicious veggies. Ask for sauces on the side to limit sodium."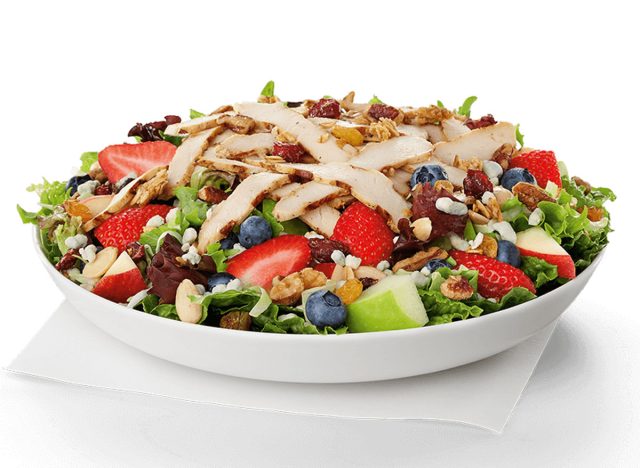 Per meal
: 540 calories, 31 g fat (6 g saturated fat), 1,010 mg sodium, 41 g carbs (5 g fiber, 26 g sugar), 28 g protein
"I love the Market Salad with a Grilled Nugget sway. It's high in protein, and I love the added crunch from the granola and slivered almonds. The salad has berries, which add a great natural sweetness and boost of antioxidants. It's my favorite fast-food salad with tons of nutrients and fun textures," recommends Wan Na Chun, MPH, RD.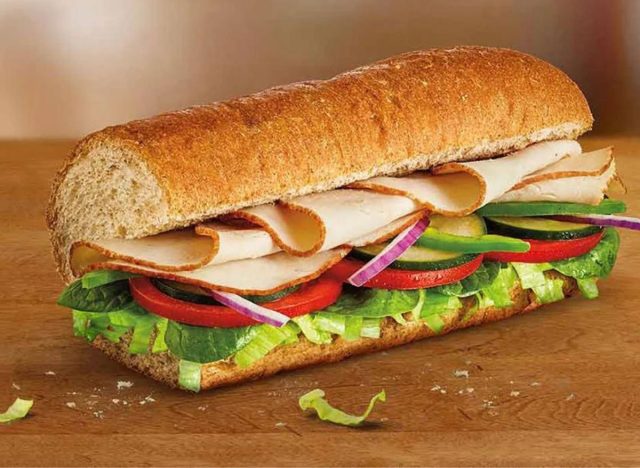 Per meal
: 270 calories, 4 g fat (1 g saturated fat), 840 mg sodium, 40 g carbs (5 g fiber, 6 g sugar), 22 g protein
Subway makes it easy to customize a low-calorie, fast-food option on the go. A 6-inch turkey sub can contain as few as 270 calories if you are prudent with your condiments, and 6-inch on wheat will deliver fiber and protein, two nutrients that help keep you full and prevent drops in energy levels as the day goes on.
CAVA's Greens and Grains Bowl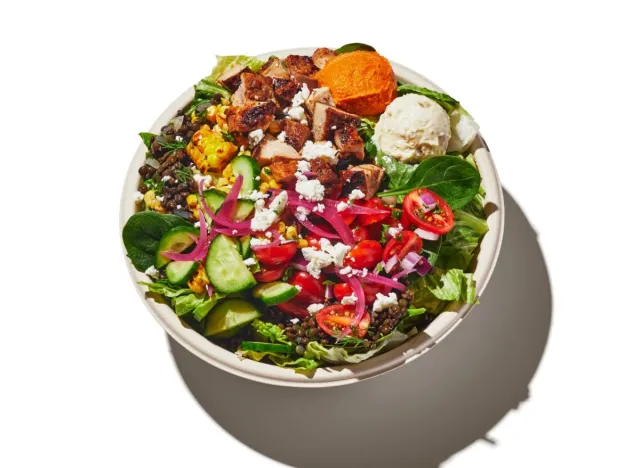 *Nutrition information is based on how you build your bowl
"The Grains and Green Bowl at CAVA is packed full of nutrition! I recommend choosing the RightRice in your bowl, which is a plant-based rice made with lentils, chickpeas, peas, and rice. Then add on a variety of greens and lean protein, as well as healthy fats from avocado and olives. It is filling, nutritious, and delicious," says Mandy Tyler, M.Ed., RD, CSSD, LD.
Chick-fil-A Grilled Chicken Sandwich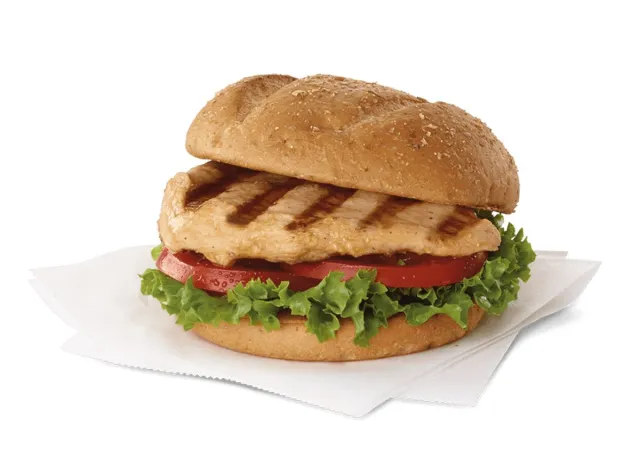 Per meal
: 390 calories, 12 g fat (2 g saturated fat), 770 mg sodium, 44 g carbs (3 g fiber, 12 g sugar), 28 g protein
Karolin Saweres,MS, RDN, LD loves Chick-fil-A for a healthy fast-food option for weight loss. "I love the Grilled Chicken Sandwich from Chick-fil-A, which contains only 390 calories. Pair it with their Fresh Fruit Cup or Kale Crunch Salad for a boost of filling-fiber, or an order of 5-piece Grilled Chicken Nuggets for additional protein if you need."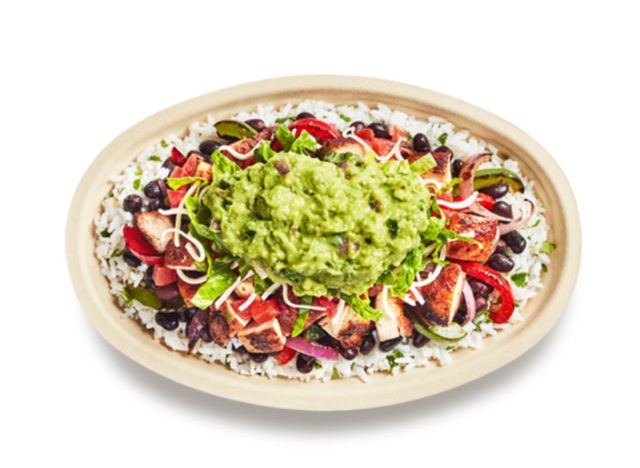 Per Chicken Bowl without cheese and sour cream
: 570 calories, 13 g fat, 72 g carbs, 45 g protein
Hands down, the Chicken Burrito Bowl at Chipotle is a great fast-food meal for weight loss, says Sarah Pflugradt, MS, RDN, CSCS. "With chicken, brown rice, beans, lettuce, extra salsa, and corn, you can't beat the protein and fiber. The sodium is still going to be high, but that is really hard to avoid with any fast-food. Choose water instead of soda and skip the extras, like sour cream or queso, that can increase the calories of this meal," she shares.
Chick-fil-A Chicken Cool Wrap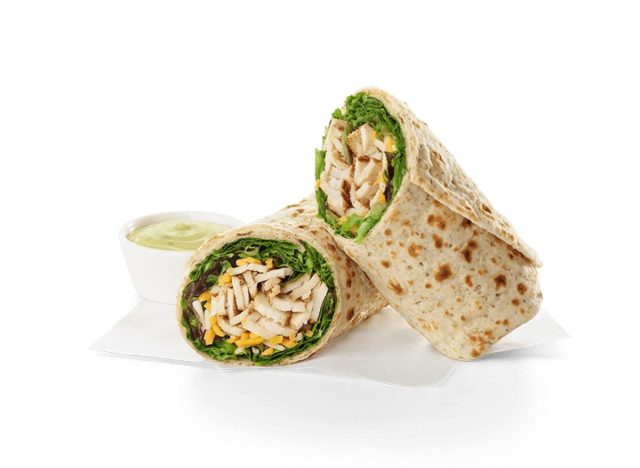 Per meal
: 660 calories, 45 g fat (9 g saturated fat), 1,420 mg sodium, 32 g carbs (14 g fiber, 5 g sugar), 43 g protein
Chick-fil-A's Cool Wrap boasts a balanced option on the go, and I love to recommend this option to clients who are working towards weight loss or making blood sugar-friendly choices when eating out. With only 32 grams of total carbohydrates, of which 14 grams come from fiber, this wrap is bound to keep you full and satisfied for hours to come. If that wasn't enough, you'll get 43 grams of protein from a lean chicken source.
Per meal
: 310 calories, 13 g fat (6 g saturated fat), 770 mg sodium, 30 g carbs (2 g fiber, 3 g sugar), 17 g protein
The McDonald's Egg Muffin is a classic that you can enjoy even if your goal is weight loss. With 17 grams of filling protein for just 310 total calories, you will find that this small but mighty breakfast sandwich has a lot of staying power. If you're looking for an even bigger boost, consider swapping the egg for egg whites to reduce the total calories to 280.6254a4d1642c605c54bf1cab17d50f1e
Arby's Classic Roast Beef Sandwich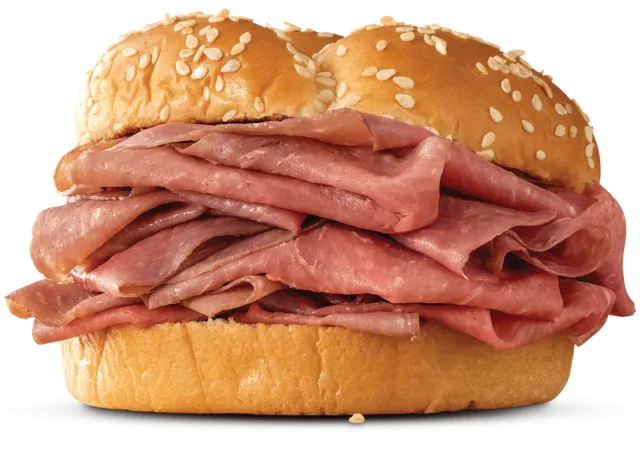 Per meal
: 360 calories, 14 g fat (5 g saturated fat, 0.5 trans fat), 970 mg sodium, 37 g carbs (2 g fiber, 5 g sugar), 23 g protein
With 360 total calories, Arby's knows how to pack a ton of flavor into a balanced meal, and the shaved roast beef delivers a leaner protein option. With 23 grams of protein to boot, this sandwich is sure to tide you over until your next meal.
Caroline Thomason, RDN
Caroline is a women's health Registered Dietitian and diabetes educator based in Northern Virginia.
Read more about Caroline