20 Healthiest Fast Food Items of 2017
Out of all the new fast food items to hit the market in 2017, these are the best ones for your belly.
Sure, the words "healthy" and "fast food" don't typically appear together. But 2017 ushered in a whole host of better-for-you options at some of the nation's most popular chains. Of course, fast food is still fast food—none of these healthy fast food options are going to be as good for you as a bowl of grilled chicken over steamed kale.
But when it comes to making a better choice at your favorite fast food joint, these new menu items will satisfy your cravings without derailing your diet. So if you only have time to hit the drive-thru for lunch, or just don't feel like cooking, be sure to check out these latest offerings from Wendy's, Chick-fil-A, Taco Bell, and more.
Chick-fil-A Hash Brown Scramble Bowl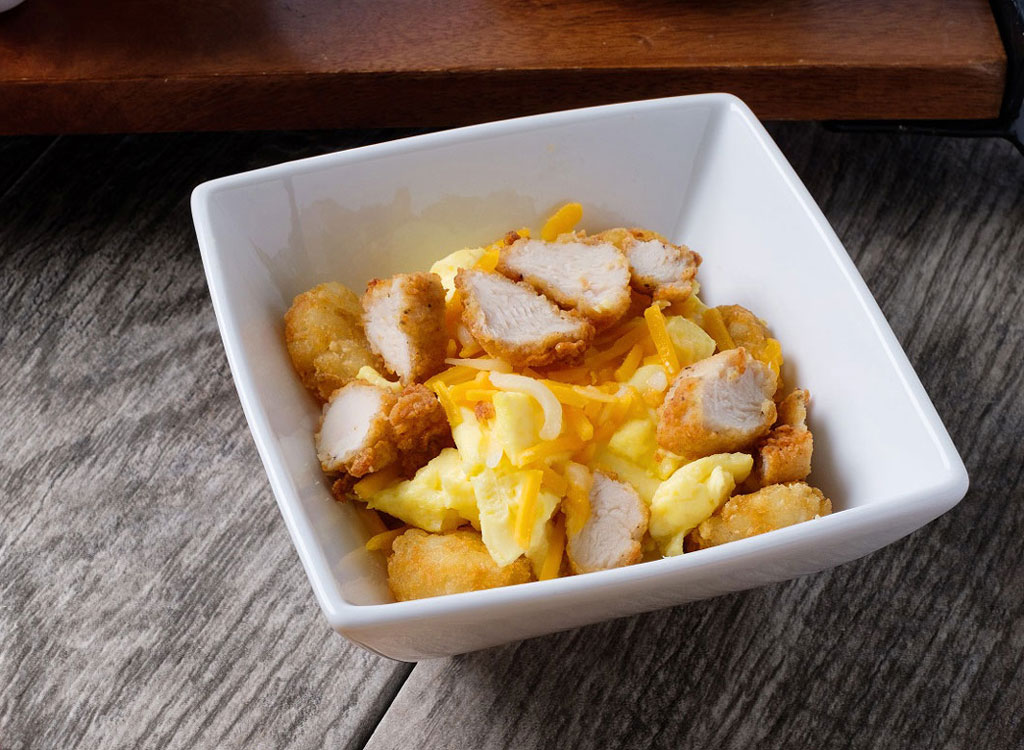 450 calories, 28 g fat (9 g saturated fat), 1,120 mg sodium, 19 g carbs (3 g fiber, 1 g sugar), 30 g protein
Chick-fil-A added this new breakfast item that is surprisingly high in protein and relatively low in calories (at least, for hash browns). The bowl is filled mostly with eggs, which gives it a nutritional base, topped with cheese and either sliced chicken nuggets or sausage, deeming it one of our healthy fast food options at the chicken joint.
Panera Bread Roasted Beet, Quinoa, & Citrus Salad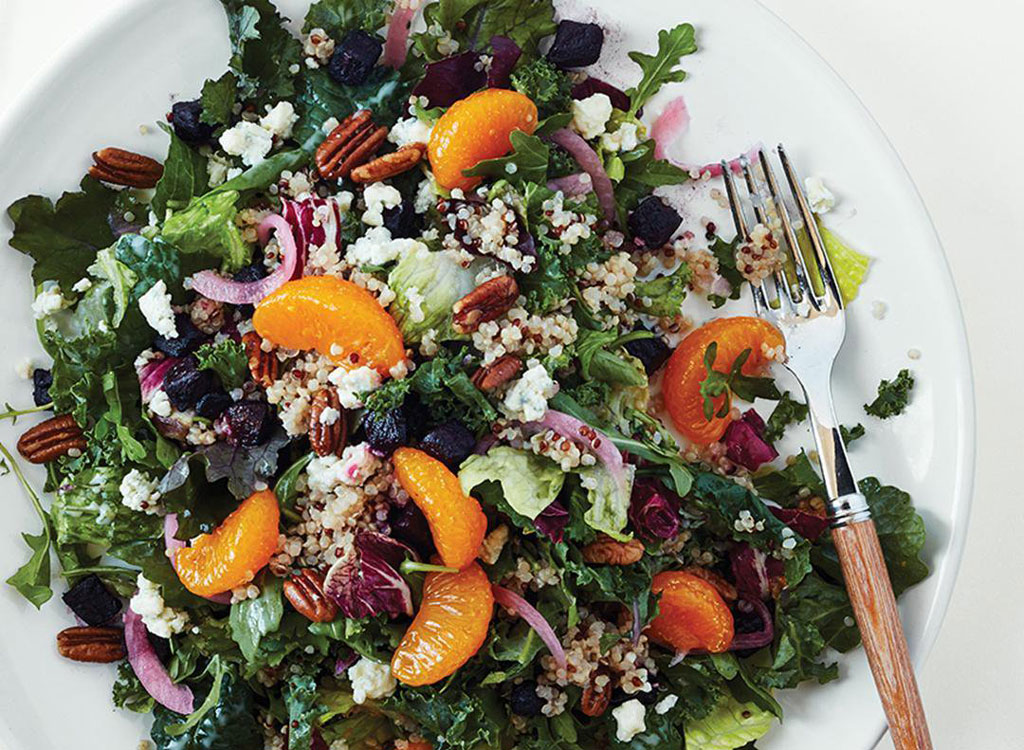 490 calories, 31 g fat (6 g saturated fat), 660 mg sodium, 49 g carbs (9 g fiber, 26 g sugar), 12 g protein
Panera Bread is a top pick of nutritionists as they do not use any artificial ingredients or preservatives. "Their salads are great, but my favorite is the Roasted Beet, Quinoa and Citrus Salad," Leah Kaufman, MS, RD, CDN, a New York City-based registered dietitian, tells us. "This seasonal entree is a great mix of whole grains, vegetarian proteins from the nuts and cheese and a whole lot of fiber from the kale. The sodium content is a bit high, so I would ask for the dressing on the side to likely minimize the total amount of sodium eaten in this meal."
Carl's Jr. / Hardees Antibiotic-Free, All-Natural Charbroiled BBQ Chicken Sandwich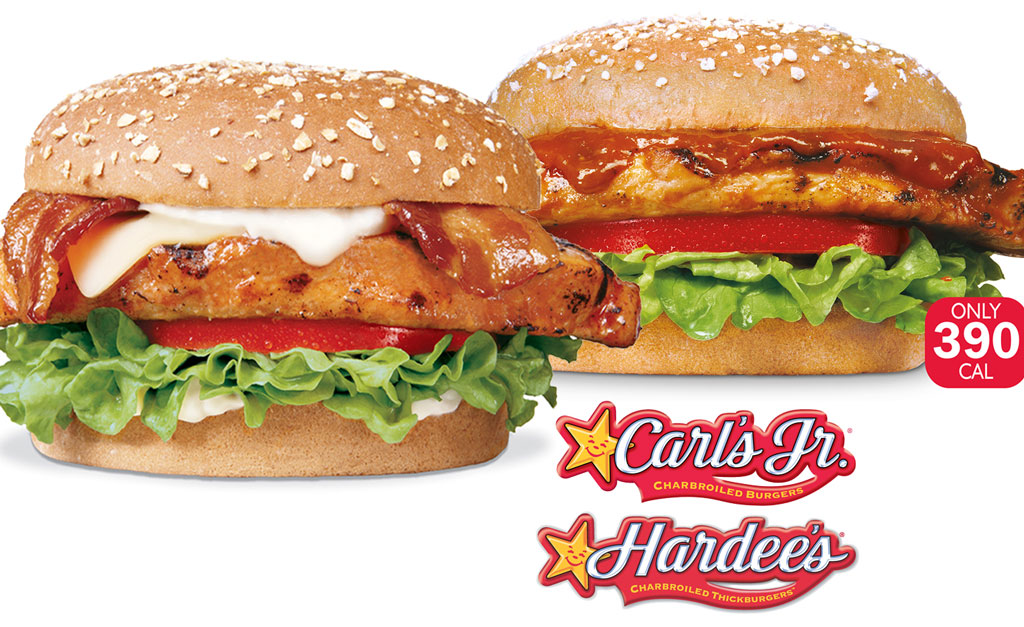 370 calories, 5 g fat (1 g saturated fat), 1210 mg sodium, 49 g carbs (3 g fiber, 14 g sugar), 33 g protein
In this case, "All Natural" actually means something. Brad Haley, chief marketing officer for Carl's Jr. and Hardee's announced that the new chicken fillet "has received no antibiotics, ever." And as opposed to "antibiotic-free," which implies no antibiotics are present in the final product, these chicken fillets are "no antibiotics ever" and Carl's Jr. and Hardees, "took the time to be able to offer our customers the most stringent standard we could."
McDonald's Pico Guacamole with Artisan Grilled Chicken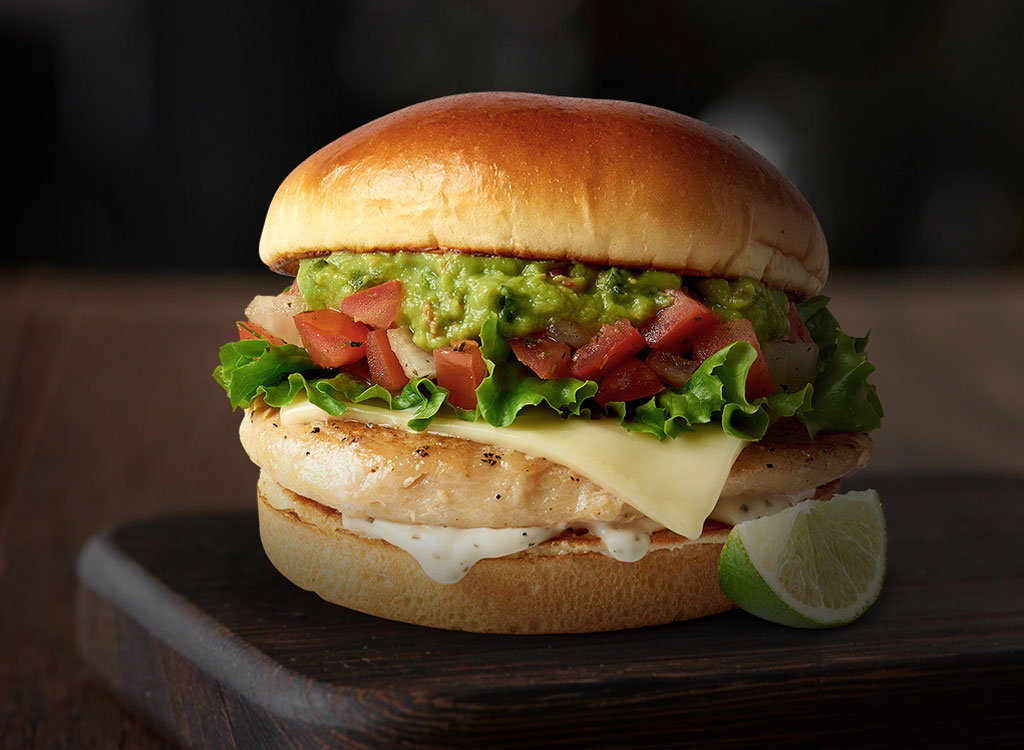 470 calories, 18 g fat (5 g saturated, 0 g trans fat), 1,450 mg sodium, 40 g carbs (3 g fiber, 7 g sugar), 38 g protein (calculated with sesame seed bun)
McDonald's upped its sandwich game in 2017 by offering more artisan-style burgers and sandwiches. One of the latest offerings was the grilled chicken sandwich made with pico guacamole. At under 500 calories with an impressive 38 grams of protein, this is one of the better options if you get a hankering for a chicken sandwich.
Per 3-piece order
: 300 calories, 14 g fat (2.5 g saturated fat), 920 mg sodium, 20 g carbs (N/A fiber, 0 g sugar), 22 g protein
Although chicken tenders may not seem like healthy fast food options, the fact that Wendy's offers this in a 3-piece order is automatic portion control. A serving clocks in at just 300 calories with 22 grams of protein.
McDonald's Buttermilk Crispy Tenders
Per 4-piece order
: 490 calories, 26 g fat (4 g saturated fat), 1,360 mg sodium, 22 g carbs (1 g fiber, 1 g sugar), 39 g protein
McDonald's gave its McNuggets a run for their money and introduced buttermilk chicken tenders. Sure, fried pieces of chicken aren't exactly the healthiest thing you can order at a fast food joint, but the new menu items are packed with 30 grams of filling protein. Just be sure to stick to the 4-piece and be mindful of what sauces you are dipping your tenders into.
Starbucks Teavana Shaken Iced Tea Infusions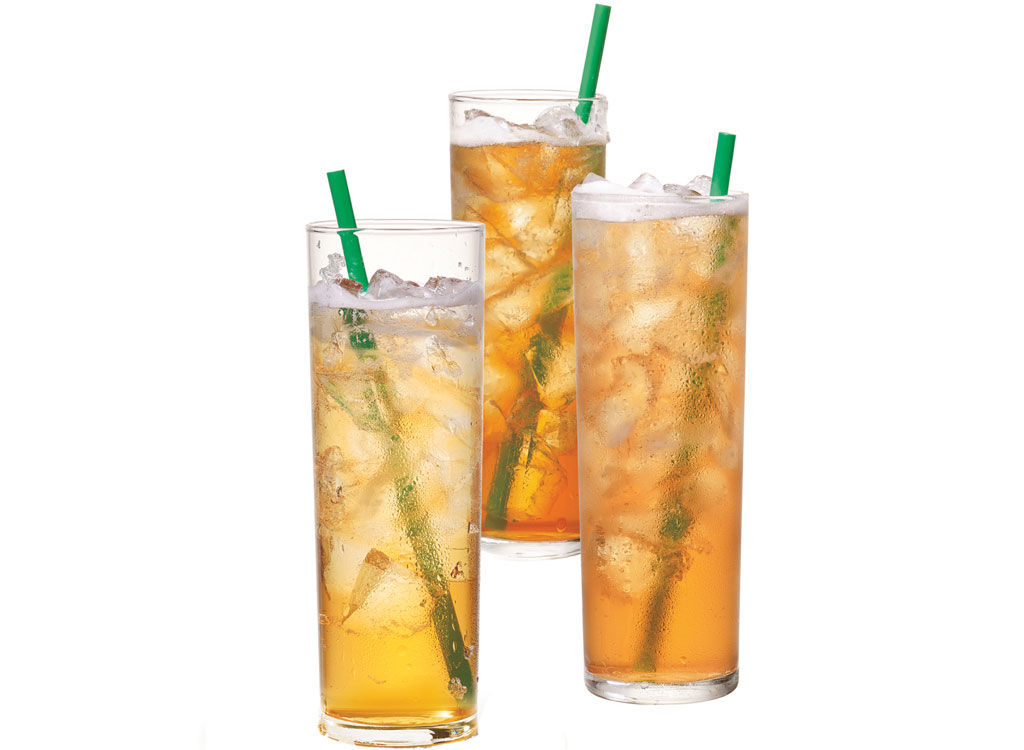 Teavana Shaken Strawberry Green Tea Infusion
: 45 calories, 0 g fat (0 g saturated fat), 0 mg sodium, 11 g carbs (0 g fiber, 11 g sugar), 0 g protein
Sweetened iced teas are almost always a diet disaster, but Starbucks' new line of Teavana Shaken Iced Tea Infusions is a lighter twist on classic sugary and syrup-filled iced teas. A 16-ounce grande is just 45 calories and 11 grams of sugar.
Per 3-piece order
: 300 calories, 14 g fat (2.5 g saturated fat), 920 mg sodium, 20 g carbs (N/A fiber, 0 g sugar), 22 g protein
Arby's takes all the delicious taste of a pizza and puts it in between mini buns for savory, Italian-style sliders. The sandwich is just salami, pepperoni, provolone cheese, and a dollop of marinara.
Wendy's Fresh Mozzarella Chicken Sandwich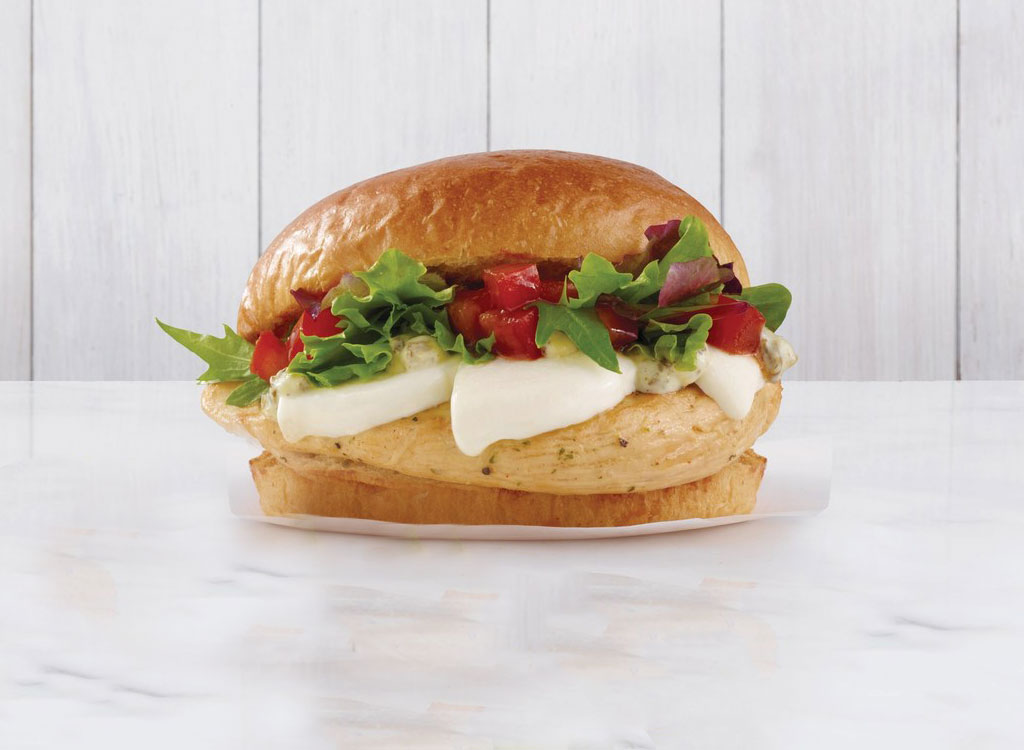 430 calories, 14 g fat (6 g saturated fat), 920 mg sodium, 33 g carbs (N/A fiber, 6 g sugar), 40 g protein
The star of this sandwich is a thick slice of grilled chicken breast, which helps give it an impressive 40 grams of protein. Topped with mozzarella cheese, balsamic diced tomatoes, fresh spring mix, and basil pesto, it is a lighter option than other deep-fried chicken sandwiches on the menu.
Wendy's Strawberry Mango Chicken Salad
470 calories, 19 g fat (6 g saturated fat), 1,140 mg sodium, 38 g carbs (31 g sugar), 39 g protein
Wendy's decided to up its salad game with the summery strawberry mango chicken salad. Although this salad has much more sugar than we typically like for a meal, you can lower the sugar count by picking a different salad dressing. Opt instead for the Light Balsamic Vinaigrette dressing, which clocks in at just 45 calories, 3 grams of fat, and 3 grams of sugar.
Taco Bell Naked Chicken Chalupa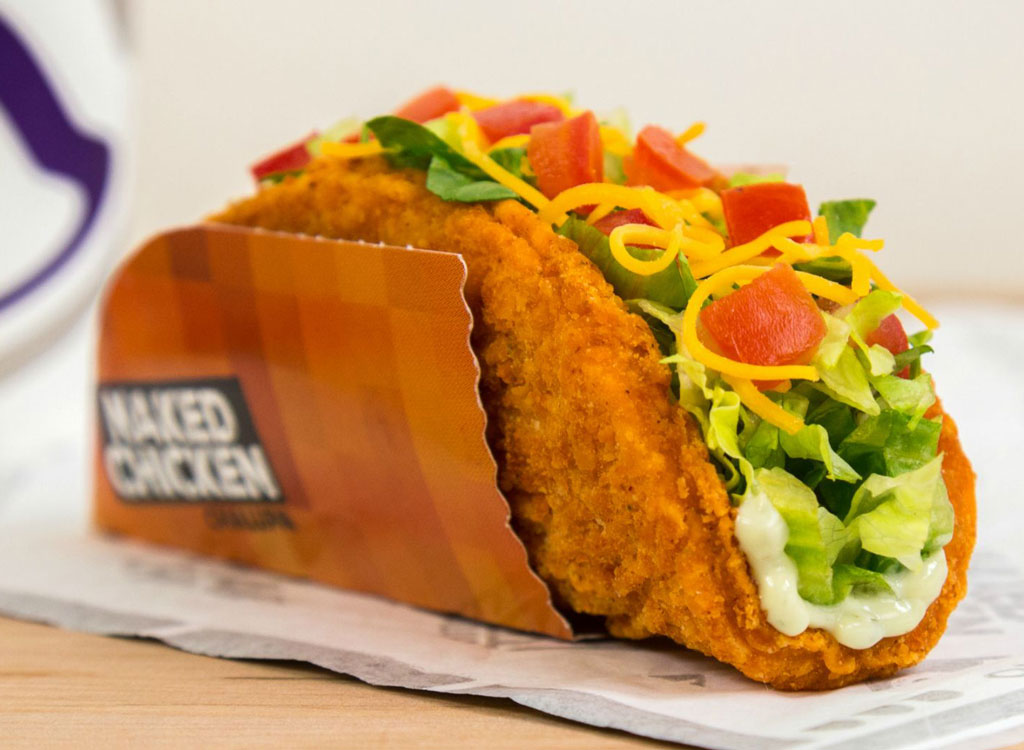 440 calories, 30 g fat (7 g saturated fat), 1,090 mg sodium, 22 g carbs (3 g fiber, 1 g sugar), 20 g protein
Look, a taco wrapped with fried chicken that's 30 grams of fat isn't exactly the epitome of health. But replacing the shell with a piece of chicken cuts the carb count down to just 22 grams. And with 20 grams of protein, it's a more filling option than other tacos on the menu.
Starbucks Smoked Turkey Protein Box
360 calories, 12 g fat (6 g saturated fat), 950 mg sodium, 42 g carbs (5 g fiber, 15 g sugar), 24 g protein
Starbucks isn't just for your afternoon caffeine pick-me-up; with the addition of its Starbucks bistro protein boxes, the coffee chain is now a viable choice for lunch. The Smoked Turkey Protein Box comes packed with three pieces of an applewood smoked turkey and swiss sandwich, a handful of baby carrots, and some apple slices. At 24 grams of protein per box, it will certainly keep you full until dinner time.
Del Taco Lower-Fat Ground Turkey
The Turkey Del Taco (Soft)
: 270 calories, 15 g fat (10 g saturated), 630 mg sodium, 17 g carbs (2 g fiber, 1 g sugar), 18 g protein
Del Taco started using a lower-fat ground turkey in its turkey taco in January 2017, which has 40 percent less fat than the previous ground turkey Del Taco was using. Order this leaner option as a soft taco for just 270 calories, 15 grams of fat and 18 grams of protein.
El Pollo Loco Lettuce Tacos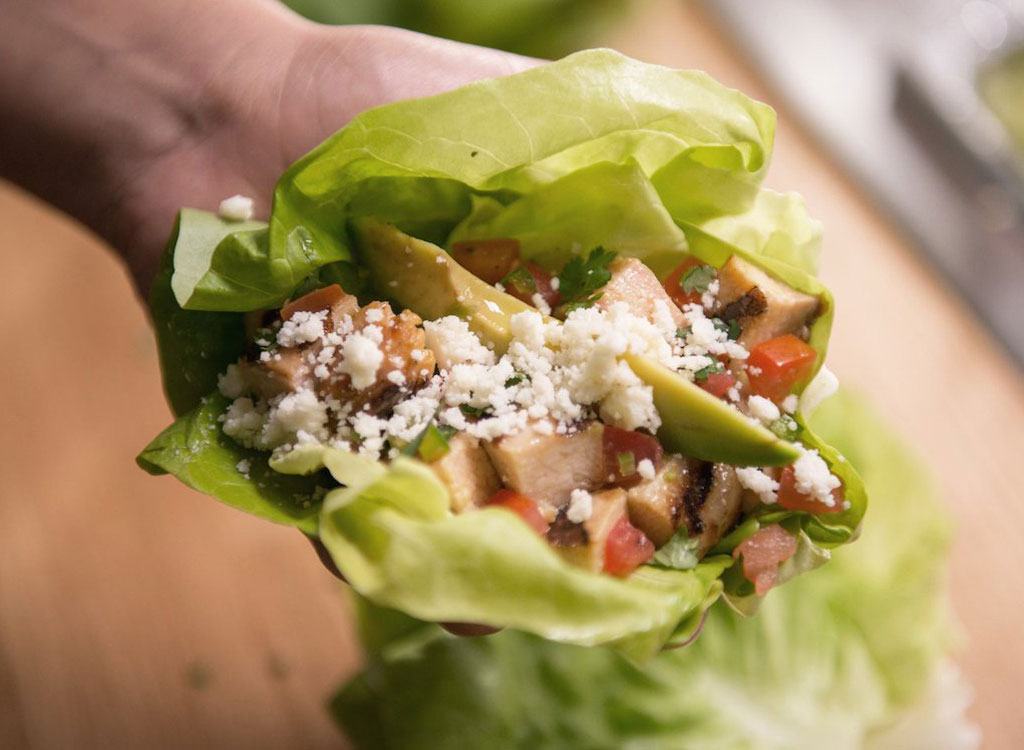 380 calories (all other nutritionals unavailable)
El Pollo Loco took eating healthy to a whole new level at the beginning of 2017 when it introduced lettuce tacos, two lettuce cups filled with flame-grilled chicken, avocado, salsa, cotija cheese, cilantro, and pico de gallo. It was served with a small side of black beans. Unfortunately, the lettuce tacos are no longer on the menu.
Jack in the Box All-American Ribeye Burger
6254a4d1642c605c54bf1cab17d50f1e
640 calories, 41 g fat (14 g saturated), 850 mg sodium, 38 g carbs (n/a g fiber, 6 g sugar), 32 g protein
Sure, 640 calories and 41 grams of fat for a burger aren't ideal numbers, but these burgers do have a one-up on the competition in that they are the first to be made with ribeye steak. The 100% ribeye patties are topped with tomatoes, onions, and mixed greens.
Chick-fil-A Smokehouse BBQ Bacon Sandwich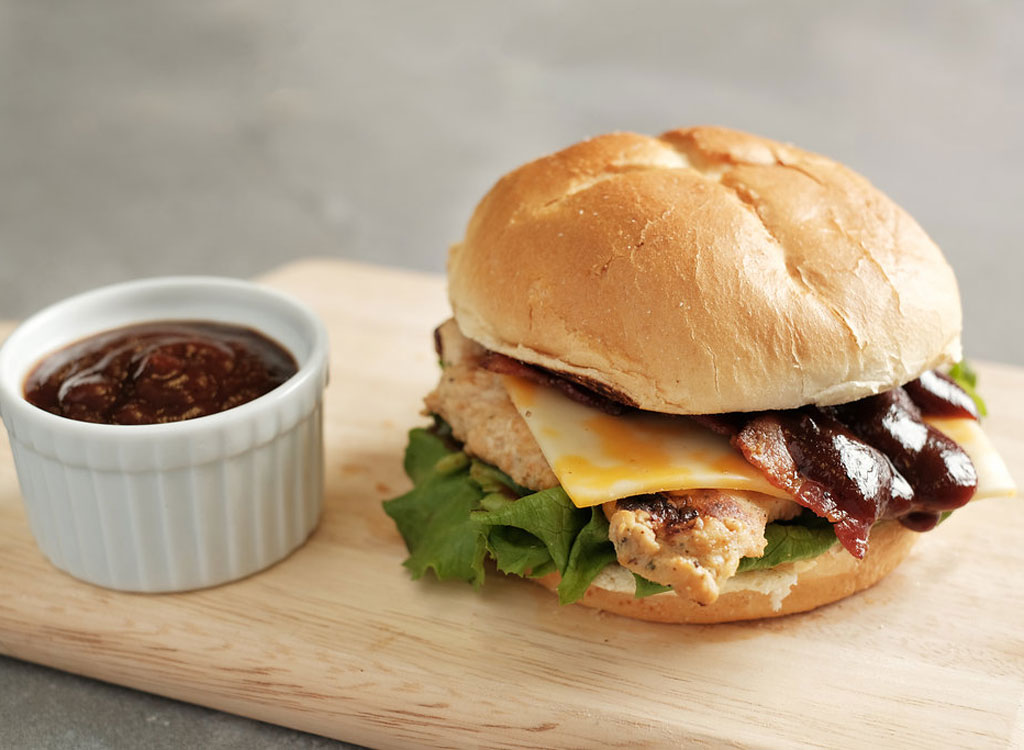 500 calories, 19 g fat (0 g saturated fat), 1,340 mg sodium, 44 g carbs (2 g fiber, 10 g sugar), 37 g protein
Although it clocks in at 500 calories, this sandwich, which was only available during the summer, was made with a grilled instead of fried chicken patty. Served with thick slices of bacon, Colby-Jack cheese, and BBQ sauce, it kept the fat relatively low at 19 grams and served up an impressive 37 grams of protein. Hopefully, the chicken chain will bring this beloved sandwich back next summer!
Chipotle's 4-Ingredient Flour Tortillas
Per tortilla
: 320 calories, 9 g fat (0.5 g saturated fat), 600 mg sodium, 50 g carbs (3 g fiber, 0 g sugar), 8 g protein
Chipotle simplified its tortilla recipe from 11 ingredients down to just four: wheat flour, canola oil, water, and salt. Although a burrito is still a higher-calorie option than, say, a burrito bowl or salad, you can enjoy your meal knowing it isn't made with any sketchy ingredients.
Sonic Lil' Bacon, Onion, Tomato Breakfast Burrito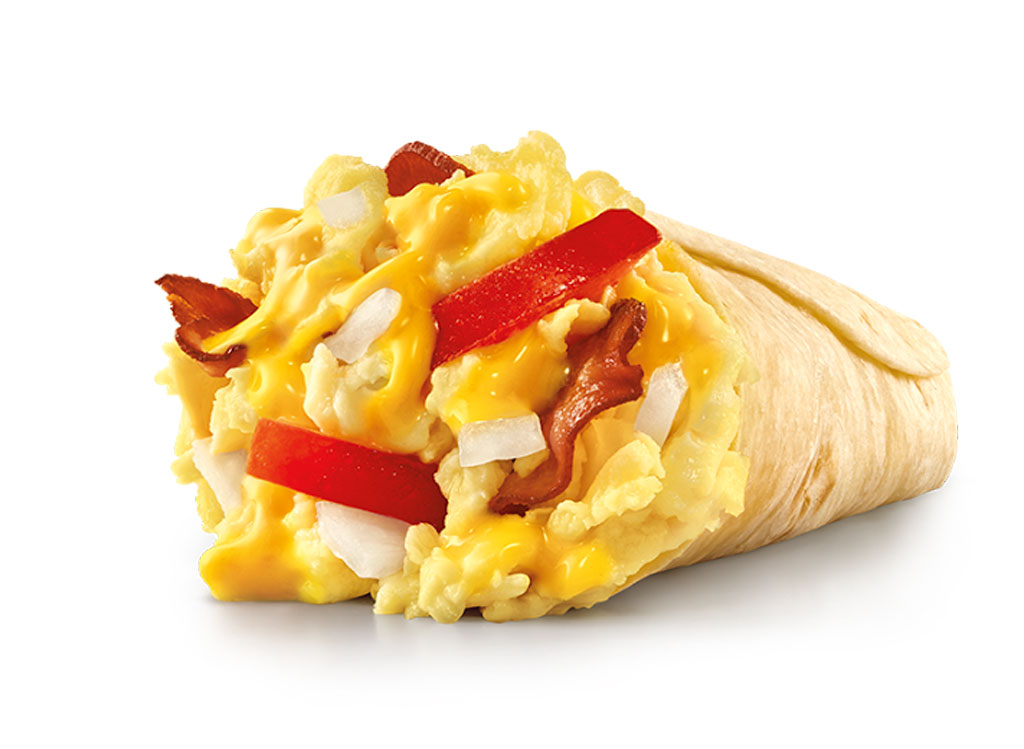 280 calories, 14 g fat (7 g saturated fat), 950 mg sodium, 25 g carbs (1 g fiber, 1 g sugar), 13 g protein
Looking to curb your breakfast burrito craving without going overboard? These new lil' breakfast burritos from Sonic makes portion control easy. At under 300 calories each and 13 grams of filling protein, the bacon, onion, and tomato burrito is one of our healthy fast food options.
Smashburger Turkey Burger
512 calories, 32 g fat (8 g saturated fat), 826 mg sodium, 29 g carbs (2 g fiber, 5 g sugar), 23 g protein (calculated with multigrain bun, lettuce, tomato, onion, and smash sauce)
Opting for the new turkey burger at Smashburger will set you back 32 grams of fat, but it comes at an impressive 23 grams of protein. At just 512 calories, it's not a bad option compared to other burgers on the menu.
Hardee's Hand-Bread Spicy Chicken Tenders
Per 3-piece
: 280 calories, 13 g fat (2.5 g saturated), 1,530 mg sodium, 16 g carbs (1 g sugar), 25 g protein
These spicy chicken tenders, which were released in February of 2017, are the ultimate comfort food without the guilt. A three-piece serving is still less than 300 calories and only 13 grams of fat with a filling 25 grams of protein. Just be careful what sauce you decide to dunk them in.
Olivia Tarantino
Olivia Tarantino is the Managing Editor of Eat This, Not That!, specializing in nutrition, health, and food product coverage.
Read more about Olivia