11 Surprisingly Healthy Fast-Food Orders, According to Experts
If you're a fast food addict, there's a way to enjoy your favorite restaurants without breaking your diet!
Diet plans can be time-consuming. Sometimes it seems like fast food is the only way to cram a meal into a busy schedule. Or, maybe you just LOVE the taste of a Wendy's burger. Either way, we all know it's easy to overload on fast-food menu items with high counts of trans fat, sodium, and additives that can do some serious harm to your health.
Did you know there are healthy fast food options on the menu, too? While most nutritionists say eating fast food isn't one of the best weight loss tips they could give to clients, there are plenty of dishes loaded with nutrients and low in calories they recommend for when you're in a bind. If you're curious about scary ingredients hiding in your favorite entree, check out the nutrition and ingredient information on the restaurant's website to decide whether or not to order.
Save yourself some time and read on for nutritionist-approved menu items you can trust. Some of these are sure to surprise you! While you're keeping up with your healthy eating goals, be sure you're stocked up on The 7 Healthiest Foods to Eat Right Now.
Per classic oatmeal
: 160 calories, 2.5 g fat (0.5 g saturated fat, 0 g trans fat), 125 mg sodium, 28 g carbs (4 g fiber, 0 g sugar), 5g protein
"I will stop off at Starbucks when I'm flying," says Marisa Moore, MBA, RDN, LD, and owner of Marisa Moore Nutrition. "In the morning, the oatmeal is a tummy saver. It's an easy way to get some fiber and protein. I love that they provide the dried fruit, nuts, sugar and other toppings on the side so you get to control how sweet you want it to be—if any at all."
Chick-Fil-A's Grilled Chicken Nuggets
Per 4-count
: 130 calories, 6 g fat (1 g saturated fat, 0 g trans fat), 610 mg sodium, 5 g carbs (0 g fiber, 0 g sugar), 13 g protein
"Believe it or not, Chick-Fil-A has a grilled chicken nugget option," says Leah Kaufman, MS, RD, CDN, a New York City-based registered dietitian. "With only 130 calories and 13 grams protein, this is a great alternative to the traditional fried chicken nuggets. Make sure to pair this with a vegetable and you can create a complete and well-rounded meal."
Per burger
: 250 calories, 11 g fat (4 g saturated fat, 0.5 g trans fat), 420 mg sodium, 25 g carbs (1 g fiber, 5 g sugar), 13 g protein
"We would go for a Junior Hamburger with lettuce, tomato, onion, pickle, mustard or ketchup, as well as a garden side salad with pomegranate vinaigrette and spicy cashews and apple slices, all clocking in at 460 calories in total," Willow Jarosh MS, RD, and Stephanie Clarke, MS, RD, co-owners of C&J Nutrition and co-authors of The Healthy, Happy Pregnancy Cookbook tell us. "We like this meal because it's still a burger, but adding the salad and apples rounds out the nutrition, providing more fiber and a meal that is lower in sodium than most fast food meals."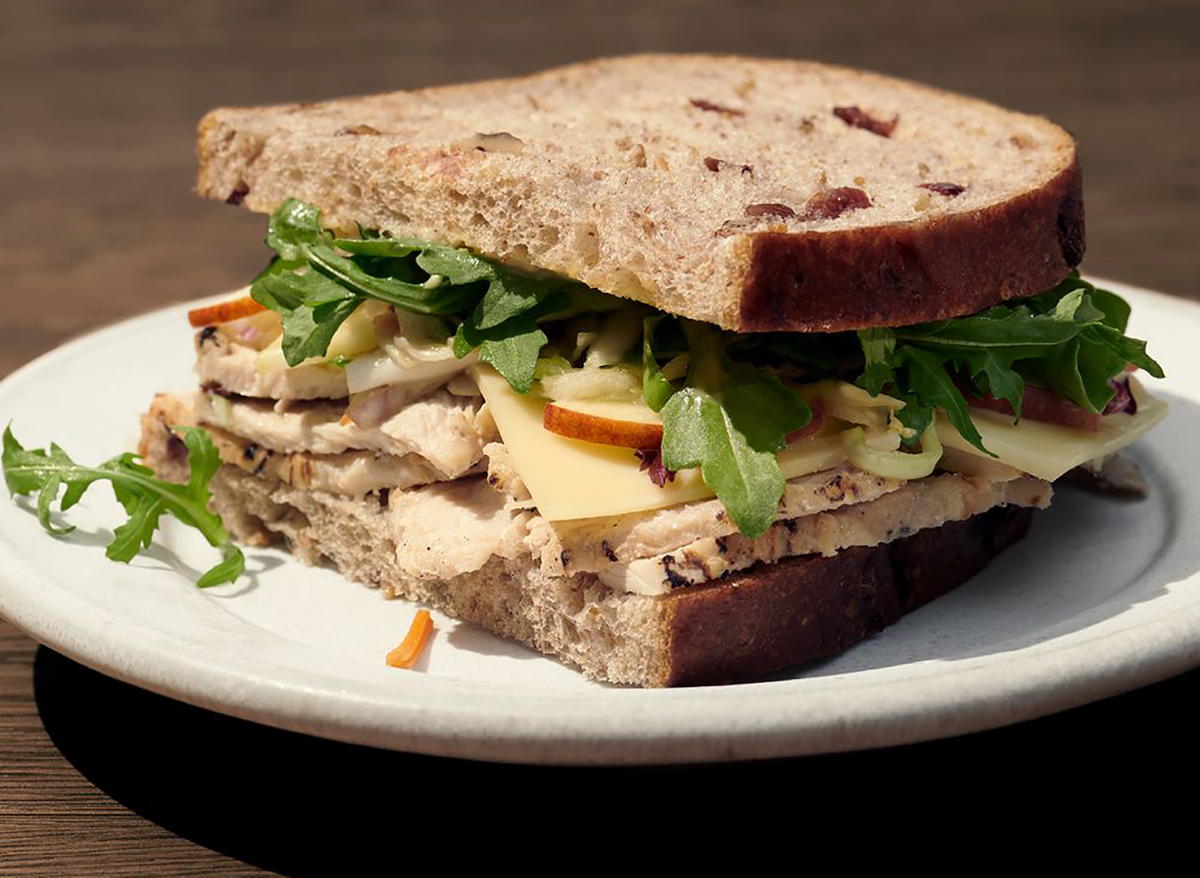 "The soup and salad are the perfect pair as part of the 'You Pick Two' option," says Moore. "Add [a soup] to the Green Goddess Cobb Salad or the Fuji Apple Salad for a complete and satisfying lunch or dinner. These combinations help you meet at least half the daily vegetable recommendation easily. That's important since the large majority of adults miss the recommended daily vegetable mark."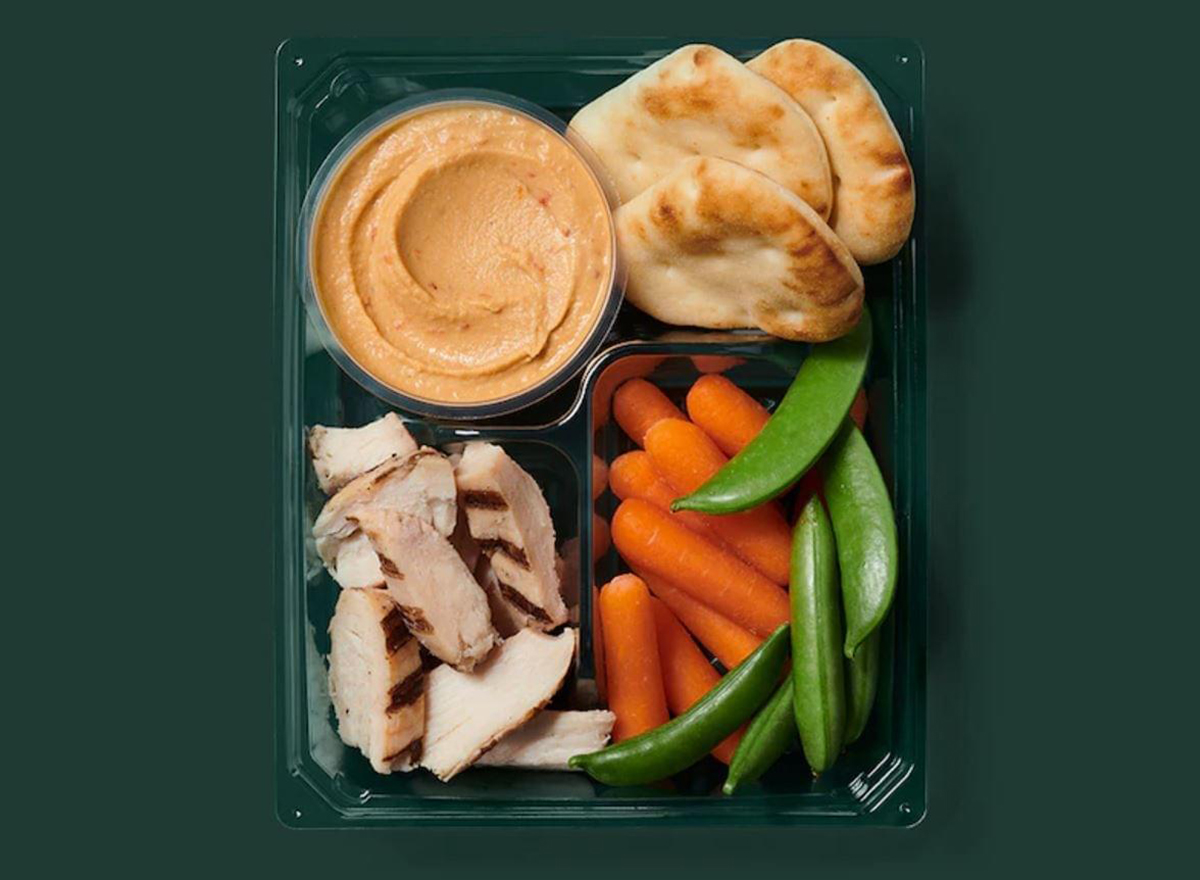 Per grilled chicken and hummus box
: 300 calories, 11 g fat (4 g saturated fat, 0.5 g trans fat), 420 mg sodium, 25 g carbs (1 g fiber, 5 g sugar), 13 g protein
"At Starbucks, you can't go wrong with a Protein Box! All [the] box options are considered a good source of fiber. Each box contains a good balance of healthy carbohydrates, lean proteins, healthy fats, and contain either fruit or vegetables or a combination of both," Gina Hassick, RD, LDN, CDE tells us. "For lunch, the protein boxes—filled with nuts, fruit, cheese, and sometimes boiled eggs—are a fun twist on bento boxes," adds Moore.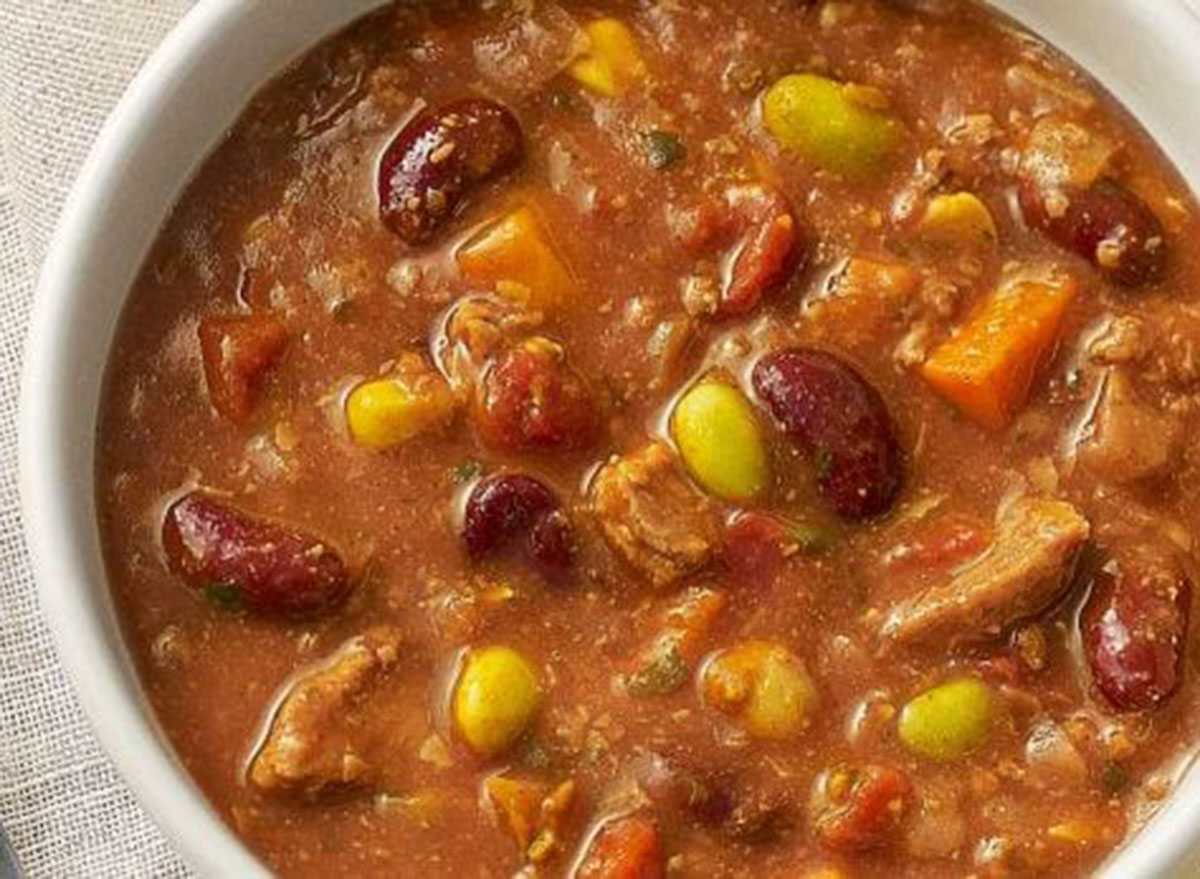 Per bowl
: 300 calories, 10 g fat (4.5 g saturated fat, 0 g trans fat), 690 mg sodium, 31 g carbs (14 g fiber, 8 g sugar), 21 g protein
"It's way more satisfying than other soups due to the protein in the turkey and protein and fiber in beans. Plus, it's total comfort food," Lauren Slayton, MS, RD of Foodtrainers says. We agree! Turkey chili also happens to be one of our favorite healthy crockpot recipes.
"I'm a fan of their salad bowls," says Amy Shapiro MS, RD, CDN Real Nutrition NYC. "I recommend asking for greens instead of rice then adding beans, the fajita veggies, one of their delicious proteins, and salsa. Then I recommend picking one: guacamole, sour cream, OR cheese. These are all high fat ingredients that can take your meal to the next calorie bracket! I also recommend skipping the chips! I love this meal because it can serve carnivores and vegetarians alike (edit to your dietary preference), it provides lean and flavorful protein, heart-healthy fats, loads of fiber, and veggies. These are ingredients to success!"
Looking for more healthy recipes? Check out the easy way to make healthier comfort foods.
Starbucks' Sous Vide Eggs
Per serving
: 170 calories, 8 g fat (5 g saturated fat, 0 g trans fat), 470 mg sodium, 11 g carbs (0 g fiber, 3 g sugar), 12 g protein
"I'm a big fan of their Sous Vide Eggs!" exclaims Shapiro. "They taste great, are loaded with protein, and are under 170 calories but will keep you full for 2-3 hours! They are gluten-free so acceptable for celiacs and anyone watching their carbs, contain some veggies (peppers, yay! Therefore some vitamin C)." Slayton adds, "our clients are giving the sous vide eggs major thumb's up."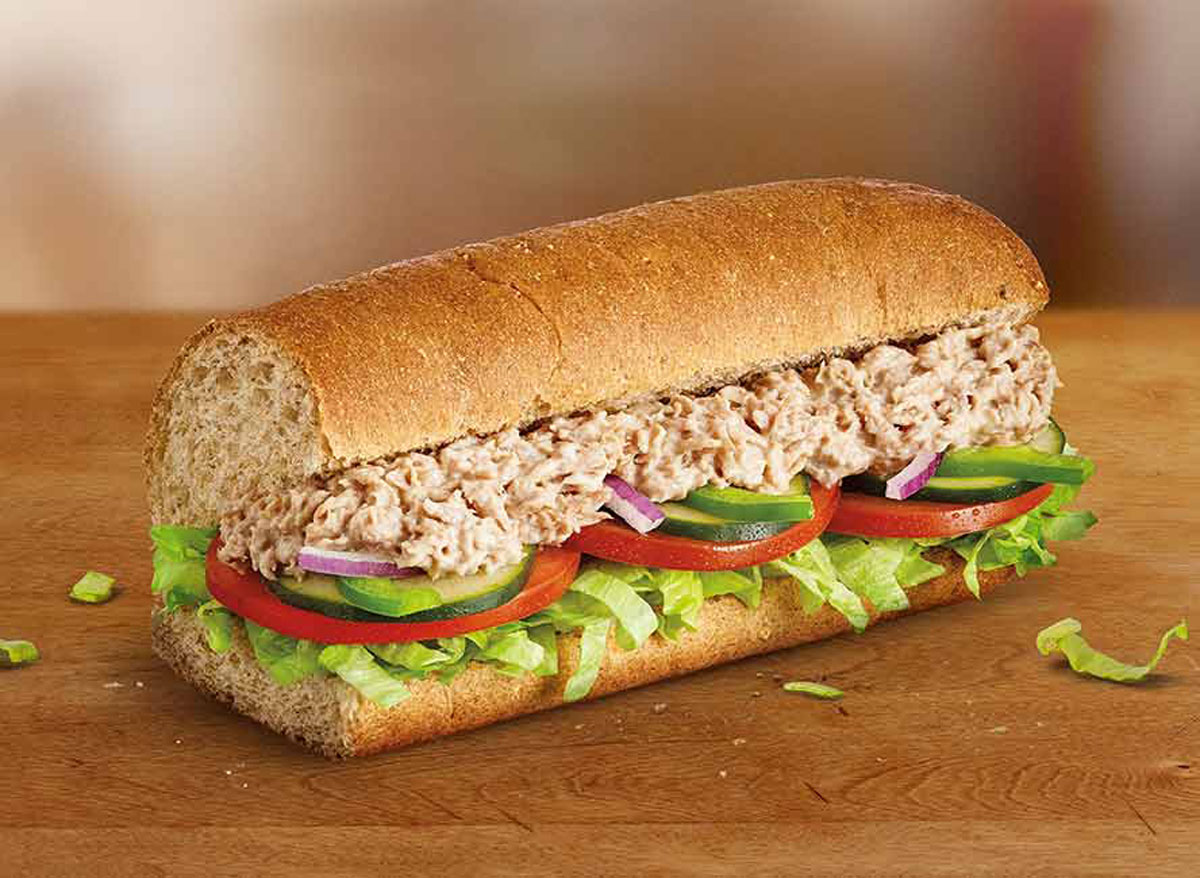 Per sandwich
: 450 calories, 25 g fat (4.5 g saturated fat, 0 g trans fat), 610 mg sodium, 38 g carbs (2 g fiber, 5 g sugar), 19 g protein
"My go-to Subway selection is the tuna salad sandwich, partly because I limit my consumption of deli meats," Michelle Dudash, RDN, chef and author of Clean Eating for Busy Families tells us. I order it on a six-inch nine-grain wheat roll with spinach, green peppers, olives, cucumber, and banana peppers, which comes in under 500 calories, with 5 grams fiber, 19 grams protein, and a good source of vitamins A and C, calcium, and iron. I also add on avocado, which adds on just 60 calories with good fats. Sometimes I just enjoy the sandwich with water, or if I'm feeling extra hungry I order the combo with a bag of baked barbecue potato chips and a fresh-brewed unsweetened iced tea."
Chick-Fil-A's Grilled Market Salad
Per salad
: 540 calories, 31 g fat (6 g saturated fat, 0 g trans fat), 1,020 mg sodium, 41 g carbs (4 g fiber, 26 g sugar), 28 g protein
"There's a Chick-Fil-A on many corners in Atlanta and across the country making it easy to grab one of their salads. The Grilled Market Salad with lean protein, fruit, and vegetables can be a healthy lunch or dinner pick. Try it with the Light Balsamic Vinaigrette to keep calories in check," says Moore.6254a4d1642c605c54bf1cab17d50f1e
Chipotle's Steak Soft Tacos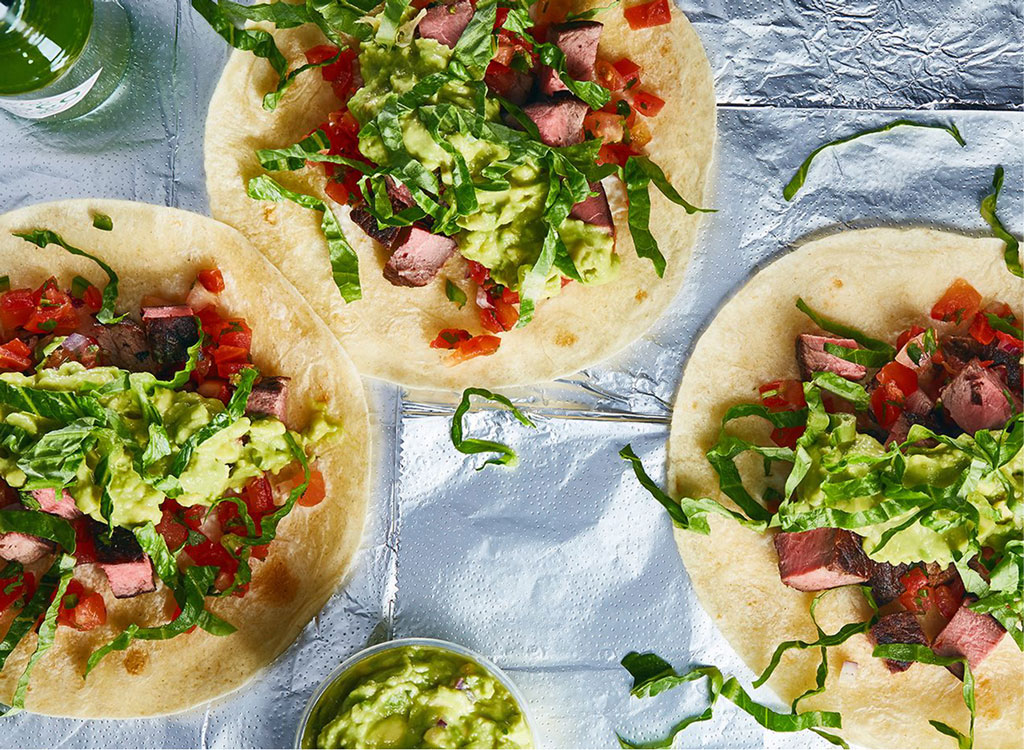 Per 3 tacos
: 560 calories, 15.5 g fat (3 g saturated fat, 0 g trans fat), 1,570 mg sodium, 68 g carbs (12 g fiber, 3 g sugar), 36 g protein
"These tacos have 560 calories, provide 12 grams of fiber and have a whopping 36 grams of protein. The meal is also an excellent source of calcium, iron, and vitamins C and A. The bad news is, like most quick-serve food, this dish is very high in sodium—but it is lower than many other options on the menu. To make this dish vegetarian-friendly, ask for [just] black beans instead of steak," says Patricia Bannan, MS, RDN.