The 15 Healthiest Restaurant Meals of 2017
From hearty stew to cheesy chicken dishes, these meals won the Eat This! seal of approval.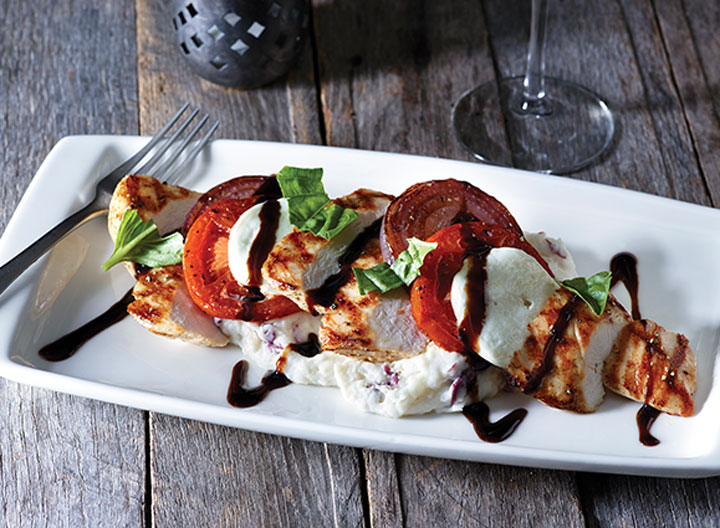 For those of us who sometimes forget to go grocery shopping or stay late at the office, it's often hard to sit down to a home-cooked meal. Sure, resorting to Seamless is a convenient way to get dinner in, but if you're watching your waistline, finding a healthy takeout order from your favorite restaurant can cause even more anxiety than whipping up dinner at home.
Thankfully, restaurants and fast-casuals coughed up some relatively healthy menu items in 2017. We've rounded up the most diet-friendly of them all below so that you don't have to fret squeezing in another lunch meeting before the year ends. Check 'em out, and consider trying any of these 25 Restaurant Meals Under 500 Calories too.
California Pizza Kitchen Banh Mi Bowl
540 calories, 33 g fat (4.5 g saturated fat, 0 g trans fat), 770 mg sodium, 40 g carbs (9 g fiber, 10 g sugar), 28 g protein
Instead of hitting up CPK for your usual pizza, go for their new Vietnamese-style bowl. It's packed with superfoods like quinoa, baby kale, watermelon radish, and avocado, and topped with juicy grilled chicken—all for under 550 calories.
Olive Garden Chicken Margherita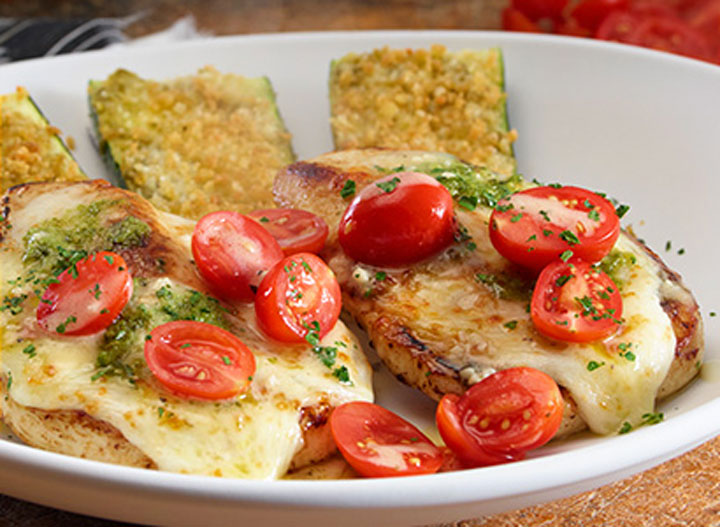 Per lunch portion
: 370 calories,  22 g fat (7 g saturated fat, 0 g trans fat), 700 mg sodium, 8 g carbs (2 g fiber, 3 g sugar), 37 g protein
Olive Garden is known for its immense, carby dishes that are often slathered in cheese and creamy sauces, but the Italian grill recently rolled out a better-for-you pick. The Chicken Margherita will fulfill your Mediterranean cravings while keeping your waistline in check.
Red Lobster Grilled Sirloin and Red Shrimp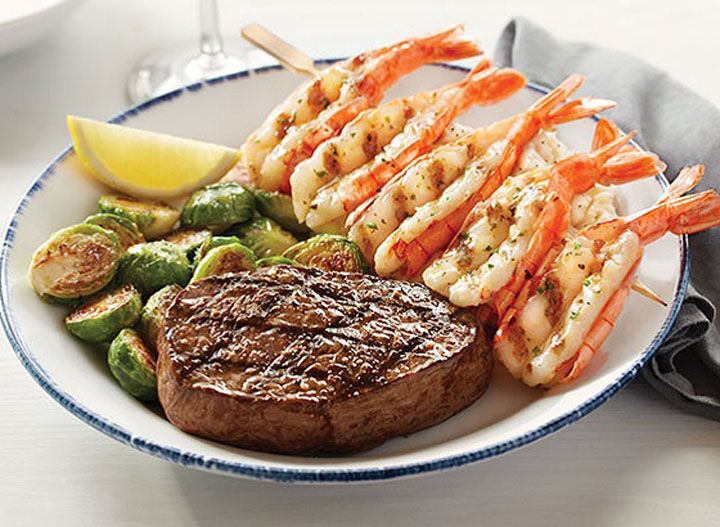 6254a4d1642c605c54bf1cab17d50f1e
600 calories,  34 g fat (13 g saturated fat, 1 g trans fat), 1,870 mg sodium, 27 g carbs (3 g fiber, 3 g sugar), 46 g protein
Forgo the fried seafood and opt for Red Lobster's Grilled Sirloin and Red Shrimp dish. The surf-and-turf delight is packed with muscle-building protein, making it a perfect post-workout lunch or a filling dinner that won't cost you too many calories. Just make sure to keep your other meals' salt content low, as this shrimp and sirloin meal is high in sodium.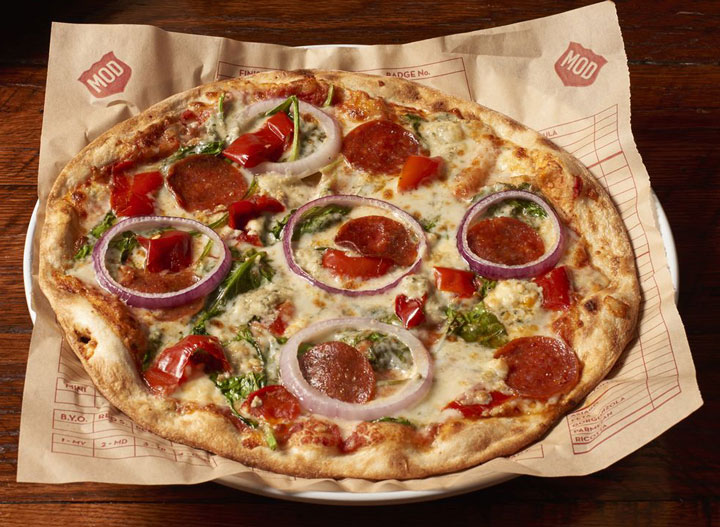 Per mini
: 320 calories, 10 g fat (4.5 g saturated fat, 0 g trans fat), 890 mg sodium, 43 g carbs (2 g fiber, 2 g sugar), 13 g protein
Craving a meaty pizza without the sky-high fat and sodium contents? Look no further than Mod Pizza's seasonal pie dubbed The Kane. "The sweet heat of these freshly pickled peppers delivers incredible flavor, which when balanced with the spinach, gorgonzola and pepperoni creates a tasty and unique pizza," Brian Figler, MOD's Culinary Manager, said in a statement.
Applebee's Caprese Mozzarella Chicken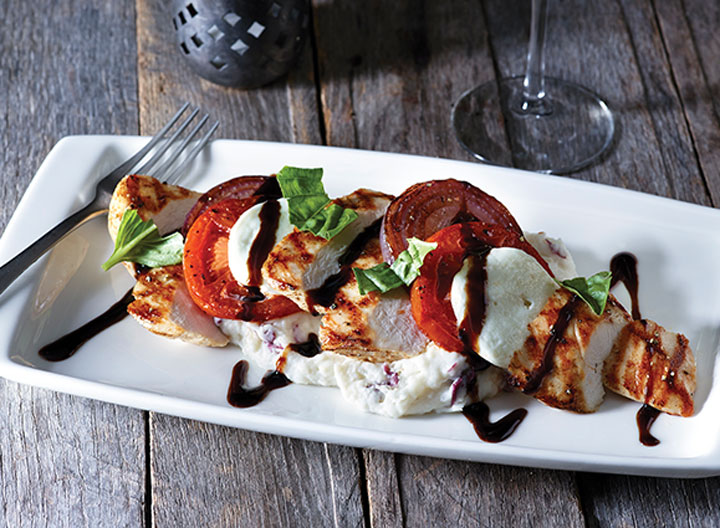 700 calories, 32 g fat (11 g saturated fat, 0.5 g trans fat), 2,370 mg sodium, 47 g carbs (5 g fiber, 15 g sugar), 52 g protein
Applebee's makes it possible to enjoy cheesy chicken and garlic mashed potatoes without derailing your diet. The Caprese Mozzarella Chicken features grilled chicken breast and the fresh flavors of basil, mozzarella, tomato, and red onion. The only downside? This option is high in sodium—so if you have heart problems or high blood pressure, you'll probably want to choose another Eat This-approved meal on our list.
Cava Roasted Seasonal Veggies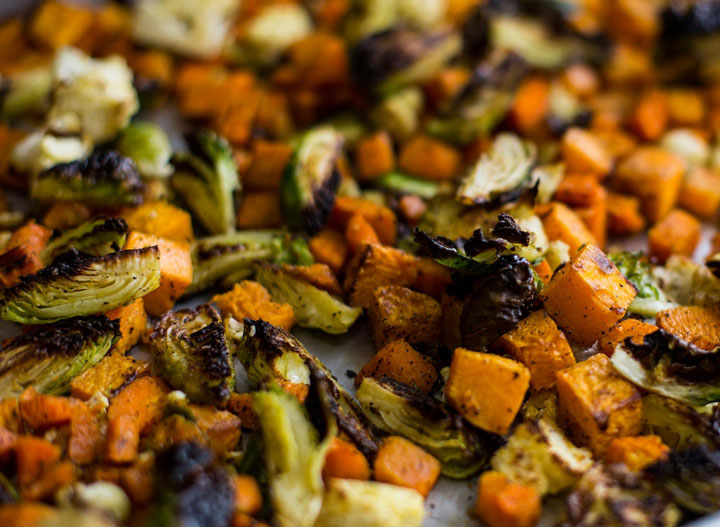 60 calories, 4 g fat (1 g saturated fat, 0 g trans fat), 180 mg sodium, 8 g carbs (3 g fiber, 3 g sugar), 2 g protein
As the widely-known Chipotle of Mediterranean fare, Cava never fails to spice up its offerings with healthful additions. This time around, it blessed us with the Roasted Seasonal Veggies. Add the mix of brussels sprouts, butternut squash, carrots, cauliflower to a Greens + Grains base for tastebud-pleasing, balanced lunch.
Sharky's Woodfired Mexican Grill Roasted Vegetable Salad
Without croutons
: 616 calories, 23 g fat (3.1 g saturated fat, 0 g trans fat), 460 mg sodium, 61.4 g carbs (11.6 g fiber, 10.5 g sugar), 14.3 g protein
Sharky's makes it clear that it sources organic and local ingredients to build its zesty menu offerings. So while its new roasted veggie salad not only packs in fresh fixins, it's also brimming with almost 12 grams of belly-filling fiber and about 14 grams of satiating protein. The best part? It's low in sodium and high in healthy fats.
Noodles & Company Thai Green Curry With Shrimp
Per small order
: 440 calories, 12 g fat (7 g saturated fat, 0 g trans fat), 1370 mg sodium, 66 g carbs (3 g fiber, 15 g sugar), 16 g protein
Instead of slurping up ramen for lunch, how about giving this vegan rice noodle dish a shot? For only 390 calories, Noodles & Company's new offering features pineapple, broccoli, snap peas, and red onion all coated in sweet coconut green curry sauce and sprinkled with black sesame seeds. If you're looking to bump up the protein, you can top your bowl off with seasoned shrimp.
Olive Garden Linguine Di Mare
570 calories, 16 g fat (2 g saturated fat, 0 g trans fat), 1,450 mg sodium, 64 g carbs (14 g fiber, 11 g sugar), 44 g protein
Olive Garden serves up a seafood dish that's light, full of fiber, and packed with protein—a triple threat you'll love twisting onto your fork. Opting for this fresh plate of pasta, made with whole-grain linguine, will help you inch closer to your body goals unlike the unlimited breadsticks ever will.
Au Bon Pain Roasted Poblano Chicken Stew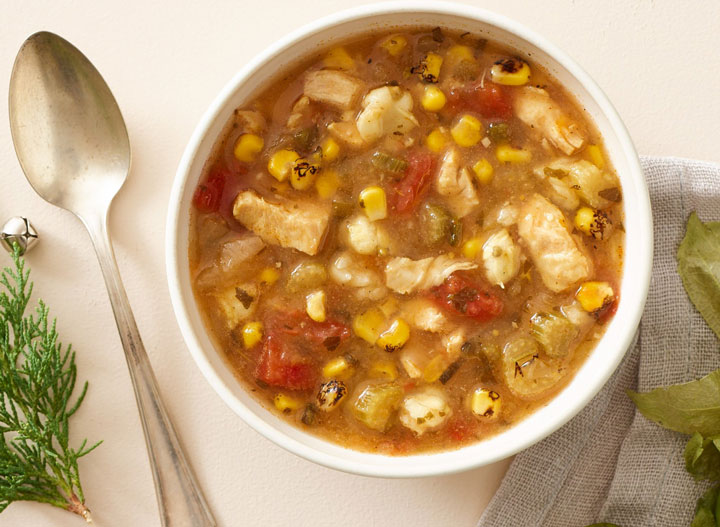 Per small
: 80 calories, 2 g fat (0 g saturated fat, 0 g trans fat), 590 mg sodium, 12 g carbs (2 g fiber, 4 g sugar), 4 g protein
Au Bon Pain keeps its stew's fat content low by simmering chicken breast, tomatillos, roasted poblano peppers, hominy, tomatoes, celery, onions, jalapeños, and carrots in chicken broth.
Bob Evans Restaurant Slow-Roasted Pot Roast
250 calories, 15 g fat (6 g saturated fat, 0.5 g trans fat), 460 mg sodium, 17 g carbs (4 g fiber, 11 g sugar), 15 g protein
Slow-roasted pot roast dinner for only 250 calories? Sign us up! Bob Evans' pick isn't high in sodium or sugar and lends your meal a decent amount of protein that'll help curb those post-dinner ice cream cravings.
IHOP Fresh Strawberry & Orange French Toast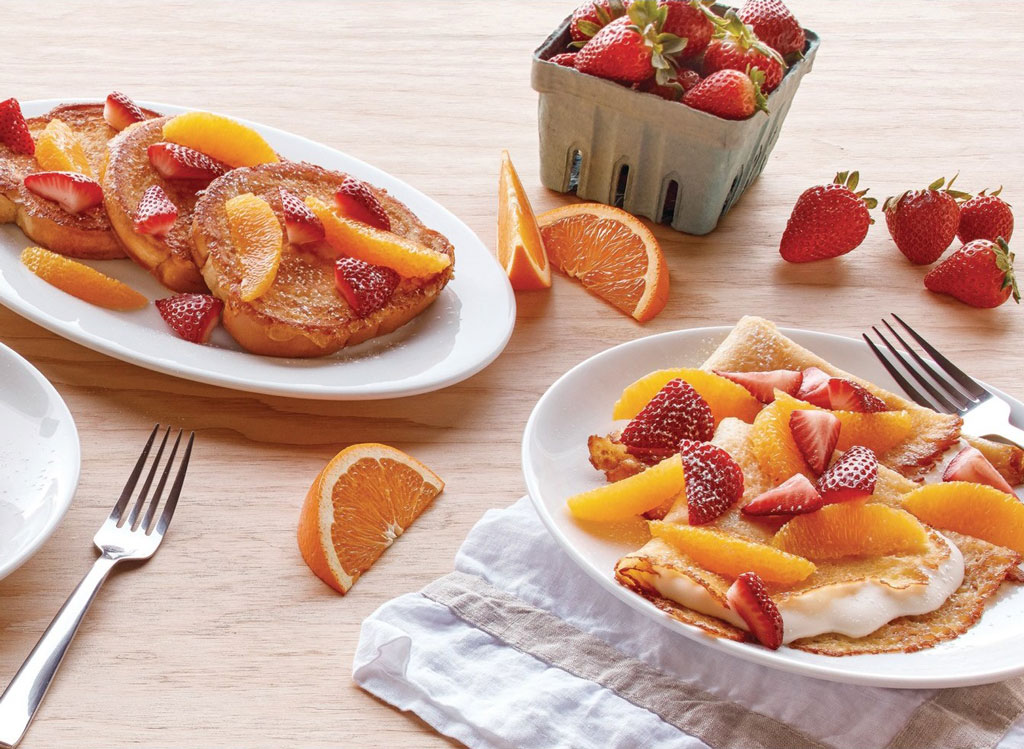 630 calories, 19 g fat (6 g saturated fat, 0 g trans fat), 830 mg sodium, 98 g carbs (7 g fiber, 38 g sugar), 20 g protein
For a brief period of time between May 30 and July 30, you could order your classic IHOP favorites like Brioche French Toast or sweet cream stuffed crepes with real fruit instead of the syrupy stuff. Committing to this one small change would have saved you 240 calories, 12 grams of fat, and 33 grams of carbs—13 grams of which were added sugar—compared to if you had ordered the classic Strawberry Banana French Toast found on the menu year-round.
Boston Market Oven Crisp Chicken Strips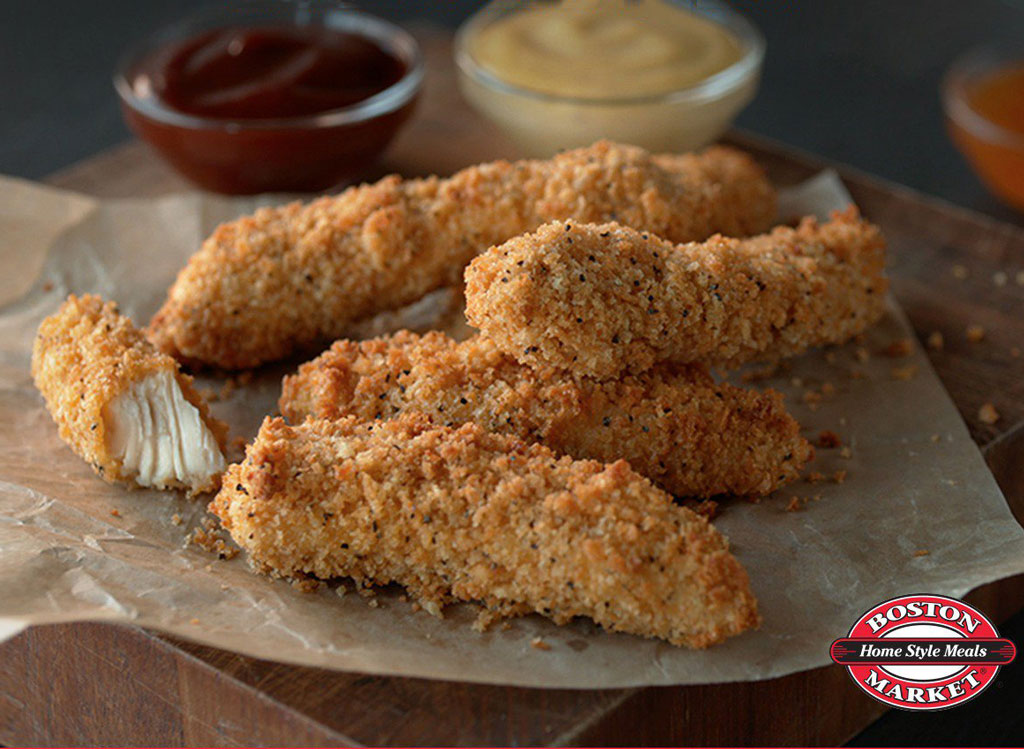 4 strips
: 210 calories, 5 g fat (2.5 g saturated fat, 0 g trans fat), 830 mg sodium, 16 g carbs (<1 g fiber, 0 g sugar), 21 g protein
For a few months this summer, Boston Market offered Oven-Crisp Chicken Strips. Hand-breaded, all-breast meat chicken strips were are baked rather than fried for a healthier take on the fast-casual chicken tender. "With nearly half of Americans preferring baked over fried foods, we're excited to introduce Oven-Crisp Chicken Strips as a new way for guests to enjoy the better-for-you crunch they crave," says Boston Market CEO, George Michel, in a press release. Unfortunately, we haven't seen the lower-fat item return to the menu since.
T.G.I. Friday's Turkey Burger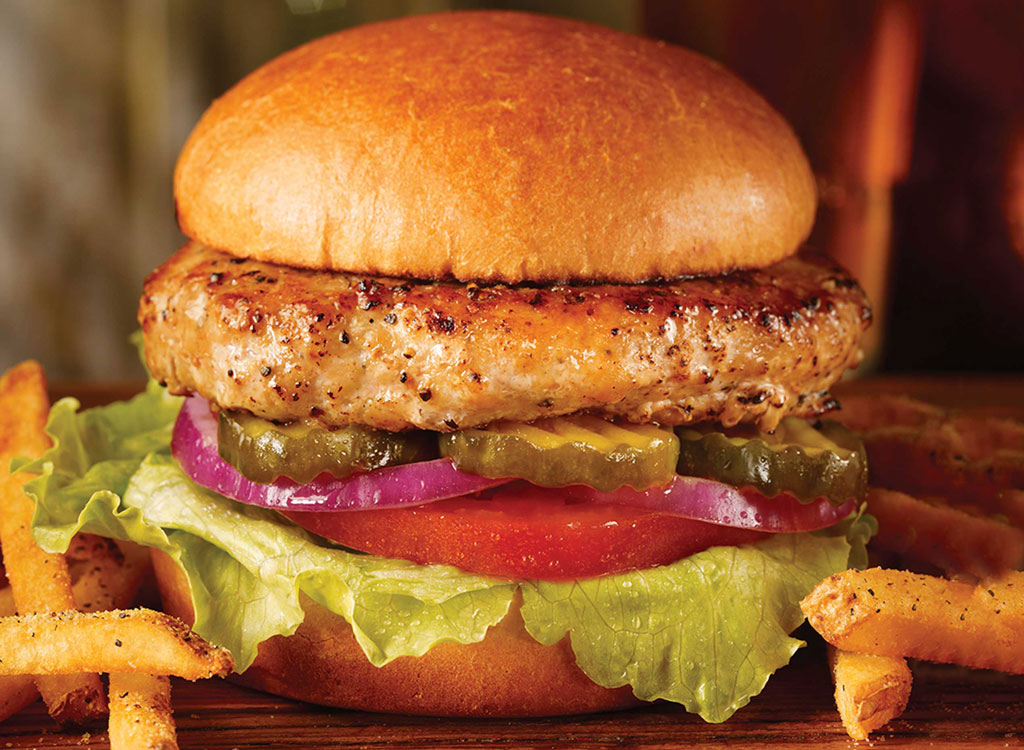 520 calories, 22 g fat (9 g saturated fat), 1,680 mg sodium, 48 g carbs (3 g fiber, 13 g sugar), 31 g protein
Choose T.G.I. Friday's turkey burger over the casual dining chain's Jack Daniel's Burger and you'll save 590 calories, 33 grams of fat, 16 grams of saturated fat, 1,850 milligrams of sodium, and 63 grams of sugar. A much better way to fulfill your burger cravings, if you ask us.
California Pizza Kitchen Santa Fe Bowl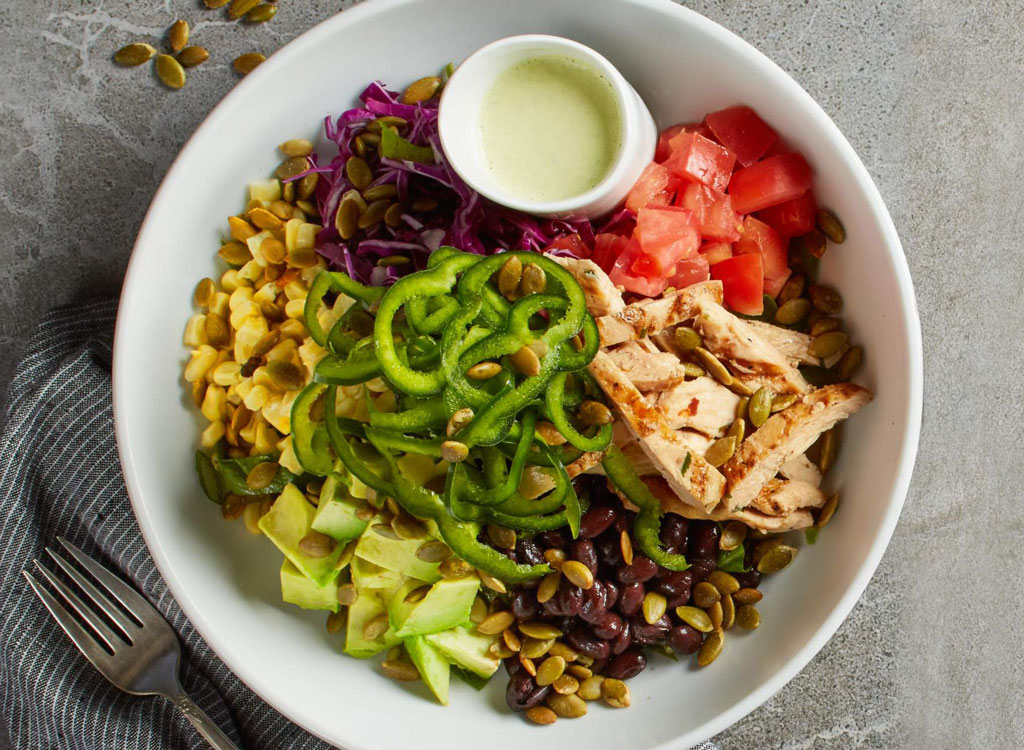 690 calories, 38 g fat (6 g saturated fat, 0 g trans fat), 1,140 mg sodium, 54 g carbs (12 g fiber, 9 g sugar), 35 g protein
Another wholesome CPK option, the Santa Fe Bowl combines cilantro farro and spinach, lime chicken, tomatoes, corn, black beans, red cabbage, avocado, poblano peppers and toasted pumpkin seeds all drizzled in poblano ranch dressing. If you really want to slim down this order, ask for the dressing on the side, and only use half.
April Benshosan
April is a born-and-raised Brooklynite who has a passion for all things health, wellness, and tastebud-related.
Read more about April