Sunrise Sandwich With Turkey, Cheddar, and Guacamole Recipe
It's so good, you're going to run to the kitchen as soon as you wake up to make one.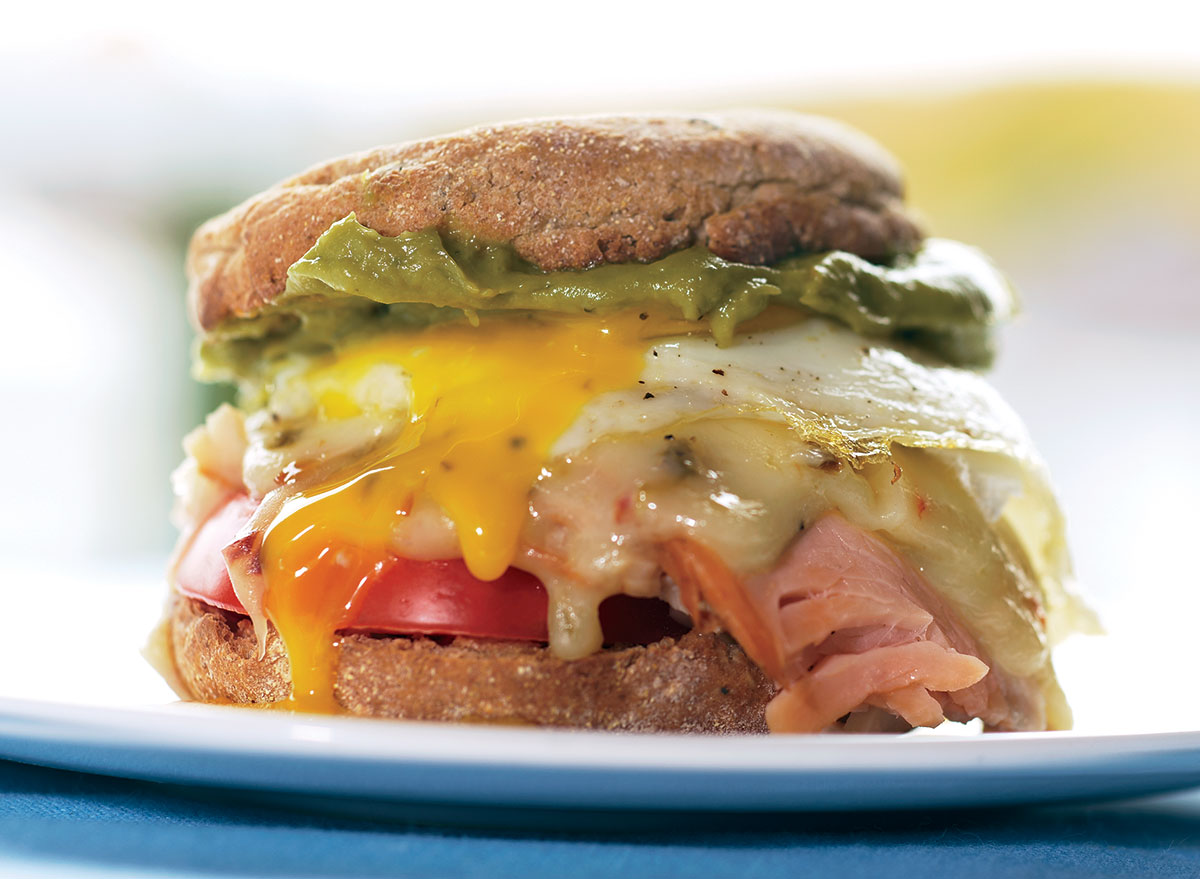 We are firm believers in the splendors of the original Egg McMuffin, along with many of the other ready-to-eat breakfast sandwiches that have followed in its wake. But not all handheld breakfast bites are so virtuous, because many of them are flooded with excessive carbs and fat. And even the McMuffin can be greatly improved upon, which is exactly what we do here, subbing in lean turkey for Canadian bacon, adding lycopene-rich tomato, and crowning it all with a spread of heart-healthy guacamole.
Nutrition: 380 calories, 13 g fat (3.5 g saturated), 980 mg sodium
Serves 1
You'll Need
1 tsp canola or olive oil
1 egg
Salt and black pepper to taste
2 oz smoked turkey breast (Smoked meat products can be high in sodium. Look for turkey with fewer than 500 milligrams of sodium per serving.)
1 slice American, Cheddar, or pepper Jack cheese
1 thick tomato slice
1 whole-wheat English muffin, split and toasted
1 Tbsp guacamole, either homemade or Wholly Guacamole6254a4d1642c605c54bf1cab17d50f1e
How to Make It
Heat the oil in a small nonstick skillet or sauté pan over medium heat until hot.
Add the egg and gently fry until the white is set but the yolk is still runny, about 5 minutes.
Season with salt and pepper to your liking.
Place the turkey on a plate, top with the cheese, and microwave for 30 to 45 seconds, until the turkey is hot and the cheese is melted.
Place the tomato on the bottom half of the English muffin, and season with salt and pepper. Top with the turkey and egg. Slather the guacamole on the top half of the muffin, and crown the sandwich.
Eat This Tip
The English muffin is the best of all breakfast bread, and none is better than a Thomas' Light Multi-Grain English Muffin. Each muffin contains just 100 calories and packs in an astounding 8 grams of fiber—about as much as you'd find in three apples. It provides the perfect base for so many kinds of handheld breakfasts sandwiches that you don't want to miss. Here are a few worth trying:
Smoked salmon with tomato and avocado
Scrambled eggs with ham, American cheese, and spinach
Peanut butter with banana slices and honey