19 Best Healthy Canned Cocktails, Beers, and Seltzers You Can Buy Online
This is the ultimate guide to low-calorie, low-carb, and low-sugar alcoholic drinks you can have shipped to your door.
This post contains affiliate links. If you use these links to buy something, we may earn a commission.
Alcohol sales are skyrocketing. With bars, restaurants, music venues, sports arenas, and basically everywhere you typically drink alcohol closed due to the coronavirus, we're all limited to drinking at home. And that we are. Total alcohol sales in the U.S. are up 16 percent during the overall lockdown, with online alcohol sales up a whopping 243 percent, according to market research firm Nielsen.
We may be drinking a lot more at home—whether it's because of video conferencing happy hours or because we like to wind down the day with a nightcap—which is ok if done in moderation; however, when you pair an increase in alcohol consumption with basically being on house arrest, you might start to realize you've developed a few unhealthy habits during the pandemic.
There's no need to ditch your drinking habit completely to get back on track and stay healthy. Instead, reconsider your drink, and swap it for one of these healthy canned beverages. Each pick on our list is low-calorie, low-carb, and low-sugar while still having enough alcohol to get you buzzed.
This is our ultimate guide to healthy alcoholic beverages: the 18 best healthy canned cocktails, hard kombuchas, hard ciders, beer, sparkling wine, and hard seltzer.
145 calories, 7.5 g carbs, 2.5 g sugar, 6% ABV
If you know about probiotics, you know that kombucha should be one of your go-to drinks. The fermented tea is rich in good-for-your-gut probiotics and organic acids. To make "hard" kombucha, Juneshine takes your basic kombucha through a secondary fermentation, where they add a touch more sugar and yeast to boost your beverage to 6% alcohol by volume. Blood Orange Mint is the first flavor from the Southern California-based hard kombucha company and—we may be biased—but we think it's the best.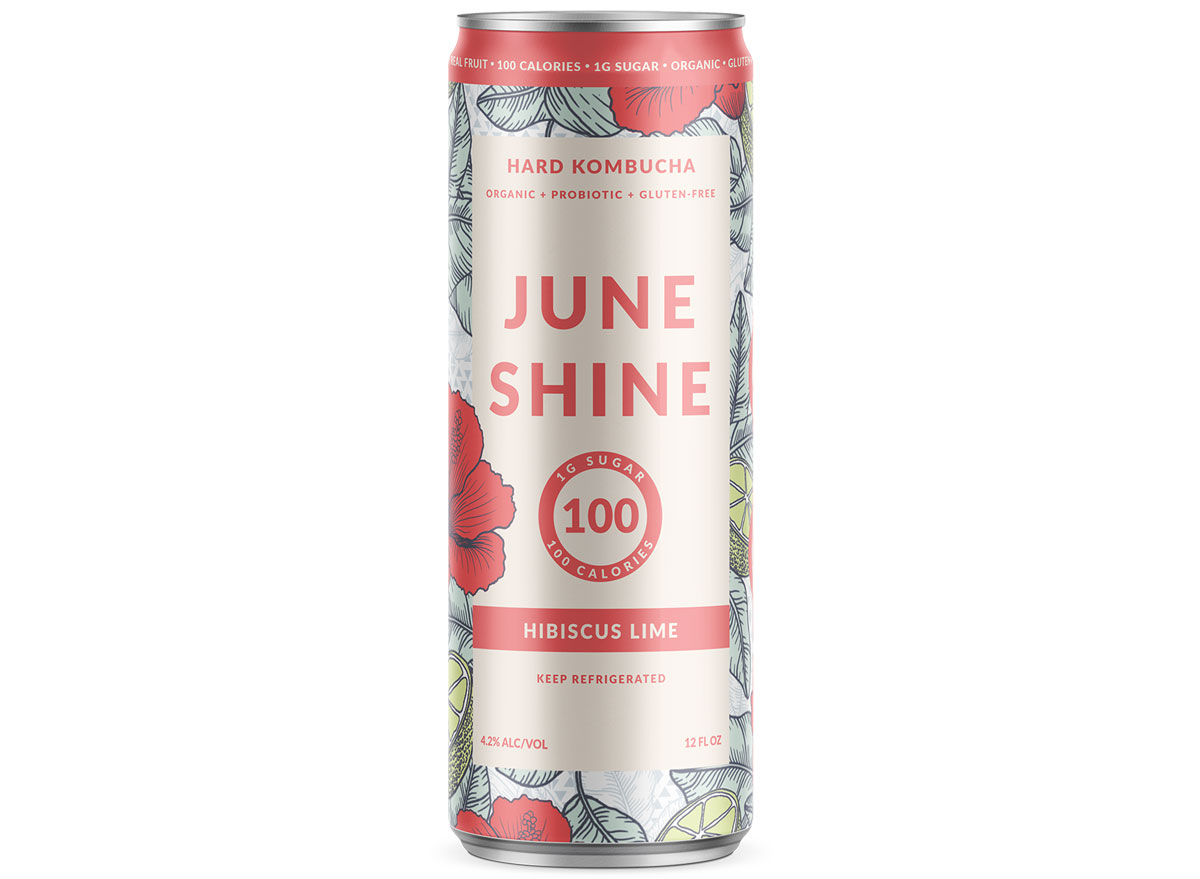 100 Calories, 4 g carbs, <0.5 g sugar, 4.2% ABV
If you want the same probiotic benefits and killer taste of hard kombucha but with fewer calories and sugar, JuneShine just launched a low-calorie version of their popular can by lowering the ABV and using less fruit juice. But don't worry — less juice doesn't mean less flavor. This Hibiscus Lime booch is sure to be your go-to summer sip.
99 Calories, 0 g carbs, 0 g sugar, 5% ABV
Can't go to a bar for your vodka soda fix? No problem. Order a case of these grapefruit-flavored cocktails from Cutwater Spirits instead. When you're looking for a low-calorie, low-sugar cocktail, these can't be beat.
180 calories, 3 g carbs, 0 g sugar, 11.9% ABV
What's better than a glass of rose by the pool? A can of sparkling rose in your hand right now.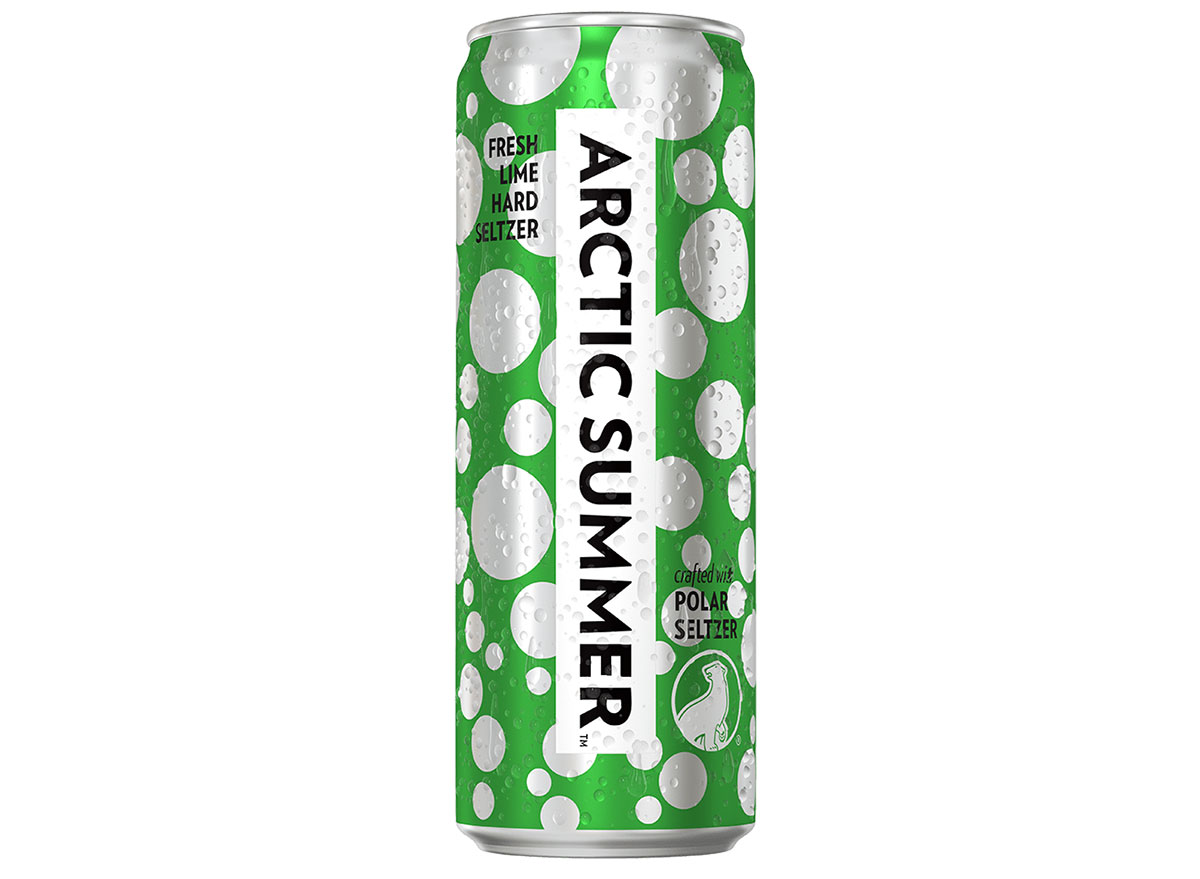 110 calories, 3 g carbs, 0 g sugar, 5% ABV
Forget the copper mugs. You can have a Moscow Mule without all the carbs and sugar by sipping on this hard seltzer from Massachusetts-based Polar Seltzer. Speaking of seltzer, did you know there's a difference between club soda, seltzer, and sparkling water?
95 calories, 2.6 grams of carbs, 4.2% ABV
For no-fuss beer drinkers who are being more mindful of their alcoholic beverages, make this light-bodied light beer from Saint Archer Gold your go-to. This healthy beer will get the job done.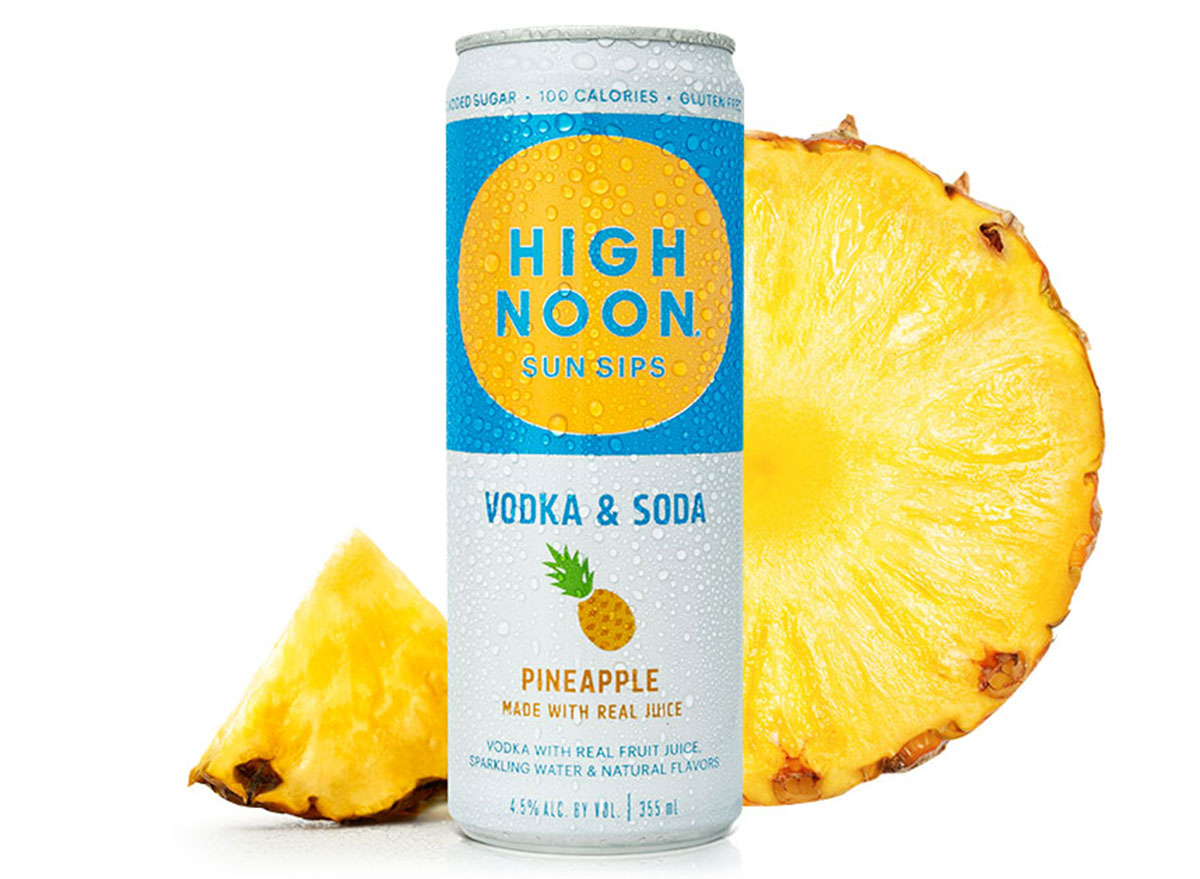 100 calories, 5 g carbs, 3 g sugar, 4.5% ABV
If you feel like most canned cocktails are missing that special something to make them taste like the cocktails you order at a bar, that's because they are. Most of the time, that's because canned cocktails are only flavored with natural flavors. High Noon's vodka-based hard seltzer supplements those natural flavors with real fruit juice to give it that punch you're looking for.
100 calories, 1 g carb, 1 g sugar, 5% ABV
Finally. If you're tried the other hard seltzers out there (we won't name names), you've probably realized although they're certainly light, they don't actually taste very good—at all. So if you care about taste on top of drinking healthy canned cocktails, you have to try Ficks—it's the only hard seltzer that meets our top-notch flavor standards.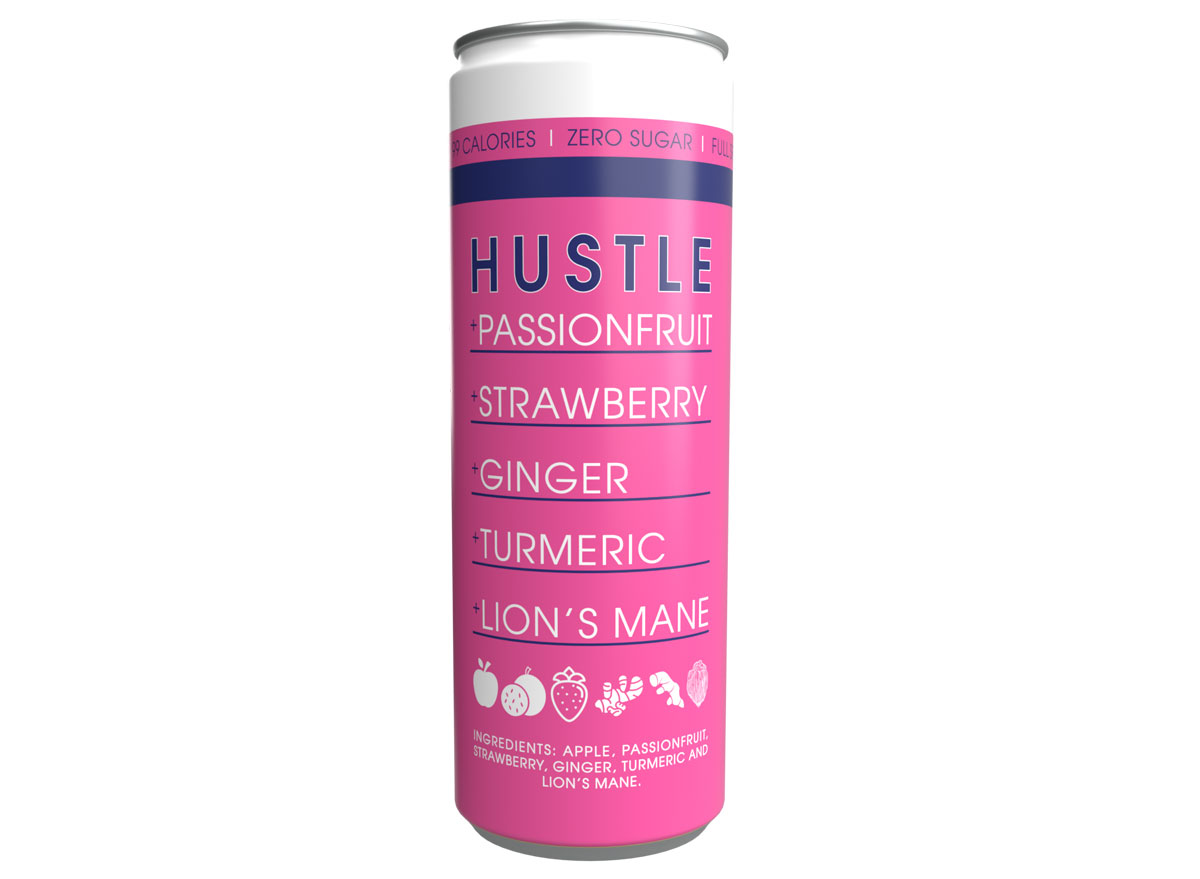 99 calories, 0 g carbs, 0 g sugar, 4.9% ABV
Yes, you read right. This hard juice has absolutely zero grams of carbs or sugar despite being completely made up of passionfruit, strawberry, and ginger juice. The secret? Pulp Culture's alcoholic beverages go through a 3-month wild fermentation cycle that results in all the fermentable sugars being consumed by yeast and bacteria. The result is a probiotic beverage that's slightly sweet, tangy, bubbly, and unexpectedly mellow. For free shipping on Pulp Culture's website, just enter promo code "STAYSAFE" at checkout.
110 calories, 5 g carbs, 4 g sugar, 4.5% ABV
Hate the taste of natural flavors? So does Willie's Superbrew. The Massachusetts brewery uses real juice (you'll even see it on the label: contains 10% juice) and a sugar-based alcohol for a low-calorie refreshing alcoholic drink you can feel good about drinking.
100 calories, 2 g carbs, 2 g sugar, 5% ABV
Malted barley, cane sugar, corn sugar… That's what you'll find most hard seltzers are made of. Not Seek Out. This seltzer, brought to you by the brewers at 2 Towns Ciderhouse, uses an apple wine base that they then blend with raspberry juice, meyer lemon juice, and raspberry essence for a drink that's packed with flavor and light on calories, sugar, and carbs.
92 calories, 0 g sugar, 5.5% ABV
You may have never heard of Long Drink before, but we promise you that you won't forget it after you've tried it. According to The Long Drink, the drink originated during the Helsinki 1952 summer games when the Finnish government needed to come up with a new drink that was delicious and fast to serve. They landed on a blend of gin and grapefruit, and it was an overnight success. While the original flavor is incredible, if you're looking for a healthy, low-calorie, low-sugar canned cocktail, The Long Drink debuted Long Drink Zero so you can join in on the fun while sticking to your low-carb or keto diet.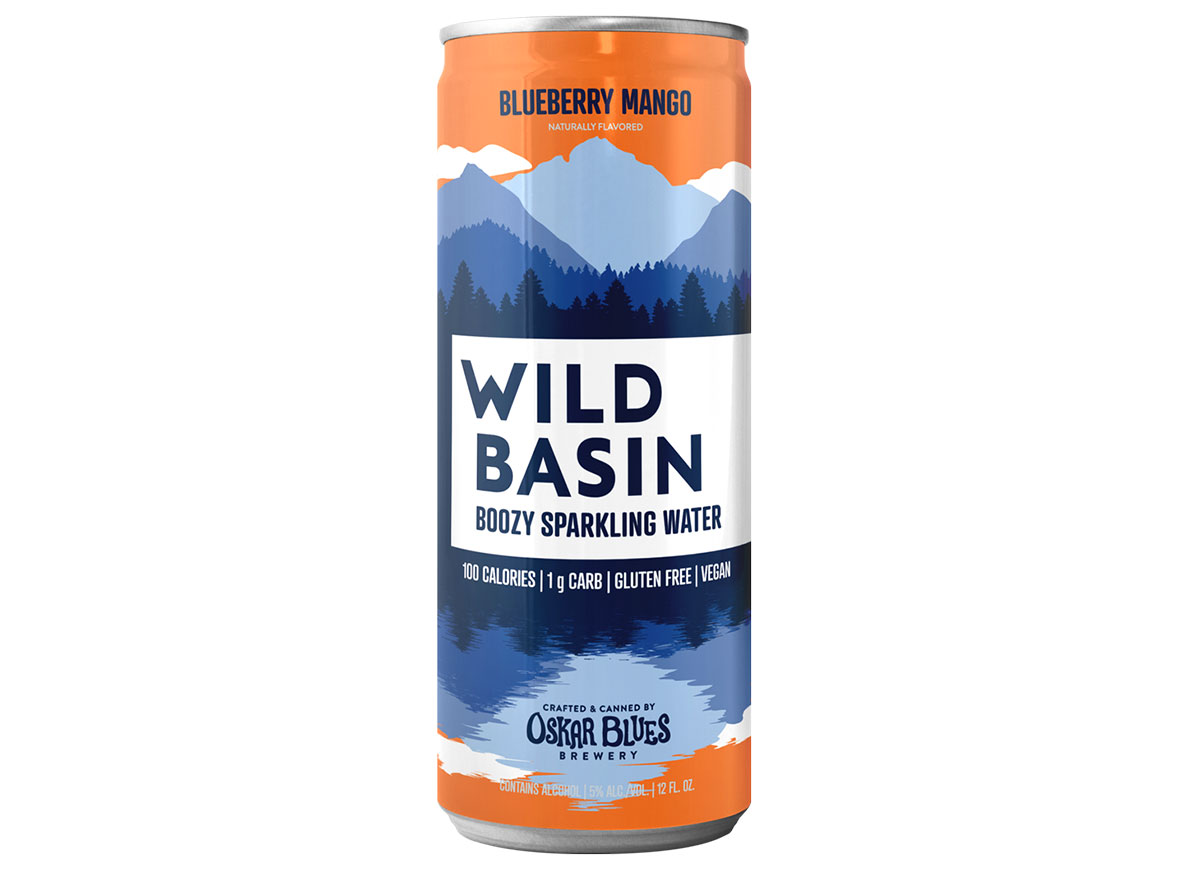 6254a4d1642c605c54bf1cab17d50f1e
100 cal, 1 g carb, 0 g sugar, 5% abv alcohol from cane sugar; natural flavors
Unlike some "boozy sparkling waters," Wild Basin is gluten-free because it's made with alcohol from cane sugar, rather than malted barley. This line from Oskar Blues Brewery comes in eight flavors, like black raspberry, cucumber peach, and strawberry coconut.
95 calories, 5 g carbs, 3.5 ABV
We challenge you to find another flavor-packed, gluten-reduced beer that you can feel good about drinking. This low-calorie kolsch-style beer is brewed with honey and cayenne for a kick.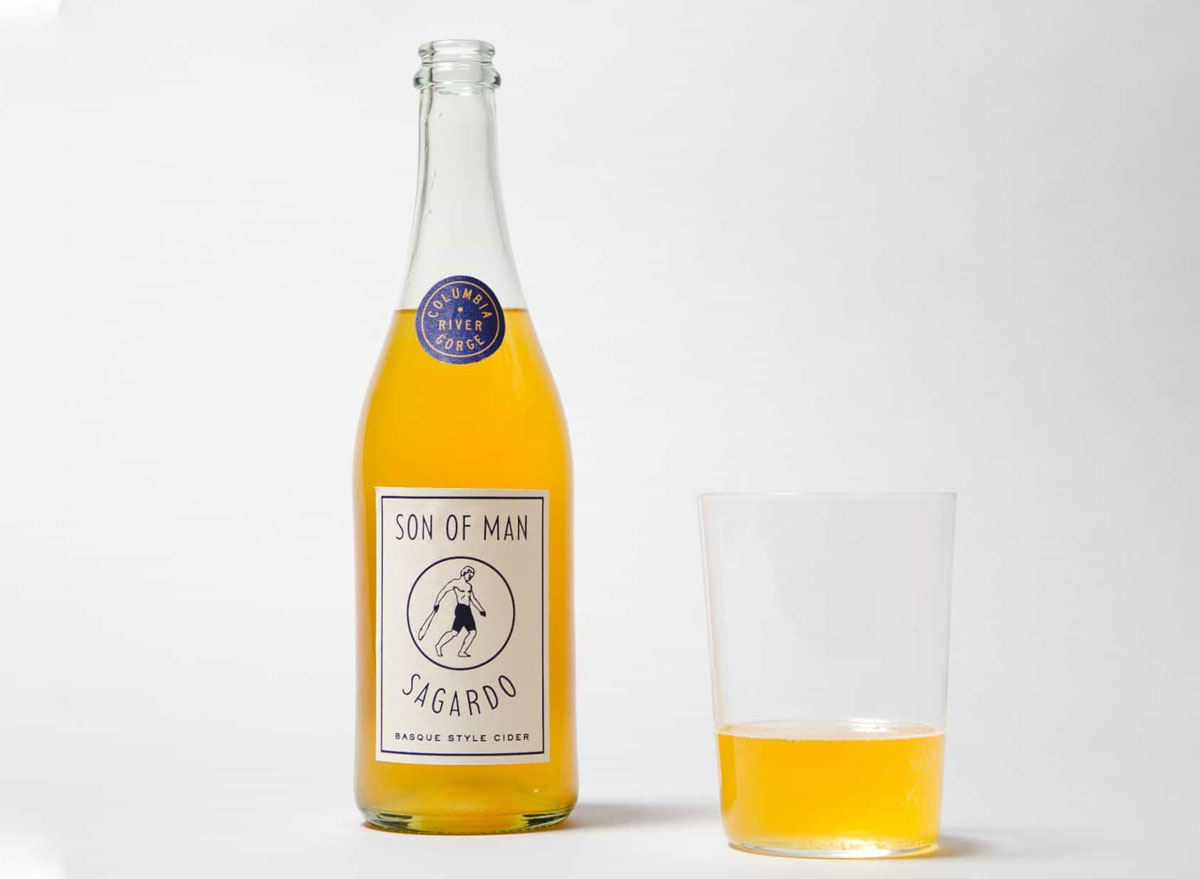 Looking to feel a bit fancy during your virtual happy hours? Impress your friends, family, or coworkers by sipping on this Basque-style cider. Unlike the cloyingly sweet hard ciders you're used to, Basque cider—which is called Sagrado—is fermented dry, which means there are no residual sugars leftover after its four-month fermentation. Expect a touch of sourness from the wild fermentation and the same dryness of wine like a pinot grigio. Pour hard into a glass to give it a bit of bubbly—this cider isn't force-carbonated like what you're used to.
For some recipe pairing inspiration, try it with our Crunchy Keto Cheese and Ranch Pinchos.
120 Calories, 5 g carbs, 5 g sugar, 5% ABV
There are very few canned cocktails made with vodka that are entirely organic, and there are even fewer that contain 5 grams of sugar or less. This line of gluten-free sparkling craft cocktails is the newest offering from Prairie Organic Spirits, which was named the best craft vodka distillery by USA Today. This refreshing flavor is perfect for sipping during the summer.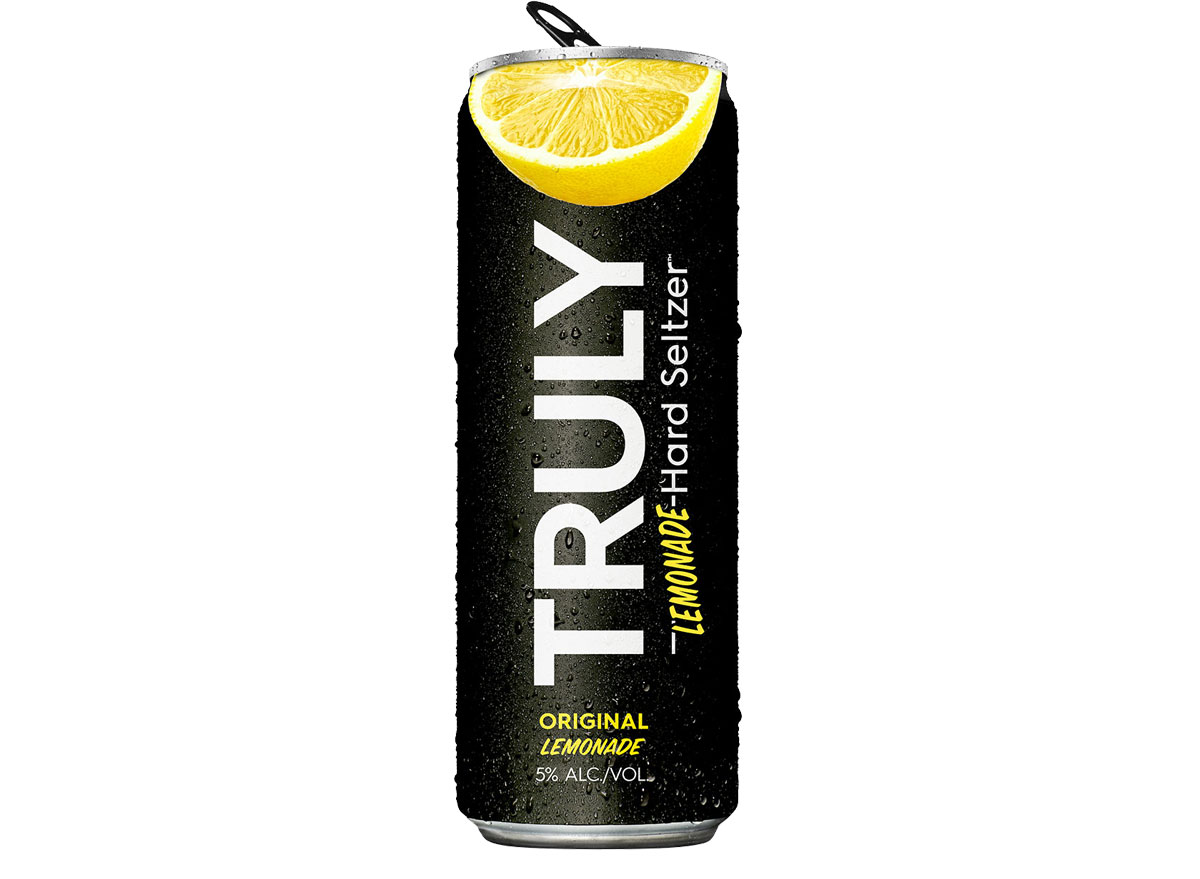 100 calories, 3 g carbs, 1 g sugar, 5% ABV
Ditch the sugary Mike's Hard for the same lemonade flavor you love but without the gluten, carbs, and calories.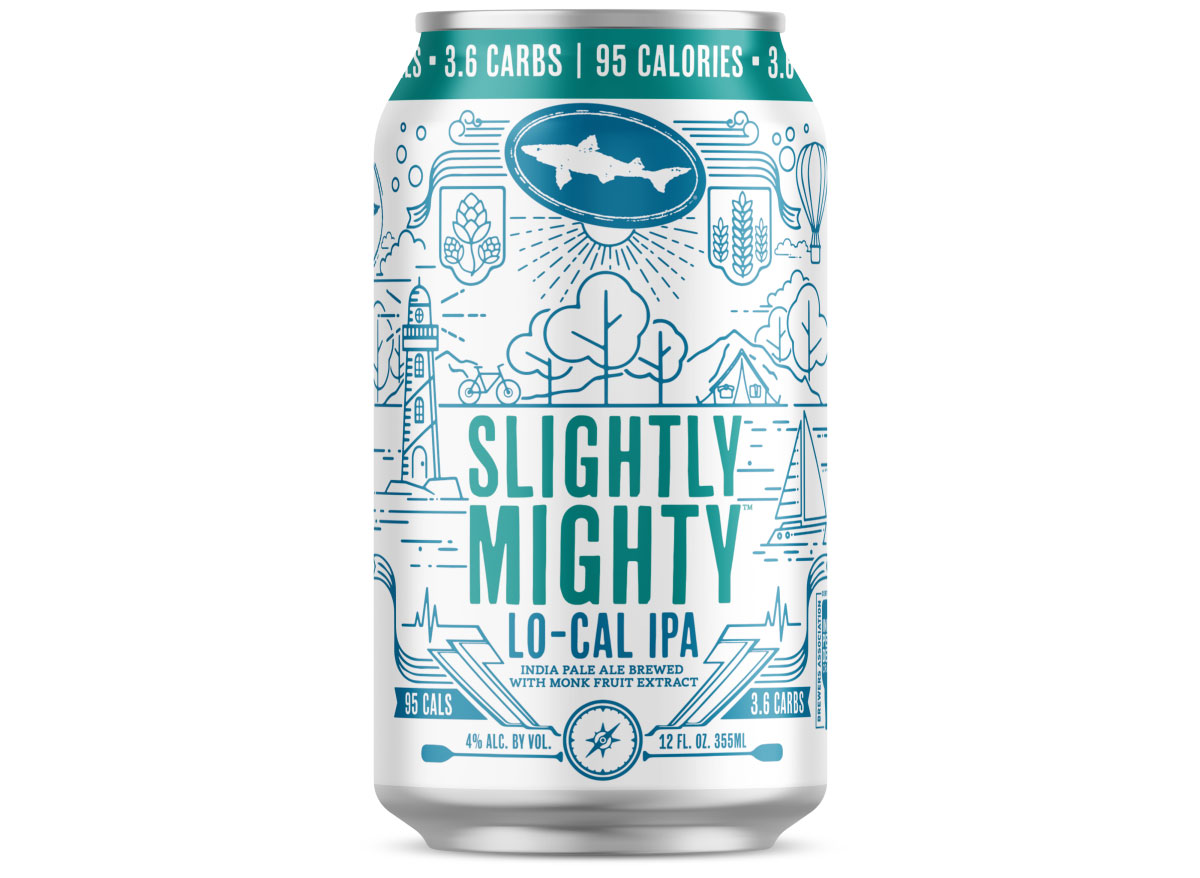 95 calories, 3.6 g carbs, 4% ABV
Looking to cut back on calories while still sipping on those IPAs you love so much? Dogfish Head has you covered with this hazy IPA that has notes of pineapple, coconut, and mango. While the average IPA can climb upwards of 200 calories, this Delaware-based brewery keeps Slightly Might under 100.
170 calories, 9 g sugar, 7% ABV
For such an alcoholic beverage that's made with real fruit juice, it's appreciated that Boochcraft can keep their sugar content so low. This hard kombucha is teeming with live probiotics and it's completely gluten-free.
Olivia Tarantino
Olivia Tarantino is the Managing Editor of Eat This, Not That!, specializing in nutrition, health, and food product coverage.
Read more about Olivia