A Healthy Take On the Classic Green Bean Casserole Recipe
You're going to want to eat this side dish all year round.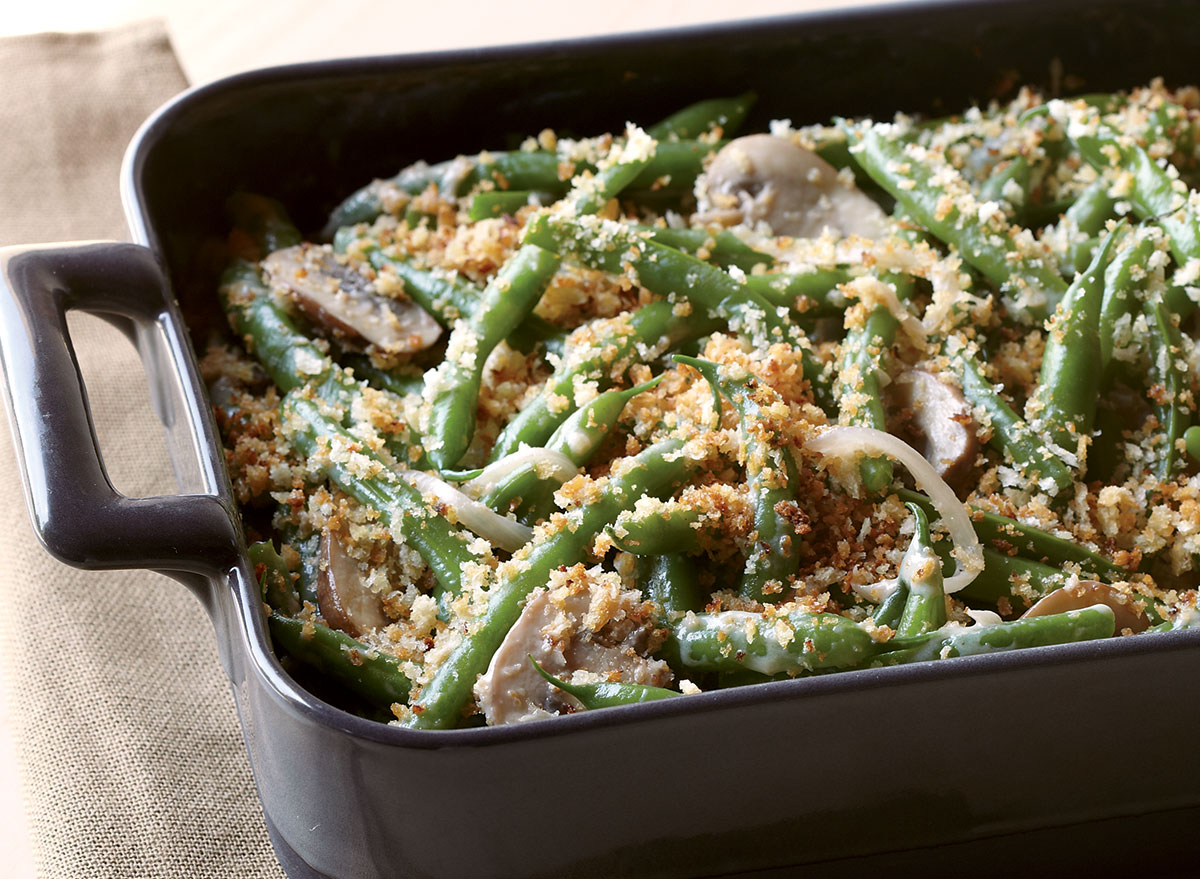 Perhaps the most famous back-of-the-box recipe and Thanksgiving side dish ever, this home-cooked classic was invented in 1955 by the Campbell Soup Company, an ingenious way to get consumers to buy their Cream of Mushroom soup during a time when items like fresh mushrooms and green beans were tough to come by. Those days, of course, are now long gone, and the casserole is badly in need of an update so you can eat it all year long. So let's take a crack at it, shall well?
In this version, we stay true to the flavors of the original green bean casserole recipe (onions, mushrooms, green beans bound in a creamy soup sauce), but we employ the use of fresh ingredients to create something with more texture, flavor, and nutrition far exceeding the original. It still works as a great side dish to bring out not only during Turkey Day, but also to any potluck or picnic for that matter.
Nutrition: 110 calories, 2.5 g fat (1.5 g saturated), 310 mg sodium
Serves 6
You'll Need
Salt
1 lb green beans
1 Tbsp butter
1 red onion, thinly sliced
2 cloves garlic, minced
6 oz cremini mushrooms, sliced
2 Tbsp flour
1 cup low-sodium beef or chicken stock
1 cup 2% milk
Black pepper to taste
1⁄2 cup panko bread crumbs, tossed with 1 Tbsp olive oil
How to Make It
Bring a large pot of water to a boil.
Season with salt and cook the green beans for about 3 minutes, until crisp-tender.
Drain and run cold water over the beans to help stop the cooking.
Preheat the oven to 475 ̊F.
Heat the butter in a large skillet over medium heat.
Add the onions and garlic and cook for about 5 minutes, until the onions are very soft and translucent.
Add the mushrooms and cook for about 5 minutes, until lightly browned.
Stir in the flour and cook for 1 minute, then add the stock and milk, whisking to help prevent lumps from forming.
Add the green beans and simmer for about 3 minutes, until the sauce thickens and clings to the vegetables.
Season to taste with salt and black pepper.
Pour the green beans into an 8" × 8" casserole dish and top with the bread crumbs.
Place on the middle rack and bake for 8 to 10 minutes, until the bread crumbs are golden brown.