4 Healthy Lunches from Popular Restaurants
Splurging on a lunch out? You'll find something that will fit into your healthy eating plan with our approved picks.
It's easy enough to feel in control of breakfast and dinner since those meals are more frequently eaten at home and can be prepared with ingredients that you know work for your particular diet, but lunch is a bit more difficult to tackle. Whether you're at work, school, or simply meeting friends for a bite to eat, the safeguards you have at home aren't typically in place for your mid-day meal, and you're more likely to just make a beeline for the vending machine or run to the nearest restaurant for something quick that will make your stomach stop grumbling.
Should you manage to make it to a restaurant, the dozens of sandwich, salad, and other options can be overwhelming for even the most dedicated dieters, and to make matters worse, many lunch options that sound healthy are frequently packed with harmful added sugars and fats that can keep you from having the body you want. In fact, one study found that just having a lot of take-out options near your work or along your commute to work makes you twice as likely to be obese.
So what's a guy or gal to do when those 1 p.m. hunger pangs roll around? Thankfully, most fast-food and fast-casual restaurants offer at least a handful of options that won't leave you struggling to fit into your skinny jeans, though those dishes can sometimes be hard to spot. That's why we've profiled four healthy lunches from popular restaurants, below. Now, no matter what your lunch plans are, you have some go-to healthy meals to choose from. Speaking of healthy meals, start looking ahead to dinner with these 35 Slow Cooker Recipes for Weight Loss!
Chipotle Crispy Corn Tortilla Tacos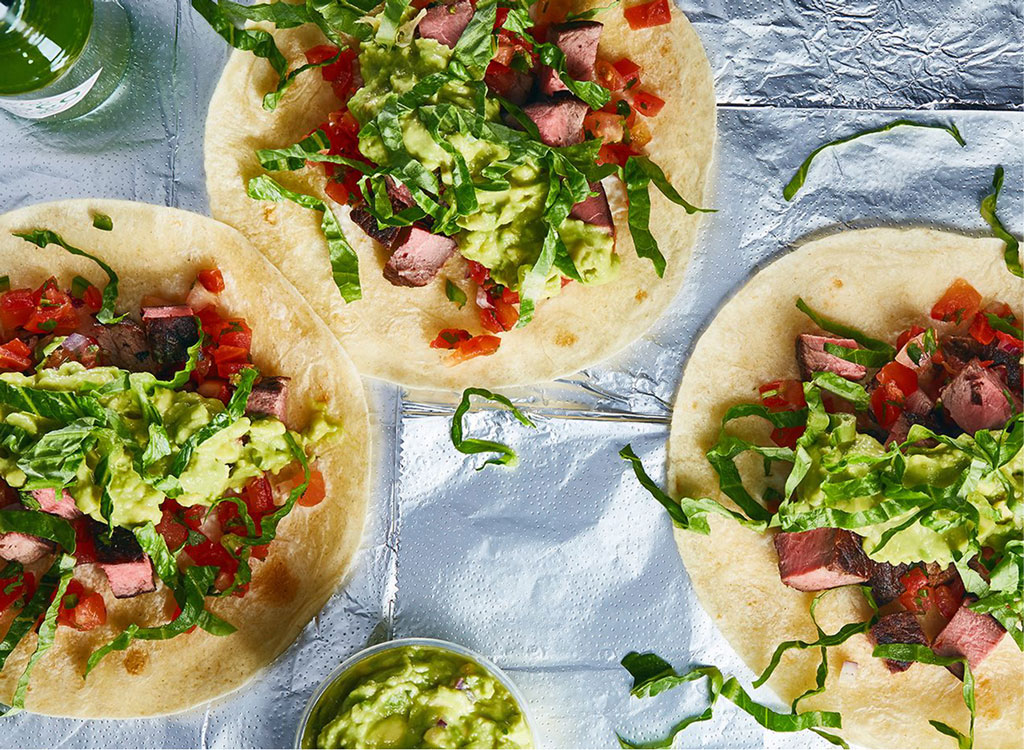 Steak, Cheese, Lettuce, and Fresh Tomato Salsa

540 calories, 22 g fat (8 g saturated fat), 1,550 mg sodium, 44 g carbs (5 g fiber, 1 g sugar), 34 g protein
Though Chipotle is beloved, in part, because of its massive burritos, not everything from the popular Mexican chain is packed with hundreds of empty calories of guacamole, cheese, sour cream, and more. In fact, since Chipotle allows you to build your own meal piece-by-piece, it's not difficult to construct something that's got the right balance of healthy nutrients and distinct flavor. We're big fans of the crispy corn tortilla tacos with steak, cheese, lettuce, and fresh tomato salsa because the meal is less than 600 calories and contains 34 g of protein.
Panera Half Steak & Arugula on Sourdough and Half Seasonal Greens Salad With Asian Sesame Vinaigrette
385 calories, 19 g fat (5.5 g saturated fat), 600 mg sodium, 37 g carbs (4 g fiber, 13 g sugar), 18 g protein
Whole sandwiches at Panera Bread contain anywhere from 380-940 calories, but just by ordering a half sandwich and a half salad you can drastically reduce the calorie intake of your meal while adding key protein and fiber. Though there are dozens of sandwich and salad combos to choose from, we're partial to the half steak & arugula on sourdough and half seasonal greens salad with Asian sesame vinaigrette. All together the meal contains less than 400 calories and has more protein than sugar. For more ways to pack on the protein, take a look at The 29 Best-Ever Proteins for Weight Loss!
Subway 6" Roast Beef Sandwich and Veggie Delite Salad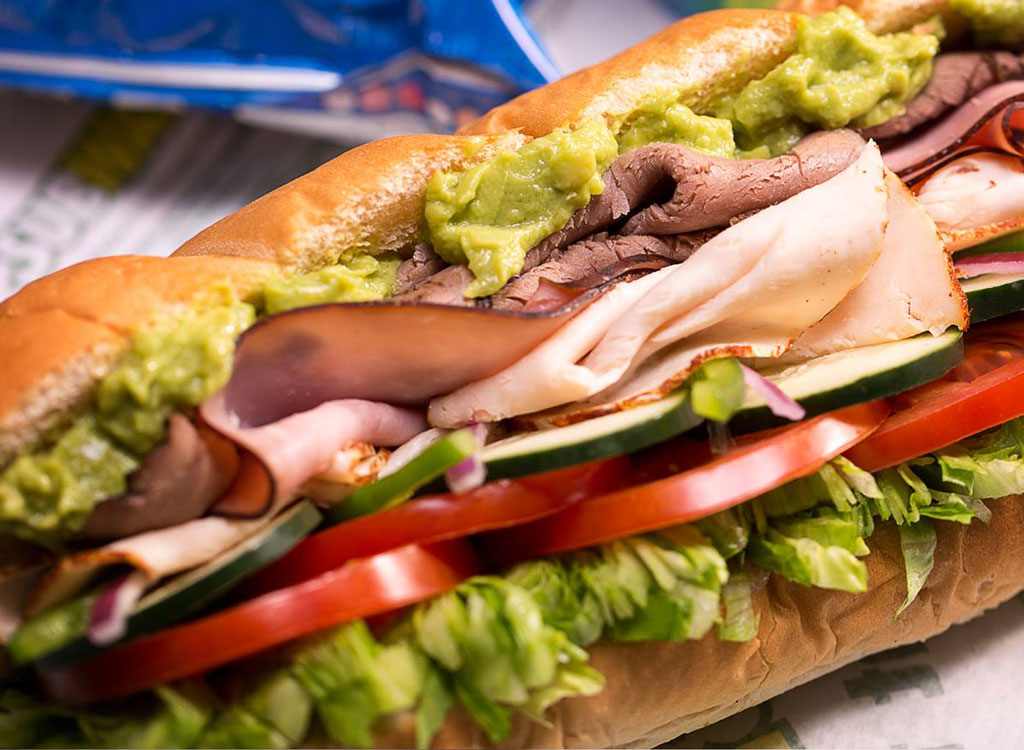 380 calories, 6 g fat (1.5 g saturated fat), 735 mg sodium, 56 g carbs (9 g fiber, 13 g sugar), 28 g protein
Many of Subway's best-known sandwiches are stacked high with meats, cheeses, and unhealthy sauces, but the 6" roast beef sandwich off the restaurant chain's Fresh Fit menu has lean roast beef and two servings of crisp veggies on a classic sub, giving it an impressive 25 g of protein. Pair the protein-packed sandwich with a Veggie Delite salad for more greens, which bring additional protein and fiber to the low-calorie meal.
Au Bon Pain Half Turkey and Swiss Sandwich and Small Black Bean Soup
6254a4d1642c605c54bf1cab17d50f1e
510 calories, 14.5 g fat (8 g saturated fat), 1,280 mg sodium, 65 g carbs (22 g fiber, 9 g sugar), 32 g protein
Au Bon Pain is known for their wide array of sweet, caffeinated beverages, but skip the coffee counter come lunchtime and pick up a half sandwich and small soup instead. Though there are plenty of combinations to pick from, we like the half turkey and Swiss sandwich paired with a small black bean soup. Together the duo contains just over 500 calories, and is packed with a filling 22 g of fiber and 32 g of protein thanks to the combo of lean meat and nutrient-rich beans. For more satiating sources of fiber, check out The 43 Best Foods for Fiber!