Is Coconut Water as Healthy as You Think?
We had a registered dietitian explain if the drink really delivers all those supposed health benefits.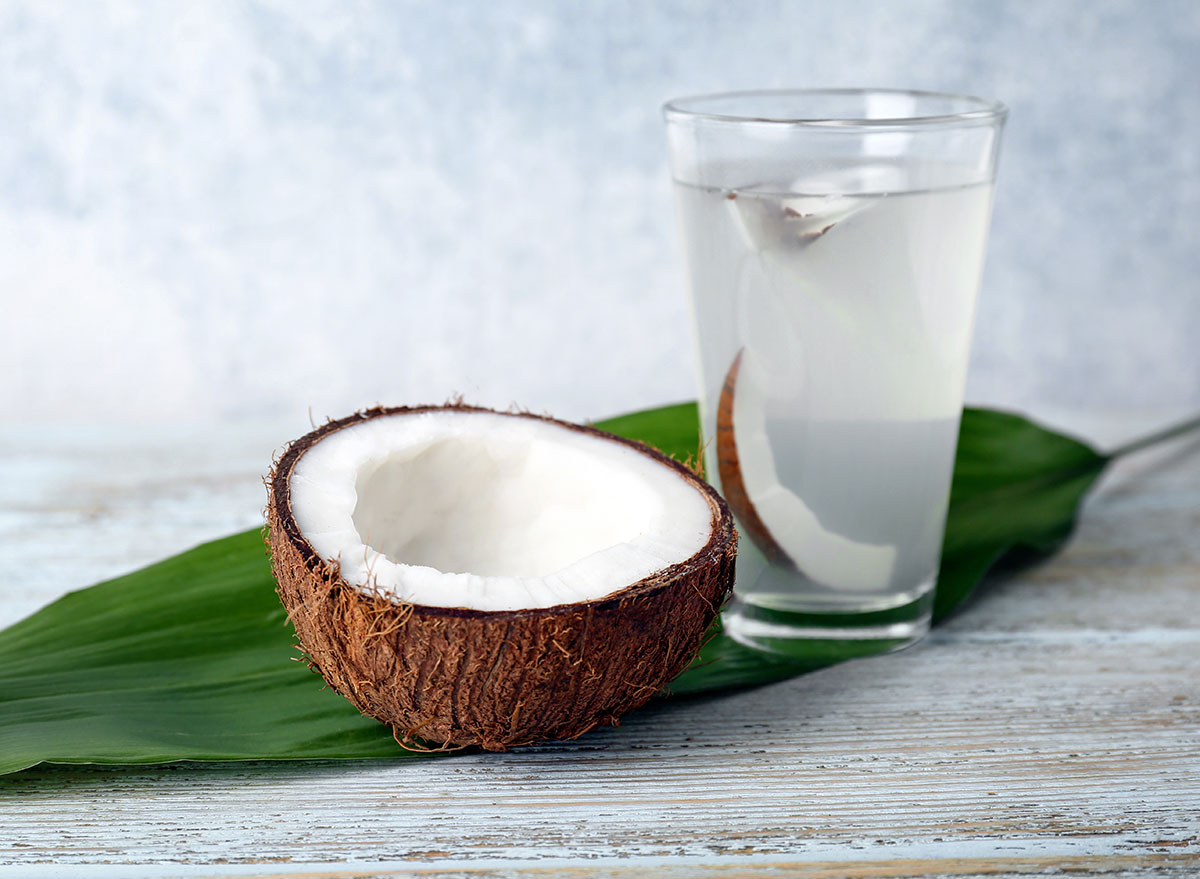 Coconut water has seen an explosive rise in popularity over the last several years. Coconut, in general, has become a trending food item, from cooking with coconut oil to munching on baked coconut "chips," to guzzling coconut water, the fruit itself has been in high demand because of its potential health benefits. Coconut water, though, became more common in the American markets around the same time we started to see more negative research surrounding refined, processed sugar and a push for "natural" foods became more important to consumers. It seemed like just about everyone was flocking to drink without really determining what exactly it does for your overall health. So that brings us to the big question…
Is coconut water good for you?
The appeal of coconut water is that it provides hydration, vitamins, minerals, electrolytes, and a low amount of natural carbohydrates, all packed into one product. This has made it very marketable, and while these traits are all positive, when relying on information from friends and pop-culture magazine articles, consumers are often missing important pieces of the puzzle and end up misinformed.
Although the sugar in unflavored coconut water is in its natural state, those sugar calories will add up, just like every other calorie. Naturally-occurring sugar may not be as inflammatory as refined sugar, but it is still a calorie source without much value. One cup of coconut water provides roughly 50 calories, so if someone traded their plain water for two cups of coconut water per day, they are now consuming an extra 100 calories they may not realize. In addition to the naturally occurring sugar, most of the coconut water available on the market is flavored and includes additional sugar, sometimes from other fruits but often times from processed sugar.
6254a4d1642c605c54bf1cab17d50f1e
Is there a time coconut water isn't so bad to drink?
For an active person who engages in high heart rate activity daily, coconut water can be a great way to replace fluid and electrolytes lost through sweat and carbohydrates that were burned as an energy source. When compared to a traditional sports drink, coconut water is made with far fewer processed ingredients while providing much of the same benefit, which is a plus. However, any calorie-containing electrolyte drink—natural or not—is most beneficial during and after exercise and should not be a main fluid source elsewhere throughout the day.
If someone enjoys the flavor of coconut water and drinking it helps them consume more fluid throughout the day, it is reasonable to include coconut water in a well-balanced diet in moderation.
What should I look for when shopping for coconut water?
Consumers should look for options with fewer than 12 grams of sugar and pay attention to ingredient labels. You'll want to avoid coconut water with ingredients like sugar, fruit juice, or even pureed fruit that can add simple sugar. Additionally, you can choose organic and non-GMO varieties that pack a nutrient punch without any added synthetic ingredients or pesticide reduction that may be found in conventional coconut products.
Melissa Rifkin, MS, RDN, CDN
Melissa is a Connecticut-based registered dietitian with over 15 years of experience, including clinical and outpatient settings, and runs the popular nutrition education Instagram account, Confessionofadietitian.
Read more about Melissa