How to Make Homemade Ice Cream (Without a Machine!)
No need to run to the store! Make ice cream at home with three simple ingredients in this easy recipe.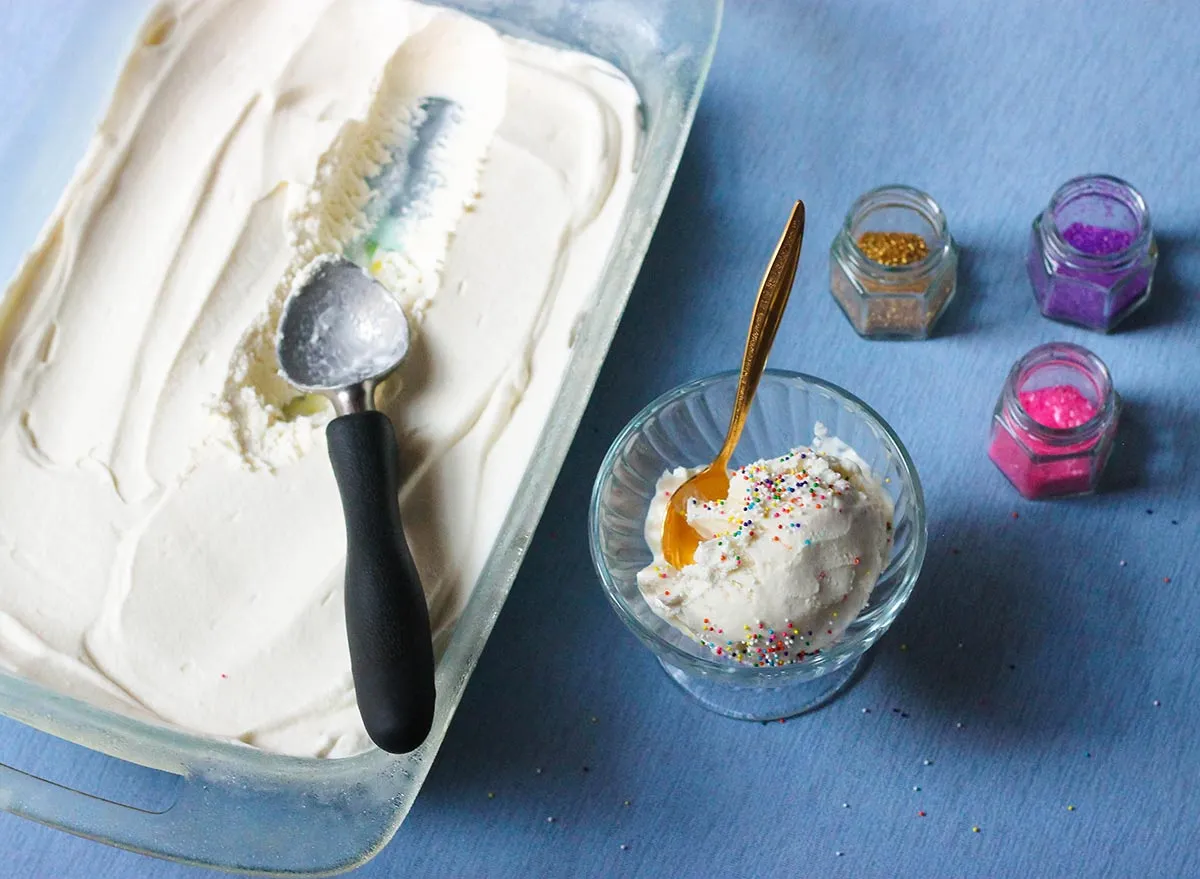 Have I mentioned how much I love ice cream? I always love getting scoops on a cone during the summertime, or if I was lucky enough, a Reese's Peanut Butter Cup Blizzard from the Dairy Queen in town. I even worked at Dairy Queen in high school, giving me the opportunity to eat ice cream whenever I wanted. So you have to imagine my sheer joy when I found out that not only can I make ice cream at home without a machine, but that it can be easily done with three ingredients.
That's right, just three ingredients! When I first came across this concept, I was baffled. It seemed almost too good to be true! I was skeptical as I threw together my first batch of homemade vanilla ice cream, but to my utter amazement, making the ice cream was really that easy.
So if you're looking for an easy dessert that will wow a crowd, this homemade ice cream recipe will do just the trick. Bring out all the sauces, sprinkles, and candy toppings, and you can have yourself the ultimate ice cream sundae extravaganza!
And if you love cooking, sign up for our newsletter to get daily recipes and food news in your inbox!
Homemade Ice Cream Recipe
Here is an easy step-by-step tutorial for you to follow!
Makes 6-8 servings
Ingredients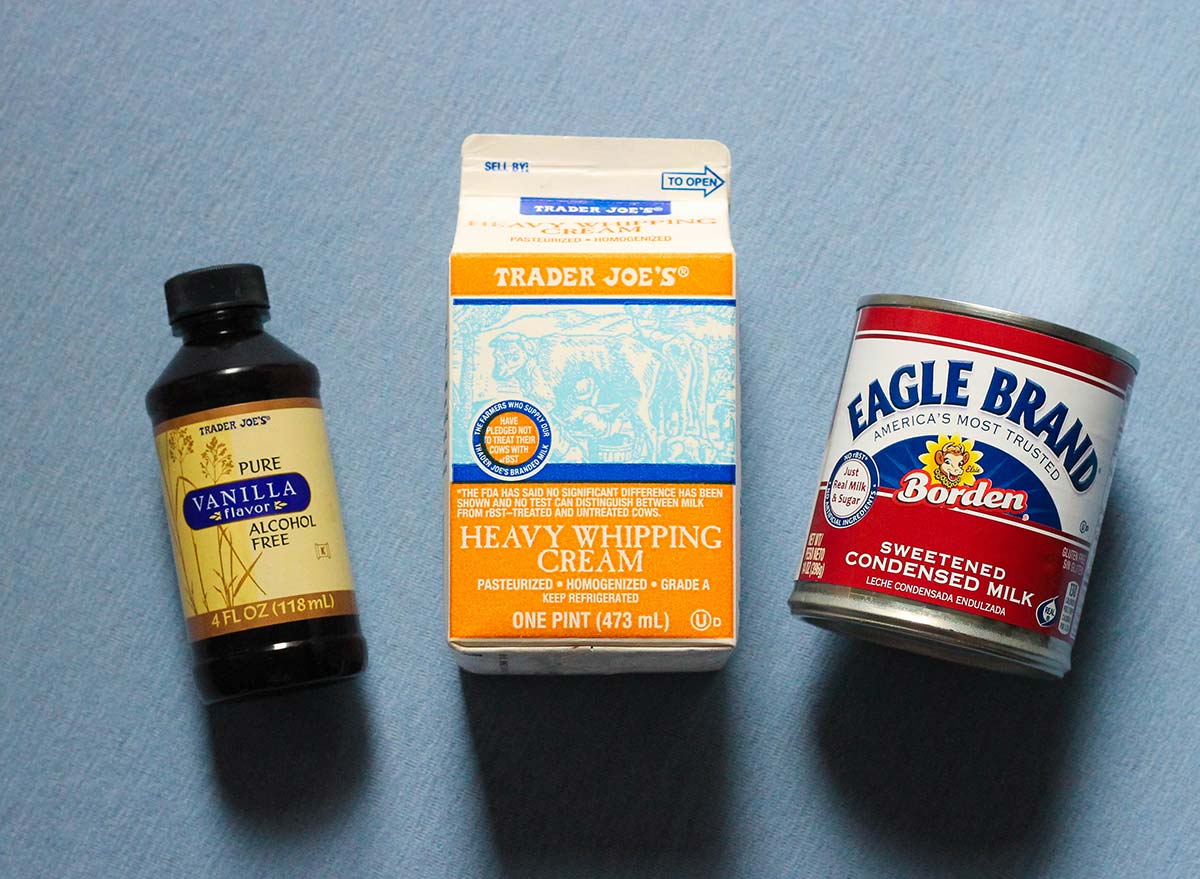 2 cups heavy whipping cream
1 14 oz. can of sweetened condensed milk
1 tsp. vanilla flavoring
How to Make It
Whip the whipping cream with a mixer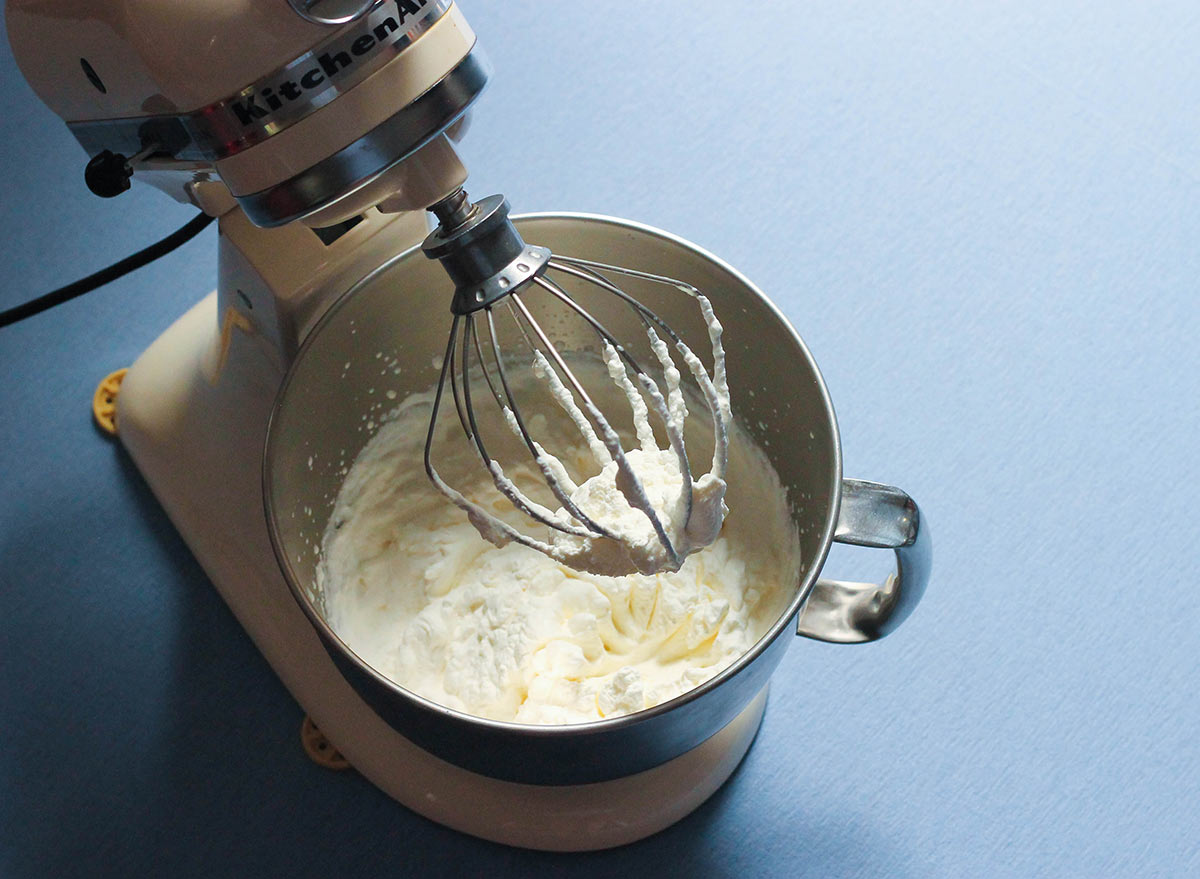 Pour the whipping cream into a bowl or a stand mixer. Mix on high speed until stiff peaks start to form. You'll know the whipped cream has "stiff peaks" when you lift the mixer out of the bowl and the whipped cream peaks can stand on their own. This took me about five minutes to get the cream to that perfect consistency. However, you don't want to overwhip the cream, so make sure to watch it closely. You don't want it to get clumpy or stiff.
RELATED: Your ultimate restaurant and supermarket survival guide is here!6254a4d1642c605c54bf1cab17d50f1e
Mix the flavoring and milk
In a small bowl, mix together the vanilla flavoring and the sweet condensed milk. If you plan on trying different flavorings, this is the step to do it. Substitute for vanilla with mint, almond, or other flavorings you desire. You can also use food coloring here if you desire.
Fold in the milk mixture slowly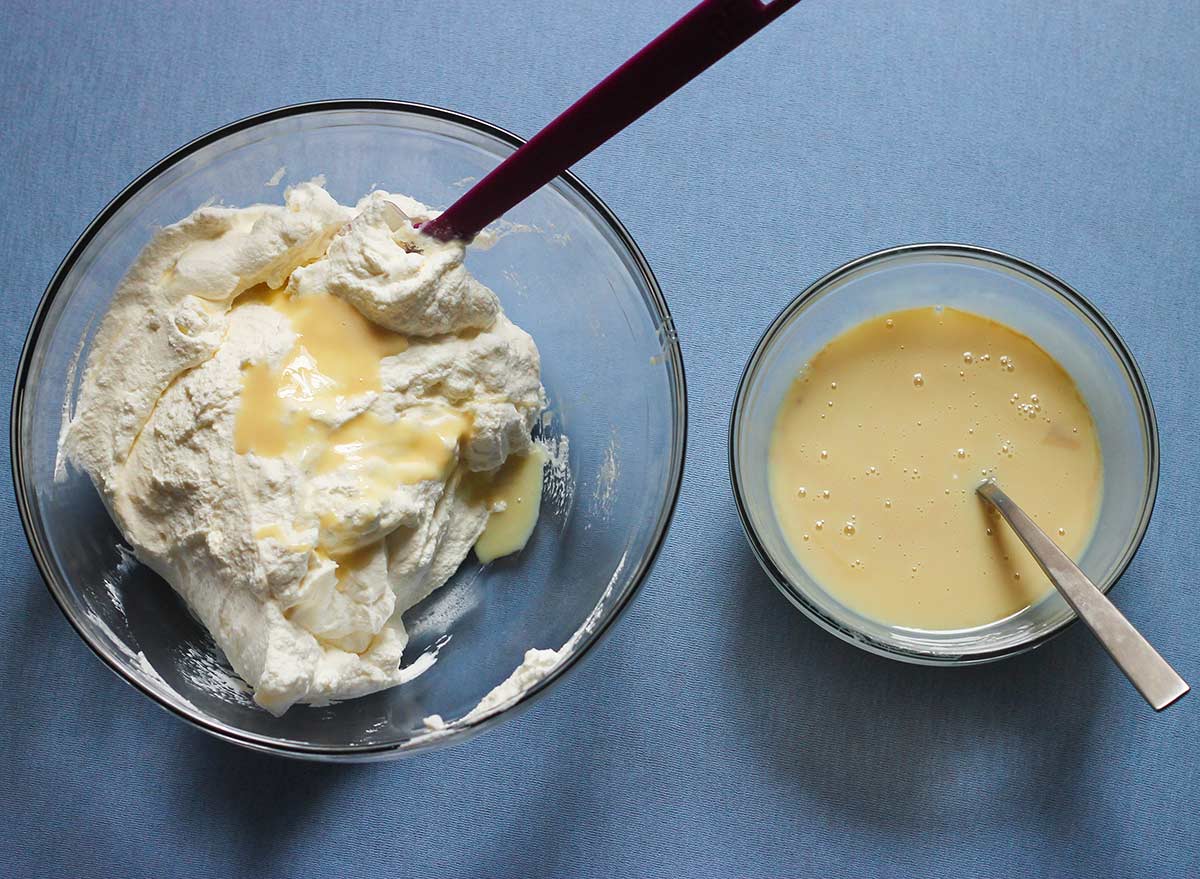 You'll want to do this slowly! I spooned in a small amount of milk at a time and folded it into the whipped cream. Continue this step until all of the milk has been folded into the whipped cream. But again, don't overbeat it! You want it to feel light. The mixture will get soupier in this step—don't be alarmed.
Spread into a glass casserole dish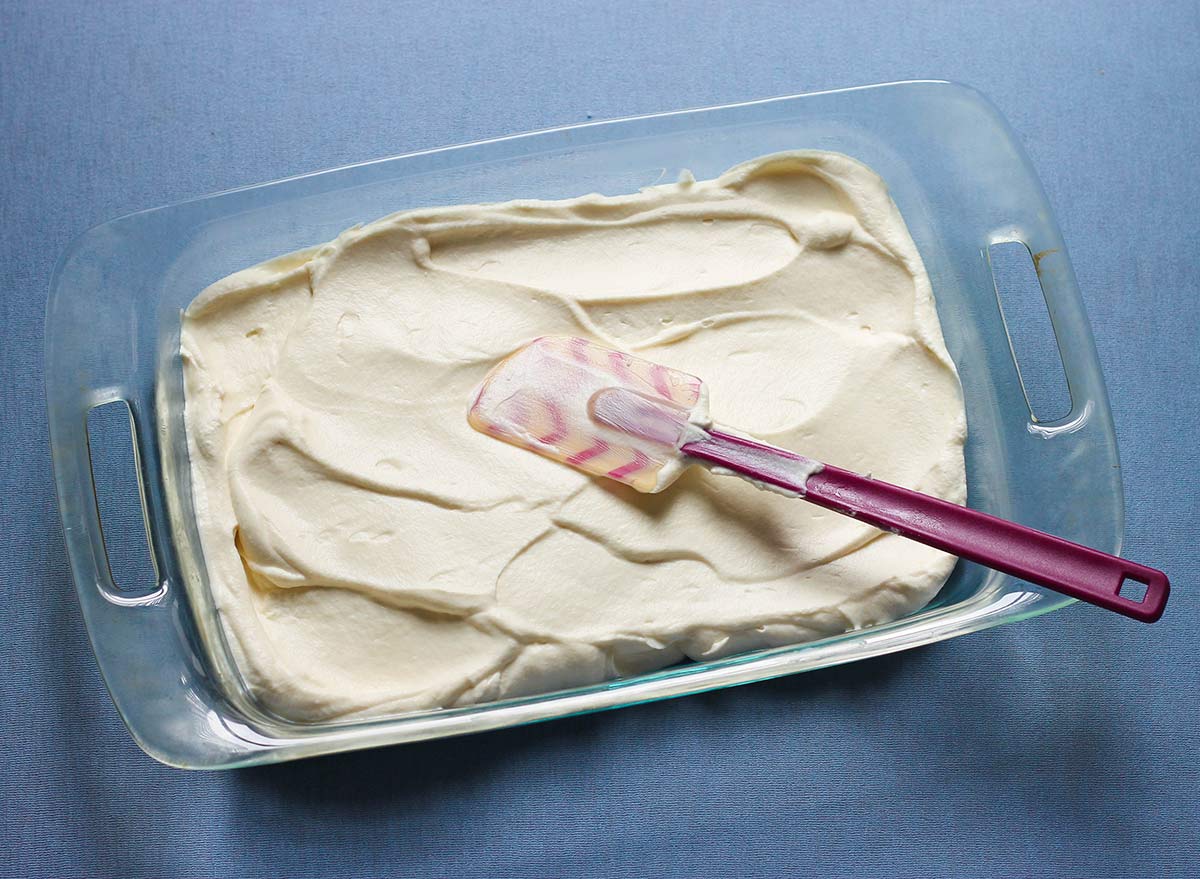 Using a glass casserole dish (or a deep glass pie dish), spread the ice cream mixture out with a spatula.
Move the ice cream to the freezer (uncovered) and freeze for at least 6 hours. You can try it sooner (I would say 4 hours minimum), but I personally find the ice cream has a nice hold after 6 hours.
Homemade Ice Cream—Full Recipe
Whip the whipping cream with a hand or a stand mixer at high speed. Mix until stiff peaks form, around 5 minutes. Do not overwhip—the whipped cream will get stiff.
In a smaller bowl, mix together the sweetened condensed milk and vanilla flavoring.
Using a spatula, slowly fold in the milk mixture into the whipped cream. Add the milk mixture a spoonful at a time.
Spread into a glass casserole dish, and freeze uncovered for 6 hours.
Scoop and add desired toppings!