Finally, A Homemade Granola Recipe That's Actually Paleo
Finding a paleo-friendly granola can be difficult, not to mention expensive. So we made an easy recipe just for you!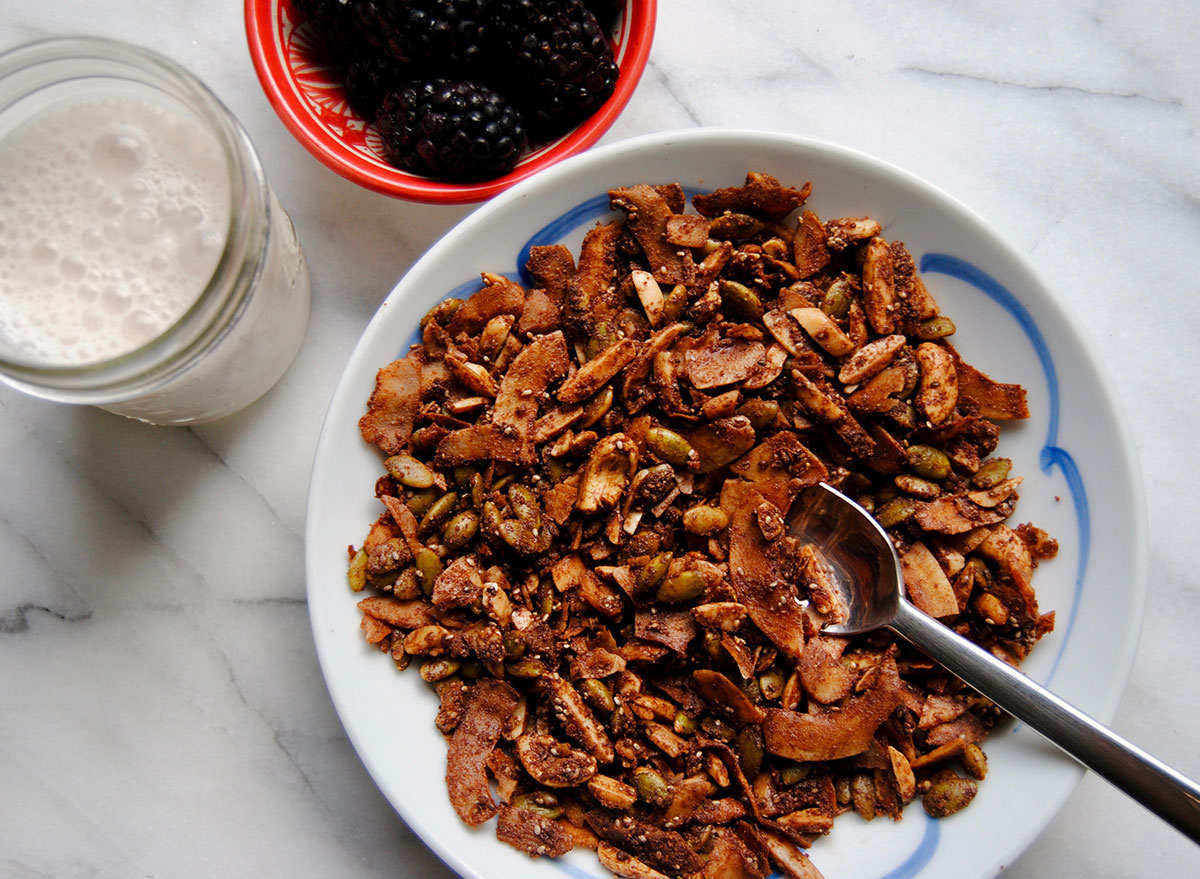 Granola seems like such a pain to make, but it's really no more challenging than stirring and pouring, then waiting while it bakes (OK, the waiting is actually pretty tough.) But really, it's time to stop spending $9 on a tiny bag of granola when you could be making a much bigger batch of paleo granola at home for far less money.
Start by heating smooth, nutty tahini with coconut oil and coconut sugar to create a sweet, creamy base. It will help the paleo granola stick together while lending tons of flavor. For the crunchy elements, turn to pumpkin seeds, flaked coconut, and a mixture of whichever nuts you'd like. Dust this whole mixture with cocoa powder, which blends with the tahini mixture for fancy peanut butter cup-vibes.
The most important part here is waiting for the granola to cool completely before packaging it away. Though it may not seem like the granola is done baking after 20 minutes, it's actually the final cooling stage, not more time in the oven, that ensures a crispy texture.
Makes 6 cups
Ingredients
¼ cup tahini
¼ cup coconut sugar
2 tablespoons coconut oil
2 tablespoons olive oil
1 ½ cups halved raw walnuts, cashews, pecans, or almonds (or a combination)
1 cup raw pumpkin or sunflower seeds (or a combination)
2 cups unsweetened flaked coconut
¼ cup unsweetened cocoa powder
¼ cup almond flour
2 tablespoons white or black chia seeds
1 teaspoon cinnamon
1 teaspoon kosher salt
Nondairy milk or yogurt, for serving, optional
Fresh fruit, for serving, optional
How to Make It
Preheat oven to 300ºF and line a large rimmed sheet pan with parchment paper. Whisk together tahini, coconut oil, olive oil, and coconut sugar in a small saucepan. Cook over medium-low heat until oil is melted and sugar is dissolved. Remove from heat and let cool slightly.
In a large bowl, toss to combine sunflower seeds, pumpkin seeds, nuts, coconut, cocoa powder, almond flour, chia seeds, cinnamon, and salt.
Pour tahini mixture over seeds mixture. Toss to combine, then use your hands to clump the mixture together into bite-sized clusters.
Spread the mixture onto the prepared sheet pan, ensuring that the clusters stay intact.
Bake until toasty, 20-25 minutes. Let granola cool completely on the tray (it will continue to crisp as it cools).
Serve with nondairy milk or yogurt. Store in airtight containers at room temperature or in the refrigerator for about 1 week.
RELATED: Easy, healthy, 350-calorie recipe ideas you can make at home.6254a4d1642c605c54bf1cab17d50f1e