The Best Homemade Spinach, Sausage, and Pepper Pizza
It's so good, you'll delete your local pizza shop's number and never turn to a frozen pie again.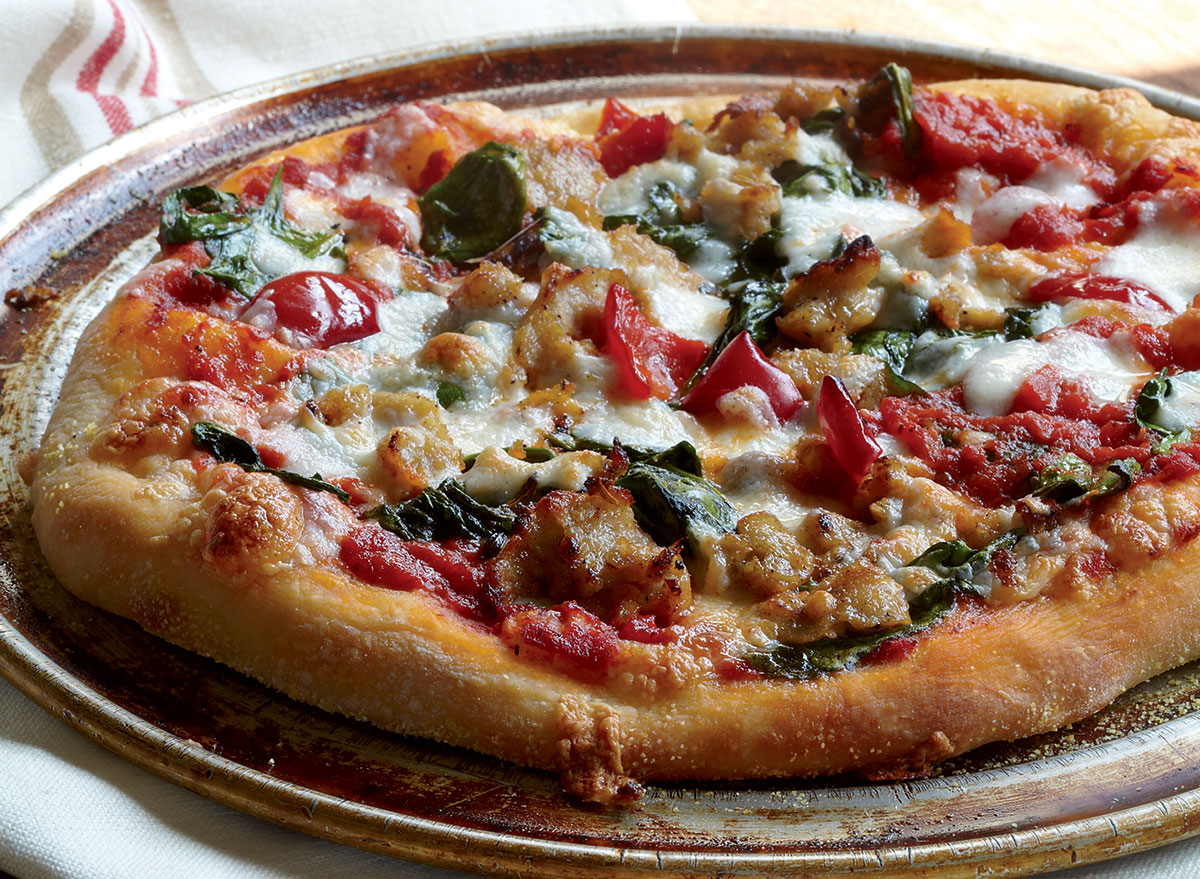 Pizza has always been something people are happy to let someone else make for them—whether it's Domino's or DiGiorno or Dom, your local pizza dude. But industrially made pizza can not only be disappointing, but also really bad for you. Making pizza at home gives you ultimate quality control—over the freshness of the ingredients, the bulk of the crust, and the combination of flavors. With a bit of practice, you'll outgun the best pizzerias in your town with this homemade pizza recipe.
Nutrition: 460 calories, 20 g fat (8 g saturated), 780 mg sodium
Serves 4
You'll Need
1 tsp olive oil
2 links Italian-style chicken sausage, casings removed
1 clove garlic, minced
1 bunch spinach, cleaned and stemmed
Salt and black pepper to taste
Pizza dough (Make your own, or buy 2 thin-crust store-bought pizza shells)
1 cup tomato sauce (make your own or buy a jar)
1 cup diced fresh mozzarella (or 1 cup shredded low-moisture mozzarella)
1⁄2 cup Peppadew peppers, or other bottled roasted peppers
How to Make It
Preheat the oven to 500°F. If you have a pizza stone, place it on the bottom rack of the oven.
Heat the olive oil in a large pan over medium heat.
Add the sausage and cook for about 3 minutes, until no longer pink.
Add the garlic and cook for 2 minutes more.
Add the spinach and cook, stirring, until wilted.
Drain any excess liquid gathered at the bottom pan. Season with salt and pepper.
On a lightly floured surface, stretch the dough into two 12" circles.
Working with one pizza at a time, place the pizza shell on a baking sheet, cover with a thin layer of tomato sauce, then top with half the mozzarella, spinach-sausage mixture, and peppers. (If using a stone, do this on a floured pizza peel, then slide the pizza onto the stone for baking.)
Bake for about 8 minutes, until the cheese is melted and bubbling and the crust is golden brown.
Cut each pie into 6 pieces. Repeat to make the second pizza.
Eat This Tip
Peppadew peppers,  tiny cherry-red peppers from South Africa, pack an incredible one-two punch of sweet and heat, which makes them a wonderful addition to pizza, salads, pasta, and sandwiches. Or make a portable snack by stuffing them with pieces of fresh mozzarella or goat cheese. They're available by the jar in fancy supermarkets like Whole Foods, and often found sold by the pound in supermarket salad and olive bars. Still can't find them? Order jars online!
Love this recipe? Subscribe to our Eat This, Not That! magazine for even more at-home cooking and healthy eating ideas.6254a4d1642c605c54bf1cab17d50f1e