Honey Butter Whiskey Scallops Recipe
Butter us up with this delicious seafood recipe!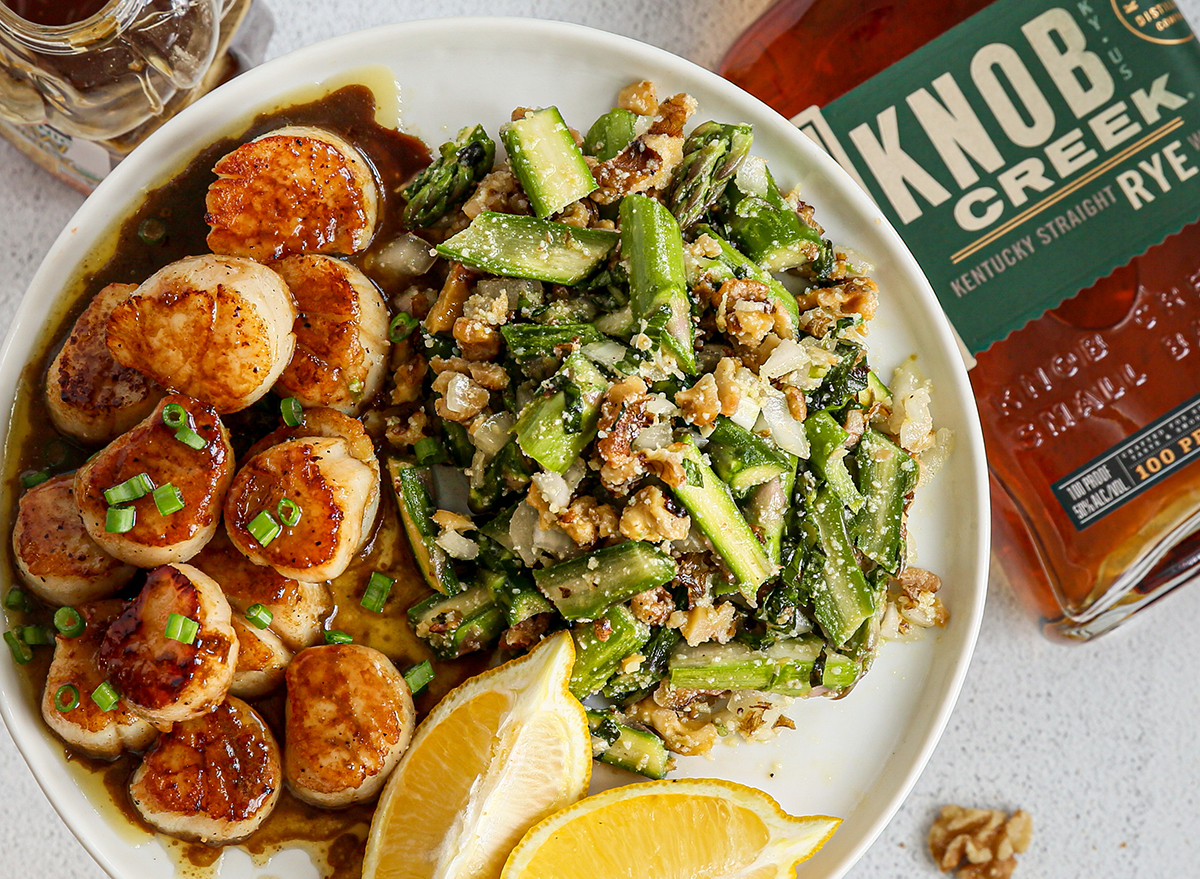 There's something exciting about hearing the sizzle of food on a cast-iron pan. A cast-iron pan or skillet maintains heat very well, and because of this it creates delicious crisps and sears on food, emphasizing the flavors. Cooking scallops in one of these pans creates a char and chew that is 5-star restaurant-worthy. What's better than a perfectly cooked scallop? A perfectly cooked scallop that's covered in a mouthwatering sauce.
The collaboration between Knob Creek Rye Whiskey with honey, garlic, soy sauce, lemon, and other seasonings meshes together for a perfect sauce that harmonizes with the meaty scallops. Whether you're cooking for one, or cooking for a dinner party, this dish deserves a round of applause.
This recipe is courtesy of Caitlin Greene
You'll Need
1 pound scallops, thawed and patted dry
Salt and pepper
½ tablespoon olive oil
1 tablespoon honey
1 tablespoon tamari soy sauce
¼ teaspoon pepper
Zest of ½ lemon
3 cloves smashed garlic
1/4 cup Knob Creek Rye
1/4 cup salted butter
How to Make It
Season the scallops with salt and pepper and set aside.
In a small bowl, mix together the honey, soy sauce, pepper, lemon zest and smashed garlic. Set aside.
Heat a cast iron pan over medium-high heat, add the olive oil then add the scallops one at a time—careful to not overcrowd (you can do this in two batches). Sear the scallops on each side for 1 ½ minutes, then remove and set onto a plate.
Reduce the heat to medium low. Allow the pan to cool slightly for 2 minutes, then slowly pour the Knob Creek onto the pan to deglaze the pan.
Add the butter and allow it to melt for one minute, then add the honey mixture. Mix together with a rubber spatula. Cook the mixture over medium-low for 7-9 minutes until it begins to slightly bubble. Remove the garlic, then add the scallops back to the pan. Cook for another 2 minutes in the butter sauce and serve.
Looking for more ways to use your cast-iron pan? Try 35 Best Cast-Iron Skillet Recipes
Eat This, Not That!
Inspired by The New York Times best-selling book series, Eat This, Not That! is a brand that's comprised of an award-winning team of journalists and board-certified experts, doctors, nutritionists, chefs, personal trainers, and dietitians who work together to bring you accurate, timely, informative, and actionable content on food, nutrition, dieting, weight loss, health, wellness, and more.
Read more about Eat This