Is the Hooters Uniform Vending Machine Real?
You'll never guess how Hooters makes their strict uniform requirements accessible for their employees.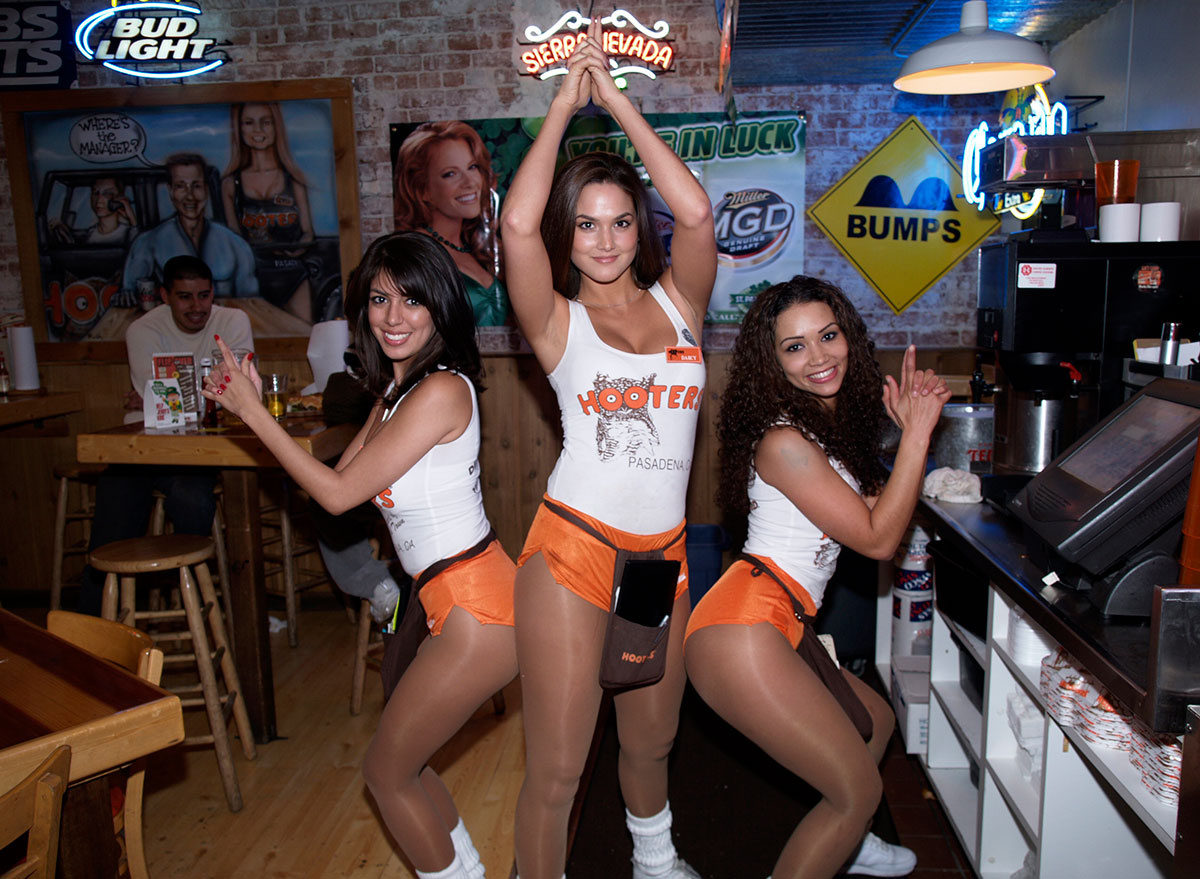 When it comes to Hooters, they don't just shine the spotlight on their delicious food, instead, the stars of the show are their female servers and their tiny outfits. The iconic uniform of bright orange spandex short shorts, low-cut shirts with the signature "Hooters" logo printed over the chest, and, of course, service with a smile have always been top priorities for this popular chain.
In fact, to continuously uphold their high-standing waitress experience, rumor has it they've actually supplied a unique uniform vending machine to cater directly to their workers. Turns out this is true, as confirmed by employee social videos. At many Hooters locations, you really can find a vending machine that dispenses the tan-colored tights for employees in need to complete their required uniform.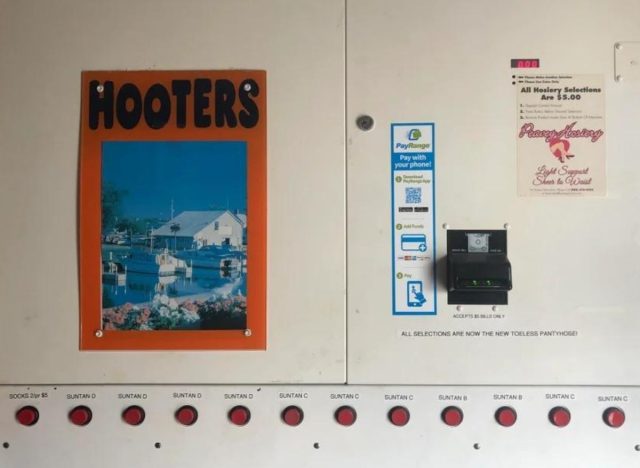 Back in mid-January, a Hooters server made a video showing how she uses the pantyhose dispenser and it blew up on the internet with over 400,000 views. The TikTok user @Kenzjee walked viewers through her location's Peavey Hosiery tights vending machine, by putting a $5 bill in and selecting Suntan B, to receive the tights she needed before starting her shift for the day. The tights come in a single color called Suntan, but there are a range of sizes and lengths from Suntan D, Suntan C, Suntan B, and so on.
There were major concerns in the comments of the video regarding the fact that the company didn't provide such a crucial piece of the strictly required uniform. Kenzjee wrote a comment back, explaining that since "tights are considered 'undergarments'," the company is required to sell them to their employees through a third party. Although, one TikTok user commented to ask if the tights are "tax-deductible as a work-related expense" and she simply replied, "yes!"
This wasn't the first time Hooters received some heat for their mandatory desired uniforms. Last fall, Hooters attempted to make their bright orange short-shorts even shorter, but many workers threatened to quit if the underwear-like bottoms were going to be permanently required. Read more about how Hooters Backpedals On Its New Uniforms After Major Backlash From Employees.
Now since the viral video, many other Hooters have made their own TikToks showing their locations' vending machines and also discussing the low quality of the Peavey Hosiery tights. Unfortunately, other employees have expressed a downside of these videos reaching such a wide audience. They have complained of a tights shortage due to the fact that these videos have influenced customers to come into the establishment only to purchase a pair of the pantyhose from the machine because they didn't believe it was real.6254a4d1642c605c54bf1cab17d50f1e
Kenzjee made a separate TikTok explaining another unusual part of the Hooters uniform: the specific makeup that is required by all servers. The requirements include lashes or mascara, blush or bronzer, and some form of lipstick. "We're hired as entertainers so the rules are different than ur average serving job," she said in a pinned comment under her video.
Eat This, Not That! reached out to Hooters for comment.
For more on the Hooters franchise, take a look at 10 Secrets Hooters Doesn't Want You To Know
Jordan Summers-Marcouillier
Jordan Summers-Marcouillier was born and raised in San Jose, California and now works as a writer in New York, NY.
Read more about Jordan